3 of the Best Hiking Trails Near Seward, Alaska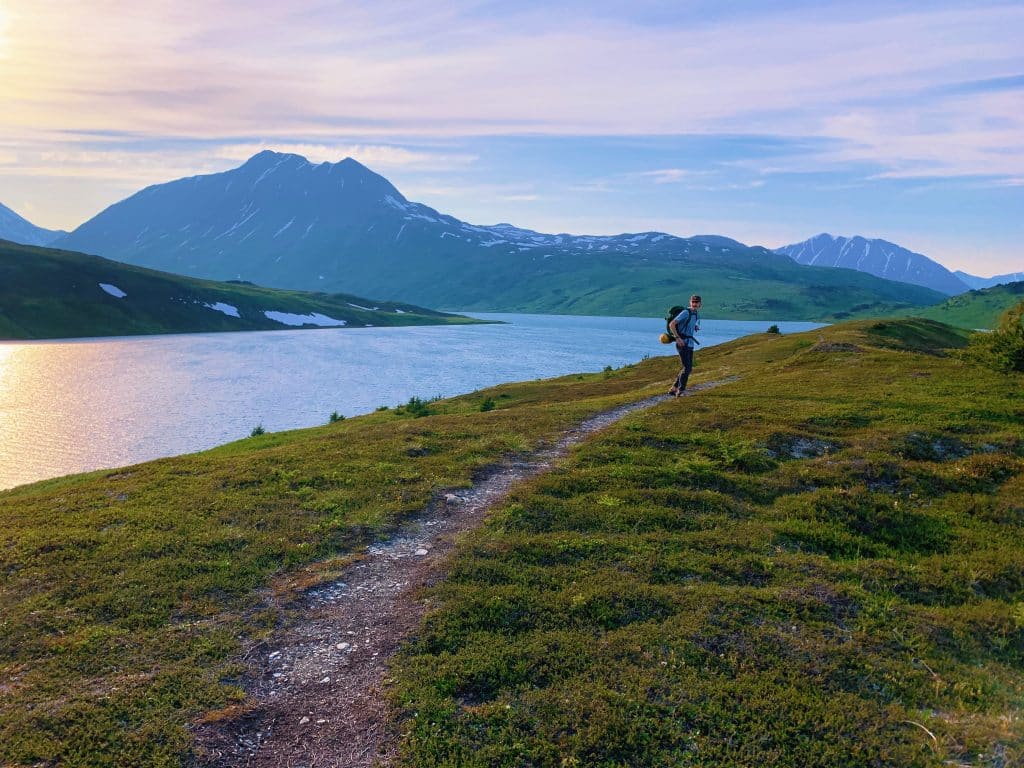 Alaska is a big state. As a matter of fact, the biggest!
(Sorry, Texas.)
That being said, many people struggle with the decision of where to visit within the Last Frontier. A valid problem to have.
If great hikes are what you're looking for, I'm here to say that Seward, located on the Kenai Peninsula, is an excellent option.
Here are a few of the best hiking trails near Seward that offer beautiful views and rewarding challenges for every skill level.
3 of the Best Hiking Trails Near Seward, Alaska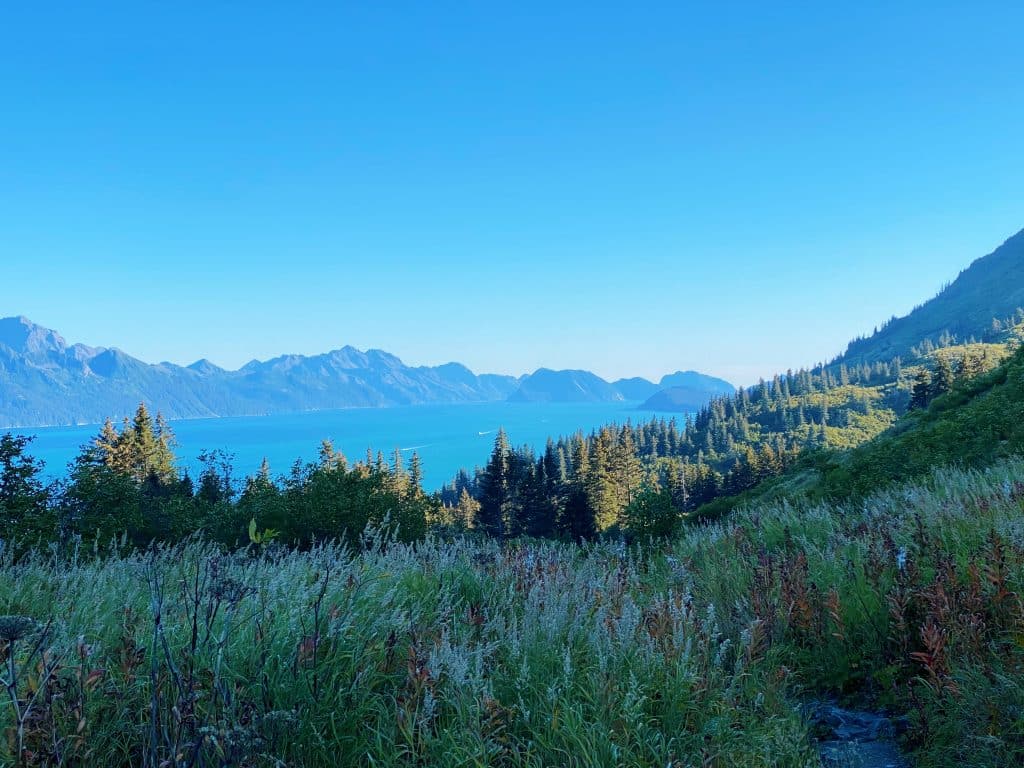 1. Tonsina Point Trail (sometimes called Tonsina Creek Trail)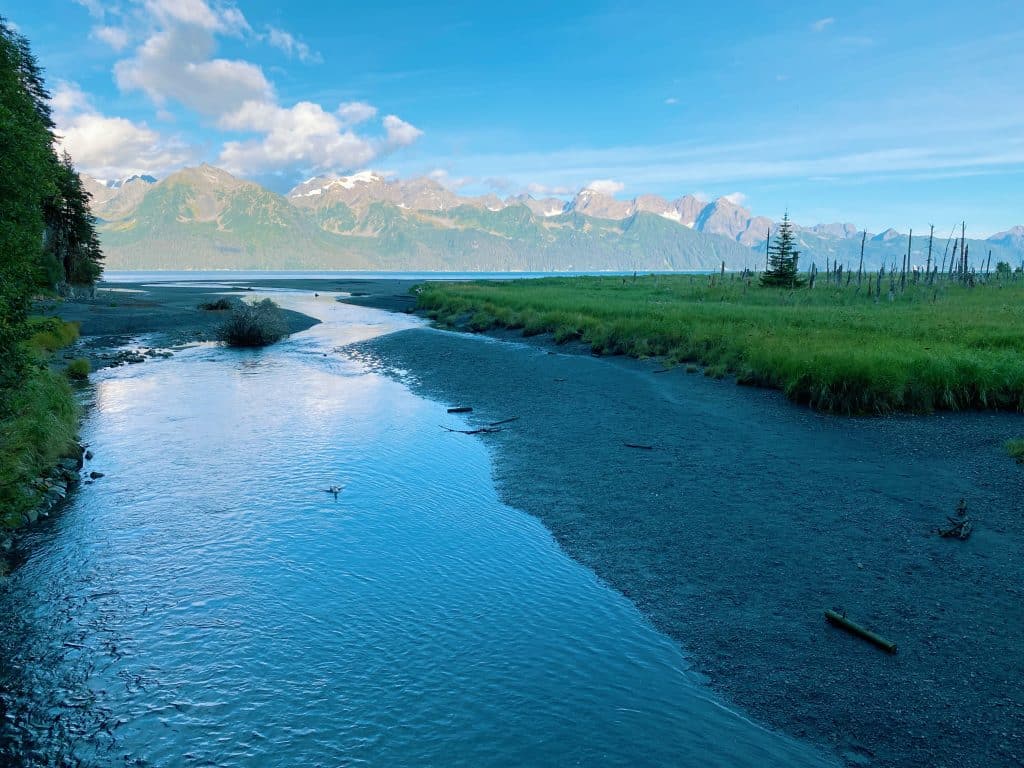 Distance: 4.1 miles out and back
Elevation Gain: 770 ft.
Difficulty: Easy-Moderate
We're starting this list off with the easiest of the three.
Coming in at 4.1 miles round trip and only 770 ft. of elevation gain, this is a trail easily completed in a morning or afternoon, even giving you plenty of time to enjoy the scenery.
This trail has a great diversity of life and views that are sure to blow your mind. With a rainforest, mountains, and ocean shore, some of the best qualities of the region come together on this one, fairly easy hike.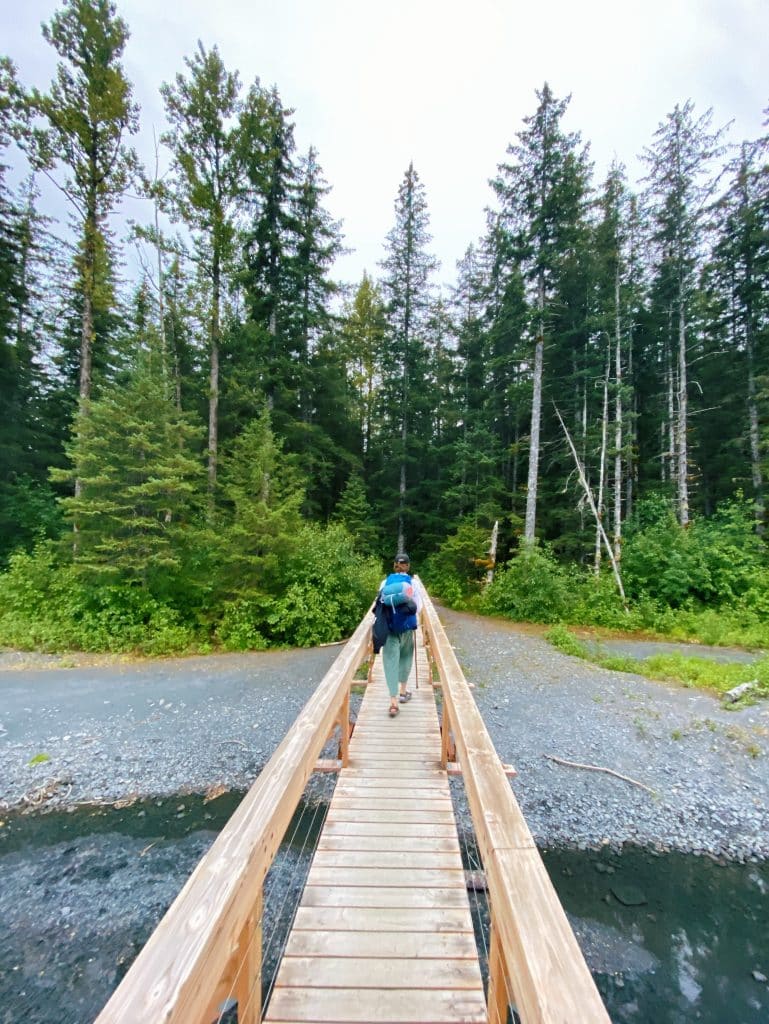 Directions to Tonsina Trail
Finding the trailhead is pretty simple. Heading south on the Seward Highway, drive all the way to the end of town. At that point, you will take a right onto Railway Avenue, which quickly becomes Lowell Point Road.
From here, continue driving south on the slightly nerve-racking ocean-side road until you reach Lowell Point proper.
The road will sharply curve to the left, and soon after you will take a right turn onto Pinnacle View Road.
Immediately after this right turn, take another right to head towards the Lowell Point State Recreation Site Upper Parking. Note that there is a $5 parking fee for using this lot, but puts you right next to the trailhead.
Note: Tonsina Point Trail shares a trailhead with the Caines Head Trail, so don't let this confuse you.
Pros of Tonsina Point Trail
FAMILY FRIENDLY
In my opinion, for those visiting Seward with a family, the biggest pro of the Tonsina Point Trail is how family-friendly it is.
Alaska is so massive and the landscape so expansive that it can feel like you're facing really daunting trails heading directly up a mountain. You'll be happy to know that Tonsina does not into that category.
Even for hikers with hiking skill levels that fall into the novice or beginner range, this trail offers amazing accessibility and beautiful views of South-Central Alaska.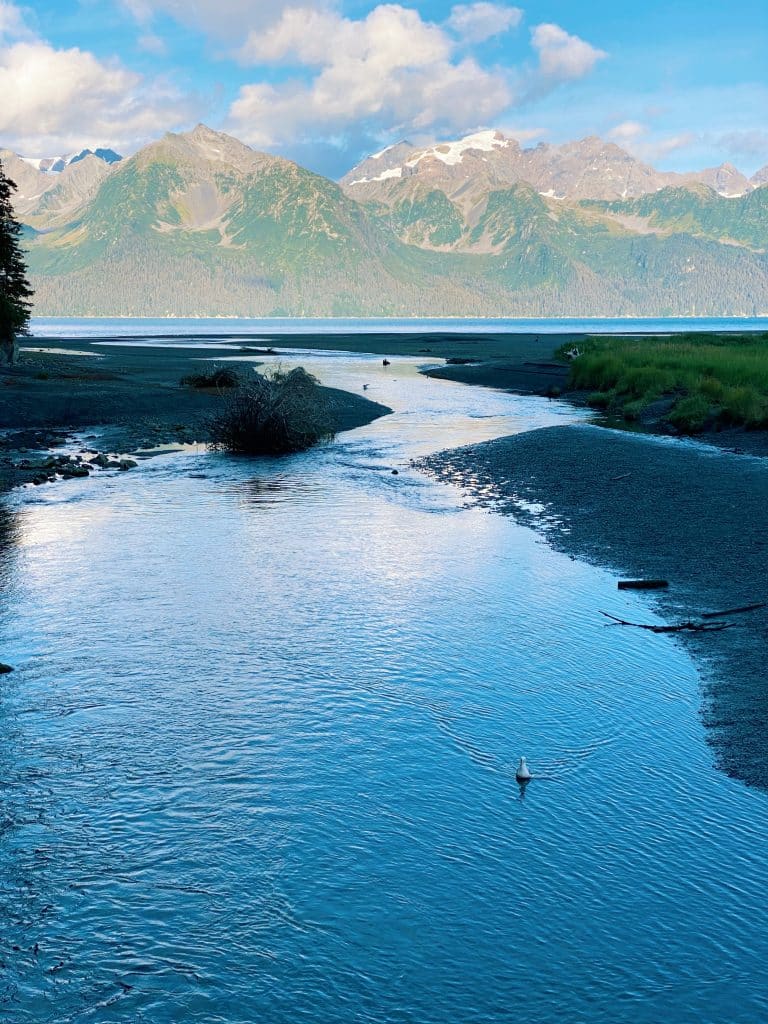 That being said, there is one section of the trail that can be rather exhausting. About a mile into the trail is a long and steep incline. But, if you can get past this part, then the rest is a piece of cake (in my opinion).
GORGEOUS BEACH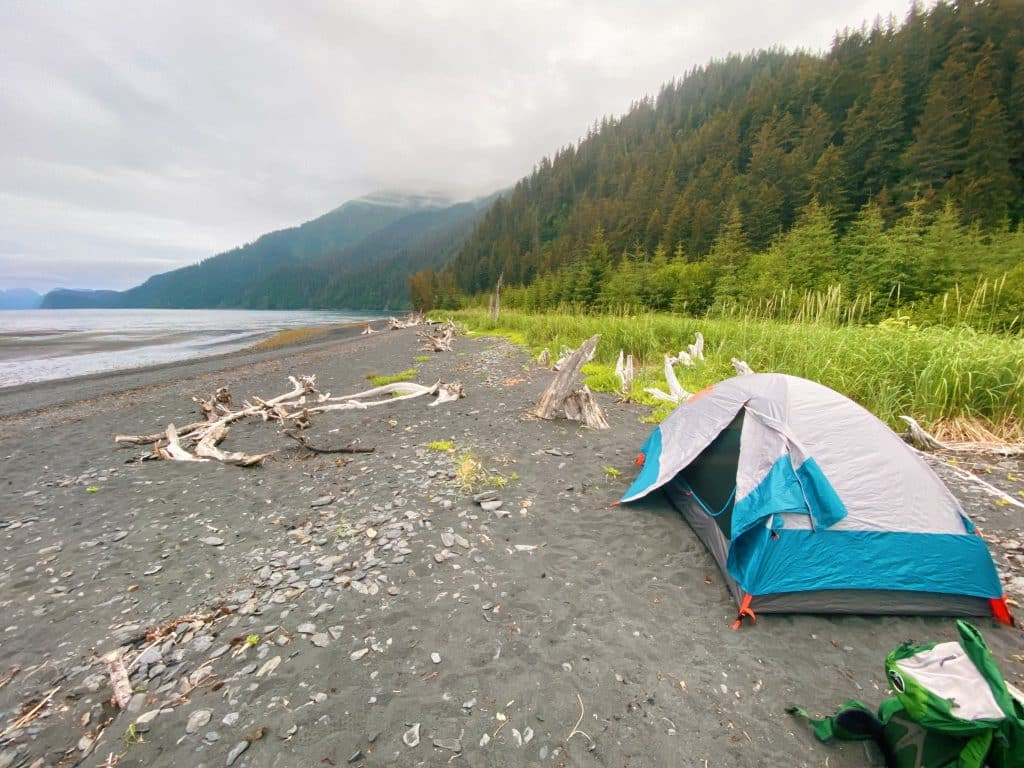 After winding your way through the forest, spotting interesting plants, animals, and mushrooms wherever you look, the path will spit you out onto a spectacular beach.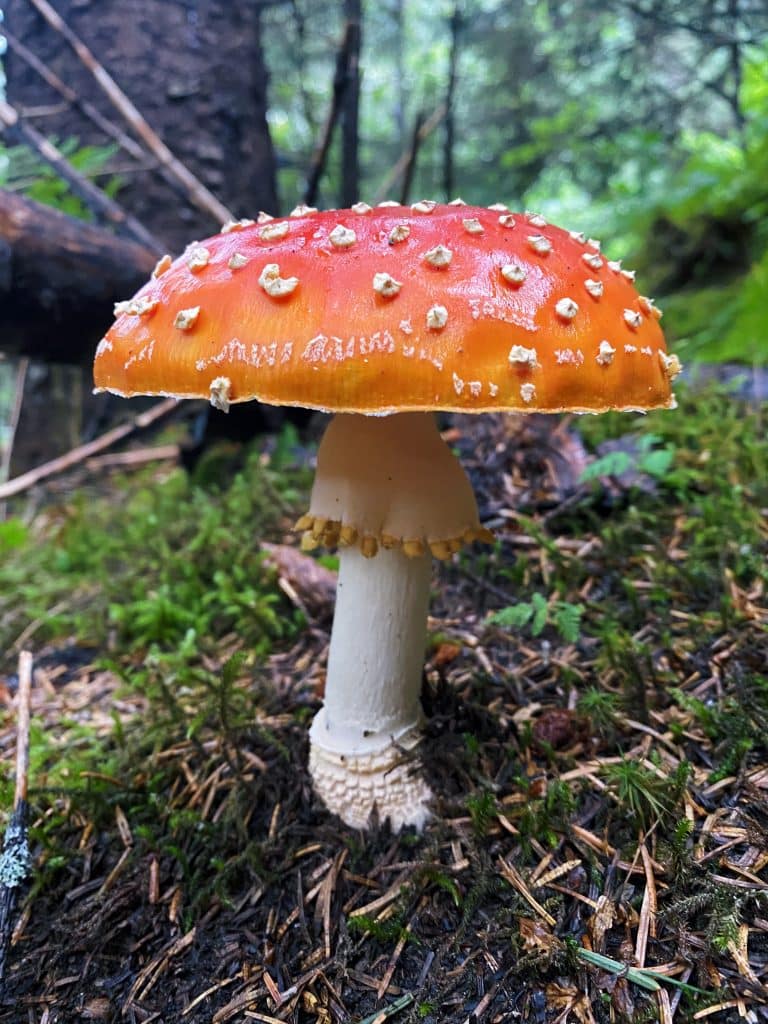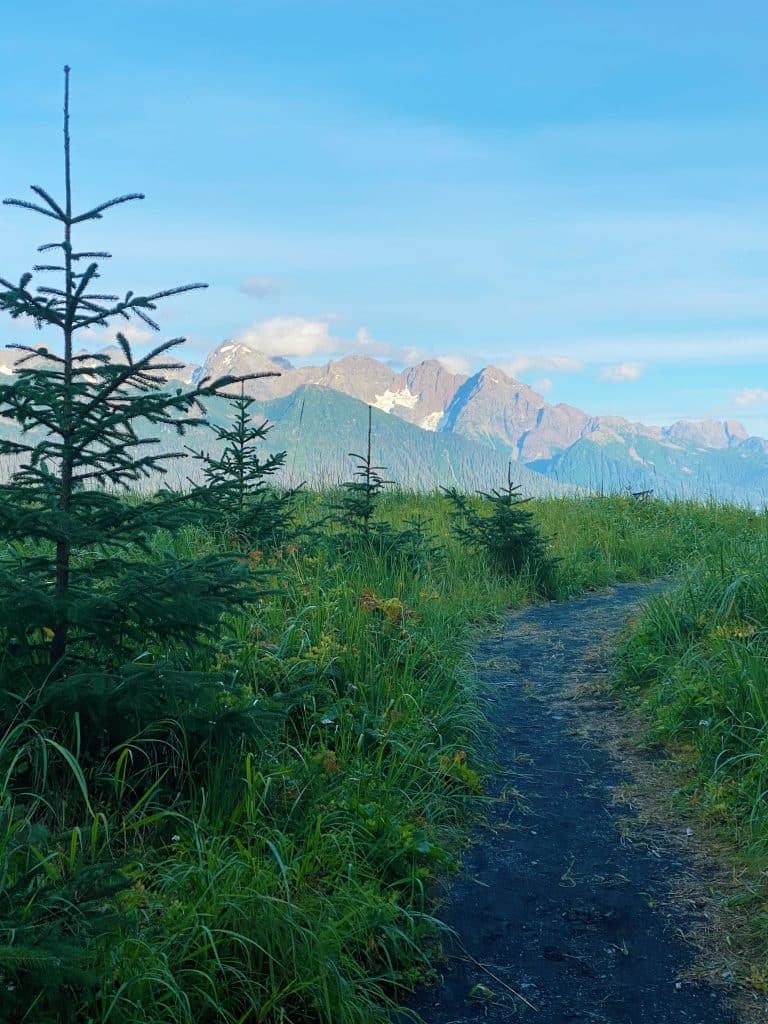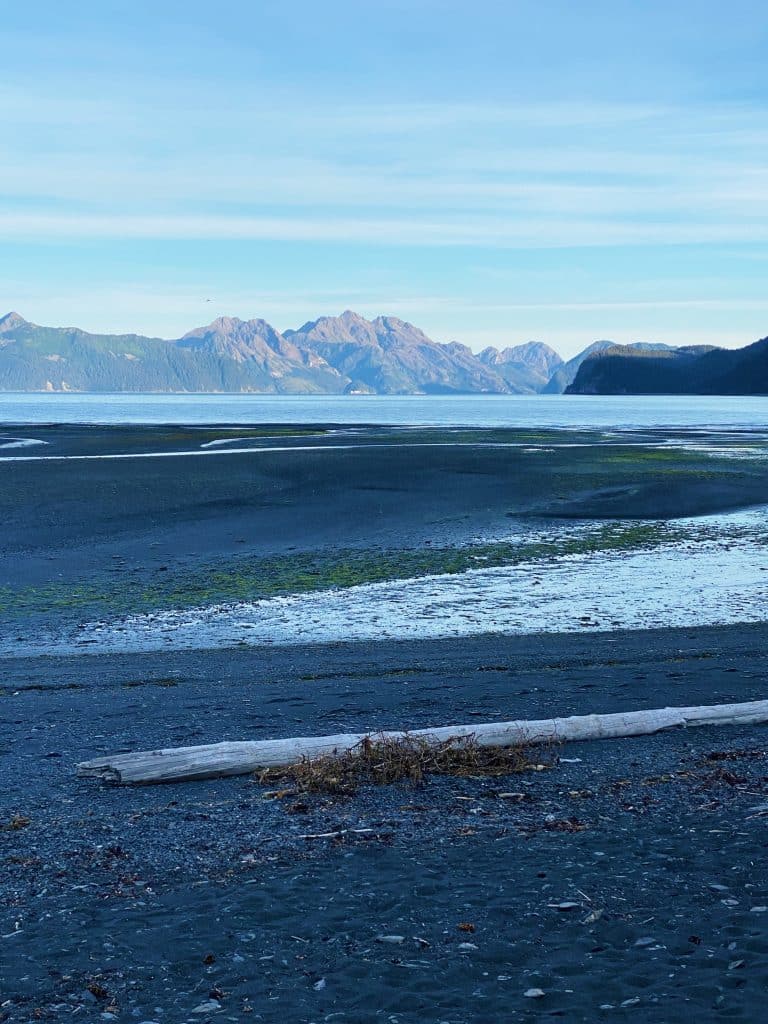 This rocky shore is a great place to bask in the glory that is Resurrection Bay. Bust out the snacks, because you will surely want to stay here forever.
Cons of Tonsina Point Trail
With all of the great things I've said about this hike, it was a little difficult to think of any cons. Here are a few inconveniences that some people may relate to.
HEAVILY TRAFFICKED
It may not be a problem for some, but this is certainly a heavily trafficked trail. And it's not hard to see why.
Many visitors flock to this trail due to the accessibility, and that can create undesirable conditions for those wanting a more secluded and wild trek.
If those reasons resonate with you, I would still encourage you to check the trail out! It's one of those trails that simply has to be done.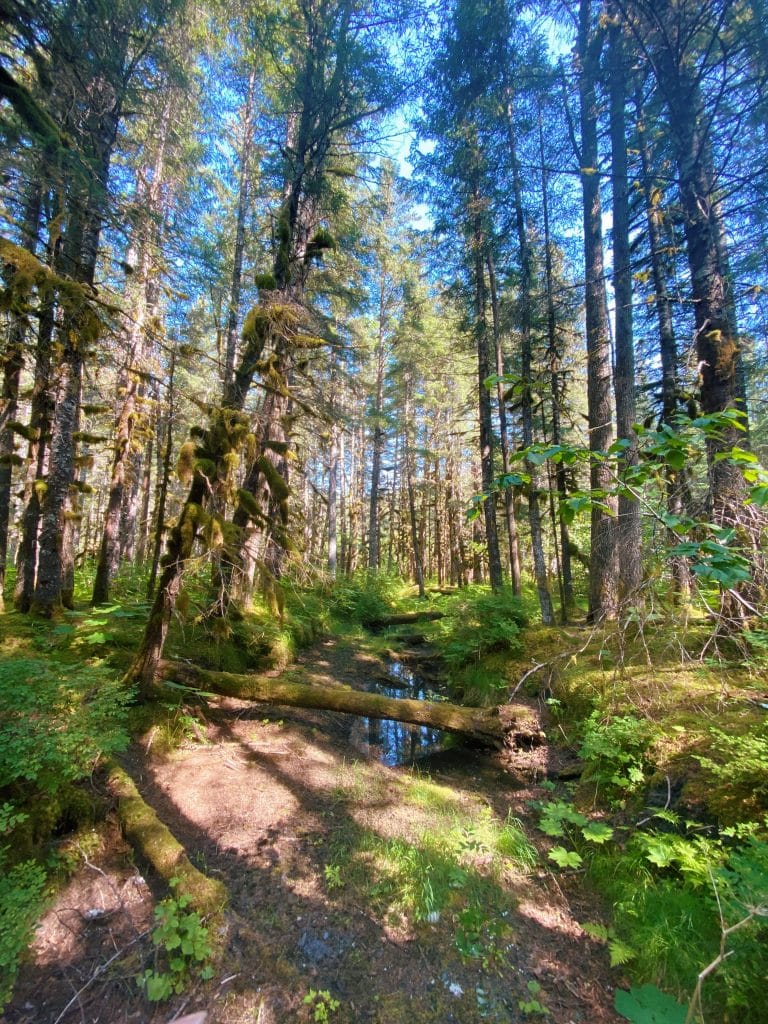 If you're looking for a hike similar to this one, but less trafficked, Caines Head Trail is a great option. The first part of the Caines Head Trail is actually the Tonsina Point Trail, but rather than stopping at Tonisina, you continue onward.
Caines Head Trail requires more research and planning than Tonsina Point. Please be diligent.
2. Mt. Marathon Bowl via Jeep Trail and Skyline Trail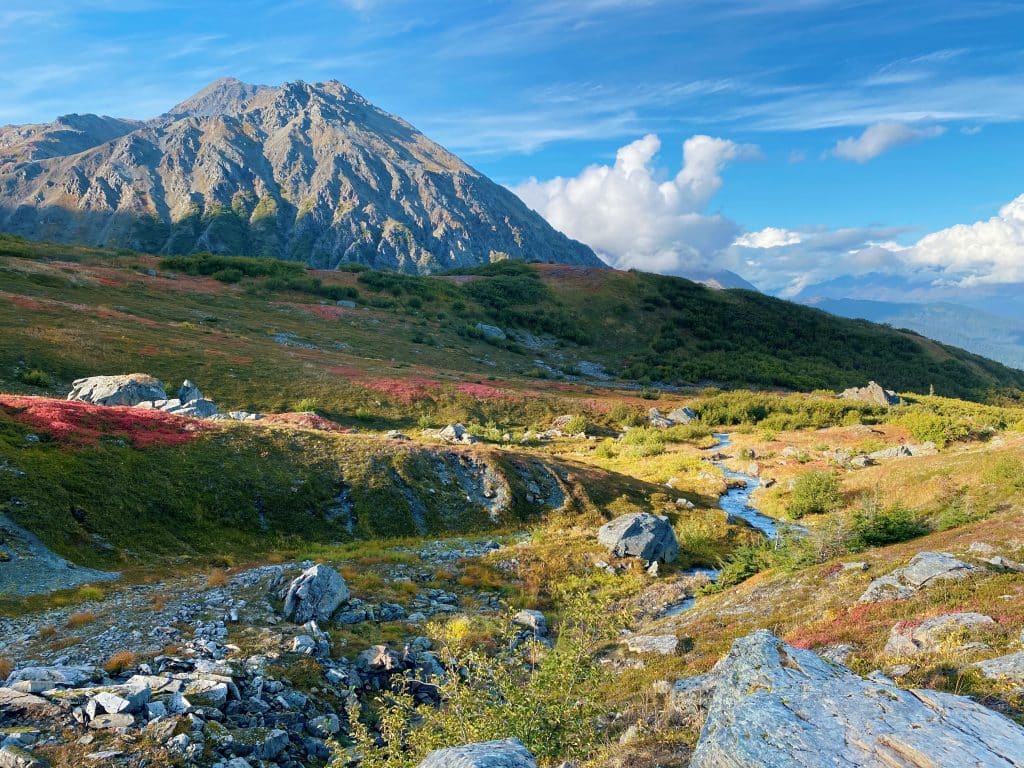 Distance: 4.2 miles out and back
Elevation Gain: Approximately 2,000 ft.
Difficulty: Moderate-Hard
Mt. Marathon, in my eyes, is quintessential Seward. It was the first hike I ever did when arriving in Seward in 2019, and to this day holds a very special place in my heart.
Certainly a local favorite for hikers and runners alike, it feels like the city of Seward is centered around this wonderful mountain. As an example of this, every summer (except 2020, sadly) there is a race to the top of Mt. Marathon's Race Point.
You can't go wrong with Mt. Marathon, and it is undoubtedly one of the best hiking trails near Seward.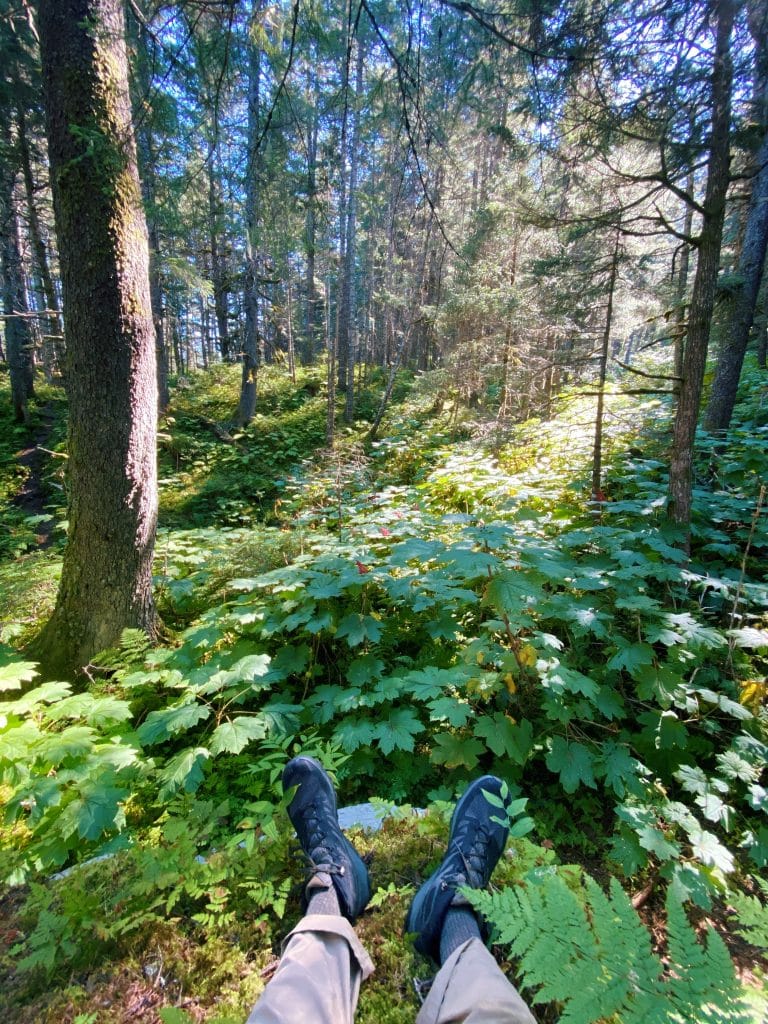 Directions to Mt. Marathon Trail
One of the best qualities about the Mt. Marathon Trail is the location. Located quite literally in the center of town, it's within walking distance of most hotels and many Air BnB's.
Head to the west side of the city until you reach 1st Avenue. The trailhead for the main trail is pretty easy to spot, sitting right at the corner of 1st Avenue and Monroe Street.
There is limited parking near the trailhead, so I would definitely recommend walking if you can.
Pros of the Mt. Marathon Hiker's Trail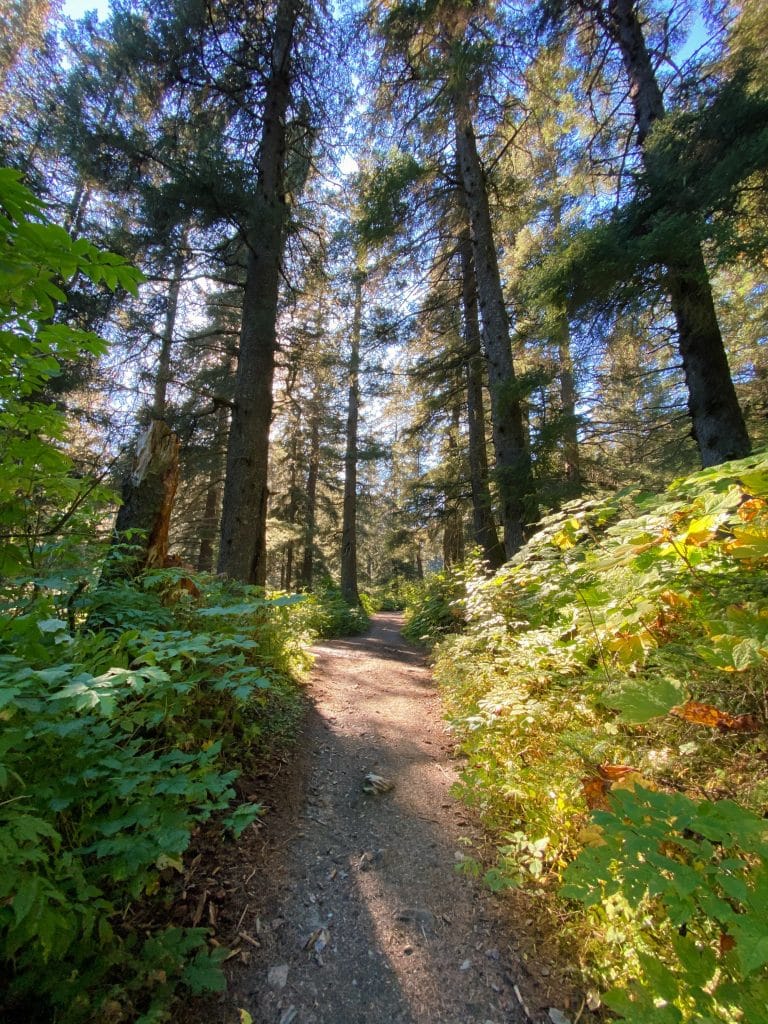 PANORAMIC VIEWS
Hiking up to the Bowl of Mt. Marathon is, from what I've experienced, the quickest way to get panoramic views of the city below, as well as an extended view far out into Resurrection Bay.
Upon first hiking Marathon, never before had I felt so rewarded for a hike that's possible to do in a couple of hours.
Once you get past the tree-line on the mountain, it slowly opens up, allowing you to turn around and marvel at the fjord below.
THE MT. MARATHON BOWL
Mt. Marathon has multiple trails that lead to multiple different points on the mountain. The reason I'm recommending the Jeep/Skyline Trails is because of where they lead you; directly into the Mt. Marathon Bowl.
Now, I'm not entirely sure that this is the actual name for the formation on the mountain, but I do know that most locals refer to it as the "Bowl".
The Marathon Bowl is a small, hilly section of the mountain that is lower in elevation than both the "Runners Peak (False Summit)" and the actual Mt. Marathon summit.
A river, flowing from the melting ice field behind the ridge line, cuts directly through the middle of the land, creating a scene worth more than a thousand words.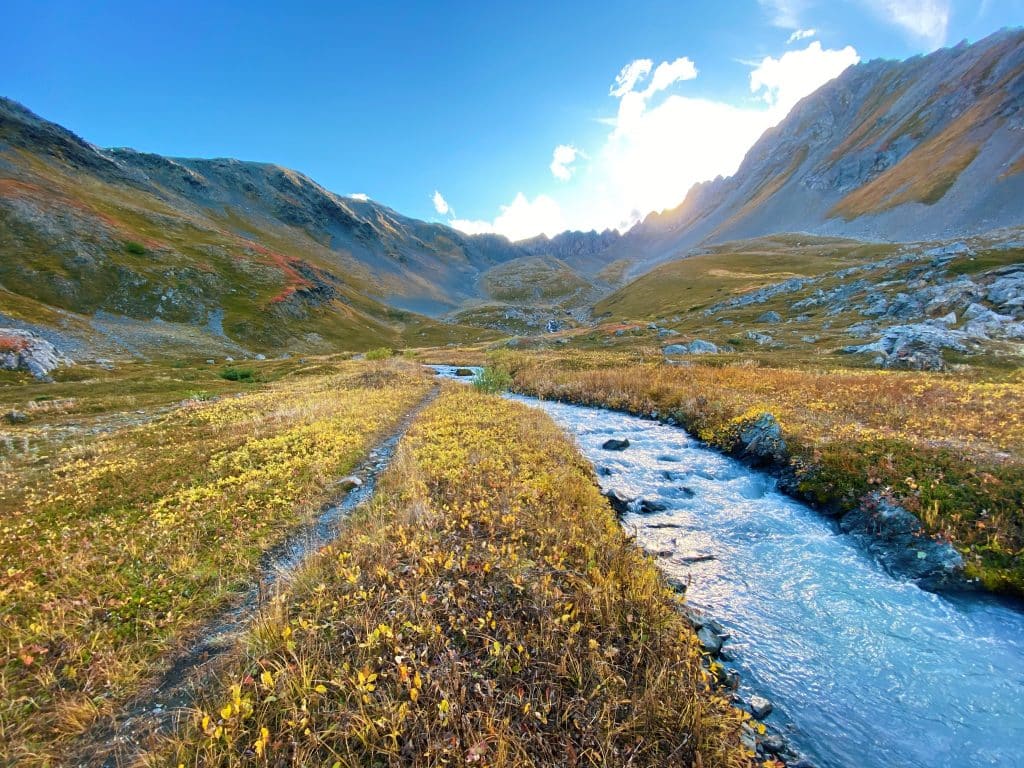 This area is my idea of the perfect hangout spot.
Many times after work in the summers, I find myself trekking up to the Bowl, spending an hour or so soaking it all in, and heading down feeling more refreshed than ever before.
It's a place I recommend to everyone I know, and I won't be stopping anytime soon.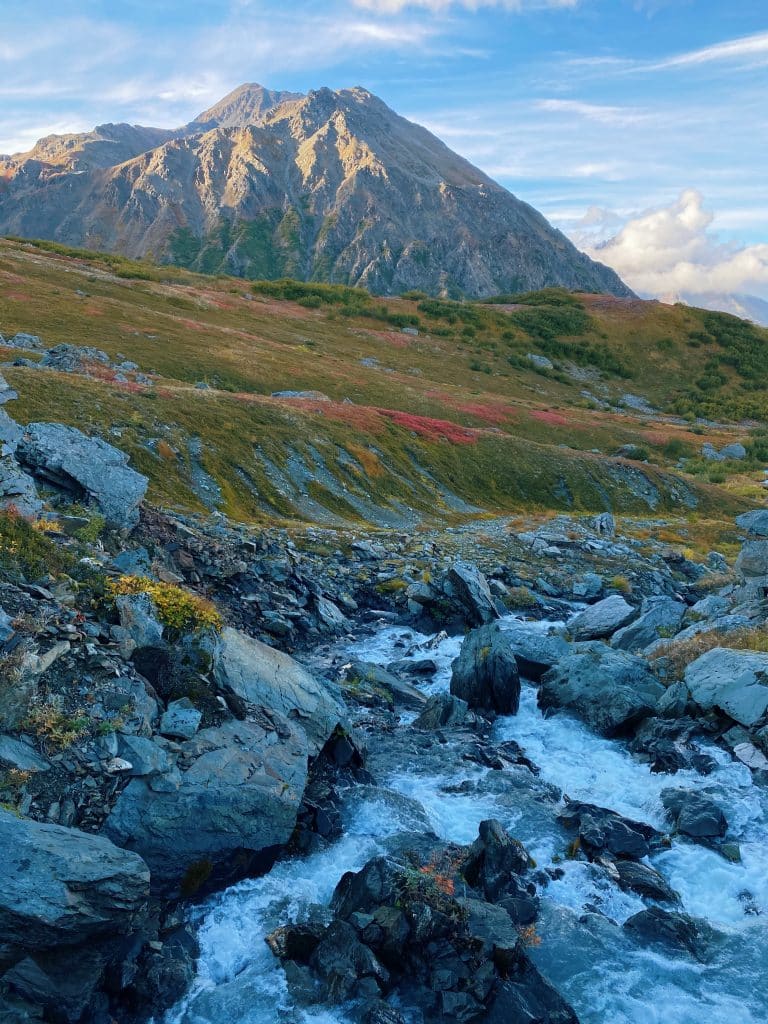 Cons of the Mt. Marathon Hiker's Trail
MUDDY
Half of the trail weaves through a temperate rainforest, so, as you may be able to imagine, it rains a lot. This typically results in muddy trails.
I never let that fact stop me from hiking, and I don't believe you should either. Prepare for mud by wearing the appropriate clothes and gear, and this will become a minor inconvenience.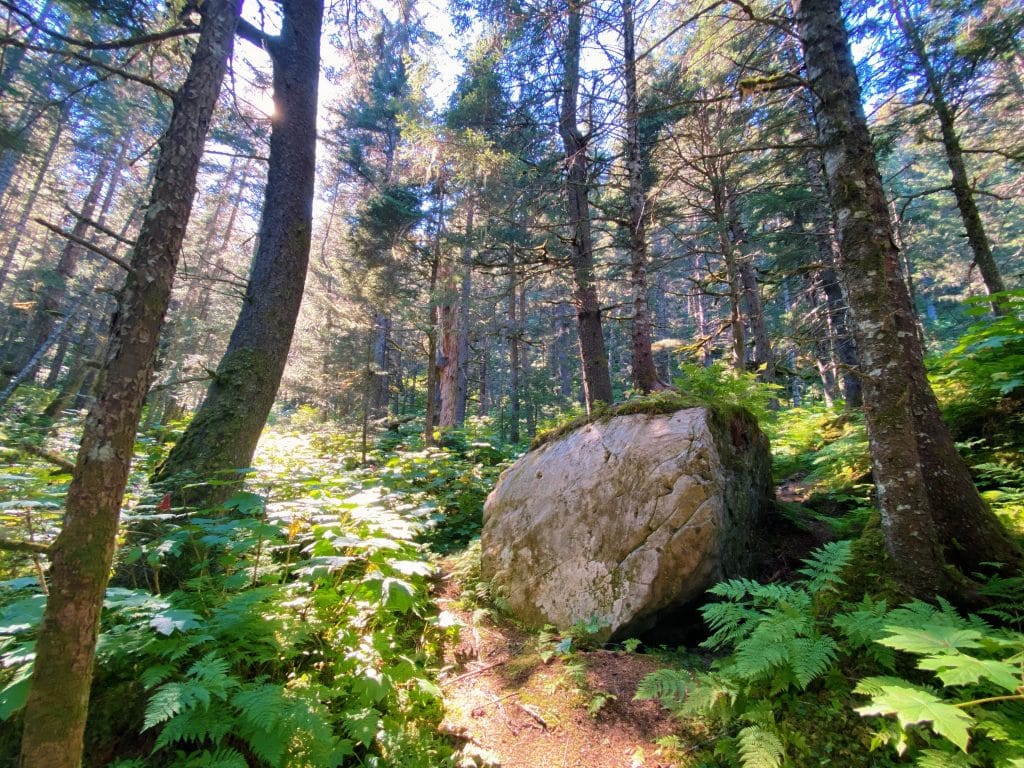 STRENUOUS
While I did rate this trail as Moderate-Hard, most other sites classify this trail as straight up Hard. Both of these are fair ratings.
Some may not view that as a "con" but because it's a tougher hike, it does require more planning.
The first part of the trail consists of 5 to 6 switchbacks, and boy can they be a challenge. After these switchbacks, things mellow out, but before long you're clambering up 40% grade sections, and the struggle returns.
This is what I factored into the Hard portion of the rating.
The Moderate portion refers to the length of the hike. It may be difficult, but you are only climbing for 2 miles.
If you're not used to climbing 1,800+ feet in 2 miles, this trail can definitely be a bit intense at times. Make sure you are prepared for a strenuous hike by bringing lots of water and a few snacks to fuel yourself.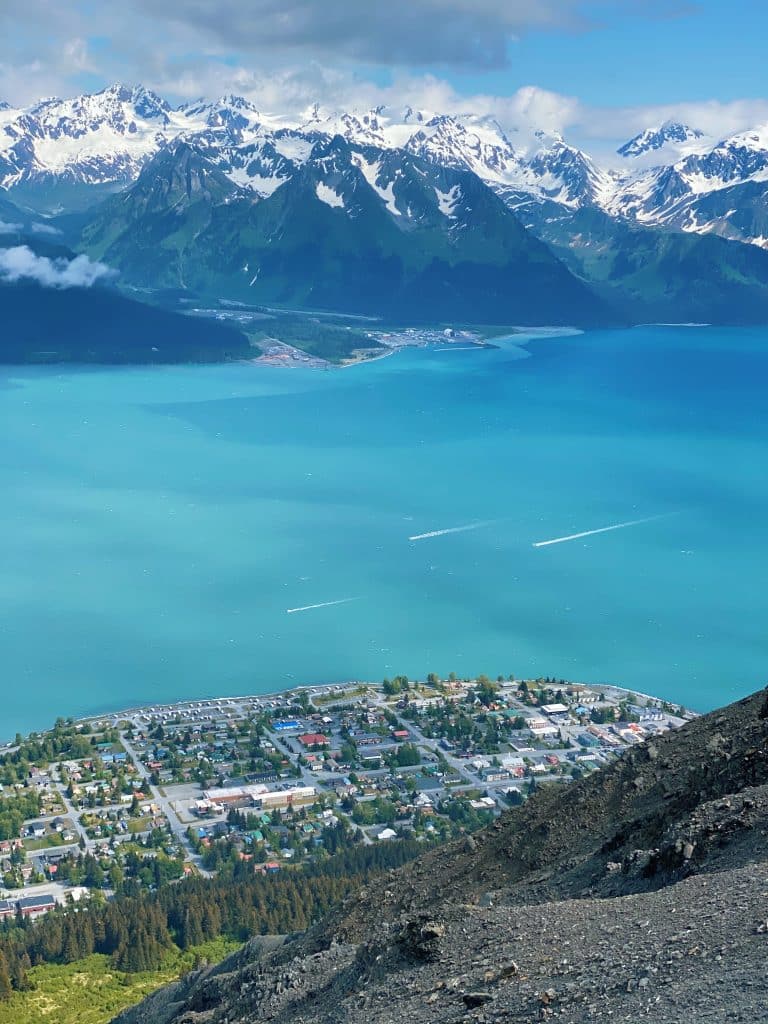 BUSY TRAIL
The Mt. Marathon Hiker's Trail can also be rather busy, especially during peak season.
If your ultimate goal is to simply get to the Bowl, rest assured there is plenty of room to spread out and find your own little corner of tranquility.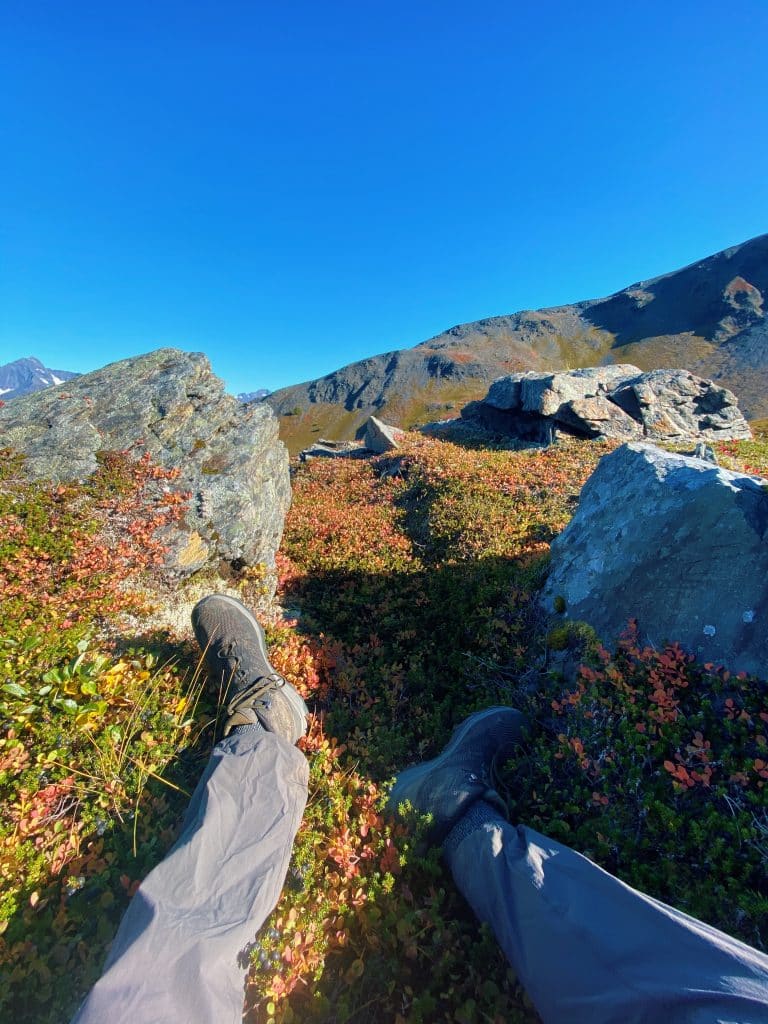 3. Lost Lake Trail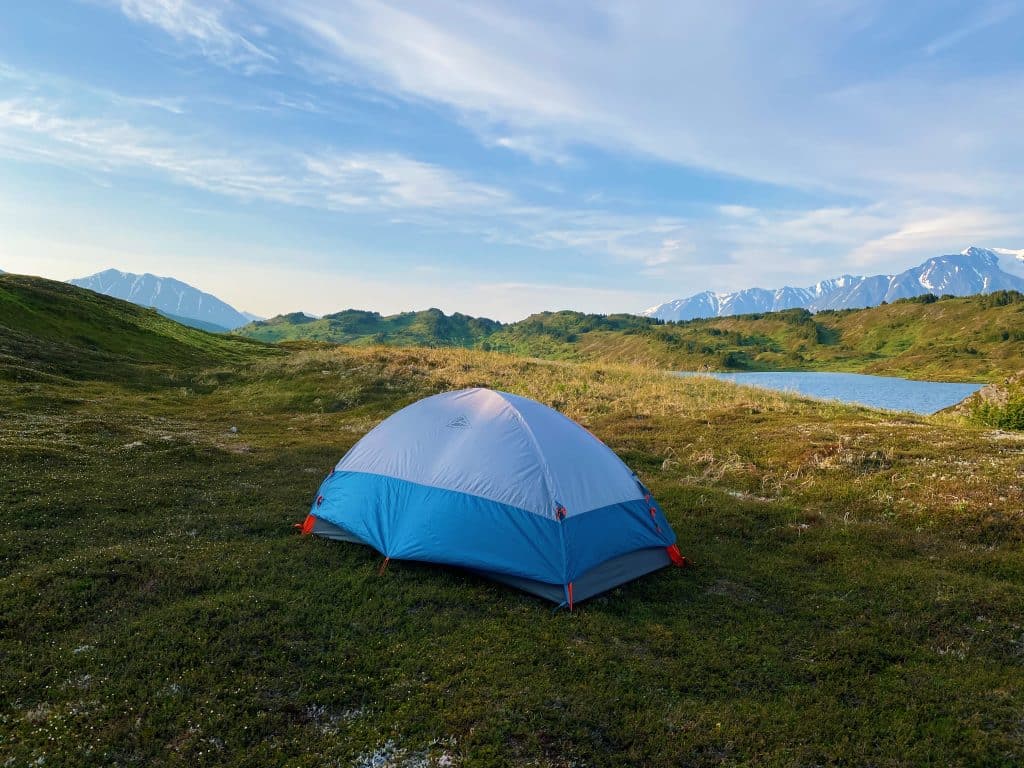 Distance: 14.5 miles out and back
Elevation Gain: 2,631 ft.
Difficulty: Moderate-Hard
Another trek that easily makes the list of the best hiking trails near Seward is the Lost Lake Trail.
Located a few miles out of town, the popularity of the trail is apparent every time you pull into the parking lot.
Mountain bikers, runners, hikers, backpackers, snowmobilers, snowshoers; you'll see them all on this trail depending on the season.
As we've seen before, popularity is a fairly good measurement of how awe-inspiring a trail can be.
(Not always true, but in Seward's case, usually true.)
Does the trail live up to the hype?
Spoiler alert: Yes.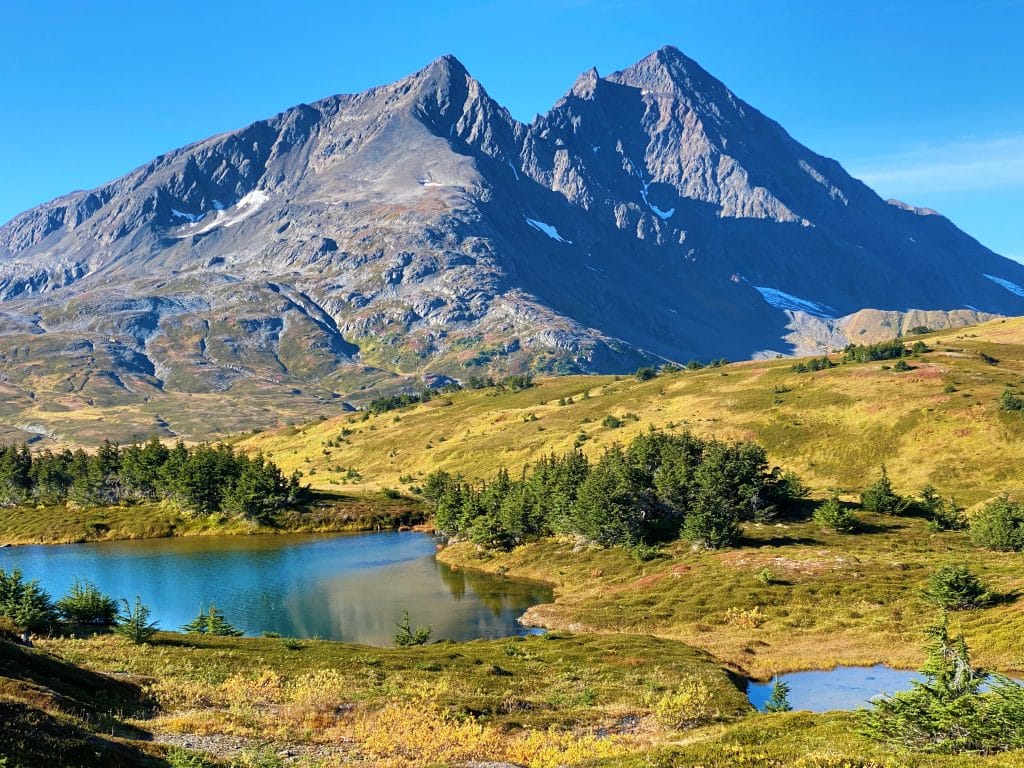 Directions to Lost Lake Trail
If you start at the small boat harbor in Seward, the Lost Lake Trailhead is located about 5 miles north.
Taking the Seward Highway, drive north until you spot a left turn for Scott Way. After turning, the road will fork, and you want to keep left. The road will become Heather Lee Lane.
Continue on Heather Lee Lane for a short time, and soon you will reach Hayden Lane on the right. Take the turn, and before long you will see the parking lot for the Lost Lake Trailhead.
Sidenote: This is not the only trailhead that leads up to Lost Lake. The Primrose Trailhead is another option for reaching the lake, but from my experience, I prefer the plain ol' Lost Lake Trail for the trip up.
If you are able, you can hike all the way from one trailhead to the other, as long as you have a ride waiting for you on the other side. I've completed this one-way trip over two days, camping by Lost Lake, and I certainly recommend it.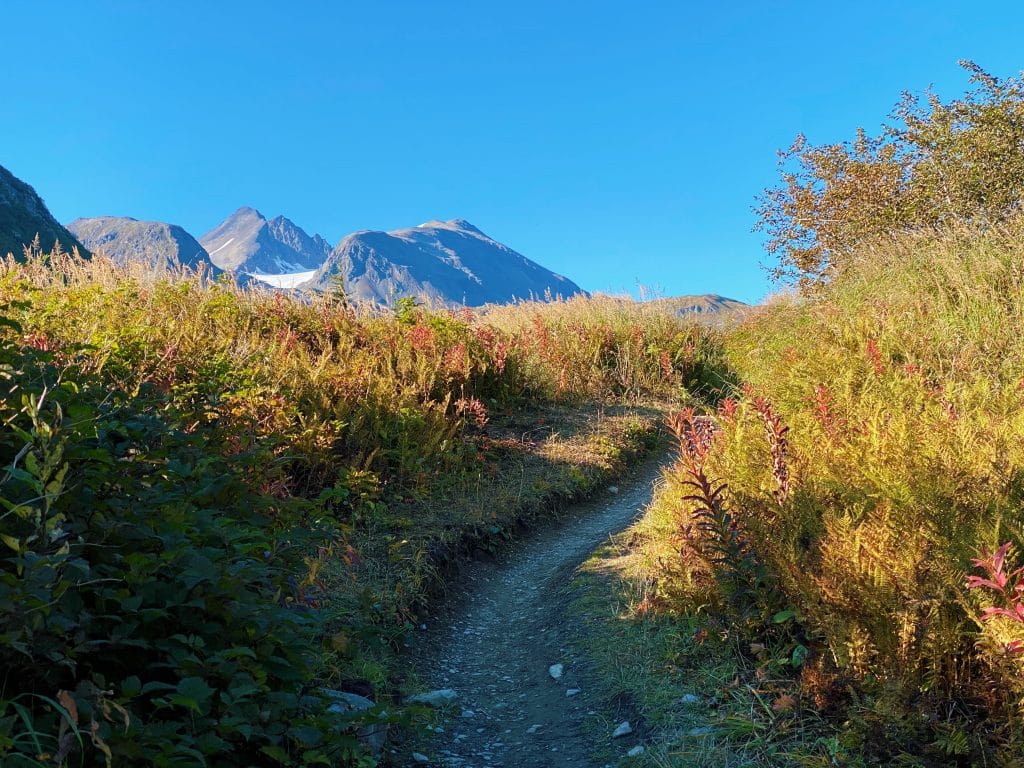 Pros of the Lost Lake Trail
As you saw from the trail stats listed above, this is by far the longest hike on the list. Depending on multiple factors (time, season, gear, hiking ability), the length of this trail can be either a good thing or a bad thing.
In my case, I ultimately view the longer distance as a positive aspect of the trail. Let me explain further.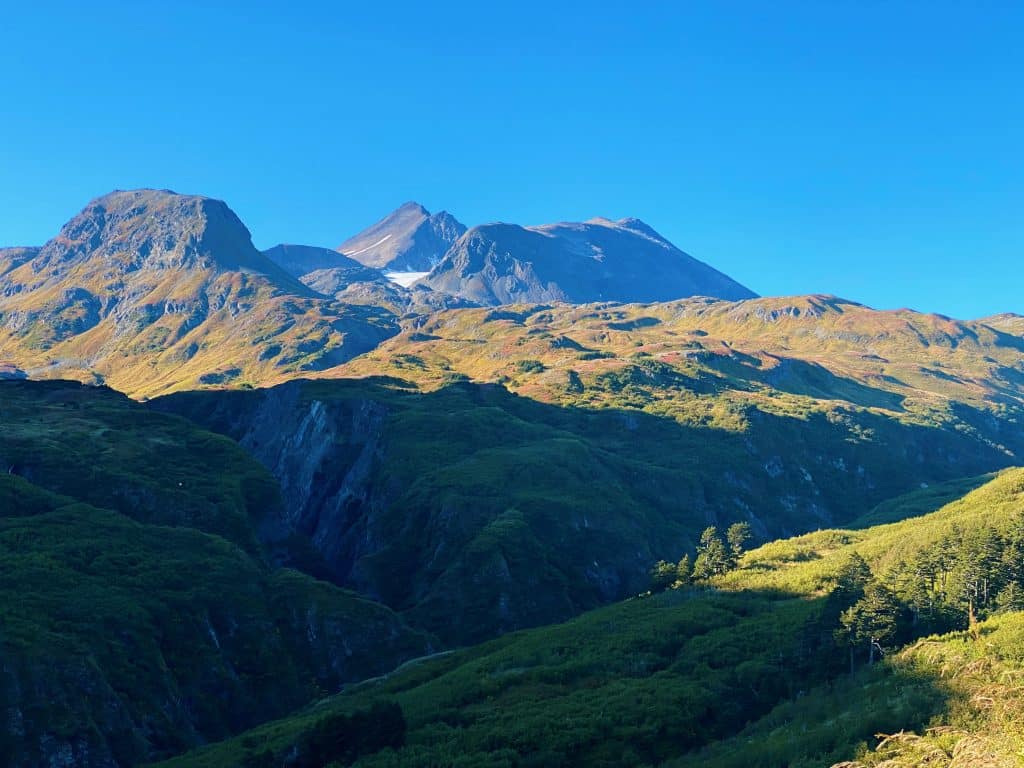 TRAIL DIVERSITY
The trail begins just a few hundred feet above sea level. As you set off, you're immediately surrounded by lush rainforest, already satisfied with how this trail begins.
Continuing on, you climb toward the end of the tree-line, eager to see how far you have come. The thinning trees reveal a massive valley below, with towering mountains surrounding you on all sides.
Continuing further, you climb higher, reaching the alpine tundra, an environment beautiful in both its apparent simplicity and actual complexity.
You're a couple thousand feet above sea level at this point, and the views of the bay behind you reflect that fact.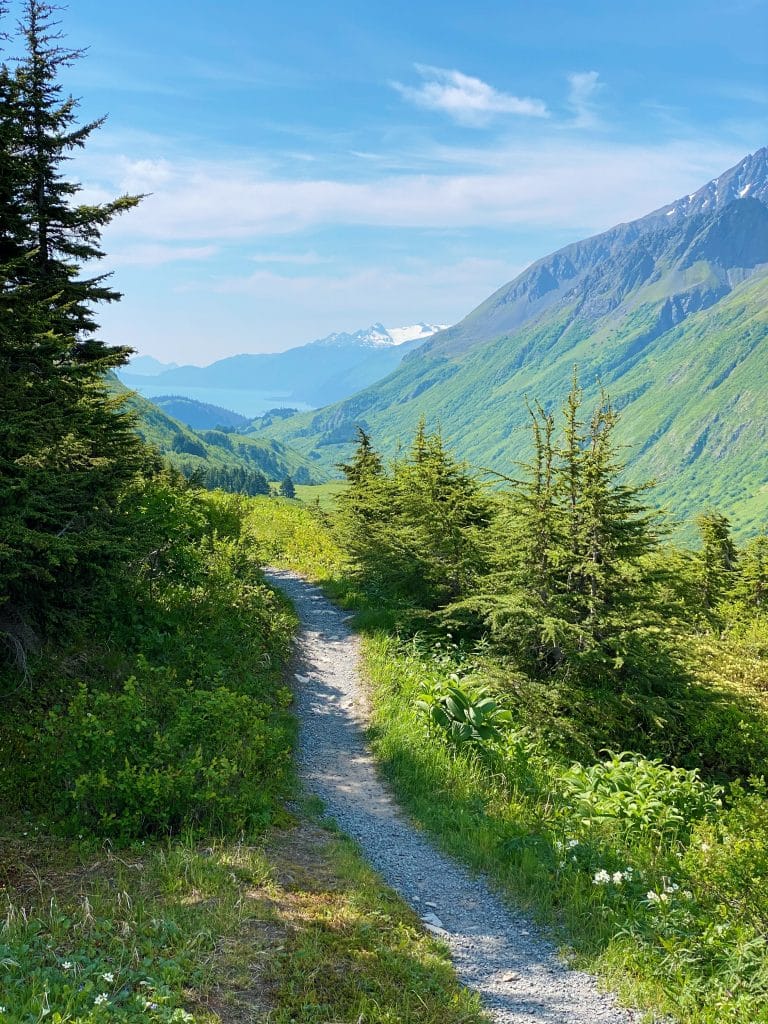 The length of this trail not only offers a rewarding challenge, but also amazing ecological diversity that is hard to beat.
If you want to see as much wild Alaska as you can without jumping from trail to trail, the Lost Lake Trail is probably right for you.
And that's not the only diversity the trail offers.
Unlike Mt. Marathon with it's near constant strenuous climbing, Lost Lake is a bit nicer to you. Some sections are steep, others are not, and it makes for a hiking experience that is overall enjoyable.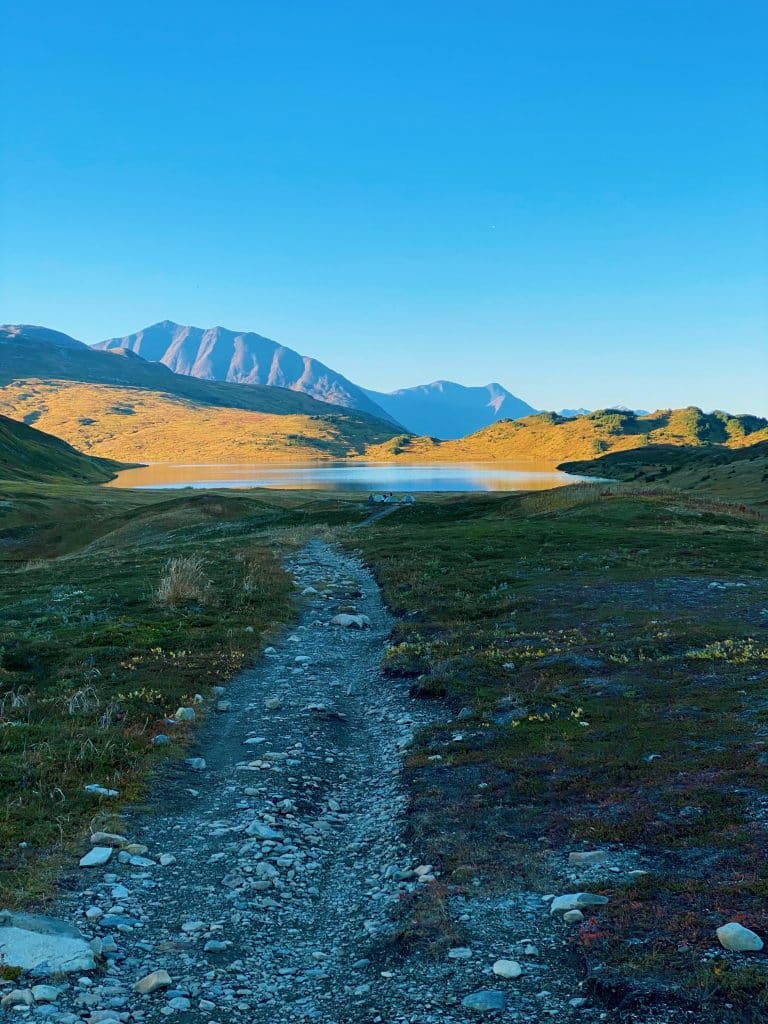 CAMPING
If camping is something that interests you, you will be happy to know that there is plenty of room to camp all along this trail.
With designated campsites at different points along the trail, or more wild camping closer to the lake, spreading out shouldn't be too much of a problem.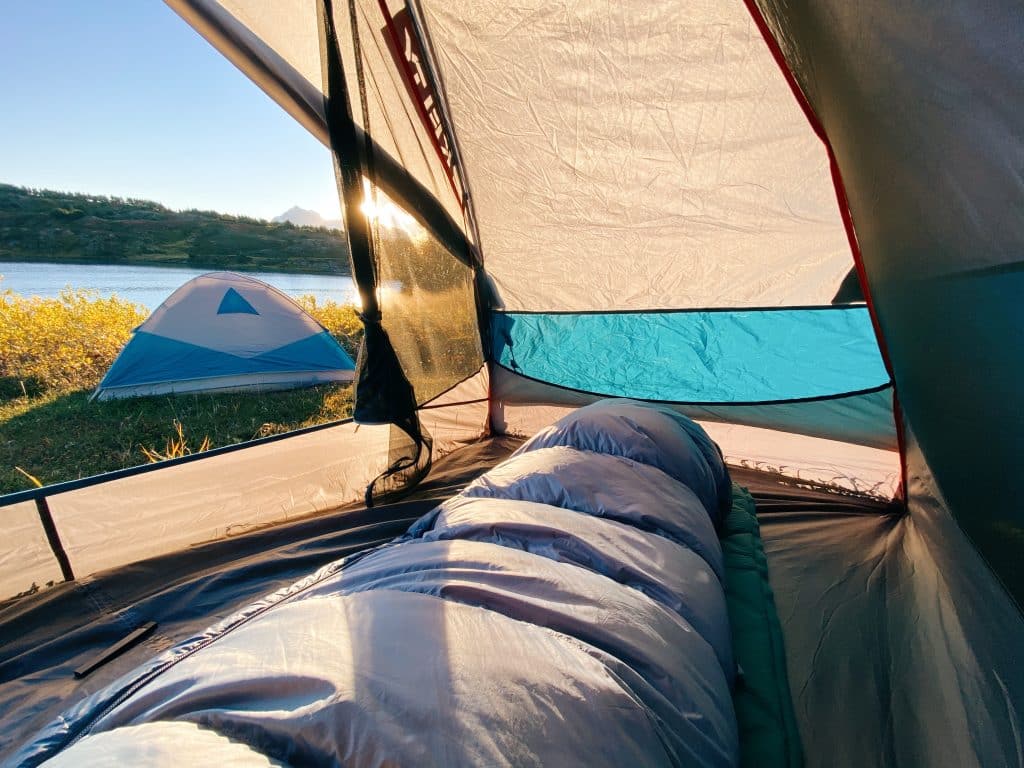 However, if you are wanting one of the better spots near the lake, I would recommend getting up to the lake sooner than you might think you should.
Everyone wants the best spot, of course, and typically those who arrive early have that proven that point by claiming the best real estate.
It is, after all, one of the best hiking trails near Seward.
Cons of the Lost Lake Trail
The downsides of this trail are very similar to the downsides of the other two: crowded, muddy, and difficult for inexperienced hikers.
BUSY & CROWDED
If you plan to hike this trail in the summer time, keep in mind that this is peak season for outdoor activities in Alaska.
As you hike, be prepared to periodically step to the side of the trail to allow for runners or mountain bikers to pass you. On a sunny day in July, for example, it's important to pay attention to your surroundings at all times.
The last thing anyone wants is a collision on the trail.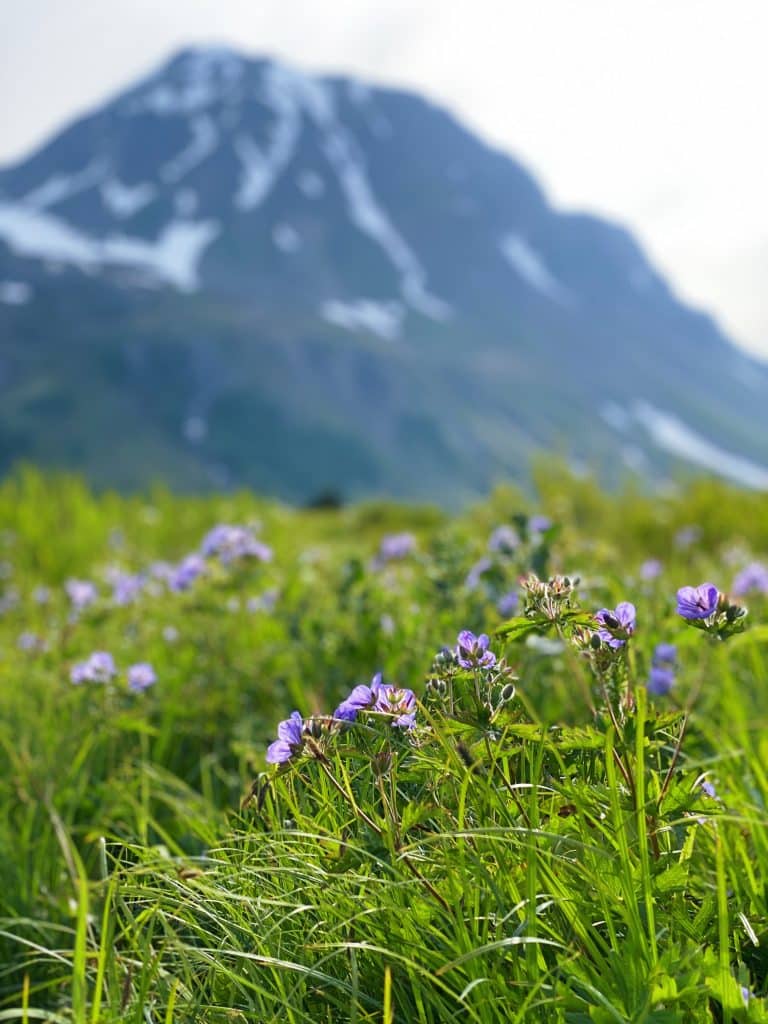 MUD
Mud is basically guaranteed on trails in Alaska. Wear the appropriate shoes and be mindful of where you step.
DIFFICULTY
This trail certainly isn't for the faint of heart. If you are considering completing the entire ~14 miles in one day, be honest with yourself about your abilities.
And most importantly: bring LOTS of water!
And that concludes our TREKKN RECOMMENDS list of the 3 Best Hiking Trails Near Seward, Alaska!
Whichever hiking trail near Seward you end up choosing, you are surely going to have an incredible experience.
Seward is a special place with special adventures waiting to be discovered by each and every person that visits. It's up to you to seek them out.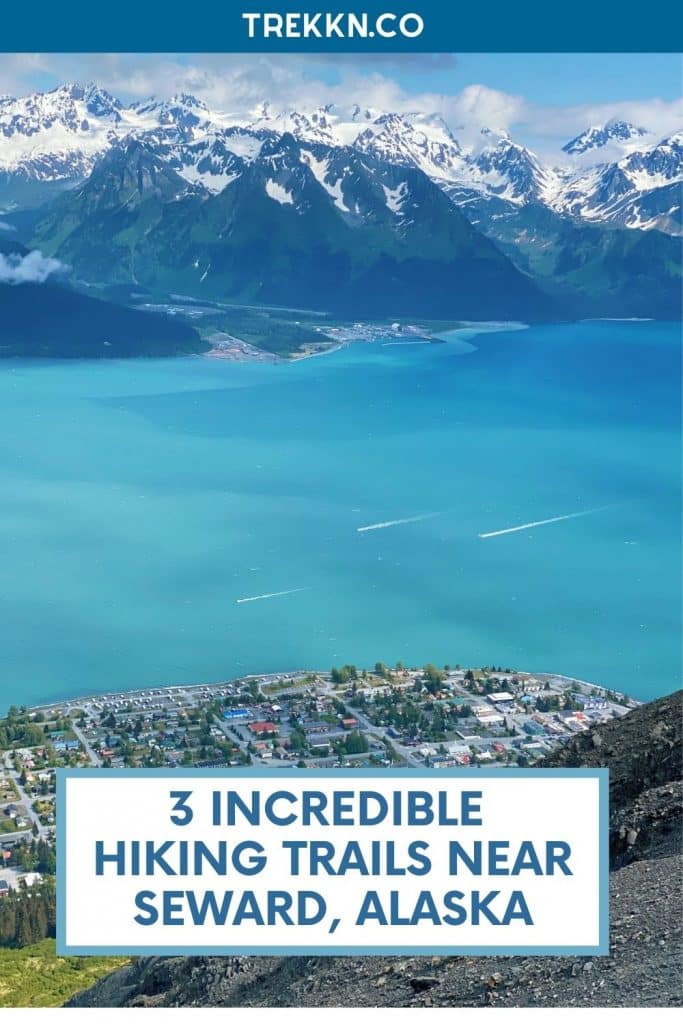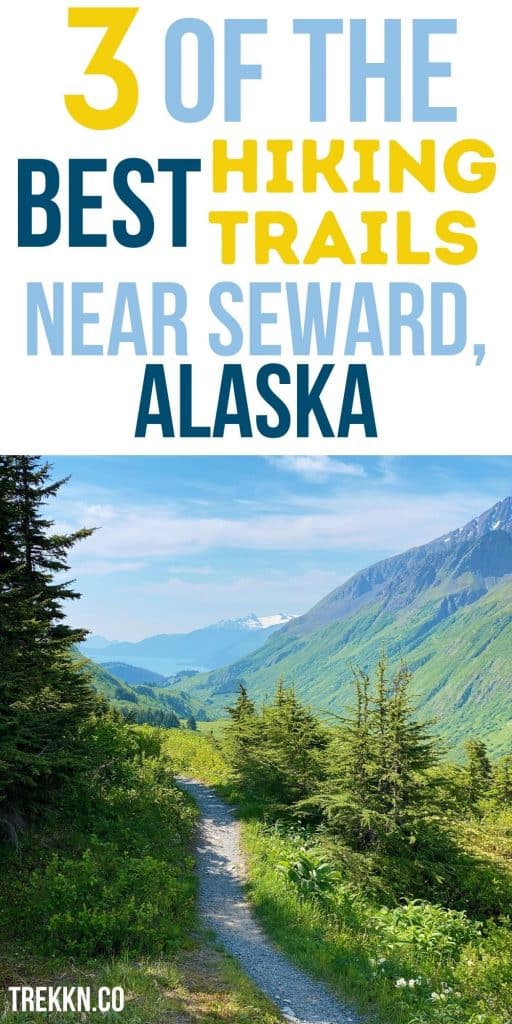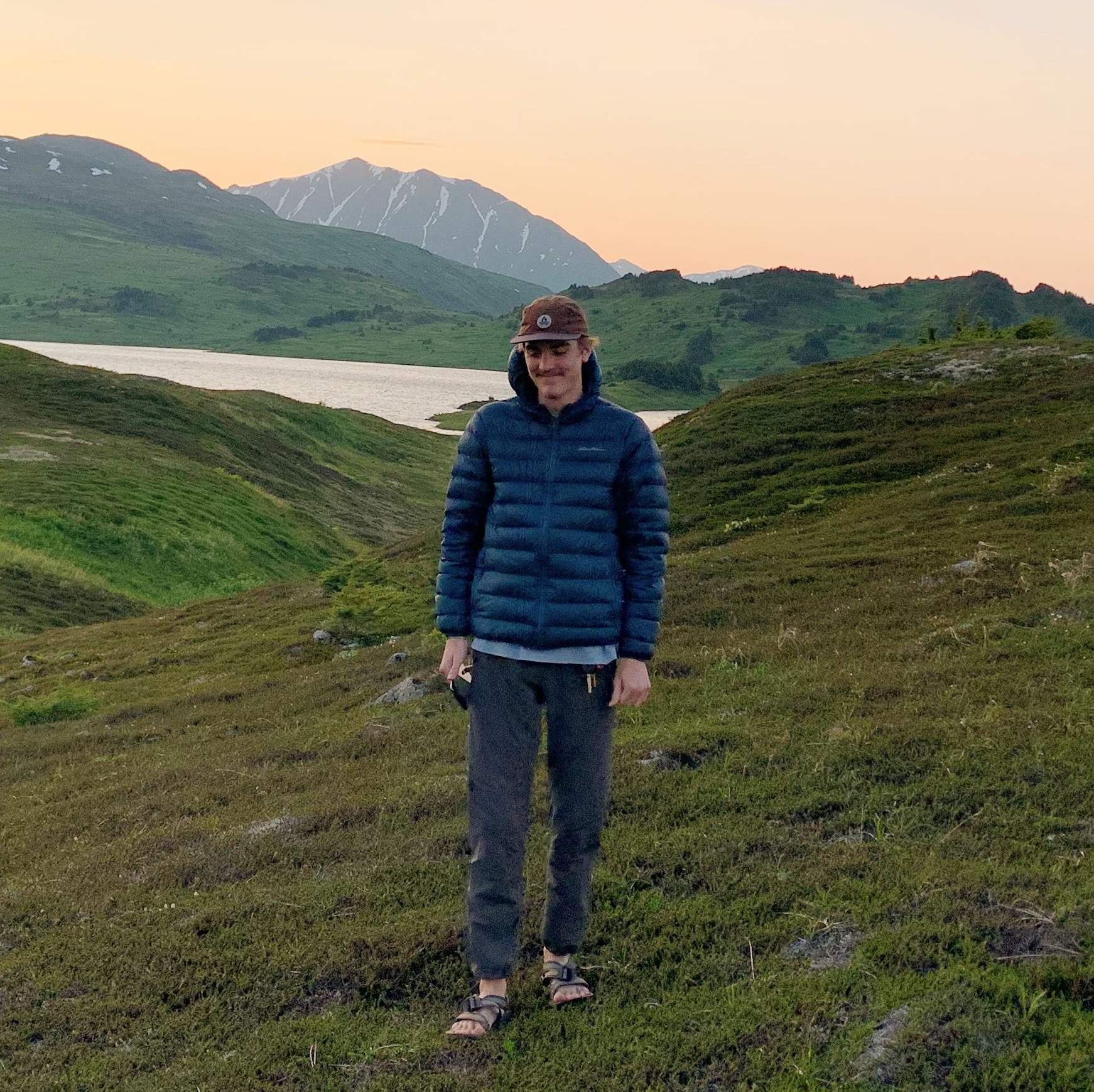 Josiah B gained invaluable experience while living on the road with his family, during which time he felt overcome with the desire to continue exploring. That search landed him in Seward, Alaska, where he currently resides. His love for the outdoors is welcome with open arms in the Last Frontier, and with an endless amount of hiking and backpacking to be done, he's eager to share the best that Alaska has to offer.