9+ Fun Things to do in NYC with your Teenage Daughter

Are you looking for some fun things to do in NYC with your teenage daughter? Check out these ideas for one fun mother/daughter trip to remember.
I've been dreaming of taking a trip with my daughter to New York City for as long as I can remember. When she was little (and maybe even still…) she was obsessed with Eloise and watched Eloise at the Plaza over and over again. New York City was this iconic city we both knew we had to get to and do it together.
We've done a few girls trips here and there, with our biggest one being a trip I won to see Taylor Swift in concert in Washington D.C. I didn't just win tickets to see Taylor Swift, I won an entire trip! Talk about a trip to remember. That was years ago and we still talk about it to this day.
Checking Off Her Bucket List
For our daughter's first summer with us on our 17 month RV adventure (she's in college and only spent breaks with us), we asked her what her number one must-visit stop was and she said Canada. So we booked it to Banff and had an incredible time.
For her second summer with us, her must-visit destination was New York City. We picked her up in North Carolina and made our way to the Big Apple.
RVing in New York City
We contemplated where we wanted to stay in New York City, looking at hotels, Airbnb and RV parks where we could leave our travel trailer for a few days. We ended up staying at an RV park near New York City called Liberty Harbor and it was a fantastic decision.
You can read the guide we wrote up all about the RV park, getting around on the subway and more here.
After we were there for a couple of days, Hannah and I decided it was time to take a girls' day to the city. The guys went to the skate park, we went to the city and it was a win-win for everyone.
What kinds of things are there to do with your teenage daughter in NYC? Oh so much.
(Side note: my daughter was 20 when we visited the city, so she's not a teenager anymore, but any of the things we did would be fun for younger gals as well.)
9+ Fun Things to do in NYC with your Teenage Daughter
Here's a quick view of the places and things to do in NYC with teenagers, specifically your teenage daughter.
Visit Milk Bar for a slice of Crack Pie or a scoop of cereal milk soft-serve
Have breakfast at Tiffany's (Free if you don't actually have breakfast and just walk around, which is actually quite fun)
Go inside the New York Library (Free)
American Natural History Museum
Watch Juggling, Ping Pong and More at Bryant Park (Free)
Do some 5th Avenue Shopping
Get Bubble Tea in Chinatown
Walk the Brooklyn Bridge (Free)
Get the best views of the city by going up in One World Observatory
Walk around Times Square (Free, unless you eat and shop)
Take the free ferry to Staten Island (Free and fun!)
Alright, let's dig into all of the fun things to do with your teenage daughter in NYC!
1) Have a Slice of Crack Pie at Milk Bar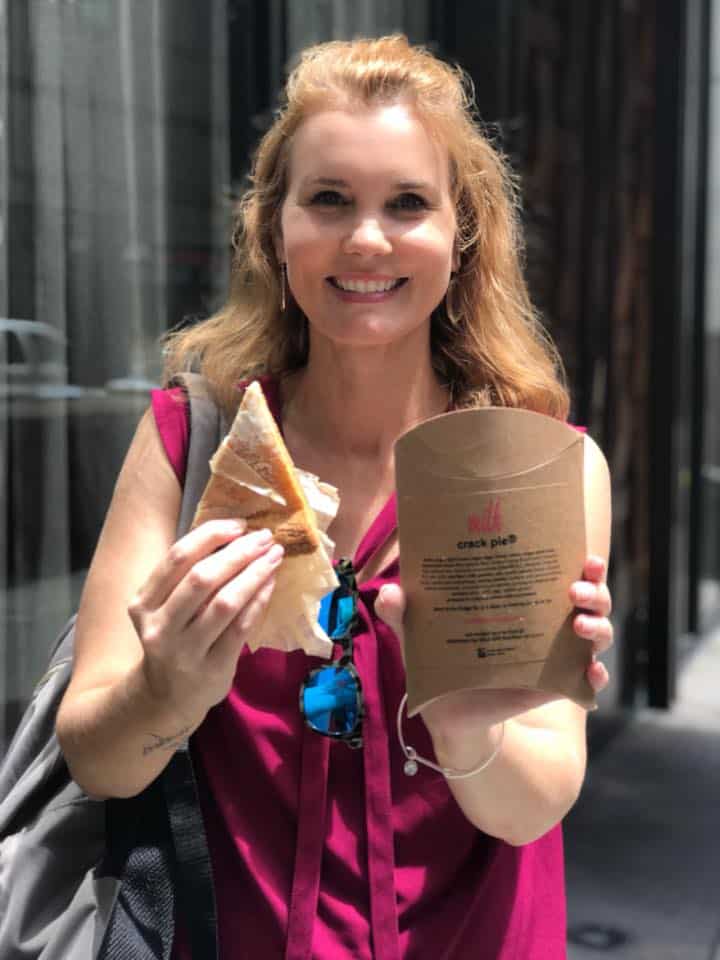 Have you seen any of the seasons of Chef's Table on Netflix? If you have, you know how fabulous it is. If you haven't and you love food, you gotta watch it!
On Chef's Table Pastry, Christina Tosi's Milk Bar store was featured. From the minute I saw her talking about her story, her restaurant, and her food, I knew I had to do anything possible to get there. Luckily, we were headed to NYC where she has quite a few stores.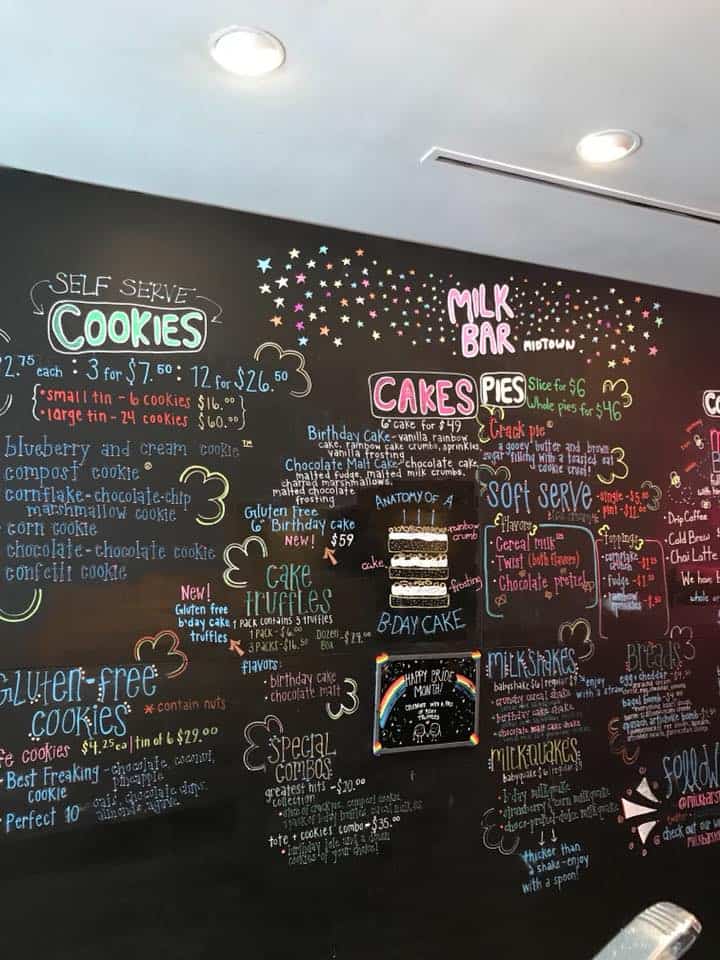 Side note: She also has stores in Los Angeles, Las Vegas, Washington D.C. and Toronto. Check out the details of each store here.
Hannah wanted to try Tosi's signature cereal milk ice cream and I was there to get a slice of her Crack Pie.
What is Crack Pie you ask?
Milk Bar's Crack Pie® is a fan favorite! With a toasted oat crust and a gooey butter filling, Crack Pie® is impossible to resist.

Christina Tosi first made crack pie® for family meal at both wd~50 and Momofuku (before Milk Bar's doors opened!) and the cooks named it right then and there! It's been on our menu ever since!
It was everything I hoped it would be and the cereal milk ice cream was a hit with Hannah as well. (How cute is she?!)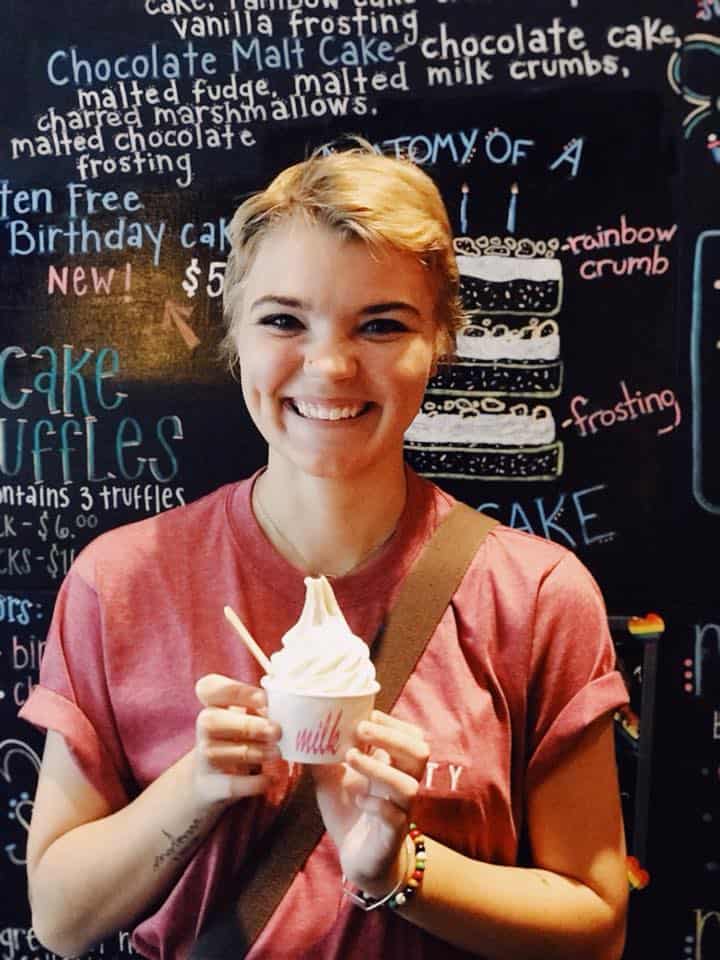 2) Have Breakfast at Tiffany's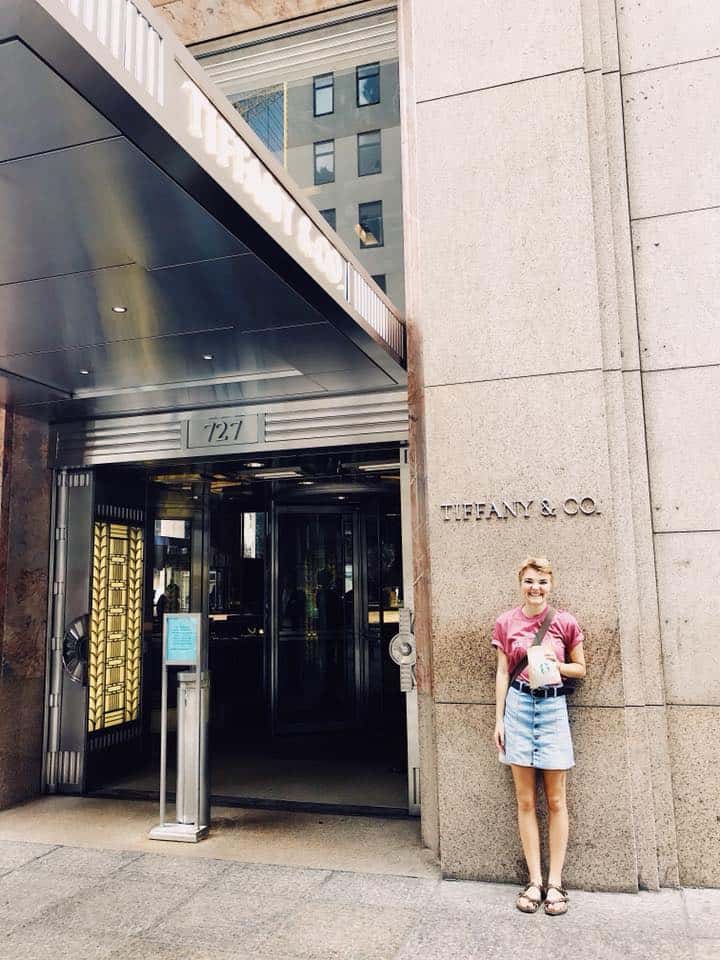 If your daughter is an Audrey Hepburn fan like mine it, then breakfast at Tiffany's is a must. We grabbed some Starbucks and had breakfast outside of Tiffany's, but it was still fun and something Hannah got to mark off her bucket list.
Can you actually have breakfast at Tiffany's? Yes, but there are a couple of things to note about trying to do this or actually trying to visit at all.
Tiffany & Co. shares a block with Trump Tower, so it's pretty crazy as far as crowds go. There are crowds, political protests, armed guards, etc, etc, etc. If you're ok with navigating through that mess, then you'll be just fine.
You can have breakfast, lunch or dinner at Tiffany's The Blue Box Cafe™, but you have to make a reservation. It's located on the 4th floor of the New York flagship store and it's oh so cute. We peeked our heads in there and saw a little girl dressed in her black dress and pearls, Audrey-style, having breakfast.
You can see pictures and read more in-depth details about the cafe on Eater.com here.
Although we didn't eat at the cafe, we had so much fun browsing through the different floors. Everyone there was so nice, from the doorman to the elevator operator. It was well worth navigating the crowds to see this iconic NYC destination.
3) Go Inside the New York Public Library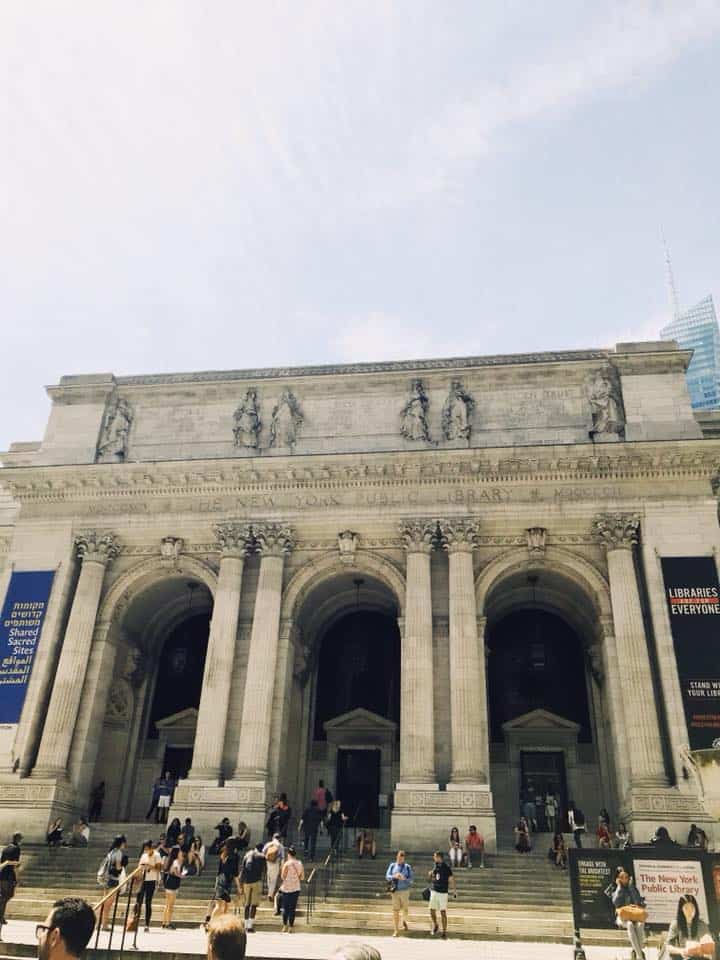 If your daughter is a bookworm like mine, then she'll most likely love a visit to the New York Public Library. And if she's not a bookworm, she'll love (and probably already know) that this library has been featured in several movies including Breakfast at Tiffany's and Ghostbusters, as well as the iconic scene of Carrie Bradshaw's almost wedding to Mr. Big in Sex and the City.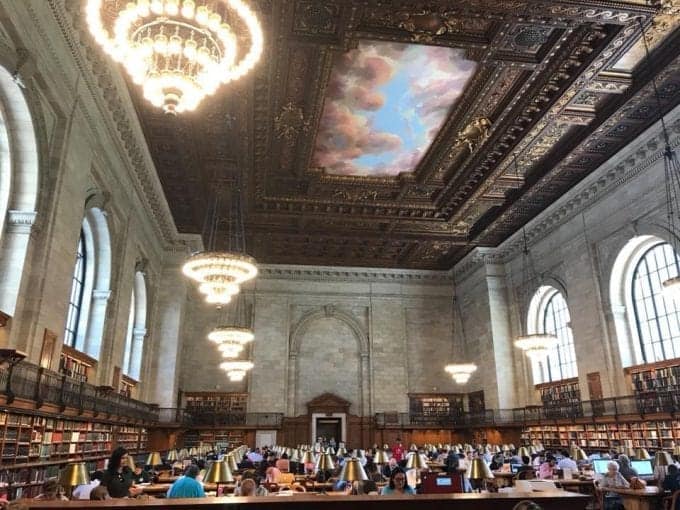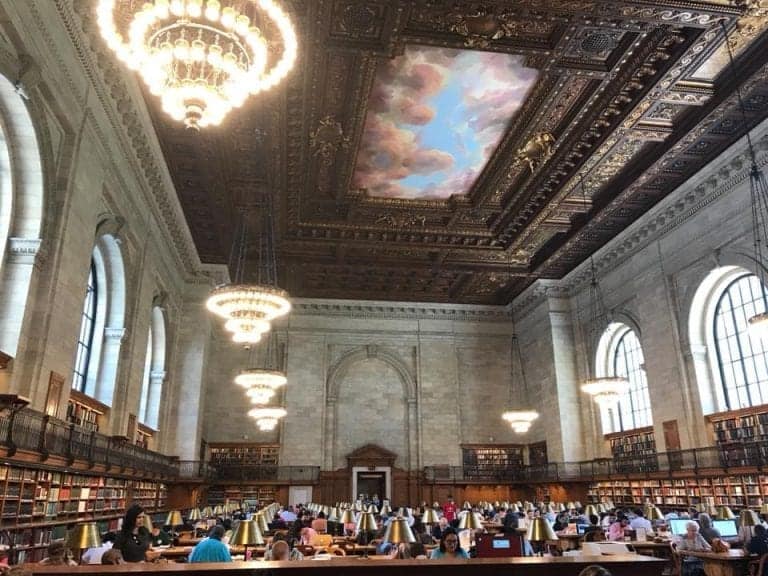 The historic Reading Room in the library is open again after a couple of years of restoration.
We didn't go on a guided tour but instead opted to just tour the library on our own. I do wish I would have done a little more research on this place because then I would have found out some of the secrets of the library and some things the average visitor might not know you could do during a visit.
Keep reading for things to do in NYC with teenagers, specifically your teenage daughter…
4) Watch Juggling, Ping Pong or More at Bryant Park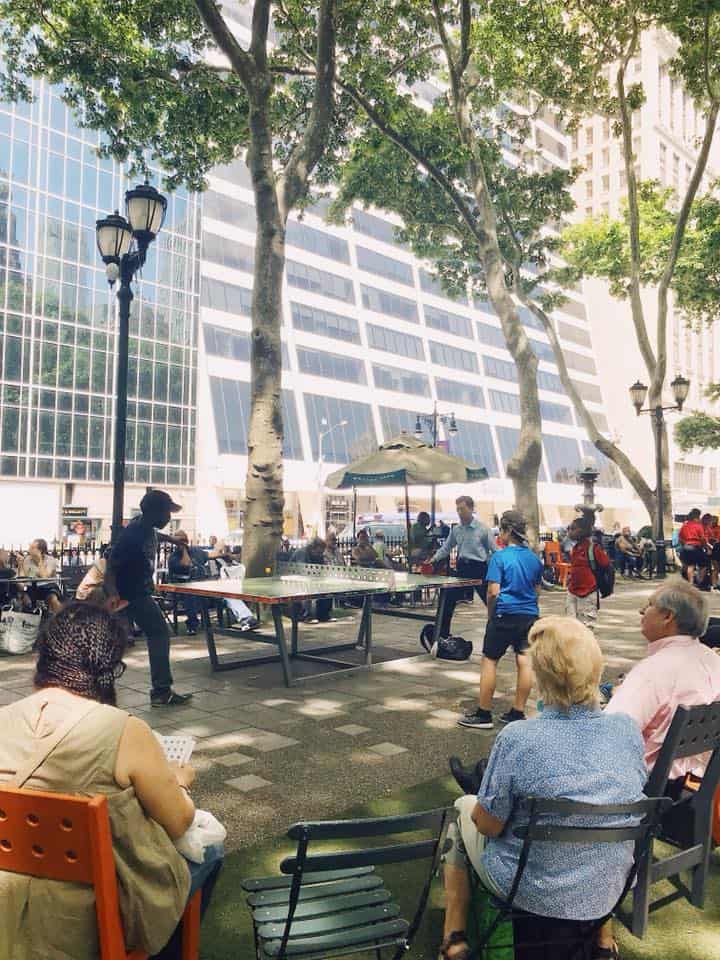 There are quite a few fun things to do in NYC for teens that are free, like this well-known landmark.
After (or before) your visit to the New York Public Library, take a few minutes to walk around Bryant Park. There are quite a few things to do there every day, as well as planned activities which you can see on the park's calendar.
We sat and watched people play ping pong, saw the carousel and smelled the yummy bread from the bakery.
If you visit during winter, you can ice skate at the Bank of American Winter Village.
5) Do Some 5th Avenue Shopping
Not only is Tiffany & Co. located on 5th Avenue, but so are some fun shops. You can do luxury shopping at Bergdorf Goodman who is known for carrying high-end brands like Prada, Gucci, Louis Vuitton, and Dolce & Gabbana.
You'll also find Armani and Saks Fifth Avenue, the store named after the street.
If you're looking for more affordable shopping, you'll also find stores such as Gap and H&M.
6) Get Bubble Tea in Chinatown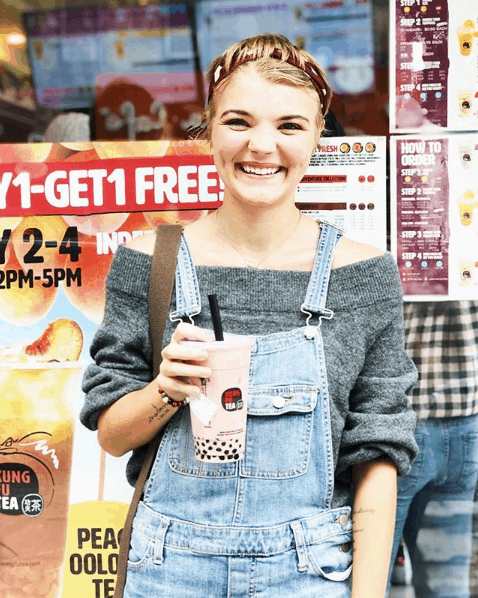 Visiting Chinatown was one of those unique things to do in NYC that we wanted to be sure to check off our list.
Hannah loves her Bubble tea, so we headed into Chinatown to pop into Kung Fu Tea. The little shop was super crowded and she had to wait in line for a bit, but as you can see on her face, it was well worth it.
We also ate at Spicy Village for lunch, a restaurant that came highly rated on TripAdvisor. It's as delicious as it is cheap. We ordered the Spicy Big Tray Chicken and Soup Dumplings, which was a lot of food. Just be aware that if you don't like spice, the Big Chicken Tray is not for you.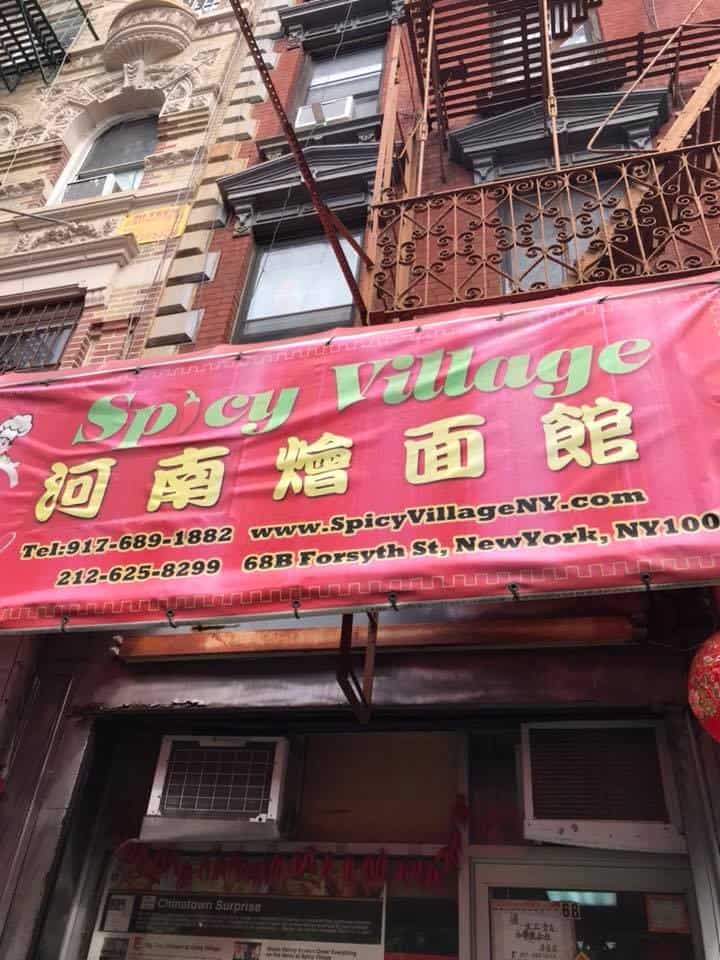 It's a very small place, as well as popular, so be prepared to wait. Some reviews I read said they waited on a table for over 30 minutes. We hit it just right and didn't have to wait at all. We ordered, our food came super fast and we were in and out of there in half an hour.
7) Walk The Brooklyn Bridge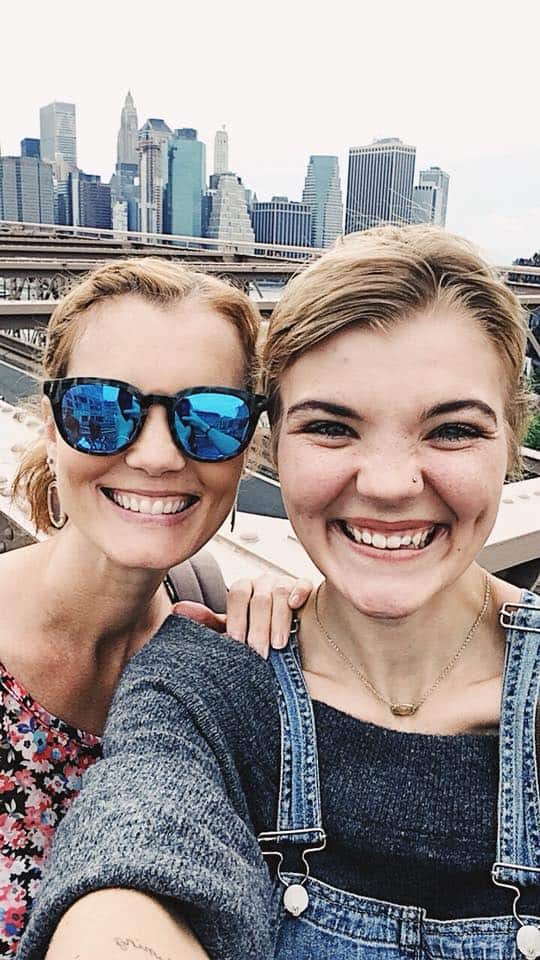 We walked the entire Brooklyn Bridge from the Manhattan side and then caught the subway in Brooklyn back into the city. It's one of those iconic NYC must-dos that we had always heard about. What is well worth it? Yep!
How long does it take to walk the Brooklyn Bridge? Well, it depends on several things.
The bridge is about a mile long and pedestrians going to and from work walk/ride it every day. The fast-paced walkers can do it in half an hour.
But for tourists wanting to go at a slower pace, take pictures and soak in the whole experience, plan for an hour one-way.
A few things to know about the bridge experience are:
It's usually super crowded. There are people everywhere trying to get that Instagram shot and it can really clog up the place.
You also have to be very aware of cyclists and stay in the pedestrian lane. If you don't, you'll hear a thing or two from the cyclists whipping by. Also, some of the cyclists like to ride in the pedestrian lane. So what I'm saying is….watch for the cyclists!
Take a moment or two to snap pictures of the Manhattan skyline and maybe a selfie or two
There are no bathrooms or food vendors on the bridge
Overall, this was a really fun experience we can mark off our bucket list.
8) Get the Best Views of the City from the One World Observatory
This was something I sat out because of my fear of heights. So Hannah's brothers gladly went with her. Not only do you get one amazing view of the city, but the elevator ride to the top is one you'll never forget.
SkyPod Elevators climb 102 stories in 47 seconds. This astonishing ride reveals the transformation of New York City from unsettled lands to today's remarkable forest of skyscrapers. One World Trade Center is also known as the Freedom Tower.
The tickets start at $34, with the base price only offering you the elevator ride and the 360° views. You can upgrade your ticket to include things like the priority lane and a beverage of your choice.
9) Soak in the Times Square Experience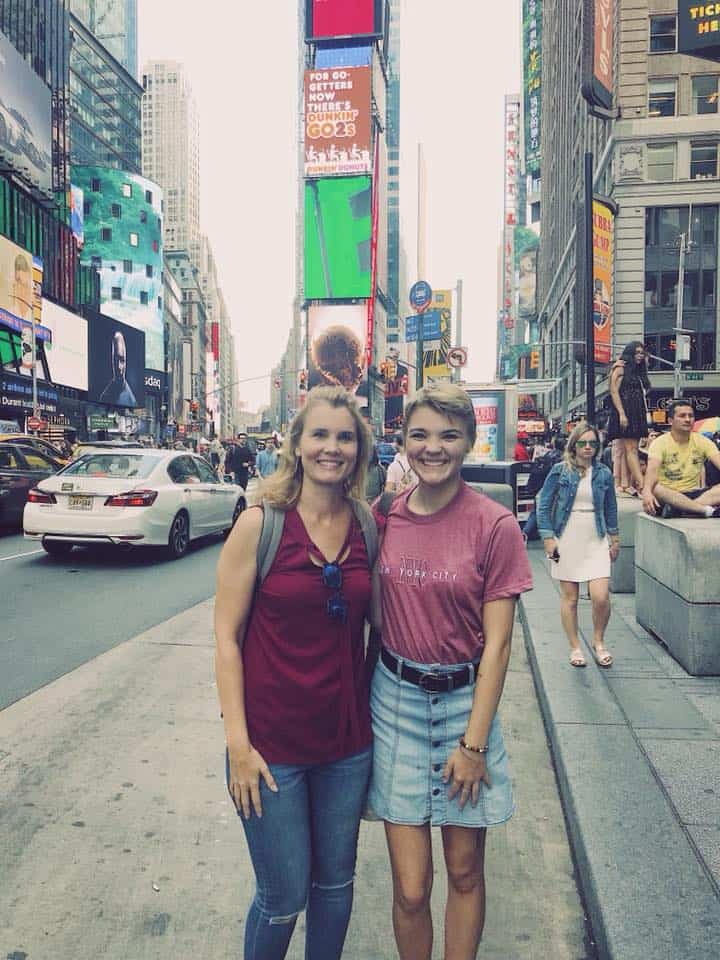 You can't plan a trip to NYC without visiting Times Square! Well, you could but why would you want to? Especially for a first-time visit.
We made sure to visit during the day and at night. There is definitely something invigorating about seeing the place lit up at night.
We visited most of the well-known shops like Hershey's Chocolate World, the Disney Store and the massive Forever 21.
Times Square is obviously crowded no matter the time of day you go, so just be prepared for that.
10) Take the Free Ferry to Staten Island
If you'd like a free way to see the Statue of Liberty and the Harbor, taking the Staten Island Ferry is the way to go.
It's free, it runs 24 hours a day, 7 days a week. The ferry travels between the St. George Ferry Terminal in Staten Island and the Whitehall Ferry Terminal (also known as South Ferry) in Manhattan.
A few things to know about taking the ferry:
During rush hour, the ferry can be packed which means your chance of getting a good view are minimal
Be sure you're on the side that travels right by the Statue of Liberty. When you board the boat on the Manhattan side, head to your right. You'll know which side it is because that's where most of the people are 🙂
You do have to get off, go through the terminal and get back on another ferry to return
So there you have it! Those are just a few fun things to do in NYC with your teenage daughter. I didn't even scratch the surface of everything this city has to offer and there are definitely more things we wanted to do. Which means a trip back, right?
As you can see, there are so many things to do in NYC with teenagers! I hope you found a few things to do to help make your mother/daughter trip to New York one to remember.
PIN THIS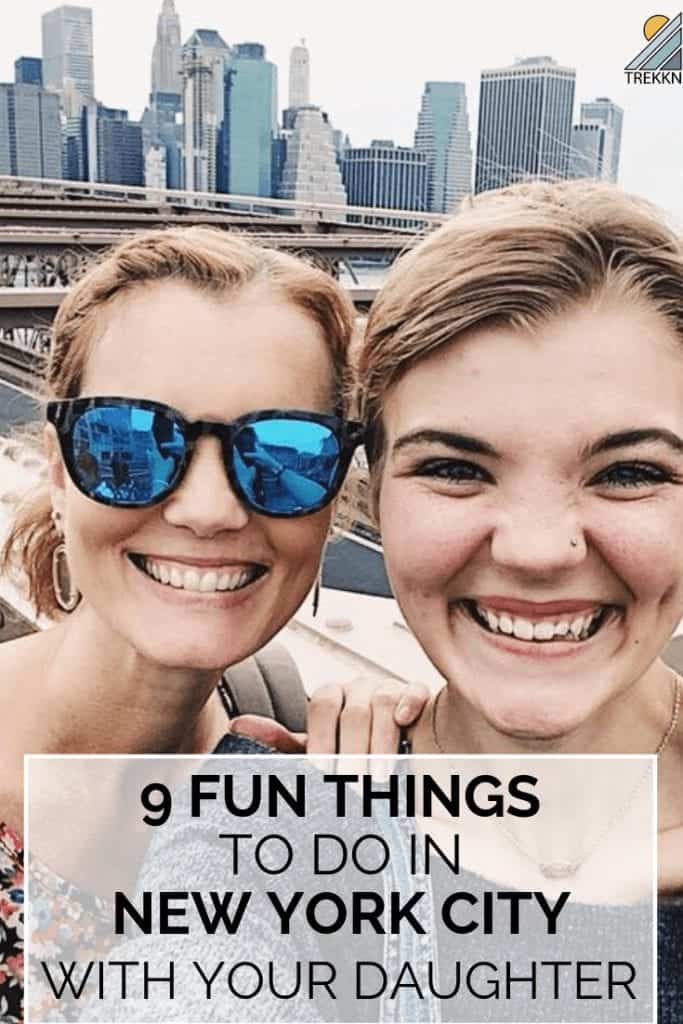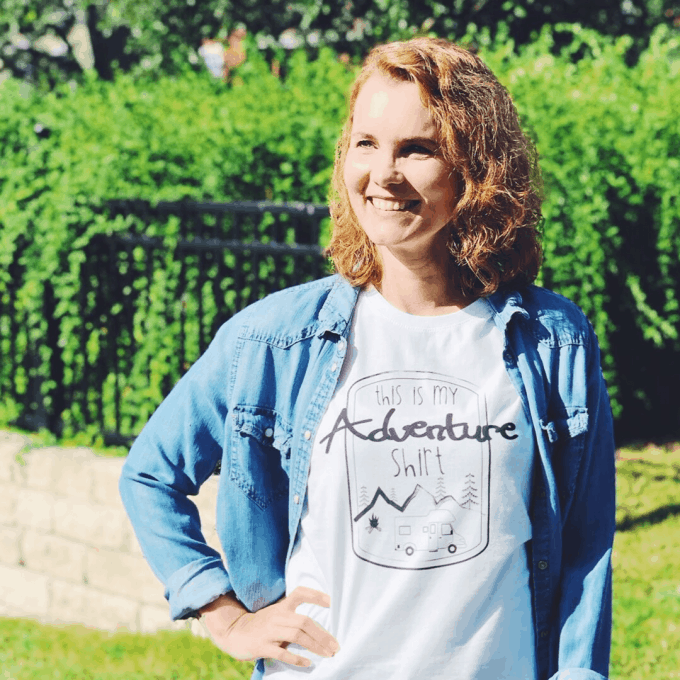 Julie specializes in helping you whip up delicious meals in your tiny RV kitchen, as well as RV organization tips and helping fellow RVers make their RV feel like home. Her favorite RVing spot is in Banff National Park in Canada where yes, the water really is that blue and the people really are that nice.