The Top 4 Best Camper Van Conversion Companies

So you're ready to build a camper van, eh? But the thought of another renovation project is a little more than you can bear. We hear ya. You could consider camper van conversion companies as an option.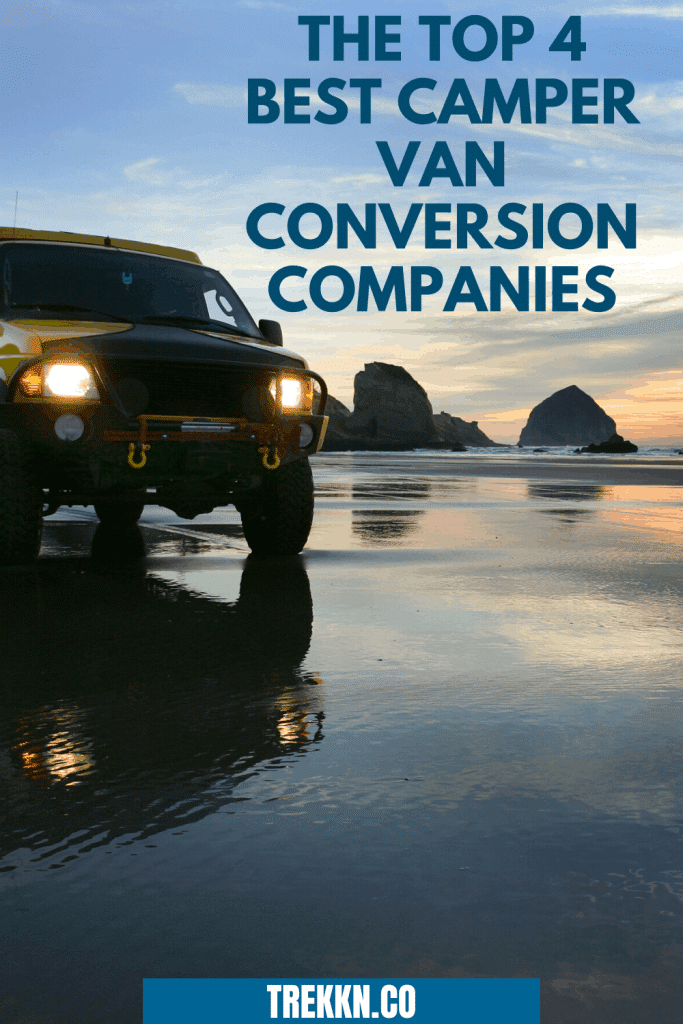 After spending eight months renovating our last rig, a 1976 Airstream travel trailer, we weren't quite ready to take the renovation process into our own hands again.
But with the trend of Van Life skyrocketing, how can you decide on who should build out your beloved home on wheels? Since I've been looking at building out a van for months now, I've come across some of the best camper van conversion companies in the U.S. and I'm finally ready to share my list after hours and hours of research.
Before I give you the list of builders, I want to talk a little bit about how I narrowed down my search. Camper van builders and conversion companies offer different services for different models of vans and a heck of a lot more options overall than you can easily keep track of. That can make navigating this industry and this process a little tricky.
Let's take a look at what you need to know and the questions you need to ask a builder before you sign on the dotted line.
(**Side Note: Whichever conversion option you choose, we highly recommend you do some research before choosing an insurer for your campervan. There couldn't be anything much more stressful than getting in a major accident and then finding out that your insurance carrier is not going to cover all of the costs because of your "unique" vehicle! Don't let this happen to you.
The newest "kid on the insurance block" that you'll want to check out? Roamly. It's an insurance company built by RVers for RVers, to take care of many of the headaches you can potentially face with an RV insurance claim. In select markets, Roamly can provide coverage on DIY campervans and upfitted Class B's that are historically very difficult to insure as an RV. Get your quote in 60 seconds today!**)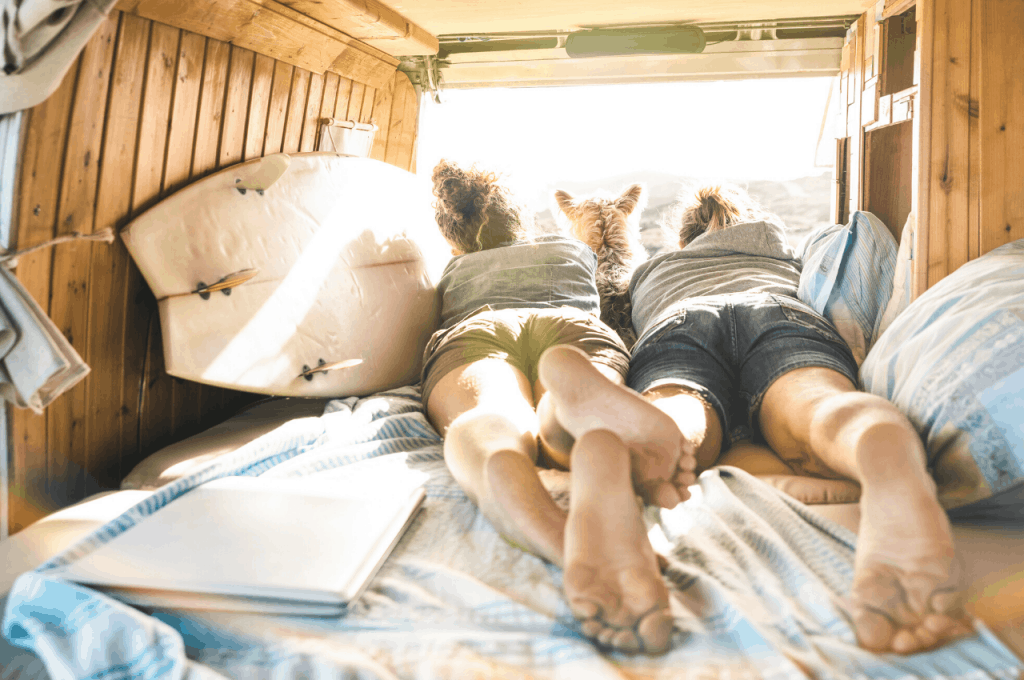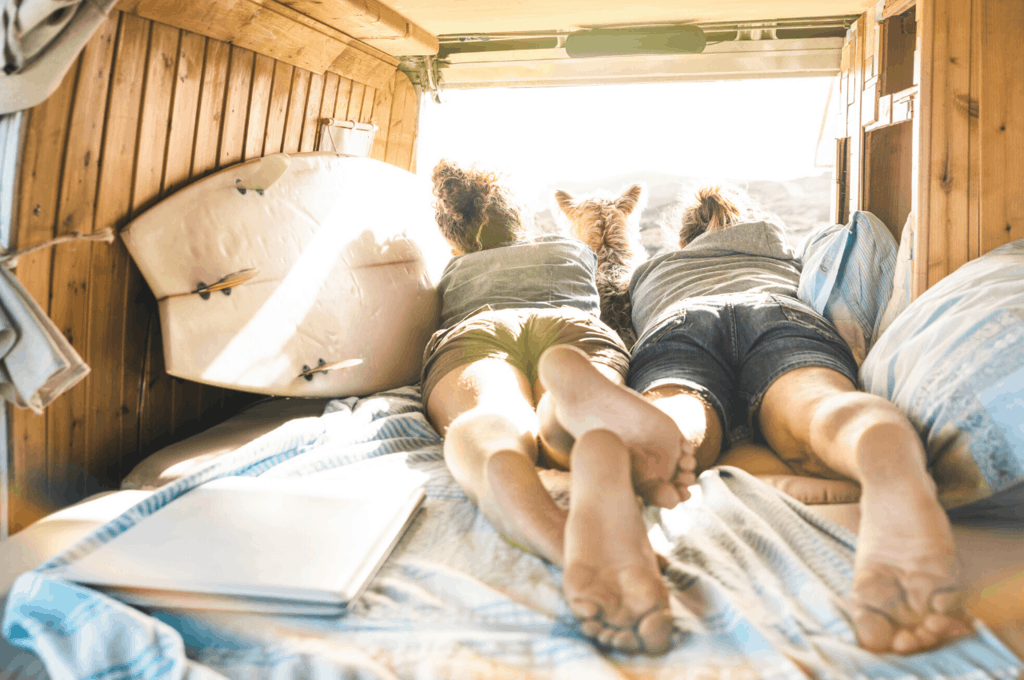 What to Know About Choosing a Camper Van Conversion Company
Before you decide on which van conversion company to go with, you need to know a few general details about each company. Here are some questions you should ask before you take the next step with a builder:
Do they work on any type of van? (Make, model, length, and height limits?)
Do they source vans (new or used) if you don't own a van already?
Do they only do full-build outs or do they offer some partial build-outs? (Ex: If you only want solar and electrical done.)
Do they do custom work or only build "template-style" vans?
Do they do financing in-house? If so, do they offer RV financing (longer-term financing)?
What is the turnaround time on a van after you hand over your money?
Do they offer free shipping if you decide to build a van with them and live elsewhere?
These are just a few of the questions I found helpful to ask when I did my research on van companies. There are several out there that fit almost all of my initial criteria, but it was important to me that I find companies that were reliable, offered quick turnarounds and allowed for full-custom work.
This will obviously vary for each adventurer, but you should know what you want and ask about it before you decide to start building your camper van with any company.
The Top Camper Van Conversion Companies
Now that you know the main questions you should go in with, it's time to look at the best camper van conversion companies I found through my research. There are dozens of builders here in the U.S. and even more abroad, but I focused on the U.S. since most of my travel is within North America.
VanSmith
Located in Boulder, Colorado, you'll find VanSmith is a camper van conversion company offering custom builds for pretty much every van out there.
One of their most popular van builds is a Volkswagen Vanagon that's gone viral on Instagram, but they also work on popular new model vans like RAM Promasters and Mercedes Sprinters.
On their website, VanSmith sets expectations for a new van build to be in the hands of its owner after 2-3 months of lead time and 5-8 weeks of building out their van when it's next in line. So roughly in 3-5 months, you'll have a fully-customized van!
Vans built and converted by VanSmith are roughly $40,000-$70,000 depending on what your design looks like. Unfortunately, this company doesn't have the option to source vans or offer financing at this time.
But if you're sold on a VanSmith built van, you can easily ask for an RV loan or other loan to cover the costs of the build from your current bank or financial institution.
VanDOit
VanDOit is a Missouri-based camper van conversion company that does things a little differently. These modular-style vans aren't the wood-based campers you've seen in many Instagram photos, but they are still just as functional and even more durable than most wooden-based builds.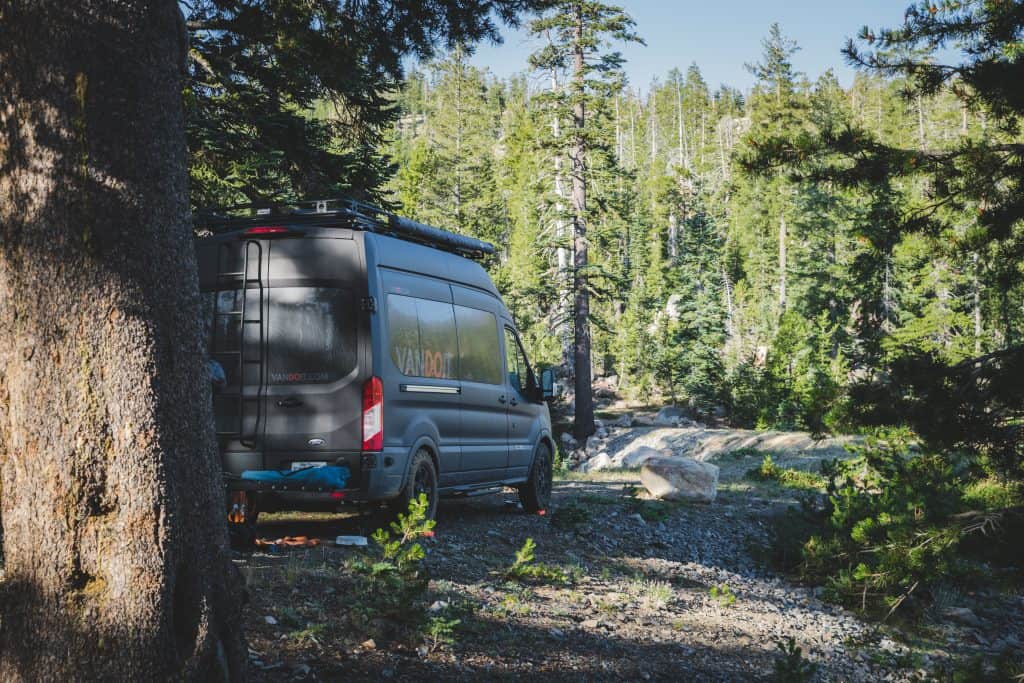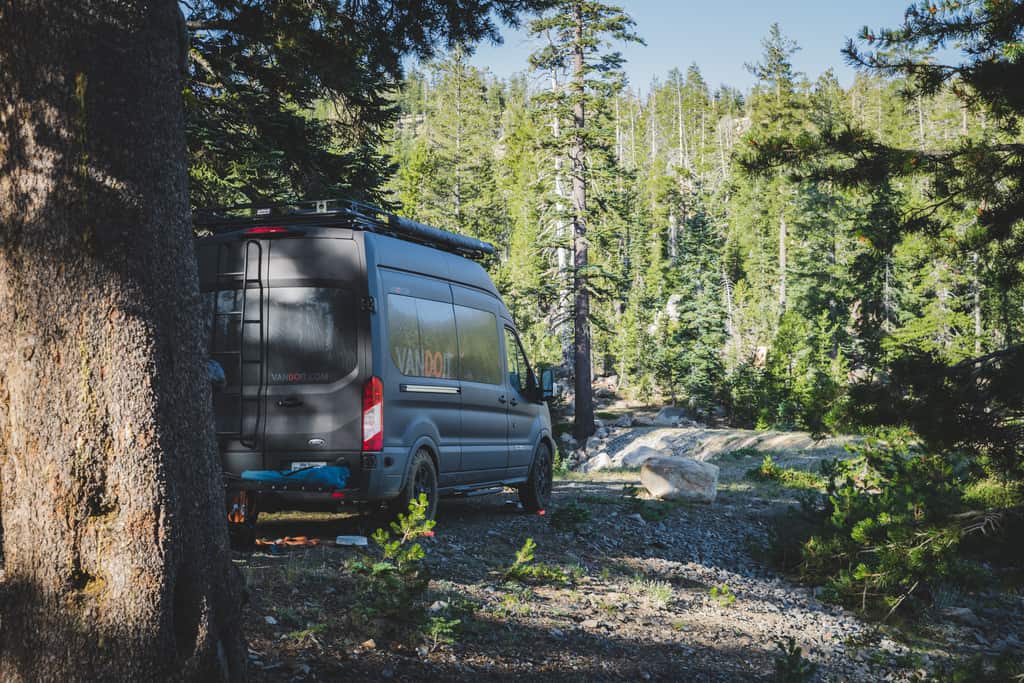 VanDOit camper vans are all built inside Ford Transit 350XLT vans. These vans are highly customizable and come with a variety of component options from a portable shower to a roller kitchen set. Everything is built using a modular system that allows you to take out and put in new modules for different adventures.
This company originally sold and leased vans before building out vans as VanDOit, so if you don't have a van already you can purchase one and also finance your build with them, too! VanDOit camper van build-outs range from $48,000-$108,800 depending on what components you decide to go with.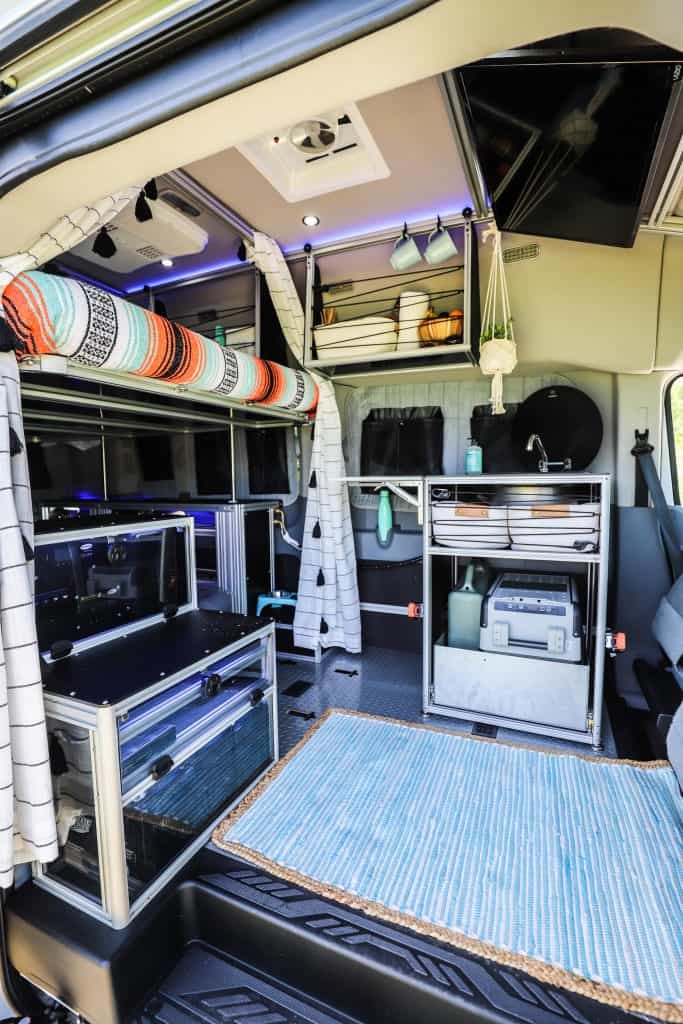 If you're someone who likes to be able to move things around in your rig or if you have large gear to carry like ATVs or bikes, the VanDOit builds might be the perfect option for you. Also make sure to check out the rooftop tent option, because I hear it's a must-have!
Tommy Camper Vans
Based out of Phoenix, Arizona, Tommy Camper Vans is a completely custom camper van conversion company. They work on all types of vans and can source the vans for you, as well as offer you financing if you choose.
Whether you want a Sprinter, Promaster, or even an adventure truck, they'll get you what you need.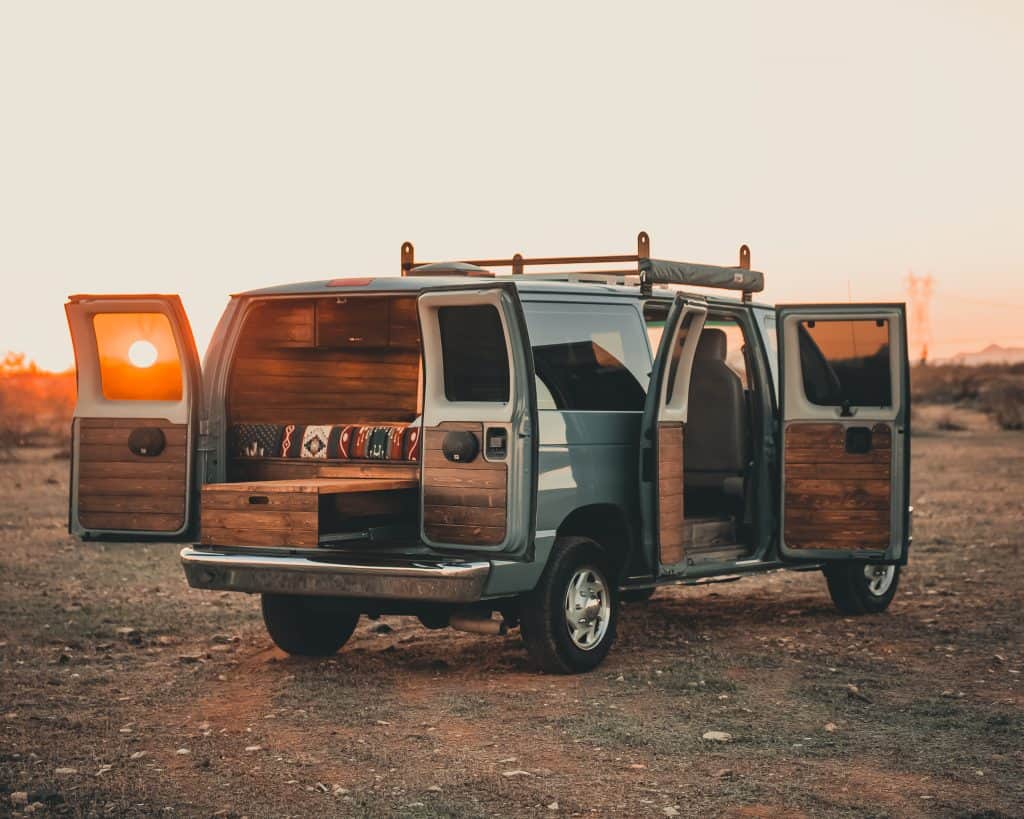 I loved Tommy Camper Vans for several reasons. First, I'm based in the Phoenix area, so being able to hop on over and pick up a van in 4 weeks or so is definitely ideal for me. (For those of you in the Midwest, a Chicago location is opening soon!)
Second, I loved the idea of being able to pick from just about any van I wanted and have it sourced through the company I was hoping to get a van built from.
And finally, I wanted a fully-customized design that I had drawn up so to have a company this close to home that could do all of the work was definitely a big plus for me.
But I know that's not the case for everyone. Tommy Camper Vans allows you to start your order online and offers free shipping in the U.S. to those who are outside of driving distance.
The starting build cost is roughly $20,000, but if you choose to source a van and get the interior build done by Tommy Camper Vans, you're looking at $34,000-$60,000.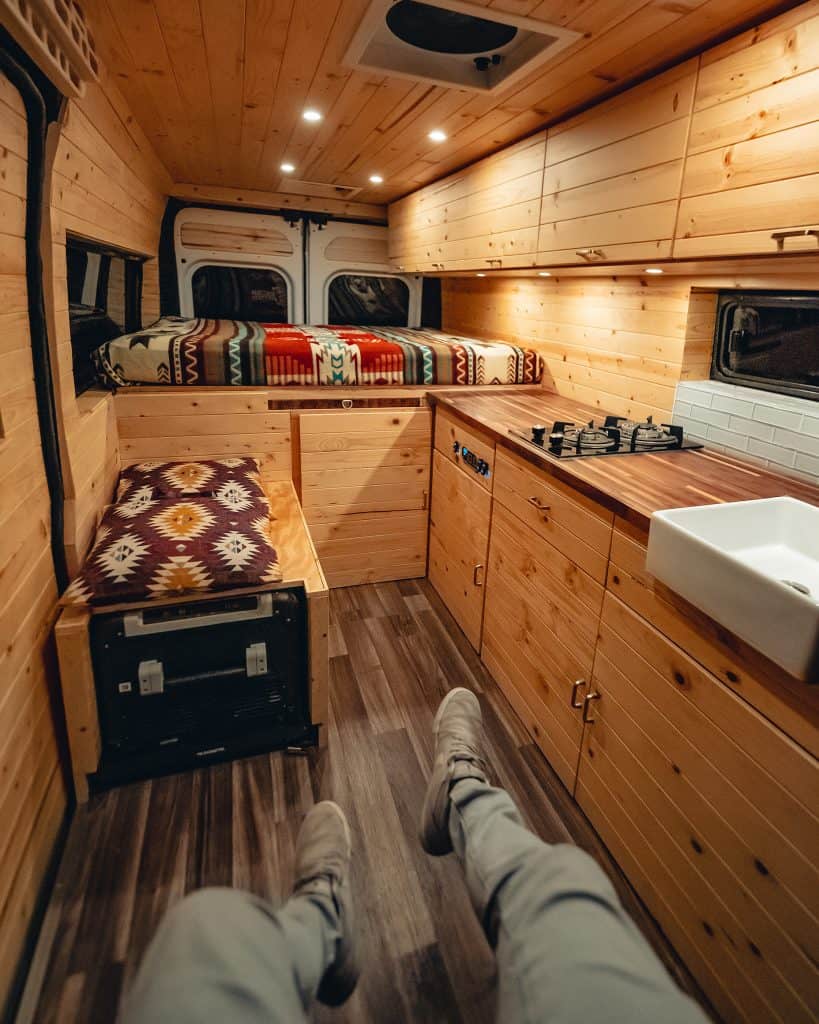 I think this is probably one of the best camper van conversion companies on my list because not only can you fully customize your design, you're still playing with a smaller budget than some other van builders that are upwards of $100,000 before you're done.
Can you tell I like this builder? I hope so!
Vanlife Customs
Last, but not least on my list is Vanlife Customs. I don't know how many times I've found myself on their website, but this company sure does know how to make a van look BEAUTIFUL inside and out.
Based in Denver, Colorado, this company builds on Promaster, Transit, and Sprinter chassis, and the Sprinter appears to be their specialty. Just looking at some of the previous builds Vanlife Customs has done will have you drooling, but before you fall in love let's go over some details.
Vanlife Customs offers full camper van buildouts for $50,000-$60,000. You can expect your fully-customized van build to take 8-12 weeks, but there's roughly a 6 month waiting period before your van makes it into the garage according to their website.
They don't currently sell vans either, which means you'll have to source your own van and deliver it to their shop to await its conversion when the time comes.
If you want something truly beautiful and functional, there's definitely a price and a wait time when it comes to building out vans so if you're interested in a Vanlife Customs build, you better get on it!
Which Van Conversion Company Would I Choose?
It's probably very apparent which company I would choose, but I'll say it again! I love Tommy Camper Vans and I'm hoping that they live up to my expectations when I finally get ready to start my own build.
After all the research I've done, it just seems like the best way to get my money's worth and also have a van in a decent period of time. Not only are they within driving distance of my location, but they offer everything in one place for a pretty amazing price.
As I move forward with sourcing my van and getting ready to build it out, I'm hoping that Tommy Camper Vans can deliver exactly what I want from my next rig.
What do you think about using one of these camper van conversion companies? Would you spend the extra cash for one of these "done for you" options or just do the van conversion yourself?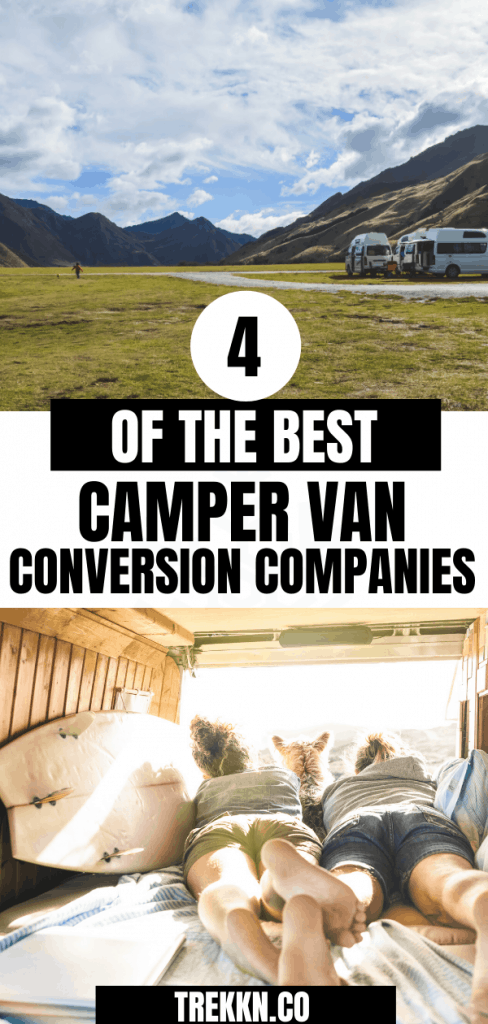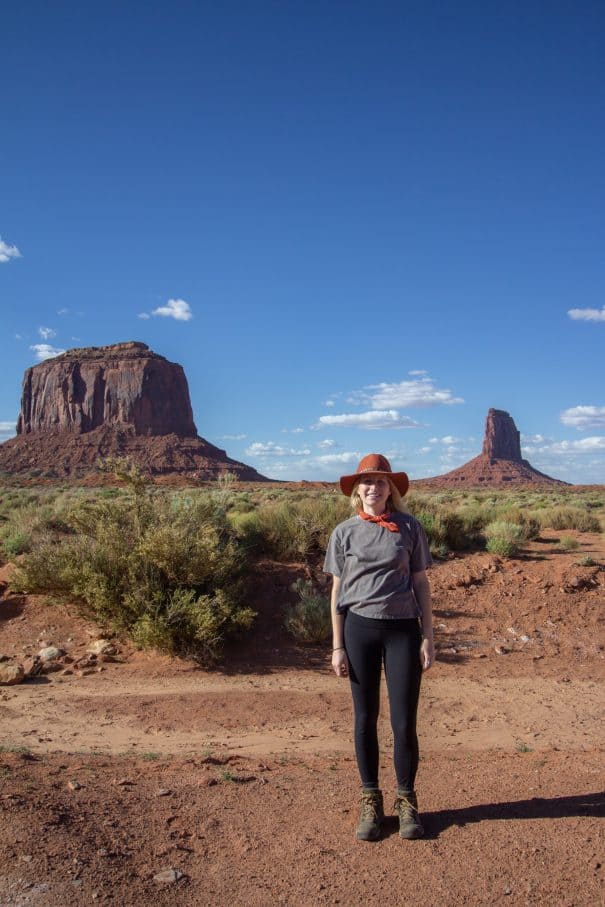 Erin is rooted in South Dakota, but wanders every chance she gets to see the beauty that nature holds. From hiking to climbing, there's not an adventure she'll turn down.
After renovating her 1976 Airstream Argosy, Erin knows the ins and outs of living life on the road and trailer maintenance.
Whether she's on the road with her dog and partner or at home curled up with a good book, Erin is always planning her next adventure because life is meant to be lived outdoors.