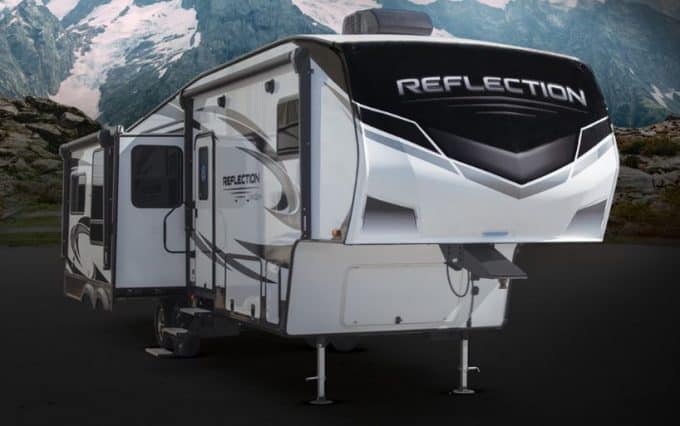 Ah, the simple joy of the open road. Either you have experienced it or you are really ready to experience it at last in a well-suited RV. Whatever your situation, you can trust me that a 5th wheel bunkhouse trailer will allow you and your family to ride in style and comfort as you adventure and explore.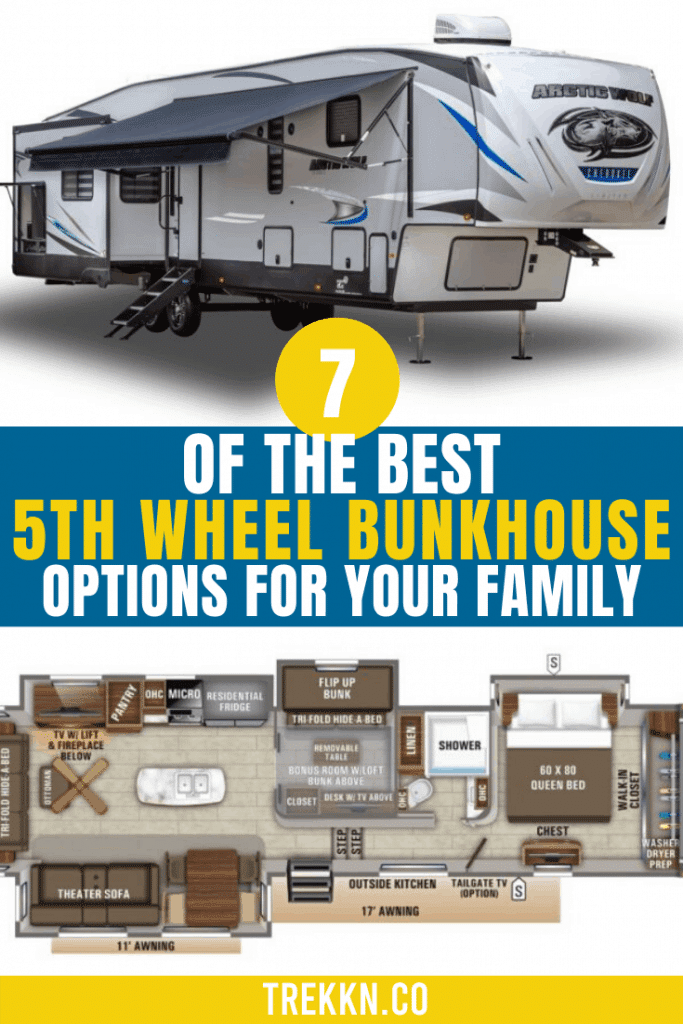 As we shopped for our first RV a few years back, we were extremely tempted by bunkhouse models. Since we planned to have three older kids with us for part of our full-time RV adventure, we felt that the separate space for them would be ideal and would maintain sanity and civility. For the most part.
But in the end, we couldn't make a bunkhouse work for us. We blame it all on our 6-foot-something son who couldn't fit in the typically smaller sized bunks you find in bunkhouses (sometimes only 28-32 inches wide).
If you've got more RV-friendly size kiddos along for the ride, however, a 5th wheel bunkhouse may honestly be the best decision you ever make!
Let's take a look at some fantastic 5th wheel bunkhouse options on the market that you just can't afford to ignore.
5th Wheel Bunkhouse Options for Your Family
Right off the bat, you need to understand that bunkhouse options are going to add additional length to your 5th wheel. Aside from the bunk size that didn't work for us, the vehicle length issue also steered us away from a bunkhouse option. We wanted to have access to as many campgrounds and national parks as possible, so we wanted to stay under 30 feet. From our searching, we concluded that that just couldn't happen with a bunkhouse 5th wheel.
Don't take my word for it, though! If you also would prefer the shortest vehicle possible, continue to do your own searching and see if you can find the right bunkhouse option that doesn't exceed your preferred length.
And now, let's jump in!
2020 Jayco North Point 377RLBH Fifth Wheel
As you're probably aware by now, Jayco is one of the best-known names in the RV industry. For over 50 years, they have produced RVs of all shapes and sizes, offering individuals across the nation the opportunity to experience fun and adventure and create lasting memories with the ones they love. "Generations of Family Fun" as their tagline pretty much says it all!
This particular fifth wheel with bunkhouse model is no slouch in their lineup, either. You'll see, as the model number indicates, that this floorplan offers the benefits of both a rear living setup (perfect for family nights) and a separate bunkhouse/office with loft above in the middle of the rig. For some families, it will be the perfect mix for hitting the road in convenience and comfort.
Others might prefer having the bunkhouse tucked away at the back of the RV for maximum separation from the master bedroom and more insulation from kitchen noise, etc. It all depends on your priorities and particular situation.
SHOW ME THE SPECS
Now, this one does not come in the junior size! It's a beefy contender with some impressive (and maybe daunting) specs:
**Note: GVWR stands for Gross Vehicle Weight Rating and UVW stands for Unloaded Vehicle Weight in the lineup below.**
GVWR: 16,750 lbs
Empty Weight (UVW): 14,040 lbs
Cargo Capacity: 2,710 lbs
Dry Hitch Weight: 2,855 lbs
Exterior Length: 42′ 11″
Exterior Height: 13′ 5″
Fresh water capacity: 75 gal
Gray water capacity: 50 gal + 37 gal secondary
Black water capacity: 50 gal
As you can see, you are going to need plenty of truck in order to safely and reliably tow this bad boy. With an empty weight of over 14k pounds, it's at the heavy end of the fifth wheel weight spectrum. And 42 feet is no joke to tow! That's a lot of living space following you around, so be prepared to take some time to get used to maneuvering with this load, my friend.
But I really do appreciate the healthy holding tank sizes, as one who is interested in boondocking at least. These tanks provide added freedom to really explore the more untouched regions of the continent, if that's your desire. Plenty of adventure potential packed in here!
FLOORPLAN AND FEATURES
As I mentioned, this model offers you the comfort of a rear living setup, with comfortable seating for five, coupled with a mid-rig bunkroom/den/office/guestroom with large loft sleeping area above. I see it as one of those rare layouts that could work well for a couple of digital nomads, who could use that office space and an extra sleeping area just in case, as well as for a family of five or more.
With the flip-up bunk, the tri-fold hide-a-bed and the loft sleeping area, you can comfortably sleep three or four kiddos in here AND have places for them to sit and relax in the living area as well. (Like they ever sit down.)
Couple these conveniences with the full-size residential fridge and pantry plus a walk-in closet and washer/dryer prep in the master bedroom, and you have a very serious contender for a family rig to keep you rolling for years to come.
2020 Forest River Arctic Wolf 287BH Fifth Wheel
Okay, I have to say that I'm pretty much in love with this 5th wheel floor plan, and I don't think I have ever said that before. I've been much more of a travel trailer kind of guy, actually.
But when I look at this particular option, I see something that could have worked so well for our full-time travel! It's similar to our travel trailer, with the same type of larger bunks that we needed, but it has some extra space, added comforts and separate bunk room that would have been very welcome.
SHOW ME THE SPECS
You will quickly see that this option is a more manageable size for those of us looking for some simplicity and maneuverability in our rigs:
GVWR: 11,525 lbs (estimated)
Empty Weight (UVW): 8,368 lbs
Cargo Capacity: 3,157 lbs
Dry Hitch Weight: 1,325 lbs
Exterior Length: 34′ 0″
Exterior Height: 12′ 11″
Fresh water capacity: 49 gal
Gray water capacity: 70 gal
Black water capacity: 35 gal
As you can see, this is a much smaller rig compared to the North Point option above, in terms of weight, height and length. (If you like the smaller 5th wheel options, click here to see our best recommendations for small 5th wheel trailers.) The difference in weight is the most astounding as it comes in more than 5,000 lbs lighter than the North Point. It's also nearly nine feet shorter and six inches shorter. As one who loves great things in smaller packages, this one has my attention.
On the holding tanks side of things, it's not necessarily overly impressive. Each tank is smaller than the North Point's, but they are still very respectable and should allow for a decent amount of boondocking without running into major issues. That's if you follow some recommended boondocking guidelines and play it safe with tank usage in general.
FLOORPLAN AND FEATURES
For a fifth wheel, I feel like this is a pretty unique layout. I rarely come across a fifth wheel with the bunks that are 54″ wide like this. That coupled with the closed off bunkroom makes it very family-friendly since Mom and Dad can go on about their business in the morning or evening without too much risk of waking the kiddos.
Much like our smaller 26-foot travel trailer, however, this option does not provide the living room seating for the whole family like the North Point did above. You still have the dinette for added seating, but that is obviously not going to offer the same level of comfort as an added couch or love seat.
As always, it depends on what factors are the most important to you given the unique details of your situation. We gave up the added seating in our rig because the sleeping arrangement was the most important factor to consider. If you're in the same boat, you owe it to yourself to take a closer look at this compact but highly functional family fifth wheel.
2021 Grand Design Reflection 28BH Fifth Wheel
Ah, Grand Design. I was introduced to this RV brand early on in my RVing experiences. Our travel trailer was parked in the storage lot next to a Grand Design travel trailer of about the same size. I got a chance to chat with the owner on several occasions and he left me take a peek inside. Needless to say I was impressed. Attention to detail and quality construction are definitely strong suits for this brand.
If I had already owned, or had been willing to purchase, more truck that would be capable of towing something like this, I guarantee you this model would have been a strong contender for our full-time adventure.
SHOW ME THE SPECS
You'll find that the overall specs are pretty similar to the Arctic Wolf model above, although all three tank sizes are larger on this model…which you know I love!
GVWR: 11,495 lbs
Empty Weight (UVW): 8,997 lbs
Cargo Capacity: 2,498 lbs
Dry Hitch Weight: 1,592 lbs
Exterior Length: 34′ 8″
Exterior Height: 12′ 3″
Fresh water capacity: 60 gal
Gray water capacity: 86 gal
Black water capacity: 43 gal
You'll save yourself about 8 inches of clearance and only add about 8 inches of length, while your cargo carrying capacity will be reduced by about 650 lbs in the Reflection. For most of us, that loss of cargo capacity is not a deal breaker. But you'd be surprised how quickly the weight can add up (and continue to creep up) if you plan to full-time RV in this beauty. So plan carefully.
As far as features go, we can't move on without mentioning the gourmet kitchen, ductless flooring and universal docking station offered in this series. Pair that with one-touch auto leveling and it's easy to start falling in love with this option.
FLOORPLAN AND FEATURES
You'll probably be able to quickly identify some strong similarities between this floorplan and the Arctic Wolf we covered above because of their similar length: only one designated entertainment seating area (dinette will be used to accommodate everyone), the bunkhouse is tucked away at the back of the rig and closed off with a door, and you also have a nice outside kitchen to enjoy. (For us, that one was kind of a non-negotiable.)
Personally, I am not a big fan of having the sofa located like this one, where you have to turn your head to watch TV. That literally looks like a pain in the neck to me, at least. I strongly prefer the sofa or loveseat to be located on the opposing wall instead for easy viewing.
And while these bunks are all smaller than the 54 inch option in the Arctic Wolf, you do still have a 48 inch bunk and then two smaller bunks for the smaller tikes along for the ride. All in all, it could be a perfect design for families with a mix of older and younger kids. So give her a good look if you fall into this category.
2020 Highland Ridge RV Silverstar Limited SF295BHS Fifth Wheel
Highland Ridge RV may be a lesser-known brand on the market today, since it has only been around since 2014. But don't let that shorter track record scare you away for these two reasons:
It previously operated as Open Range RV starting in 2007
It is now a subsidiary of Jayco, but operates its own facilities, sales teams, etc.
With this strong affiliation with a trusted brand like Jayco, you have nothing to shy away from here.
SHOW ME THE SPECS
Let's see how the Silverstar Limited stacks up against our previous recommendations in terms of its specifications:
GVWR: 9,995 lbs
Empty Weight (UVW): 8,085 lbs
Cargo Capacity: 1,910 lbs
Dry Hitch Weight: 1,315 lbs
Exterior Length: 34′ 9″
Exterior Height: 12′ 6″
Fresh water capacity: 51 gal
Gray water capacity: 58 gal
Black water capacity: 29 gal
Not surprisingly, I am quickly becoming a fan when I see the GVWR under 10K lbs (yippee!). For me, this matters because of tow vehicle requirements and overall fuel costs (thinking in terms of a full-time RVing excursion, primarily).
But that low GVWR does come at a price, because this rig can carry less than 2,000 lbs of cargo….nearly 600 pounds less than the closest competitor so far and 1,200 pounds less than the North Point. Again, the only time I think this will potentially become a factor is if you choose to RV full-time in this rig. Full-timing with a family could easily eclipse this cargo capacity, in my opinion.
Honestly, it is a also a bit light on the holding tanks sizes as well: all tanks are the same size or smaller than the three previous options. Does that matter to you? Only you can say.
FLOORPLAN AND FEATURES
Normally, I would jump right to the floorplan here, but there's one feature that must be highlighted first: the PVC roofing!
While we were full-timing, I had my fair share of issues with the roofing on my travel trailer. This was due in part to a botched repair done by a mobile repair company while we were in Sedona, Arizona. But even with that factor, I can 100% appreciate and get on board with a stronger roofing option…and especially one that comes with a 15-year warranty! For me, that's like GOLD. (Notice that it says they have had "ZERO PVC membrane failures to date". Um, yes please.
Anyhoo, I'll stop gushing over the roofing now. On to the floorplan:
As you can see, this is another option that offers both a separate bunkhouse at the back of the rig AND two larger bunks for the not-so-tiny kids along for the ride. Those double bunks are sure to be a hit.
You will also see the same issue with a lack of comfortable seating for entertainment. Only two theater seats are available, with the dinette used as additional seating. We've got to get up to the 34XX models and larger to really see a full offering of entertainment seating, so this is no surprise at this rig size.
Personally, I really like the slightly more spacious bathroom with radius shower in this model. It seems a bit more user-friendly than some other options we have seen.
All in all, at under 10K lbs with separate bunkhouse and double sized bunks, you should get yourself inside this Silverstar model on an RV lot and see how it fits you.
2021 Grand Design Solitude 3740BH Fifth Wheel
Alright, back to the "big boys". This is a 37-foot model which brings with it the expected added weight, added length and some added features (which we will get into later). But this is also a Grand Design, a manufacturer that we already touched on up above with the Reflection 28BH fifth wheel. So we know that the brand is solid and towards the top end of the quality spectrum.
SHOW ME THE SPECS
Brace yourself. As I said, this is not a tiny contender:
GVWR: 16,800 lbs
Empty Weight (UVW): 13,884 lbs
Cargo Capacity: 2,916 lbs
Dry Hitch Weight: 2,900 lbs
Exterior Length: 40′ 4″
Exterior Height: 13′ 5″
Fresh water capacity: 91 gal
Gray water capacity: 106 gal
Black water capacity: 106 gal
Yes, ladies and gentlemen, this is our highest GVWR yet at nearly 17K lbs! As usual, that allows for a generous amount of cargo at nearly 3K lbs. And be sure to put on your "towmaster" hat before hitching this bad boy up; at over 40 feet long and nearly 13.5 ft tall it really is no joke.
It's nice to see that Grand Design has decided to keep the tank capacities in line with the overall size of this 5th wheel bunkhouse. By FAR, these are the largest tanks in our lineup and I'm not sure I've ever seen a rig with gray and black tanks over 100 gallons. Wow wow wow!
FLOORPLAN AND FEATURES
With four slides in this model, you can bet you won't be hurting for space. Let's take a closer look at the floorplan details.
Bunkroom? Yeah, you could say that. I think it sleeps about 18, give or take. (Just kidding…more like 5-6.) In addition to the added sleeping area (which includes three small bunks, one large bunk and one tri-fold sofa/sleeper) and the separation it offers, this model also offers a half bath inside the bunkroom and a second exterior exit out of the bathroom. Yup, it's got all.
At first glance, it looks like you have the same situation with limited entertainment seating. But if that is an issue for you, it does also offer the option of putting in a Super Sofa that seats at least four people. Yes, you lose your dinette with this option, but it adds two small removable tables for eating with this larger sofa.
Here are a few additional Grand Design RV features related to quality construction and warranty that will definitely interest you (click here to see the full list):
Wood truss framed roof (fully walkable)
TPO roof covering with 12-year warranty
Ductless flooring
3-year Limited Structural Warranty
You have quality, you have top notch features, you have a company that stands behind their product. The Grand Design Solitude deserves your attention.
2020 Crossroads RV Volante VL295BH Fifth Wheel
Crossroads RV may not be one of the most recognizable names in the industry, but I sure like what I am seeing so far with this particular Volante fifth wheel option. While I have never been inside this brand of RV, it comes across as a solid company that has been around since 1996. Yeah, they've got a few years of history to speak for them.
SHOW ME THE SPECS
GVWR: 10,270 lbs (estimated)
Empty Weight (UVW): 8,242 lbs
Cargo Capacity: 2,028 lbs
Dry Hitch Weight: 1,472 lbs
Exterior Length: 33′ 8″
Exterior Height: 12′ 4″
Fresh water capacity: 51 gal
Gray water capacity: 78 gal
Black water capacity: 39 gal
This 5th wheel bunkhouse stays close to that 10K GVWR mark, which is typical for this size rig, while offering just over 2K lbs cargo capacity. Hitch weight is also in line with comparable size models. Exterior length and height are slightly lower than some of the smaller models we have covered above, which is always nice to see. (Less is more in my book!)
And while fresh water and gray water tank capacities are respectable, I am a little disappointed to see the 39 gal black water tank capacity. But honestly, it is still slightly higher than multiple units of the same basic size we have covered. So I can't really fault them for that.
FLOORPLAN AND FEATURES
Since we have been seeing some really solid quality roofing options on some of these recent models, I was immediately on the lookout for a similar offering on this model. However, I am not seeing much information on their site at all. On the Crossroads Difference page, all it says under quality about the roofing is "seamless one-piece roof". No other details and no information on a separate (and greatly extended) warranty covering that roof like we saw with the Grand Design RV and Highland Ridge RV. Maybe you can track down something I was not able to, and if so please let me know!
I'm honestly a little unclear on what that separated bunkhouse at the back of the rig offers in terms of bunks, but it looks like it might be two larger bunks. So if you have a couple of teens in the rig that will come in very handy. And a convenient little ward for clothing will help keep the space tidy…probably.
While the master bedroom seems to offer some decent space, the living space suffers a bit with just the loveseat for dedicated entertainment seating. But at least it is situated well so you won't have a crick in your neck from turning sideways to watch the TV. Those cricks are no fun.
So there you have it. Plenty of similarities to other rigs above, but it depends on how many total you will have in the rig as to whether or not it will comfortable accommodate everyone. Get yourself inside a Volante VL295BH 5th wheel bunkhouse and see how it fits you!
2020 Keystone RV Montana High Country 335BH Fifth Wheel
And now for a pretty unique option from none other than Keystone RV. As I mentioned, we have some experience with Keystone since we hit the road in a Keystone 26-foot travel trailer back in 2017. We've also done some tours of additional Keystone RVs over the past year (a Montana fifth wheel and a Cougar travel trailer) at the local RV dealership where we purchased our rig.
Also, just for a bit of fun and WOW, take a look at the over-the-top "Ultimate Montana" that Keystone RV and The Flipping Nomad designed together. It will blow your mind, guaranteed!
While the option we are looking at is not THAT unique, it's pretty innovative and may be exactly what you are looking for.
SHOW ME THE SPECS
GVWR: 16,000 lbs (estimated)
Empty Weight (UVW): 12,155 lbs
Cargo Capacity: 3,845 lbs
Dry Hitch Weight: 2,405 lbs
Exterior Length: 36′ 8″
Exterior Height: 13′ 4″
Fresh water capacity: 66 gal
Gray water capacity: 88 gal
Black water capacity: 88 gal
Obviously, there's one spec here that jumps off the page…and not just because I put it in bold text. Nearly 4,000 lbs of cargo capacity? Is this a typo? Um, no. That is the real deal, my friend, even if it is hard to believe. It is, in fact, more than double the cargo capacity of the Silverstar Limited model we covered above. That's pretty astounding.
With a total length of over 36 feet and a GVWR of 16K lbs, this is a sizeable option that you need to be prepared for in terms of a tow vehicle. There will be no half-ton towing going on here (as far as I can tell, but do your own due diligence).
Keystone has also come through with some very solid holding tank capacities that will open up many adventurous paths to you and keep you out of the RV parks, if that's what you wish.
FLOORPLAN AND FEATURES
But now, let's take a look at this very unique floorplan that I don't believe you will find with any other RV manufacturer.
For the second time, we are seeing the loft idea in the bunkhouse (remember the Jayco North Point in our first position?). But this bunkhouse is at the back of the rig instead of in the middle like the North Point. With the three sleeping spaces in the loft and the two in the bunks below, you can fit five individuals into this bunkhouse.
And as a couple of bonuses, they will have their own entrance and their own half bath so they won't be tromping through the RV to the bathroom at the other end. Can you say "dirt containment"? Yeah, that's always nice.
While this rig officially sleeps 8 individuals, only two of them will be provided with comfy seating in the living area. I can't help but see this as a bit of shortcoming, but if your crew is open to sitting on the floor for a movie, then it may be a non-issue for you.
With the master bedroom offering two wardrobes, two dressers and plenty of floor space to enjoy, I don't see anything not to like. Add in the patent-pending front windshield to bring some daylight into the bedroom and you've got a winning combination.
The extra space carries into the master bathroom as well, where you will find a radius shower and a wardrobe for bathroom necessities to keep everything tidy.
Overall, you've got a lot to love in this 5th wheel bunkhouse model and I hope it's worth taking a closer look for your family.
Which 5th Wheel Bunkhouse Option Checks the Most Boxes for Your Family?
We have covered a ton of information here, maybe more than you were expecting to see. Of course, I simply hope that the information and evaluation of each 5th wheel option has taken you one step closer to finding the "most perfect" option for your entire crew. Our goal is to help you in any way we can to get out there and adventure more, so move along now! Hit the road! Via con Dios!
And hasta la vista, baby. (Sorry, I had to.)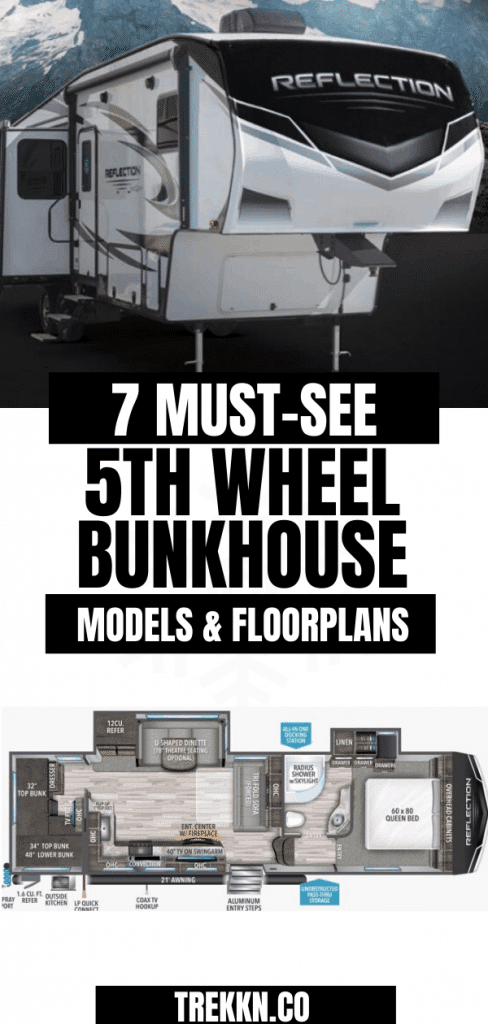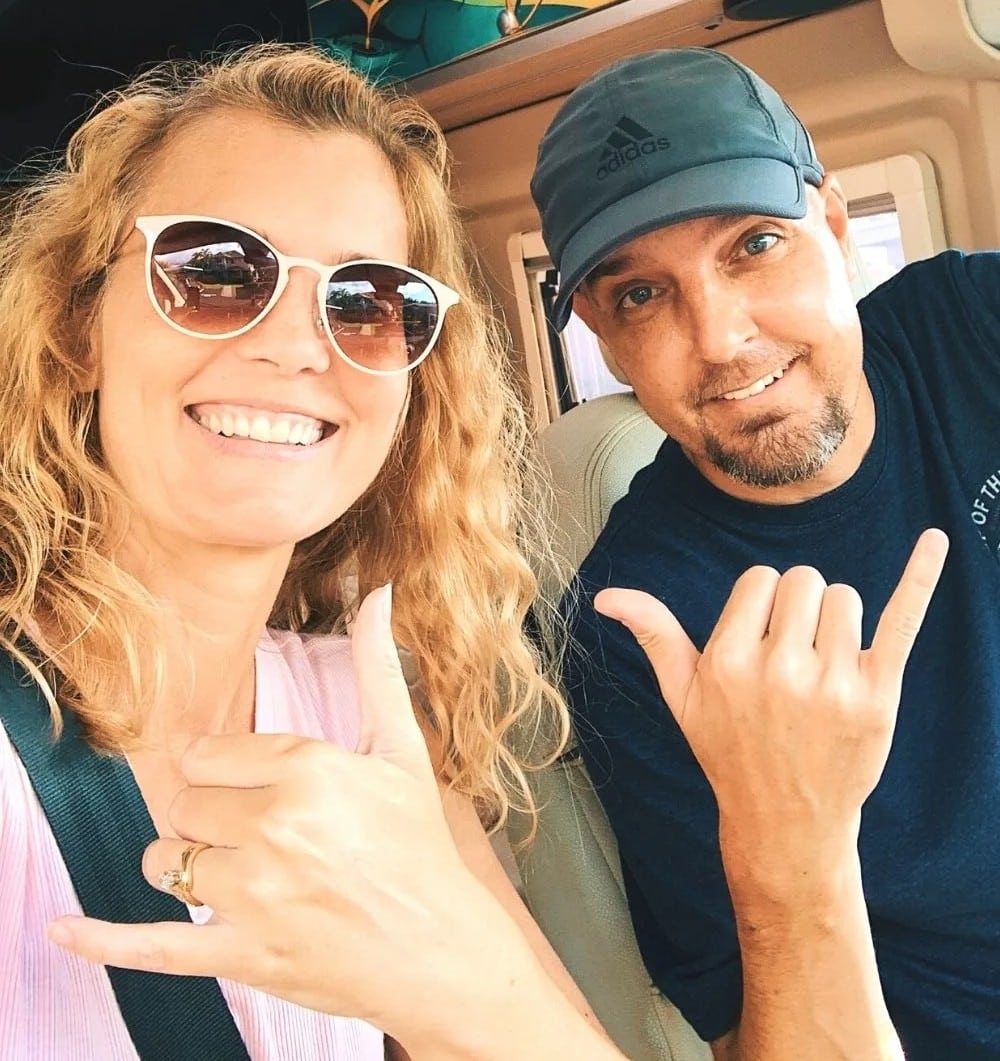 Todd Bonner loves a competitive game of table tennis, a breathtaking hike and simply exploring new places. He spends most of his time sharing information about RV travel and safety, RV accessories and tips, and the National Parks he has visited and still desperately craves. When he's not busy working on TREKKN, you will often find him staring at pictures of Glacier National Park (probably his favorite spot on earth) or creating new products for Clever Camper Company.