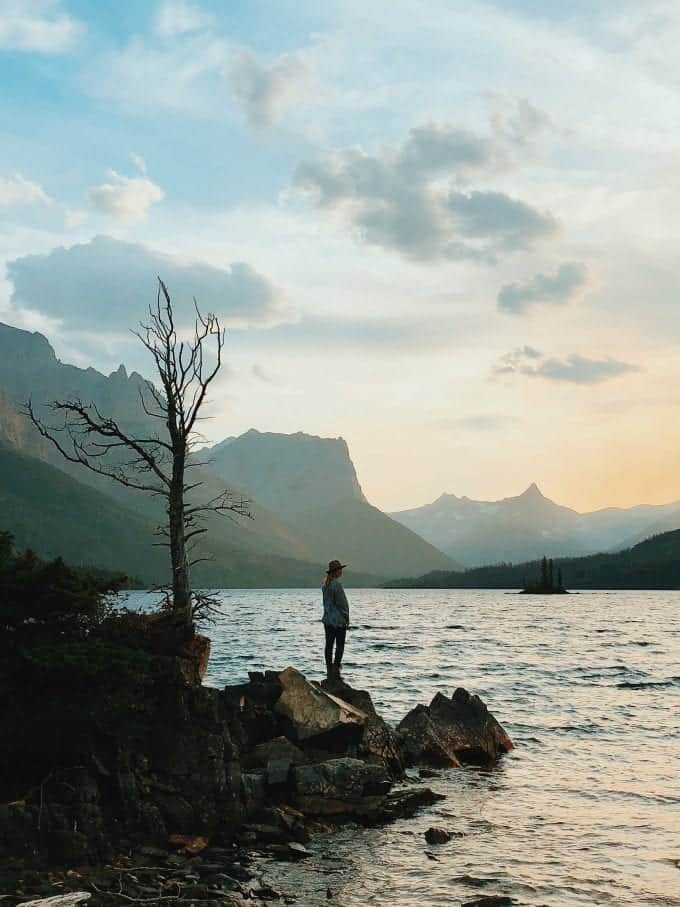 Finding the best travel gifts for her isn't always easy, especially if you're not a seasoned traveler yourself. But lucky for you, I went straight to the source for some fantastic travel gift ideas!
When we first started full-time RVing, we found as many Facebook groups with like-minded individuals as we could. Life on the road (or in the sky) can get a little lonely, so finding a community is really important.
One question I've been getting quite a bit as we're coming up on the holiday season is…what are some of the best travel gifts for her that she'll actually use, or possibly doesn't already own. Although I do have some pretty good ideas, if I do say so myself, I tapped into a couple of Facebook communities full of seasoned travelers and asked them this question.
And boy did they deliver! (Thank you ladies!)
I hope you enjoy this list of travel gifts for the gal in your life.
The Best Travel Gifts for Her
Under $20 Travel Gifts for Her
A large travel wallet to hold all of your documents such as your passport and boarding pass + phone, pen, credit cards, etc makes keeping yourself organized while traveling easy peasy.
The Hiday All-In-One Travel Wallet features 4 card slots + 2 passport pouch + 1 boarding pass pocket + 2 mesh bags + 1 pen holder + 1 zipper bag + 1 outside pocket + 1 removable hand strap for carrying convenience. It also comes in several different designs and doesn't take up too much room in your handbag or carry-on luggage.
Shop more Hiday travel products here
I always get a wee bit jealous when I'm flying and see all these people with their neck pillows. Why did I forget mine?! A neck pillow truly does help make your flight more comfortable. Not only that, but it'll keep you from sleeping on the shoulder of the person next to you. Awkward.
A neck pillow is also great for road trips. As you can imagine, a lot of our time as full-time RVers was spent on the road traveling to our next destination. I used a neck pillow quite a bit. I had some good napping sessions with that thing.
Click here to shop all neck pillows
Have you ever been caught in an unexpected rainstorm, without an umbrella and ended up with a soaking wet tote bag? Yeah, me too.
When it comes to the best travel gifts for her, a tote bag that is a) waterproof b) durable and c) has pockets is definitely a gem to find. Plus, you can fill the tote bag with fun travel items like travel size toiletries, a travel wallet or heck…a plane ticket. 😉
This tote bag comes in six colors, is stain resistant, easy to wipe down clean and has plenty of pockets.
An organizer insert is perfect for the gal who already has a tote she loves, but it lacks storage and pockets. This handbag insert has multiple pockets to hold things like phones, charges, earbuds and books. It also has a handle so you can easily take it out of your bag.
Shop more tote bag organizer inserts here
If you haven't discovered scarves with a zippered pocket for when you're traveling, you're missing out. Is it too much to say they're a game changer? Nah. Because they are.
When you're traveling and you're hands are full, it's nice to have easy access to your phone and cash. Airplanes and airports can also be a little on the chilly side (at least for me), so having an item that not only keeps you warm but keeps important items close and easy to get to, is pretty brilliant.
Shop all scarves with pockets here
A travel towel is a great item to have on hand for any type of traveler, whether they're staying in a hotel, hostel or backpacking through the mountains.
If you've ever traveled and seen a towel that looks a bit questionable, it's nice to have a towel on hand you can trust. 😉
This microfiber towel by Rainleaf is fast drying, ultra-compact and super absorbent. It also comes in a variety of pretty colors.
When people ask me if I have any regrets or things I would have done differently when I look back on our 17 months of full-time travel, I say yes, most definitely. One of those things I regret is not journaling our travels.
I've already forgotten so much of the things we saw and did and how it made me feel. If I would have taken just a few minutes to write some things down, I would have a keepsake to look back on for years and years to come. Plus, when people ask what RV park we stayed at that one time we were in, let's say Yosemite, I'd be able to look back and find that out!
We met a lot of neat people during our travels and one man we met told us he was journaling every day of their extended summer RVing trip. He wrote down where they stayed, what the conditions of the RV park were, what roads they took to get there, where they ate, what they did and so on and so on. Oh, how I wish I would have done the same.
Shop more travel journal options here
Under $50 Travel Gifts for Her
This is the perfect gift for her to show off and document everywhere she's traveled to.
I recently purchased the Scratch the World Travel Map to hang in our apartment and I am so incredibly pleased with it! The gold color looks really pretty. I wanted a scratch-off map that had individual states to scratch off and this one ended up being perfect.
It's a fun conversation starter for when people come over.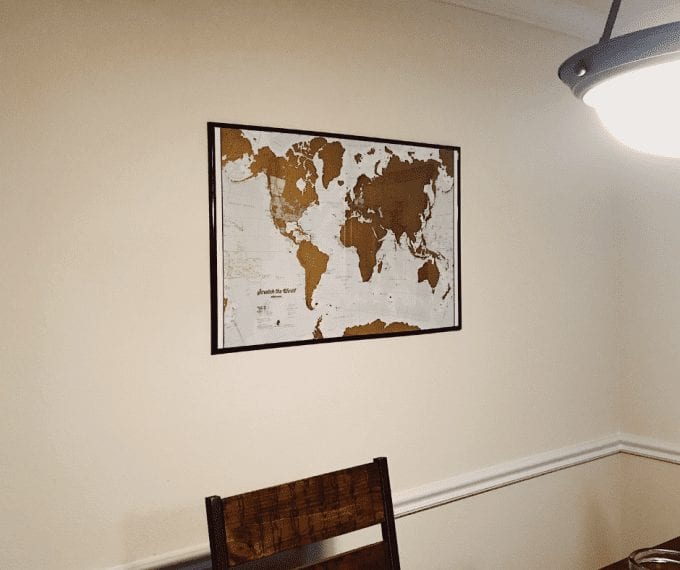 As a temporary frame, until I can get a nicer one, I purchased an $8 poster frame from Walmart. It does the trick and protects the map.
Another option is to buy a bulletin board and affix it to that. You can then use pins to mark certain cities you've visited. It also makes the map more accessible for scratching off where you've been. Because I have it in a frame, I have to completely take it apart when I need to scratch off a new destination.
The Scratch the World map features countries, cities, hill shading and state outlines on both scratch coating and mapping underneath.
Packing cubes' popularity has skyrocketed and is a serious game changer for avid travelers.
Do you know the difference between people who can pack everything they need in their carry-on and people who can't? It's usually not because they overpack.
The difference is all about how they pack. And packing cubes can take a traveler from checking bags, and then waiting for bags to arrive, to the convenience of only traveling with a carry-on and skipping baggage claim altogether.
Packing cubes help you pack more efficiently, keep your items organized and easy to find and can help you from overpacking.
This the perfect blanket for taking on a road trip, camping or even in your own backyard by the campfire. If you know someone who is always cold, this is the perfect gift for her!
It's very lightweight, includes a stuff sack for easy transport and storage, and is amazingly warm.
Click here to see all of the available colors
Talk about a genius invention for camping, hiking, backpacking, and travel!
If you've never heard of the Scrubba Wash Bag, let me introduce you to the world's smallest washing machine. With this little bag, you can pack lighter, wash clothes on the go, and save money by doing laundry on your own instead of using costly laundromats.
This makes a great gift for people who fly a lot, people who camp, backpack and full-time RVers.
How does it work?
Fill the bag with your clothes, cleaning liquid and water
Roll down the top and then clip
Deflate the air out of the bag
Scrub a dub dub using the Scrubba Wash Bag's unique internal flexible washboard for 30 seconds for a quick traveler wash, or for 3 minutes for a machine quality wash. For delicates, press and rub gently
Unclip, unroll, pour out water and rinse clothes with fresh water in the bag or under a tap
Hang clothes to dry
Get more info, see pictures and watch a video on this gadget here
A 'weekender bag' that can double as a carry-on, is an essential travel item. The CAMTOP bag is very roomy and features a slot to slip over the handle of your luggage, making for easy airport transport.
The shoulder strap is adjustable and the bag is made of durable canvas on the outside and an inside cotton lining. It comes in quite a few different patterns and colors.
This will become her go-to bag for weekend trips, her gym gear, the beach or a business trip.
If a travel backpack is more her style, check out this post by Traveling Mel.
Do you know someone who travels alone quite a bit? When I am traveling by myself, I lock every lock on that hotel room door that's available. But it would still be nice to have some extra security.
Plus, I've stayed at an Airbnb before where I was in a single room in someone's house. Fortunately, I felt very comfortable and security wasn't an issue, but if I got myself into a situation where I wasn't 100% comfortable, something like this portable door lock would have been great.
The DoorJammer is compatible with all types of flooring and requires no tools to install.
For the gal who loves to travel the off-beaten path, the Atlas Obscura book is for her.
"Created by Joshua Foer, Dylan Thuras and Ella Morton, ATLAS OBSCURA revels in the weird, the unexpected, the overlooked, the hidden and the mysterious. Every page expands our sense of how strange and marvelous the world really is. And with its compelling descriptions, hundreds of photographs, surprising charts, maps for every region of the world, it is a book to enter anywhere and will be as appealing to the armchair traveler as the die-hard adventurer.
Anyone can be a tourist. ATLAS OBSCURA is for the explorer."
If you're looking for a unique gift idea for the minimalist traveler, these engraved rings from Traveller Collective are perfect.
How it works is you choose your rings, add them to a clip or necklace and then give as a gift. Travelers can collect an engraved ring for every place they've visited. The ring is engraved with the country's official 3-letter abbreviation and is handmade.
Also, 20% of their profits goes to gifting people the dream of travel.
Under $100 Travel Gifts for Her
There's just something super fun about a Polaroid camera. It's an iconic item that is not only fun to use, but the pictures make for great displays.
The Polaroid Snap instant digital camera captures all the fun and spontaneity of the legacy Polaroid instant camera in an easy, compact package. Simply point and click to print vibrant, high-quality photos that you can share, no computer connections needed.
The prints are 2×3″ and are ready in under a minute. The photos are also saved on the Polaroid Snap so you can upload them to your computer later and share away on social media.
Check out all of the colors and features here
One year, before a spring break trip, I bought all three of our kids a Kindle Fire Tablet. It was one of the best items I could have bought for our plane ride. They were able to load games, movies, TV shows and books to their Kindle device and it kept them entertained for the entire flight.
So whether the person you're buying for is a book nerd, a movie buff or addicted to Fishdom, a Kindle Fire is perfect for them.
The all-new Fire HD 8 has a 10-hour battery life and beautiful, vibrant 8″ display.
We hope these ideas for the best travel gifts for her will help you choose the perfect gift for that special someone. We'll keep updating this list when we find more great travel gifts, so be sure to check back!
And if you'd like to see some gifts that are totally unique, check out this post from Four Around the World titled 'The Best Unique Travel Gifts for Christmas.' I know someone who would love the Ticket Shadow Box featured. What a fun idea!
PIN THIS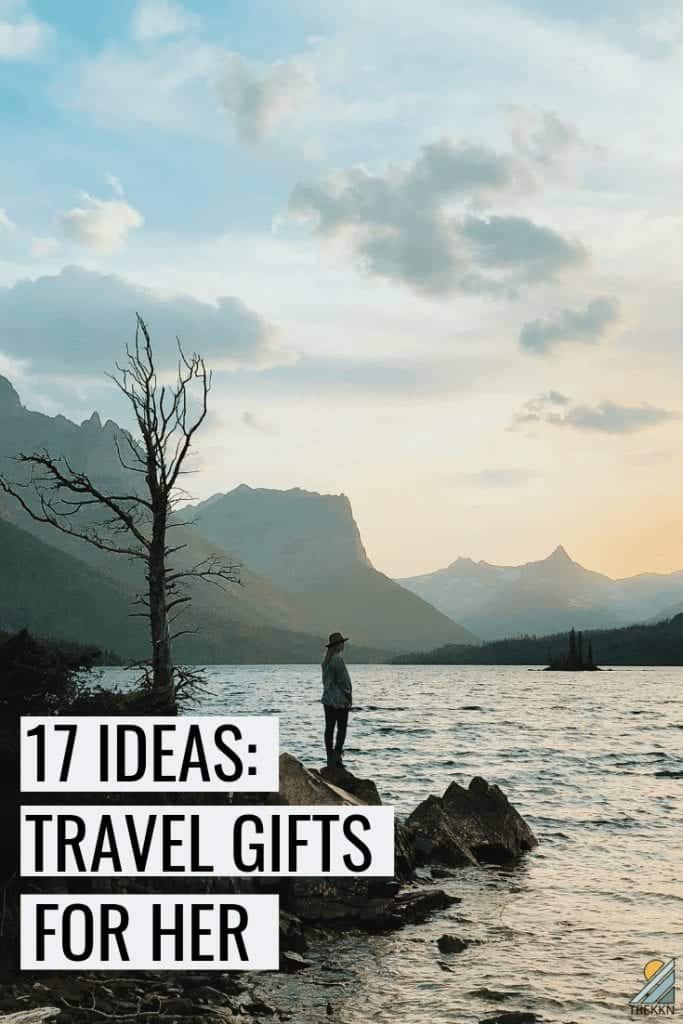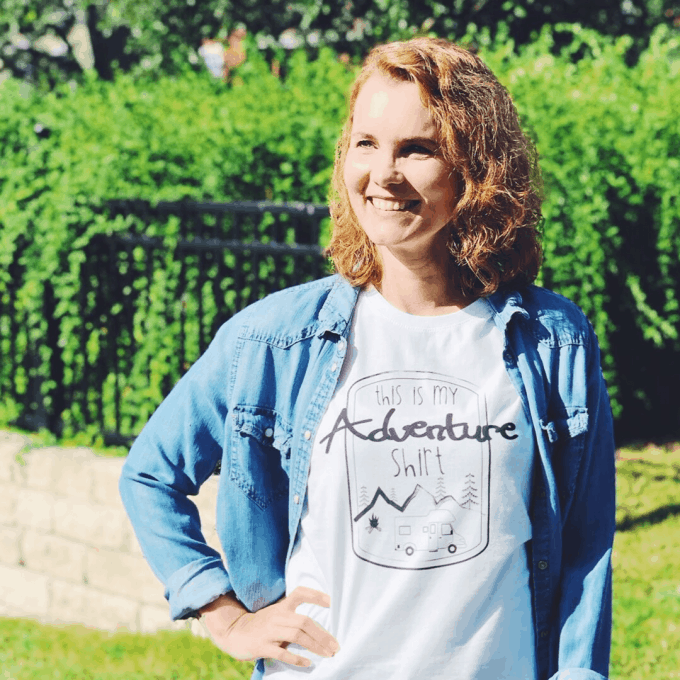 Julie Bonner is one-half of the TREKKN team. She specializes in helping you whip up delicious meals in your tiny RV kitchen, as well as RV organization tips and helping fellow RVers make their RV feel like home. Her favorite RVing spot is in Banff National Park in Canada where yes, the water really is that blue and the people really are that nice.