The Best Travel Gifts for Her: Recommended by Seasoned Travelers

Finding the best travel gifts for her isn't always easy, especially if you're not a seasoned traveler yourself. But lucky for you, I went straight to the source for some fantastic travel gift ideas!
When we first started full-time RVing, we found as many Facebook groups with like-minded individuals as we could. Life on the road (or in the sky) can get a little lonely, so finding a community is really important.
One question I've been getting quite a bit as we're coming up on the holiday season is…what are some of the best travel gifts for her that she'll actually use, or possibly doesn't already own. Although I do have some pretty good ideas, if I do say so myself, I tapped into a couple of Facebook communities full of seasoned travelers and asked them this question.
And boy did they deliver! (Thank you ladies!)
I hope you enjoy this list of travel gifts for the gal in your life.
The Best Travel Gifts for Her
Under $20 Travel Gifts for Her
A large travel wallet to hold all of your documents such as your passport and boarding pass + phone, pen, credit cards, etc makes keeping yourself organized while traveling easy peasy.
This All-In-One Travel Wallet has enough room to keep everything she needs organized and easily accessible.
Built-in RFID protection
5 card slots
Passport pocket
Interior key chain
Zippered coin pocket
Phone pocket
The wallet is available in several different designs. It's also compact, which makes it easy to carry in a handbag or carry-on luggage.
I always get a wee bit jealous when I'm flying and see all these people with their neck pillows. Why did I forget mine?! A neck pillow truly does help make your flight more comfortable. Not only that, but it'll keep you from sleeping on the shoulder of the person next to you. Awkward.
A neck pillow is also great for road trips. As you can imagine, as full-time RVers we spent hours and hours on the road traveling to our next destination. A neck pillow improved the travel experience. Napping in a big rig becomes a lot more enjoyable when you have a soft pillow to support your neck.
Click here to shop all neck pillows
Have you ever been caught in an unexpected rainstorm, without an umbrella and ended up with a soaking wet tote bag? Yeah, me too.
When it comes to the best travel gifts, a tote bag that is (i) waterproof, (ii) durable, and (ii) designed with multiple pockets should be on your list.
If you really want to impress, fill the tote bag with fun travel items like travel size toiletries, a travel wallet or maybe even … a plane ticket. 😉
This tote bag comes in a variety of colors, is stain resistant, easy to wipe down clean, and has multiple interior pockets. It's also expandable. Simply open the zipper at the bottom of the bag to increase the storage capacity.
An organizer insert is perfect for the gal who already has a tote she loves to carry. If it lacks interior storage pockets, she will be so happy to receive this as a gift.
This handbag accessory has multiple pockets. It can hold various items such as phones, charges, earbuds, or hand lotion. It also has a handle so she can easily take it out of her bag and carry it separate.
You may think this is silly because let's be honest this is something of a handbag for her handbag. Well, the constant feedback I received about this great gift item is that everything stays organized.
She won't have to dig down to the bottom of her tote bag for a pen or her phone. Moreover, it's easy to keep all the essentials together when changing handbags.
I like this specific organizer because it's reasonable price and has both interior and exterior pockets. But, if you want to check other options, click here to shop more handbag organizers.
If you haven't discovered scarves with a zippered pocket for when you're traveling, you're missing out. Is it too much to say they're a game changer? Nah. Because they are.
When you're traveling and you're hands are full, it's nice to have easy access to your phone and cash. Airplanes and airports can also be a little on the chilly side (at least for me), so having an item that not only keeps you warm but keeps important items close and easy to get to, is pretty brilliant.
Shop all scarves with pockets here
A travel towel is a great item to have on hand for any type of traveler, whether they're staying in a hotel, hostel or backpacking through the mountains.
If you've ever traveled and seen a towel that looks a bit questionable, it's nice to have a towel on hand you can trust. 😉
This microfiber towel by Rainleaf is fast drying, ultra-compact, and super absorbent. It also comes in a variety of pretty colors.
When people ask me if I have any regrets or things I would have done differently when I look back on our 17 months of full-time travel, I say yes, most definitely. One of those things I regret is not journaling our travels.
I have already forgotten so many of the amazing landscapes, animals, and small towns we saw. I wish I could recall every moment, the wonders, and the waves of emotions. If I would have taken just a few minutes to write it down, I would have a keepsake to look back on for years and years to come.
Plus, when friends, family and acquaintances ask which RV park we camped in at Yosemite, Banff, or a dozen other national parks, I'd be able to look back and share the details!
Oh yes, I reminisce. And I know this travel book would make a great gift.
We met a lot of people during our travels. One full time RVer told us he wrote in his journal daily. He wrote about where they stayed, the conditions of the RV park, the route they traveled, and where they ate. He included personal notations about how he felt when seeing an amazing sunset, a family of deer, or a road less traveled.
To be able to go back and read those notes would make a travel journal one of those gifts that just keep on giving.
Shop more travel journal options here
Another great option for the gal in your life who loves RV travel is a road atlas. She can use it to chronicle her road trips. Recommend to her that she highlight routes and make notes about dates traveled, quality of campsite, the landscape, or a beautiful sunset.
The Atlas will soon become an amazing reference guide when returning to an area as well as a unique conversation piece for the coffee table back home.
Under $50 Travel Gifts for Her
This is the perfect gift for her to show off and document everywhere she's traveled to.
I recently purchased the Scratch the World Travel Map to hang in our home. I am so incredibly pleased with it! The gold color looks amazing. I had wanted a scratch-off map that had individual states to scratch off and this one ended up being perfect.
It's also a fun conversation starter when we have guests over for dinner.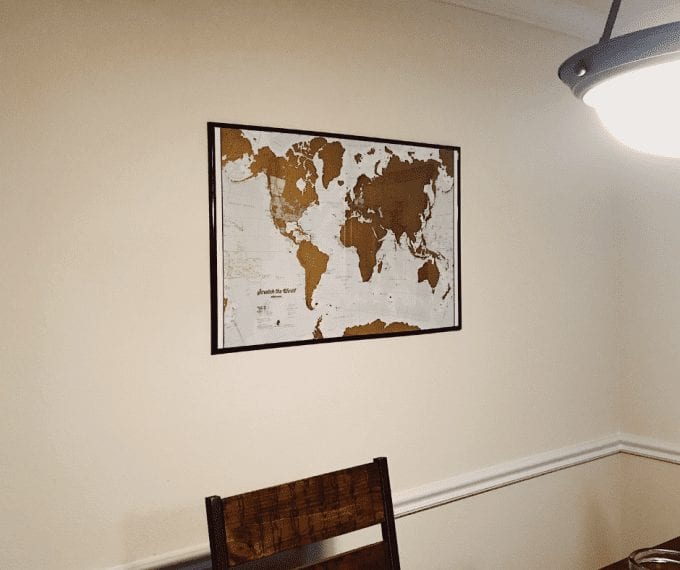 As a temporary frame, until I can get a nicer one, I purchased an $8 poster frame from Walmart. It does the trick and protects the map.
Another option is to buy a bulletin board and affix it to that. You can then use colorful map pins to mark the places you have visited.
Affixing the map to a bulletin board makes it more accessible to scratch off new locations. Because I framed our map, I now have to take it completely apart before I can scratch off a new area. Needless to say, it's not very convenient.
The Scratch the World map is a unique gift. It features countries, cities, hill shading and state outlines on both scratch coating and mapping underneath.
The popularity of packing cubes has skyrocketed. As with the and is a serious game changer for avid travelers.
Do you know the difference between people who can pack everything they need in their carry-on and people who cannot? With the exception of months long trips or travel through multiple climates, the reason is typically not because of the number of items packed.
Rather, the difference is due to how they pack. And packing cubes open up the convenient world of traveling with only a carry on bag. These organizers are a great reusable gift that helps travelers shift from checking bags to skipping baggage claim altogether. Time saver!
I like this choice from Amazon Basics. It's a reasonably-priced basic set that includes four different size packing cubes and is offered in a variety of colors.
This PRO Packing Cube set is a little pricier, but has 6 pieces and a wider variety of colors.
This the perfect blanket for using in the airport, on a road trip, at the campsite, or even for a night of star gazing in the backyard. If you know someone who gets cold often, this is a gift she will truly enjoy for many years!
At about 2 pounds, it's lightweight enough to include in a carry-on tote. It also comes with a stuff sack for easy transport and storage. Equally important, it will keep you warm.
Talk about a genius invention for camping, hiking, backpacking, and travel!
If you've never heard of the Scrubba Wash Bag, let me introduce you to a great invention! It's the world's smallest clothes washer. With this little bag, you can easily wash clothes while on the go. It enables travelers to pack fewer items while and save money by skipping costly laundromats.
This makes a great gift for frequent flyers, outdoor adventurers who love to camp, backpackers, and full-time RVers.
How does it work?
Fill the bag with your clothes, cleaning liquid and water
Roll down the top and then clip
Deflate the air out of the bag
Scrub a dub dub using the Scrubba Wash Bag's unique internal flexible washboard for 30 seconds for a quick traveler wash, or for 3 minutes for a machine quality wash. For delicates, press and rub gently
Unclip, unroll, pour out water and rinse clothes with fresh water in the bag or under a tap
Hang clothes to dry
Click here to get more information and watch a how-to video
A weekender bag that can double as a carry-on, is an essential travel item. The CAMTOP canvas travel bag is very roomy.
It features a slot to slip over the handle of your luggage, making for easy airport transport.
The shoulder strap is adjustable and the bag is made of durable canvas on the outside and an inside cotton lining. It comes in quite a few different patterns and colors.
This will become her go-to bag for weekend trips, her gym gear, the beach or a business trip.
If a travel backpack is more her style, check out this post by Traveling Mel.
Do you know someone who travels alone quite a bit? When I am traveling by myself, I lock every lock on that hotel room door that's available. But it would still be nice to have some extra security.
Plus, I've stayed at an Airbnb before where I was in a single room in someone's house. Fortunately, I felt very comfortable. Security wasn't an issue, but if I got myself into a situation where I wasn't 100% comfortable, this portable door lock could make a huge difference.
Security should be a priority when traveling and this is a great gift for the gal who is racking up a lot of hotel points.
The DoorJammer is compatible with all types of flooring. No tools are required to quickly install or remove this security device.
For the gal who loves to travel the off-beaten path, the Atlas Obscura book is for her.
Atlas Obscura brings you the weird. It unveils unexpected, overlooked, and hidden wonders of the world. Authors Foer, Thuras, and Morton inspire travelers by reminding us how wonderfully marvelous the world really is.
This book isn't a compact leaflet for hikers. It's packed with 480 pages of descriptions, photographs, charts, and maps. Perfect for the true adventurer and explorer, this is a gift for someone who wants to learn about every corner of the globe.
The description says it all "Anyone can be a tourist. Atlas Obscura is for the explorer."
If you're looking for a unique gift idea for the minimalist traveler, these engraved rings from Traveller Collective are perfect.
This is how it works. Select your rings, then add them to a clip or a necklace. Then give it as a gift.
The handmade rings are engraved with an official 3-letter abbreviation of each country. Travelers can collect an engraved ring for every place they've visited.
Under $150 Travel Gifts for Her
There's just something super fun about a Polaroid camera. It's an iconic item that is not only fun to use, but the pictures make for great displays.
The Polaroid Snap instant digital camera captures all the fun and spontaneity of the legacy Polaroid instant camera in an easy, compact package. Simply point and click to print vibrant, high-quality photos that you can share, no computer connections needed.
The prints are 2×3″ and are ready in under a minute. The photos are also saved on the Polaroid Snap so you can upload them to your computer later and share away on social media.
Click here to select from a variety of colors and features
One year, before a spring break trip, I bought all three of our kids a Kindle Fire Tablet. It was one of the best items I could have bought for our plane ride. They were able to load games, movies, TV shows and books to their Kindle device and it kept them entertained for the entire flight.
So whether the person you're buying for is a book nerd, a movie buff or addicted to Fishdom, a Kindle Fire is perfect for them.
The all-new Fire HD 8 has a 10-hour battery life and beautiful, vibrant 8″ display.
We hope these ideas for the best travel gifts for her will help you choose the perfect gift for that special someone. We'll keep updating this list when we find more great travel gifts, so be sure to check back!
And if you'd like to see some gifts that are totally unique, check out this post from Four Around the World titled 'The Best Unique Travel Gifts for Christmas.' I know someone who would love the Ticket Shadow Box featured. What a fun idea!
PIN THIS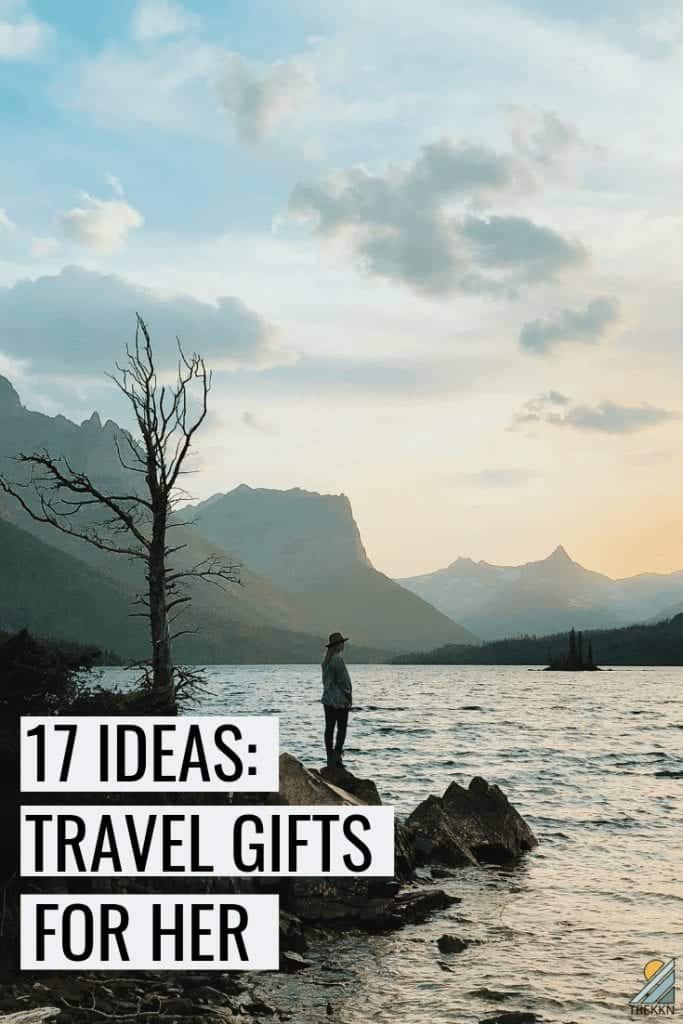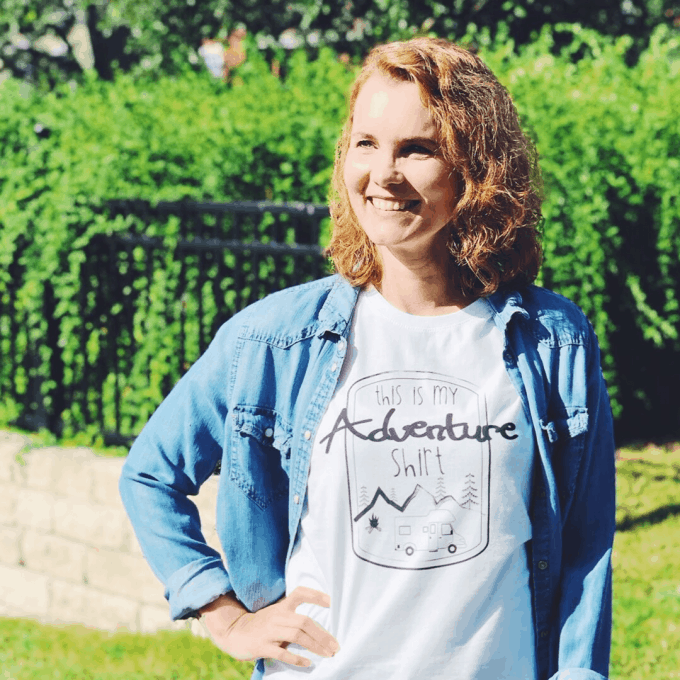 Julie specializes in helping you whip up delicious meals in your tiny RV kitchen, as well as RV organization tips and helping fellow RVers make their RV feel like home. Her favorite RVing spot is in Banff National Park in Canada where yes, the water really is that blue and the people really are that nice.