Lace Up & Explore: The Essential Gear for Winter Hiking

Just because the temperatures drop and a fresh layer of snow covers the ground doesn't mean your outdoor activities need to stop.
In fact, some would argue that some of the best outdoor activities take place during the coldest time of the year.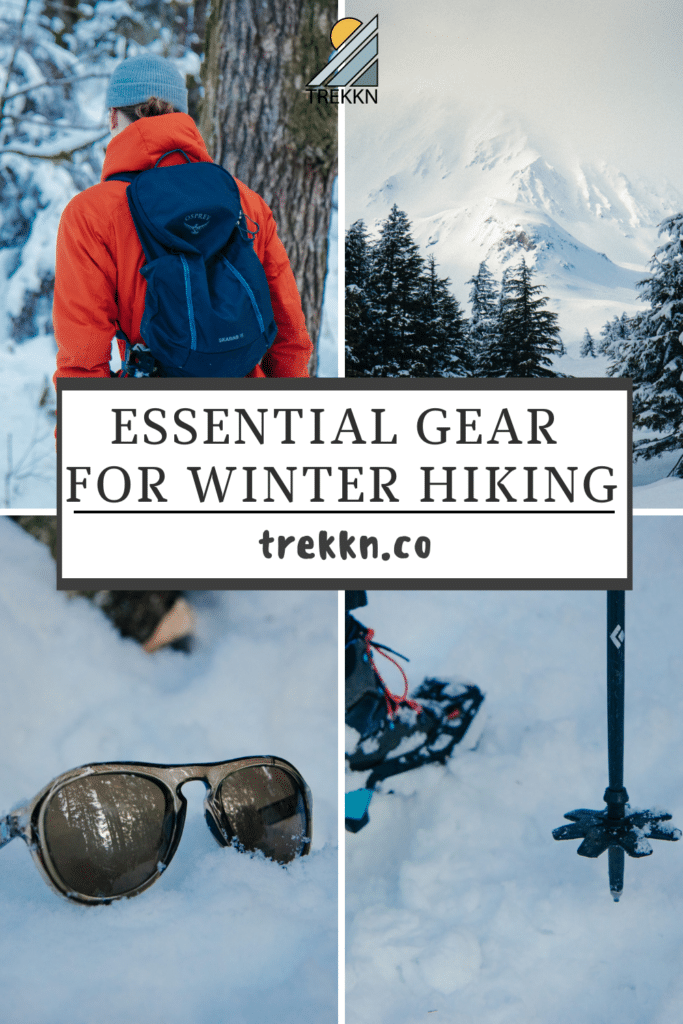 Whether it be skiing, snowshoeing, or just some winter hiking, using the winter months to your advantage and getting outside is a great way to avoid the all-too-familiar cabin fever and dispel some of those winter blues.
It can be daunting at first when you realize the amount of preparation required, but in reality, winter hiking can be great fun when you have the right gear to keep you safe and comfortable.
With the right tools at your disposal, you'll find that you look forward to winter hiking just as much as, if not more than, the hiking throughout the rest of the year.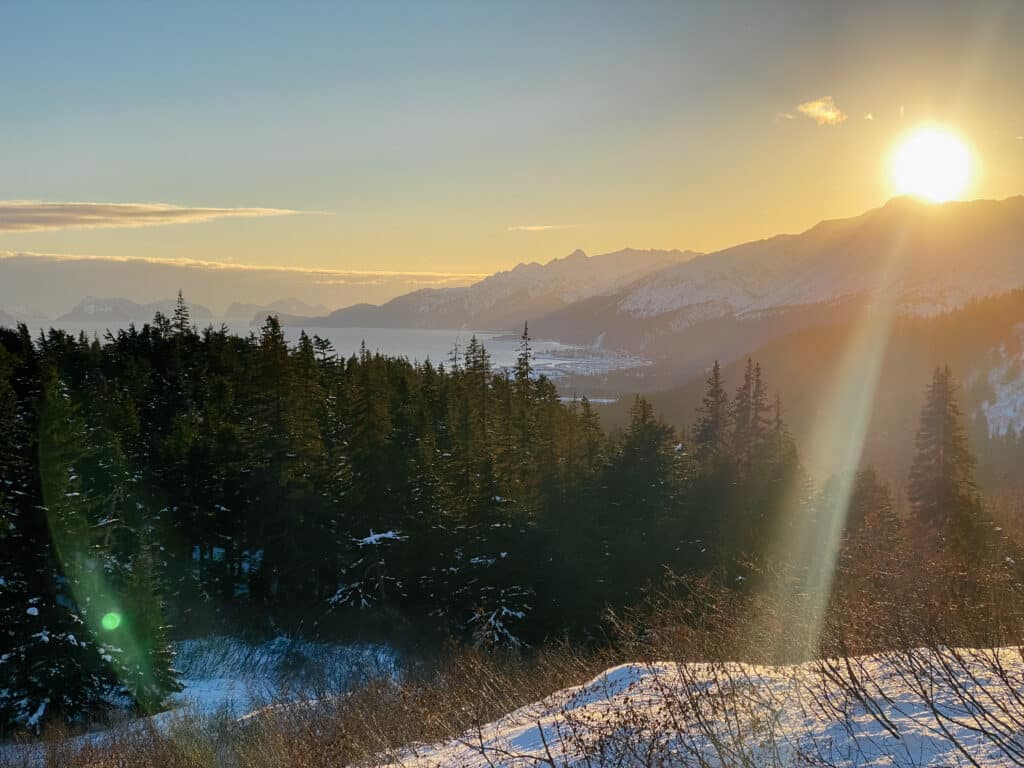 Is Hiking in the Winter Worth It?
Before we dive into the necessary gear for a day of winter hiking, let's talk about why you should even consider investing in some winter hiking gear.
The advantages of hiking in the winter include:
Considerably fewer crowds
Offers a unique perspective of the landscape
Bugs are non-existent
Boost your mood during winter blues
Enjoy the outdoors year-round
Get to use fun gear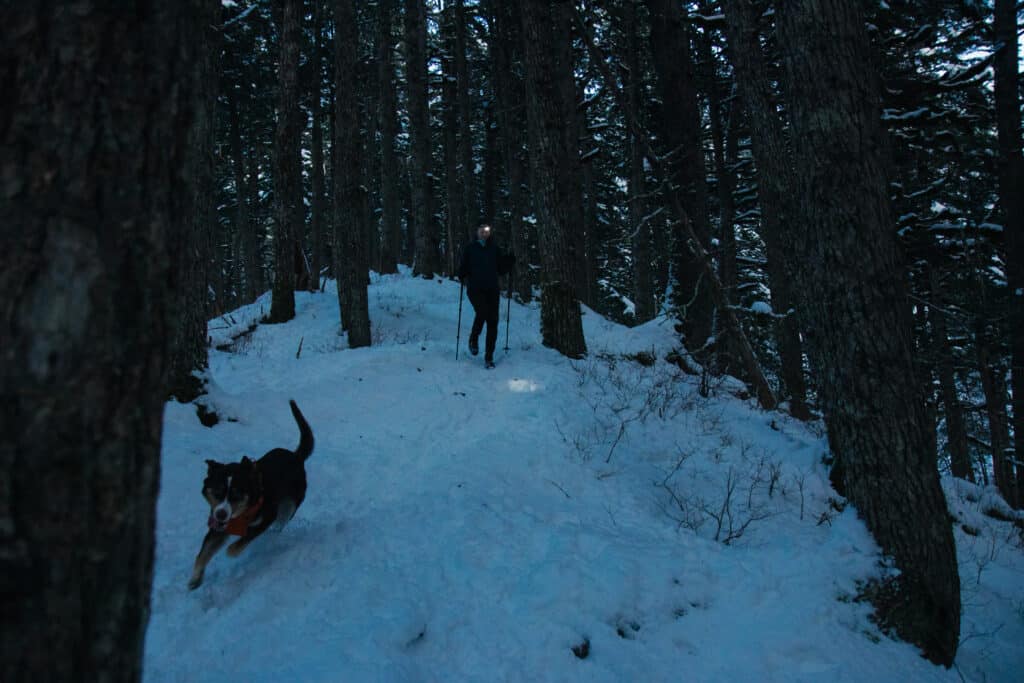 The most crucial component of a hiker's arsenal of gear is the clothing they wear. Having the appropriate layers can be the difference between enjoying your hike and having a miserable time.
The Most Important Rule of Winter Hiking is to Stay Dry
If you've heard anything about hiking in the winter, chances are you have heard this rule before.
Upon first hearing this rule, you may only be picturing falling into a stream or getting caught in adverse weather as ways that someone may accidentally get wet. But the truth is that the greatest threat to you staying dry is your own body.
Sweat is Your Greatest Enemy
Activities such as winter hiking require the body to exert a lot of energy. The energy you are burning will cause your body to increase in temperature, eventually reaching a point where it can't hold in all of the heat produced any longer.
As you hike along, your body will naturally feel the need to dump any excess heat through the means of sweating.
Sweat, when winter hiking is concerned, is the enemy.
To minimize the effect that sweat can have while winter hiking, a hiker should wear specific, specialized layers made out of moisture-wicking materials.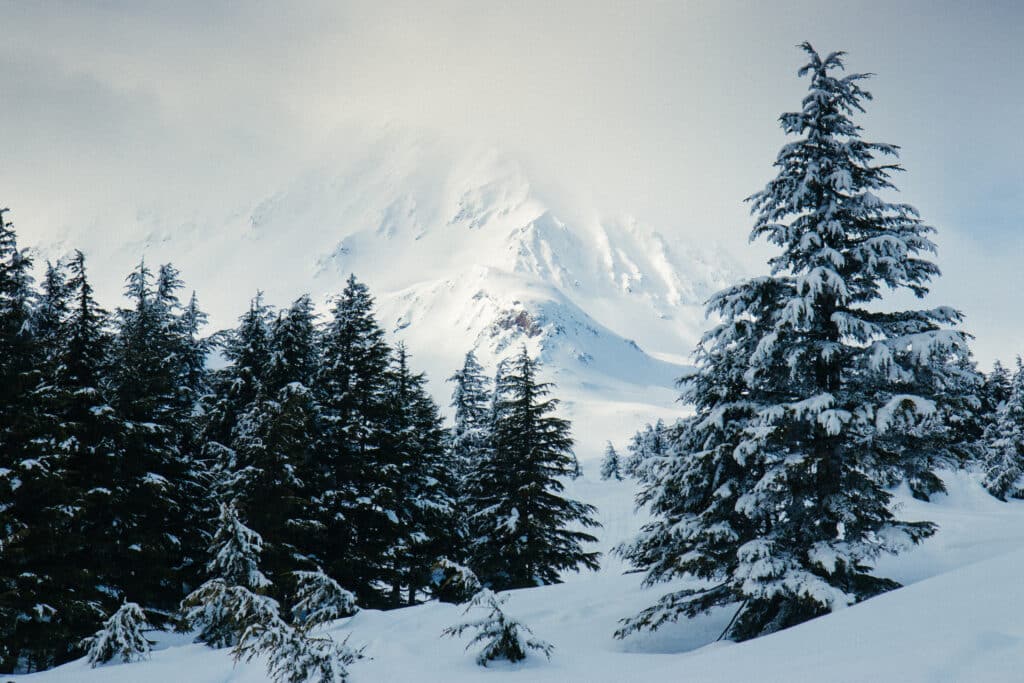 "Cotton Kills"
Someone unfamiliar with the principles of layering may simply pile on layer after layer of cotton clothing in the hopes of fending off the cold. A cotton t-shirt under a cotton sweater under a cotton hoody, etc.
As they hike, and as their body temperature rises, the sweat they produce will have no other choice than to soak into those cotton layers.
Cotton is notoriously awful at wicking away moisture and excellent at absorbing it. Once this has happened, it's usually too late to do anything about it.
Cotton also takes a considerable amount of time to dry, so the hiker will be dealing with soaked-through layers for the rest of the hike.
As soon as they stand still for a rest, they will immediately feel the consequences. The sweat-soaked garments will begin rapidly cooling down their core body temperature, which can quickly become dangerous and even life-threatening.
There's a saying in the outdoor community that concisely explains why to avoid cotton: "Cotton Kills".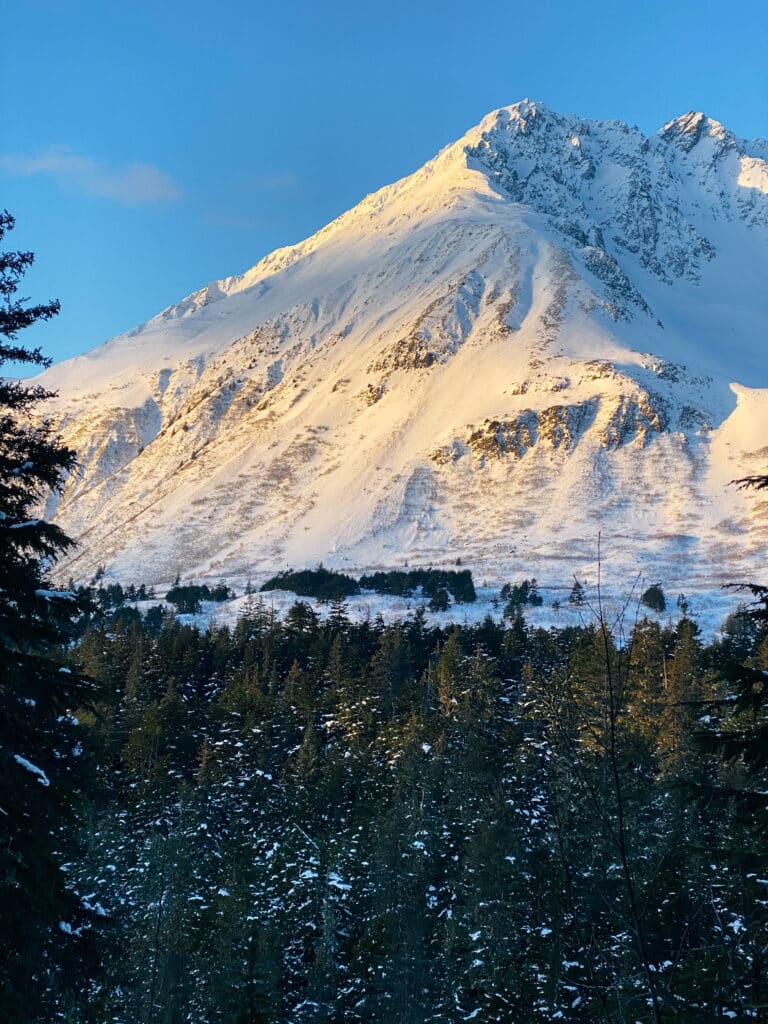 To experience maximum comfort on the trails in the winter, you should follow the general guidelines for layering.
We have a whole article that takes a deep dive into layering for winter hiking and other winter activities, so check it out here if you want to get the full scoop.
As a quick overview of the basic principles, a proper layering system includes:
A base layer to wick away moisture (preferably made of merino wool)
Mid-layers to trap in body heat (can consist of a lightweight synthetic fleece layer and/or an insulated puffy jacket)
A shell layer to protect against the elements (either a hardshell or soft shell)
Other pieces of gear such as layers of gloves, a beanie, and moisture-wicking socks
As long as you follow these general guidelines, adjusting the layers you bring according to the conditions expected, you will not have to worry about staying comfortable while winter hiking.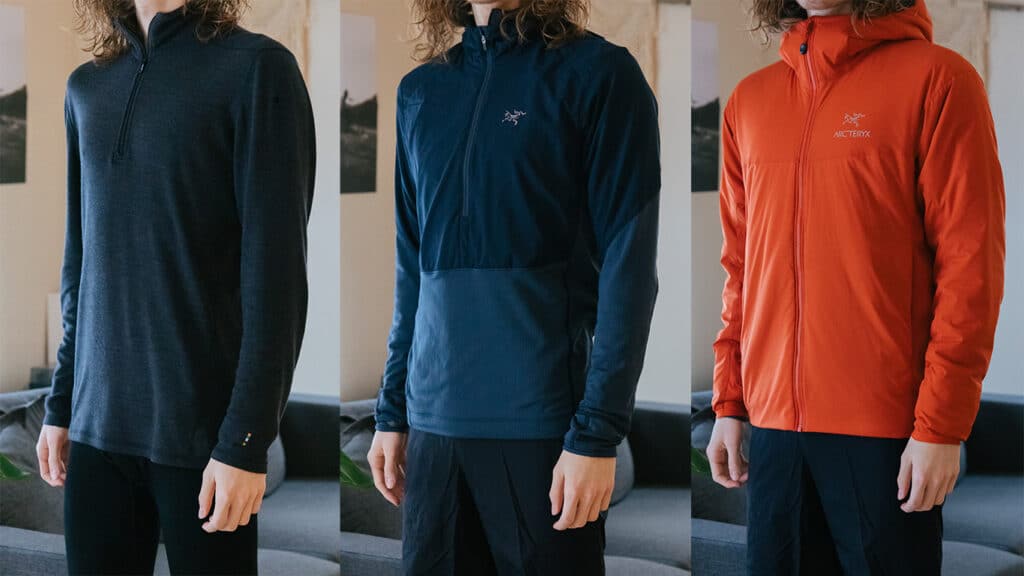 What to Bring for Hiking in Winter
Your clothing may be the most important component of your arsenal, but it is by no means the only thing necessary to have a successful day on the trail.
First Step: Research the Trail in Question
Hiking in winter comes with its own unique challenges that call for some pieces of gear to aid you on your way.
What you bring along will obviously depend on the conditions you are expecting to encounter, so the first step to take before every winter outing is to research the trail. Knowledge is a bit of "gear" that's just as important as anything else on this list.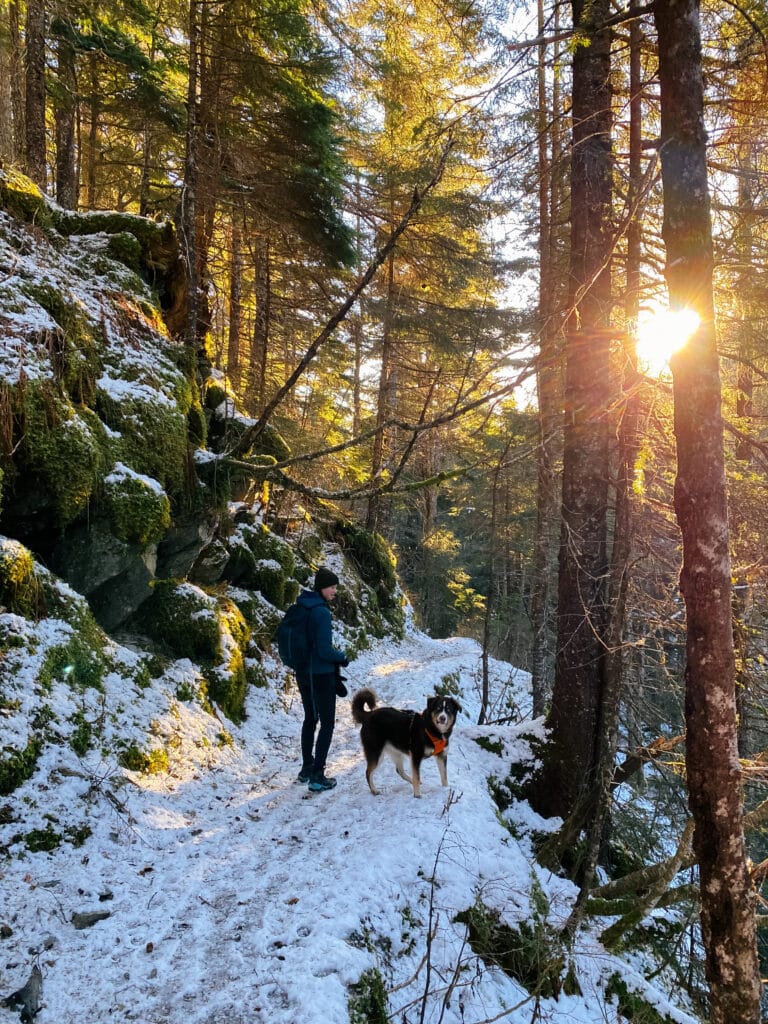 The first place I always check when I'm setting out on a trail that is unfamiliar to me is AllTrails. You will be able to find some invaluable information on this site, from the length and difficulty to more nuanced bits of info like trail conditions.
Check the written reviews for the trail you are researching to see if anyone else has recently hiked it. Oftentimes you will find that someone has given some insight into the trail condition.
Other useful information such as parking difficulties and finding the trailhead can be gleaned from AllTrails reviews.
Other than AllTrails, a simple Google search of the trail may provide some useful information as well. The idea is just to go into the hike filled up with as much knowledge as you could possibly have.
Once you have a general idea of the conditions to expect, the next step is to gather the gear.
What Gear Do You Need for Winter Hiking?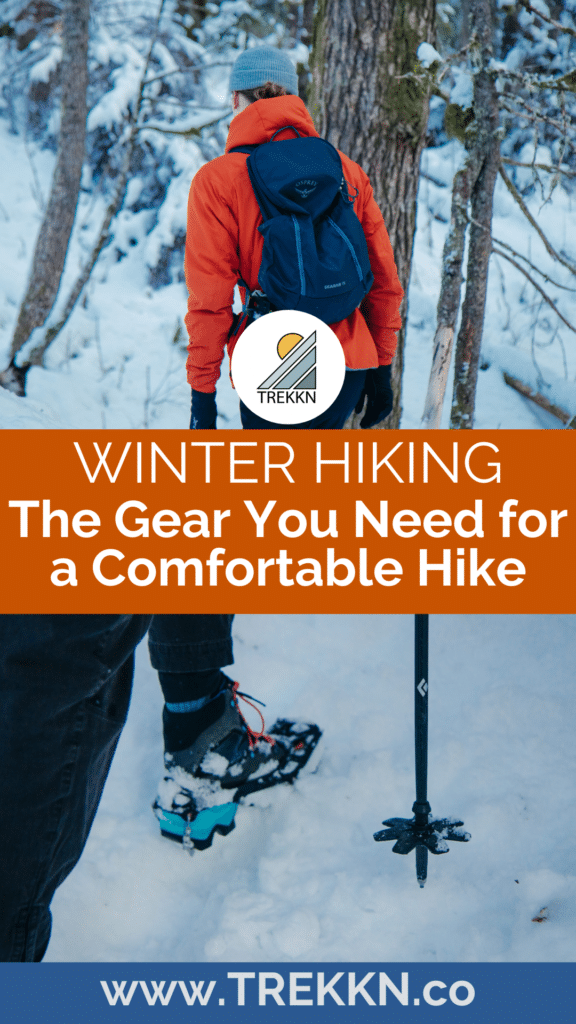 Waterproof Footwear
At the very least, you will need to invest in some footwear that doesn't allow water to soak through to your feet. Having wet feet on a cold winter day is a recipe for disaster.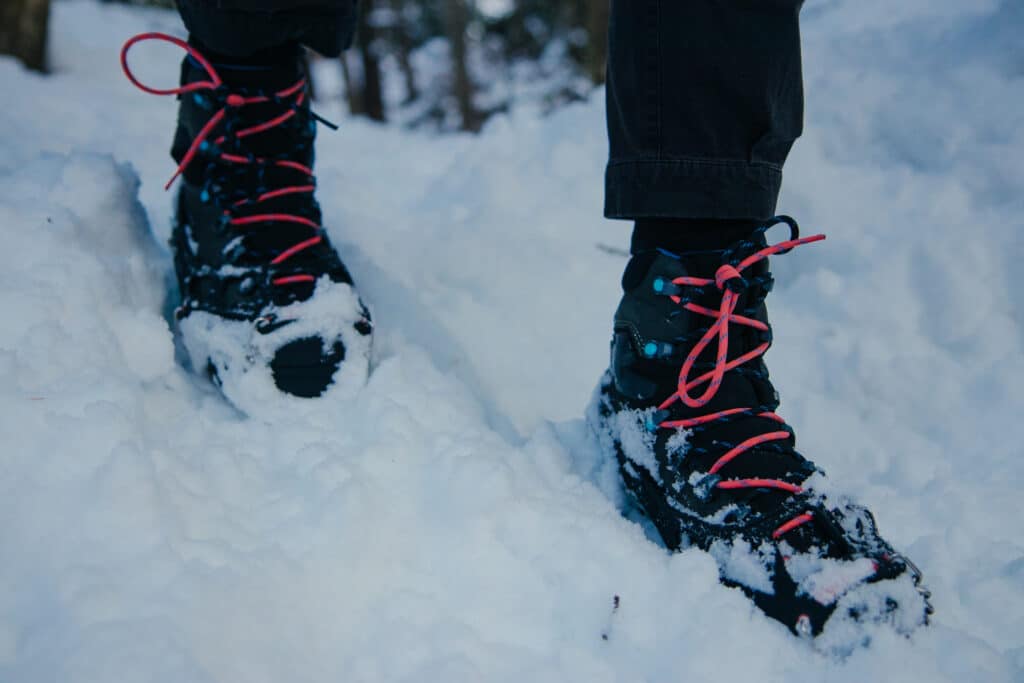 Many brands make hiking boots out of materials such as GORE-TEX or other brand-specific waterproof membranes to keep out moisture.
Some DWR (durable water repellent) on the outer layer will make sure that water beads up on the boot rather than saturating the material.
Pairing some thick mountaineering socks with a waterproof boot may be all you need to fend off the cold.
However, if this is the route you take, make sure to get your boots in a size that allows you to wear thicker socks without the boot squishing any part of your foot.
It doesn't matter how thick your socks may be, if your feet are compressed, their ability to stay warm is thrown out the window.
Insulated Hiking Boots
For climates that are colder than average, or simply for someone who really values the comfort of their feet, opting to buy some insulated hiking boots that are also waterproof will undoubtedly be worth it.
Most insulated hiking boots are made with either 200g or 400g synthetic insulation, making sure your feet barely feel the threat of winter weather.
Keep in mind that boots with insulation will be considerably heavier than those that are only waterproof. You will have to measure the pros and the cons according to your own personal preference.
Hiking Gaiters
Gaiters are securely strapped over the top of your boots to make sure that no snow or debris can enter from the top.
While it's true that many boots make a fairly tight seal around ankles, having an extra layer of defense against the elements is great for peace of mind.
Hiking gaiters come in a variety of sizes and materials, each type made for a specific purpose.
For winter hiking, choosing a gaiter that is made out of breathable, waterproof material is probably your best option.
Depending on the amount of snow you are expecting to trudge through, you can choose a set that reaches anywhere from the lower calf all the way up to your knee.
There are also gaiters with their own lightweight synthetic insulation, made for conditions that require an even greater amount of protection.
Microspikes
One of the biggest risks you face while winter hiking is losing traction on an ice- or snow-covered trail.
In certain circumstances, relying just on the traction built into the soles of your boots may make sense, but most of the time you will want to play it safe. Microspikes are the perfect tool for the job.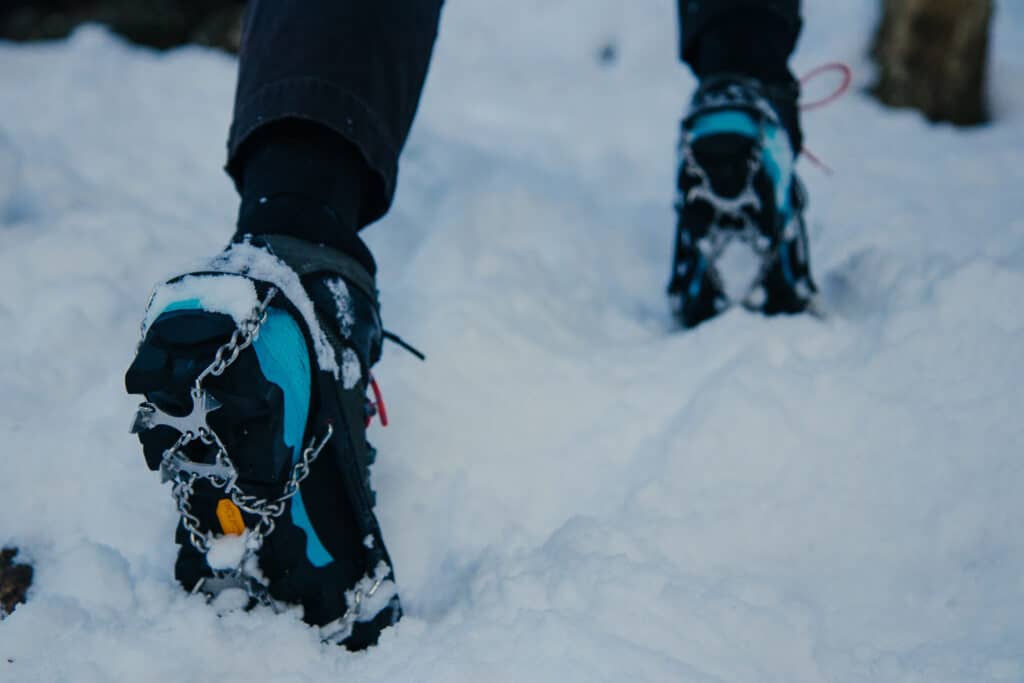 Once you strap on a pair of microspikes, your confidence when traversing sketchy sections of the trail will be much higher.
Microspikes come in a variety of designs, but the most popular option is a 12-spike system that is lightweight and flexible. Kahtoola MICROspikes are a very popular option.
Trekking Poles with Snow Baskets
Hiking through snow can be a pretty exhausting activity. Snow is not always a very stable surface to hike on, and ice is not much better, so you find yourself constantly working to keep your balance as you trek.
Trekking poles make keeping your balance a much easier task.
With the use of trekking poles, you are constantly maintaining at least three points of contact with the ground, rather than one to two without them.
In my experience, I have always regretted not carrying along trekking poles with the trail conditions are even slightly wintery (or really in any conditions, for that matter).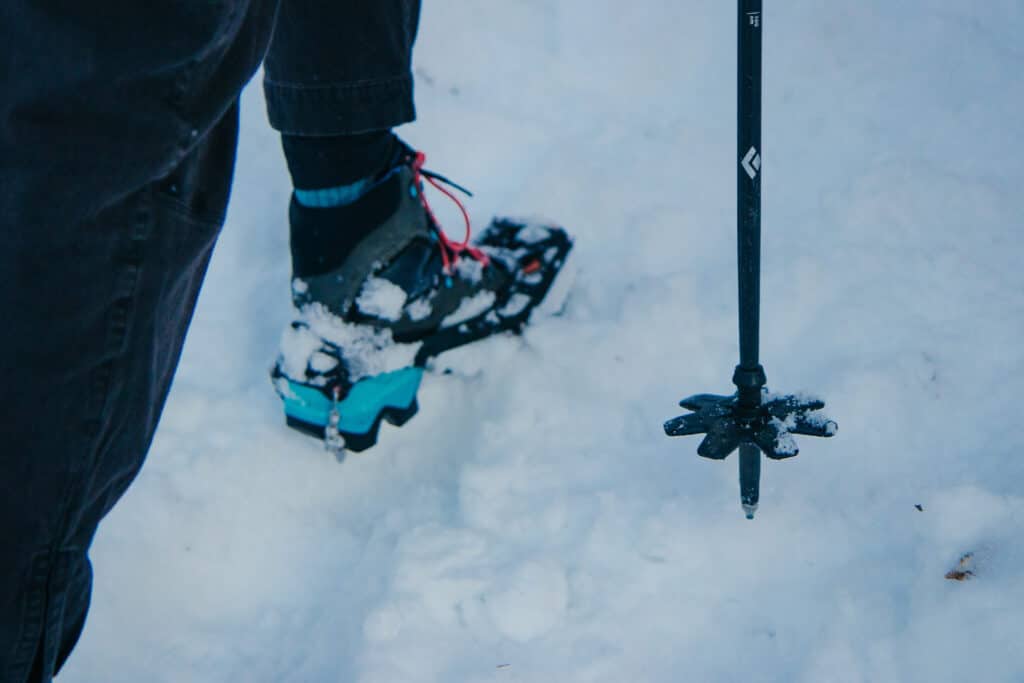 As long as you have the necessary snow basket attachments that fix onto the bottom of your trekking poles, you will be ready for whatever the trail throws at you.
(Without snow baskets, your trekking poles will plunge all the way down into the snowpack, canceling out any support they could offer.)
Buff/Neck Gaiter
Serving as a sort of "backcountry scarf", buffs are a great way to protect your neck, ears, and face from any harsh winter wind.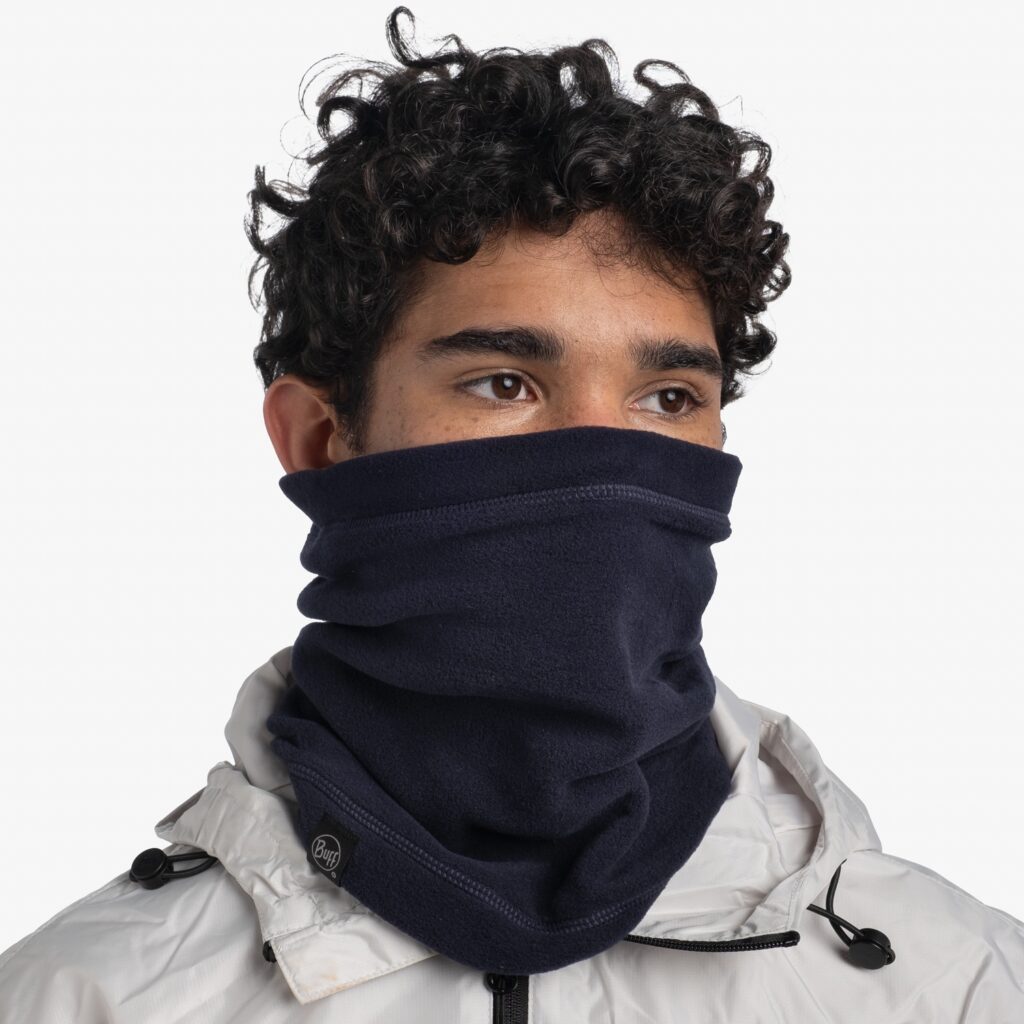 Buffs, also known as neck gaiters, are widely used for skiing and snowboarding, but they are equally useful for any other winter activity you could think of. Buffs are simply cylindrical pieces of fabric, usually made of materials such as polyester and merino wool.
There are a variety of ways to wear a buff, so I recommend looking up some videos on YouTube to find a method that best works for you.
Sunglasses/Sunscreen
It may not be a sunny summer day, but don't be fooled; the sun can be a powerful force even behind clouds when snow is in the equation.
Snow reflects a lot of sunlight, given its white nature, and that reflection can be less than pleasant if you don't have anything to protect your eyes and skin.
If you are hiking in winter conditions with snow and wind, it may be worth it to grab a pair of snow goggles instead. Nobody enjoys having eyes full of snow, and the sharp wind just adds insult to injury.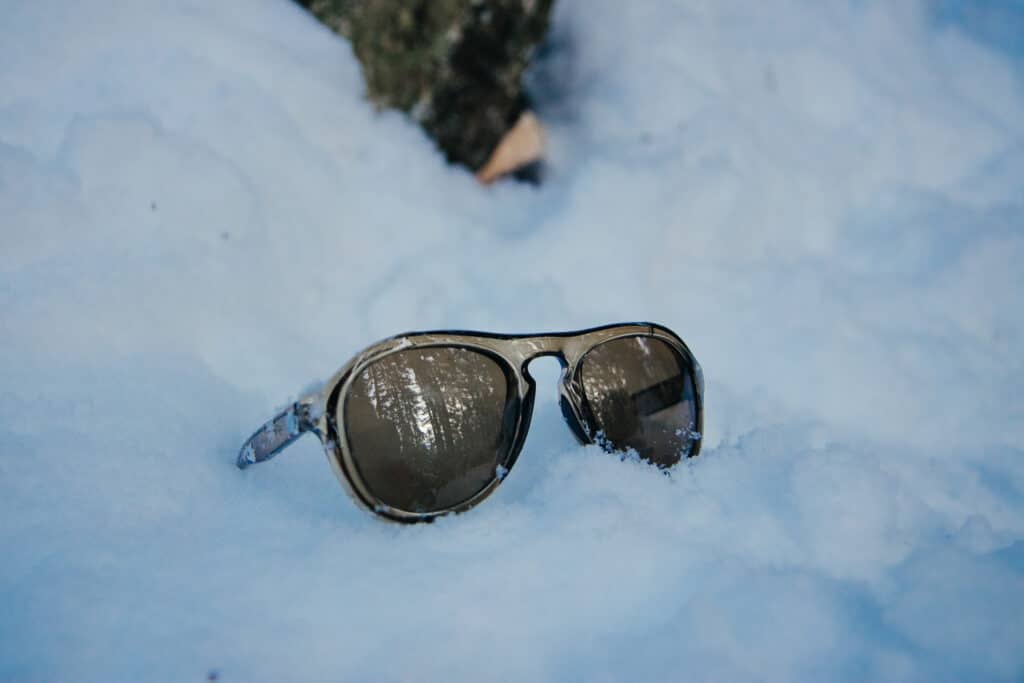 Headlamp
The season of winter doesn't provide as much daylight as the rest of the year, unfortunately.
This is especially prevalent up here in Alaska, where our nearly endless sun in the summer dwindles down to a measly 4 to 5 hours a day.
Regardless of where you live, it can be easy to accidentally get blindsided by the setting sun once you're out enjoying yourself on the trail.
Winter hiking in the dark is not an off-limits activity, but you surely don't want to get trapped in the dark without adequate light sources.
Packing along a headlamp, and some extra batteries to go with it is a great way to stay prepared for a walk in the dark.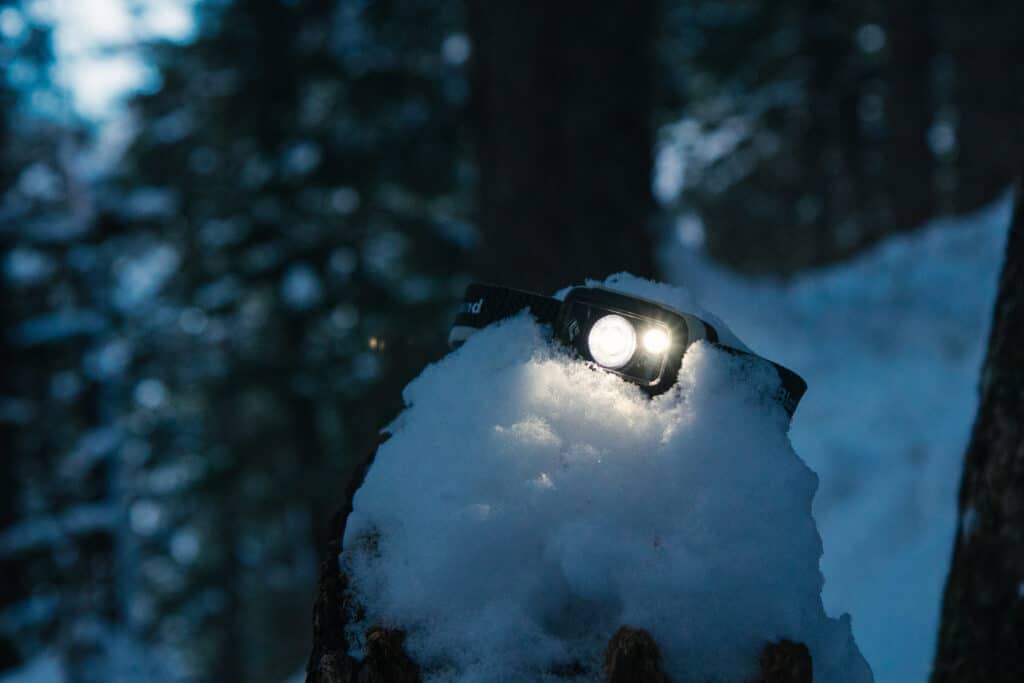 Even when you think there's no way you will be staying out that late, I recommend always having a headlamp in your pack. It can save you from a miserable evening in the case of a miscalculated hike duration.
Insulated Water Bottle
In the summer I typically opt for using a water bladder, simply for ease of use. In the winter, however, that same water bladder will quickly freeze, getting rid of my one source of hydration. (I made that mistake once, but never again).
Nowadays I always pack an insulated water bottle to make sure I can stay hydrated no matter the temperature.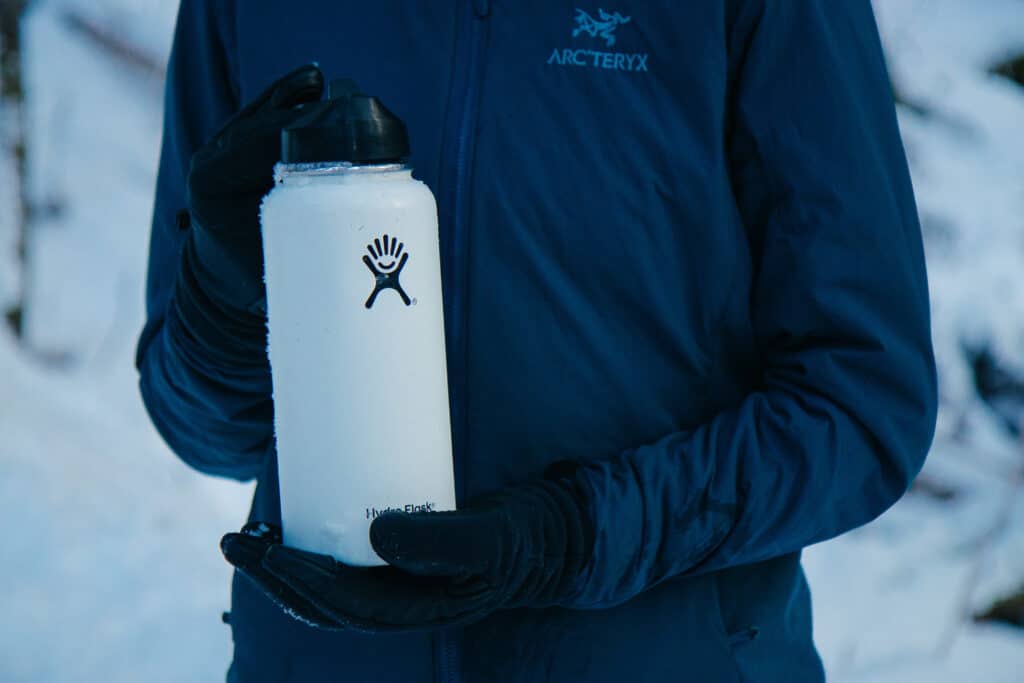 You may already own an insulated water bottle and not even know it. The very popular Hydro Flask bottles made of stainless steel are double wall vacuum insulated. This makes the water inside basically impossible to freeze from the outside.
If you still insist on wanting to use a hydration bladder instead, there are insulated models for purchase.
Getting all of the gear above is one thing, but having a place to put it all is another!
Finding a hiking backpack that works for you can be compared to finding the right shoes: style, functionality, size, and fit are all components that need to be taken into consideration.
Once you find the one, it will hopefully be with you for quite a while.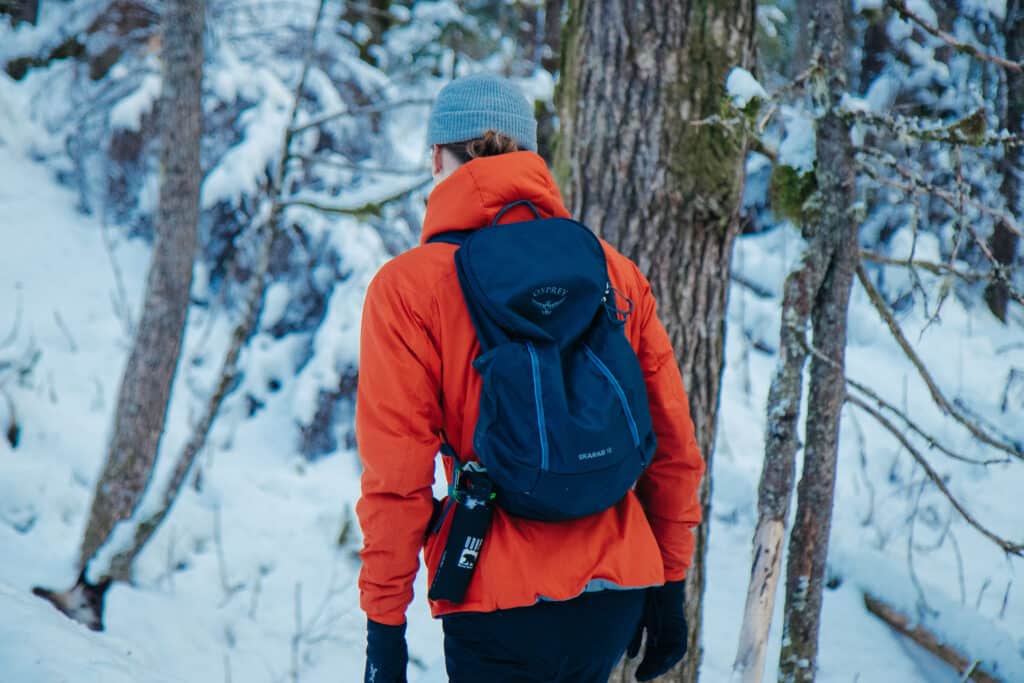 A daypack serves as a convenient place to store the layers of clothing that need to be shed as well. Never feel as if you need to tough it out once you feel too warm.
It's best to take off unnecessary layers as soon as you can and stuff them in your pack for when the need returns.
When looking at daypacks, take into consideration how many layers you may need to fit inside it at once, including layers of another person you may be hiking with.
To help you get started on your search for the perfect day hiking backpack, check out our article here which goes over some of the best options on the market.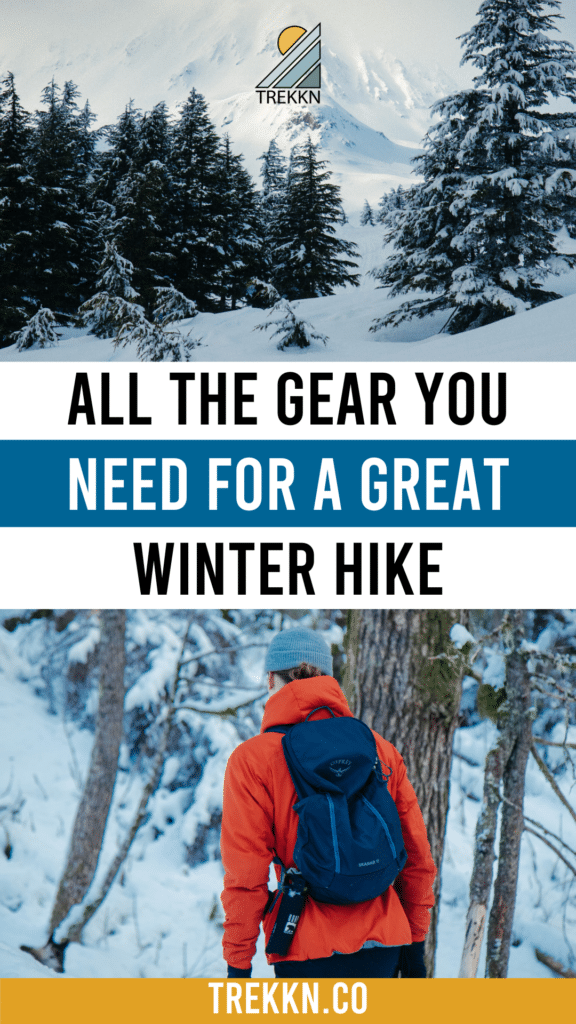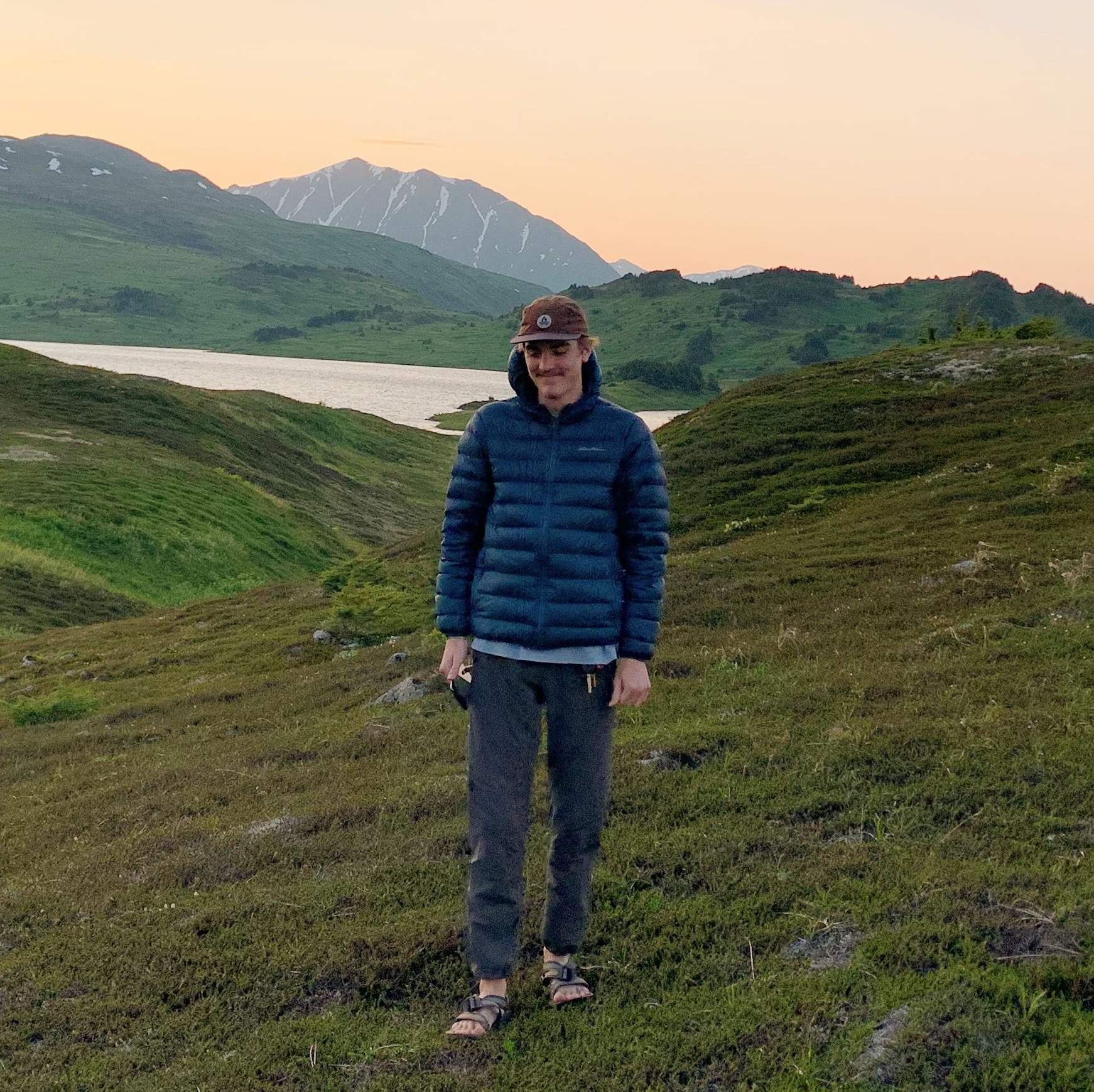 Josiah B gained invaluable experience while living on the road with his family, during which time he felt overcome with the desire to continue exploring. That search landed him in Seward, Alaska, where he currently resides. His love for the outdoors is welcome with open arms in the Last Frontier, and with an endless amount of hiking and backpacking to be done, he's eager to share the best that Alaska has to offer.