5 Types of Adventurers Who Need an Oru Kayak in Their Life

Do you love adventure? Do you enjoy getting out on the water and kayaking? Do you travel or live in a small space? If so, an Oru Kayak might be something you want to take a closer look at.
Back when we were traveling full-time in an RV, space was obviously a big deal to us. So was being able to get out on the water and kayak.
At first, we had an inflatable kayak, which did the trick for a bit. And then we were sent what can only be described as an origami kayak, aka an Oru kayak. This fit our lifestyle perfectly and it just might fit yours perfectly too.
Thank you to Oru for sending TREKKN a model to test out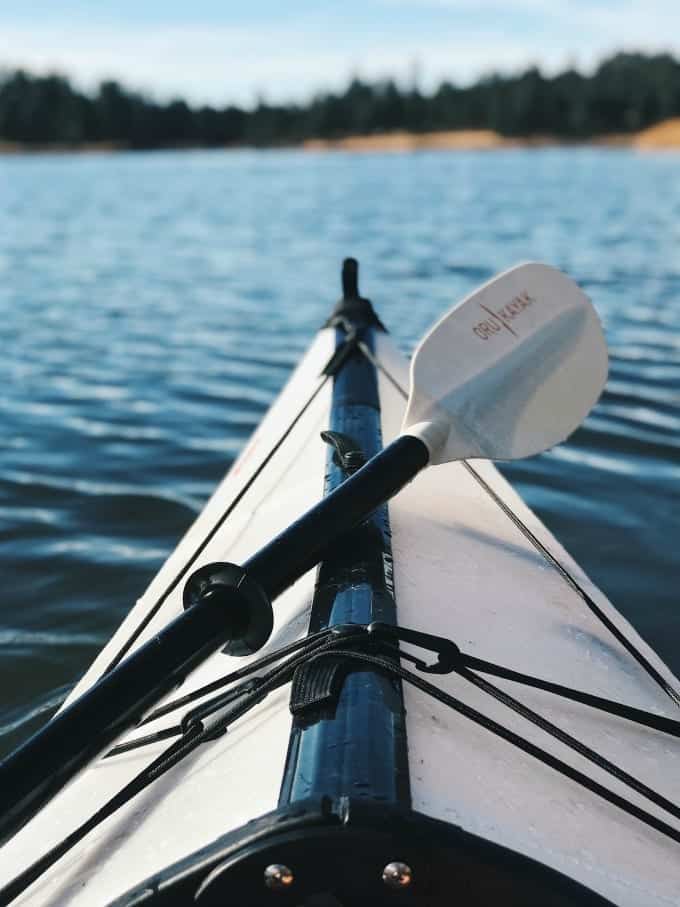 You might need an Oru kayak in your life if…
You live/travel in a van
You live/travel in an RV
You live in an apartment with minimal storage space
You have a small car
You like to kayak alone and need something easy to transport
Oru Kayak on Shark Tank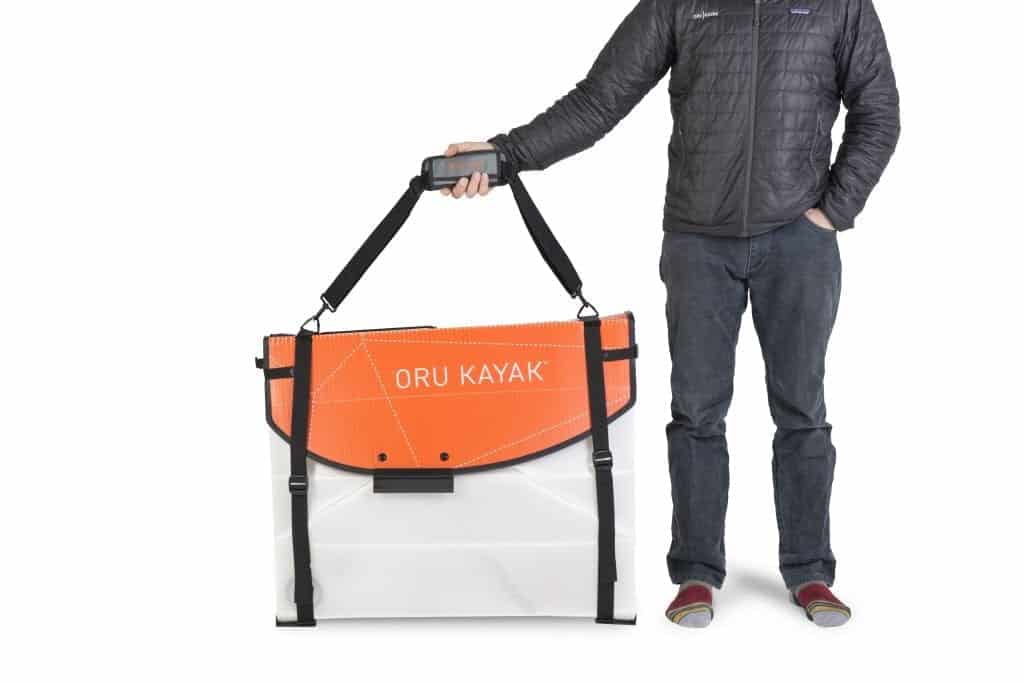 Before we get into the nuts and bolts of this amazing foldable kayak, we thought you might like to know the history behind it. We're always pretty intrigued with how a product went from an idea to a success.
Anton Willis is the brains behind this portable kayak and wrote about his design back in the fall of 2012, as well as launched a Kickstarter campaign for the 12-foot Oru Kayak.
Then came the company's appearance on Shark Tank in 2014 where Robert Herjavec invested $500,000 into Oru for 25 percent equity.
Here's the Ory Kayak Shark Tank episode (fast forward to 2:06 on the video)…
What happened after Shark Tank? They went on to create different models of the Oru and are now selling them on their website, as well as on Amazon.
Click here to see prices on Amazon
Oru Kayak Models

Oru now has four different models of kayaks:
The Beach – this model is perfect for day trips and for the casual kayaker
The Bay – this is the one we tested and is fast to set up, great for long trips, as well as fishing and backcountry trips
The Coast – this is made for more rugged expeditions in surf and wind
The Haven – Oru's first tandem kayak, which can also be converted to a single-seater and is available for pre-order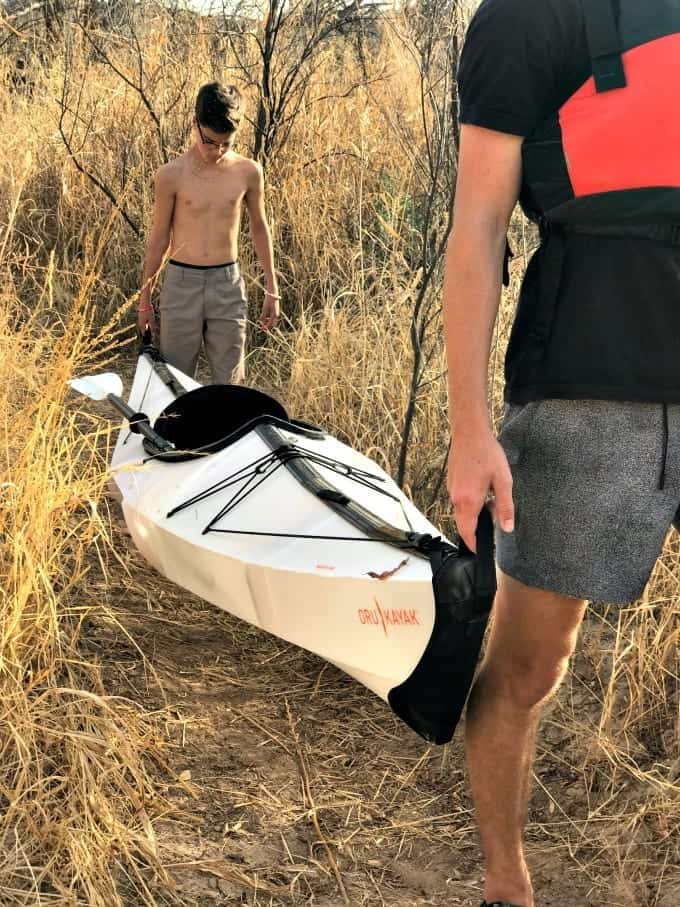 Oru Kayak Review – The Bay Model
We were sent the Bay model to review while we were RVing in Sedona, Arizona.
There was a lake right by our campground, which was the perfect location to take the Oru for a test drive.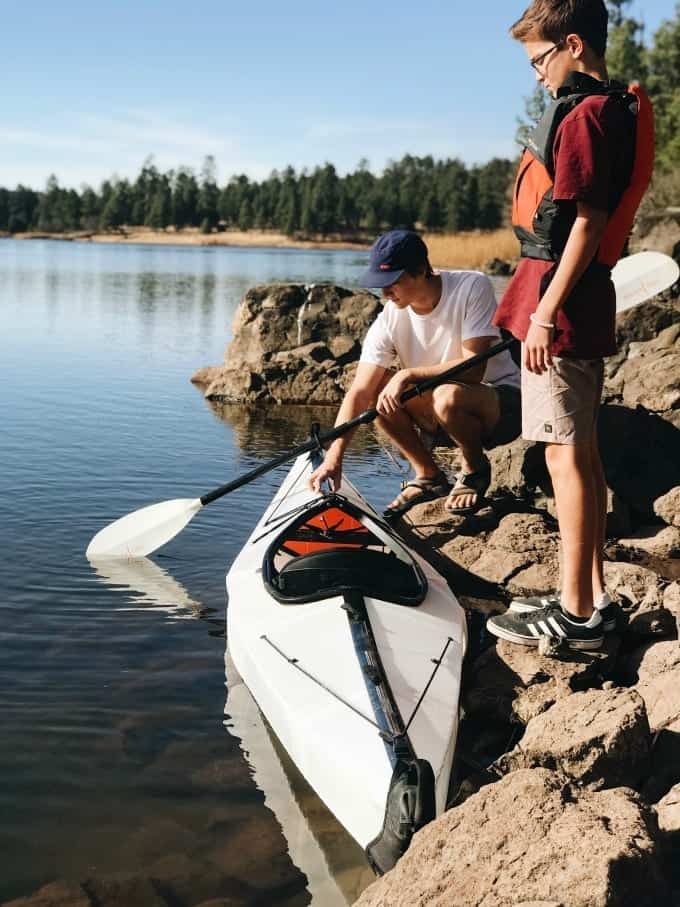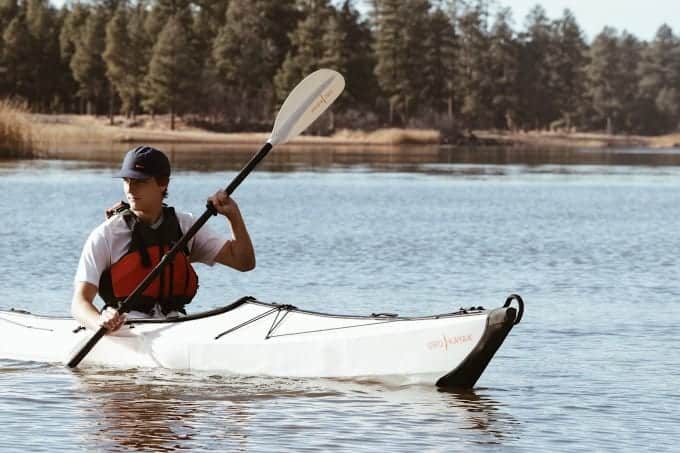 The Oru kayak was, as expected, a completely different experience from the kayaks we were used to. It glides through the water and was easy to learn how to maneuver.
We're not sure about the other models, but the Bay seemed perfect for beginners to learn on but also fast and sporty enough for experts.
Putting the Oru Kayak Together
When we first opened the box containing the Oru, I'll admit we were all a little intimidated by the thought of figuring out how to put it together.
The Bay Oru Kayak folds up into a self-containing 33″ x 12″ x 29″ box, so the fact there was a kayak in there was pretty amazing.
Putting the Oru folding kayak together the first time was a bit of a learning curve. But I just stood back and let our sons (who were 18 and 13 at the time) figure it out on their own. After that initial learning curve, it took them about five minutes to put it together and was equally as simple taking it apart and putting it in the pack.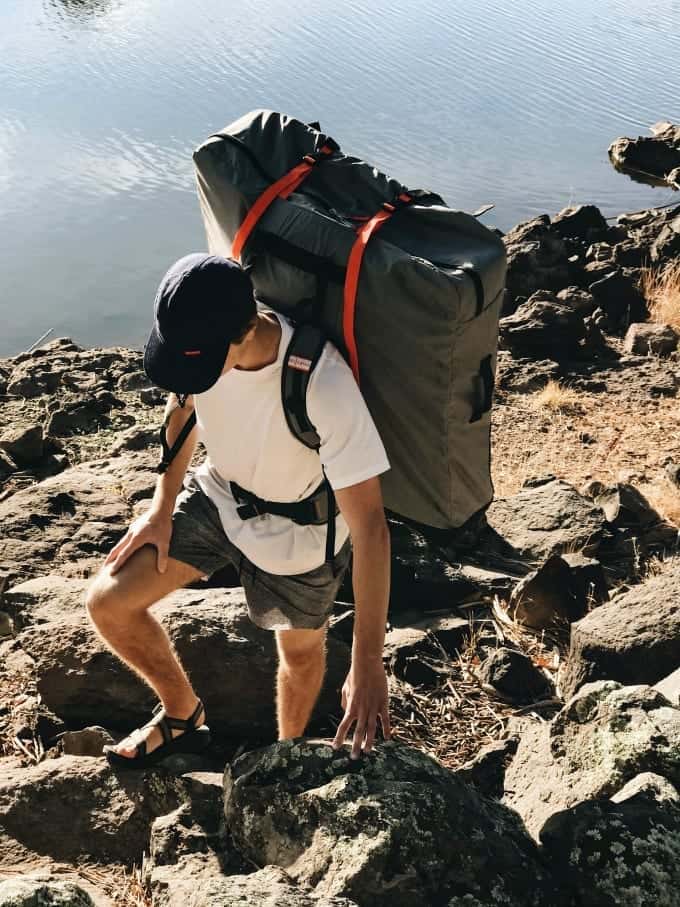 Speaking of the pack…
Oru Kayak Weight & Transporting It
The Bay model weighs only 28 pounds, which makes carrying it on your back (you have to purchase the pack separately) to your kayaking destination quite simple.
Here's a weight comparison of all four models:
Beach – 26 pounds
Bay – 28 pounds
Coast – 36 pounds
Haven – 40 pounds
Given the Bay only weighed 28 pounds not only made it easy to carry on your back but also for anyone to load it in the trunk of your car and get it out to put together. So if you often kayak alone or are looking to start, an Oru makes getting out on the water a breeze.
Storing the Oru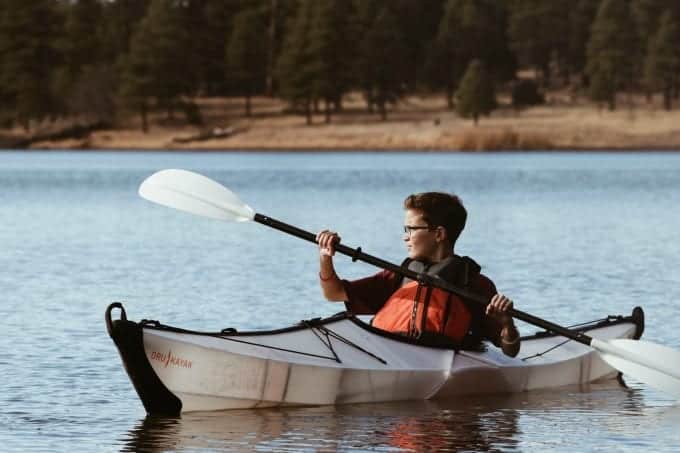 As we mentioned at the beginning, a fold-up kayak like the Oru is perfect for adventurers who travel full-time or don't have a lot of storage space in their home or have a small car.
When we were traveling full-time, the Oru slid nicely into the bed of our truck with the gazillion other items we had in there to help with life on the road. We saw quite a few RVers with kayaks strapped to the back of their rig, or on top of their truck which, as we witnessed, made getting out on the water a pain at times.
Now that we're in an apartment and have a small sedan, an Oru kayak just makes sense. We can store it in the garage (which is just big enough for a small car) or the storage closet off our balcony. There are tons of gorgeous lakes and rivers in the Austin, TX area to go kayaking in and we want to take full advantage of it.
P.S. Yes, we're no longer full-time RVing. You can find out why we decided to stop here.
What Makes an Oru Kayak So Unique
Here are a few more details and specifics on what makes the Oru Kayak, and the company, so unique:
Quick assembly – less than 5 minutes
Small storage size – they'll fit in a studio apartment, car trunk, under a bed, you name it
Light-weight – 28 lbs (Bay model)
Easy to carry – especially with Oru's comfortable pack
Durability – Made of custom polypropylene with a 10 year UV treatment and has been rated 20,000 folds!
Made of recycled plastic
Oru is working with organizations around the globe to promote conservation
Oru Kayak Price and Where to Buy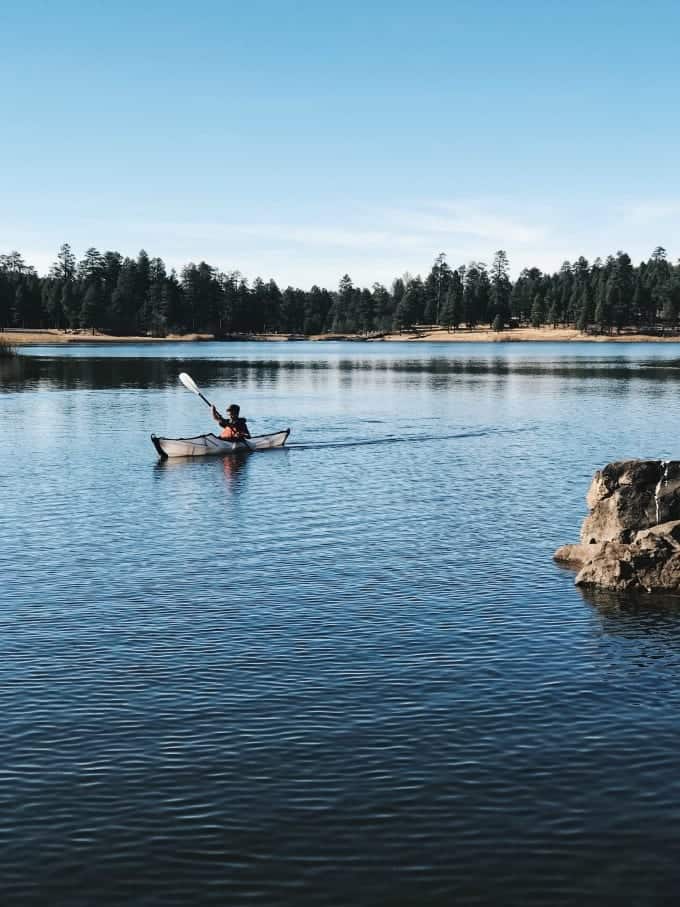 Have we convinced you that you need an Oru Kayak in your life? If so, I imagine the next question on your mind is 'Well, what does it cost?'
You have three options:
You can purchase one on Amazon here
You can purchase any of the models on the Oru website. They offer financing options to make purchasing one of these unique kayaks a bit easier if this is out of your range for a one-time payment
We hope our story inspired you to get out and do some kayaking. It's an outdoor activity our entire family enjoys and there's just something special about paddling out on the water and soaking in the outdoors.
PIN THIS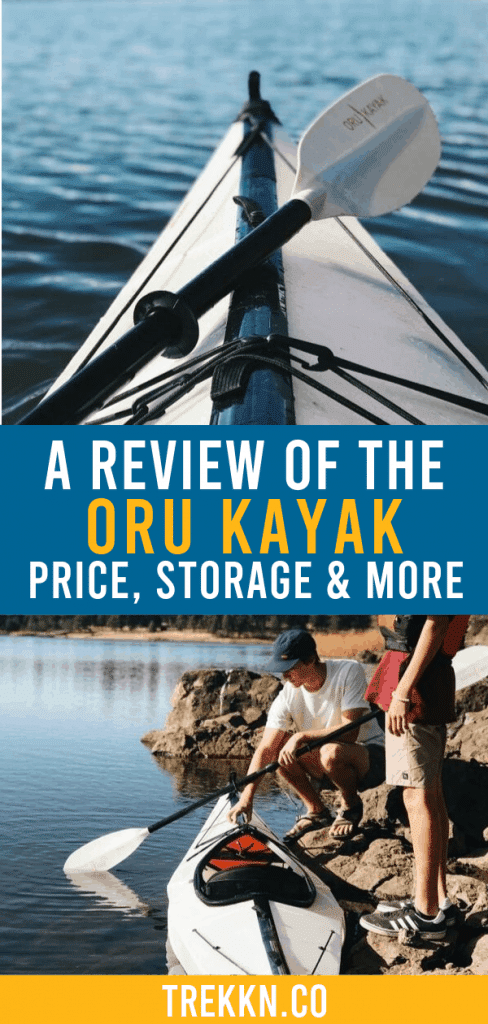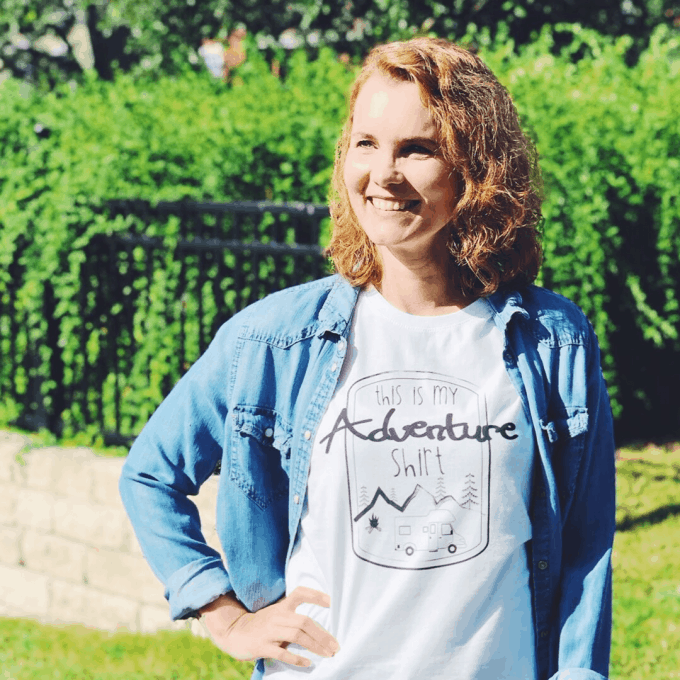 Julie specializes in helping you whip up delicious meals in your tiny RV kitchen, as well as RV organization tips and helping fellow RVers make their RV feel like home. Her favorite RVing spot is in Banff National Park in Canada where yes, the water really is that blue and the people really are that nice.