9 Awesome Things To Do on Whidbey Island

From lighthouses to sea life viewing, there are plenty of things to do on Whidbey Island that will leave you speechless and wanting to come back for another visit.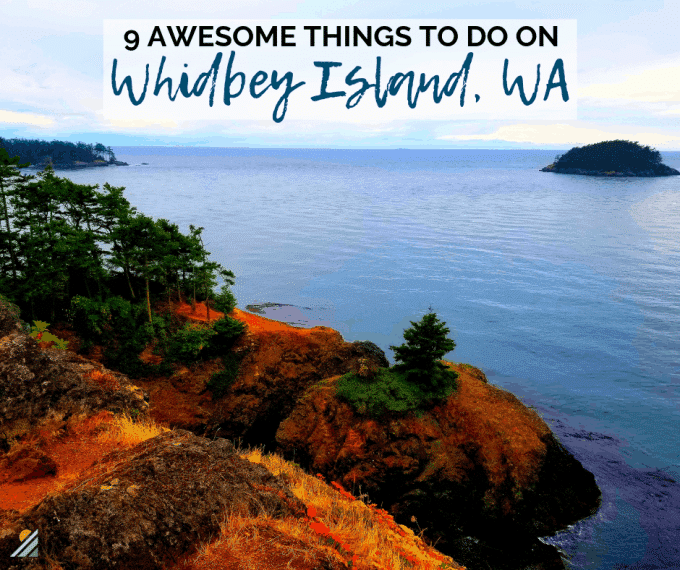 I'll be honest here. When Todd said we should visit Whidbey Island while in Seattle, Washington, I had never heard of it. In fact, I wasn't familiar with the Puget Sound area at all. Let me tell you, I had been missing out on some of the most beautiful landscapes the U.S. has to offer.
Whidbey Island is one of those destinations I wish we would have spent a little more time exploring. As I mentioned in a post for RV newbies, traveling slower is one piece of advice we tend to give everyone when they ask about RV living. Whidbey Island deserved much more of our time and is a place I definitely plan on visiting again when we have the chance.
Where is Whidbey Island?
That was exactly my question when Todd mentioned a visit. I said 'Sounds great! Now, where is it?'
Whidbey Island is in Puget Sound, about 30 miles north of Seattle, Washington.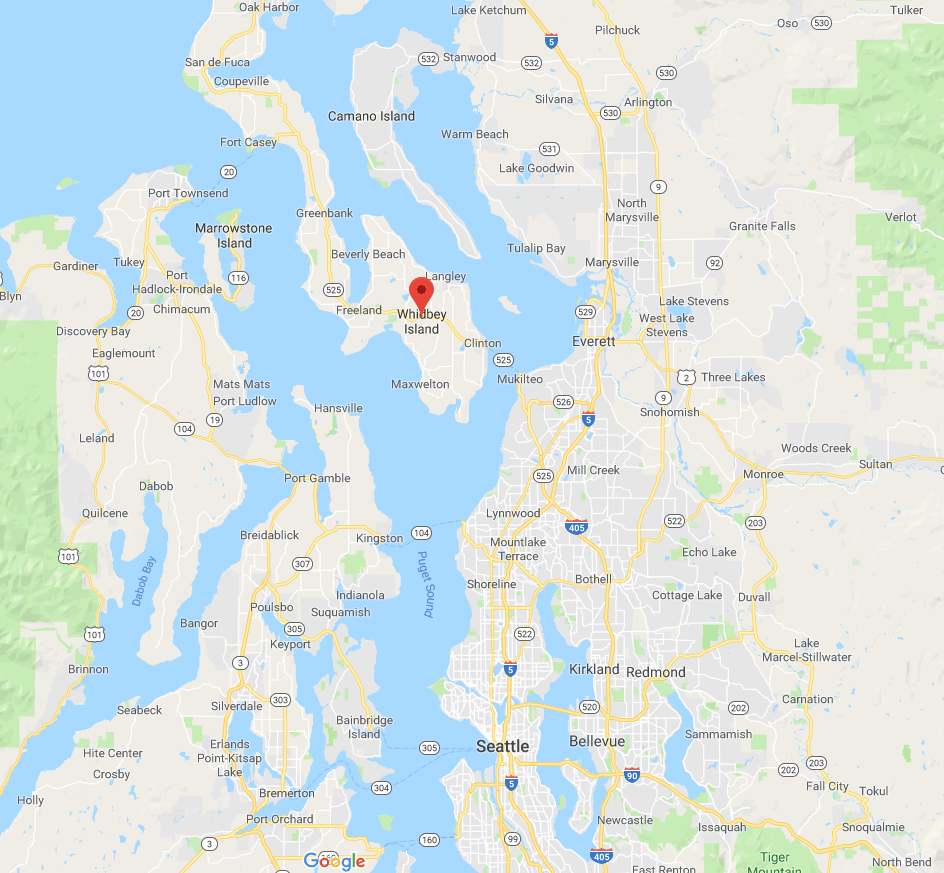 How to Get to Whidbey Island
To get to Whidbey Island via Seattle, you'll take the Clinton Ferry. You can also drive the Deception Pass Bridge from Seattle, but it extends your time getting there by quite a bit.
Clinton Ferry isn't the only Whidbey Island Ferry. If you're coming from Port Angeles, Washington, you can take the Coupeville Ferry.
We took the Clinton Ferry, which was a fast and easy process. The ride on the ferry was long enough for us to get out of our truck and enjoy the scenery for a bit.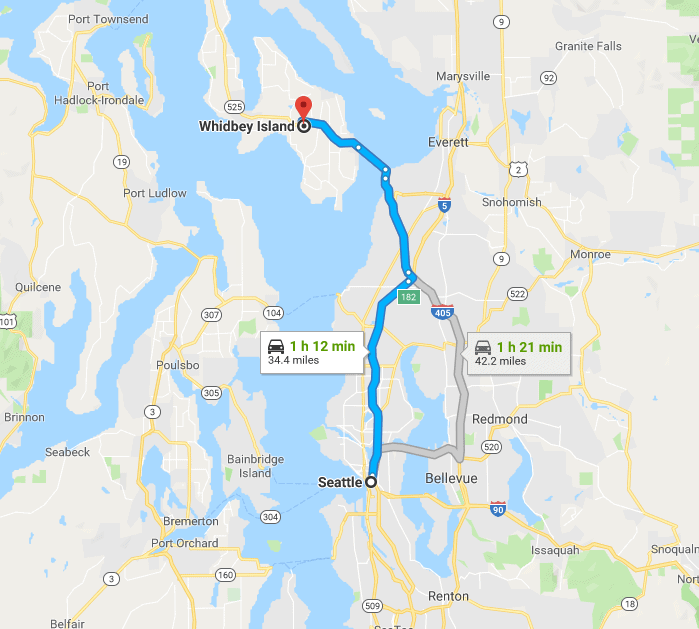 If you need a few more details on how to get to Whidbey Island, you can check out this page on the official tourism website.
Are there RV Parks on Whidbey Island?
There are quite a few RV parks on Whidbey Island for you to consider staying at. We can't personally comment on what it's like to RV there because we were staying outside of Seattle and made the drive in just our truck.
But we did see a couple of RV parks while driving around and the views looked spectacular.
For a list of some of the campgrounds and how many RV hookups they have, you can visit the Langley Chamber of Commerce site here.
Now that you know where Whidbey Island is, how to get there, and where to stay, here's a list of some of the best things to do while visiting beautiful Whidbey Island.
9 Awesome Things To Do on Whidbey Island
1.Fort Casey State Park
We spent most of our time touring everything Fort Casey State Park has to offer. This was one of the fascinating historical sites we visited during our RV travels.
Built in the 1800s, Fort Casey was built as a point of strategic military defense and was used as a training facility up until the mid-1940s.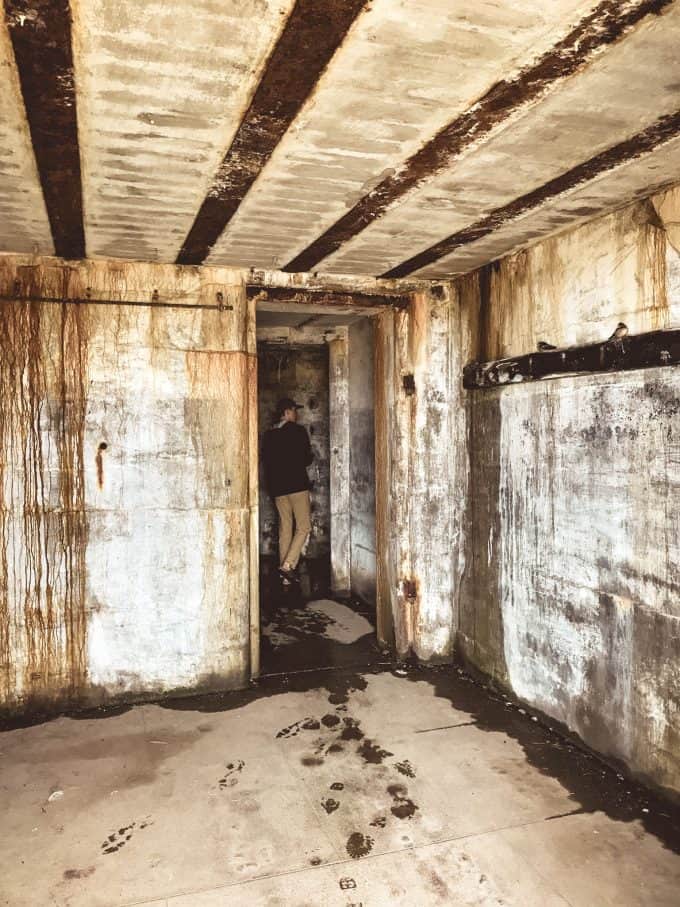 As we were walking through the bunkers and batteries, we were imagining what this place must have been like, bustling with young soldiers who were keeping a look out at the horizon. You can tour the fort, walking through all of the rooms and checking out the massive guns until your heart's content. We did so until close.
It was utterly fascinating,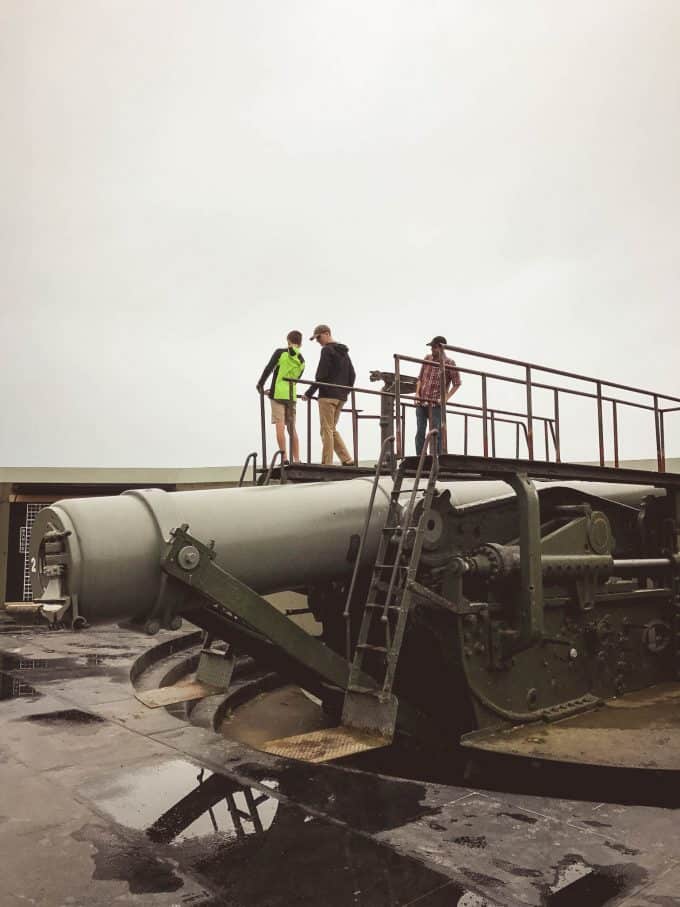 The bunkers aren't the only thing to do at this park. There's also a beautifully restored lighthouse called Admiralty Head.
Admission into the lighthouse is free and it features a gift shop, information galore on how they lived in the lighthouse and you can climb up the spiral staircase to the tower for one amazing view.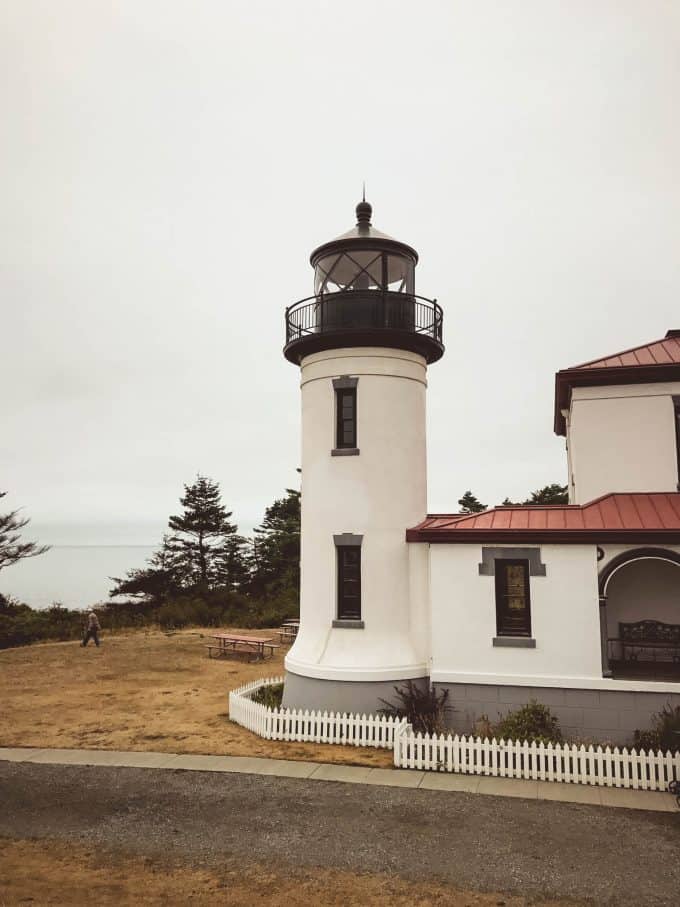 We also spent time on the beach, watching the sea lions swim around and hoping they would come ashore.
And believe it or not, as we were strolling around the park we just happened to spot Orca whales surfacing just off the coast! They were maybe 150-200 yards from us and it was truly an unbelievable experience. I'll go into a bit more detail on whale watching options, and the crazy details of our sighting, in just a minute.
2. Fort Ebey State Park
If historical state parks like this are your thing, then you can get more bang for your buck by heading north up the coast of Whidbey Island about 9 miles where you will run into Fort Ebey State Park. Much like Fort Casey, Fort Ebey is a World War II era bunker and artillery battery with a rich and fascinating history.
And if you're into outdoor activities, this will also be a very good fit for you! The 651-acre park boasts about 25 miles of hiking/walking and biking trails for your enjoyment. There's nothing quite like strolling along and enjoying the sounds and smells of the ocean.
In addition, this is a popular spot for surfing, paragliding, and smallmouth bass fishing (in nearby freshwater Lake Pondilla), so try your hand at one of those during this epic visit to Whidbey Island!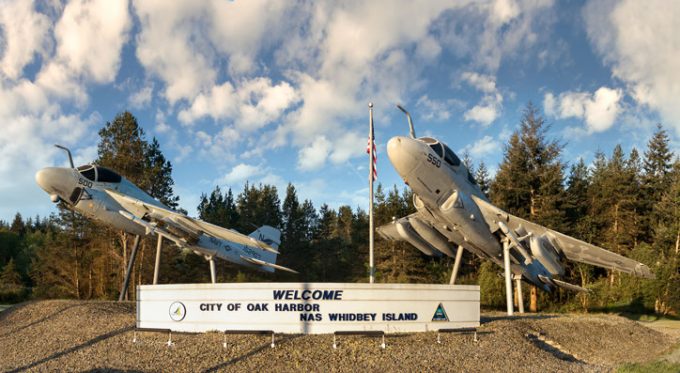 One additional note: A Naval Air Station is located on Whidbey Island and the aircraft stationed there are routinely involved in training exercises. These exercises can result in significant aircraft noise over the park and campground. So if you do plan to camp, just be prepared for some noise…and excitement.
3. Go Hiking
As I already mentioned, hiking trails are not hard to find on this scenic island. Just within Fort Ebey State Park, there are more than 25 miles of hiking trails. But if you head a bit further north up to Deception Pass, there are more hiking opportunities than you can shake some seaweed at!
On both sides of the pass, you have abundant trail options. In the Goose Rock and Cornet Bay area, you can hit a trail and get some fantastic views of Deception Pass. And on the north side of the pass, you can choose a trail that winds around Bowman Bay with views out to Deception Island in the distance.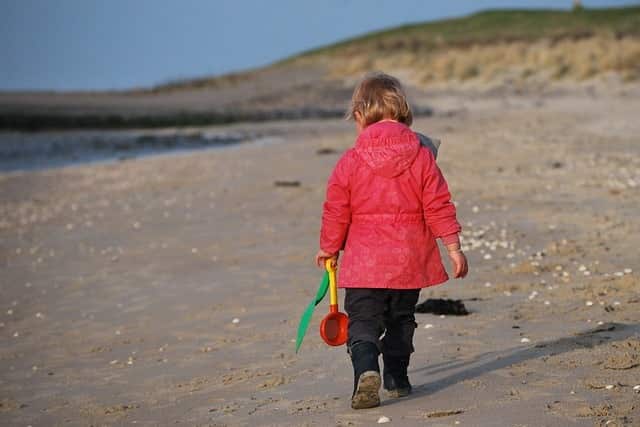 All together, there are 38 miles of hiking trails on Whidbey Island for you to choose from. The hikes include beach hikes, prairie hikes and forest hikes! There's a little something for everyone.
And if you are afraid of choosing the wrong option…don't be. There is no wrong choice in this captivating area of the country!
4. Go Kayaking
Sure, it's great to get some breathtaking views of these ocean islands and passages from land. But it's an entirely different experience when you actually get out on the water and get up close and personal with that ocean!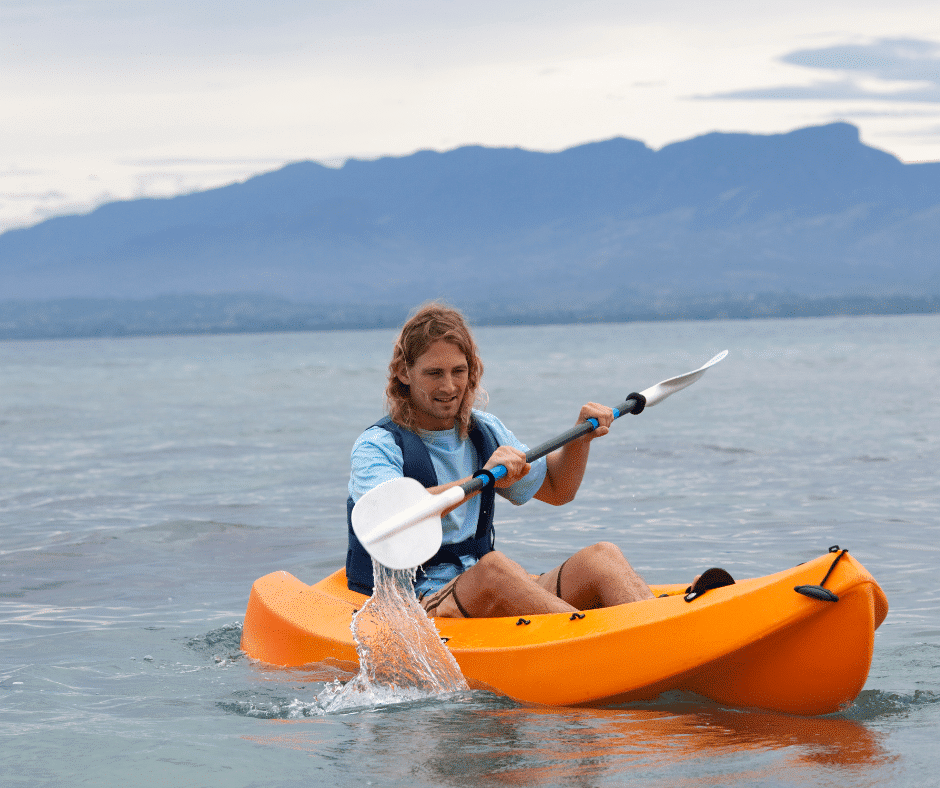 Kayaking is the perfect opportunity to get "hands on" with Whidbey Island and its surrounding waters. Kayaking offers a low-cost option for an ocean excursion, if a full-blow ocean cruise is not in your budget.
One great option for a kayaking experience is conveniently located not too far from the Clinton Ferry landing point in Langley, WA: Whidbey Island Kayaking
This small company offers single and tandem kayak rentals, as well as stand-up paddleboard (SUP) rentals. In addition, you can also opt for a kayaking tour with one of their experienced guides if you aren't quite ready to strike out on your own.
Of course, there are other kayak company options, but the one featured above seems to stand out from the crowd for this area. So choose one of them and get out on the water for an experience you'll never forget.
5. Boat Tour of Deception Pass
If kayaking is just a little too up close and personal for you, or requires a bit too much effort, a nice boat tour of Deception Pass may be more up your alley.
Deception Pass Tours is a highly regarded and well reviewed boat tour company offering several types of scenic boat tours for your enjoyment. It focuses its tours solely on this "most photographed attraction in Washington State".
You can choose the simple and less expensive one hour tour of the pass, or you can opt in for a bit more thrill on a whale watching tour! If you time your visit right, you can experience a Gray Whale sighting during their Spring migration up the coast.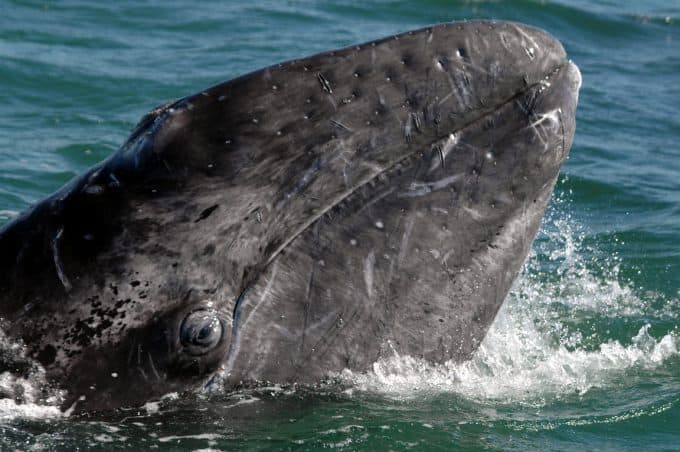 Again, this is one of those situations where you can't really choose a wrong option. If you want to just kick back and soak in the beauty out on the water, one of these Deception Pass boat tours is sure to fit you just right.
6. Go Taste Some Wine!
If you know much about me, it won't surprise you to see this activity show up on one of my to-do lists. Wine is life, after all.
And if you know much at all about wine, it won't surprise you to find out that Whidbey Island offers some stellar wine tasting options of its own at several different local wineries. Washington as a whole is becoming more and more well-known for its wines as the years pass, and this is a perfect opportunity to get your first taste. While the eastern portion of the state is probably the better known region, this island in Western Washington has plenty to boast about as well.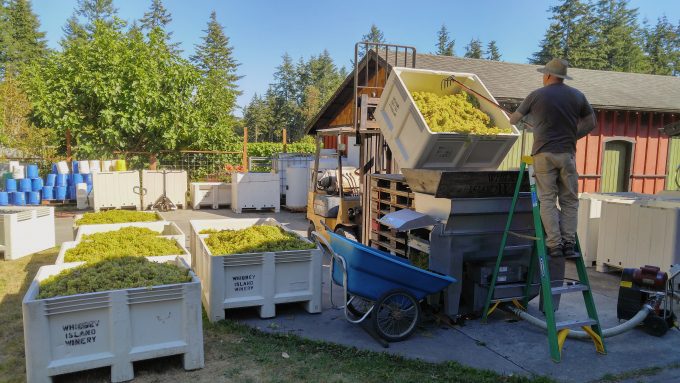 One of the most well-reviewed wineries on the island is Whidbey Island Winery located in the small town of Langley. While they do have vineyards right there on the island, many of the winery's offerings are products of the Yakima and Columbia Valley's of Washington as well. The winery offers a surprisingly broad and diverse line-up (including reds, whites and port) that you could taste over a few visits if you choose.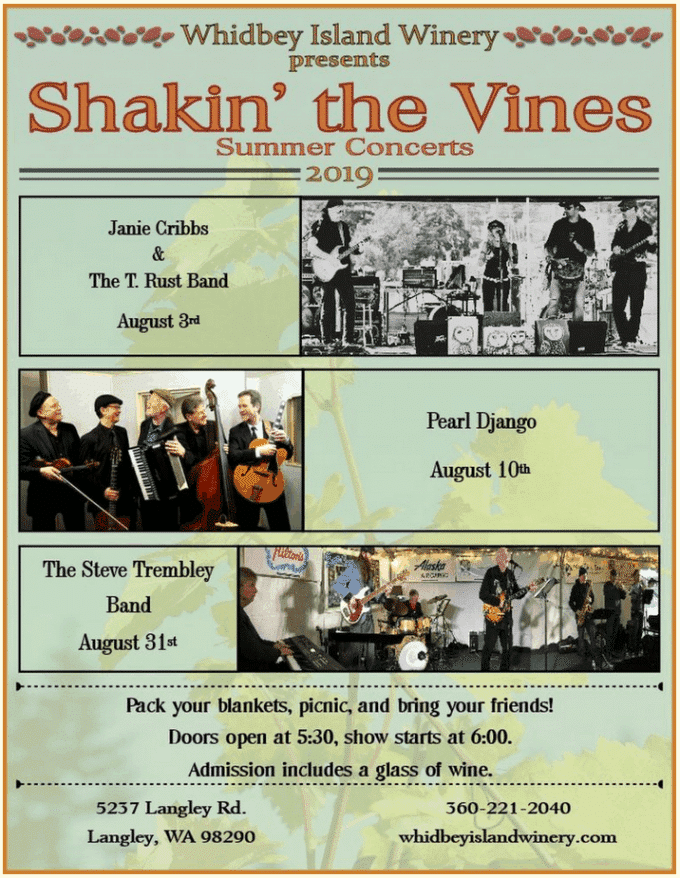 As a bonus, if you happen to be visiting in August you can enjoy their summer concert series, Shakin' the Vines. Great music and tasty wine: A match made in heaven!
Spoiled Dog Winery is a second option for you to explore as well, but there are several more if you do a little poking around.
7. Whale Watching Tour
I don't know about you, but there are few things on this earth that amaze me more than whales. Any chance we have to get a glimpse of one of these amazing creatures will not be missed, and Whidbey Island offers plenty of opportunities.
Do you remember how I mentioned above that we were actually able to watch a pod of Orcas from the shore at Fort Casey? Well, what I didn't mention is that there was a small whale watching vessel very near to that pod as well and we could hear the oohs and aahs from the folks on that boat as we stood and watched on the shore! It was a great experience all around.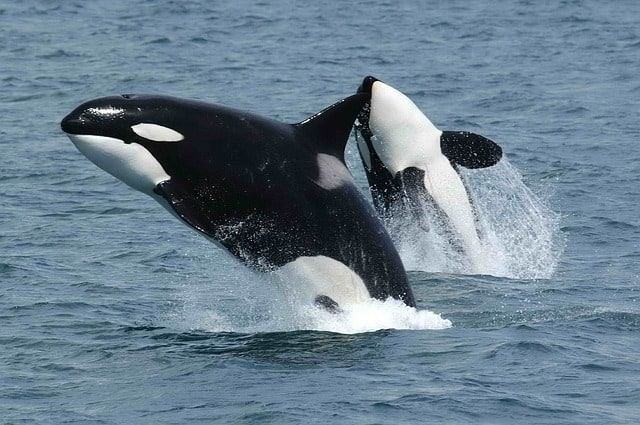 A Mind-Blowing Coincidence We Will Never Forget
But get this: It was only a day or two later, after we posted about our experience on social media, that a friend of Todd's (that he hadn't seen in 20+ years) commented and said that that was HIS TOUR BOAT right there by that Orca pod! He was the only one on scene and so he knew it had to be his boat that we had spotted!
It was a mind-blowing coincidence that we still have a hard time grasping. But if there is anything I would have changed about that experience it would be to actually be on that Spirit of Orca Tour Boat with Captain Ken instead of on the shore. Go take a look at Spirit of Orca Whale Watching and Wildlife Tours and you will understand why I say that…his pictures are absolutely phenomenal (which he sends to customers after their tour) and his customers rave about their experience.
Ken operates out of Friday Harbor, WA which is a bit further north from Whidbey Island. Of course, I think it would be worth the extra travel, but there are other options closer to the island that you might also consider:
Whatever you do, get out there and experience these amazing creatures during your visit to Whidbey Island!
8. Greenbank Farm Cheese Tasting
Well, we talked about wine tasting, so we could hardly skip over the cheese tasting! Another great combo in my book.
Greenbank Farm is a must-stop location for any Whidbey Island visitor for several reasons, but the cheese itself is worth the stop from what I have heard. If you're not into cheese, the property also boasts two fine art galleries, a cafe (featuring Loganberry pies!), several shops, plus fantastic bird watching opportunities (harriers, eagles, redtailed hawks, yellowthroats, herons and more).
But back to the cheese: They offer free tasting! They are also open everyday, all year round and feature raw, organic, Sheep, Goat, & Cow Milk Cheese, Picnic foods, candy, dry Salame, jams and too much else to list.
Hungry yet? I know I am. Make Greenbank Farm one of your tasty stops on beautiful Whidbey Island.
9. Farmer's Markets
There is no way to go wrong with a visit to a farmer's market…or three. Especially in a lush region like Western Washington State. It's the perfect way to sample the bounty that this land produces for its inhabitants and experience the skill and dedication that residents bring to their culinary creations.
You have several different options available to you on Whidbey Island that you can explore until the cows come home: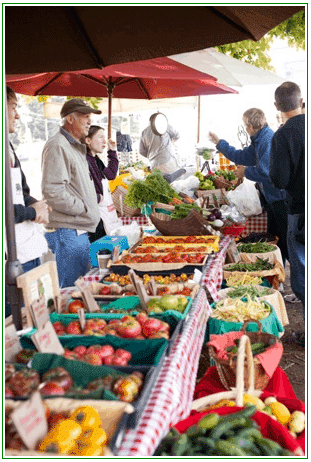 These seem to be the three main options on the island, but there are plenty more options available nearby that you can find with a quick Google search. So don't miss out on this local treasure!
What tops your list of things to do on Whidbey Island?
It's pretty clear that you won't be struggling to find things to do during your visit to Whidbey Island. It's just a matter of choosing the locations and activities that will be the best fit for your crew. But you really can't go wrong in this picturesque location that is close to everything and yet worlds away in so many ways.
We truly hope you enjoy your visit as much as we did, and be sure to send us some pics when you make your way to Whidbey Island (especially if they are whale pics).
PIN THIS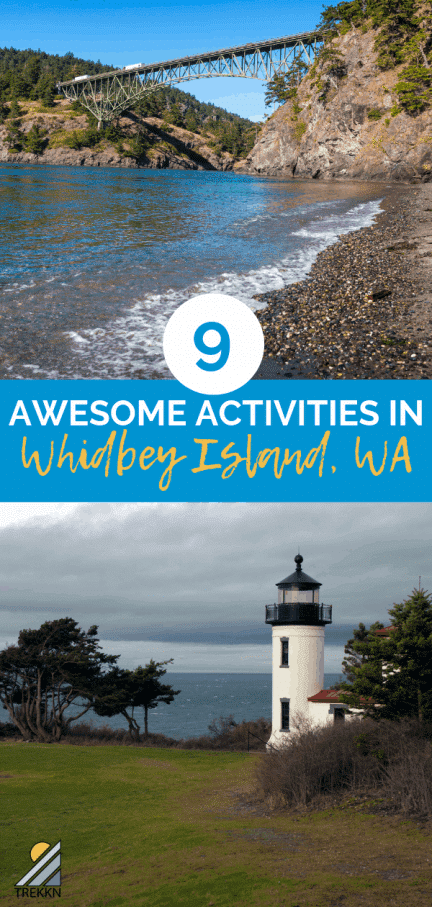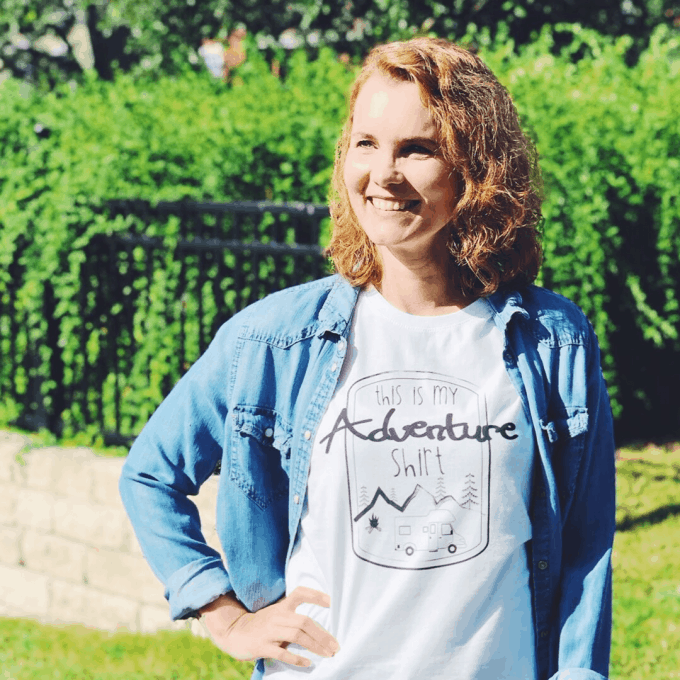 Julie specializes in helping you whip up delicious meals in your tiny RV kitchen, as well as RV organization tips and helping fellow RVers make their RV feel like home. Her favorite RVing spot is in Banff National Park in Canada where yes, the water really is that blue and the people really are that nice.