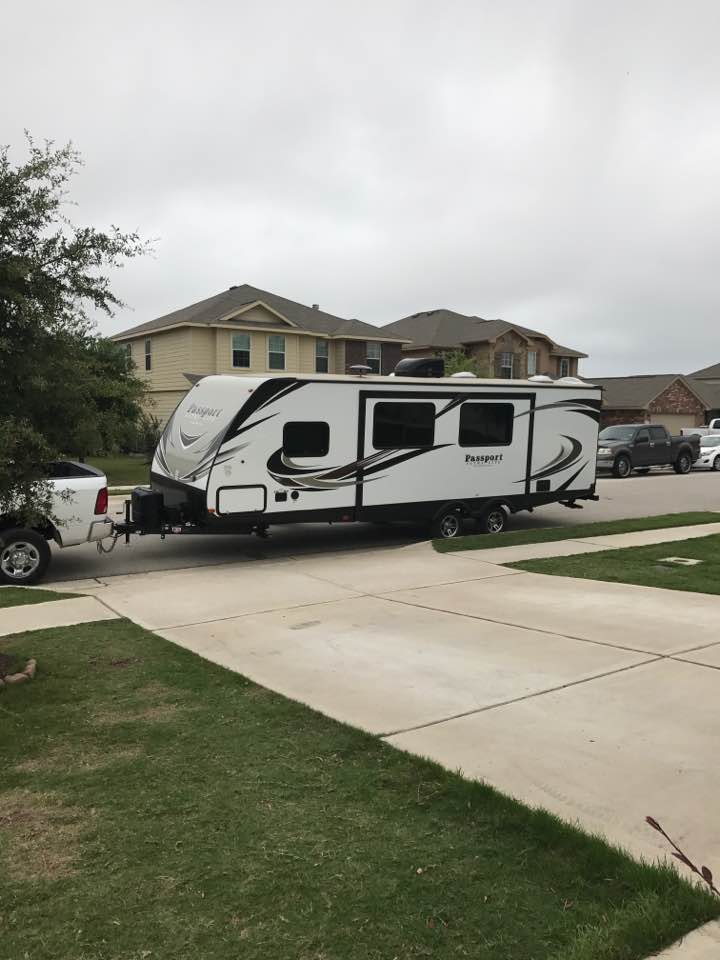 About two years ago, Todd and I were complete RV newbies. On a crazy whim, we decided to sell our home, buy an RV and travel the U.S. and Canada for a year with our three kids. That year turned into a year and a half because we fell in love with the lifestyle and we still had so much more to see.
The day we started loading up the travel trailer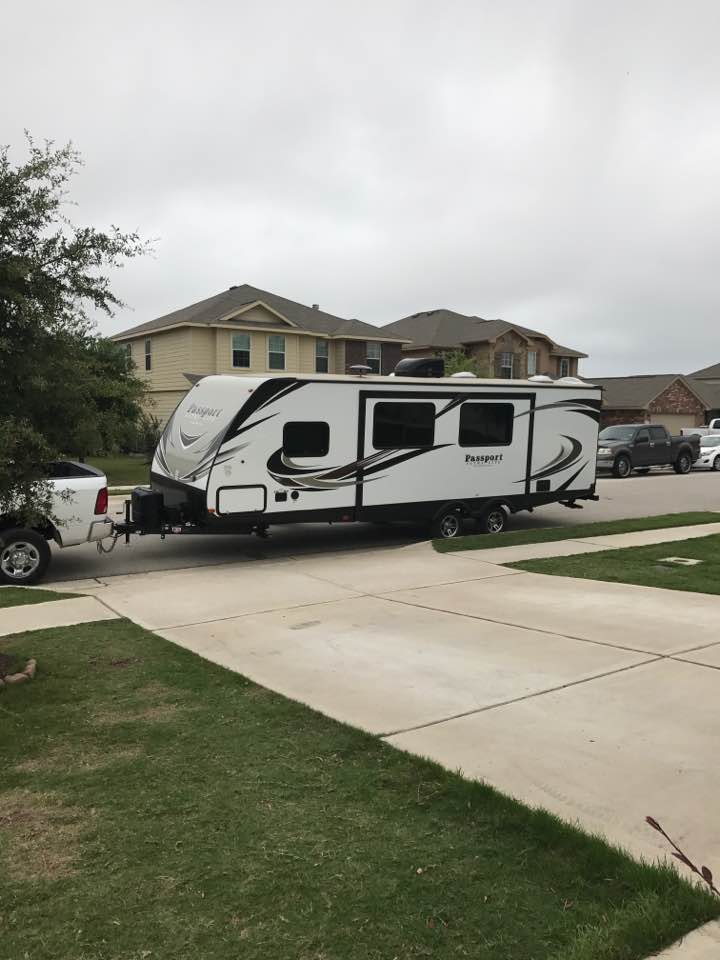 The craziest part of our idea to full-time RV was that we had never RV'd before. In fact, we had never taken our three kids camping before. *Cue the groans* We were as green as it gets when it comes to RVing and living an outdoor-focused lifestyle.
But you know what? We did it.
On May 26, 2017, I posted this photo on my personal Facebook and said "Just chilling in the HEB parking lot in my new home. No big deal. We did it. We really, really did it."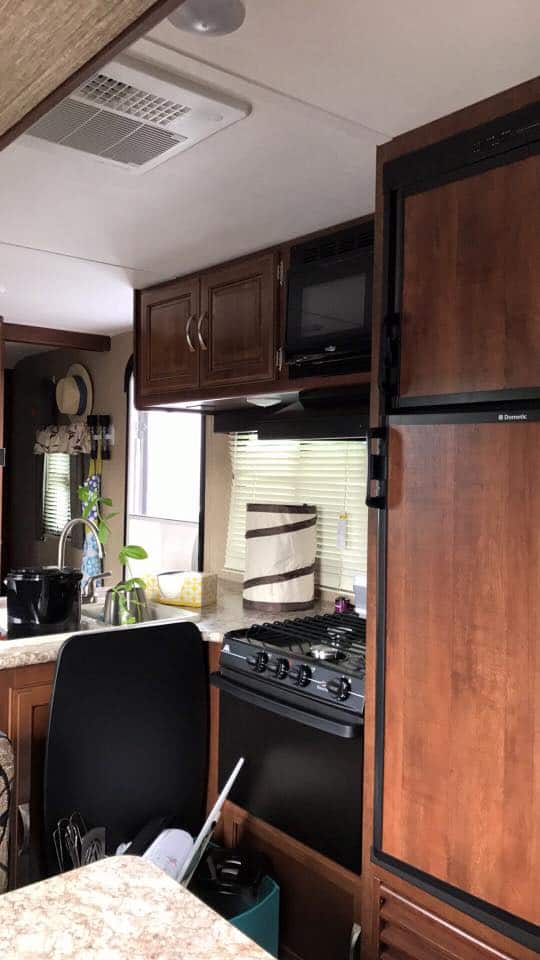 After posting that, we received so many encouraging messages. People were excited for us and said things like "You are going to have the most amazing adventure!" and "You are such an inspiration! Can't wait to do this someday!"
And you know what? If we can do this, so can you.
If you're in the process of trying to decide if the full-time RV lifestyle is right for you, read Todd's post titled "Is Full-Time RV Living Right for You?" And if you want/need to go more in-depth with this question, you can buy an e-book he wrote for $6 here.
Now that we've hung up our full-time RV hat for a while (you can find out why we stopped here), it's been a little easier to step back and take a look at things like what we learned and what we'd do differently. In fact, now that we've stopped full-time RVing, the one question we get the most is what our biggest piece of advice for full-time RV newbies would be.
Since we've been asked that question so much, we figured quite a few of you want to know the same thing. But, instead of one piece of advice, we thought we'd give you more.
These are the things we wish we would have known or listened to as full-time RVing newbies.
5 Pieces of Advice for the Full-time RV Newbie
#1 Take it Slower Than You Think You Need to
When people ask us for our number one piece of advice, this is the one Todd and I always agree on. Is it because we followed this advice and went nice and slow on our RVing adventure? Heck no. We did the total opposite.
We went fast. Way too fast.
I look back on some of the incredible destinations we went to and can not believe we didn't stay longer to soak it up.
Are three days in the Florida Keys enough? Not even close!
How about a few days in Yosemite? Nope, not enough.
Or what about a week in Glacier National Park? Nope, definitely not enough! In fact, we wanted more time in Glacier so desperately that we booked it all the way from Maine to Montana as fast as humanly possible to get back there. (That was the one time I was happy to go fast.)
Going Slower is a Good Thing
Going slower allows you to really get to know the area you're visiting. You won't feel so rushed to do all the things and instead can plan better.
Going slower also allows you more time to recharge your batteries. Traveling is exhausting. Setting up and tearing down your camping space can be exhausting. Sight-seeing is exhausting! You need time and space in your schedule to just be.
Remember why you decided to live this lifestyle in the first place. Was it to be in a hurry and stressed out? I'm thinking no.
Or was it to live life on your own time table? To relax? To read that pile of books? To soak in nature?
So, our first piece of advice? Take is slow and truly enjoy the journey.
#2 Be Patient with Yourself and Others
There were so many basic things we didn't know about RVing that I still can't believe we pulled off this lifestyle for a year and a half. (And are alive to tell about it.)
We've had people ask us if Todd drove big trucks or trailers before we hit the road. Nope. We had a Nissan Altima and a Honda Accord. 🙂
I mean, we've moved a lot and he's driven moving trucks quite a bit, but that's it.
And of course, there was the question about camping with our kids…
"So, did you guys do a lot of camping with your kids before this?"
No. We did a lot of Airbnbing. (That's a verb I just made up.) Does that count?
Needless to say, we knew a lot about nothing. Which meant we had to be very patient with ourselves and others as we learned all the ins and outs of living a full-time RV lifestyle.
I'm Sorry for What I Said While…
Have you seen those shirts that say "Sorry for what I said while I was trying to park the camper."
Those shirts exist for a reason. 🙂
I could also make shirts that say "I'm sorry for what I said while I was trying to make dinner in this freaking tiny kitchen" or "I'm sorry for what I said while we were in the grocery store looking for where they keep the stupid cans of beans" or "I'm sorry for what I said while we were stuck inside the RV for 3 days because of rain and now everything is a hot mess."
Do you see what I'm saying?
You will find yourself in some really stressful situations and you'll get angry with yourself and others. Don't forget that you're living in a very small space with the same people you see day after day after day. After a while, even the way they breathe can get on your nerves.
So, our second piece of advice? Be patient with yourself and others through the learning process and the day to day struggles.
#3 Find the RV/Campground Memberships That Will Work Best for Your Situation
One of the best things we did before and during the beginning of our full-time RVing adventure, was to research and invest in RV/Campground memberships. Todd read up on this topic extensively before we left on our trip because if we were going to be successful living this lifestyle, we had to be smart with our money.
He wrote an excellent post on the campground memberships we used the most that saved us a lot of money here. Since he already went very in-depth on this topic, I won't attempt to expand on it. But I will say because of the money we saved on RV parks, it left some room for some fun stuff. Which leads me to number 4…
#4 Plan to Splurge on Some Experiences
We knew that we wanted to do some pretty epic things in these destinations we've dreamed of visiting. And did we ever!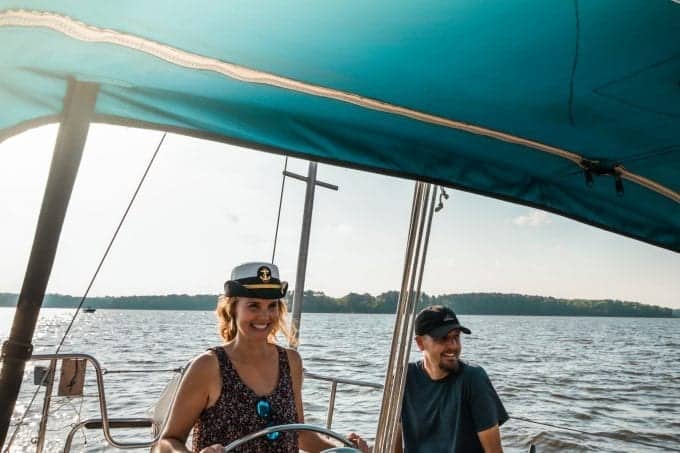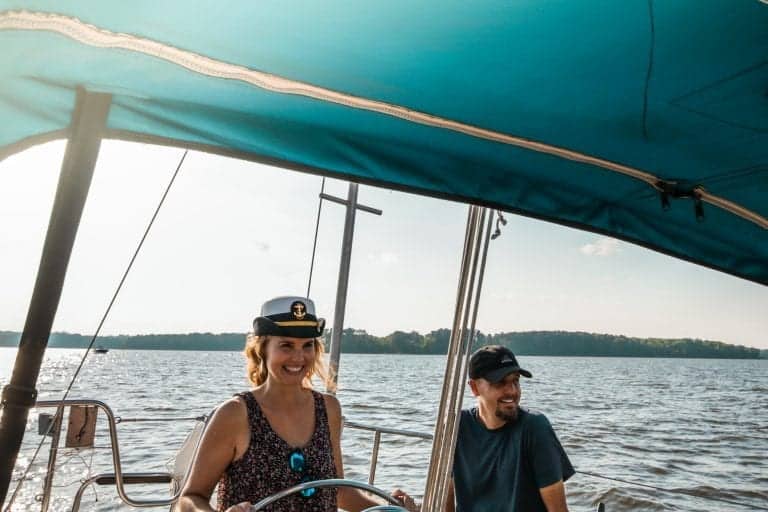 We did A LOT! Reliving all of these incredible experiences we had is giving me goosebumps.
We made the room in our budget to splurge on experiences that have created memories with our kids we'll hold on to forever. And it was so worth it.
Make a list of some epic things you want to do. Ask your kids what's on their bucket list and then do what you can to make it happen.
#5 Hold Your Schedule and Itinerary Loosely
This kind of ties in with tip number one, taking things slower. So I figured it was fitting to end with it.
We sometimes did well with this and sometimes we didn't. But what I can tell you is if you make connecting with people a priority while traveling full-time, spontaneous adventures will present themselves.
The times we didn't do well with this was when we made some great new friends in the Florida Keys but weren't able to stay longer. I look back on that time and wish we would have.
I also had no idea how much I was going to love the New Orleans area. I needed more time there and more beignets. 🙂 There's also the people I wish we would have made the time to visit and the people I wish we would have visited with just a bit longer.
But then there are the times we embraced the unexpected and are so glad we did. We stayed in San Diego longer than planned and had patio time every evening with friends who let us camp out in their backyard. These friends we 'kind of knew' turned into life-long friends.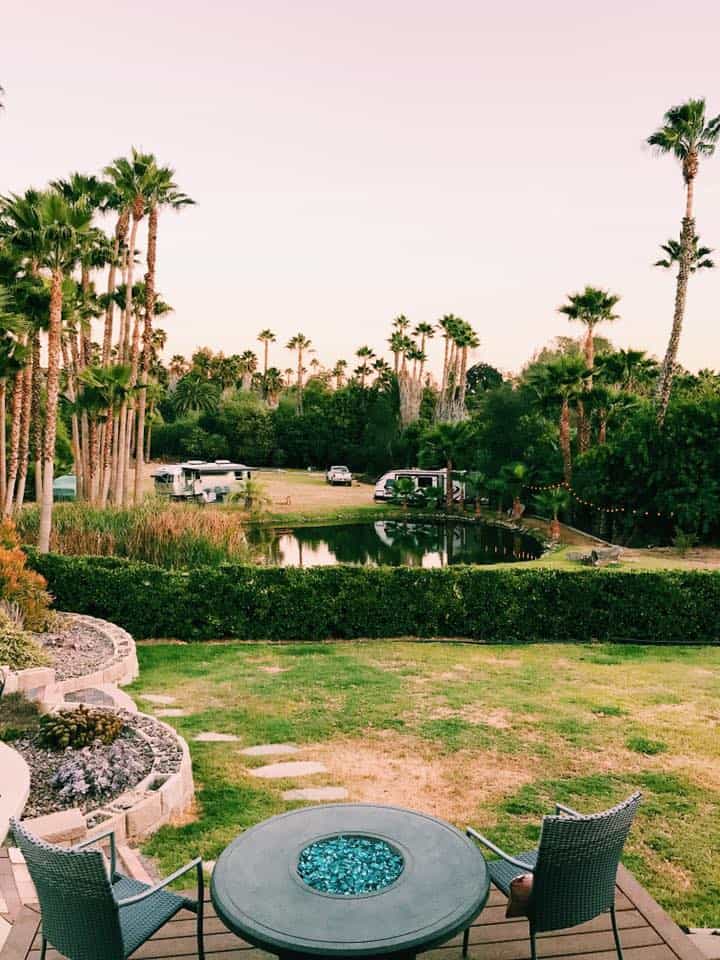 And then there's the time we met a fellow full-time RV family who we instantly hit it off with. We ended up spending two weeks together seeing parts of Canada I'd only previously seen in pictures and video. I'll never forget those two weeks of exploring Canada and the friendships that grew because of it.
Embrace the unexpected. Stay just a little bit longer than planned. Say yes to throwing your schedule out the window and living in the moment.
I hope these bits of advice have helped you as a full-time RV newbie. I hope it encourages you to get excited about what's ahead. I hope it makes you realize that you can do this.
PIN THIS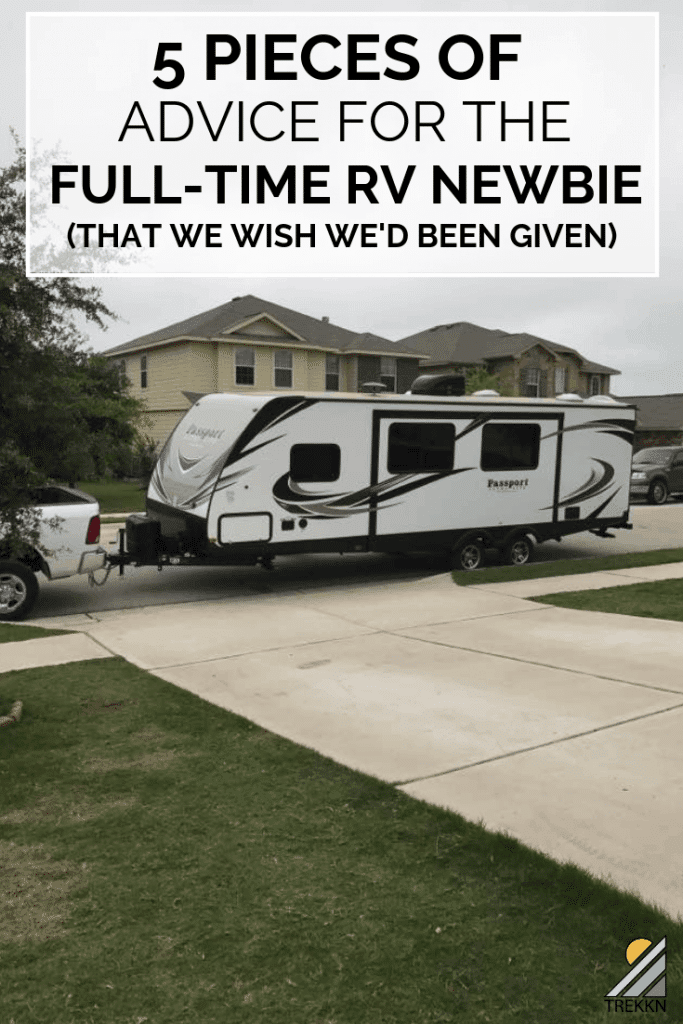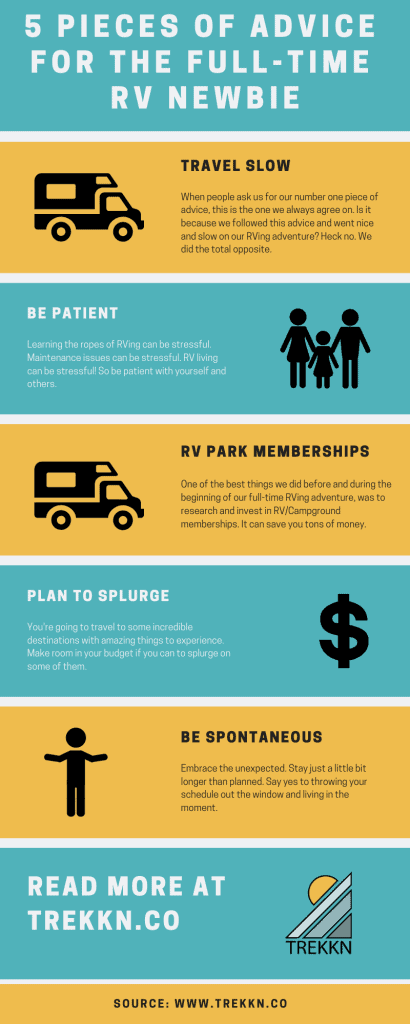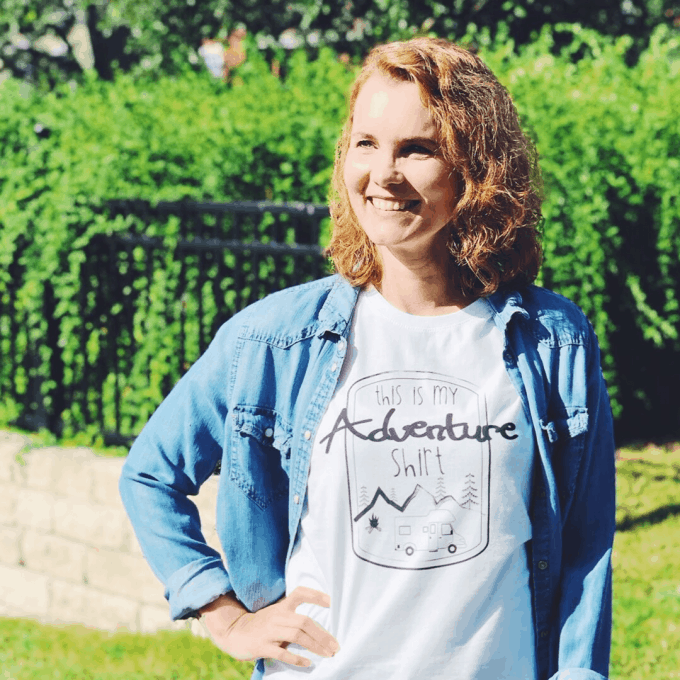 Julie Bonner is one-half of the TREKKN team. She specializes in helping you whip up delicious meals in your tiny RV kitchen, as well as RV organization tips and helping fellow RVers make their RV feel like home. Her favorite RVing spot is in Banff National Park in Canada where yes, the water really is that blue and the people really are that nice.