An RVer's Guide to Badlands National Park, South Dakota

Are you planning an RV trip to Badlands National Park in South Dakota? Read on to find out where to set up camp, the best trails to hike and what kinds of wildlife you can expect to see on your visit.
As travelers, we're drawn to unique places for their beauty and adventure. Badlands National Park is home to both in ways that we weren't expecting. We love the desert, but a desert in the plains isn't something you expect to see on an average day.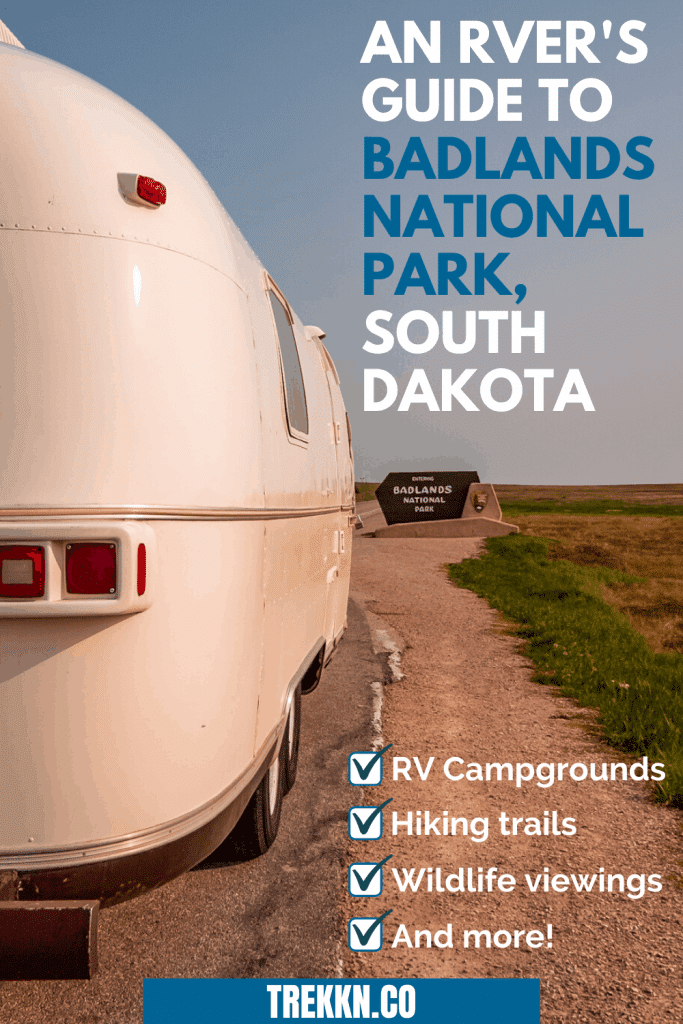 Where to Stay & What to Do On Your RV Trip to Badlands National Park
We've driven through Badlands National Park more than a handful of times and we're still mesmerized by every nook and cranny. This national park is great for RVers as it's not as hectic and crazy as most other national parks during its busiest season. On top of that, there are several places to set up camp nearby, too.
Here's why we love the Badlands and why you should add it to your RV travel agenda this summer.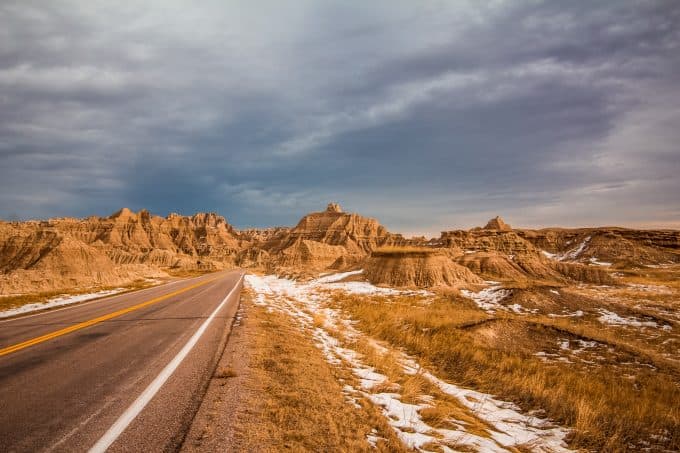 Welcome to the Badlands
From the highway, you may get a brief glimpse of the Badlands, but you won't know what to expect until you truly dive in and see it for yourself. The Badlands is a little bit of a trek off Highway 90 in South Dakota, but once you're down in the park you're surrounded by desert towers, bighorn sheep (if you're lucky), and tall prairie grasses. It very quickly starts to feel like you've driven through a portal to another world.
Before I dive into the fun things to do at Badlands National Park, let's talk about where to set up camp.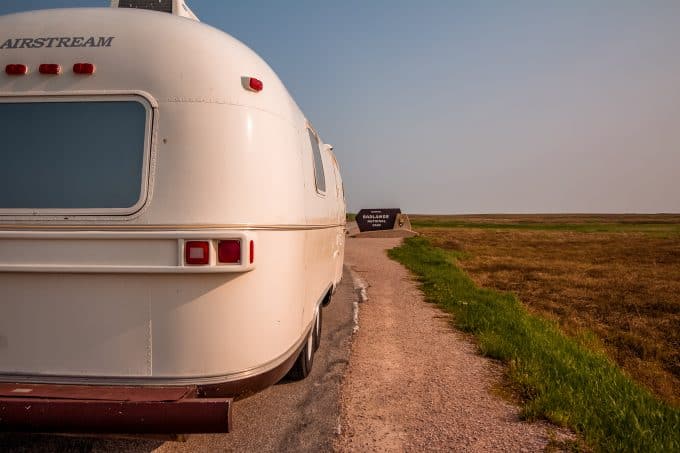 Campgrounds Near Badlands National Park
Camping in and around the Badlands is relatively easy. There are several campgrounds near the area, but you won't find much down the road until you hit Rapid City to the west or Chamberlain, even Mitchell, to the east, if you decide to keep driving on after your visit.
Badlands / White River KOA
Our favorite place to stay near this area is the Badlands/White River KOA just a hop and a skip down the road from the National Park Visitors Center. This campground is kept clean and tidy, but it also provides some awesome amenities like a pool, concession stand, playground, and dog park!
Full hookups are available and the prices are great, roughly $40-60 when we stayed. We loved visiting last time before Summer began and it was truly one of our best campground experiences to date.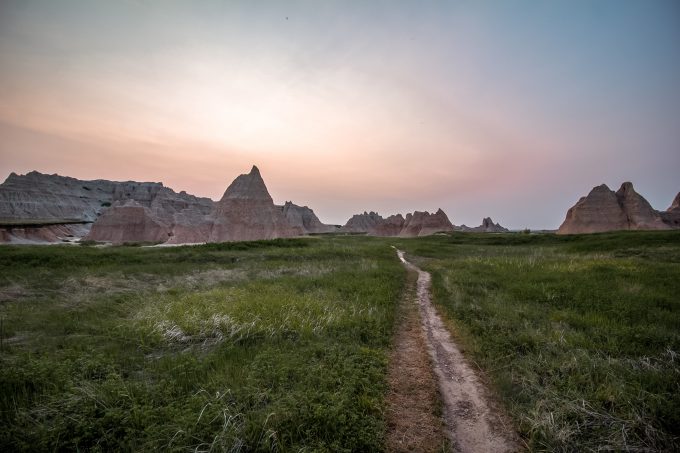 Badlands National Park Campgrounds — Cedar Pass Lodge & Sage Creek
The only amenities you can expect when you settle in at a Badlands campground is electricity and a dump station. There is a water station near the Pinnacles entrance, but other than that you should arrive at any Badlands campground with a full water tank.
It'll cost you $37 a night for two individuals to camp at the Cedar Pass Lodge campground and a $4 fee is charged for each individual after that. The Sage Creek Campground is more primitive and only allows RVs or pull-behind trailers less than 18 feet in length, as this campground experiences overcrowding during the busy season.
If you want to secure a campsite inside the park, you should call ahead to reserve a space for your rig.
Sleepy Hollow Campground & RV Park
Just like the KOA, Sleepy Hollow Campground & RV Park offers many of the same amenities such as a dog park, pool, and recreational areas. This campground is located closer to the Pinnacles entrance on the northside of I-90. There are 59 sites at this campground, so if the KOA or Badlands campgrounds are full, call here for the next closest location.
As a bonus, it's also a very easy walk to the iconic Wall Drug from this campground! You can't make a stop at Badlands without stepping foot in this little slice of Americana.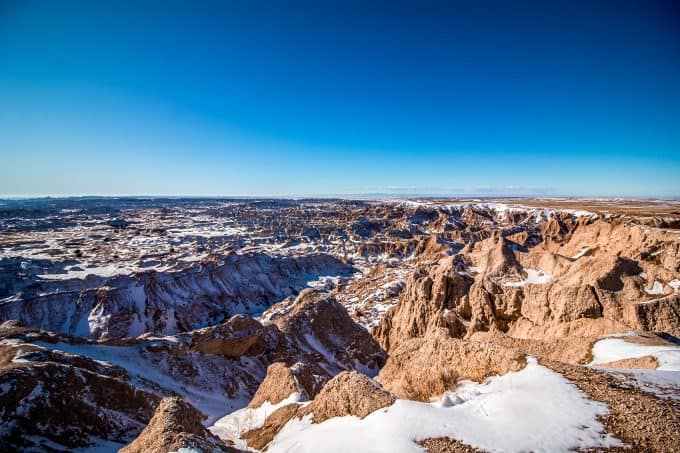 What to See & Do at Badlands National Park
Badlands National Park is home to a wide variety of wildlife, flora, and activities. The park is open year-round despite the harsh winters in South Dakota, but I actually found it to be just as exciting when we visited in the winter months.
There are several trails and Ranger programs that make visiting this national park a one-of-a-kind trip. Here are our favorite things to do when we make the journey back to the Badlands.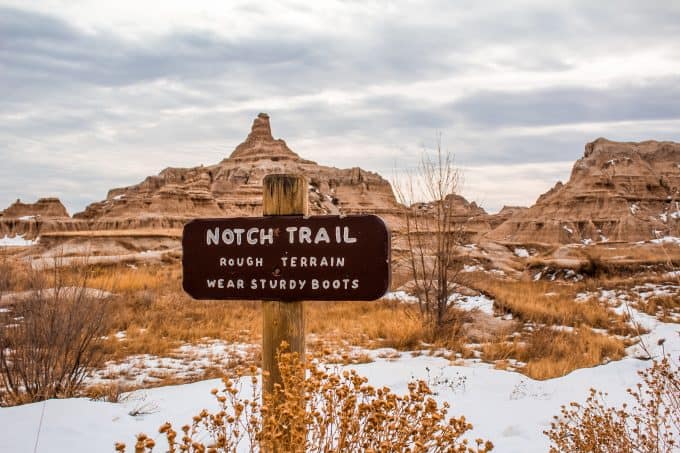 Notch Trail
Notch Trail can be found shortly after passing through the Northeast entrance. It's one of the first trails on the left-hand side as you drive in. This trail is relatively short, at 1.3 miles, but it does require a bit of climbing up a ladder to reach the second part of the trail from the parking lot.
I love this trail because it gives you some of the best views in the park while immersing you in the rock formations you came to bear witness to. Within this trail alone, you get the chance to see so much of what the Badlands has to offer in a short span of trail that I promise you won't leave without at least two dozen photos. I'm always the last one to want to leave this trail and some of my most cherished photos have come from our adventures down it!
Ben Reifel Visitors Center
The Ben Reifel Visitors Center is a must-see. I love visiting the Visitors Center to learn more about the history of every park and buy a few souvenirs, but this Visitors Center has some really interesting exhibits and an award-winning movie about the park that you can watch in the theater.
Sometimes the classroom in the back of the Visitors Center is open to see fossils that have been uncovered inside the park, too, which is super fun for kids and adults alike!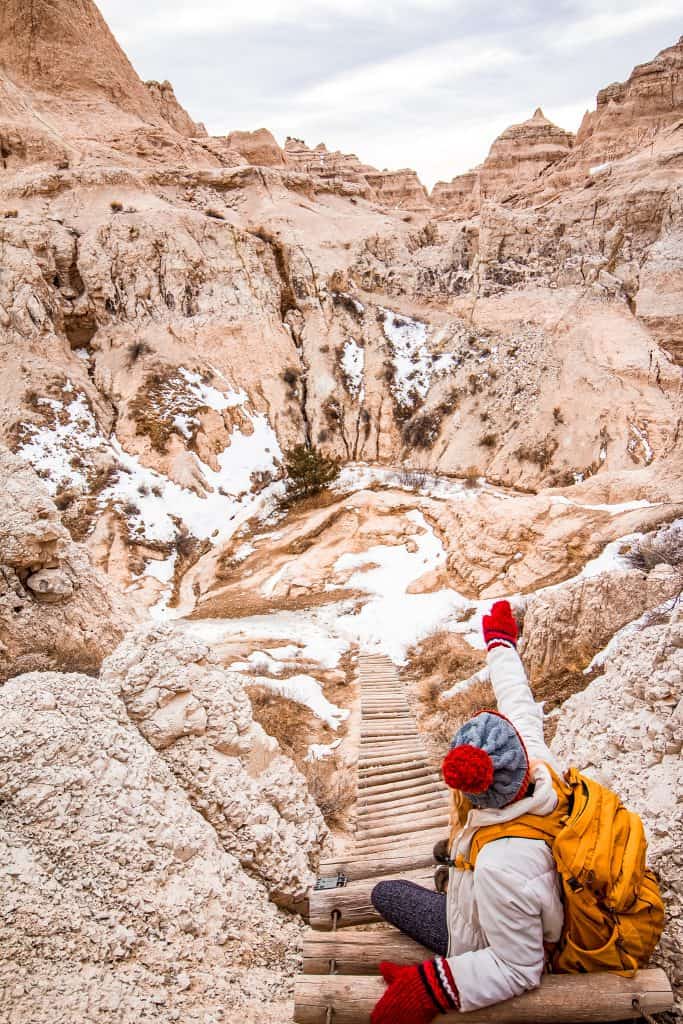 Castle Trail
Castle Trail has been on our list ever since we visited the Badlands for the first time. This 10-mile trail takes you from end to end of the park from East to West, or vice versa. This trail is the perfect place for backcountry camping and it takes you into parts of the park where you're more likely to see wildlife, too.
If you plan to do this hike, I would set aside at least half a day or more to get back to your vehicle. This is a long trek, especially in the South Dakota summer, so be sure to pack enough water and snacks with you to get by.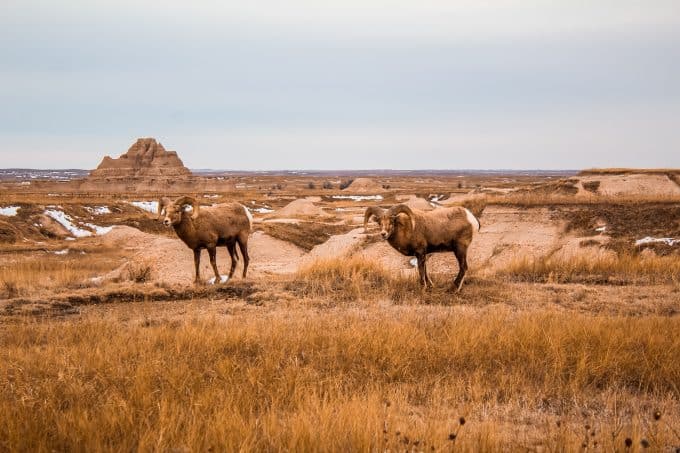 Wildlife Watching
Depending on what time of year you visit, you may see more or less wildlife, but we have had so many wonderful encounters with wildlife at this park that I couldn't leave it off the list.
Our first visit to the park, we encountered a coyote in full winter fluff waiting for lunch amidst the tall prairie grasses and rocky towers. We sat and watched it for what felt like hours before it moved on to its next snack.
Bighorn sheep frolic around the Badlands and if you're lucky, you might get to see one or even a herd if you look close enough. These sheep blend in pretty well with their surroundings, but they all have personality if you catch them on a good day. Most of the sheep are easily startled, but we came across several pairs that were just as intrigued with us as we were with them.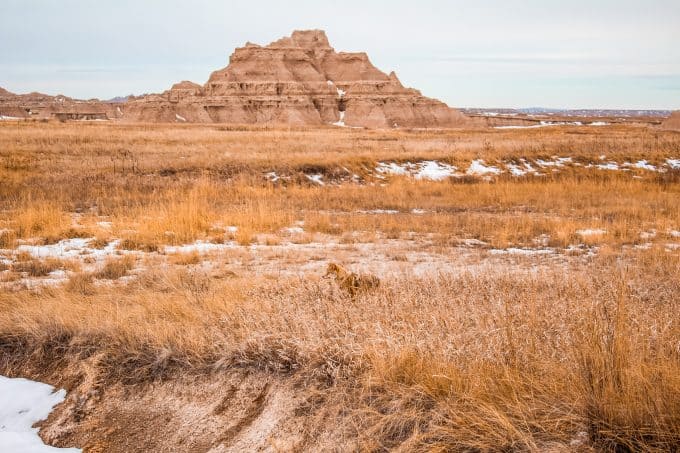 We always seem to find bison on the Pinnacles entrance side waiting for us as we drive into the park. These bison will get a little too close for comfort to your RV or trailer, so be mindful of them as you wait in line to pay your park fee ($30 for a 7-day pass!).
Reminder: We love wildlife just like the next traveler, but we always ALWAYS keep our distance to respect their space and home. When traveling through the Badlands trail systems, please keep in mind that large animals, like bison and Bighorn sheep, can be dangerous. Stay at least 100 yards away from wildlife to keep you and the animals safe!
Why We Love the Badlands
The Badlands hold a special place in our hearts for many reasons. It's one of the first places we fell in love with during winter, but it's also a place where you can feel that wilderness is still alive.
Even though this park is relatively busy in the summer season, the rest of the year the Badlands is home to wildlife and views that you won't find anywhere else in the Midwest. From our wildlife encounters to our hiking memories, we can assure you this park is great for RVers because there's plenty of room to explore, park, and relax amongst the hills.
PIN THIS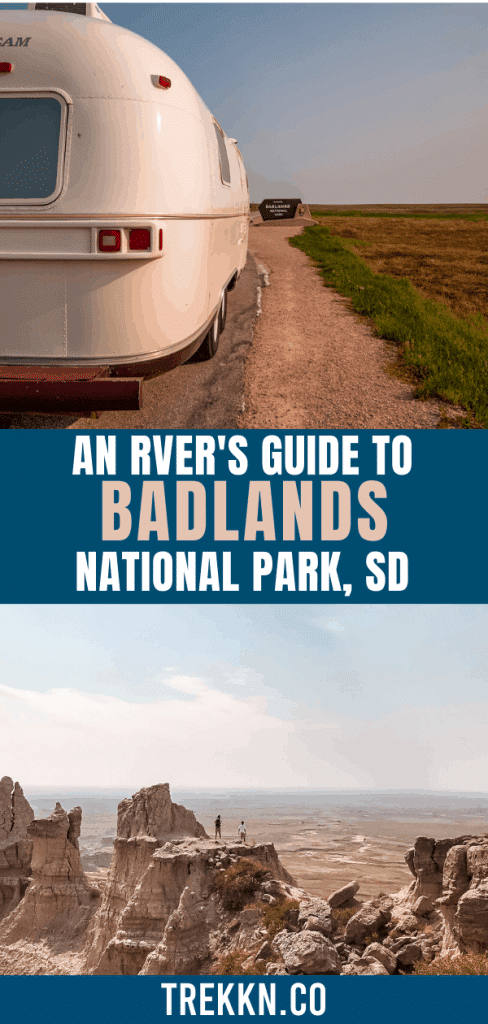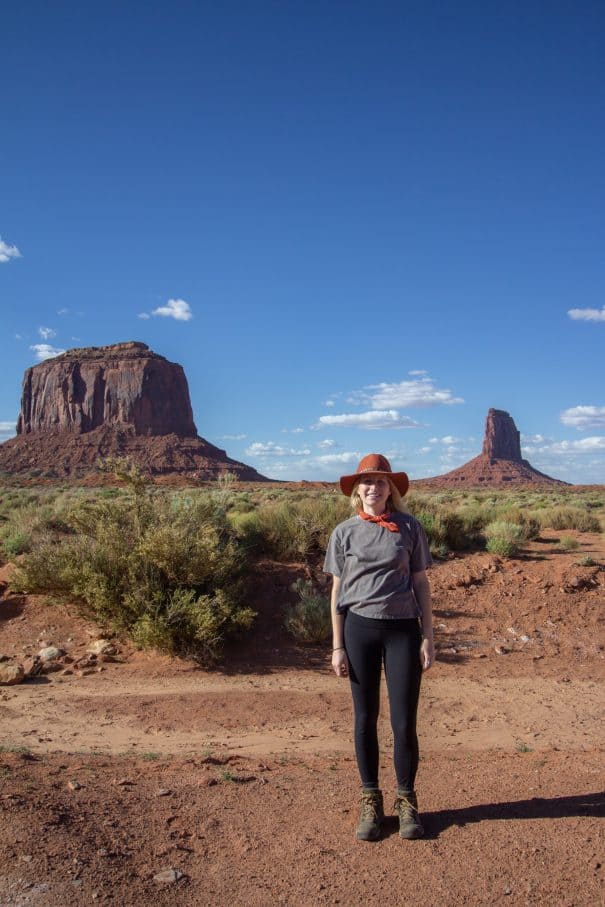 Erin is rooted in South Dakota, but wanders every chance she gets to see the beauty that nature holds. From hiking to climbing, there's not an adventure she'll turn down.
After renovating her 1976 Airstream Argosy, Erin knows the ins and outs of living life on the road and trailer maintenance.
Whether she's on the road with her dog and partner or at home curled up with a good book, Erin is always planning her next adventure because life is meant to be lived outdoors.