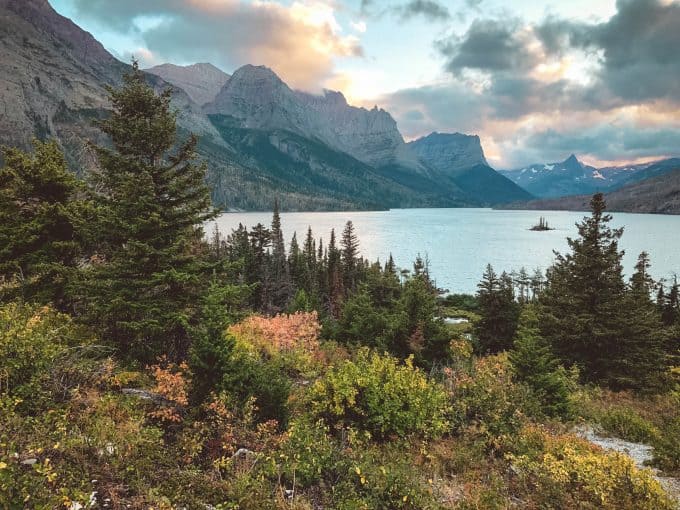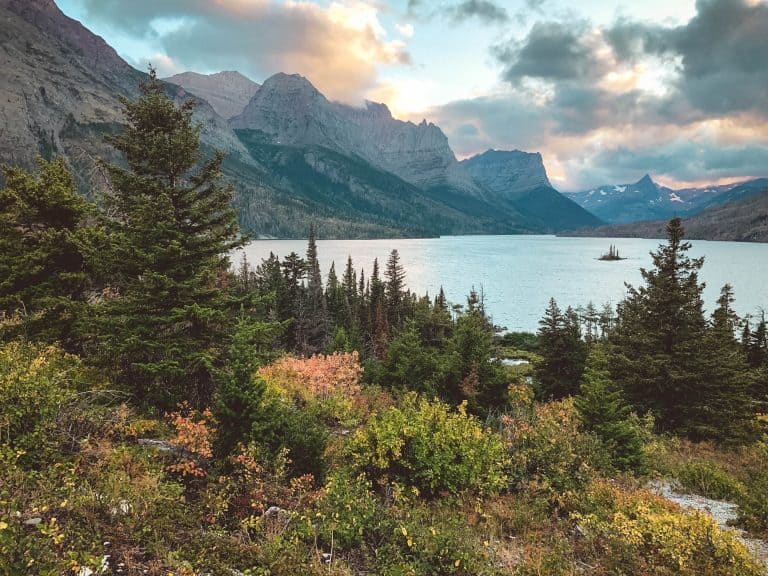 We have written about Glacier National Park on this site far more than any other national park. The reason? We believe you should get there ASAP…but I still hold that there is a best time to visit Glacier National Park. Let me explain why.
During our full-time RV adventure, and many times since then, I have been asked to list my favorite spots we experienced during that journey.
For the first year of our travels, I struggled with trying to answer this question. I wondered how you can rank these amazing locations?
But after our second visit to Glacier National Park in the Fall of 2018, my answer became quick and easy. Because the best time to visit Glacier National Park is absolutely in the Fall.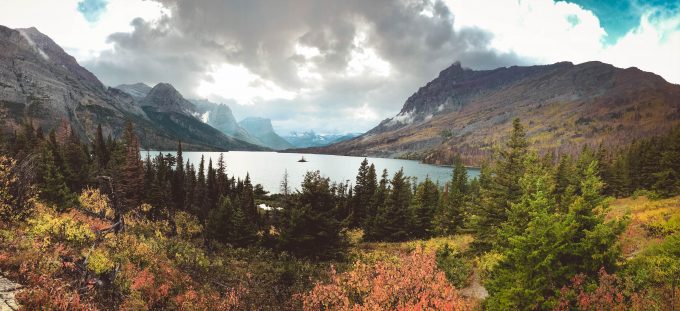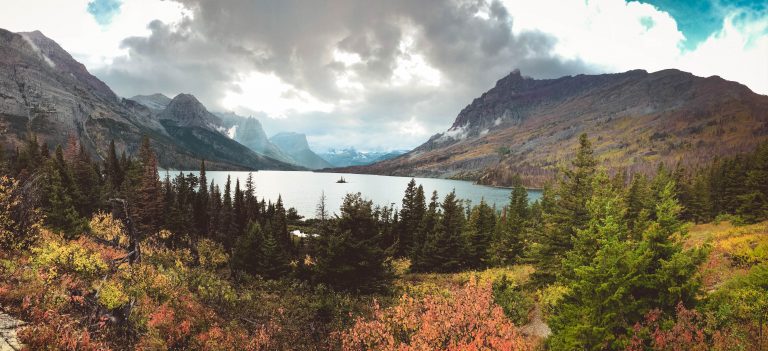 You can see some of our best tips for enjoying your trip to a National Park right here.
Best Time to Visit Glacier National Park: 5 Reasons to Choose Fall
You understand, of course, that this will be based on my opinion. Pure and simple. It will be based on my three weeks of experience exploring this pristine location: one week in the busy summer season (late July) of 2017, and two weeks in the fall (early September) of 2018.
But the truth is that we are each wired differently and have different preferences. I would rather be freezing on an early morning start to a hike, with the trail completely to myself, rather than sweating most of the way and squeezing past other folks along the trail. You may love high temps and huge crowds on the trail!
Even though I will share my personal opinion, I will also try to give you the pros and cons of the seasons as we move through my reasoning.
Whatever your preferences might be, find a way to make it to this outstanding and awe-inspiring Montana national park as soon as you possibly can. I guarantee you will not regret that decision, regardless of the season.
MORE THAN A "PIT STOP"
I have a bone to pick with anyone who chooses to refer to Glacier National Park as a great "pit stop" on a visit to Montana. A very popular online travel portal used that terminology in their examination of this park, and I honestly couldn't believe my eyes.
This got me a little…testy, because this is my place! Me and Glacier are tight, and reading that article just seemed disrespectful.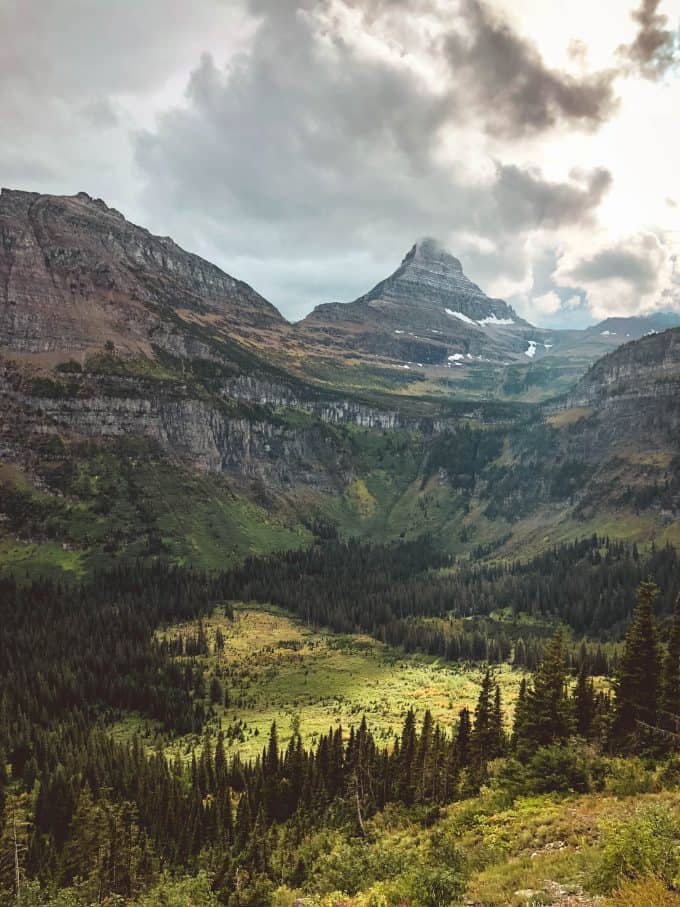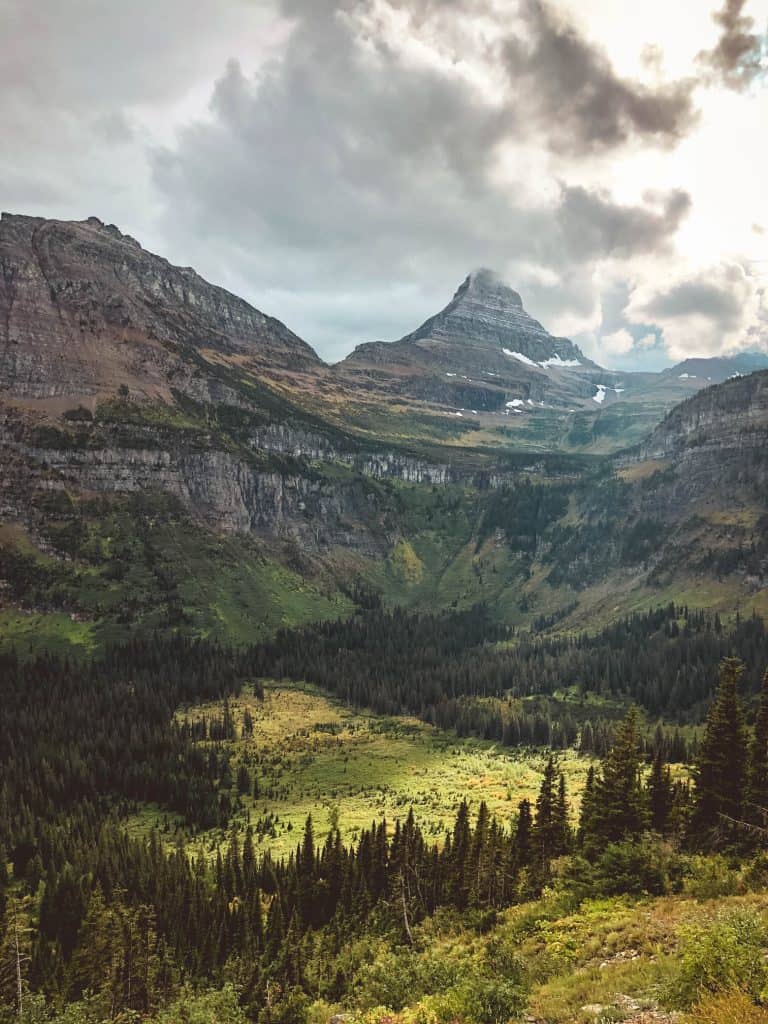 If Glacier National Park is not a true destination for you, a gem of the natural world that you intend to revel in and soak in for as long as you can, then just skip it all together. If you just want to take a peek and check it off your list, you'll miss out on its purpose: to transform a small part of you so that you are called back to the wild again and again.
Okay, I'll get off my soapbox now. But seriously, I beg you not to treat Glacier National Park like a "pit stop". It's not. It's a natural wonder to behold, and I hope you allow it to become a part of you just as I have.
Now we'll dive into those five reasons for a fall visit to Glacier.
Reason #1: Smaller Crowds, Less Traffic
In late July of 2017, we spent three nights at an RV park near the west entrance of the park, and three nights at an RV park near the east entrance of the park. This was our first visit to the park and we enjoyed it immensely. Here are some ideas of RV parks near Glacier National Park, based on our experience.
We spent a good bit of time hiking the trails in the park (Highline Trail was one highlight), as well as just hanging out on the shores of stunning Lake McDonald, located near the western entrance of the park. Everything we saw was just too good to be true. We had never quite experienced such a sense of being completely dwarfed and enveloped by nature, and it definitely left a mark…enough that I was determined to get us back to this location at the first opportunity. You can read more details about that first visit in this post.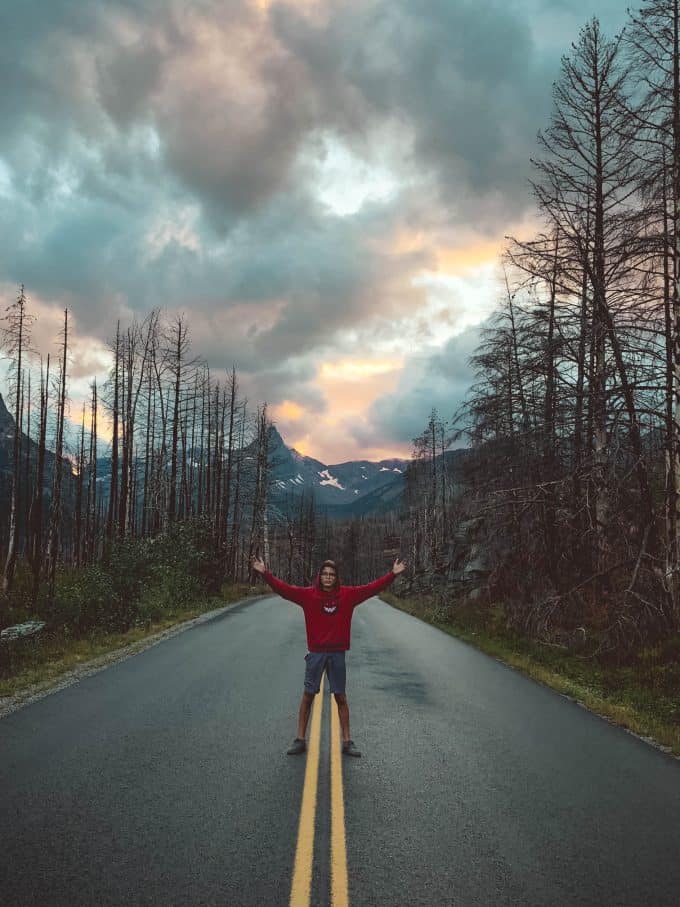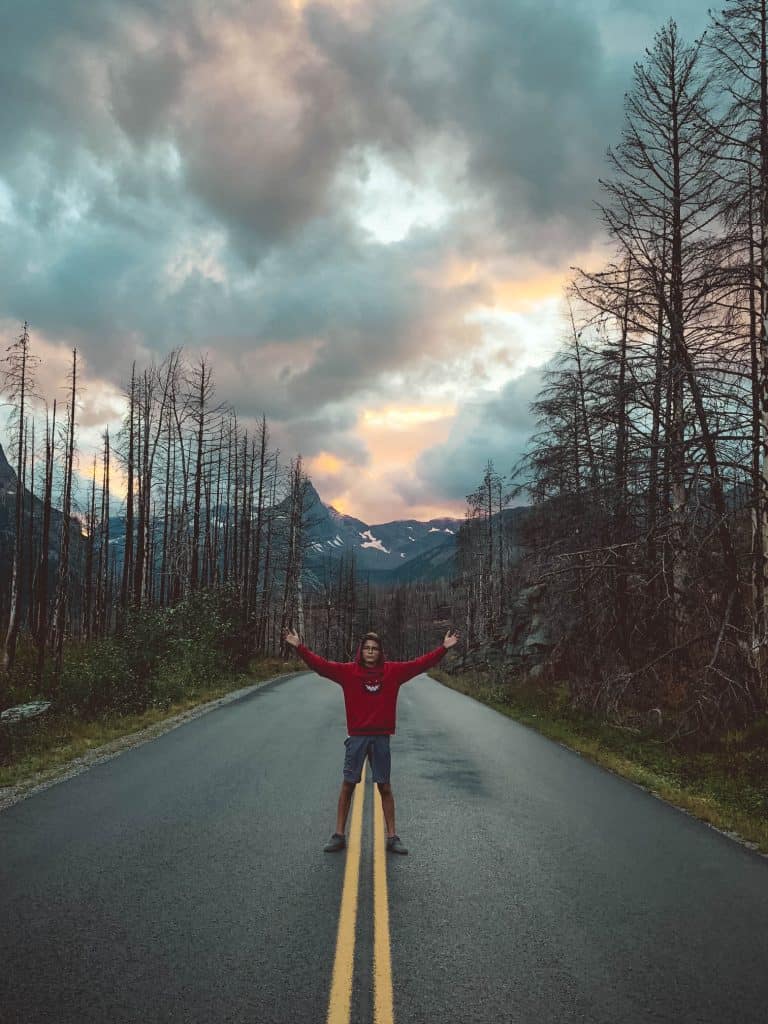 VEHICLE TRAFFIC AND ROAD CONSTRUCTION
While it clearly didn't spoil our experience, we did deal with quite a bit of vehicle traffic in the park during that summer visit. Much of the traffic was due to road construction on the narrow two-lane road that runs through the park. In at least two different locations, the road was down to a single lane with traffic lights stopping traffic in each direction alternately.
With the summer crowds, this could easily add 30 minutes or more to our drive time to our destination in Glacier. All of this road construction has to take place during this small window in June, July and August because of the short summer season.
On our second visit in the Fall of 2018, we arrived on September 1 after a mad dash from Acadia National Park in Maine (yeah, lots o' driving). We made a few short stops along the way, but it was an insane pace that I probably wouldn't attempt again.
That next opportunity to visit this park cemented Glacier at the top of my favorites list. It wasn't a perfect visit, with the entire western half of the park closed due to wildfires (no Lake McDonald to enjoy). But we still found so much to keep us mesmerized and occupied on the east side of the park as we stayed in our RV just 3 minutes from the eastern entrance. Talk about great location!
We encountered far less vehicle traffic, no road construction, and just an overall fantastic experience.
TRAIL TRAFFIC AND CROWDS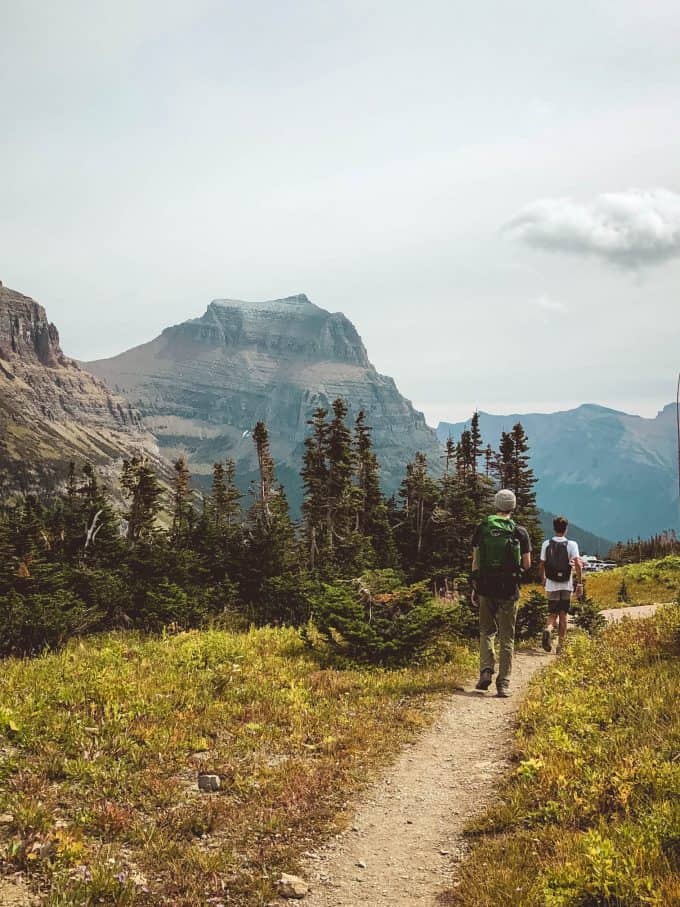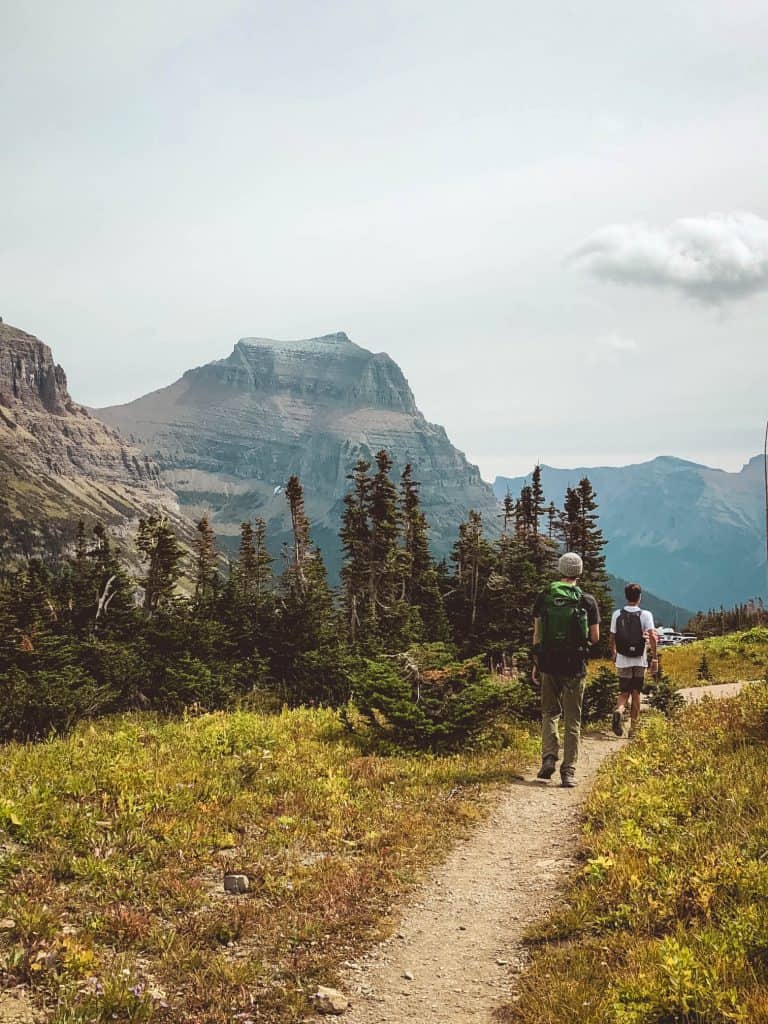 Besides the easier flow on the roadways, we also found far less congestion on the trails we chose to hike. Those trails included the Highline Trail that I mentioned above, with both an early morning hike of about 8 miles and a shorter evening hike that was quite chilly…but totally worth it!
We might have encountered a dozen folks or so during our entire time on that trail. I don't know about you, but when I hit a trail I am looking for some solitude. I am looking for an opportunity to be swallowed by nature and leave behind the crowds and the hustle, alone with my thoughts. That's what we found during the Fall visit, and that is one reason I can confidently recommend a visit during this beautiful season.
Reason #2: Fall Foliage
In case you were wondering, the first two weeks of September is the PERFECT time to visit Glacier National Park if you want to see the brilliant fall foliage and actually watch it change before your eyes.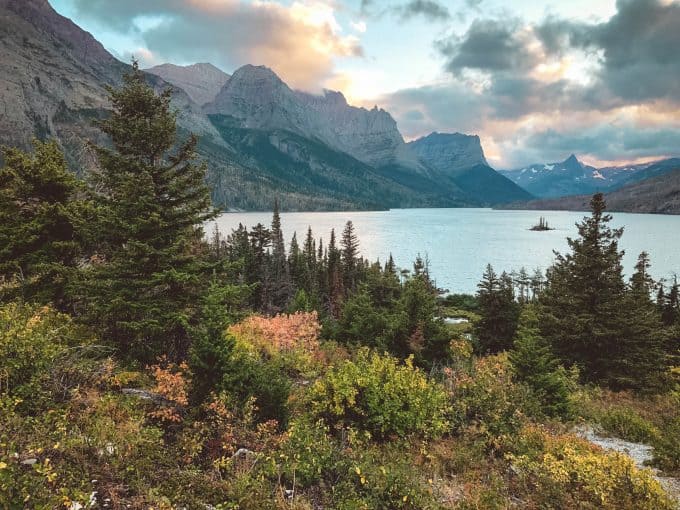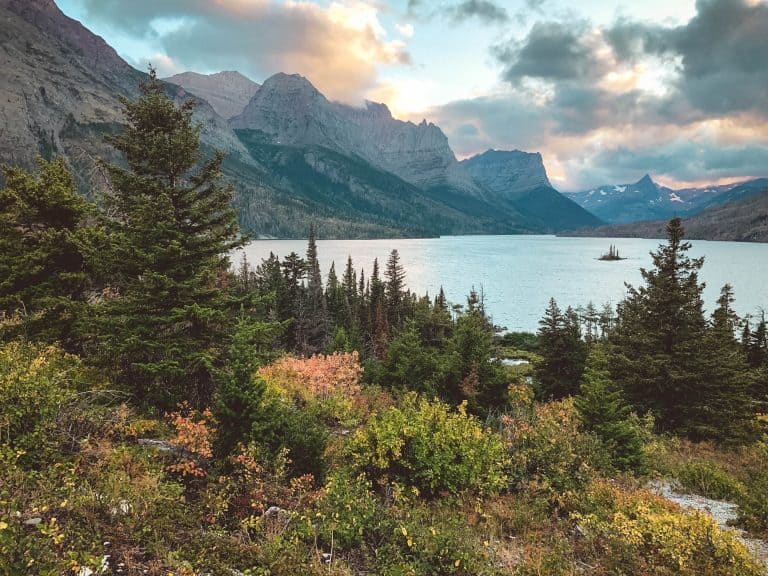 Sure, I know that "perfect window" probably changes a bit each season depending on conditions, but I still don't think you could be disappointed in any year with a visit in September. You will have your mind blown by the deep, rich colors of those leaves with a backdrop of rapidly shifting weather patterns that just leave you wondering what miracle could possibly be better than THAT one.
As I write about it, I can't help but smile as I relive those two weeks of waking up each morning to see just how much better the foliage could have possibly gotten overnight. And I was never disappointed.
Reason #3: Cooler Temperatures
You should know that I'm not a summer guy. Which makes things kind of challenging during the long central Texas summers that we are currently experiencing.
When I'm in the middle of the 22nd day in a row of 100+ degree temperatures, I can close my eyes and remember the chilly breeze and light mist falling during some of our September excursions into Glacier. It renews me just a bit to relive those exhilarating and fulfilling moments in the park.
With average highs in the low- to mid-50s and lows dipping into the 30s most nights, September ended up providing us with the ideal conditions to explore the park. Most days were a nice mix of cloud cover and sun breaks, and as those two constantly took turns throughout the days the moments of splendor (and rainbows) were just beyond words.
(If you're especially interested in capturing some images of that fall splendor to relive it later, check out our post on the best photography spots not to miss in Glacier National Park.)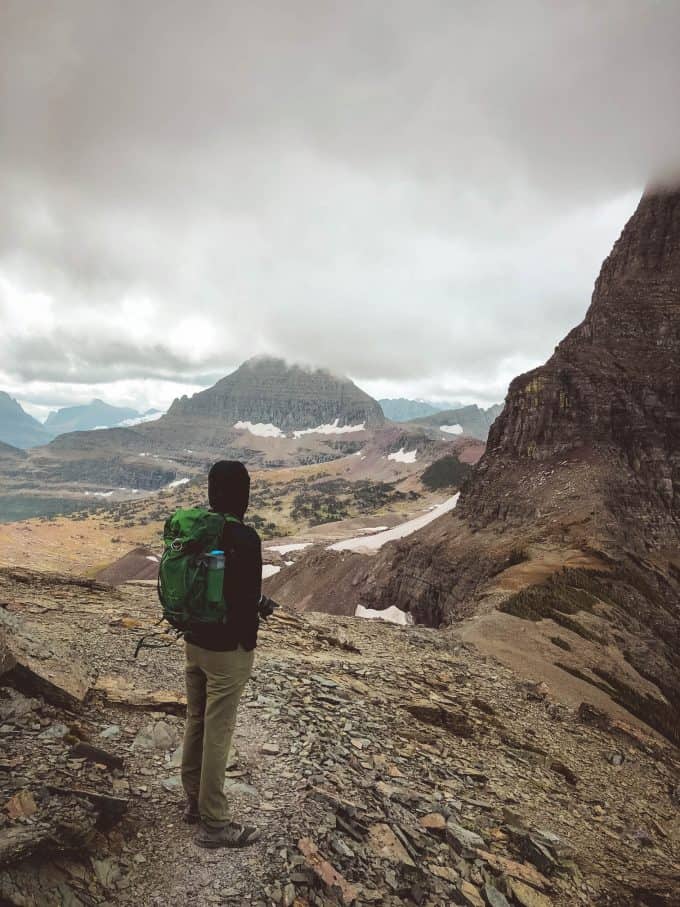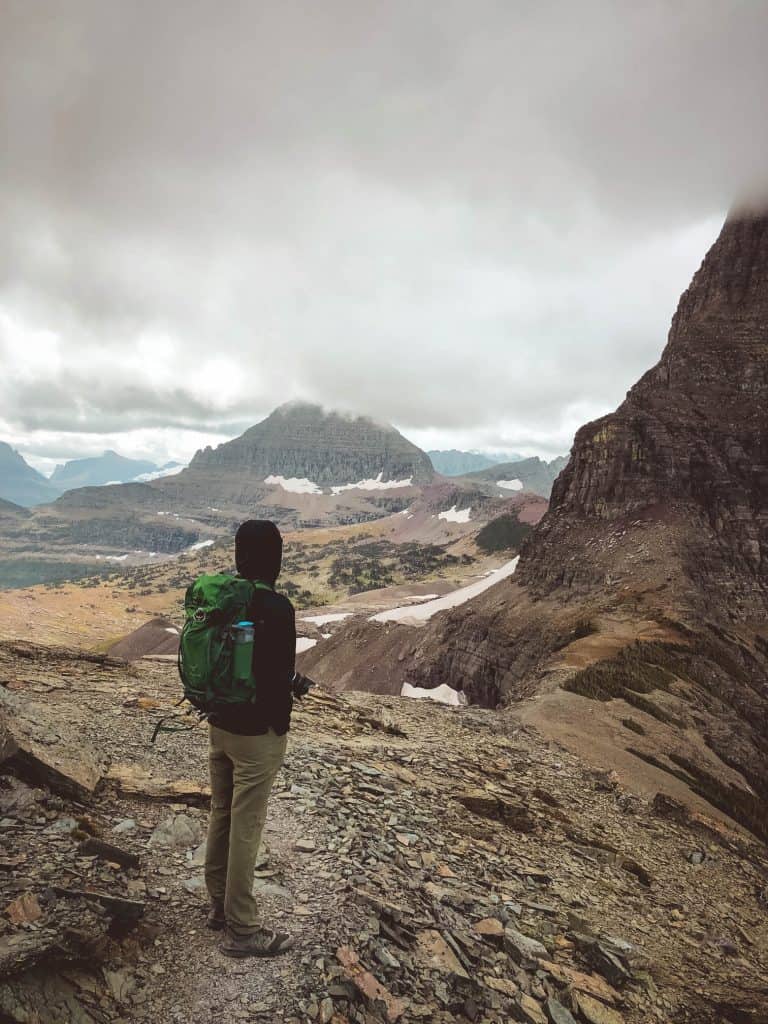 My advice? Bring an extra couple of clothing layers, hit a trail by 7 am while the temps are just creeping up to the 40-degree mark (with the breeze blowing, it will likely feel quite a bit cooler than that), and breathe in one of the best experiences of your life in nearly complete solitude.
That pretty much sums up my idea of paradise.
Reason #4: Wildlife Activity
During our summer 2017 visit, we definitely spotted some wildlife. On one of our favorite hikes, the Grinnell Glacier Trail, we were able to spend about 5 minutes just quietly watching a female moose eat her way through the thick foliage and down a hillside to a lake, where she waded in and continued eating the aquatic plants. It was a magical experience that we will never forget.
When we came back in the fall, however, we were completely overwhelmed with the wildlife activity. We saw another moose up close (accidentally too close) and personal on the Grinnell Glacier Trail again, but beyond that we saw more black bear (with two cubs) and grizzly bear than I could keep count of. It had to be at least eight different bears that we spotted, one large grizzly crossing the road just 100 yards in front of us and several others within 50-75 yards of the Going-to-the-Sun road that runs through the heart of the park.
We were completely thrilled with the entire fall experience, but if I had to narrow it down to one thing that set it apart I would have to say it was the wildlife sightings. You know as well as I do that there is just nothing like that taste of the wild. It literally takes my breath away every single time and renews my gratitude for the entire opportunity.
Reason #5: Cheaper Lodging or Camping
Talking about the national park experience itself has clearly led the way here. But finances are always a consideration in my world, so I want to touch on that aspect of the experience as well.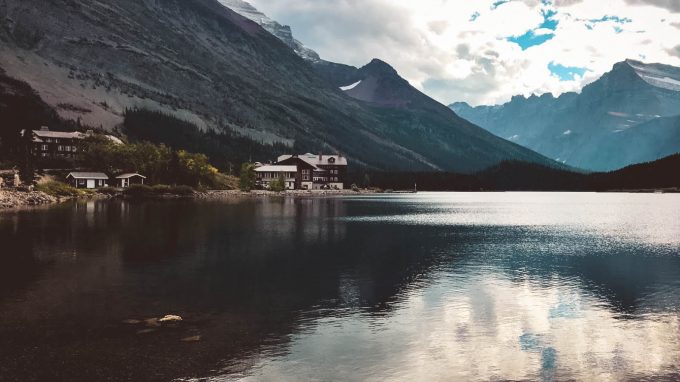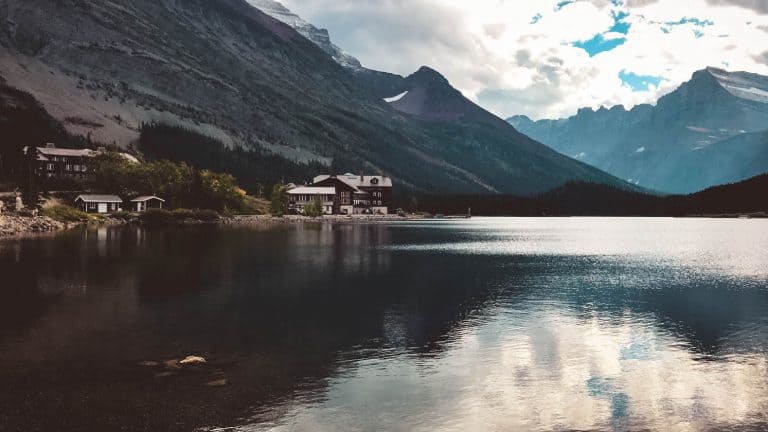 As you would find anywhere else on the planet, the most popular times to visit Glacier National Park are also the most expensive. Peak times demand peak money, so you will pay more for lodging (and RV parks) during the summer season than you will in the offseason, such as fall.
If RVing is your travel mode of choice, I strongly suggest that you check into staying at the Heart of Glacier RV Park near the east entrance. We spent two weeks at this location during the fall and paid $35 per night for the privilege. It was very simple and basic (no bathrooms or laundry on site), but had full hook-ups for us to enjoy, and it was absolutely perfect. (They had plans to make several upgrades to the park, including adding bathrooms and laundry facility, so it looks like the current price is $45…at least during this peak season.)
And the Red Eagle Motel that owns that RV park (right across the road from it) is a very convenient option you should at least explore if you are searching for lodging during your visit. I have no first-hand experience staying at the hotel, but I made my payments for the RV park there at the hotel and the staff was very helpful and friendly.
Is There a Downside to Visiting Glacier National Park in the Fall?
In my humble opinion, the downside of a visit to Glacier in the Fall is very minor compared to all of the advantages I've covered. But some of these points could make a big difference for you so let's touch on them in order to help you make the best decision possible.
SLIGHTLY HIGHER CHANCE OF ROAD AND TRAIL CLOSURE
During our September stay, we got to watch the highest peaks get dusted with snow on more than one occasion, which just added to the awe. However, there is a slight chance that snow could hit the higher roads this early and cause road closures or more challenging travel conditions. (I don't believe Going-to-the-Sun road has ever been closed in early September due to weather, but double-checking on it is a good idea.)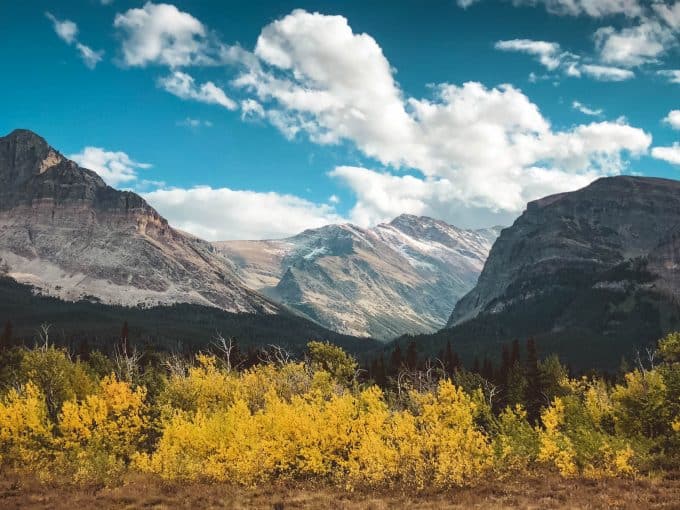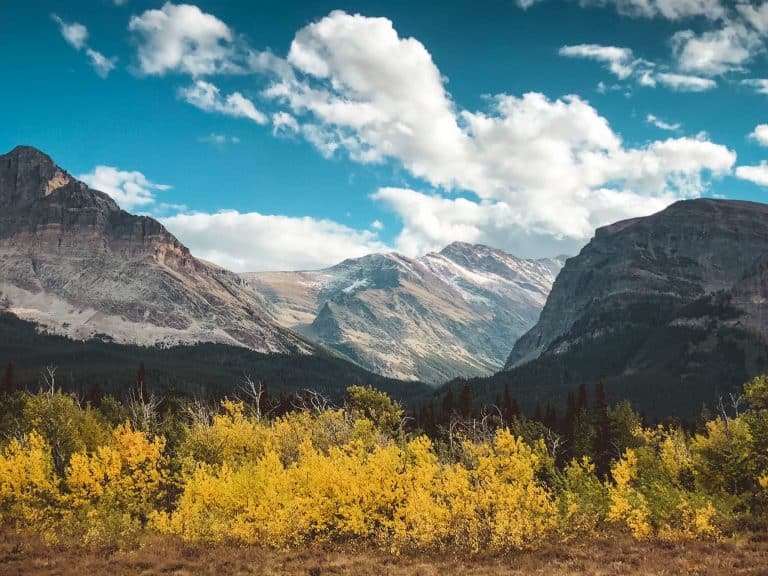 Also, due to the higher level of wildlife activity during this period, we did experience some trail closures. A couple of them were due to bear activity in the area, but some of them were due to native birds nesting in the area that they were attempting not to disturb. This did not keep us from doing anything that we were planning on doing, but it's worth mentioning.
It's not uncommon to see trail closures during the summer season due to wildlife activity of various sorts, so don't let this point dissuade you too much.
LOCAL BUSINESSES BEGIN TO CLOSE IN SEPTEMBER
Because of the mild start to the cold season during our stay, almost everything in the town of St. Mary was still open. We did hit one local restaurant, well-known for their pies, that was actually completely out of pie for the season and was just wrapping things up. So we ended up with fries, not pies. That was a sad day.
Another local restaurant, the famous Johnson's of St. Mary restaurant, normally closes at some point during that first two weeks of September. If I remember correctly, their last day of operation was around September 12th last year, but it varies each year based on several factors. I do highly recommend a visit to Johnson's for an authentic local dining experience offered by a family who has been at it for almost 70 years! It's a must-do for us each visit.
The gift shops and grocery store in St. Mary were still open when we left on the 15th, so no worries there. I would imagine that the grocery store, at least, does stay open year-round…but don't quote me on that!
Yes, Fall is the Best Time to Visit Glacier National Park
If you have enjoyed any fall visits to Glacier, I would love to hear your feedback and experience as well…good or bad. Feel free to clue us in on a factor we might have missed or not experienced during our visits.
But above all, find a way to get yourself to Glacier National Park in the Fall. You will thank me.
PIN THIS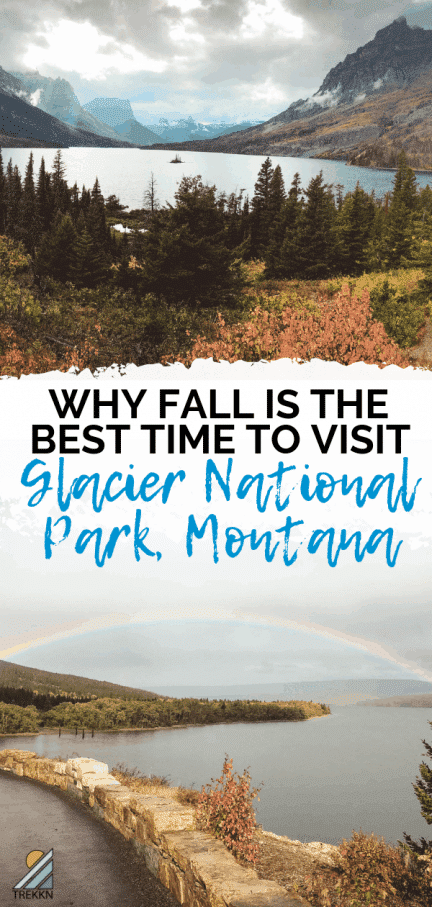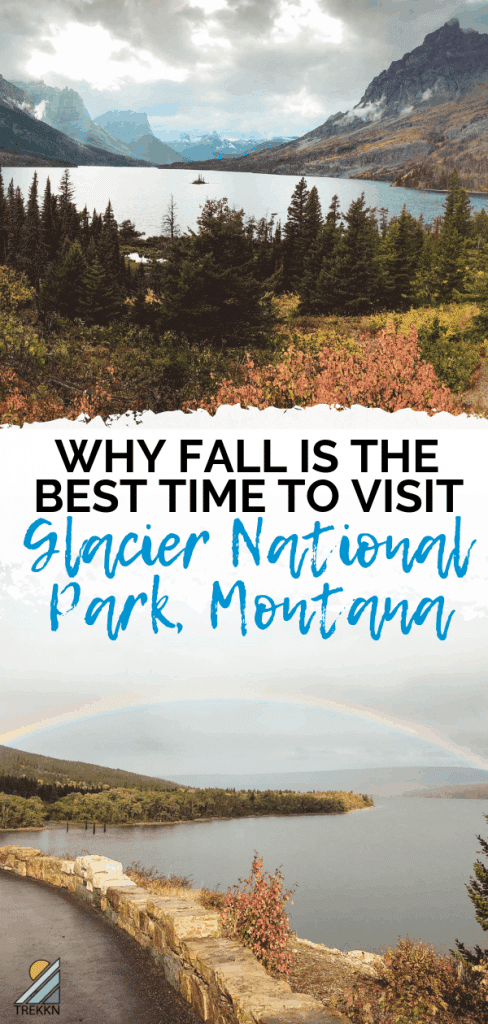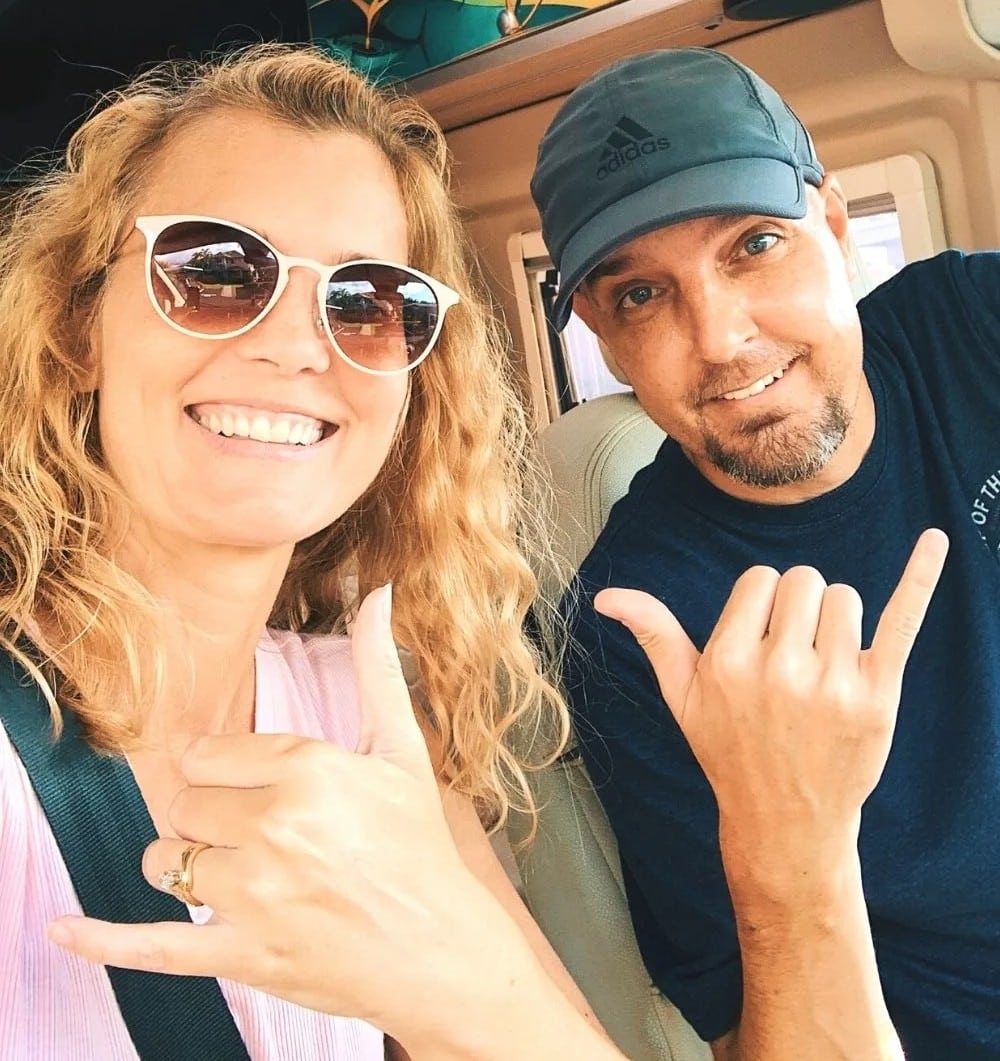 Todd Bonner loves a competitive game of table tennis, a breathtaking hike and simply exploring new places. He spends most of his time sharing information about RV travel and safety, RV accessories and tips, and the National Parks he has visited and still desperately craves. When he's not busy working on TREKKN, you will often find him staring at pictures of Glacier National Park (probably his favorite spot on earth) or creating new products for Clever Camper Company.