5 Best Heavy Duty Camping Chairs for Outdoor Relaxation

We spend a lot of time outside cooking, playing board games, and watching sunsets. We've gone, for a long time, without heavy-duty camping chairs because we always found ourselves on our trailer stoop or on the steps of the van. Why would we ever need camping chairs?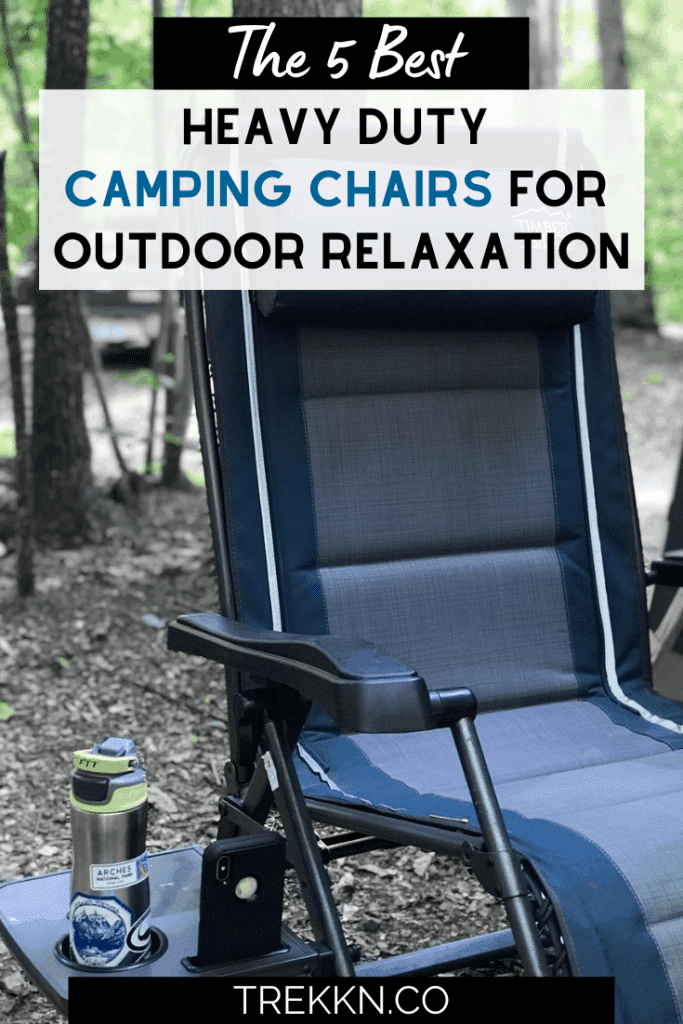 We've always thought that we didn't need chairs for the outdoors but as I've gotten older and as I've grown more patient, I have found that sitting still on the ground or on a step isn't cutting it anymore.
That's why we've been on the hunt for some heavy-duty camping chairs.
All About Heavy Duty Camping Chairs
In this guide, we will review some of the most popular camping chairs out there to help you do exactly what we did: find camping chairs that hold up for years and years to come.
But first, let's see what we considered before we finalized our list!
What to Think About When Buying Camping Chairs
You might be wondering, "Erin, how difficult can you make buying camping chairs?" And to that, I answer, more difficult than it has to be, but also just difficult enough to find the best of the best camping chairs out there.
Here are a few factors I took into consideration before deciding on camping chairs for our outdoor hangouts:
Materials: Durability heavily relies on what materials each chair is made of. Understanding what materials are truly heavy-duty versus "meh" duty can make all the difference.
Height: If you're a tall or small person (like me!), the height of your camping chairs is important. Thankfully, the people who use my camping chairs are relatively the same size I am, so shorter camping chairs work best for our situation as we often use a cooler or smaller camping table to rest our drinks and play board games on.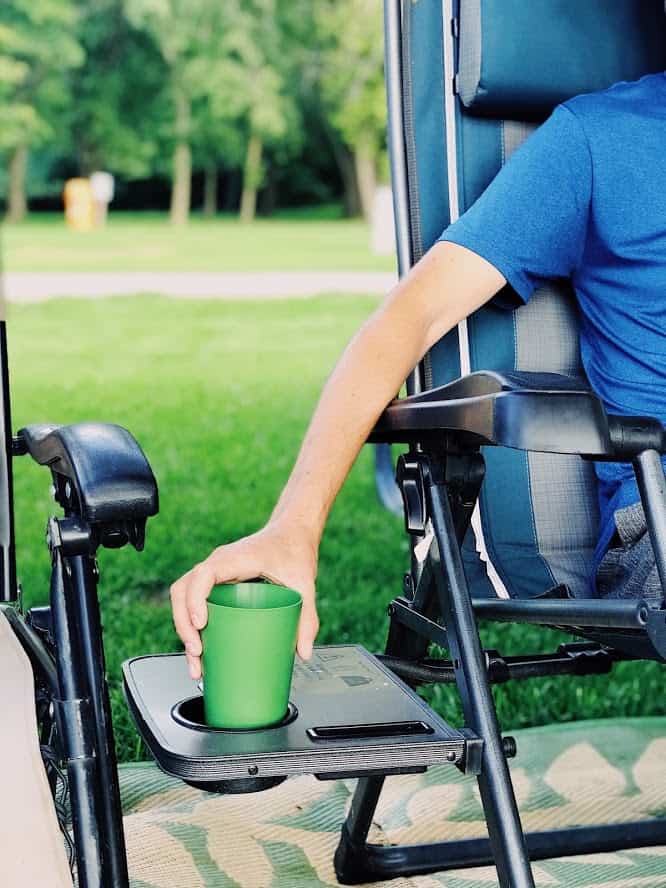 Weight: No one wants to lug a heavy camping chair around very far. Depending on where you plan on taking your camping chairs, you'll want to think about how heavy each option is before purchasing.
Reviews: In this day and age, reviews are everything when it comes to outdoor gear, including camping chairs. I put a lot of stock into reviews (and Reddit!) before making a purchase these days.
Price: With higher quality comes a higher price, but we don't like to break the bank unless we absolutely have to. Finding the best chair for the best price is ideal when it comes to outdoor gear and camping chairs are no different.
With all that said, there are some pretty awesome, heavy-duty camping chairs out there that we found that made the top of our list. It's time we dive in and see what we found!
The 5 Best Heavy Duty Camping Chairs
From campground chilling to backcountry relaxing, there are heavy-duty camping chairs that fit almost any situation. Here are a few of our favorites.
Zero Gravity Recliner Chairs
The ever-popular Zero Gravity Recliner Chairs are a fan favorite for a reason. These are truly heavy duty camping chairs that offer support, adjustability, and durability all in one. Let's see what this particular chair has to offer.
Holds up to 250 lbs.
Is roughly 34 inches long, 26 inches wide, and 44 inches high. Plenty of room for a person of almost any size!
No assembly required.
Easy to fold up and store almost anywhere in your RV.
Offers a resistance level that supports you, instead of throwing you backwards when you get into it.
Made of steel and durable, strong textile.
For under $100, you get two Zero Gravity Recliner Chairs shipped directly to your door, which is an incredible price point for two chairs that will last if you treat and store them properly. Other things to note about these chairs are the non-slip footrest, detachable headrest, and ABS system that allows you to adjust your support as you find yourself lounging more and more as the day goes on.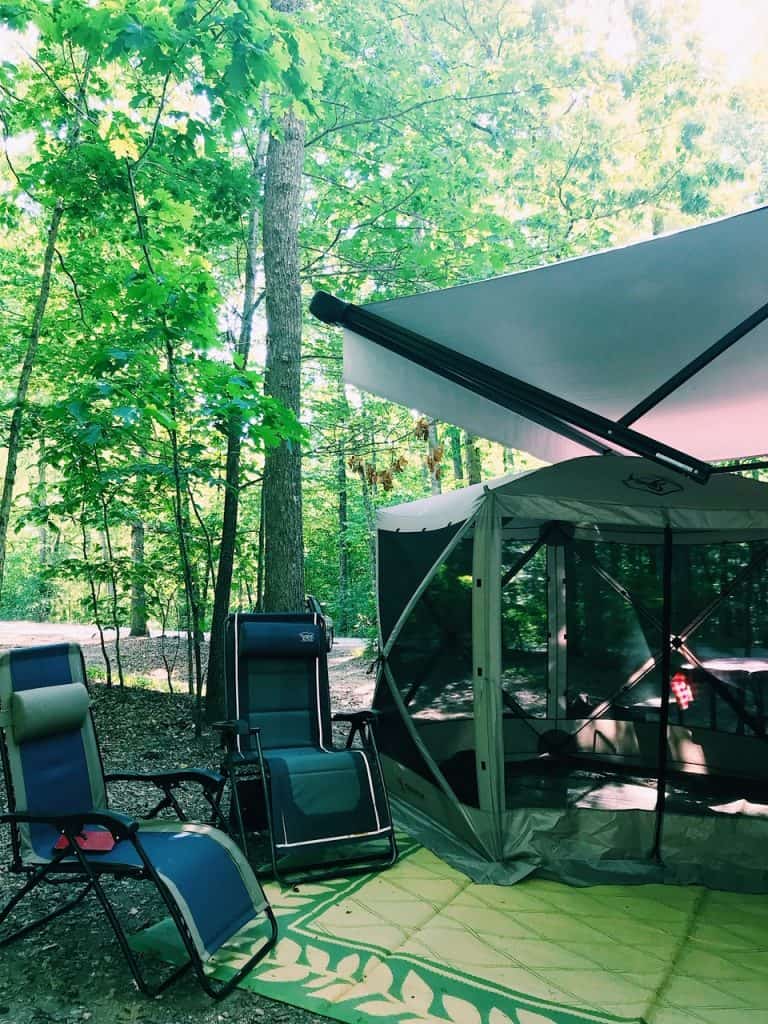 YETI Hondo Base Camp Chair
Need a little more durability and strength in your camping chair? YETI's Hondo Base Camp Chair offers more of both, but at a higher price point than the Zero Gravity Recliners.
Let's look at the details.
Maximum weight allowed in this chair is 500 lbs.
A carry bag is included to get your chair from place to place easily.
It folds up decently small which is perfect for RV and trailer spaces.
The dimensions are 10 inches long, 8 inches wide, and 43.3 inches high.
Made of FlexGrid fabric, this chair gives you the strength and support you need without all the backache later.
V-UV Rated to keep the chair from falling apart after days spent in the sun.
This chair is much more expensive than most of the other chairs on our list, but it's made with durability, strength, and ruggedness in mind.
At $300, you can expect this chair to meet your expectations as most YETI products do. Reviewers of this chair rave about how easy it is to get in and out of it, and one guy even said after sitting in it for a few hours he even forgot how much he paid for it!
Must be a good chair, right?
REI's Outward Low Lawn Chair
REI's Outward Low Lawn Chair is a great chair to ponder on (and in!). This 4.75 star-rated chair is one that's affordable and durable for campfire hangouts under the stars. But what else does it bring to the (camping) table?
Maximum weight is 250 lbs.
The seat height is 11 inches off the ground.
Made of 300 denier rip-stop nylon for durability with an aluminum frame.
Weighs 7lbs 7oz.
Unfolded and ready for sitting, the dimensions run 26.5″ Deep x 24″ Wide x 23″ High.
For one Outward Low Lawn Chair, you can expect to pay about $90. With highly-rated reviews, this chair, according to REI, is highly abrasion resistant and has a durable water repellent to keep water and stains away.
Remember that as an REI member, you can receive a rebate. The estimated 10% rebate for this chair will put about $9 in your REI membership account. That effectively brings the net price down to around $81. A lifetime membership currently costs $30.
We purchased an REI membership a couple years ago and received a letter recently reminding us we have a $70 credit! Since we already have the zero gravity loungers, I've got my eye on a this new bike helmet. It's super fun to gift shop with a store credit!
So back to the chair. While it doesn't include a carry bag, it does have built in backpack straps. Remember, it's just over 7 pounds so it's too heavy to lug around on a hike. But, the straps come in handy when carrying gear from the trailer to your campsite.
ALPS Mountaineering King Kong
If you're more of a traditional camping chair fan, the ALPS Mountaineering King Kong is your best bet for durability at an affordable price.
This chair is highly recommended and is built to be one of the best heavy duty camping chairs you can find. Let's find out why!
Made with 600D polyester and supported by a powder-coated steel frame, you can bet that this chair will last you quite a while.
Each armrest is adjustable and comes with your standard camping chair cup holders for people who enjoy an adult beverage now and then.
This chair has the highest weight capacity we've seen with an 800 lbs maximum weight.
The dimensions are 38 inches wide, 20 inches deep, and 38 inches high.
This chair is priced at $80. It weighs 13 pounds, which is pretty heavy for a folding camping chair. But, it makes sense as it has a weight capacity of up to 800 pounds! It's also designed so that you can use the shoulder carry bag and sling it on your back when transporting to and from the campsite.
Another nice design feature of this chair are the pockets on each side, and even on the back. These are great for storing magazines, books, cards, and even your sticks for s'mores while you lounge around the campfire.
Guide Gear Club Oversized Camp Chair
If you want extra comfort, the Guide Gear Oversized Camp Chair is calling. This outdoorsy-styled chair is perfect to curl up in after a long day on the trail or for a lazy day at camp. Let's see what sets this chair apart from the other heavy-duty options on this list.
Maximum weight capacity of 500 lbs.
Made with a foldable steel frame and a 600D polyester and polyurethane coated seat.
Sits at over 17 inches high.
Includes a carry bag and weighs roughly 13 lbs.
The dimensions are 34 inches long, 25 inches wide (deep), and 37 inches high.
This chair is much different than the others on this list because it offers a deeper, more comfortable seat than many heavy-duty camping chairs. You'll also have a ton of colorways to choose from, a hanging cup holder, and a mesh pocket to store your phone in. Guide Gear says that even bigger, burlier men will love the embrace of this chair and I have to say I think I agree!
Final Decision on Buying a Camping Chair
At the end of the day, we all have an individual preference for which chair will work best. Your preference may be different from mine. You may be taller, thinner, or have more storage space in your rig.
The key factors I took into consideration because they were most important to me were weight, durability, and comfort. I decided to select what I view as the chair that sits (pun intended) somewhere in the middle of all these options. My top choice is the REI Outward Low Lawn Chair.
Though they're a little bigger than I wanted for storage, they're sturdy, lightweight compared to their counterparts, and offer the support and comfort we need while we're outside.
____________________________________________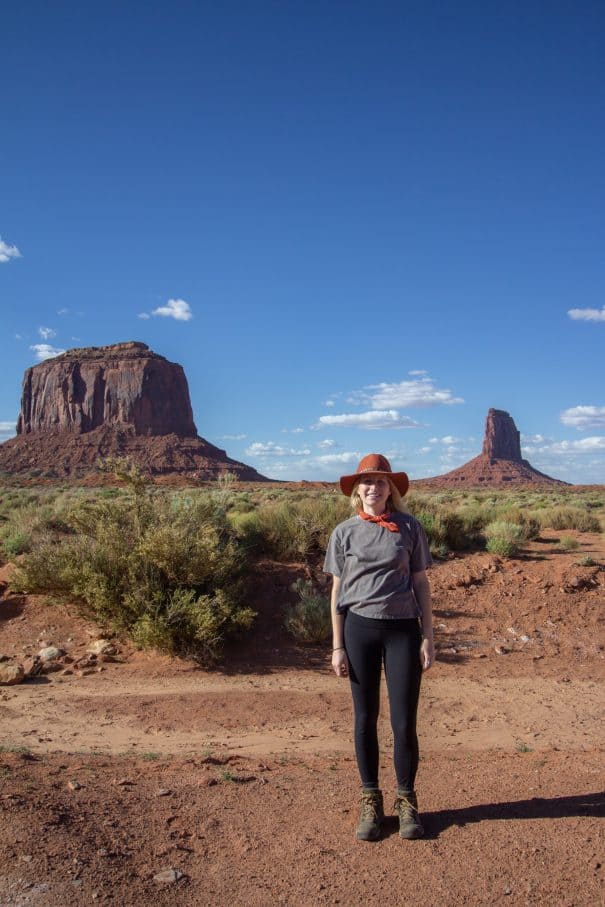 Erin is rooted in South Dakota, but wanders every chance she gets to see the beauty that nature holds. From hiking to climbing, there's not an adventure she'll turn down.
After renovating her 1976 Airstream Argosy, Erin knows the ins and outs of living life on the road and trailer maintenance.
Whether she's on the road with her dog and partner or at home curled up with a good book, Erin is always planning her next adventure because life is meant to be lived outdoors.