RVing with Dogs: Essential Accessories for a Great Adventure

One of the best parts about traveling by RV is that your furry friend can come along too. Full-time RVing with dogs is fun and easy, but having the right supplies packed for the adventure can definitely make it even better.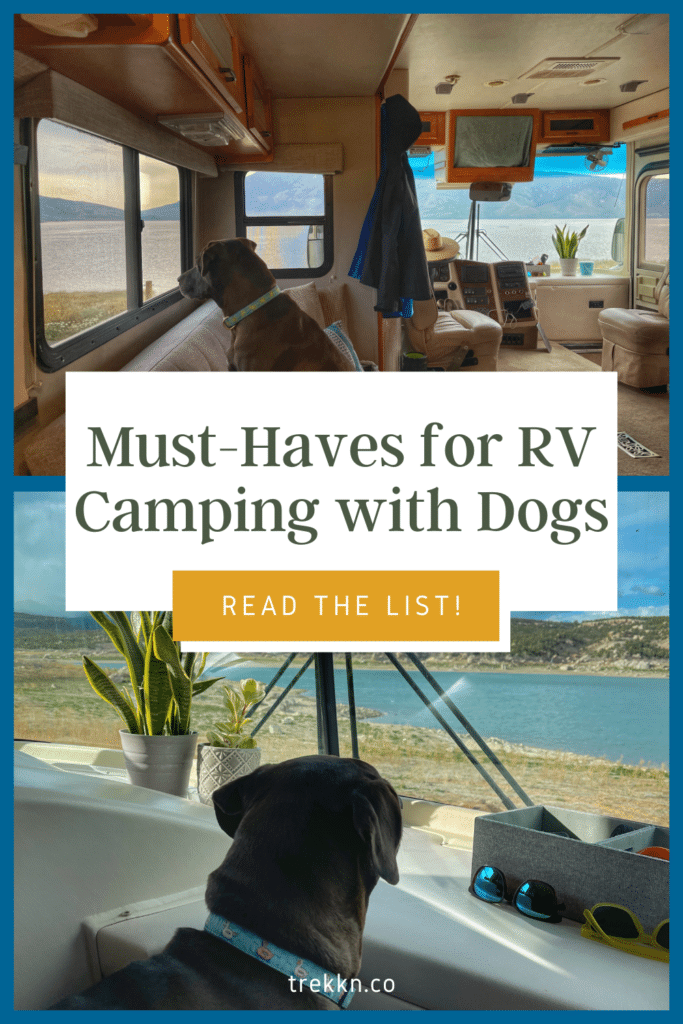 Other than the obvious necessities of packing the dog's food and bed, we've rounded up some essential items more specific to RV camping.
We hope this list of products and tips for RVing with dogs helps you prepare for an enjoyable camping trip with your furry friend.
Must Haves for RV Camping with Dogs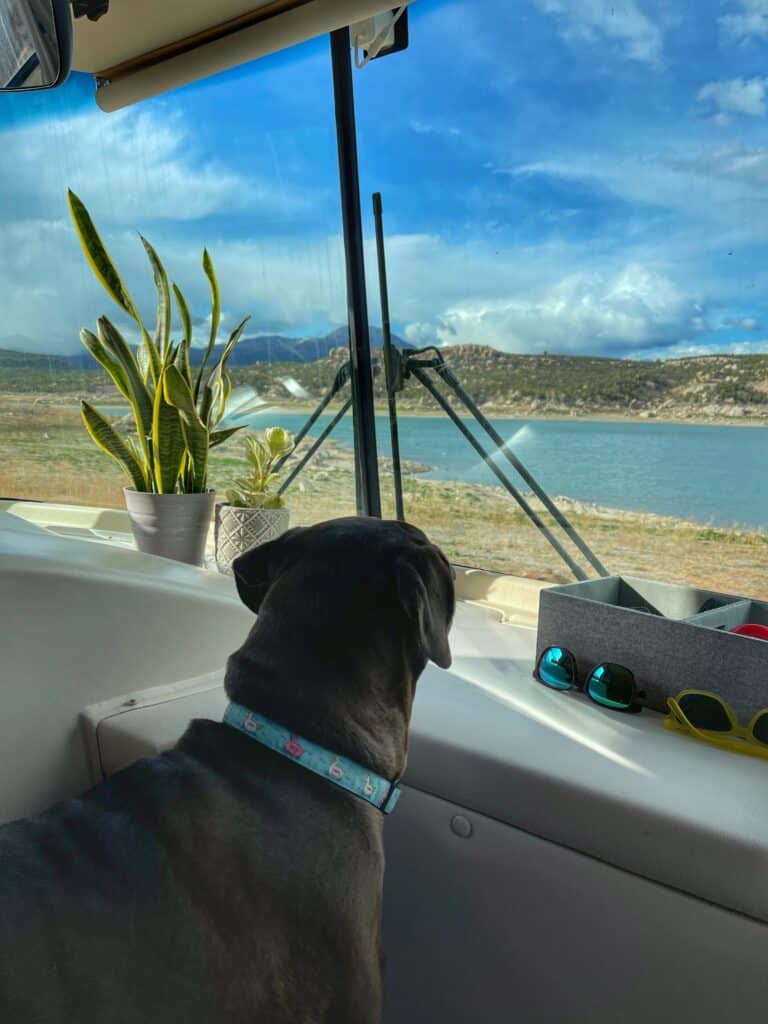 Sometimes comfort can quickly become about safety when you are full-time RV living with dogs, especially when it comes to hot temperatures. It's our job as dog owners to care for them, especially when they can't help themselves.
Because of this, most of the items we've included here are about your dog's safety and comfort. We tried to pick essentials, rather than all of the nice-to-haves.
Maybe this list will even spark you to think of something else your specific dog needs to be safe and comfortable while camping with you.
Light Up Dog Collar
Since we do a lot of boondocking with other full-time RVers, it can get dark quickly while gathered around the campfire in those remote locations. Even though our dog is pretty good about staying close to us, we love her light-up collar.
We actually have this one from Chewy, complete with LEDs. Plus, it's rechargeable with a USB cord, perfect for our off-grid lifestyle.
It gives us peace of mind to see her little glowing ring, and it gives her some independence to wander around near camp.
We originally purchased the collar for the purpose of seeing our brown dog at night while boondocking, but we've used it in other situations as well.
We like to use it even if we're walking on a leash at dusk or after dark for increased visibility. Even if we're on a sidewalk, it's nice to be sure that people can see you.
We get so many comments about this collar, both in campgrounds and out walking. People always say, "what's the floating, glowing light with you?" This gives us reassurance that the light is visible and catches people's attention.
Of course, we always laugh and explain that it's our dog. In our experience, it seems like not many people have collars like this, but we think for the RV lifestyle and your dog's safety, it's a must.
Dog Cooling Mat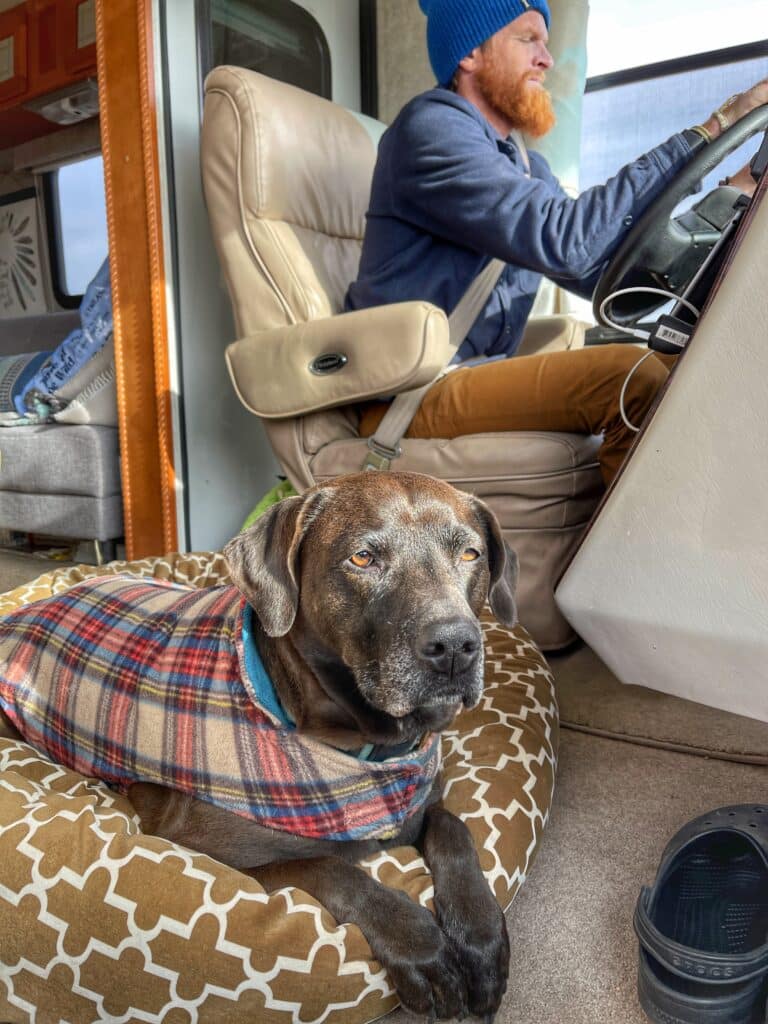 A cool pet pad can help your dog stay cool in warm weather. We like this one from The Green Pet Shop because it doesn't require water or electricity (two things we're always conserving in our RV lifestyle).
It's pressure activated when the dog lays down and stays cool for three hours at a time.
If it's really hot out, like 95 or hotter, RVs (no matter which one you have) just aren't great at fully cooling down. Even with two air conditioning units running, the most we can achieve in our RV is about 15-20 degrees colder than the outside temperature.
And we're desert rats. We lived in Phoenix and we love the heat. But pets are a real concern when RV camping in hot weather.
CAN DOGS STAY IN RV?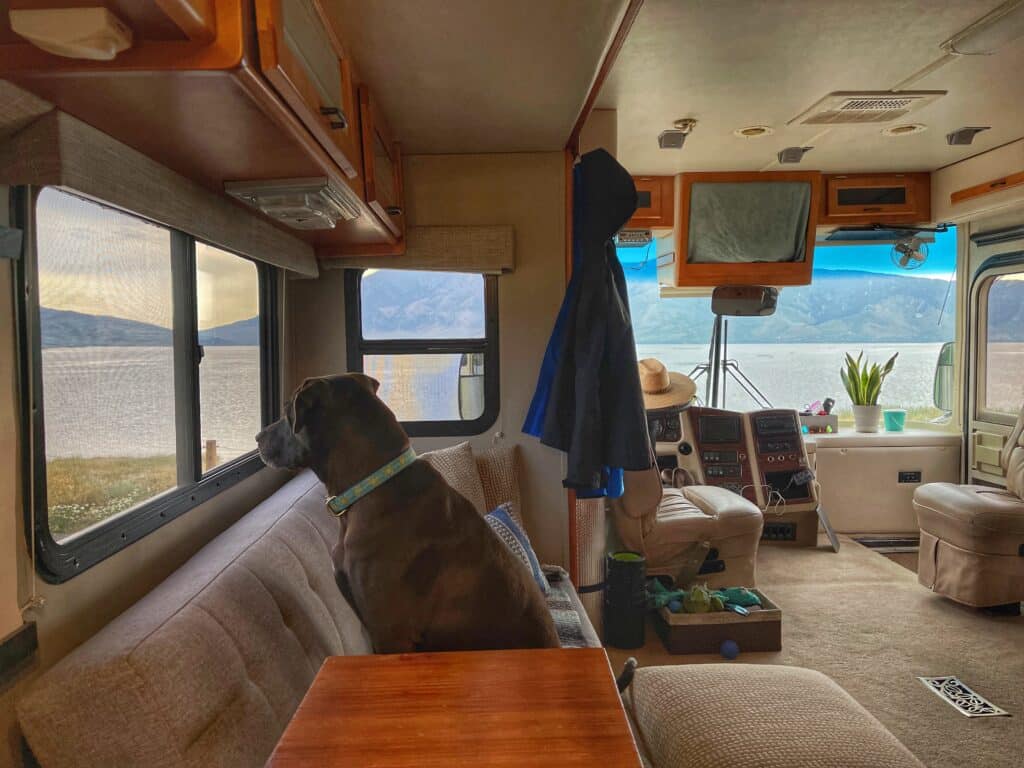 If it's 100 degrees outside your RV and you're not parked in full shade, you probably won't be able to achieve an inside temperature much cooler than 80-85 degrees. That's even if you're on full hookups!
Every dog is different, but ours starts panting at about 80 degrees. So when we're camping in the desert heat, we do everything we can to keep her cool.
This can not only be a matter of comfort, but also a matter of safety in the hotter temperatures.
Here's one other pressure-activated dog cooling bed on Amazon you might like as well.
Now that we have the cooling mat (out of necessity from one hot summer we spent in the RV) we find that our dog likes to use it even when it's not totally necessary. If it's a beautiful sunny 75-degree day and we toss the cooling mat outside, she'll go outside and lay on it.
Dog Hammock (Elevated Bed)
Our dog had used other dogs' hammocks before and seemed to like them, but we didn't see it as a necessity and didn't buy one for a long time.
Our dog spends a lot of time outside the RV and even though we ask her to lay down on the RV mat to keep her clean, she almost always chooses the dirt. Enter the dog hammock.
A dog hammock like this elevated bed from Chewy will not only give your furry friend their own place to relax outside the RV, but it will also keep them out of the dirt and dust.
We love that this cuts down on how much dirt is in her fur, and therefore what comes into the RV.
As an added bonus, these elevated beds also reduce bugs easily getting onto your dog. Our dog is allergic to some bug bites and before she had a hammock she would get bites on her belly from laying in the dirt.
Here's another solid elevated bed option from Amazon you might enjoy.
So we're officially believers in the pet hammock. It's well worth the small amount of space it takes up and the cost.
Dog Poop Bags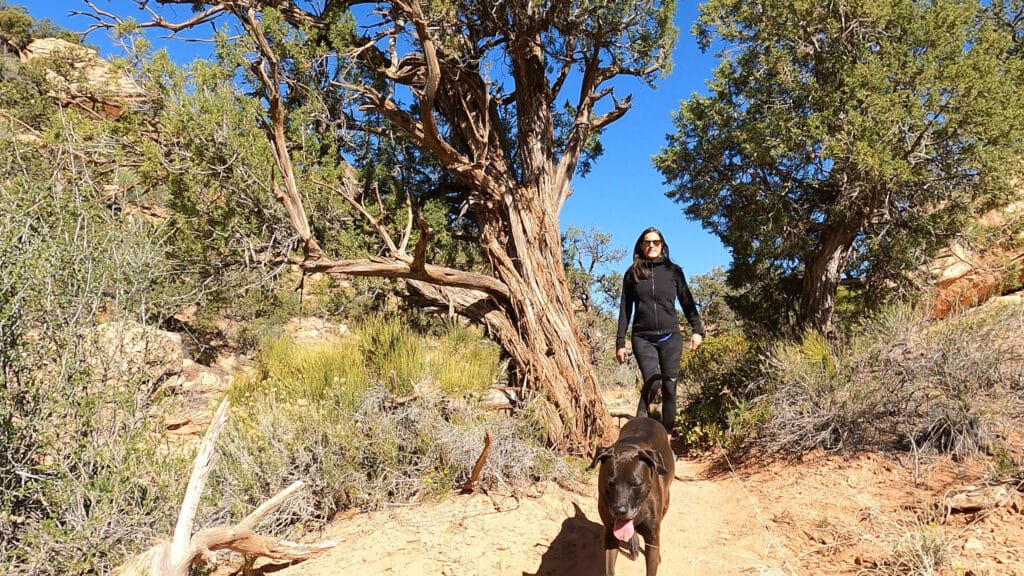 This may seem like a no-brainer (and I truly hope it is), but don't forget the poop bags. Our mantra is to "always be prepared" with a roll of poop bags on our dog's leash. These Earth Rated, climate pledge friendly, leak proof bags are a great option.
No one wants to go camping in a beautiful environment and be surrounded by dog poop. Please do your part and always pick up after your pet, and pack out all of your waste if you're camping on public lands.
Six-Foot Dog Leash
Speaking of leashes, many parks and trails require dogs to be on a six-foot, or less, length leash. We've never seen rangers out there measuring dog leashes, but we like to know we're playing by the rules.
You may also want to keep a longer lead handy if you're going to tie your dog up at the RV.
Sun Shirt for Dogs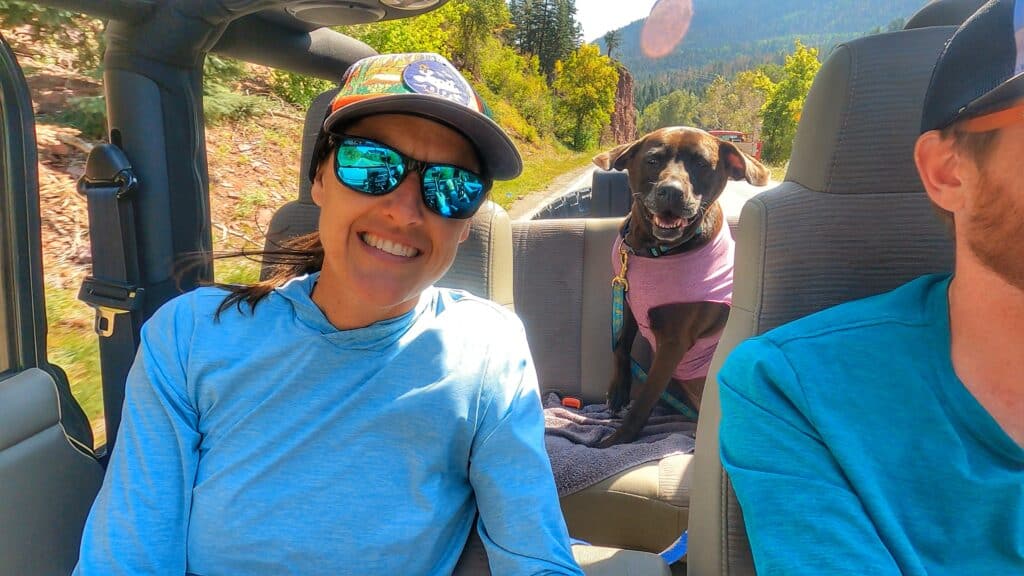 Our dog spends a lot of time outside with us when we're RVing. She has a thin fur coat, so she sometimes gets sunburned. Yup, that's a thing.
We always thought she just went through bouts of dandruff, until someone told us that she was getting sunburned. Maddie now wears the Gold Paw sun shield dog shirt and it keeps the sun directly off her coat and skin.
As a bonus, if it's hot out and you get the sun shirt wet, it seems to also work to keep our dog cool.
Collapsible Dog Dish
Water for your dog obviously has to be kept as a top priority to protect their health. Because of this, we keep one dish in the car, one in our backpack, and one in the RV so it's always easy to make sure Maddie has water available, even if her surroundings are ever-changing.
So whether it's for water while hiking or when you're out for a day of activities, a collapsible dog dish is an essential accessory for RV life with a dog.
We also carry an extra water bottle everywhere we go that is dedicated to dog water so we always have it available.
Dog ID Tag
An ID tag, or a tag with a GPS tracker, provides peace of mind when your surroundings are constantly changing.
Even if your dog doesn't typically run away from you, RV life and camping in new places all the time can be disorienting. Your dog may not know where home is.
At a minimum you need an ID tag with your dog's name and your number on it.
Once when we were hiking in southern New Mexico, Maddie chased a bunny in the woods and got so far away from us that we couldn't find her and she couldn't find us. Luckily she found her way back to our car and was hiding under it when we returned.
This incident got us to consider a GPS tracker integrated in her collar. If she hadn't gone back to the car, we probably wouldn't have been able to find her, and I don't even like to think about that.
Forms To Have When RVing with Dogs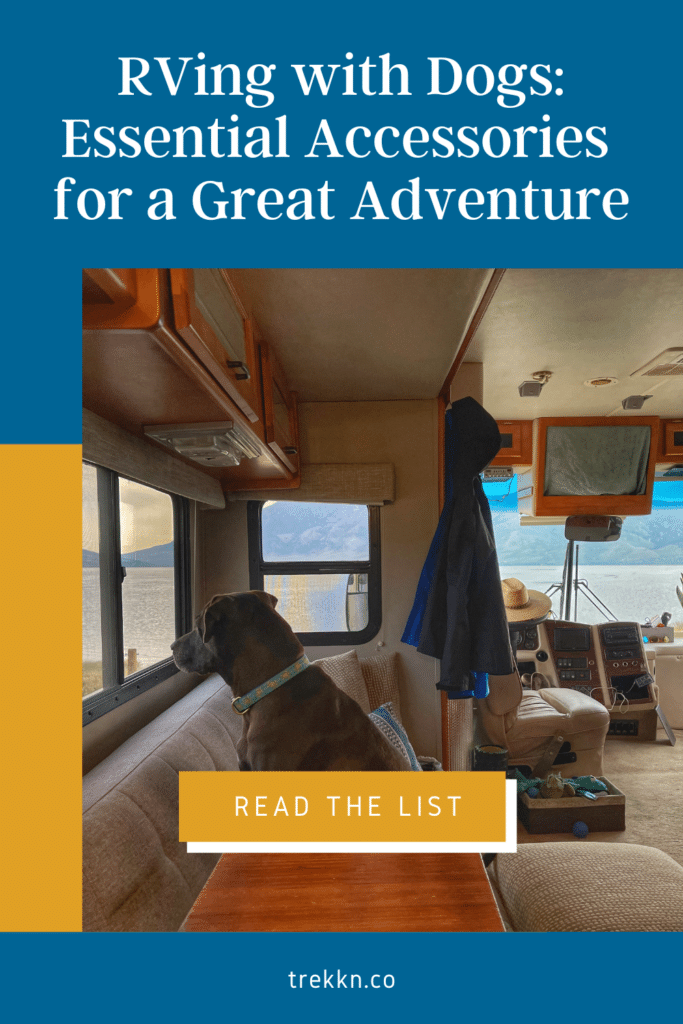 Last but not least, be sure to travel with a copy of your dog's vet records. If something happens to them while you're on the road, you'll want to be prepared with all of their information to get prompt treatment at a new veterinary center.
We were visiting Glacier National Park last summer and expected it to be cool enough for Maddie to stay in the RV while we went hiking in the park. It ended up being over 100 degrees for the week we were there, and our RV was not parked under any shade.
So we made a last-minute decision to put her in daycare nearby so she could stay cool and safe. You just never know what might happen when you're far from home. It's always better to have everything on hand and be adaptable to your situation.
Is Your Pup Ready to go Camping?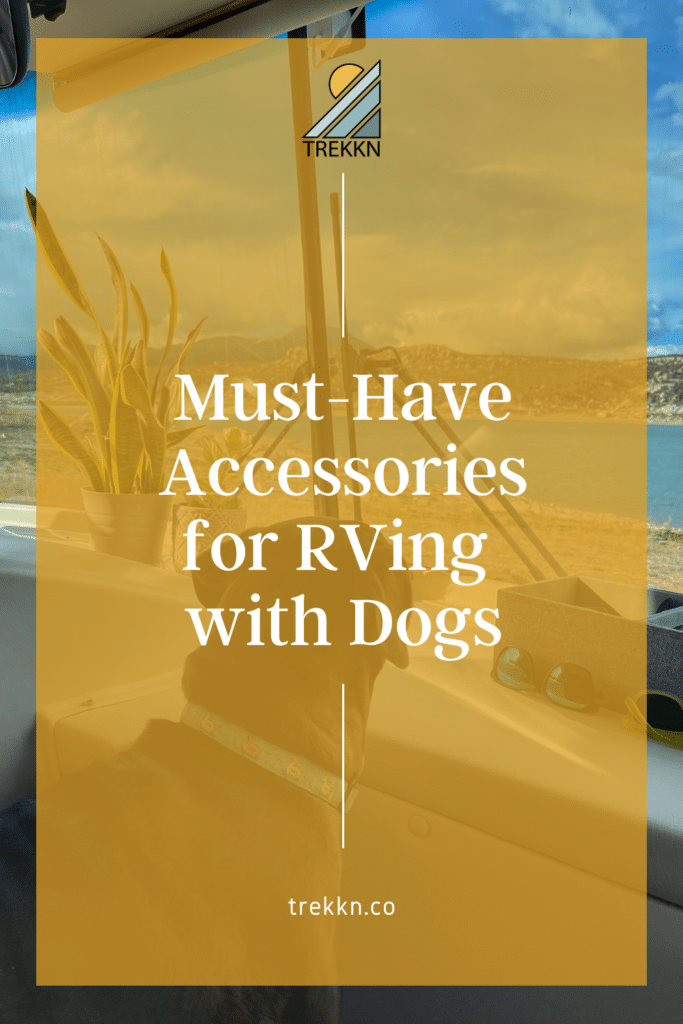 We love having our dog with us on our full-time RV adventures. As dog lovers and explorers, it's probably one of the reasons that the RV lifestyle works so well for us.
We hope our years of experience RVing with dogs helps make for an enjoyable camping trip with your pup. And we certainly hope you don't have to learn some of these lessons the hard way like we did!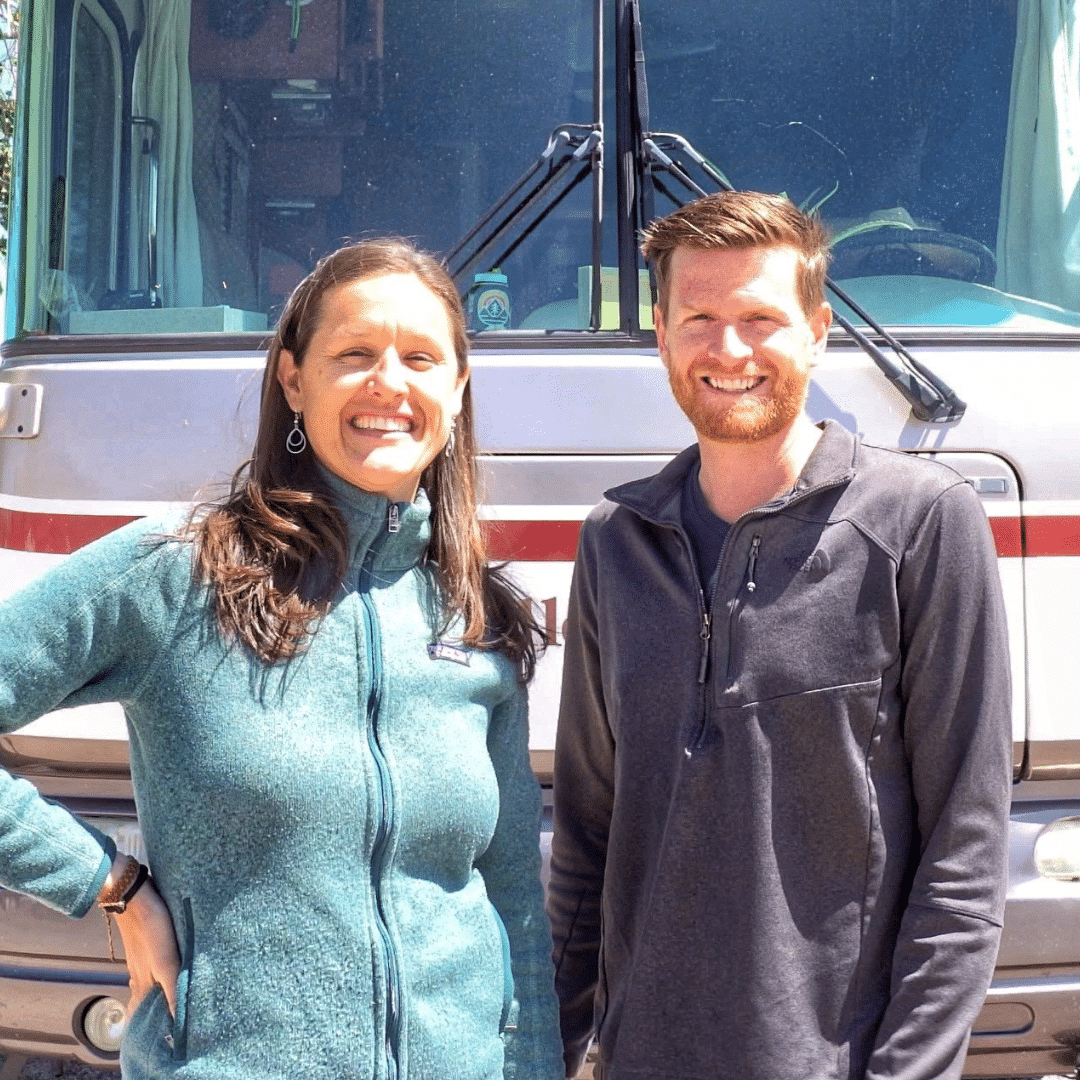 Kristen Bates lives & works from her RV, primarily boondocking off-grid. She owns and operates a women-led travel company, Legit Trips. Kristen loves to explore new places and inspire others to do the same. If she's not typing away on her laptop, she's off on an adventure- hiking, biking, or SUP boarding. You can follow her RV adventures @PerpetualMoves and learn more about her travel company at LegitTrips.com.