Why Are Full-time RVers Buying Land?

As a full-time RVer myself, the question of where we'll park is always on my mind. Whether you typically park at RV resorts or prefer to boondock in the wild, the question of where you'll park next often looms over you.

RV parking hasn't got any easier to find in recent years with the surge of new RVers (rise in demand) and the closing of some public lands (decline in supply).
Is Limited Parking Why RVers are Buying Land?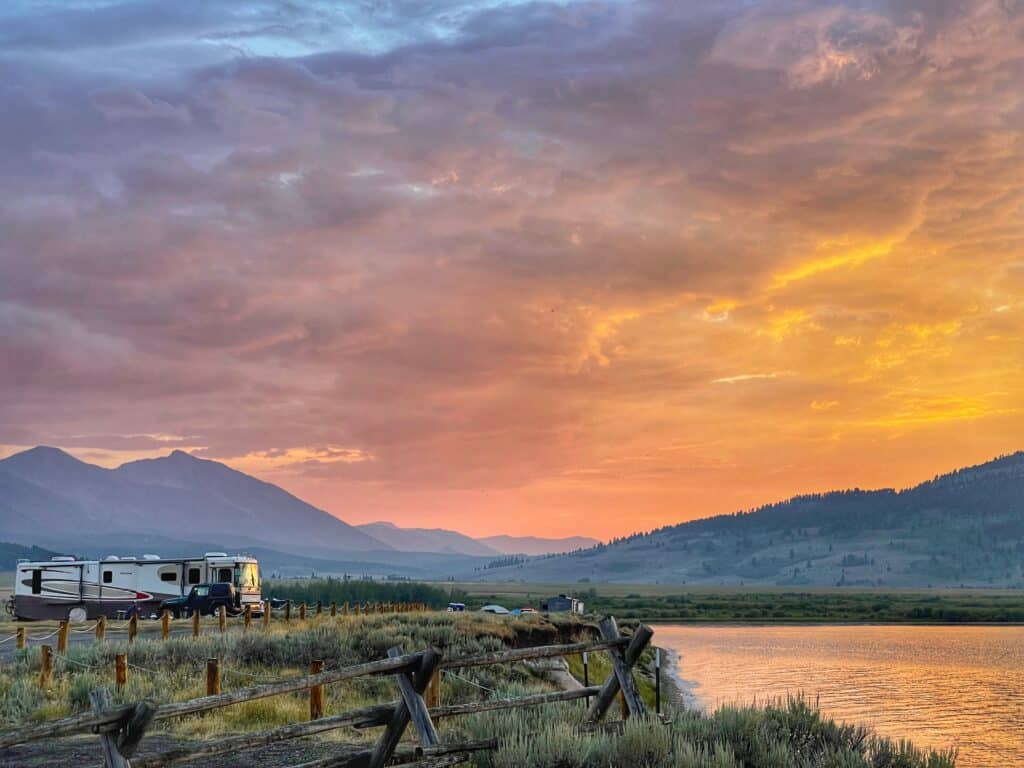 In my experience, which I've had some full-time RV friends corroborate, the pandemic was a wake-up call for many full-time RVers that it was actually possible that they could wake up one day with nowhere to go.
So with the impetus from Covid, more RVers are looking for land to call home, and we'll explore some of the many reasons why.
The Pandemic
Especially at the start of the pandemic, many RV parks and public lands were closed, either partially or fully.
We were camping in Silver City, NM at an RV Park at the beginning of Covid and were following the state guidelines and regulations closely because we were planning to camp our way around New Mexico for the next six months.

The state guidelines suggested that RV Parks be reduced to 25% capacity, which made us concerned about our upcoming reservations in Santa Fe and Taos.
How would the RV parks choose which 75% of the reservations would get canceled?
We weren't willing to take that risk, so we began looking at public lands. Unfortunately, the state also closed all campgrounds in state parks and national forests.

For reasons like this, Covid was an unsettling time to be a full-timer in many parts of the country. The uncertainty caused by the pandemic caused us to start looking at other options for where we'd park our home.
And though Covid was the motivation to start searching, there are many other good reasons to follow through with a land purchase for your RV.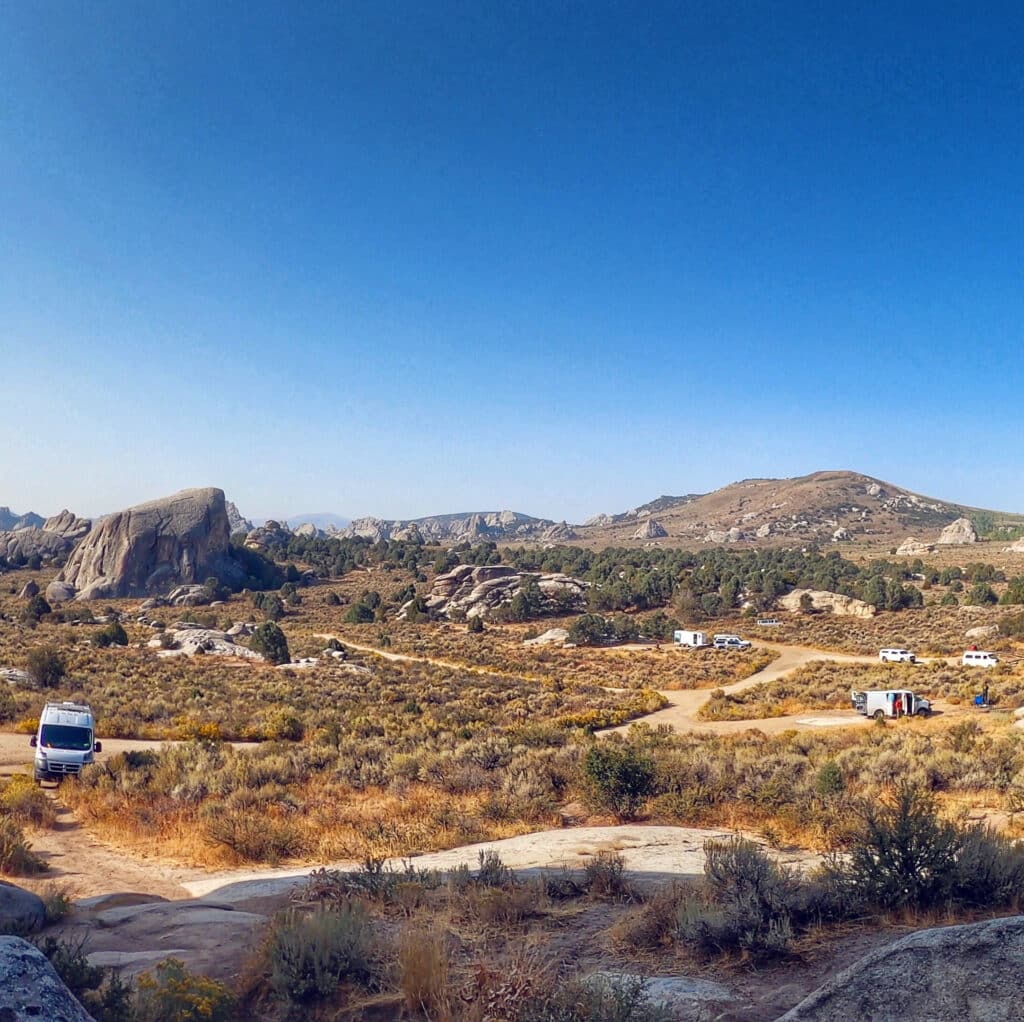 Security & Certainty
Probably the most popular reason to consider buying land for your RV is the certainty of always having a place to park, no matter what. To have a place that cannot be shut down provides some peace of mind.
And while we all hope that the pandemic was a once-in-a-lifetime event, it was a reminder that we're not in control and we never know what life might bring.

Perhaps someone in your RV gets injured, comes down with an illness, or even has a job loss. Having a piece of land that's your own provides some comfort in knowing that you have a home base to retreat to in the event of any unexpected situation.
Limited Parking
When I started part-time RVing in 2013, I drove cross-country with no RV park reservations. That's not something you can do today.
Competition for RV parking spots seems to be on the rise with more and more people getting into RVing, both through purchases and through rentals.
It's only getting harder, not easier, to get a parking spot everywhere, from RV parks to state parks to even dispersed camping areas.

For many full-timers, they choose their next spot based on the weather forecast, or friends who are nearby. Many of us are free spirits who prefer to go where the wind blows us, we favor freedom over a strict schedule.
But the spontaneity is being taken out of RV life due to the sheer amount of demand on the places we park.

Many National Parks and State Parks will book up a year in advance. RV full-timers may not have the ability to plan their travels a year in advance, as this is not their one vacation of the year, it's their life.
So maybe you'll book one or two places you really want to stay, way in advance and those become bookmarks in your calendar that you build the rest of your travels around.
But largely, it takes these options off the table for daily living.

Having land of your own allows you to come and go as you please, a level of freedom that many full-timers require. Plus, it takes the headache out of getting a spot in a world of limited RV parking.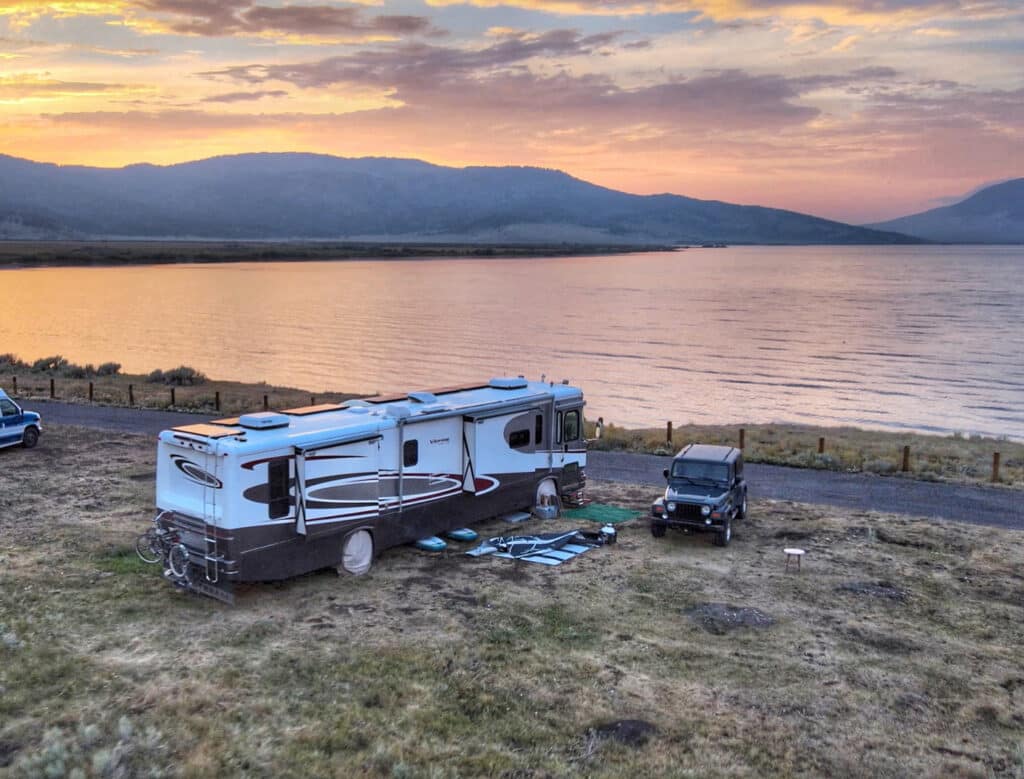 Residency & Permanent Services
Having your own permanent address can make many aspects of full-time RVing easier (though many places will require you to put in a driveway in order to establish an address).
This is helpful beyond having a place to ship your Amazon packages though:
Most banks will require a verifiable address to start a new account, and mail service addresses are sometimes denied
An address allows you to establish residency, which may have positive tax benefits if you choose your location wisely
Easier to cast your vote during elections
You can get a local library card
You can set up permanent utilities like electric, cable, and internet services
Cost Reduction
Though buying land for your RV comes with an up-front cost, it may be cheaper over the long term.
Especially if you're a seasonal worker, or have found a place you want to return to many times, having your own spot in that location could save on cost as compared to nightly parking rates or RV site seasonal rentals.

RV park prices are on the rise, many are no longer offering monthly stay discounts, and more and more dispersed camping areas are becoming fee-based.
So camping on your own land is especially cost-efficient if you plan to full-time RV for many years.

In addition, gas prices are currently at an all-time high, so staying in one place a bit longer will surely save on fuel expenses.
The ability to choose to stay longer is a benefit in and of itself, and for many a needed respite after many months of travel.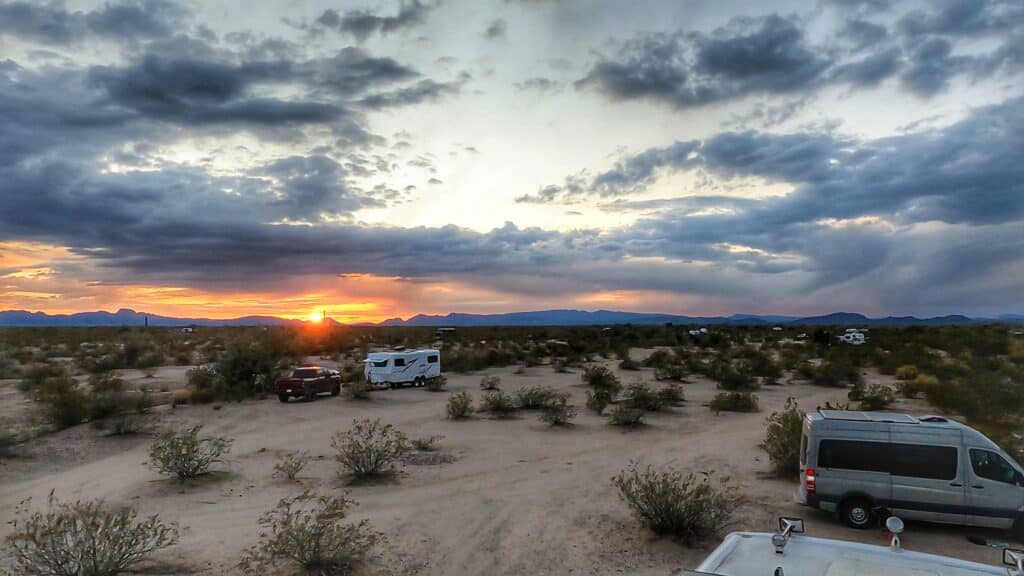 Investment
Many full-timers we meet are motivated toward this lifestyle as a means to financial independence. RVing can be a great way to build a debt-free life for yourself, and maybe investing in RV land is part of that equation.
You can buy an investment that will mature over time, and that you will likely pay for in cash (thus not going into debt for an investment).

We've even talked to some RVers who are renting out their land to other RVers on Hipcamp, or leaving the RV to rent it on Airbnb when they're not using it.
If you start making monthly income on this investment, the rate of return is much higher.
Wide-open Spaces
Traditional RV parks and many campgrounds can feel like a crowded concrete jungle. Didn't we get into this lifestyle for wide-open spaces and connection to nature?
Some RV parks are more like parking lots with noisy, and sometimes nosy, neighbors right next door.

Most land that is zoned to allow living in your RV is in rural areas and small towns that operate at a slower pace. Therefore most land you can buy for your RV is going to be closer to nature, quieter, and possibly even off-grid.
This may feel like a better lifestyle match for those full-timers seeking the great outdoors.
Storage
We don't have a home or a storage unit where we keep any belongings, so everything we own is in the RV with us.
Some full-timers we know have annual or ownership lots at RV parks where they can have a storage shed or mini casita. And you could do the same with your own land, put a storage shed or even a shipping container on the lot for storage purposes.

The best part of having storage is the space it opens up inside your RV. Instead of carrying everything with you, you can swap clothes, equipment, and toys seasonally.
Drop your ski gear at the end of the season and don't carry it around with you all summer!
Storage might not be enough of a reason on its own to buy land for your RV, but it's surely a nice additional benefit.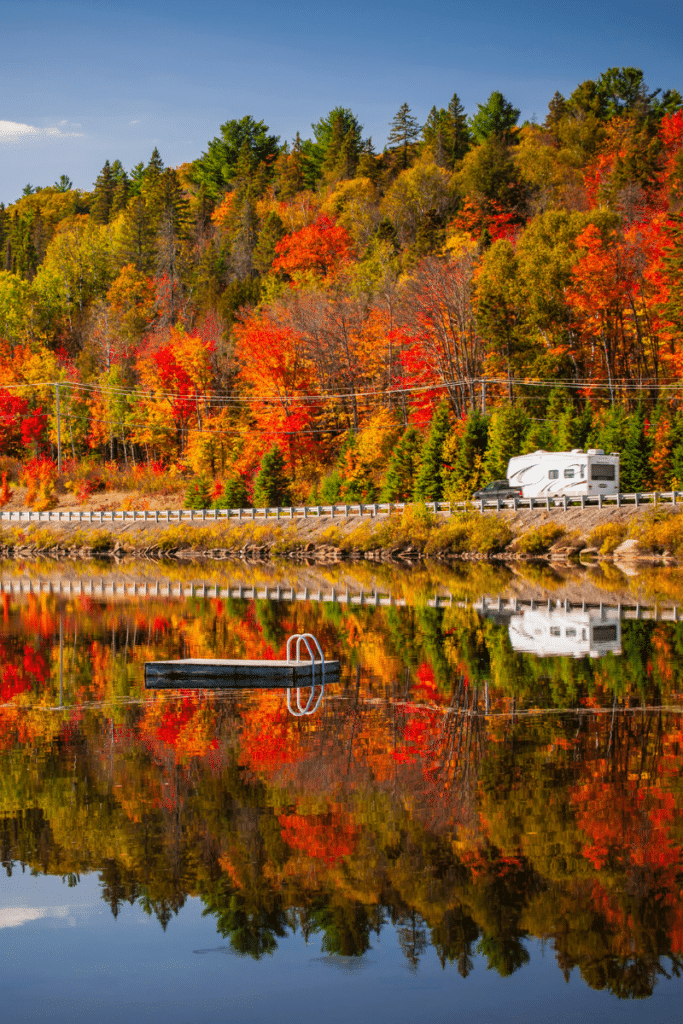 Are there drawbacks or other things to consider?
There are many restrictions on camping on your own land in your RV. It generally varies based on your county zoning laws.
These restrictions can include time limits stating that you may only camp in your RV for a set number of days per year. These limits can range from 14 days per month to 180 days per year, and the county can change the rules at any time.

Some counties will require you to have a building plan and permit, and technically only allow you to live in your RV while you're building a permanent structure.
Some RVers stretch these limits and can live for many years without breaking ground, but you're typically required to pay for permits and extensions along the way.

We were recently looking at land in a particular county that required us to put in a septic system in order to live in our RV on the land.
Even though we would have switched to a composting toilet if we purchased that spot, we still would have been required to install a septic system.

As you can see, many of these restrictions will cost additional funds. It is estimated that the development of raw land for RV use, with utilities, can cost up to $20,000 for one RV spot.
So if you plan to develop the land, or are required to do so by zoning laws, you'll want to consider these costs on top of the land purchase price.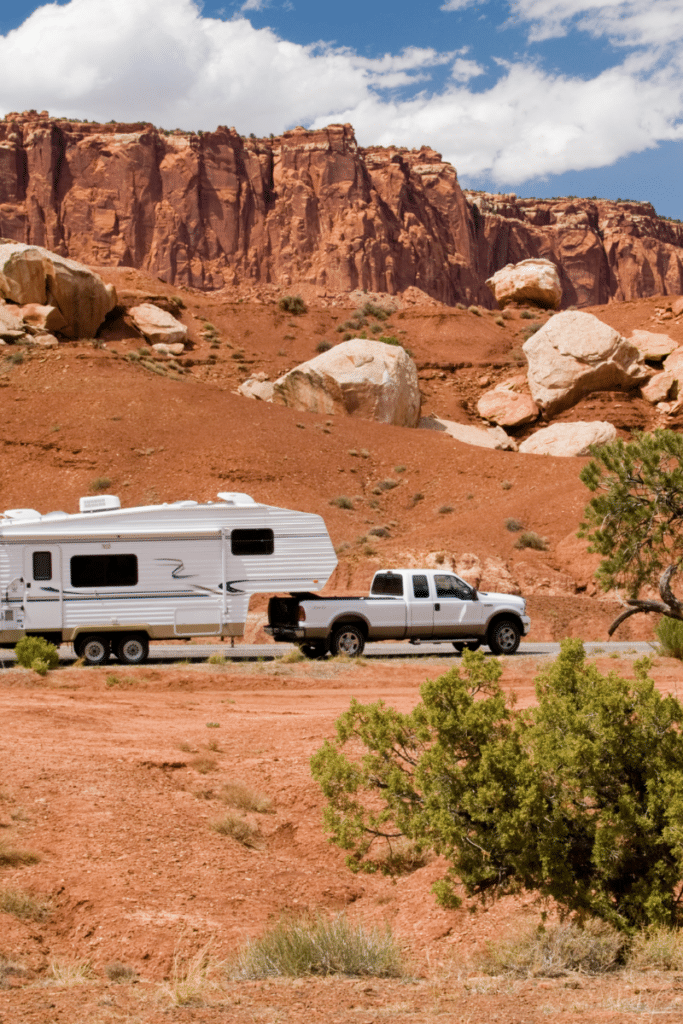 Are you ready to buy land for your RV?
In the end, it depends on your priorities, finances, and long-term plan. If full-time RVing is a short-term adventure for you, land might not offer enough benefits.
However, if you see no end in sight for your full-time travels, buying land might be worth considering. Hopefully, this quick examination can help you decide if land ownership is right for you.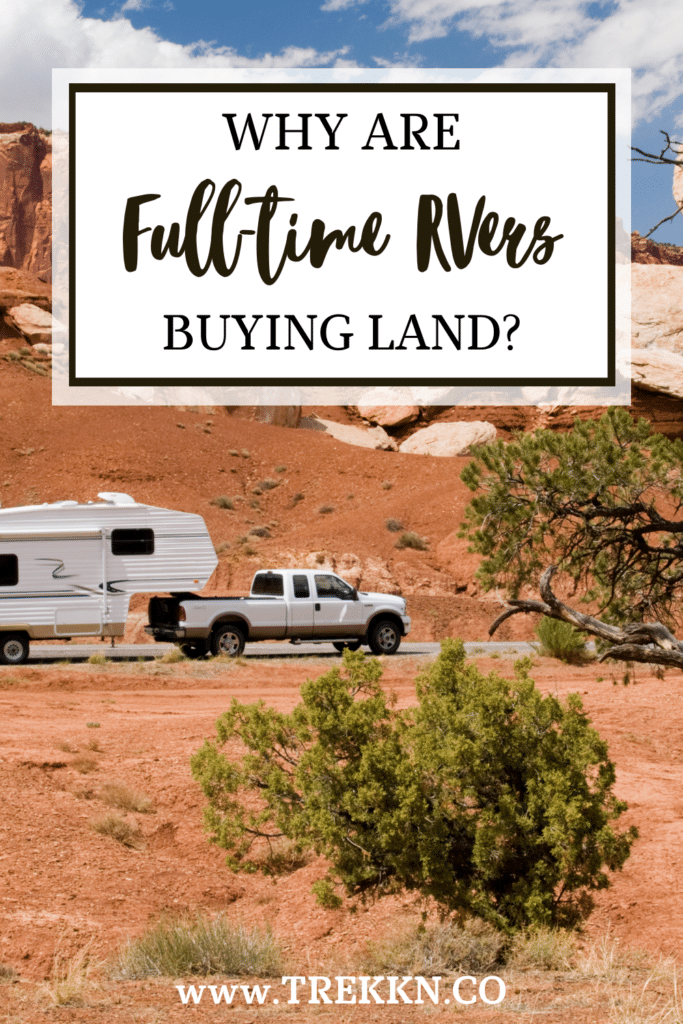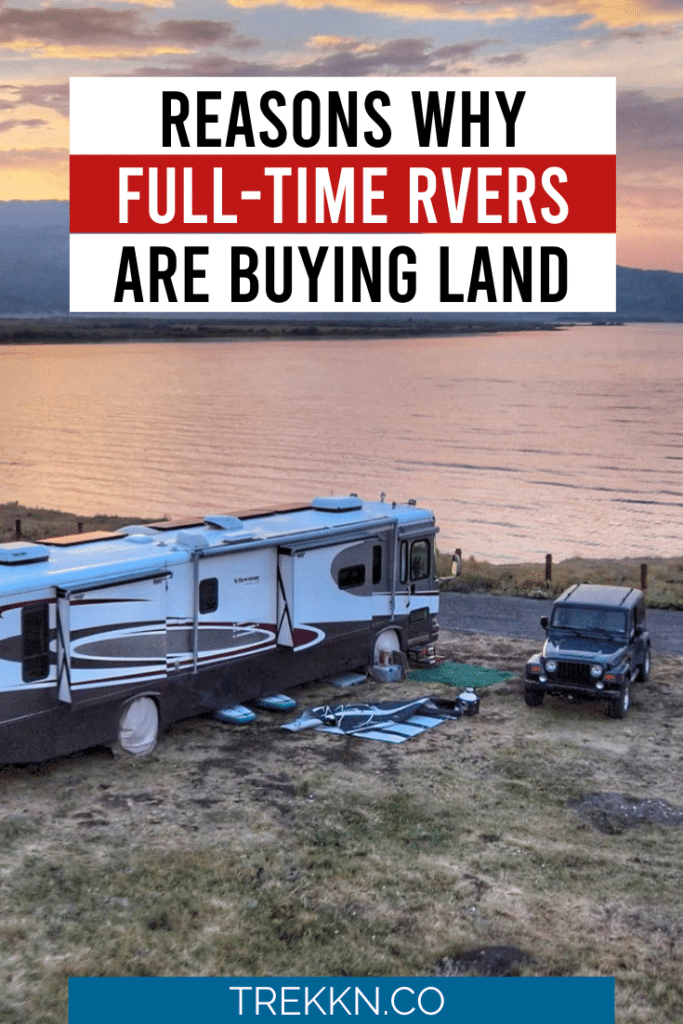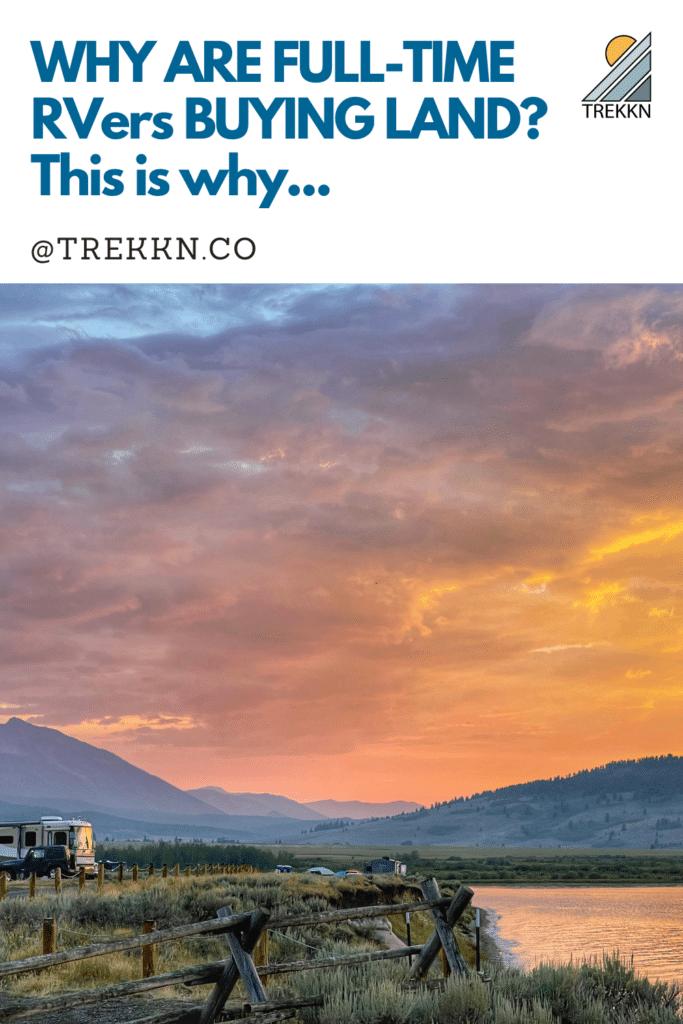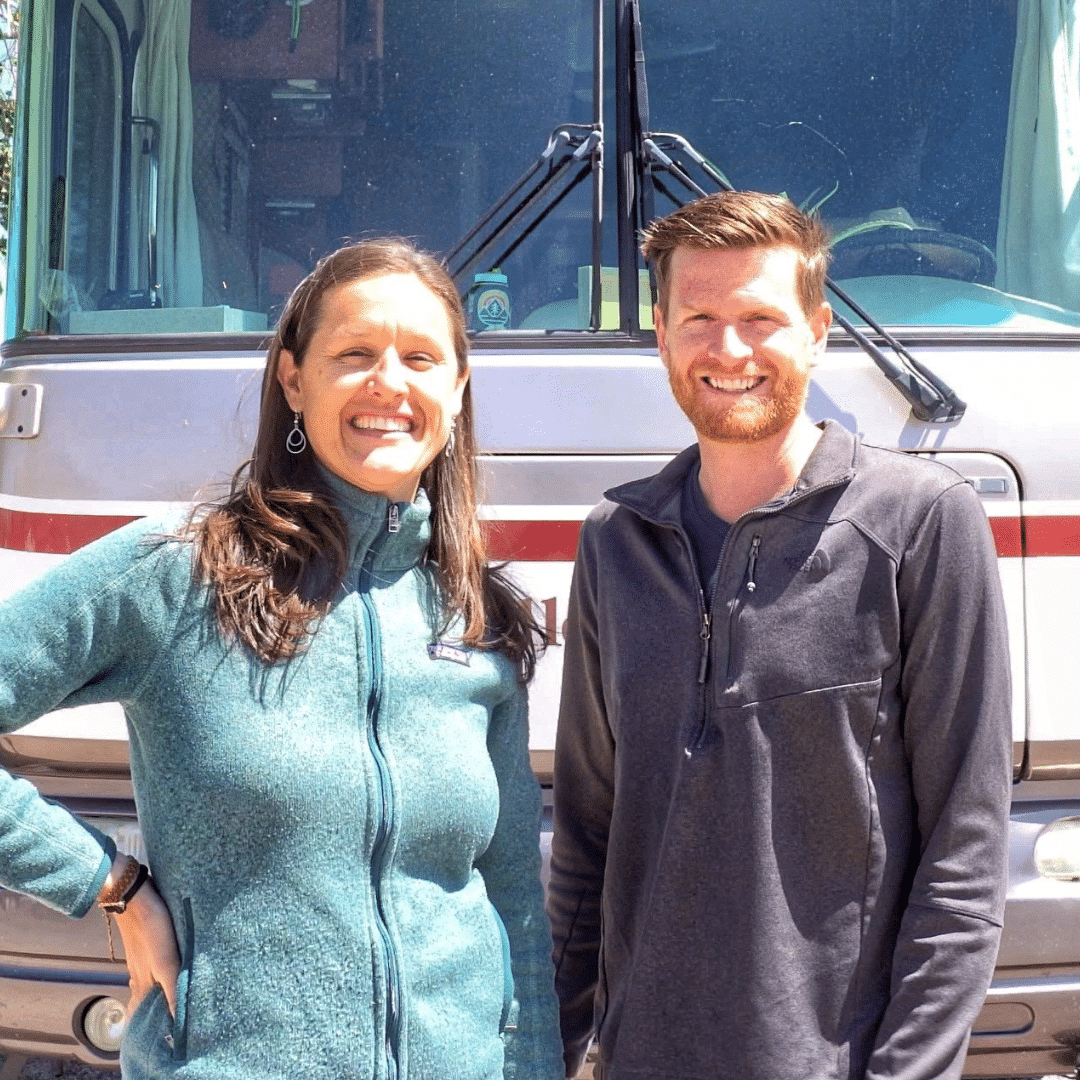 Kristen Bates lives & works from her RV, primarily boondocking off-grid. She owns and operates a women-led travel company, Legit Trips. Kristen loves to explore new places and inspire others to do the same. If she's not typing away on her laptop, she's off on an adventure- hiking, biking, or SUP boarding. You can follow her RV adventures @PerpetualMoves and learn more about her travel company at LegitTrips.com.