Are you in the research phase for all the ins and outs of RV living? This was us back in the winter of 2017, so we completely understand how stressful this part is.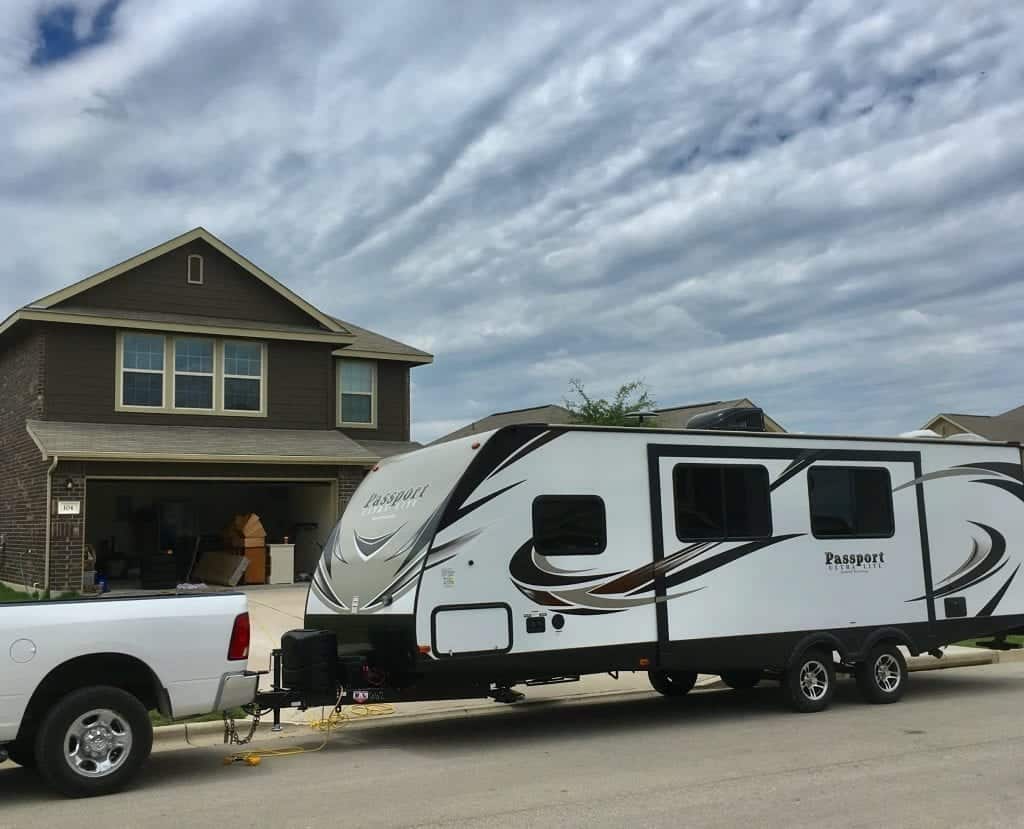 You have a bazillion questions, right?
Those bazillion questions are keeping you up at night, right?
You're thinking about decluttering.
You're thinking about selling your house.
You're thinking about purchasing that home on wheels.
You're thinking about tow vehicles, how much it costs to live in an RV, if RV parks are safe, what your friends and family will think…and the list goes on and on and on.
Guess what? We're here to help.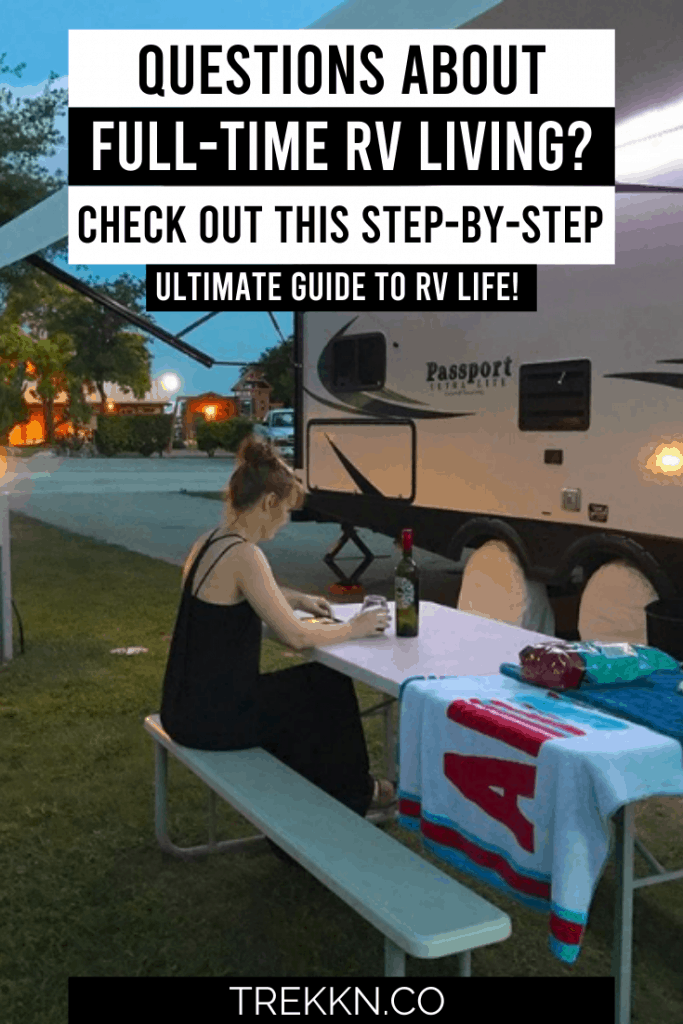 Your Ultimate Guide to RV Living
When you're thinking about and planning towards full-time RV living, there are a lot of pieces to put into place. And all of those pieces can be completely and utterly overwhelming.
When we first started the process, we made a list. This list consisted of all the things that needed to happen in order to actually move from our 2,200+ square foot house to our tiny home on wheels (around 200 square feet).
We also spent a ton of time checking out full-time RV blogs, watched an embarrassing number of RV videos and travel videos and basically ate, drank and slept the idea of this RV lifestyle.
At one point, we got so overwhelmed and so scared of the unknown that we almost quit. We were asking questions like is this lifestyle really worth all this headache and hassle, what if we go through all of this and we hate it, what if running a business on the road doesn't work, plus fears, fears, and more fears.
Side note: You can read our blog post and watch our video covering our top five fears that almost kept us from living the full-time RV life here.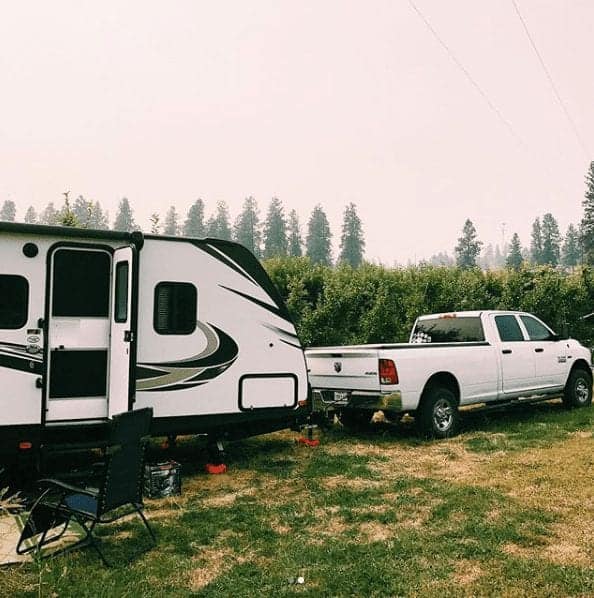 A Step-By-Step Guide to Full-Time RV Life
What we wished we had back then was a step-by-step guide to get us from point A (the scared and confused almost-ready-to-quit point) to point B (the full-time RV life). We needed someone to hold our hand and tell us we're pretty. Wait, just kidding.
We needed someone who had been through this process to share what they did to get themselves on the road and officially become full-time RVers.
Now we know everyone's journey will be different. Some of you will already own your RV. Some of you won't have a house to sell. Some of you are empty nesters and don't have to worry about the kid factor in all of this. Some of you have been planning this for years and have slowly been getting your ducks in a row.
So all we can do is share our journey and hope that some of it helps answer your questions and relieves a bit of stress.
The Steps We Took to Make Full-Time RV Life Happen
Before we get into the nitty-gritty details, here's a short list of the steps we took in order to make RV life happen:
Step 1: Figuring Out Your Why
Step 2: Conversations with Family
Step 3: The Decluttering Process
Step 4: Shopping For & Purchasing An RV
Step 5: Getting the House Ready to Sell
Step 6: Finances – Remote Income & Cutting Costs on the Road
Step 7: Shopping For & Purchasing A Tow Vehicle
Step 8: Buying ALL THE THINGS for That New Home on Wheels
Step 9: Moving In
Step 10: RVing Practice Run
Step 11: Saying Goodbye and Officially Launching Into the RV Life!
Phew! That's a lot of steps right? As I'm typing this up and reliving some of these decisions we had to make, I'm amazed that we actually made this happen because wow that was a stressful/difficult time.
But, it was so very worth it. The experiences we've had together as a family have brought us closer together and we'll always have this special time in our lives to reminisce about for literally the rest of our lives.
Our Favorite RV Blogs
When we were going through the research and prep phase of getting ready for RV life on the road, there were a few RV blogs that were great resources. Here are a few of our favorites:
Full-Time RV YouTube Channels
When we were preparing for RV life on the road, I spent a (big) part of my Sundays watching RV videos. Here are a few of my favorite RV YouTubers:
Keep Your Daydream – They are a good combination of RV living basics + things to do in certain locations. Plus, they're probably the most likable YouTubers I've ever watched.
Less Junk More Journey – If you're going to be traveling with a small child, they are a fantastic resource. RV living is all their little girl knows, plus they're going to have a new baby while still on the road and will be navigating through all of that. It'll be fun to see how a baby + RV life works.
Drivin' and Vibin' – This RV couple have no kids and they're also renovating an Airstream. It's been fascinating to watch their process!
Alright, we've quickly covered the steps we took to make this RV lifestyle happen, our go-to RV blogs and our favorite RV YouTubers. Now, let's dive into the steps more in-depth.
Side note: This page will always be updated as we write more RV living articles and possibly eBooks on the subject. (Hint: It's happening, so keep a look out!)
Step 1: Figuring Out Your Why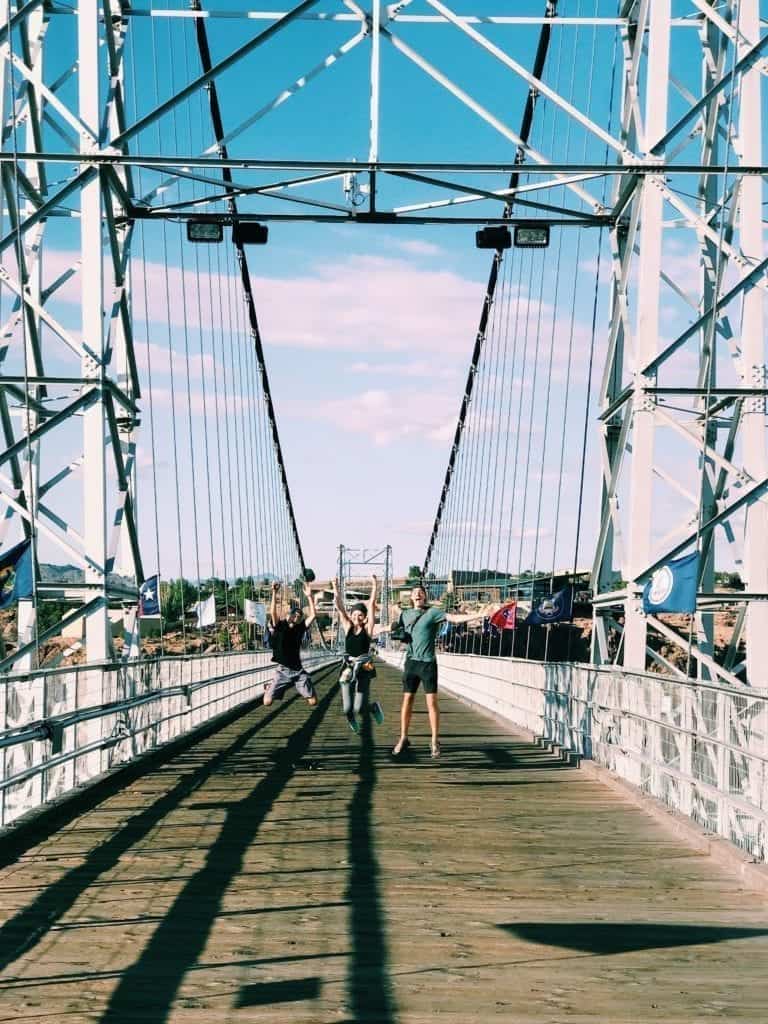 Travel has been a passion of mine and Todd's since we started dating. Here's an excerpt from our About Us page:
Travel has always been important to us and we've done what we could to make it an integral part of our lives.

We traveled Europe when we were dating. We traveled and lived in Alaska, New Mexico, California, Georgia and Texas when Todd was in the Air Force. We moved to Colorado on a whim and then to Texas, also on a whim. We've taken our kids to Colorado and California on vacations. Our two oldest kids went to Honduras.

But we wanted more. We needed more. It was time to shake our lives up a bit and do something out of the ordinary.
That was our why. We wanted to travel more, to show our kids the world and to do something a little different and challenging.
So, what is your why?
We believe figuring that out is a crucial first step to this process because that 'why' is what will keep you going through the difficult times.
We almost threw in the towel and decided not to full-time RV. It all became a little too much and our fears had a hold of us and wouldn't let go.
So we had to go back to our why in order to make this happen.
Related posts:
Step 2: Conversations with Family
When we decided to put this idea in front of our kids, we had a daughter in college, a son that was about to graduate high school and a son in middle school. The logistics of all of this seemed a bit daunting.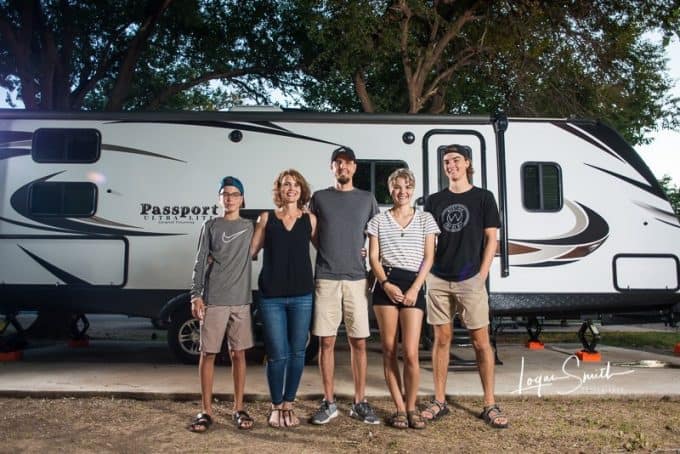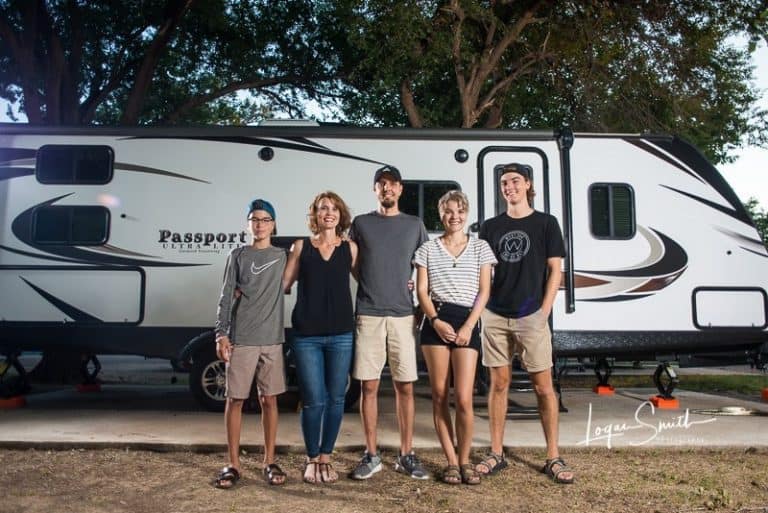 Image Credit: Logan Smith Photography
Our Daughter in College
We had questions about how our daughter would feel having us so far away at times after only being about 3 hours away from her for a year. We wondered how she would feel as she's in class and we're out hiking in the mountains or kayaking in the ocean. (Side note: this has been hard for her honestly.) We had questions about how this would all work when she's on her summer, winter and spring breaks.
It did seem like kind of a logistical nightmare, but we've made it work.
How did we go about sharing this idea with her? We FaceTimed her and said something like 'what do you think about the idea of us selling our house and moving into an RV for a year?' And she said something like 'um…what?!' and then we talked through it some more and some more and yes, some more.
Long story short, she knew some of this would be difficult, but she was on board with it. And this journey has taken her to Canada (twice) and both the West and East coast. Although she's with us only part of the time, she's seen more than a lot of adults have in their entire lifetime.
Our Son Graduating High School
Throughout his senior year, our oldest son was struggling with what to do after high school. He just felt like immediately going to college (or even going at all) wasn't the path for him. And what do the vast majority of kids and teachers and principals and adults only talk about as you're nearing graduation? College.
He was asked questions like:
What colleges have you applied to?
What college are you going to?
What are you going to major in?
Aren't you so excited about college?
To say his senior year was a bit hard, and emotionally challenging, would be an understatement. And if you'll let me jump on my soapbox for just a minute here…
Why don't high schools encourage college alternatives and the kids who college isn't right for? Let's not forget about them. Let's celebrate them too. Let's make them feel like their decisions are just as valid and their lives have just as much value and potential as the college-bound.

Okay, I'm done.
Putting the idea to RV full-time in front of him wasn't difficult and neither was him saying yes. Photography is one of his passions and he's been able to fully embrace it and hone his skills. Just look at his Instagram. (Pardon my mom bragging moment.)
Our Son in Middle School
This conversation was an easy one. We could have said to our middle schooler something like 'Hey, so we're thinking about moving to XYZ country and living in a tent while living off the land and learning all the ways of the indigenous people' and he would have said 'Cool!'
So asking him what he thought about selling our house and most of our possessions and moving into an RV to travel the U.S. and Canada full-time was the best run on sentence he's ever heard leave our lips. 🙂
He loved the idea of non-traditional schooling and as one of his birthday presents, we actually pulled him from school and started homeschool in February, even though we weren't leaving until May.
Part of his schooling ended up being everything it took for us to hit the road. From RV and truck shopping to pulling the travel trailer for the first time to route planning, this was hands-on learning at its best.
Related posts:
Step 3: The Decluttering Process
In the few RV living Facebook groups we're a part of, one of the things people who are about to embark on this journey stress out over the most is their material possessions. They have a hundred questions swirling around in their heads while they're trying to sleep at night.
Questions like:
Do we store all our stuff?
Do we sell everything?
What if I regret selling my things?
What happens if this lifestyle doesn't work for us and we have to move back into a house?
What will people say?
What's the best way to sell our stuff?
And on and on and on the questions go…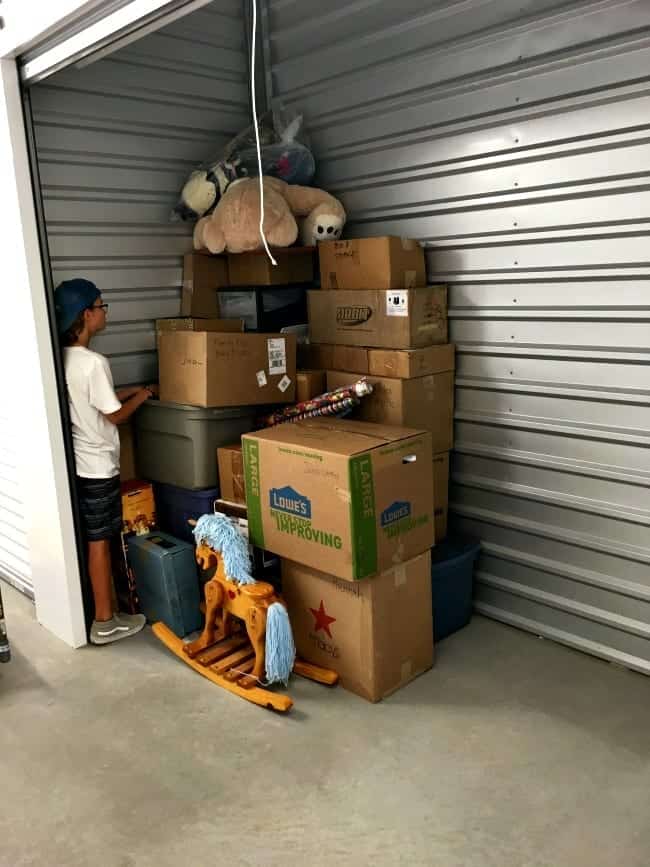 Do what works best for you
The best question to ask in this decluttering process is quite simple: What do you want to do? Not, what are other RVers doing? Not, what do your friends think you should do? Not, what will other full-time RVers think if we don't sell everything?
What works best for YOU.
Do you want to sell everything and not mess with a storage unit? Great. Then do that!
Do you really like your household furnishings, have family heirlooms and the thought of letting go of those things kills you a little inside? If so, store them!
It's up to you. There's nothing wrong with either answer. Make it work for you.
Most likely you'll have to declutter a little (or a lot)
Now, whether you're selling everything or not, most likely you'll have to declutter regardless. This step can be extremely emotional and just about send people over the edge.
Here's what we recommend doing and what we did personally.
Start with the garage.
When just the idea of the task of decluttering started to overwhelm us and give us heart palpitations, we decided the easiest way to go about this was room by room. And the room that made the most sense was the room that held most of the items we didn't use or see on a daily basis.
Our garage held all those boxes of items that went with us (often unopened) from move to move to move. So we started there. We went box by box and sorted everything by what we would keep, sell, bring with us or donate.
We continued to do this room by room until we were done. A few dozen trips to the donation store, the storage unit, and a few garage sales mixed in for good measure, and we had officially tackled the decluttering process.
So, just start with one room. That one room will lead to the next room and so on and so on. Next thing you know, you're done and one step closer to full-time RV living.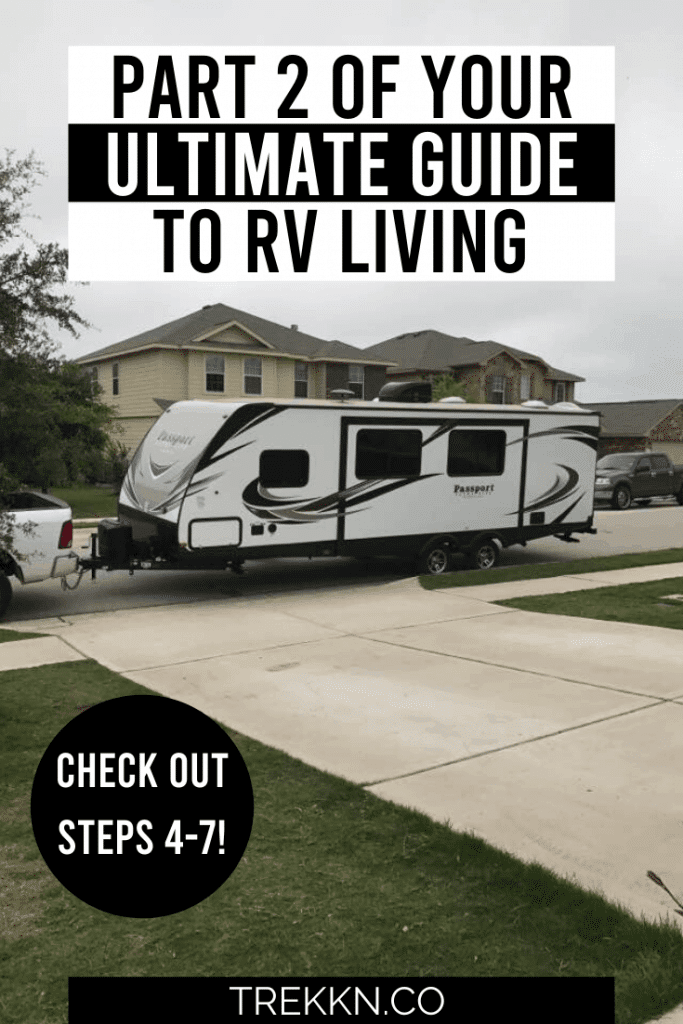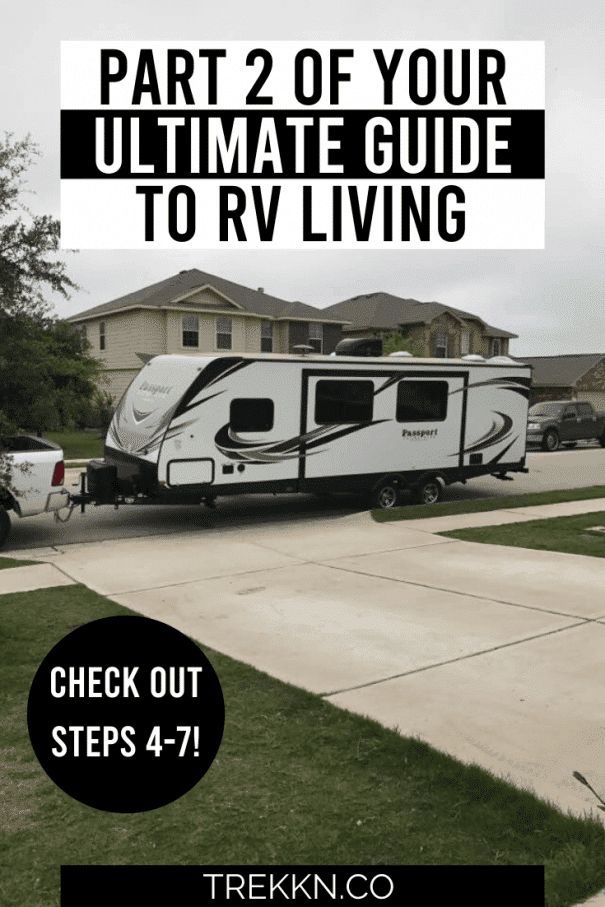 Part 3 coming soon!
PIN THIS TO SAVE FOR LATER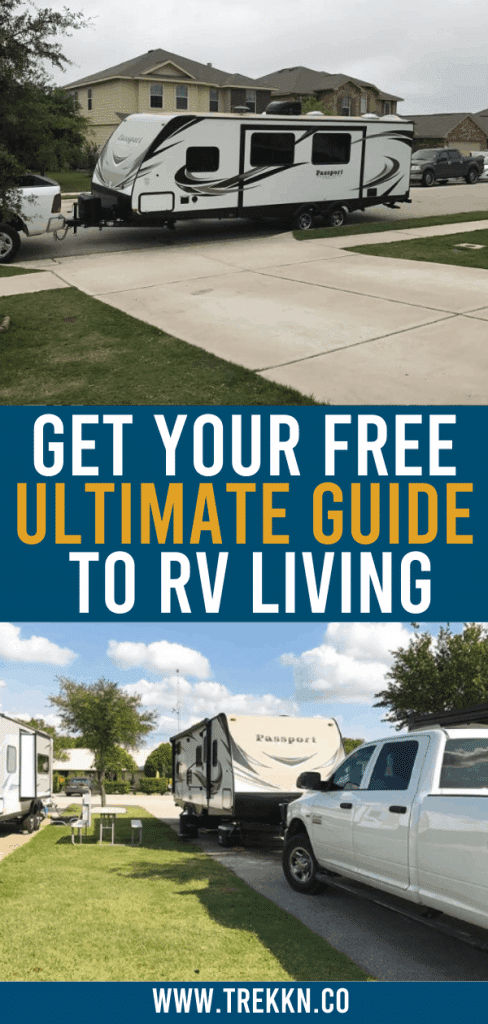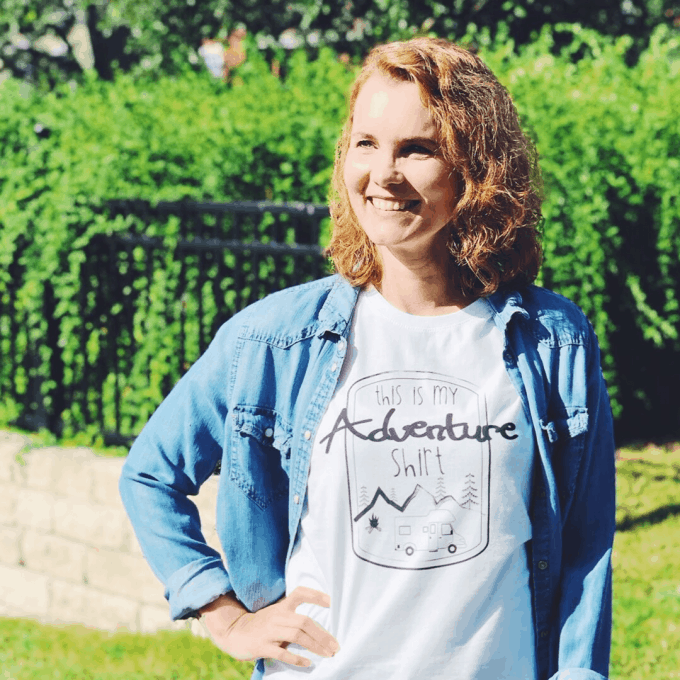 Julie Bonner is one-half of the TREKKN team. She specializes in helping you whip up delicious meals in your tiny RV kitchen, as well as RV organization tips and helping fellow RVers make their RV feel like home. Her favorite RVing spot is in Banff National Park in Canada where yes, the water really is that blue and the people really are that nice.
Last Updated on