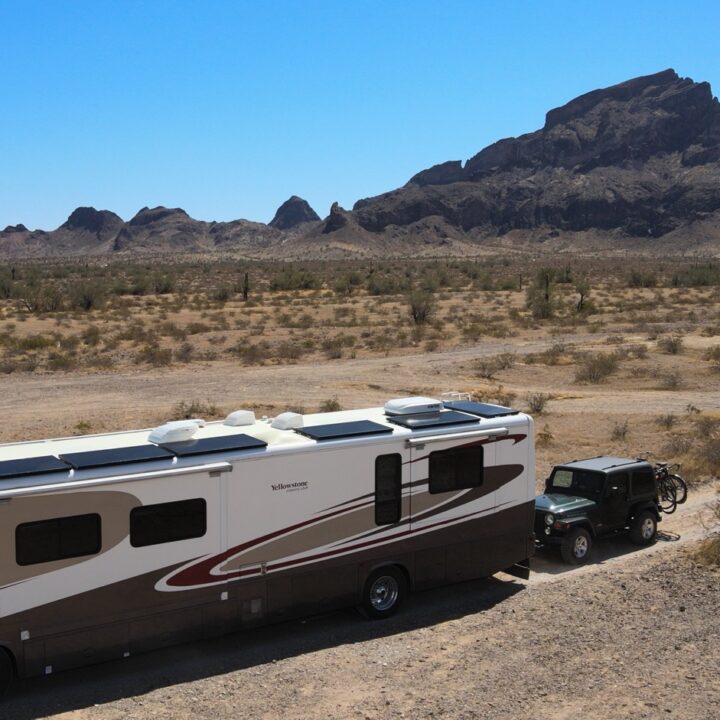 Are you curious about what a Class A solar setup looks like? Keep reading for tips on how you can do this yourself and boondock for days.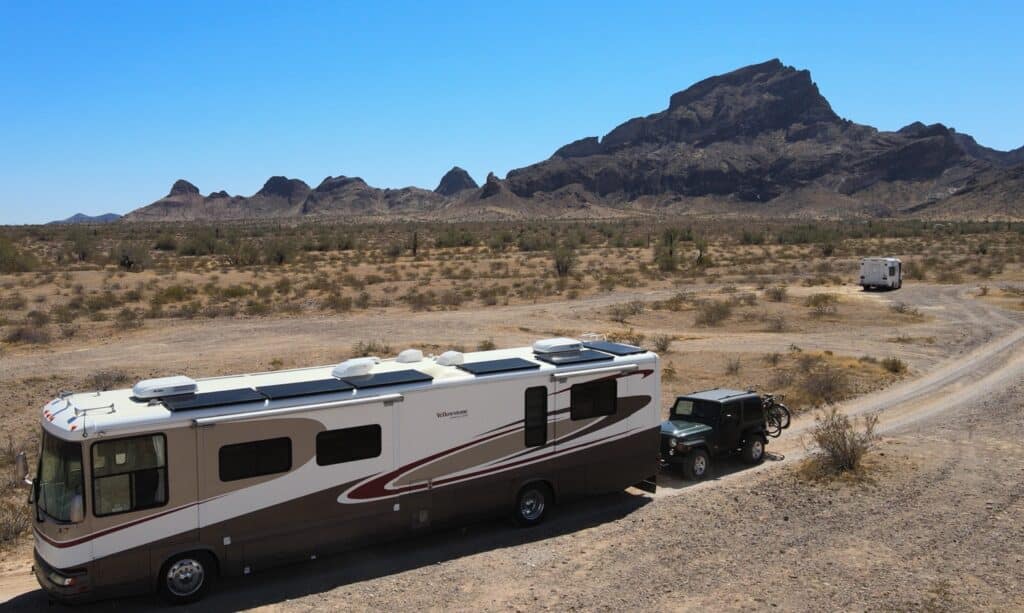 It took us a while to figure out that we wanted to boondock in our Class A (you can do that?), and even longer to install the solar setup in many phases.
We had a weekender campervan that was totally off-grid, with two solar panels and two batteries, it was a simple electrical system.
We did it ourselves and it powered our remote weekend adventures for many years. During that time we lived in our Class A motorhome full-time at RV parks.

One Thanksgiving, we were invited to camp with a group of other full-time RVers out in the Arizona desert.
We rolled up in our campervan to this pop-up neighborhood of huge 5th wheels, full-size motorhomes, and travel trailers with homemade truck campers on the tow vehicle.
And our lives were changed forever.

As silly as it sounds, it hadn't occurred to us that we could outfit the motorhome for off-grid living. The people at that Thanksgiving dinner showed us the way.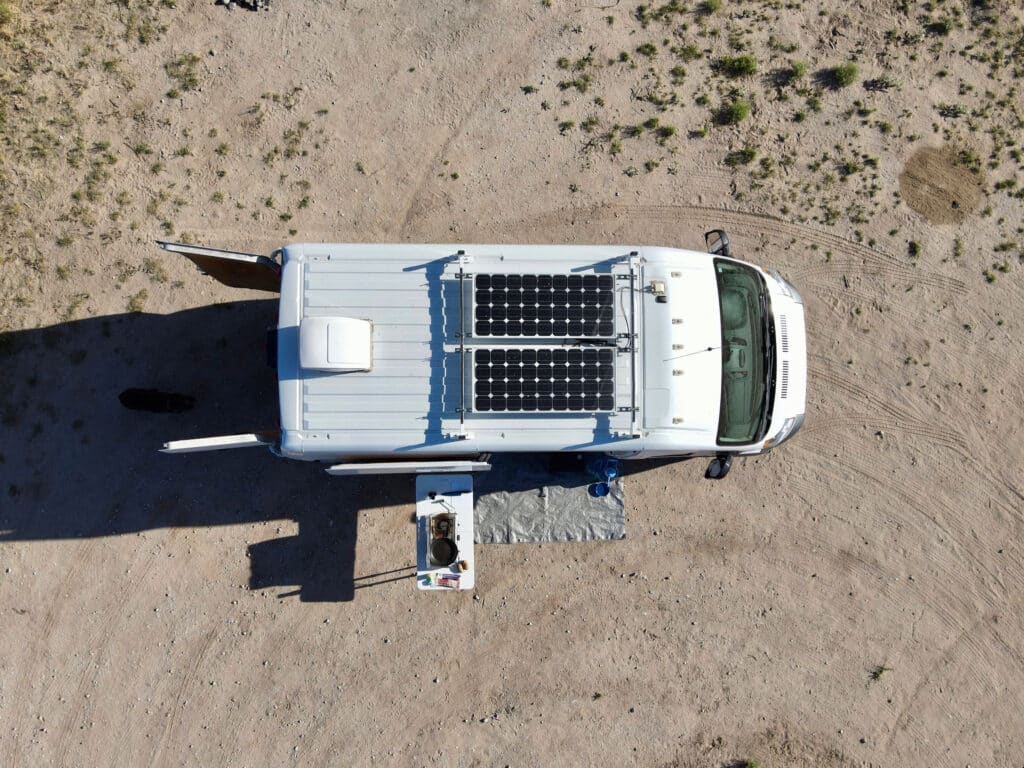 They not only were our inspiration, but they've also been the ones we've called for help every step of the way.

Building a solar system that could power our whole (tiny) house was a completely different animal from the campervan, but at least we knew the basics, right?
With the help of an RV solar setup designer, we quickly realized we couldn't do the job ourselves. So we got on the waitlist for an RV solar installation with PowerUp RV Solar.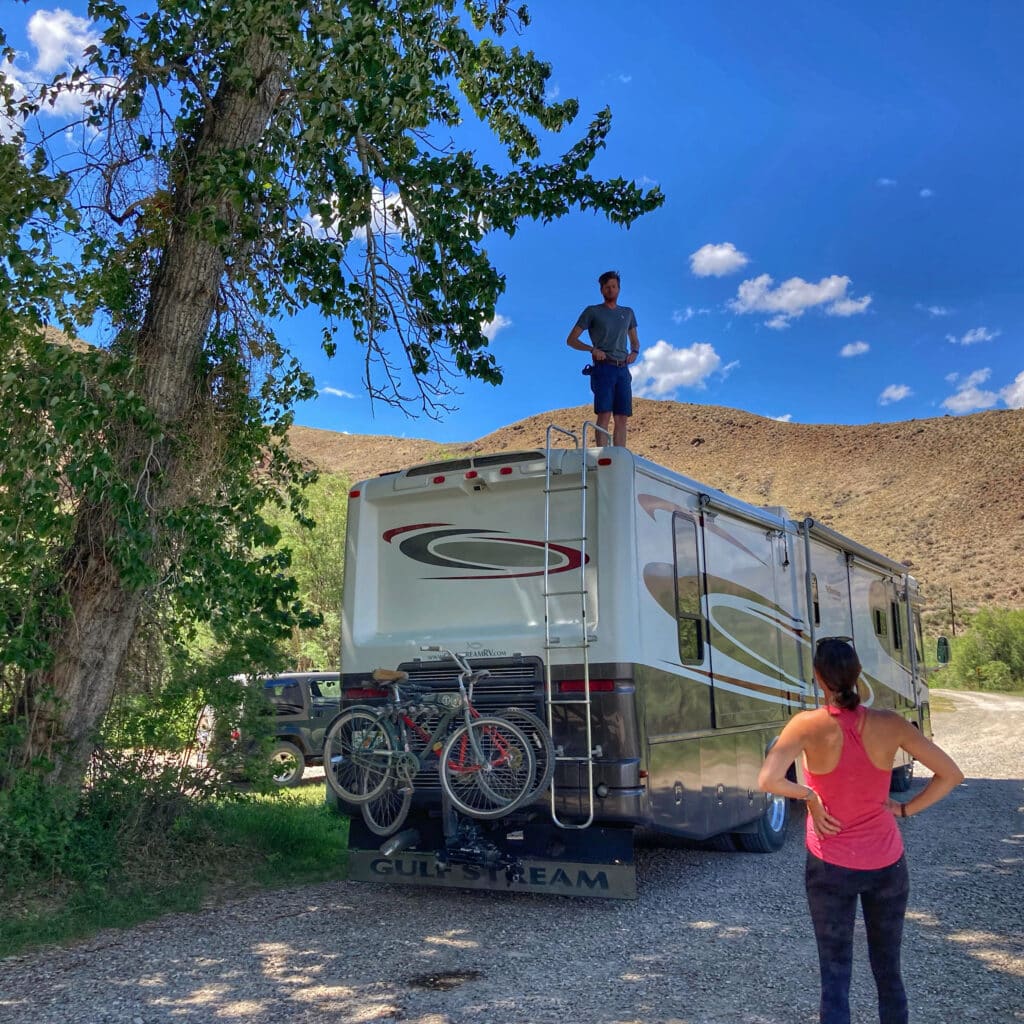 Are You Ready to Install Solar for Boondocking?
If the idea of taking your RV to some wild and remote boondocking destinations excites you, we hope the details below will help you get off-grid. There are many parts and pieces to consider when building a solar system for full-time RV living.

We decided on a very average RV solar setup that can power most of what you need to live normally.
So, we'll review our setup and the pros and cons of it, but know there are many options to do more or less than we did. Our best advice is to just get started.
In fact, we started with just two Battle Born batteries and no other changes to our factory RV system.
Lucky for us, it took about two months to get an installation date with the company we wanted to use. That gave us enough time to test out boondocking and be sure of our decision before the panels went on.
We definitely recommend you get out there and see if you love boondocking before you invest in a full system.

Okay, so what did we end up with? Below is our current setup, with mention of any upgrades we've made along the way.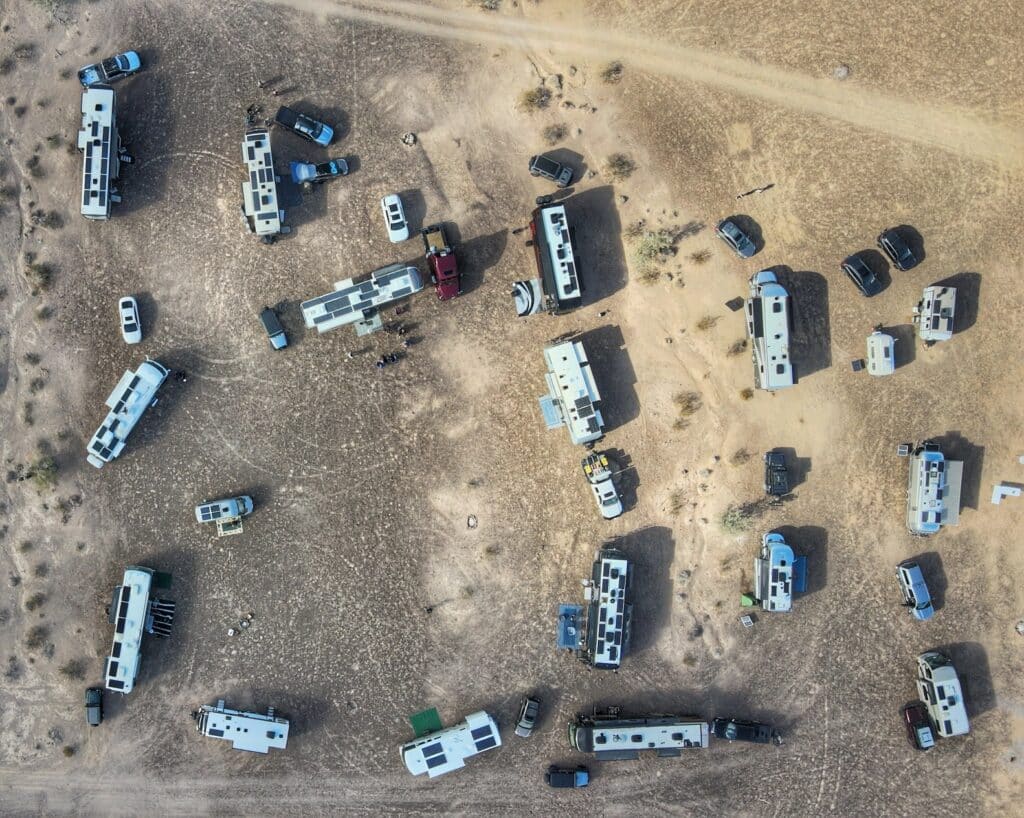 Solar Panels
1440 watts in six 240-watt panels
We opted for used commercial panels that our installer was able to source for us. They were $125 each, for a total of $750.
We have an Am Solar combiner box that combines all of the solar panel output cables, and also seals off the roof where the cables go down inside the bus.

Our panels are installed primarily on the driver's side of the motorhome so that we have a clear walkway and plenty of room to do work on our roof.
This has worked out great for us because our fridge is on the passenger side so we often park so the solar panels get maximum sun, and fortunately, by doing so the fridge gets minimum sun. (You're welcome for that little tip.)

On our 40' motorhome, we probably have enough real estate on the roof to install twice as many panels, but our Victron 150/100 MPPT solar charge controller has a limit of 1440w of power that it can make.
So to add any more panels would require a second solar charge controller.
Our specific controller was $780, which means it cost more than the panels themselves. So you'd basically have to double the system for it to be worth it.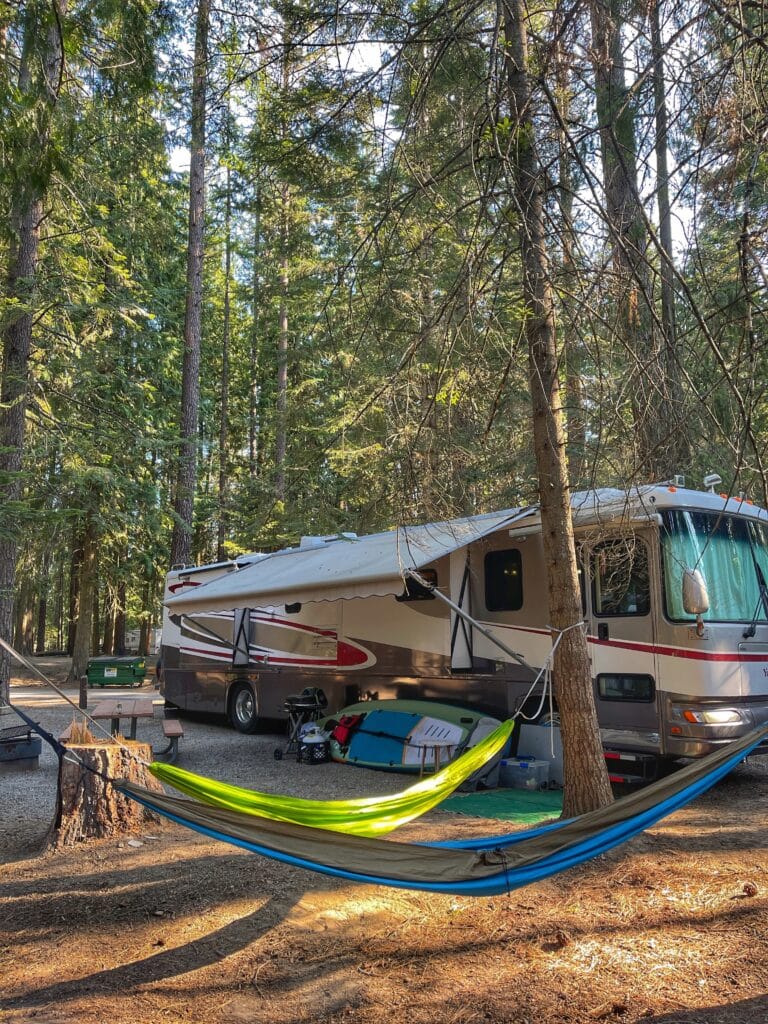 Batteries
500ah of lithium-ion batteries from Battle Born.

Your battery bank is something that's relatively easy to expand over time, and that's exactly what we did. We started with two Battle Born batteries, just to replace the existing lead-acid batteries it came with.
While waiting for our place in line with the solar installer, we got a third battery to help us with boondocking.

Then, when we had the solar installation done, we added a fourth battery.
At nearly $1,000 a piece, you might see why we bought these bad boys one at a time. When we were buying lithium, it was still relatively new and expensive.
Today, one 100ah battery from Battle Born will cost you $874.

We'll get to this next, but when we upgraded our inverter, we also added one more 100ah battery to complete our battery bank at 500ah, which will allow us to upgrade to a residential fridge if we choose to.
Without the prospect of a residential fridge (which will run only on electricity), 400ah has been sufficient to fully power our lives.

There was a significant amount of rewiring to be done when we upgraded our inverter, so we also used this opportunity to move our batteries from an outside bay to inside the RV under our bed.
We did this to have better temperature control over the batteries, as their performance decreases in cold temperatures.

The last, but potentially most important, part of our battery system is the Victron SmartShunt all-in-one battery monitor. This part monitors the flow of power in and out of the batteries and reads out an accurate state of charge.
We paid $165 for ours, and it looks like they're still about the same price today.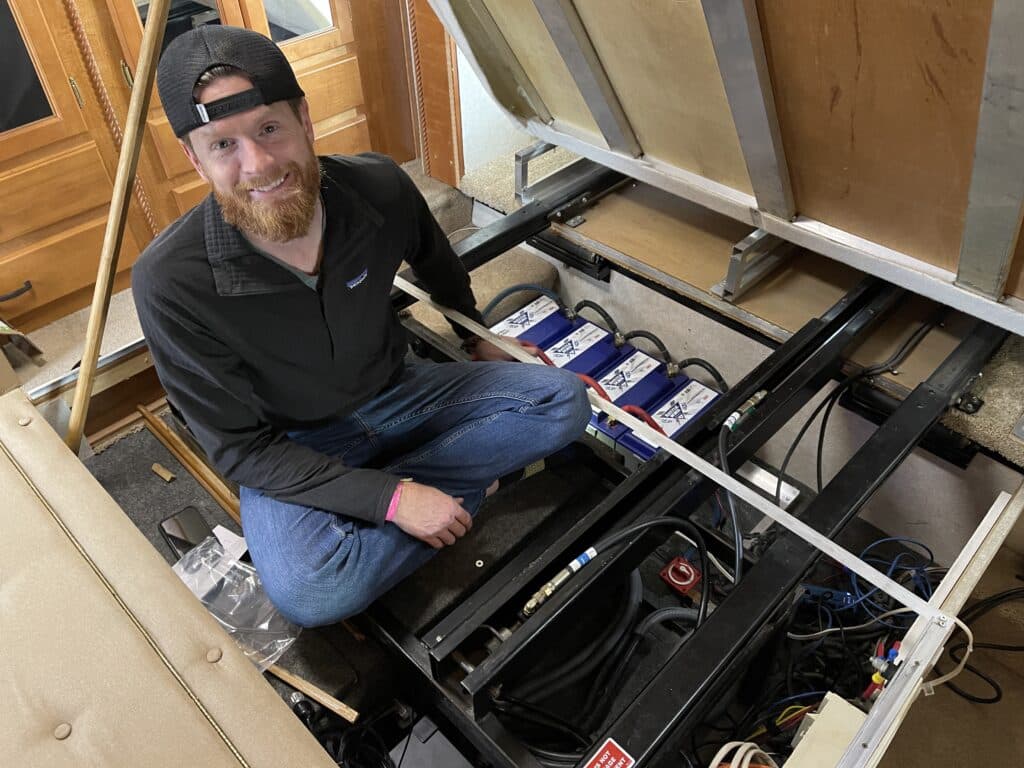 Inverter
After all this, something still needs to convert the solar power (DC electricity) into something the RV can use (AC electricity). That's where the inverter comes in.
We currently have the new Victron MultiPlus II, but we didn't always, so let's go back to the beginning.

When we had our solar installed, we chose to save on costs by keeping our existing inverter. Our Class A motorhome came with a Xantrex Freedom 458 (modified sine wave) 2,000-watt inverter.
We had heard rumors about a new Victron inverter on the horizon, so we figured we'd use the one we had until it died, or until the new one came out.
When it came out, the MultiPlus-II cost about $1,700.

Amazingly, the original inverter (that was 19 years old!) lasted until we could get the new Victron MultiPlus-II.
Other than needing a new inverter, we were specifically interested in the MultiPlus-II because it's the first inverter designed for 50amp RVs with two hot legs in and out.
This means that we can power our entire coach with one inverter. Plus, this new inverter is a pure sine wave output, providing us with safer, more efficient power.
As an added bonus, it came with a 1000w increase in capacity over our old one.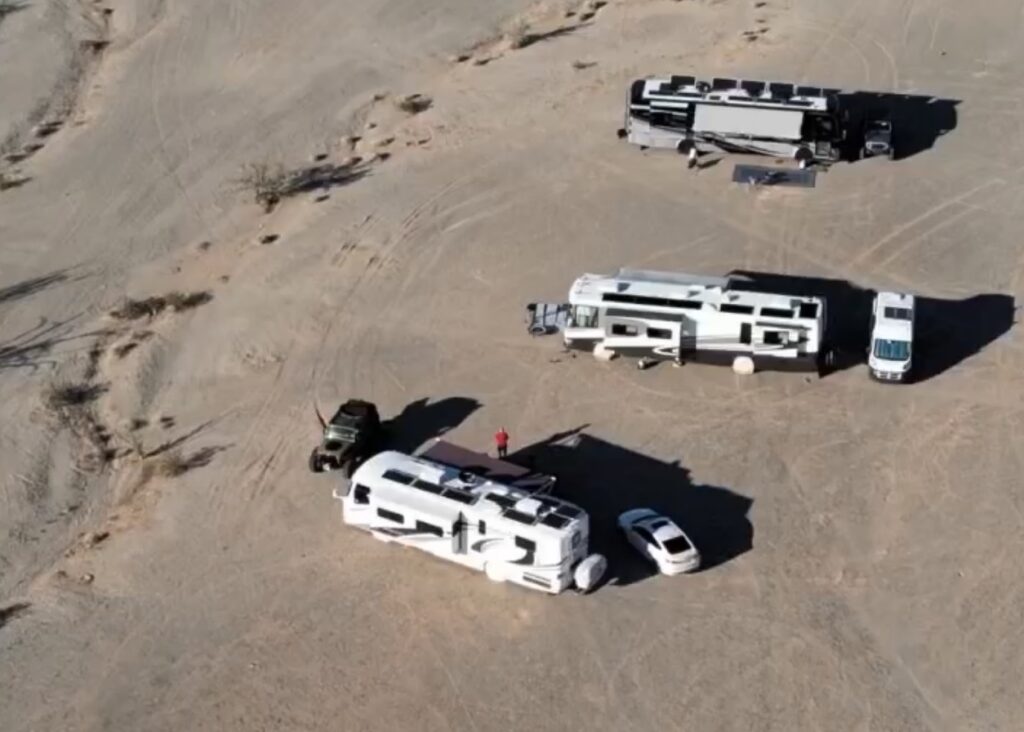 What Can We Do on Our Solar System?
With the new inverter installed, we can live a lot more normally than we could before.
Our new inverter can supply 3000w of continuous power and up to 6000w of surge power. And some appliances surge when they're starting, like the air conditioning units.
So now we can run a hairdryer (1875 watts) which was too much-sustained demand for our old 2000w inverter.

Living off-grid you become very aware of how much power it takes to run your favorite appliances.
With our old 2000w inverter we had to be very careful to only run one appliance at a time. With our 1000w additional load capacity, we rarely have to think about it, and that's been a big upgrade for us.

We can now run any normal household appliance. We use our toaster oven (1200w), tea kettle (1500w), and blender (300w) every day with free power from the sun.
And even better, we can run our air conditioning, because the new inverter can handle the start-up surge (but we don't have enough solar or batteries to run the ACs for more than a couple of hours a day).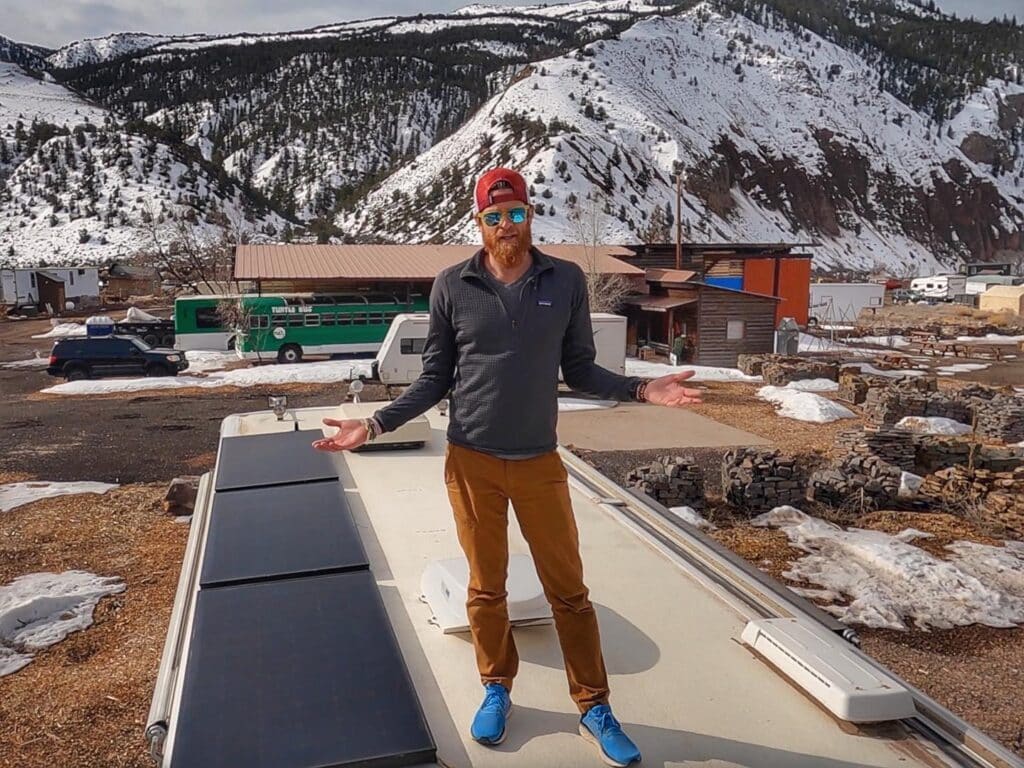 What Can't We Do on Our Solar System?
While we can operate our air conditioning units, we can't run AC all day like we might if we were plugged into the grid (shore power).
If we ran the AC for too many hours continuously, it would likely overheat the inverter and deplete all our battery power.
We do have friends with solar systems robust enough to run AC all day, but for us, it hasn't seemed worth it to make the giant leap in increasing the solar system just for AC. Our home has wheels, so if it's too hot, we move!

When it's winter and there aren't as many hours of daylight, when it's a cloudy day, or when we're parked somewhere that's tree-covered, we do have to watch our power consumption.
When the sun is shining bright, anything is possible, but when that's not the case we adjust our usage.
For example, we may not bake cookies on a cloudy day. We have most of our outlets on timers, and in winter especially we'll adjust the schedule to have them turn off earlier and turn on later each day.

The last pieces of equipment we can't run entirely on solar are our fridge and hot water heater.
When it's a sunny day and our batteries are fully charged, we can turn on our electric hot water heater and switch our fridge from propane to electric.
But these are both too high of a draw for us to run off our solar set up all the time.

We still have our original RV propane-electric fridge, which is horribly inefficient on electricity.
We love the option to run the fridge on propane when we're camping in bad weather, but a new residential fridge would be a lot more efficient on electricity.
So we're in the same boat as we were with our old inverter: we're waiting for the fridge to die or for a new 12V fridge to come out.
Where Will You Take Your Class A Boondocking?
A solar setup can be a large upfront investment, but the ability to camp off-grid makes it all worth it for us.
Our Class A solar setup has opened up so many more options for where we get to park. We love boondocking in National Forests, State Parks, BLM, and State Trust land.
Having a Class A means you have all the comforts of home with you, and now you can take it (almost) anywhere!
So what are your biggest questions about getting your rig set up for freedom powered by the sun?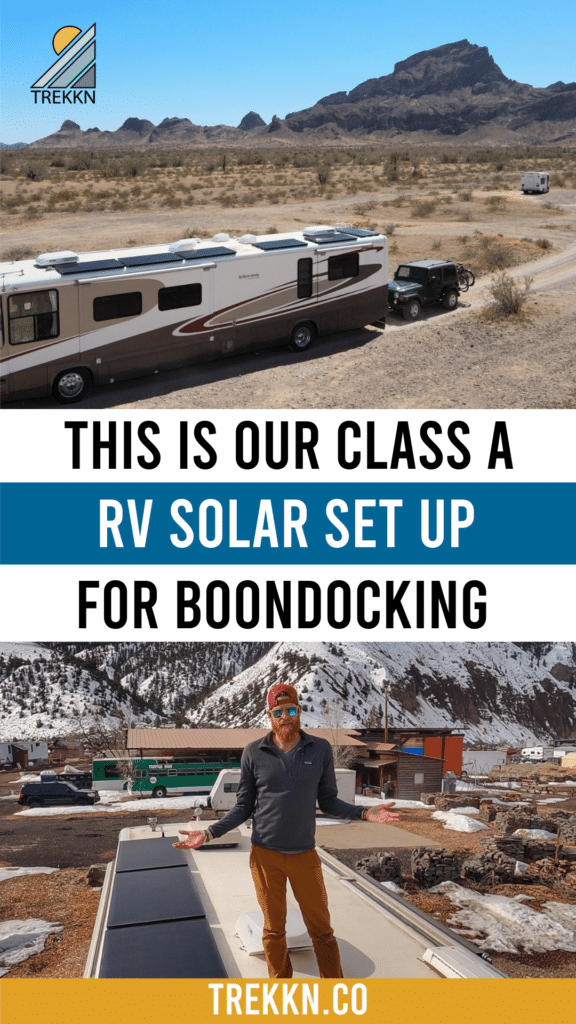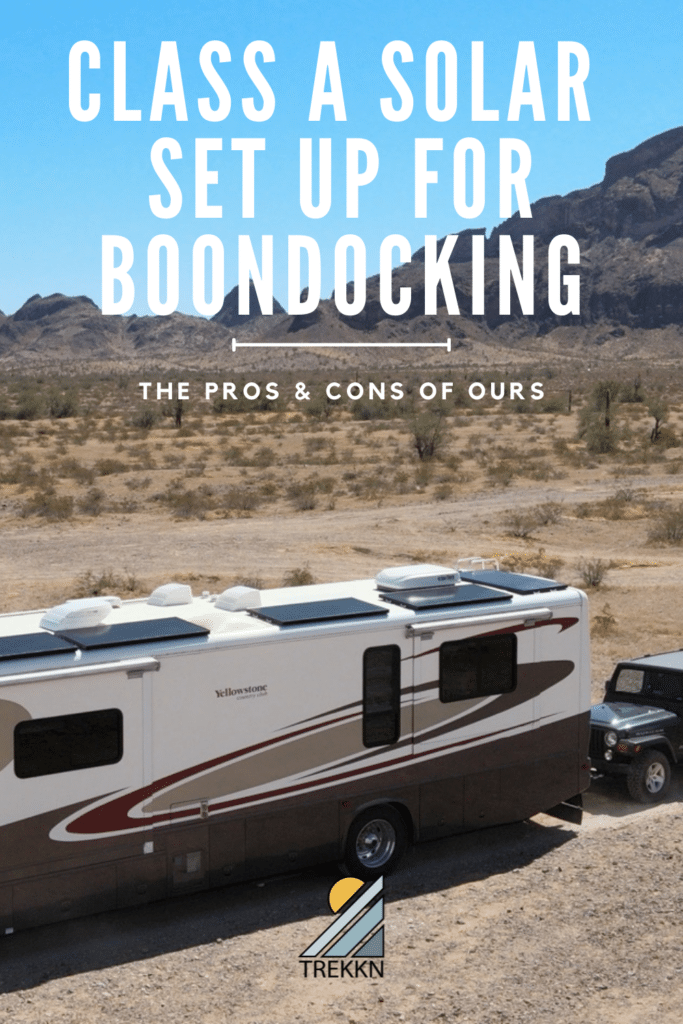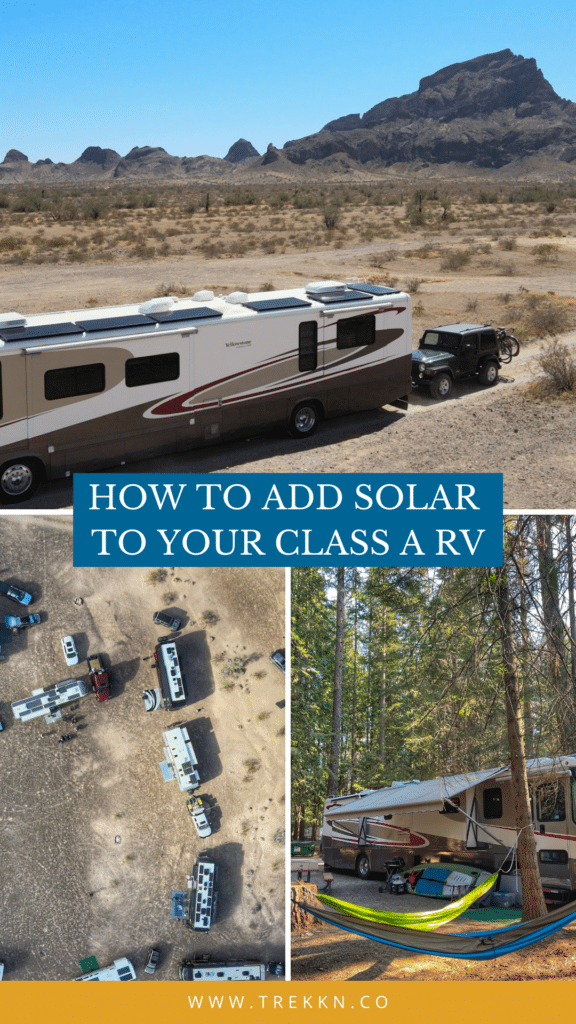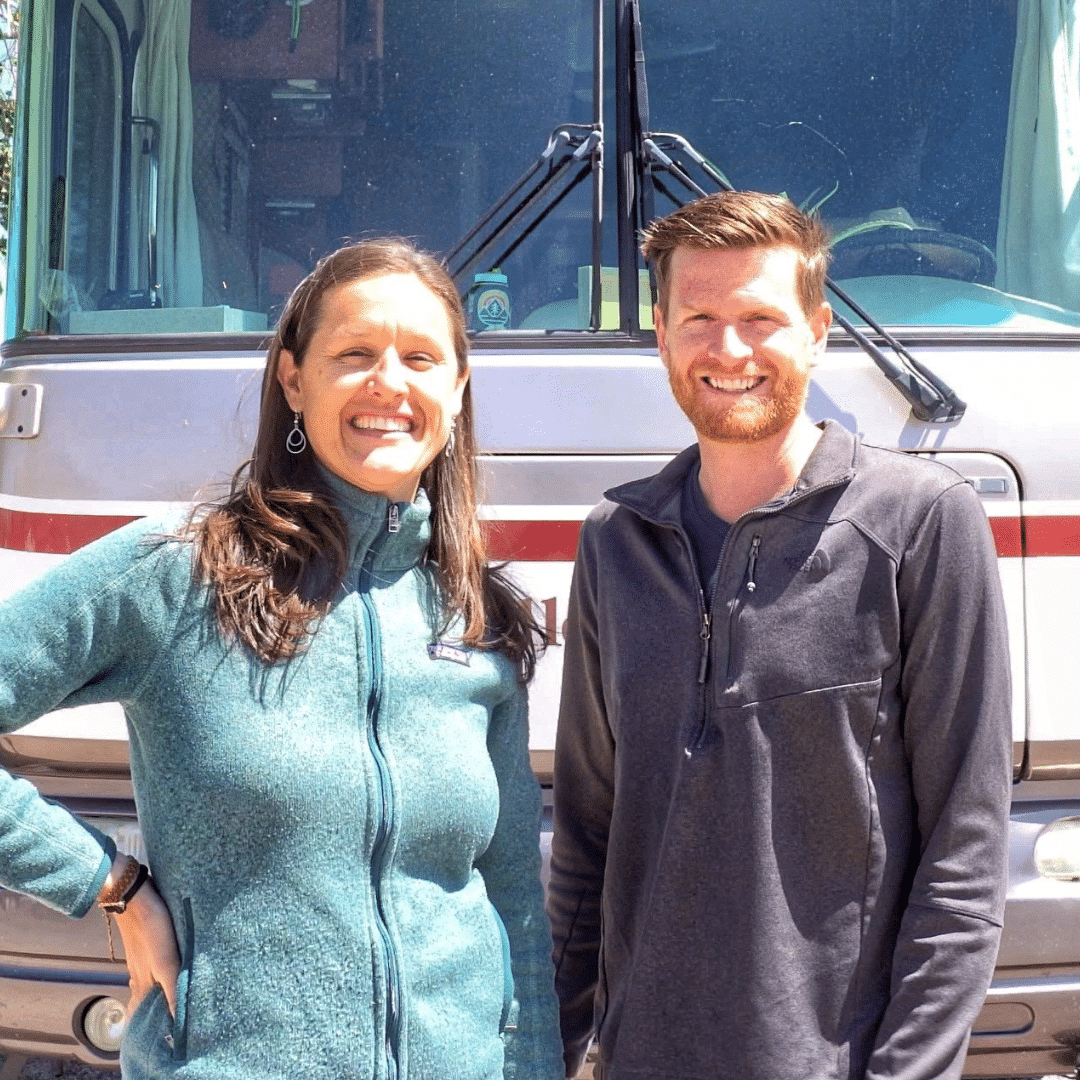 Kristen Sargent lives & works from her RV, primarily boondocking off-grid. She owns and operates a women-led travel company, Legit Trips. Kristen loves to explore new places and inspire others to do the same. If she's not typing away on her laptop, she's off on an adventure- hiking, biking, or SUP boarding. You can follow her RV adventures @PerpetualMoves and learn more about her travel company at LegitTrips.com.