17+ of the Best Outdoor Quotes to Share with Your Nature Loving Friends

Now that we're no longer full-time RVing, we don't spend near as much time in nature as we used to and let me tell you, I'm feeling it. There's something healing about waking up in a National Park surrounded by trees and fresh air.
Even on the days I didn't spend a lot of time outdoors and instead locked myself away in the RV to get some work done, I was still surrounded by nature. I could poke my head out the door with my morning coffee in hand and soak it all up, even if for a few seconds. Or I could glance out my window and see deer grazing nearby or hear the elk calls while in Rocky Mountain National Park. It was absolutely magical.
While I know that the season of life we're in now is exactly where we're supposed to be, I do miss the 'being one with nature' aspect that our new found apartment life doesn't offer so easily. I have to make more of an effort to get out and explore, something I haven't been very good at since settling down a few months ago.
Needless to say, I've had the outdoors, specifically, some of my favorite outdoor quotes racing through my mind as I remind myself how much I need to make surrounding myself with nature a priority. So, since I've had these quotes on my mind, I thought it would be fun to see what some of my fellow travel bloggers' favorite outdoor quotes are.
I'm happy to say, thanks to them, I now have some new favorites. And not just outdoor quotes, but travel quotes as well. (There's even a little Harry Potter gem in here that reminds one traveler it's all about our choices.) I hope you enjoy reading through these as much as I did.
17 of the Best Outdoor Quotes to Share with Your Nature Loving Friends
"Travel and change of place impart new vigor to the mind." – Seneca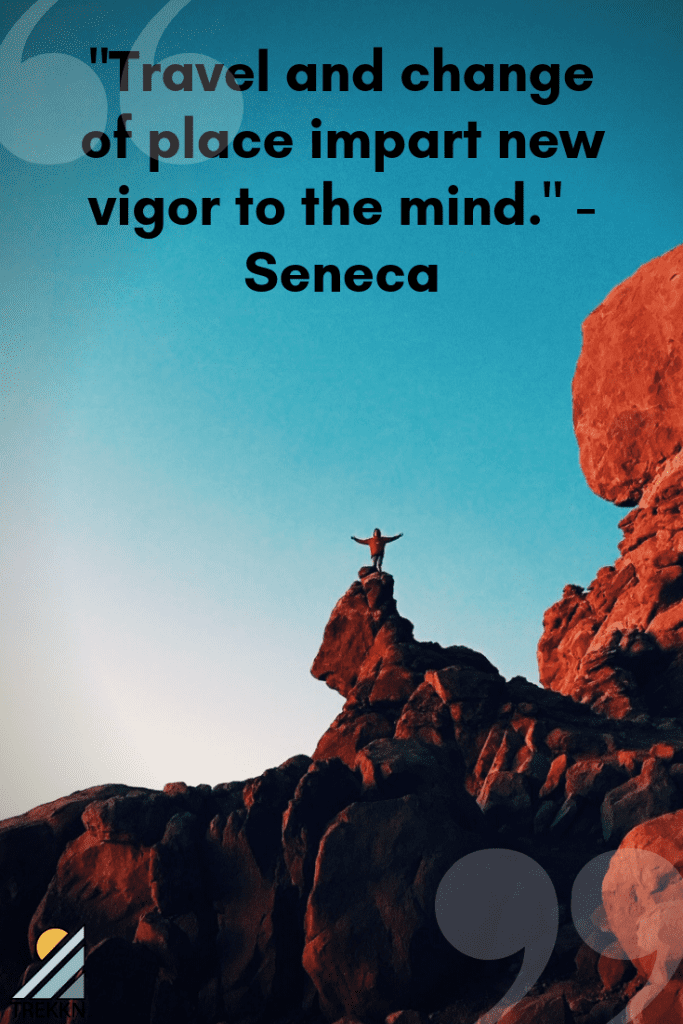 I have been travelling solo for many years but my first solo trip to Australia, in 2004 on a gap year, was a game-changer. I was catapulted from a 9-5 manager life to a life-changing experience. Backpacking around Australia alone, exploring places, meeting locals, making new friends in an entirely new dimension.
Being on the road, in a non-conventional environment, sparked my imagination, my focus and my mind to a world of possibilities. So I genuinely believe that when you feel stuck, the best way to move forward is to travel alone, or change the place. 🙂
Contributed by: Michela from Rocky Travel
---
"A mind that is stretched by a new experience can never go back to its old dimensions." – Oliver Wendell Holmes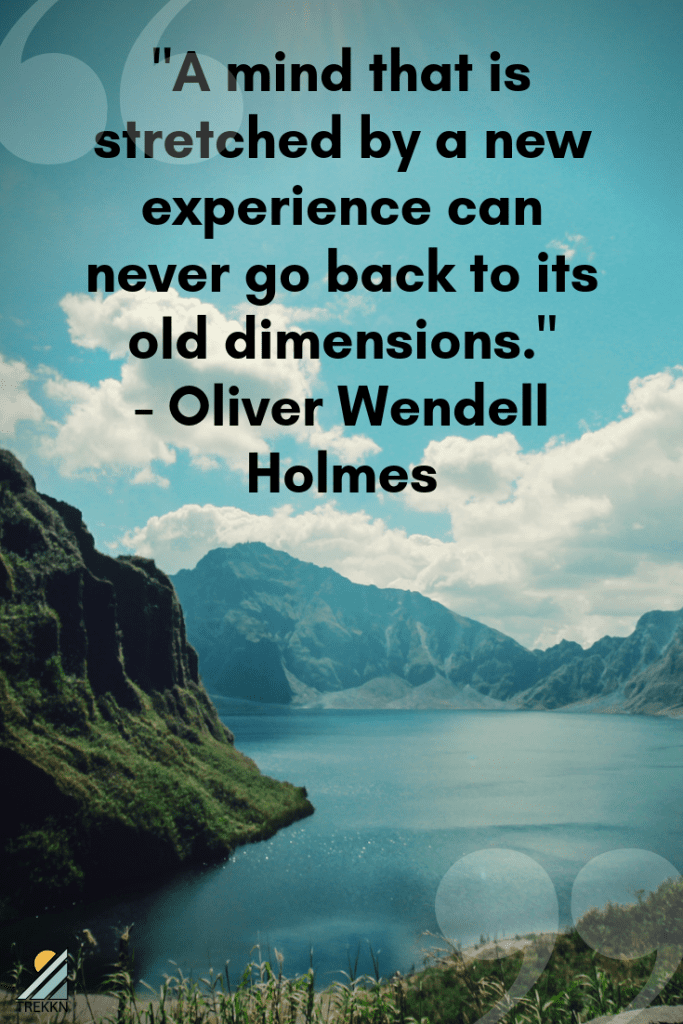 The one and only quote that means a lot to me personally is "A mind that is stretched by a new experience can never go back to its old dimensions", by Oliver Wendell Holmes. It makes me think of the Philippines, the place that opened my world back up.
I first arrived in the Philippines (Boracay Island to be more exact) in 2011, and grown to love the place over the years. I love how it's a vibrant place with a very positive and fun loving vibe, and of course the beaches are amazing too. I really needed this back then, as my personality had become pretty reserved from negative experiences in the past. This was THE reminder that it IS worth throwing yourself out there for me.
As a result of all this, I've been staying in the region, and I created the travel guide websites Boracay Compass and Journey Compass to help other make the most out of their travels too, born from my initial travel experience in Boracay.
Contributed by: Paul from BoracayCompass
---
"Only when the last tree has been cut down, only after the last fish been caught, only after the last river has been poisoned. Only then will you find that money cannot be eaten."
― Cree Indian Prophecy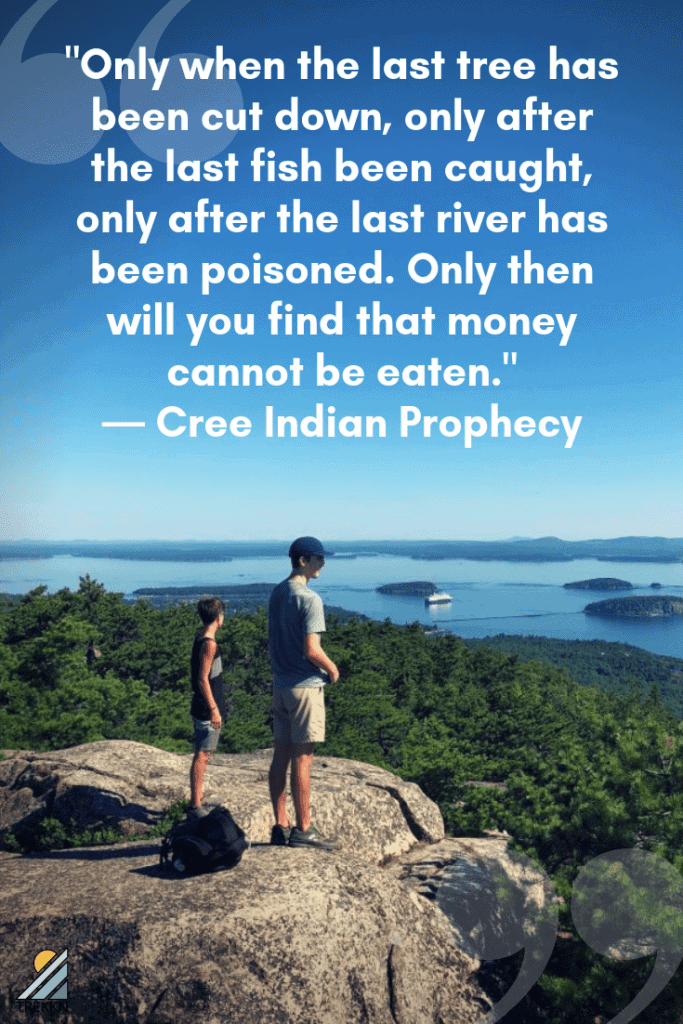 This incredible quote makes me think of the world's oceans and their current condition. Consumerism and mass production have contributed to so much destruction on our planet and I find it really sad to think about how things have turned out and what impact this is having on us and will have on future generations.
On the flip side it makes me think of how the simple things in life are the best. A walk in the forest among the trees or a swim in a beautiful stream or river. If people could go back to realising how beautiful life can be in its simplest form our quality of life – as well as travel – could be greatly increased. I am hopeful for the future.
Contributed by: Ann from Eco Conscious Traveller – Check out her post on the Best Eco Resorts in Thailand
---
"The Earth has music for those who listen." – George Santayana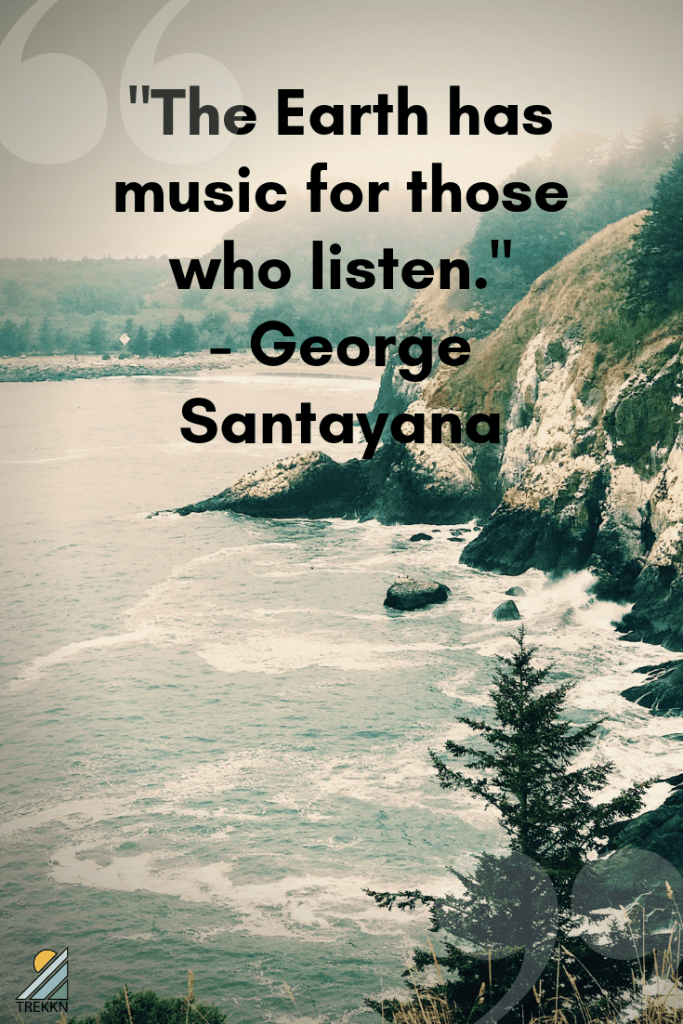 I like this quote because it relates to music, what is something I love. It combines harmony and beauty.
Contributed by: Leo from Safari Nomad – Check out his post on Travel quotes for couples
---
"Just living is not enough… one must have sunshine, freedom, and a little flower." – Hans Christian Andersen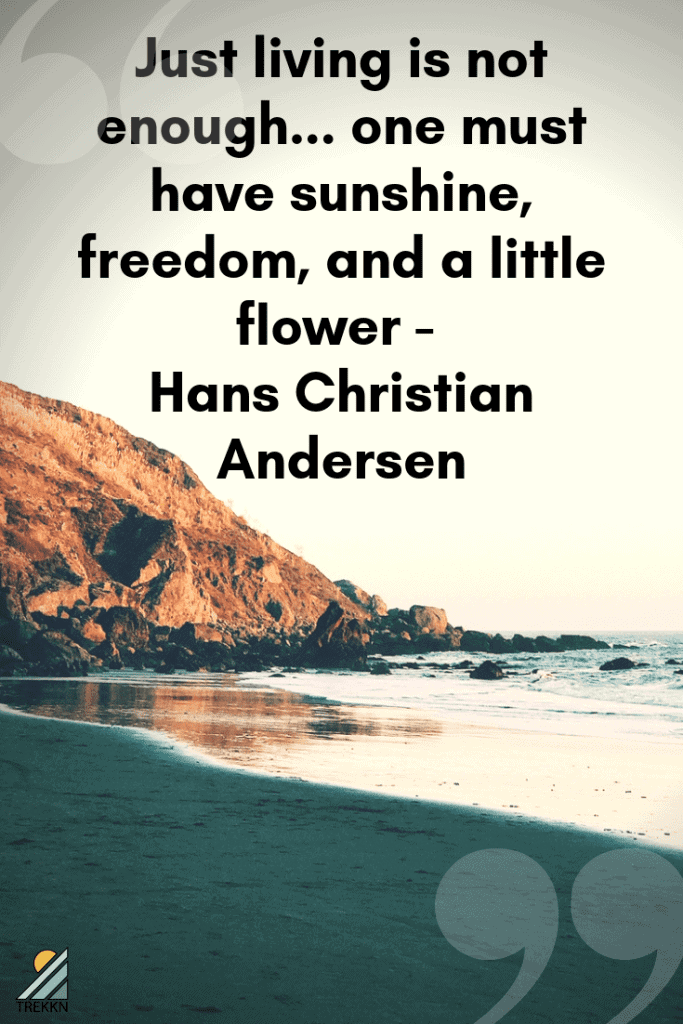 We love this quote because it perfectly describes our family. A few years back, you could say we had the beginnings of a family "making it". Well paid jobs, a nice house and we enjoyed an exotic holiday here and there. But beneath the shiny exterior of the "good life," we were actually quite unhappy. We were working crazy hours to have a bigger house than we needed full of more stuff we rarely used. We had limited quality time for each other and time for ourselves, and our own wellbeing was non-existent.
After our son was born, we realised how desperately something needed to change. We were living the beginnings of the "good life" but surely there was more to living than this? That's when we decided to re-evaluate our life and family set up. With the help of minimalism, we redefined our priorities in order to have more adventure, freedom, and happiness. We downsized and relocated to the coast where we have the beach and the forest on our doorstep. We live simply to enable us to share more of life together and travel the world more freely. From the place we're at now – I'd say just living is definitely not enough.
Contributed by: Kylie from Our World of Adventure
---
"We are by nature observers, and thereby learners. That is our permanent state." – Ralph Waldo Emerson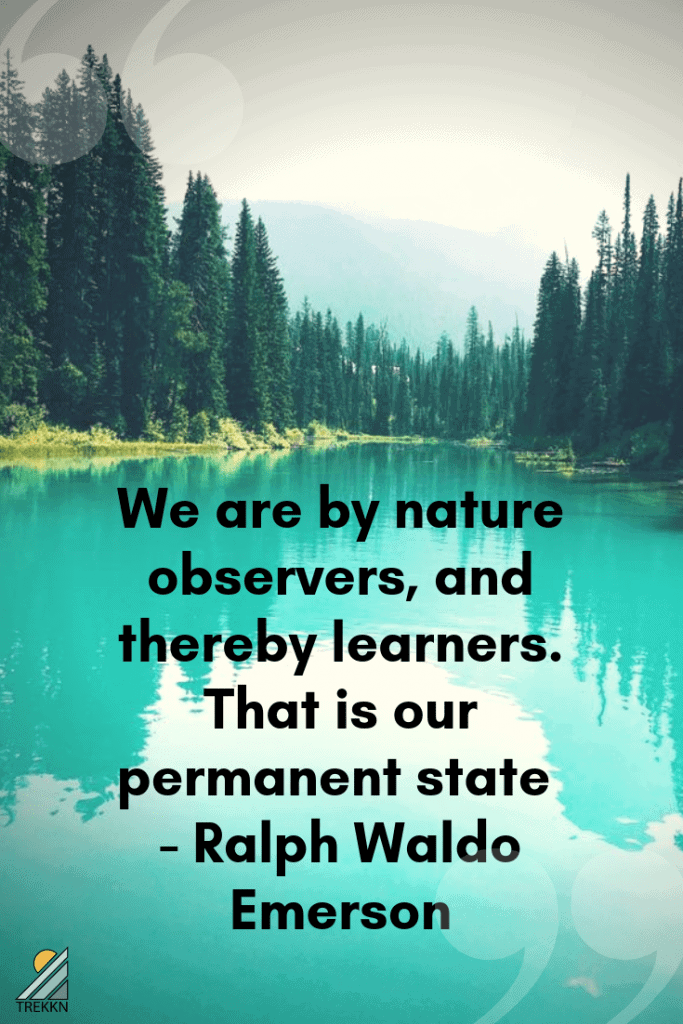 This is one quote by Ralph Waldo Emerson that has recently made it on to my list of favourite quotes. The idea of being nothing but an observer helps me to relax. When travelling in
South America
I find that life moves at a very fast pace and in many cases chaotic.
For me, finding peace by just being able to sit and observe is how I learned to cope with living in big foreign cities. The quote makes me think of my home where I'm usually surrounded by trees and tranquillity. Here is where the words about nature and being an observer console me, and help me to maintain a healthy state of happiness. Because I know that it won't be long before I'm back in tranquillity.
Contributed by: Daniel James from Layer Culture
---
"There are no tourists on the Camino, just pilgrims who haven't found their way yet." – Chico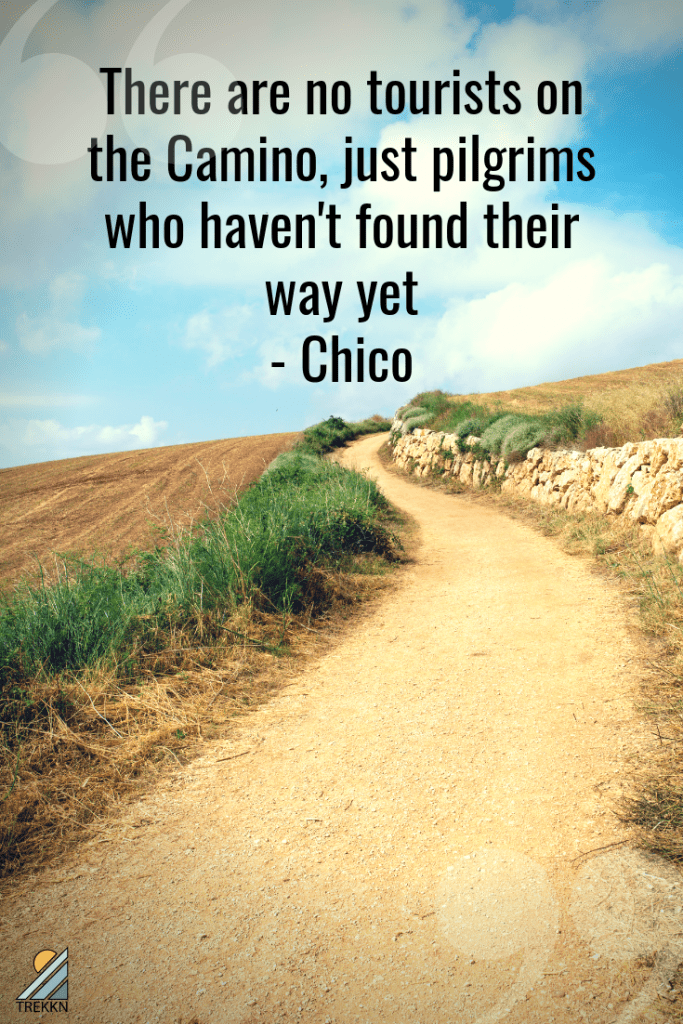 My favorite outdoor quote is about the Camino de Santiago: "There are no tourists on the Camino, just pilgrims who haven't found their way yet". This was said by Chico, a volunteer hospitalero working at the San Nicolas de Flue pilgrims' hostel in Ponferrada.
The
Camino de Santiago
is not a typical hiking trail. It's a pilgrimage trail that has been walked for centuries by people from all over Europe on their way to venerate the remains of St. James in Santiago de Compostela, Spain. Not all pilgrims who walk the Camino do it for religious reasons, but, for most of them, it is a spiritual experience, even if that was not their original intention.
In recent years, the Camino has seen a surge in popularity, partly due to the film "The Way" starring Martin Sheen and Emilio Estevez. The people in this new wave of Camino walkers often want more comforts than what pilgrims' hostels provide.
Among some hardcore Camino enthusiasts, there is a growing animosity towards what they call "turigrinos" — a combination of the Spanish words for "tourist" and "pilgrim". I love this quote by Chico because he rises above these squabbles and shows true Camino spirit by welcoming everyone who wants to experience the Camino.
Contributed by: Wendy from The Nomadic Vegan
---
"And into the forest I go, to lose my mind and find my soul." – John Muir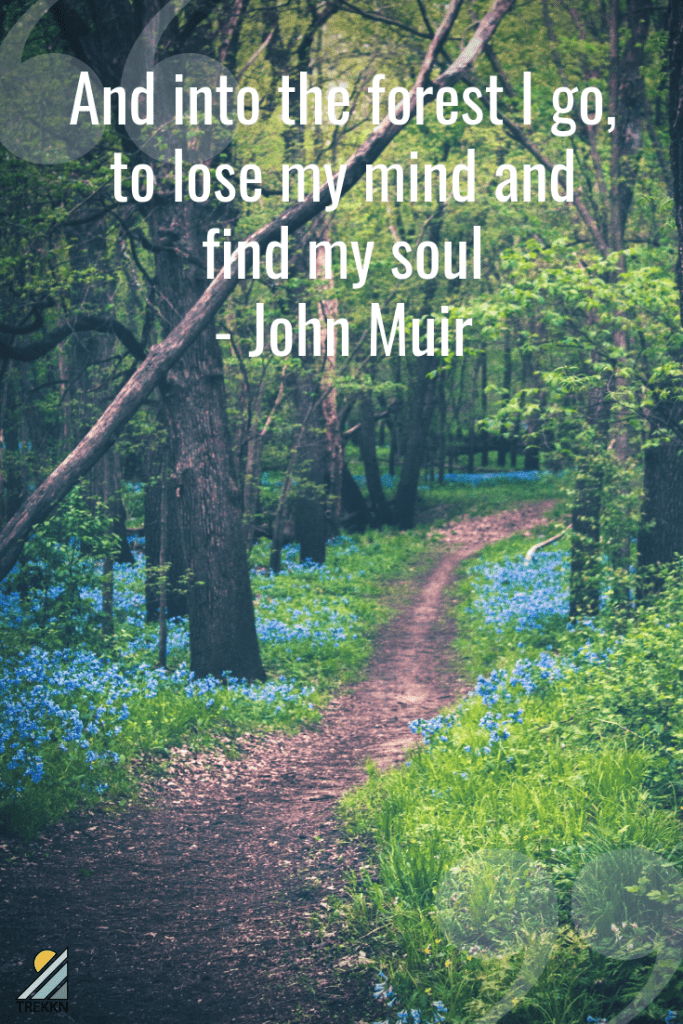 My favorite quote about nature is "And into the forest I go, to lose my mind and find my soul" by John Muir. I love the quote because it perfectly sums up how I feel about hiking in nature. Whenever I am feeling overwhelmed, taking a hike in the forest always seems to help me find the answers that I need. It reminds me of hiking the Inca Trail in Peru. After spending four days hiking in nature, I felt a much stronger connection to my soul.
Contributed by: Lora from Explore with Lora
---
"May your trails be crooked, winding, lonesome, dangerous, leading to the most amazing view. May your mountains rise into and above the clouds." – Edward Abbey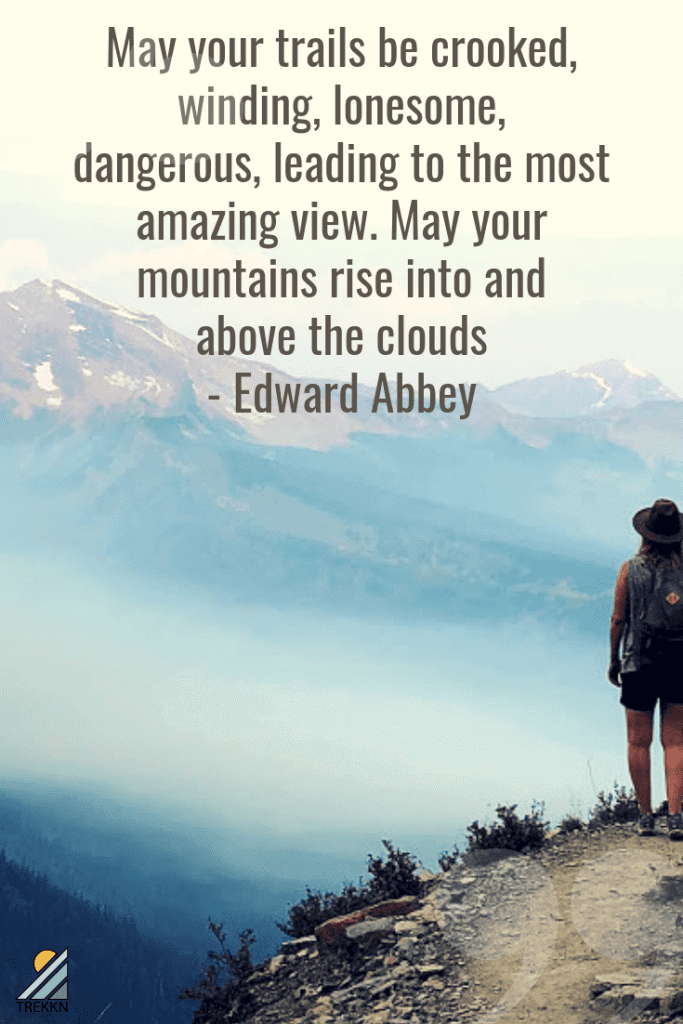 This quote continues on to say "May your rivers flow without end, meandering through pastoral valleys tinkling with bells, past temples and castles and poets' towers into a dark primeval forest where tigers belch and monkeys howl, through miasmal and mysterious swamps and down into a desert of red rock, blue mesas, domes and pinnacles and grottos of endless stone, and down again into a deep vast ancient unknown chasm where bars of sunlight blaze on profiled cliffs, where deer walk across the white sand beaches, where storms come and go as lightning clangs
upon the high crags, where something strange and more beautiful and more full of wonder than your deepest dreams waits for you — beyond that next turning of the canyon walls."
I first read Edward Abbey's Desert Solitaire in college, and his haunting words about our connection to the natural world around us always stuck with me. I didn't understand why I should want my trails to be "crooked, winding, lonesome, [and] dangerous" until I took my first solo backpacking trip into the Olympic Mountains in Washington.
Hiking up to Marmot Pass and the Upper Big Quilcene, I felt free, alive, unstoppable… and largely uncertain. The day was sunny and warm, the smell of roasted pine wood emanating from the forests. Sounds of marmots carried across the valley and bees flitted from one blooming wildflower to the next. I was startled back to reality when a mountain lion, awoken by my footsteps, high-tailed it into the hills.
I kept a wary eye after that encounter, but nothing could hold back the enchantment and wonderment of the wash of pinks and oranges over the Olympic Range as the sun set. I felt like I melded right into the mountains with the stunning nature around me. This foray into the wild only solidified my love for trekking, and I continue to again seek out that feeling about which Abbey wrote.
Contributed by: Christa Rolls from Expedition Wildlife
---
"National parks are the best idea we ever had. Absolutely American, absolutely democratic, they reflect us at our best rather than our worst."- Wallace Stegner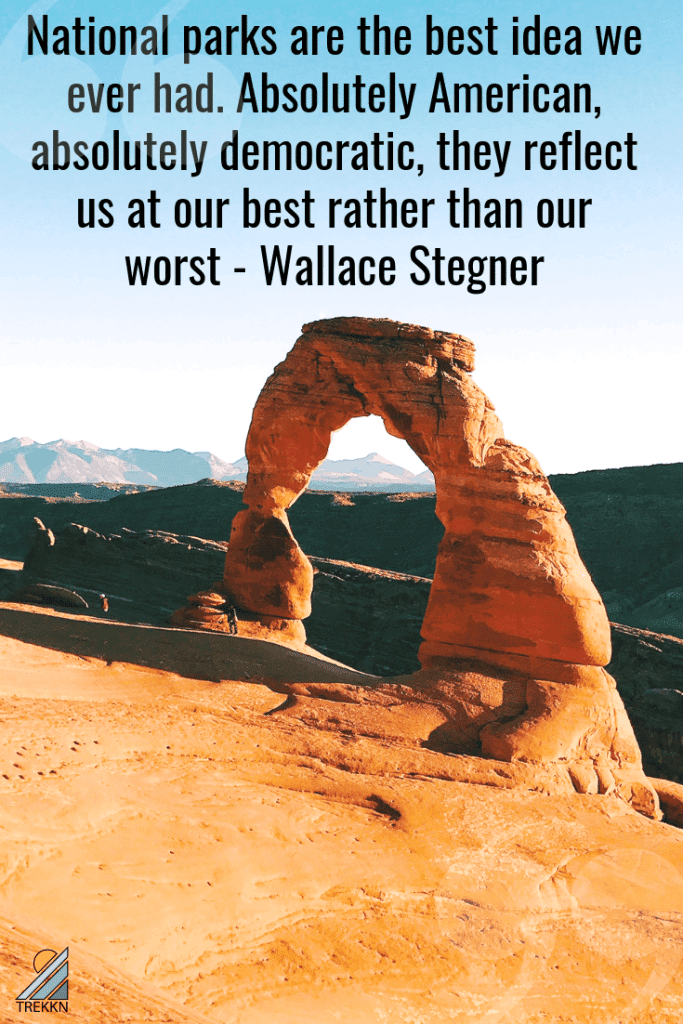 I often yearn to explore outside my homeland of the United States, not only to experience foreign and faraway lands, but also to get away from the polarizing political noise that can accompany being an American citizen.
Recently, I've come to realize and appreciate the vastness and diversity of this country, all of which is encompassed by the U.S. National Park System. From the glowing lava fields of Volcanoes National Park to the alligator-infested swamps of the Everglades, I could spend a lifetime exploring the sixty dedicated national parks in this country and find something new and uniquely beautiful every single day.
And no matter the climate of American society, these parks are beloved by the vast majority of our citizenry, cherished and protected as the treasures they are. Recently, as I watched the sun rise over the breathtaking Grand Canyon, I realized you don't have to be halfway around the world to get away from political discourse. The escape is right in our own backyards in the National Park System, a reminder of never-ending possibilities and the sheer beauty that can be accomplished when we all work together.
Contributed by: Jessica from Uprooted Traveler
---
"It is our choices that show us who we truly are, more than our abilities." – Dumbledore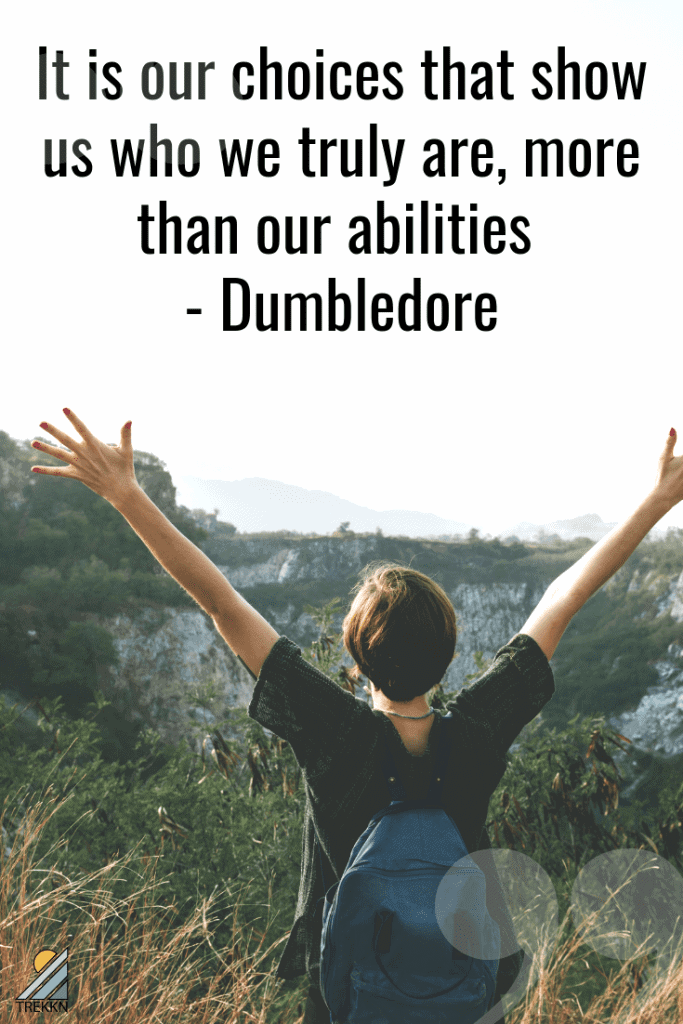 At a particularly emotional moment for Harry Potter, headmaster Dumbledore delivers this gem of a line. It is such a powerful line that you have to sit back and think about its full import. And this is the quote that always comes to mind when I'm sitting in a plane about to take off to a new destination.
Our decision to choose where to go, how we interact with the locals, where we spend our tourist dollars and what impact we leave behind as travelers all boil down to this profound quote. Imagine if we are able to spend lavishly and go to only the top destinations but instead, we choose to go back to nature and embrace slow travel instead. So many problems with over-tourism would be over in a flash.
Remember always, you might be able to do whatever you wish but you live with the consequences of what you choose. So choose wisely.
Contributed by: Priyanko Sarkar from Constant Traveller
---
"Only those who do not climb mountains ask why people climb them. For those who climb, the answer is both obvious and impossible to explain. The everyday concerns of livelihood, of social standing, overdue bills, and futureless romance all fall away before the vast and overwhelming absolute of the mountain. " Paul Watkins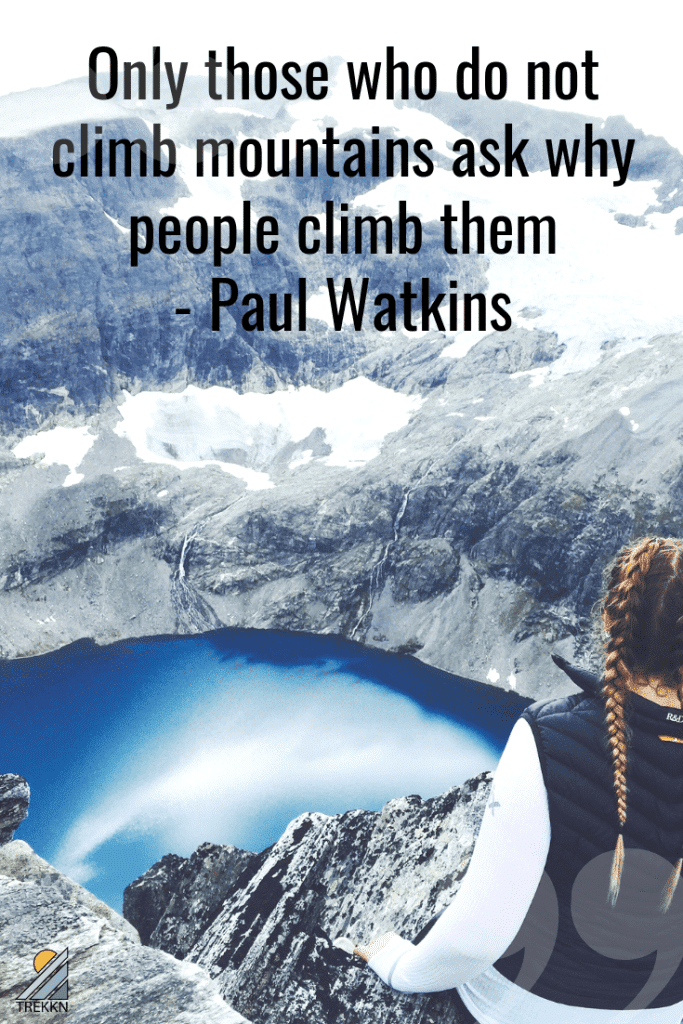 As a city dweller, I used to constantly fall into deep psychoanalysis to ensure I had everything perfectly aligned – everything had to be far from practical, but near perfection and provide the utmost comfort. By the time I started trekking in the Himalayas in Nepal and India, and reached the foot of the majestic mountain range, all that didn't matter anymore.
I realised the simplicity of life and how so much of what we think of vs. what we need in life is vanished and often fallen way under the vast and overwhelming shadow of the mountains. Watkin's quote is a reminder of celebrating the little things and to not sweat the small stuff, as long as you stay true to yourself, seek simplicity, banish consumerism, and best of all do not conform to societal expectations.
Contributed by: Pashmina from The Gone Goat
---
"To awaken alone in a strange town is one of the pleasantest sensations in the world. You are surrounded by adventure. You have no idea of what is in store for you, but you will, if you are wise and know the art of travel, let yourself go on the stream of the unknown." – Freya Stark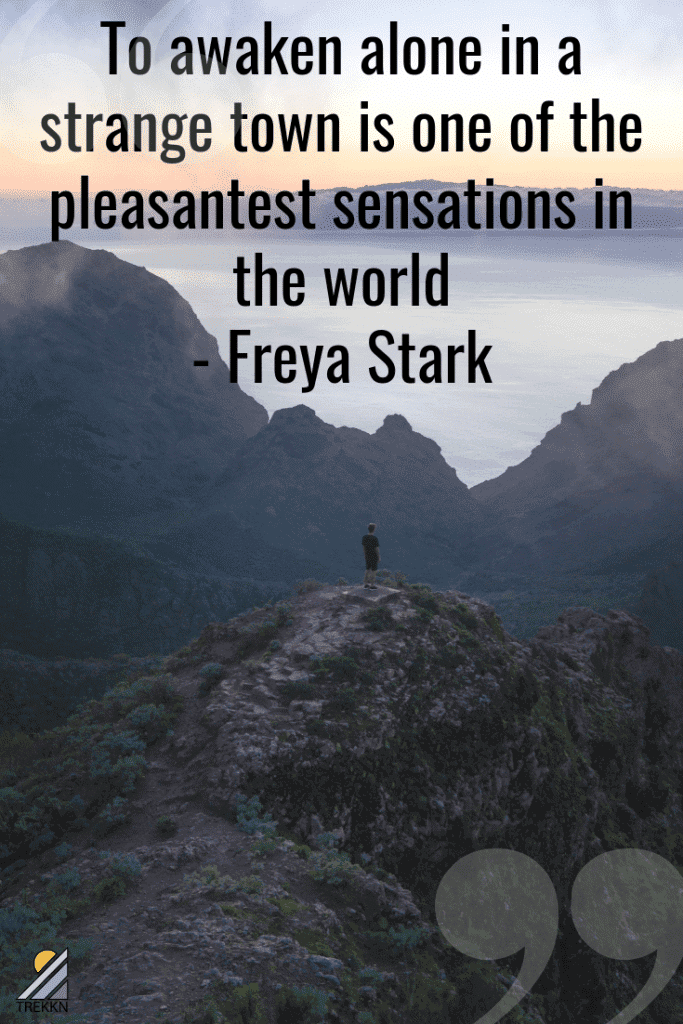 This quote encompasses how I love to explore nature and how I feel about travel in general. Although I can and do plan trips in advance, my most memorable experiences are found in those unplanned segments.
Arriving in Huskisson, a tiny place three hours south of Sydney Australia was one of those times. I had been there briefly more than 30 years previously but as I turned off the highway toward the coast, my senses were tingling.
It was like arriving for the very first time.
Huskisson sits on the blindingly white sand beaches of Jervis Bay where bottle- nose dolphins and migratory whales play in crystal clear waters. One of the bay's beaches – Hyams Beach – is supposedly the whitest in the world.
It was always a surprise to wander down a bushland track and suddenly pop out on to rocks with a staggering view across the bay, or to a lonely beach with a vast blue backdrop and Point Perpendicular Lighthouse across the bay.
I drove to that far flung lighthouse and explored it's sheer cliffs and frighteningly deep drop offs. As I took in the stark contrasts of white washed lighthouse, sparse Australian bushland and a heartbreakingly blue ocean, I thought to myself "Freya would approve".
Contributed by: Jan from Budget Travel Talk
---
"Keep close to Nature's heart… and break clear away, once in awhile, and climb a mountain or spend a week in the woods. Wash your spirit clean." – John Muir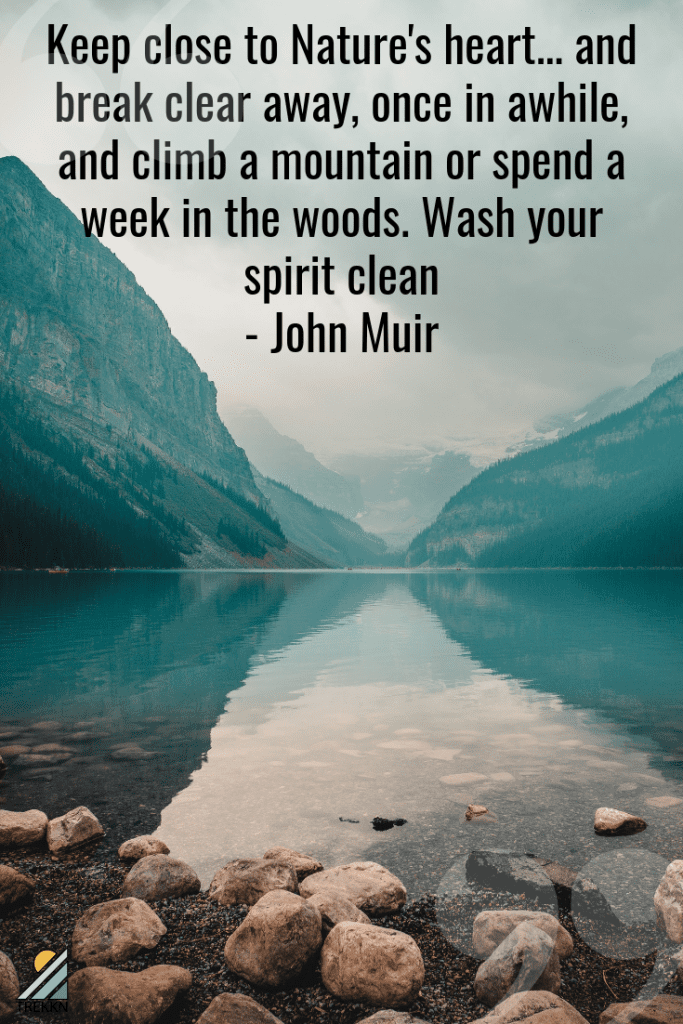 I quite like living in a town. All the convenient urban infrastructure is hard for me to resist. But sometimes I am fed up with urban landscape.
In fact, no city is beautiful when it is cold, trees have no leaves, and there are cigarette buts sticking out from dirty snow. Vivid colors are only seen on shopping windows and advertisements. Sky is rarely blue.
Whereas in the mountains… in the mountains it is always beautiful. Landscape of ideally smooth and sparkling snow reaching the horizon, rustling grass dancing with the wind on meadows, vast mountains slopes covered in thriving greenery, thawing lakes which reveal their sapphire colour. This is real beauty for me. This is what John Muir meant by saying "wash your spirit clean". In fact, every time I come across this beautiful quote I think about my beloved Polish mountains.
Many people find beauty closer and faster – in museums, furniture shops, in their own nails after visit in beauty parlour. Sometimes I do as well. But I find the biggest beauty in the mountains. Nowhere else I am able to regenerate mentally so fast. My mind is fully relaxed in the mountains. When I start hiking, my disk formatting begins.
Contributed by: Joanna from Overhere
---
"Everyone wants to live on top of the mountain, but all the happiness and growth occurs while you are climbing it." – Andy Rooney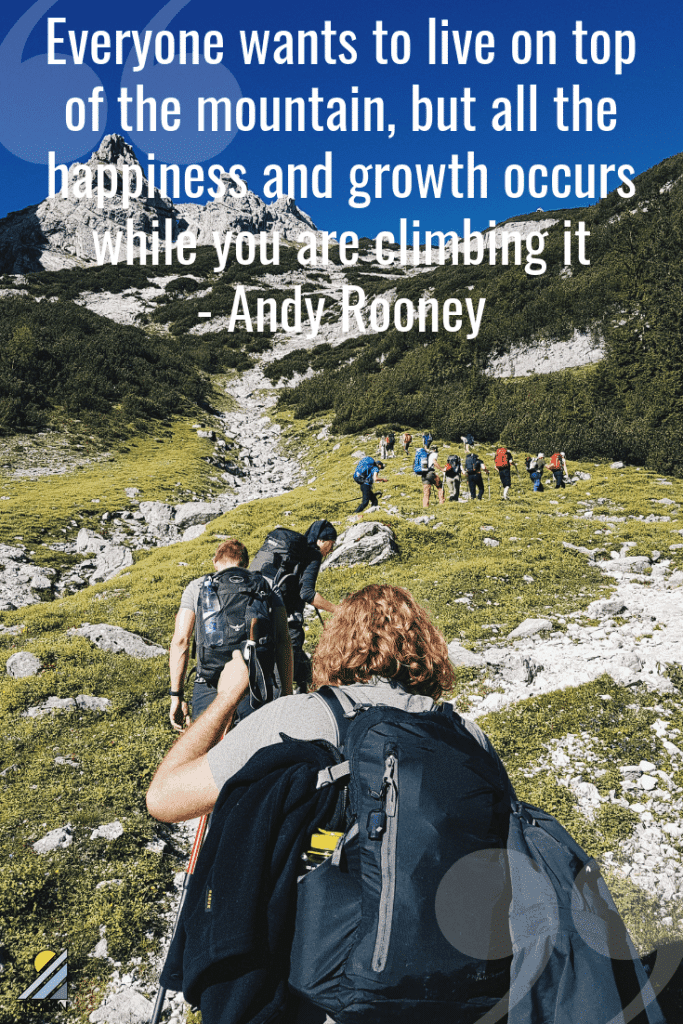 My favorite quote is "Everyone wants to live on top of the mountain, but all the happiness and growth occurs while you are climbing it" by Andy Rooney.
The reason why I love it so much is that it applies to travel as well as to everyday life. I think it's always important to enjoy the journey and not just focus on your final destination. We experience and learn a lot before actually achieving our goals, so it's important to appreciate that part of life.
It also reminds me of my road trip through northern Spain. One of our stops was Lagos de Covadonga, two beautiful glacial lakes located in Picos de Europa National Park. To get to the lakes, we had to drive slowly and carefully along a narrow, winding and ascending road for about 11 km (6.8 miles). As much as I was happy to finally get there, the journey itself was incredible and made it much more meaningful and special.
Contributed by: Or from My Path in the World
---
"Passion is lifted from the earth itself by the muddy hands of the young; it travels along grass-stained sleeves to the heart. If we are going to save environmentalism and the environment, we must also save an endangered indicator species: the child in nature." – Richard Louv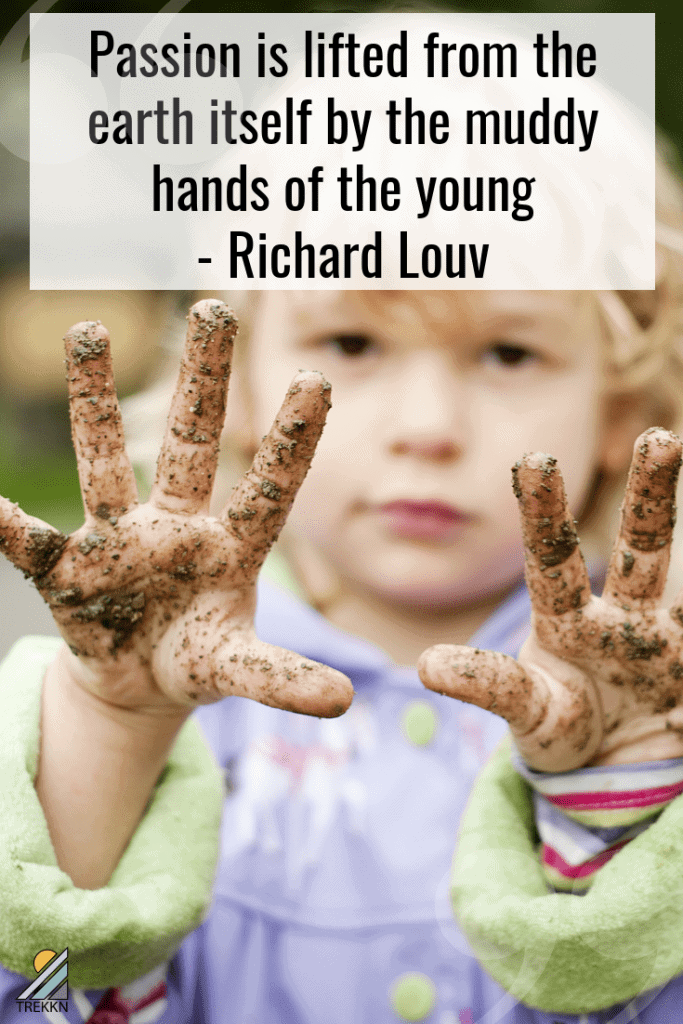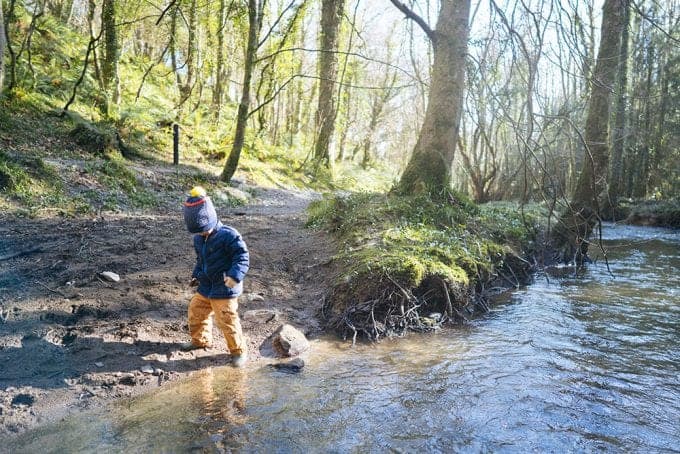 I love this quote from Richard Louv's The Last Child in the Woods, which discusses the necessity of outdoor play for childhood development. He is so spot on! We are losing the beauty of time spent outdoors for our children to television, video games. This quote reminds me to get outdoors with my kids and embrace the necessity of it in our lives!
Contributed by: Vanessa from the Wanderlust Crew
---
"You are not a drop in the ocean. You are the entire ocean in a drop." – Rumi
I love this beautiful quote by Rumi because it encapsulates how I feel when I'm in beautiful natural surroundings — ocean, forest, mountain or countryside.
I think he meant that humans have the whole of life and the universe inside of us and that we're all connected to each other. That's why being outdoors makes people happy, and why walking through the wilderness is a kind of meditation.
For some reason, even though this quote is about the ocean, I always think of it when I'm hiking in a forest or thick wilderness, with trees blocking out the sky so I feel like I've discovered a secret world of my own. Spending time in nature like that reminds me that I'm a part of it!
Contributed by: Maire from Temples and Treehouses
---
There is a pleasure in the pathless woods,
There is a rapture on the lonely shore,
There is society, where none intrudes,
By the deep sea, and music in its roar:
I love not man the less, but Nature more
This quote is beautifully written, and always reminds me of my home town of Ambleside. I have travelled all around the world, but I still find the most amazing place to be the Lake District. A UNESCO world heritage site, and stunning national park, the nature here is world class. If ever I need a quiet moment alone with my thoughts, I can just take a stroll in the surrounding hills.
Contributed by: Demi from Around the World with Her
---
"When your spirit cries for peace, come to a world of canyons deep in the old land, feel the exultation of high plateaus, the strength of moving waters, the simplicity of sand and grass, the silence of growth." – August Fruge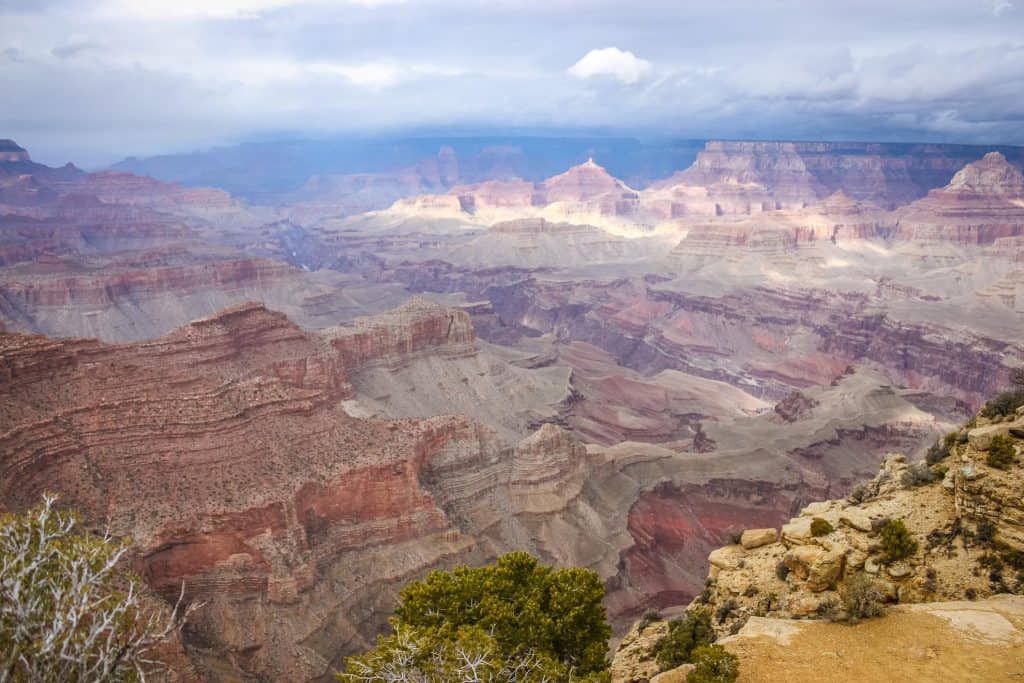 I happened to come across this quote by August Fruge just after my Zion Bryce Antelope Canyon & Grand Canyon road trip and it was just perfect to describe our entire journey. All 4 of the canyons that we visited were uniquely beautiful and tranquil, but 'the strength of moving waters' made me think of Grand Canyon National Park the most.
We visited the Grand Canyon South Rim as a part of our trip and I enjoyed the majestic views of the Grand Canyon from Mather Point and the Desert Drive watchtower. I could see the mighty Colorado River at the bottom of the canyon and it felt incredible that the river water had carved this natural wonder of the world.
Contributed by: Ketki of Dotted Globe
---
PIN THIS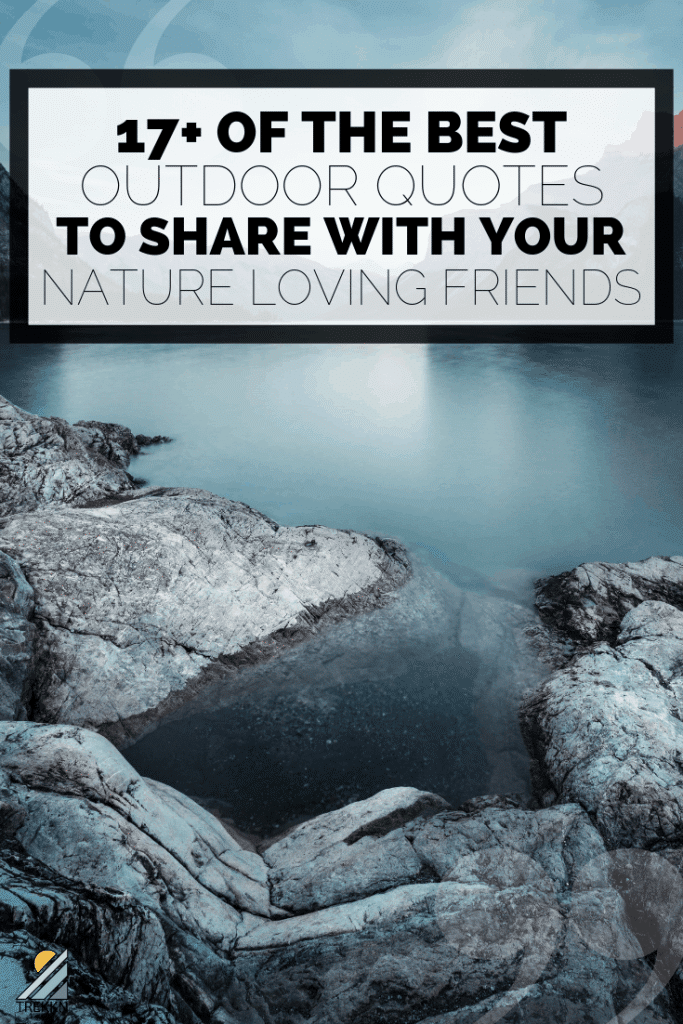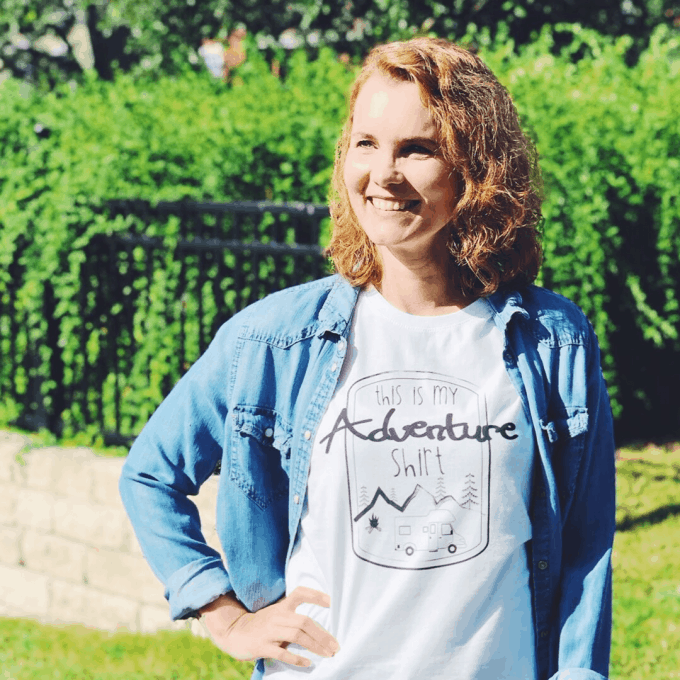 Julie specializes in helping you whip up delicious meals in your tiny RV kitchen, as well as RV organization tips and helping fellow RVers make their RV feel like home. Her favorite RVing spot is in Banff National Park in Canada where yes, the water really is that blue and the people really are that nice.