Best Outdoor Gear for Dogs

This topic is near and dear to my heart. After seven years of solo traveling, hiking, camping, and paddling with my best dog, Rory, I have tried endless gear to help keep her safe on our adventures. I now have three dogs (who are beyond spoiled and have their own gear section in my Jeep). As you can imagine, I know a thing or two about the best outdoor gear for dogs!
Moreover, we have personally tested the majority of the items we recommend below. I know that they are tried and true pieces of gear I will use for many years to come.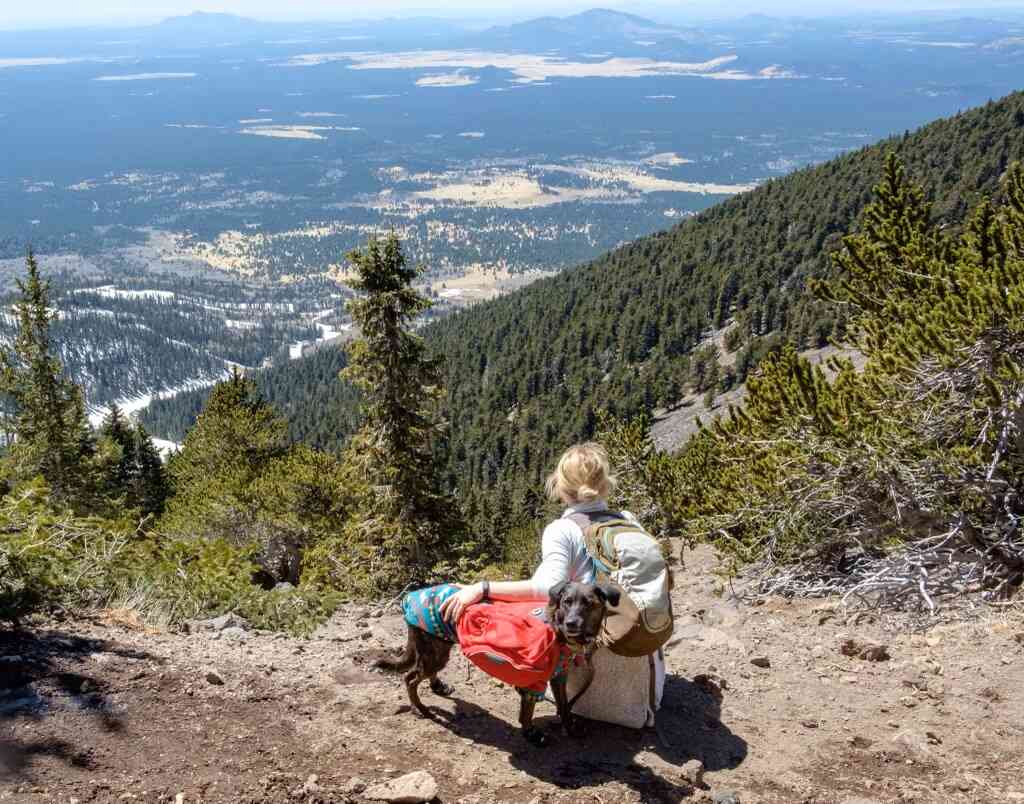 Before I dive into my recommendations, I'll acknowledge that I'm partial to particular brands. You'll notice that I recommend the same brand for mulitple products. But, in fact I am in no way personally affiliated with, nor have I worked with these companies. I just love this gear.
This review is truly based on my personal experiences. As a crazy dog and adventure gal, I've spent hundreds of hours outside with multiple dogs. Once you test out these items for yourself, I think you'll agree with my recommendations. These are by far some of the best outdoor gear for dogs!
Ok, let's go!
My Favorite Outdoor Dog Gear
Dog Harnesses
It would be hard to find a better dog harness than our Ruffwear harness. The one we have was purchased secondhand when I was living in Austin, Texas. That was nearly 10 years ago!
Because of that great discovery, Ruffwear has become a staple in our household. That first harness just keeps on kicking.
We have two different types of Ruffwear harnesses in our kit. Alas, our favorite model happens to be one that Ruffwear no longer makes. Good thing it lasts for more than a decade because you can bet we'll keep it as long as possible!
And all that said, they discontinued the model because they continue to make design improvements that are good for pups. In fact, they make another harness I'm sure we will add to our kit soon.
The Ruffwear Web Master is a great option for hiking because the design is constructed with more flexibility. The fit allows dogs to explore more easily without pinching or feeling constricted.
My colleague at TREKKN checked out this product and believes the durability will be consistent with prior products. The reflective material is a bonus to make it easier to spot your dogs in low-light conditions. And, the top handle is reinforced. That's a must-have outdoor harness feature for adventurous dogs.
The handle allows you to lift your dog to safety without having to try to wrap your arms around his belly. I wouldn't want to buy a harness without a secure, reinforced handle.
Ruffwear Web Master Dog Harness
Various size options available to fit most dog breeds
Newly designed for a better fit that offers canines full range of motion
Foam-padding for comfort
Padded, reinforced handle
Reflective accents for higher visibility
10.4 ounces
Life Jackets for Outdoor Adventure Dogs
Ruffwear Float Coat Dog Life Jacket
Another classic Ruffwear staple in our gear closet is our life jackets, also known as float coats. The pups and I love to hike to water sources or paddle the rivers here in Arizona during warmer months.
These Ruffwear Life Jackets are perfect. 'Why is that?' you may ask. Because the color options are bright, which makes your dog easy to spot if they fall in the water. And also because the material is durable and tough when things get a little hairy.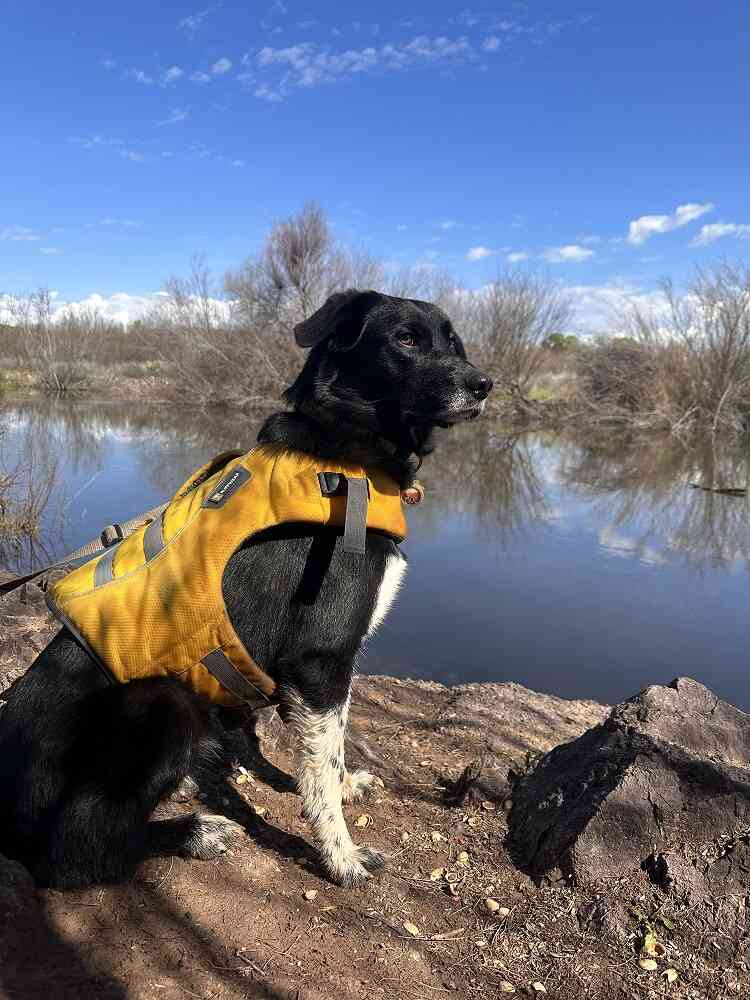 Rory is my true champion of using this life jacket. She has worn it during multi-day paddle camping trips, white watering adventures, and kayaking in Colorado. And we use them at the river here in Arizona where we paddleboard and swim.
Like the Ruffwear harnesses, the life jacket handles are perfect for us. I think you'll agree if you ever need to pull your pup back onto your raft or kayak.
Ruffwear Knot-a-Hitch Dog Tether
Various size options available to fit most dog breeds
Adjustable neck closure fits a wide range of dog sizes
Sturdy, low-profile handle allows you to help your dog out of the water when needed
Reflective accents for higher visibility
0.85 pounds
Use Float Coats When You're Pups are Learning to Swim
As more pups joined my pack in recent years, I used these when they were learning how to swim. I would simply hold onto the handle as my dog cruised along next me on the river. It's great to know I can help if the experience gets to be too much for them. In that event, I would grab the handle and pull them onto my board.

I've had Rory's life jacket for six years and it's still in great shape. After so many adventures, it's holding up with no scratches (although it does get very dirty since it's yellow).
The Ruffwear life jacket my dog wears has lasted 6 years!
If you love to paddle and want to bring your pup, this may be the best investment you can make.
The Ruffwear life jackets have been invaluable in my personal experience. They keep my dogs safe as we explore. I love creating so many memorable experiences with my wonderful companions.
There is something really special about bringing the dogs on outdoors adventures!
Portable Campsite Dog Tether
Having three dogs with me on almost every trip can be a lot to manage. Finding a place to tether the dogs so they weren't socializing with too many squirrel guests was a chore. Even after finding a good spot, their leashes would get tangled constantly. I spent more time managing the dogs than setting up camp. It was nearly impossible to make dinner without stopping and restarting 20 times.
Ruffwear Knot-a-Hitch
The Ruffwear Knot-a-Hitch is a must-have piece of outdoor gear. It changed my life at camp.
Dog Tether Allows Me to Set Lines for Multiple Dogs
This Knot-A-Hitch allows me to set a line so that each dog has its own carabiner and leash attached. Yes, I modify it since I have three dogs! This setup enables them to move freely without getting too tangled (unless said ground squirrels make an appearance).
With the Knot-A-Hitch, the dogs are together. They don't have to be attached to separate trees or the Jeep. Instead, they happily rough house on the leash line. And I happily cook dinner at the campsite without pulling my hair out (most of the time).
Ruffwear Knot-a-Hitch Dog Tether
Outdoor hitching system for dogs
Ideal for camping and backpacking
Swiveling carabiner allows dogs to explore tangle-free
0.85 pounds
Durable Dog Bowls
Sea to Summit Collapsible Bowls
We all know how essential water is for hikers, trail runners, and other outdoor enthusiasts. It's crucial that our dogs also have access to clean water and food when exploring the great outdoors.
When we backpack, I do my best to keep our packs light. These collapsible bowls are both compact and lightweight. They're small enough to fit into a pocket of the dog's pack or in my own backpack.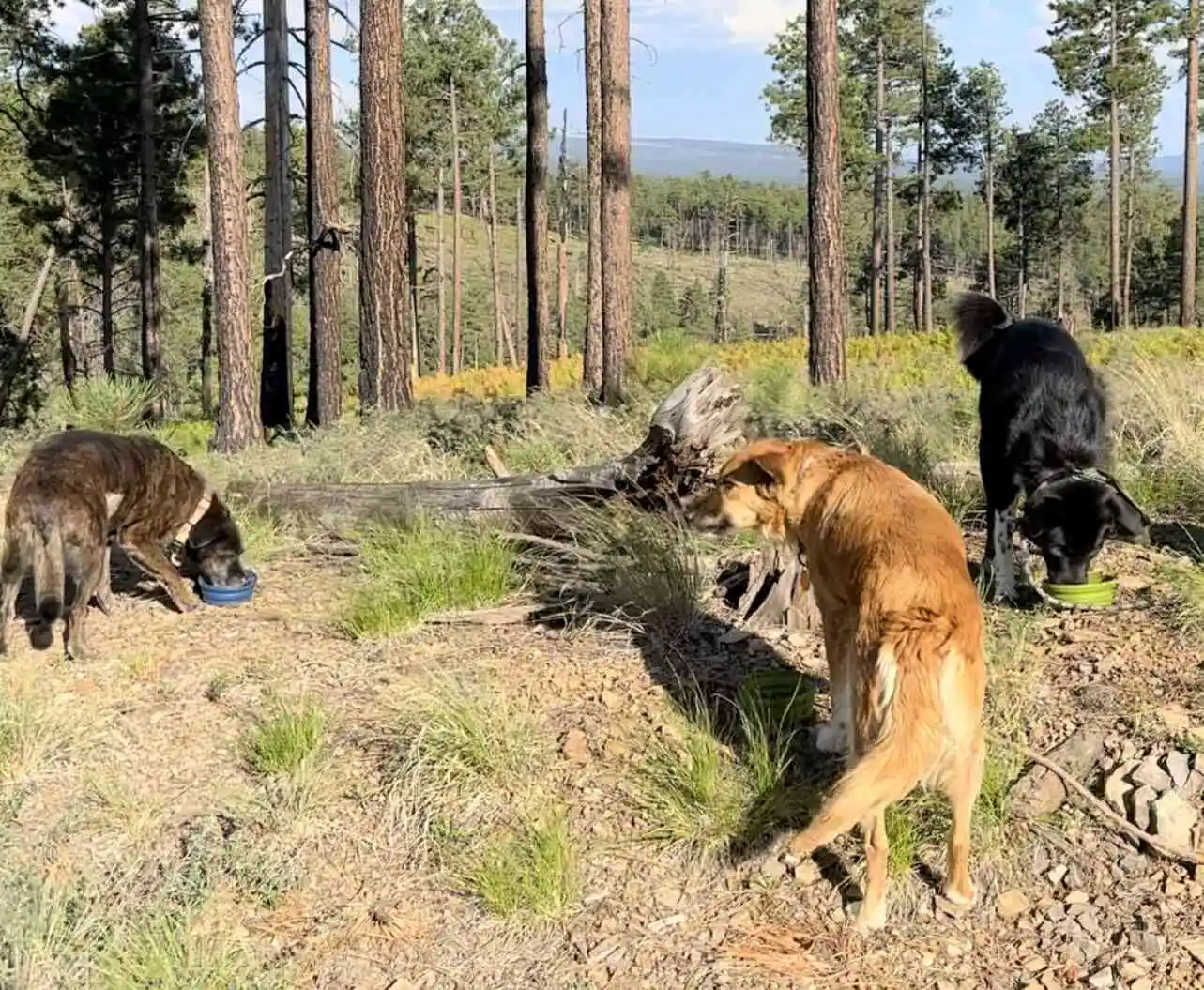 They're also cheap at less than $20 each. Moreover, they're quite durable. I've been able to use mine for several years before needing a replacement!
Rope Leashes
Regular leashes don't work well for my pack. Many of the common dog leashes on the market are made of cheap material and insufficient construction.
Many of the leash options found at your local pet store will easily shred as they rub against rocks or drag on the ground. It goes without saying, that happens all day on a hike. By the time you reach the end of the trail, your dog's leash will be frayed.
Check out one of these options and I expect you will have it for many years to come.
Clippable Rope Leashes
We have opted for climbing rope or rope leashes for a while now. You can't beat the durability. I wouldn't go back to a regular leash unless I had no other choice.

I recommend these clippable rope leashes, which are reasonably priced on Amazon. The price is particularly great based on how durable they are. After a few months of daily walks and adventurous hikes, they continue to hold up really well.
Adjustable Leash for Both Hand-Held and Hands-Free Options
I like these leashes because they are sturdy, have clips on both ends, and have adjustable clip lengths. I can easily switch from handheld to over the shoulder to around the hip whenever it's needed. As anyone with dogs knows, having a hands-free leash option makes life so much easier.
Dog & Bone Leashes
Dog + Bone leashes are also a staple in our house. I've had one of their leashes for nearly ten years and it's one of my favorites.
With the clip on one end around the handheld section, it's the perfect leash for any excursion, whether you're taking your dog to the brewery or on an all day hike.
It also has an adjustable section in the middle. That's a great option. It allows you a simple way to adjust the proximity between you and your dog. There are times when you need to bring your dog closer to make room on the trail for others.
Alternatively, when it's just you and your dog enjoying the open landscape, you can easily extend the leash so he can track down all those scents of nature.
Who knew outdoor gear for dogs was this fun?
I may be the crazy dog lady with three dogs out on a hike or on a paddleboard. I'm ok with that! Because testing new gear for the dogs has become a hobby I've grown to love over the years.
The number of options available on the market is nearly endless. And I'm sure many of the alternative products may also work well. But, it can be a bit overwhelming to filter through it all in hopes of finding something that works. That's why I wrote this article. You can count on these products to hold up over time.
Sure, I'm a bit partial to the Ruffwear brand. I don't hide it. Because I'm giving you my honest feedback. And it's based on trying a countless number of leashes, bowls, harnesses, and other outdoor gear for dogs.
These are tried and true. I keep them in my Jeep for every moment I can take my beautiful companions on a spontaneous adventure!
What other dog gear should we test out?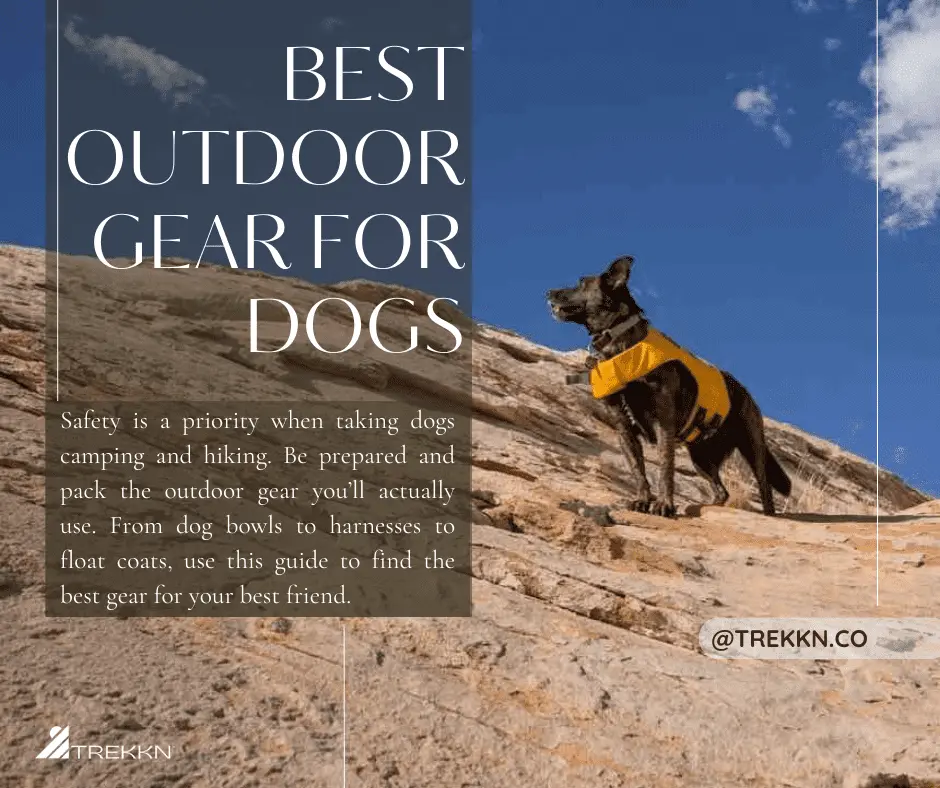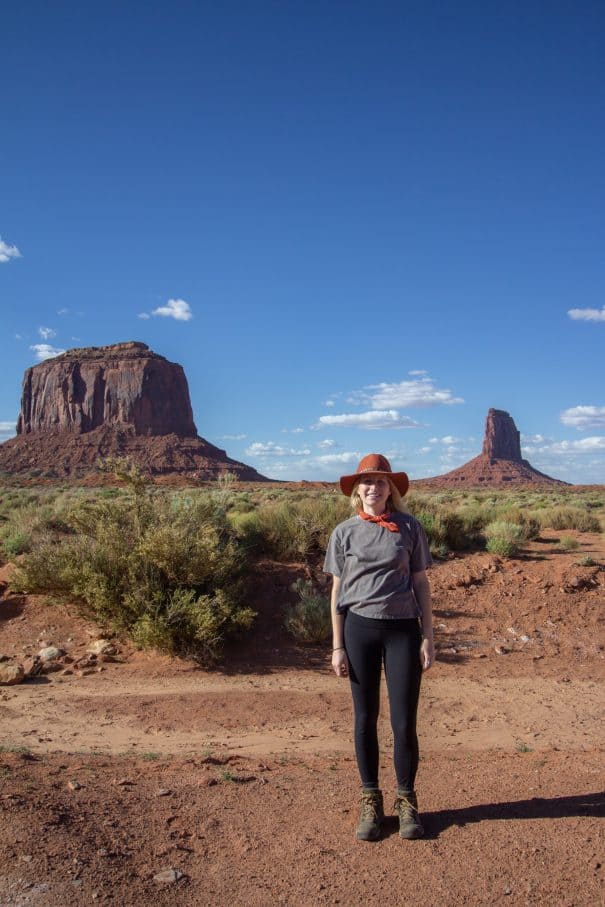 Erin is rooted in South Dakota, but wanders every chance she gets to see the beauty that nature holds. From hiking to climbing, there's not an adventure she'll turn down.
After renovating her 1976 Airstream Argosy, Erin knows the ins and outs of living life on the road and trailer maintenance.
Whether she's on the road with her dog and partner or at home curled up with a good book, Erin is always planning her next adventure because life is meant to be lived outdoors.