Hiking to Delicate Arch (How to Make the Most of Your Time)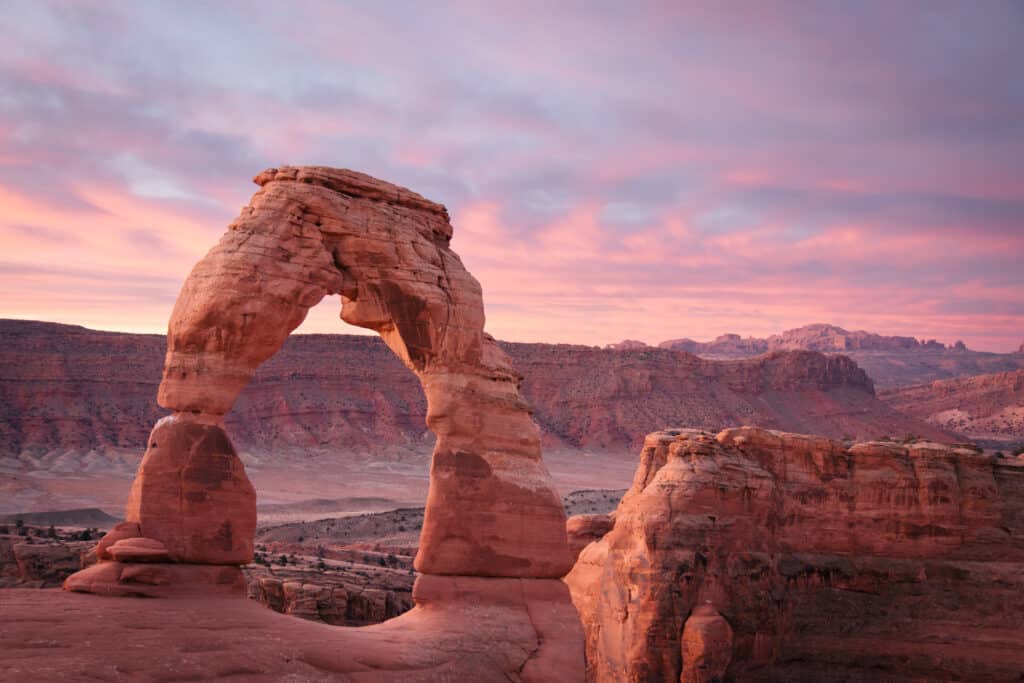 For many people, hiking to Delicate Arch is the first thing that comes to mind when thinking about Arches National Park. Even though Arches National Park hosts over 2,000 arches, Delicate Arch holds a special place in Utah symbology.
The easily recognizable sandstone feature is on Utah's license plates, splattered everywhere in Utah's tourist shops, and has a very memorable name. Everybody has heard of Delicate Arch.
If you're planning a trip to the highly popular Arches National Park, setting aside some time for the hike to Delicate Arch is a must. The National Park is full of unique sights, but Delicate Arch, with its celebrity status, is by far the most popular arch and trail. It's not overhyped; it's just that cool.
To make sure you have an experience you will value for a long time, below are some tips for your visit, as well as a trail walkthrough to make sure you know what to expect.
Hiking to Delicate Arch (How to Make the Most of Your Time) Overview of the Delicate Arch Trail
Distance: 3.2 miles out-and-back
Elevation Gain: 480 feet
Difficulty: Moderate
Time to Complete: 2 – 3 hours, typically
Traffic: Heavily trafficked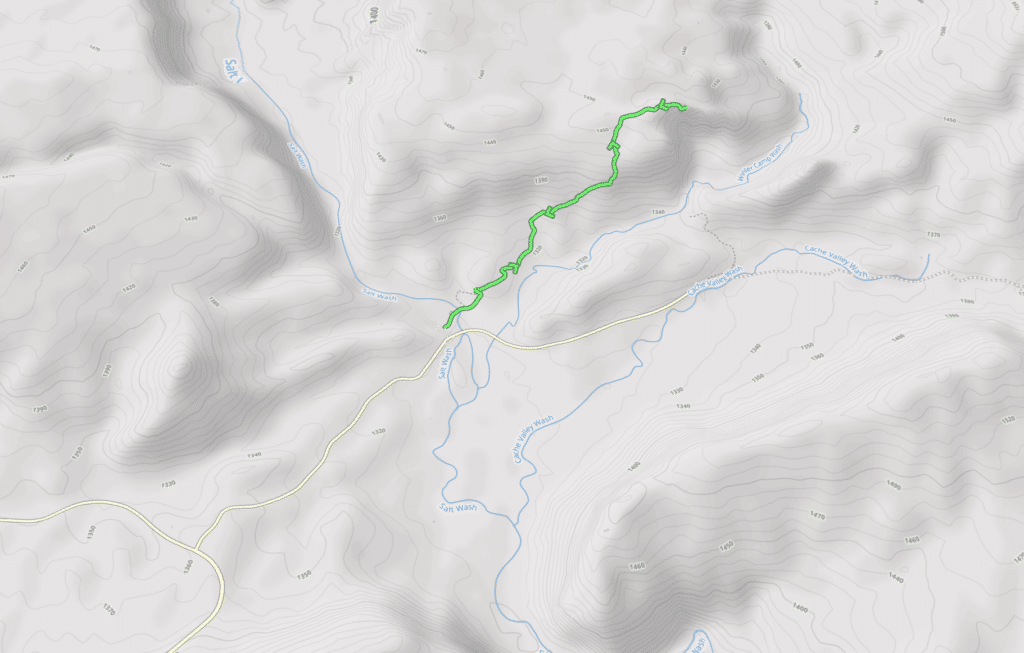 Trailhead Location
To find the trailhead, drive Main Park Road until you see signage for a right turn towards Delicate Arch. The turn for Delicate Arch Road is about halfway down Main Park Road. If you see a turn for Fiery Furnace, you've gone too far.
Continue on the Delicate Arch Road until you see a parking lot on the left side of the road. For the main Delicate Arch Trail, this is where you will want to park.
If you don't have the time or energy for a 3-mile hike, continue down Delicate Arch Road instead of parking on the left. You will find another parking lot at the very end of the road.
The trailhead for the Upper and Lower Delicate Arch Viewpoint Trails will be found here. It's not as great of a view as the proper Delicate Arch Trail, but it is certainly better than nothing.
Tips for Making the Most of Your Time
1. Visit during winter
As we established earlier, Arches National Park is wildly popular and typically packed with visitors. All of these visitors are eager to see the best that Arches has to offer, which obviously includes Delicate Arch.
During the busiest seasons for the park, spring and summer, viewpoints and trails are packed with people. Parking lots are also filled to capacity, which means you shouldn't always count on parking nearby your destination.
Timed Entry Reservations
To counteract the exponential rise in visitors to the park, Arches NP is establishing a new rule. From April 3, 2022, until October 3, 2022, guests will need to reserve a Timed Entry Ticket in order to enter the park.
These reservations are given out on a first-come, first-served basis up to three months in advance of your visit. The hope for this new system is that it will improve visitors' experience, and I truly believe that it will. Find out more about this new implementation at nps.gov.
If you aren't planning to visit during those months, or maybe don't want to deal with the reservation system, I'm here to say that visiting Arches in winter is awesome.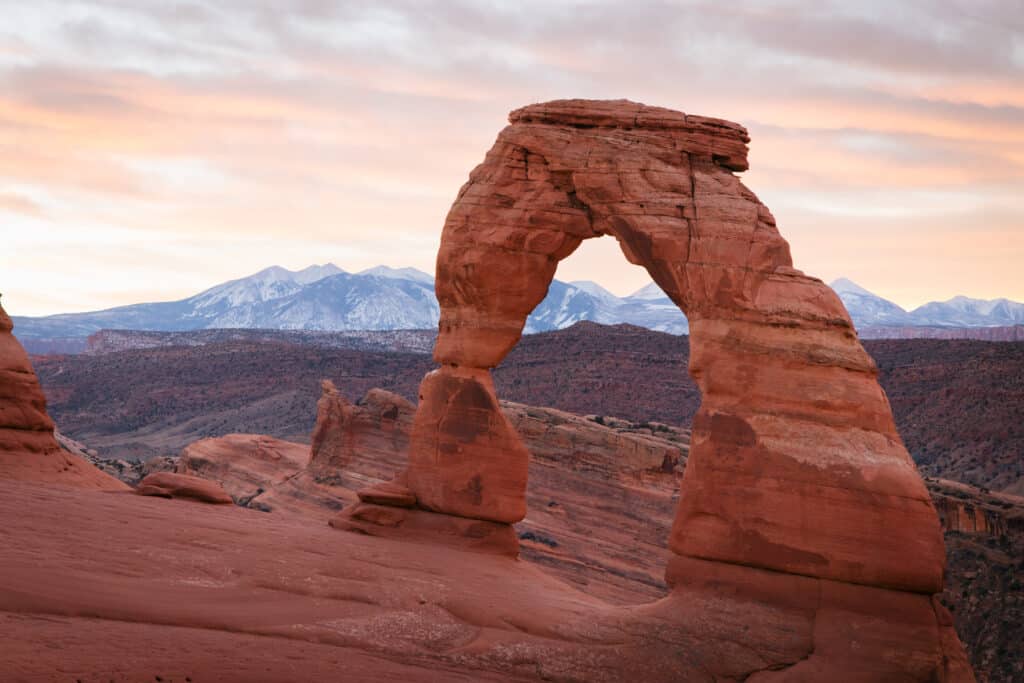 Why is winter better?
Personally, I have only visited Arches National Park during the month of December. While this is partially coincidental, I'm also confident that December is a fantastic time to visit the park.
For southeast Utah, December is typically early winter. During this time of the year, temperatures are lower, finding deals for places to stay in Moab is easier, and the overall traffic within park boundaries is significantly reduced on roads and trails.
Lower Temperatures
The state of Utah is mostly high desert. In the summertime, this means you can count on temperatures reaching an average high in the mid 90's (F). In the wintertime, prepare for lows in the 20's (F) and highs in the 40's (F).
For a summer visit, it is imperative for visitors to understand the risks of being out in the sun with that kind of heat. Bringing ample water, clothes with UV protection, and fuel in the form of trail snacks are all vital.
Personal preference certainly plays a role in determining what time you would like to visit. However, whether you enjoy colder weather more than the heat of summer, or are simply able to bear it, visiting in winter has other plus-sides.
Better Deals
Winter is the "off-season" for a town like Moab. During this time, hotels, Air BnB's, and RV parks are more likely to provide better deals. During the summer, these prices are inflated due to all of the people pouring into town.
For our last visit to the park in December of 2021, we found a perfectly suitable hotel room for crazy cheap. It's possible to find deals during the rest of the year, but winter leaves a lot of those deals out in the open.
Fewer People
If enjoying Delicate Arch with minimal interference from other people sounds ideal to you, it's much more likely to happen during the winter off-season. Now, this doesn't mean that Arches is empty during the winter. It's definitely not.
Compared to summer, though, the park is noticeably quieter. If you are willing to get out of bed before anyone else, winter in Arches can be a serene experience.
2. Set those alarms, early!
Early bird gets the… arch.
During our previous visit, my girlfriend and I were the first people to arrive at Delicate Arch. We had seen other people in the parking lot, so we knew that they would be right behind us.
Before anyone else arrived, though, we had the entire Delicate Arch area to ourselves. It's an experience I won't be forgetting anytime soon.
My best piece of advice for anyone wanting the experience solitude in any National Park is to get up early. As early as you possibly can. It can be hard to do when you're in "vacation mode", but getting up before the sun does is worth it 100% of the time (in my experience).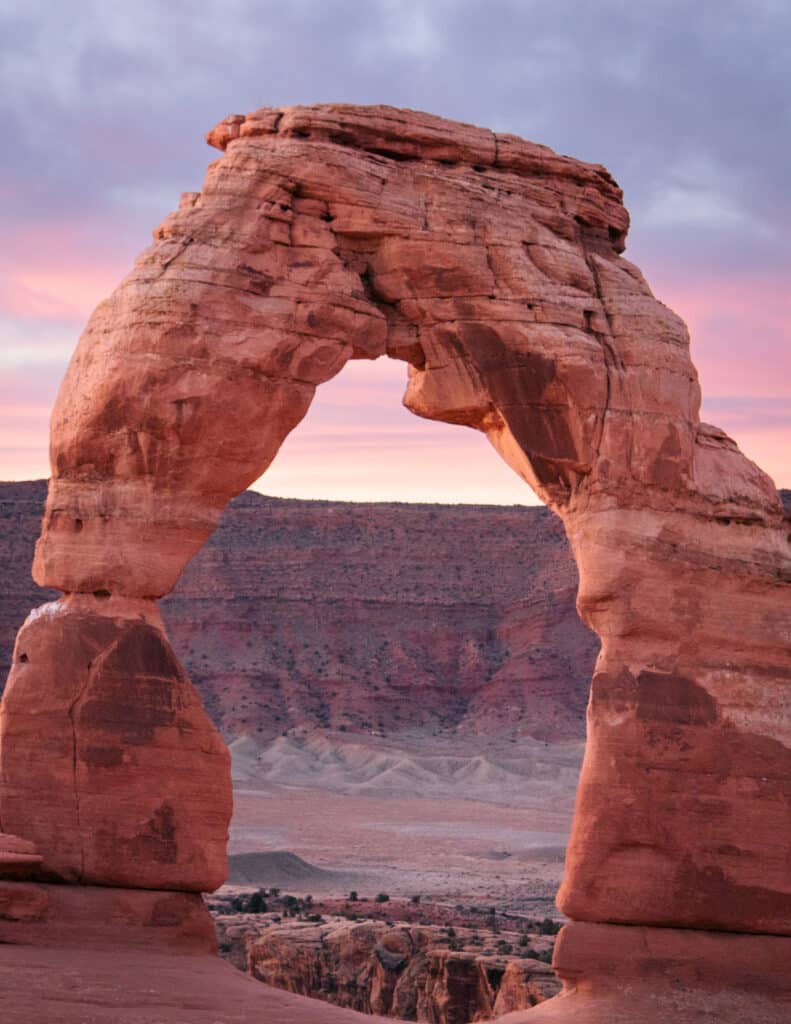 We knew the sun would start rising around 7 a.m., so we planned to be at the arch, fully settled and ready for pictures, before 7 a.m. If you're not hitting the trail with a headlamp, you're not early enough.
We took pictures and videos for close to an hour in the freezing cold, chatting with the handful of other early birds there with us. Once we had our fill, we headed back down the trail towards the car.
We became very thankful for our early morning decision as we passed group after group after group that was hiking to Delicate Arch as we were hiking back. It would have been a drastically different experience for us if we had arrived at the trailhead even 30 minutes later that morning.
To sum it up, early winter mornings can be both brutal and beautiful. Leaving your warm bed at 5 in the morning to go brave the cold on a trail can sound awful, but you will be thankful that you did.
3. Download a map of the trail
This one is especially imperative if you begin the hike while it is still dark.
Overall, the trail is pretty well marked. Nobody should have any big issues following the trail during daylight hours. That being said, when it's dark outside, everything changes. The chance of getting lost greatly increases.
I was fairly confident that I could find my way along the trail in the dark, considering that I had done the hike to Delicate Arch before and had stared at the trail map long enough to understand the general route. I was wrong.
At a certain point, the trail simply disappeared. I couldn't understand where we had gone wrong. Honestly, I'm still unsure of how we got so dang lost. Luckily, I had downloaded a map of the route the night before, which allowed us to figure out where we were.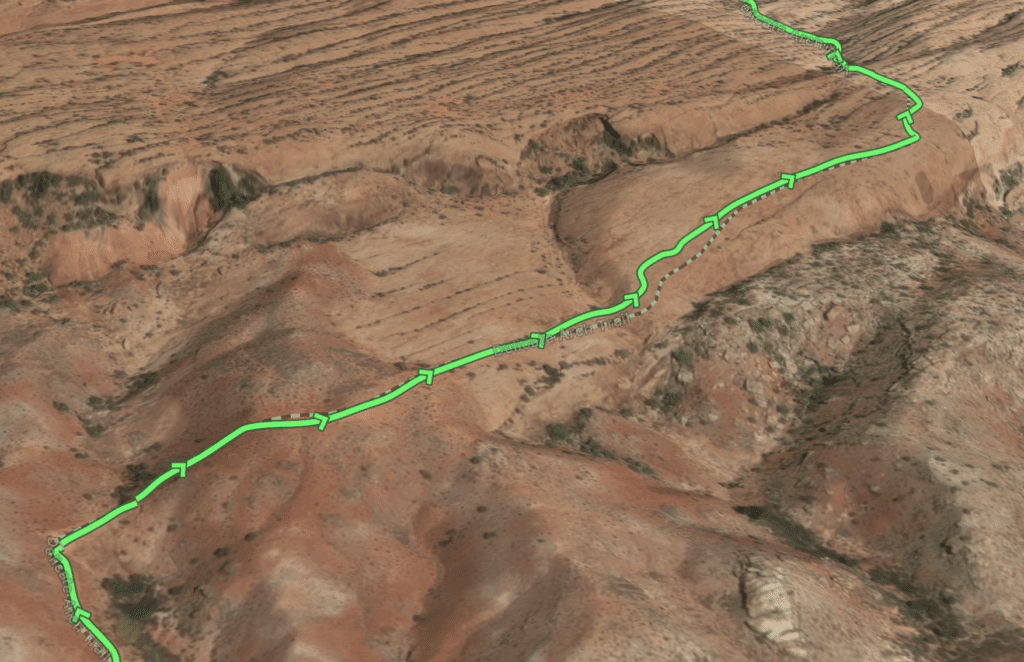 During this confusion, we had the added pressure of wanting to get to Delicate Arch before the sunrise began. With phones in hand, we quickly established which direction to go and headed off.
In the trail walkthrough section of this article, I will point out the spot where we went wrong, as I believe it is a very easy mistake to make.
The moral of this story is to be prepared with a map on your phone, ready to save the day if you need it.
Hiking to Delicate Arch: Trail Walkthrough
The first thing you will see once parking and heading towards the trailhead are the restrooms (it's always nice to know if they are available).
Wolfe Ranch
Moving past those, a small, slightly dilapidated cabin can be seen sitting alone next to the trail. This area is known as Wolfe Ranch, originally settled by John Wesley Wolfe and his son Fred.
The history of this settlement is an interesting topic all on its own, but make sure to take the short spur trail over to the cabin and take a peek inside. It is a nice slice of history that has held up since 1906.
Native American Petroglyphs
An even older slice of history can be found just past the salt wash, over the bridge, and to the left. The dirt path will take you to an amazing panel of rock with petroglyphs depicting a hunting scene.
The petroglyphs portray the hunters on horseback, which leads experts to believe that they were produced after the mid-1600's, once the native Ute people acquired horses.
It's definitely worth it to stop and take a look. If you're in a hurry to reach the arch, perhaps stopping on the way back to the parking lot would be best.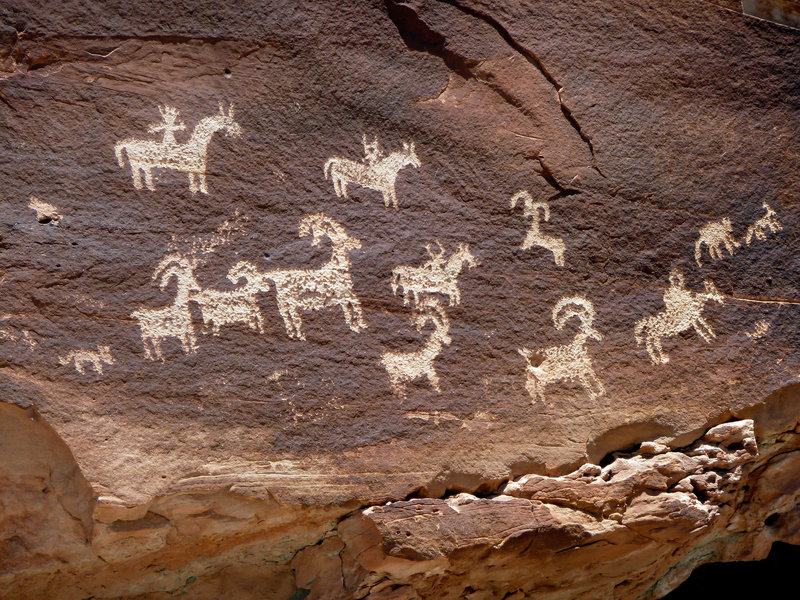 Rolling Hills
The next section of the trail travels up and over an area of rolling hills. The landscape is full of color and diversity. There is nothing too steep on this section of the trail, so enjoy the nice stroll.
Steep Slickrock
After enjoying that nice and easy walk, the trail begins to take you up a steep slickrock slope. This entire section of the trail is hardly an actual trail; you have to rely on your eyes being able to spot the rock cairns set out to guide you.
If you hadn't guessed already, this is the point where we got lost in the dark. During daylight hours, along with the many other people that will be on the trail to help guide the way, finding the cairns and signs shouldn't be difficult.
For a pre-sunrise hike, it will be necessary to pay close attention to a map to make sure you haven't gone too far off the trail.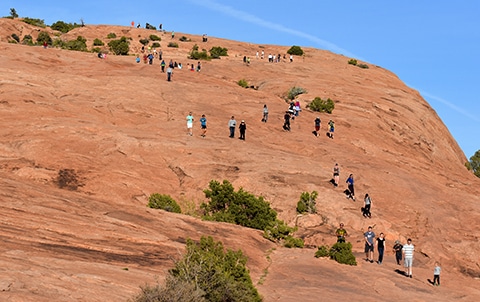 From the beginning of the slickrock portion, you will steadily gain elevation for about a quarter of a mile. Once you reach the top of the slickrock, the "trail" quickly turns left, changing directions from eastward to northeastward.
Once you funnel through a narrow wash, the trail levels out. Continue to actively search for those cairns! They will help you find your way through this next section.
Rock Domes
As you get nearer to Delicate Arch, the landscape becomes more and more dramatic.
The rock formations in this section of the trail are spectacular. Domes, bridges, and the beginnings of arches-to-be can all be seen in this area. Keep an eye out for Frame Arch (also known as Twisted Doughnut Arch) on the righthand side of the trail.
If a unique photo is what you're looking for, this arch serves as a perfect "frame" for Delicate Arch in the background.
The "Fear of Heights Turnaround Point"
A little further along, the trail becomes a bit more defined. With a tall wall of rock to your right, the trail leads you along a ledge with a drop-off to the left. This drop-off
gets incrementally larger and larger, which is why I like to call this area the "Fear of Heights Turnaround Point".
For anyone with even a mild fear of heights, this section can be scary and completely debilitating. I have heard (and experienced) quite a few stories about people who simply decide to not go any further.
If this sounds like it could be someone in your hiking group, definitely give them a fair warning beforehand.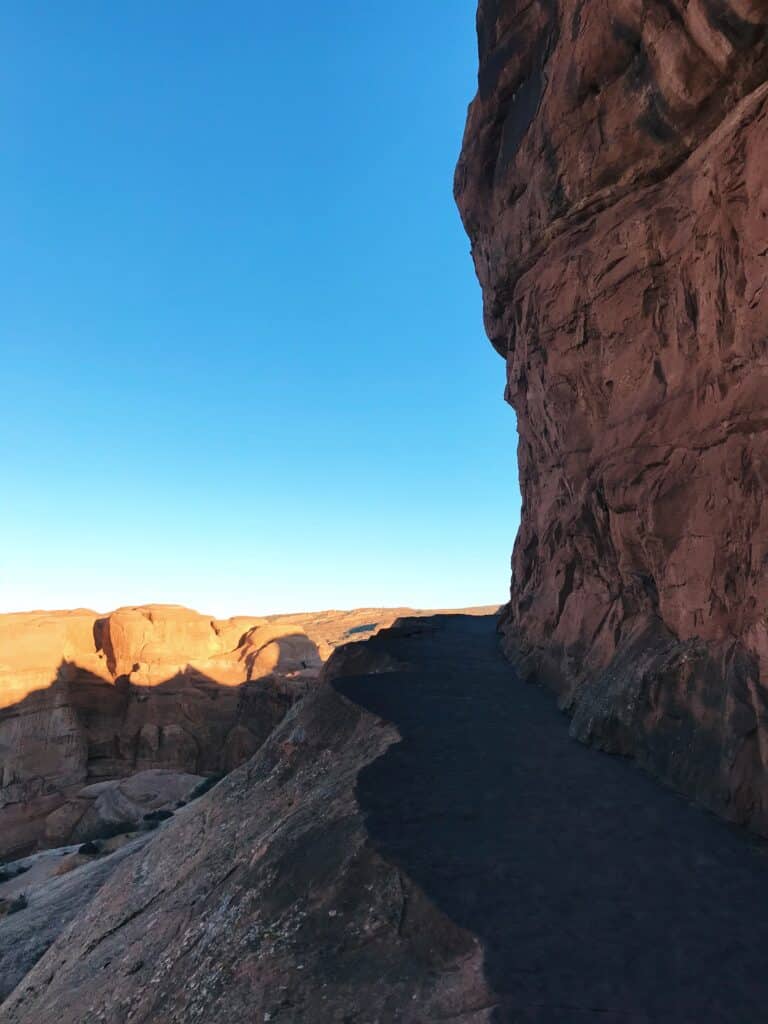 For most people, the ledge will not be too extreme. But for the select few who have an issue with it, it would be a big bummer to realize you can't continue hiking to Delicate Arch.
With many groups of people trying to traverse this section from both directions, the scare factor can grow into an even bigger problem.
The Reveal of Delicate Arch
Suddenly, as you are carefully climbing along the rock ledge, the wall to your right disappears. Your vision becomes filled with a giant rock "bowl", with Delicate Arch standing stoically above it.
If it's your first time hiking to Delicate Arch, the moment you lay eyes on it will be full of wonder and awe. It will probably appear much larger than you expected it to be.
Depending on what time of day you arrived at the arch, there could already be people all around the arch.
A popular thing to do (although I've never personally had the desire to do it) is to get your picture taken while standing underneath the arch. This will without a doubt be a cool shot, but please, please, make sure you aren't overstaying your welcome.
Many other people will want to grab pictures too, as well as other photographers that are standing back and don't want to edit out a bunch of people from their dream shot.
However you choose to approach spending time here, make sure to never climb on any part of the arch. These arch features are very fragile, so scrambling on any arches in the park is prohibited.
Basically, be kind to both your fellow humans and the arch. Give it proper space, and enjoy its presence from afar.
Even when we had the entire arch to ourselves, we mainly sat, watched, and listened to the stillness of the moment. It is a very special place, and I suggest slowing down and enjoying it.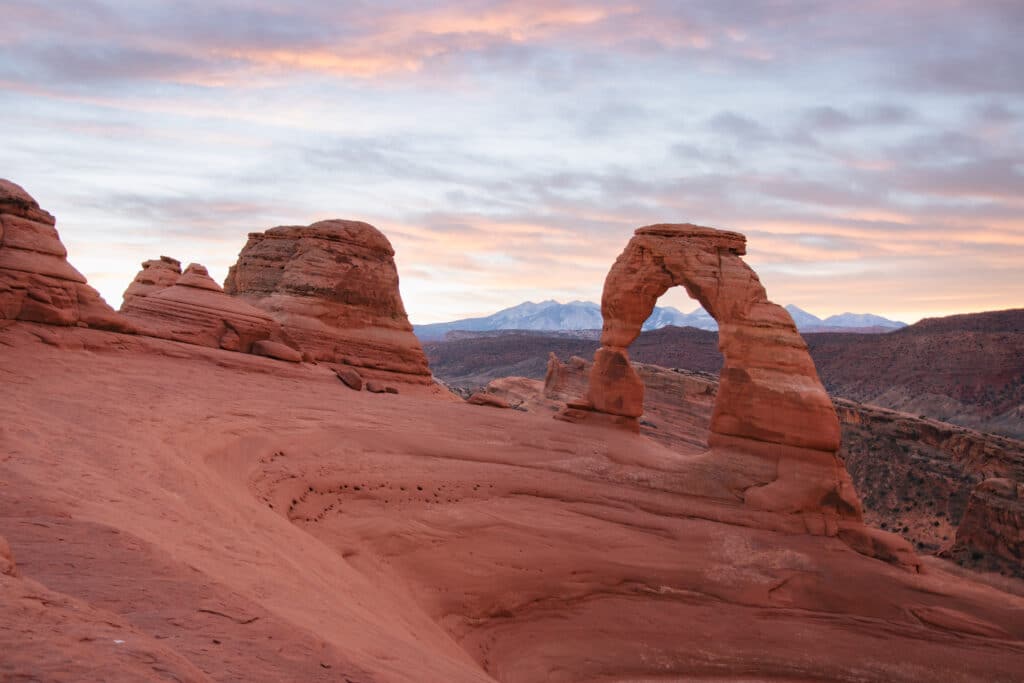 Once you have satisfied your desire to stare at Delicate Arch, simply hike back the way you came up.
We hope you enjoy hiking to Delicate Arch!
Make sure to read about my other favorite hike in Arches National Park, the Devil's Garden Trail! For a short visit to the park, these two hikes are sure to make the most of your time.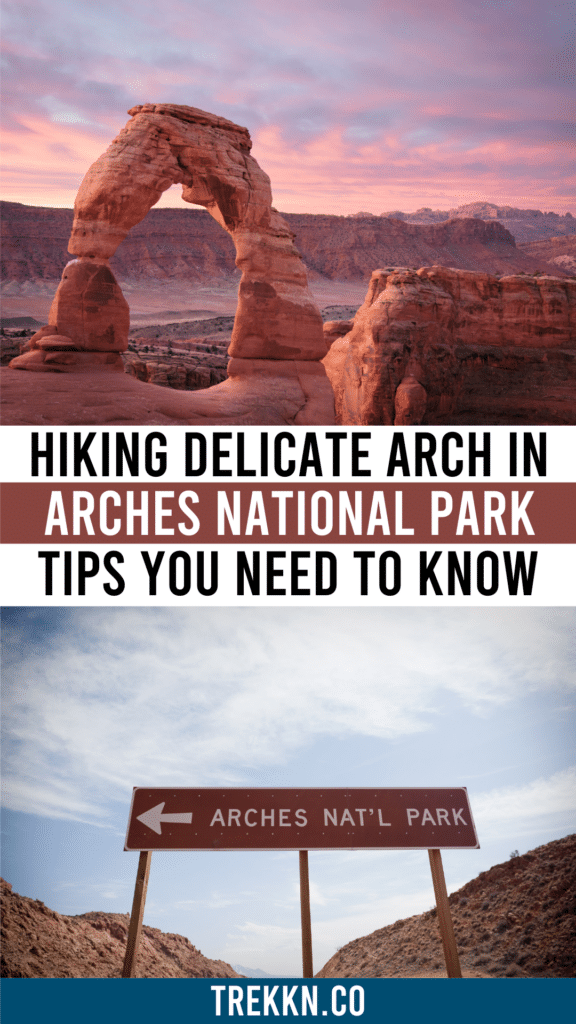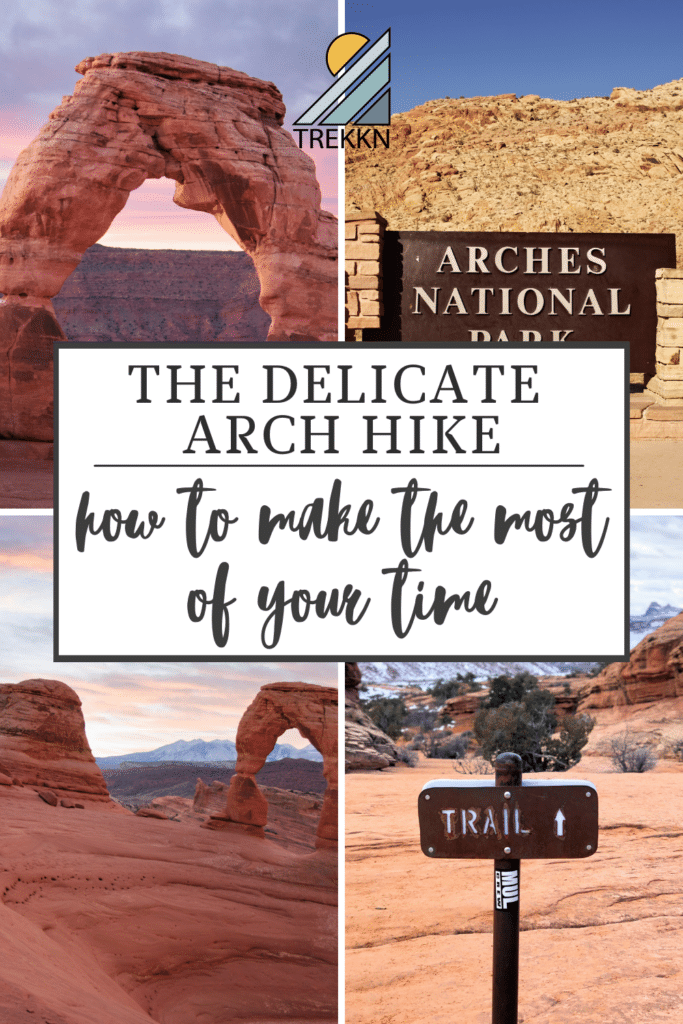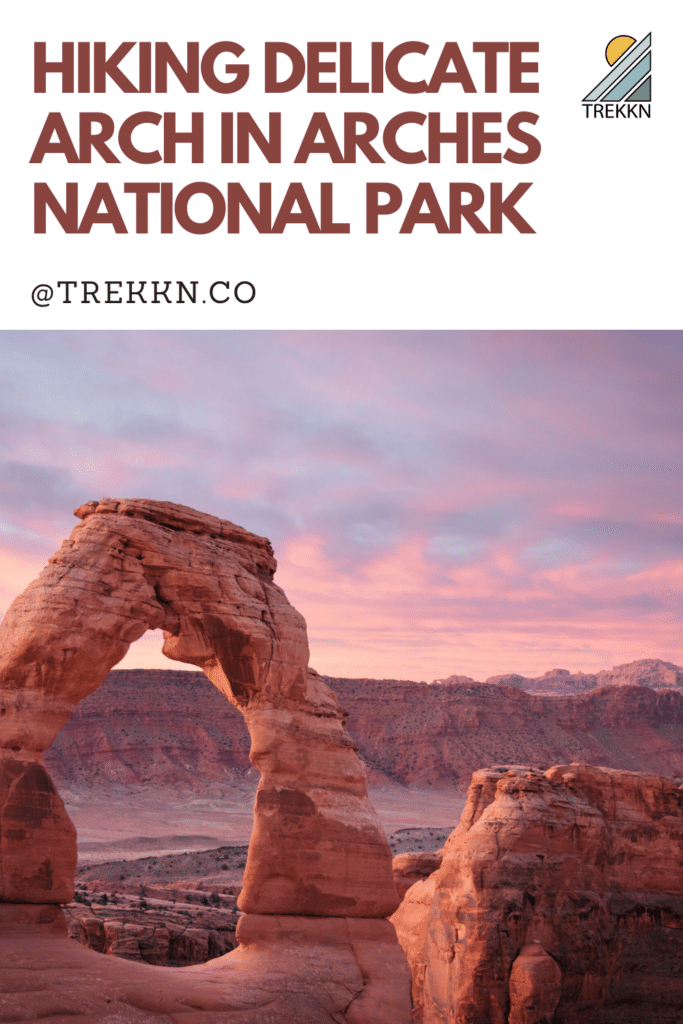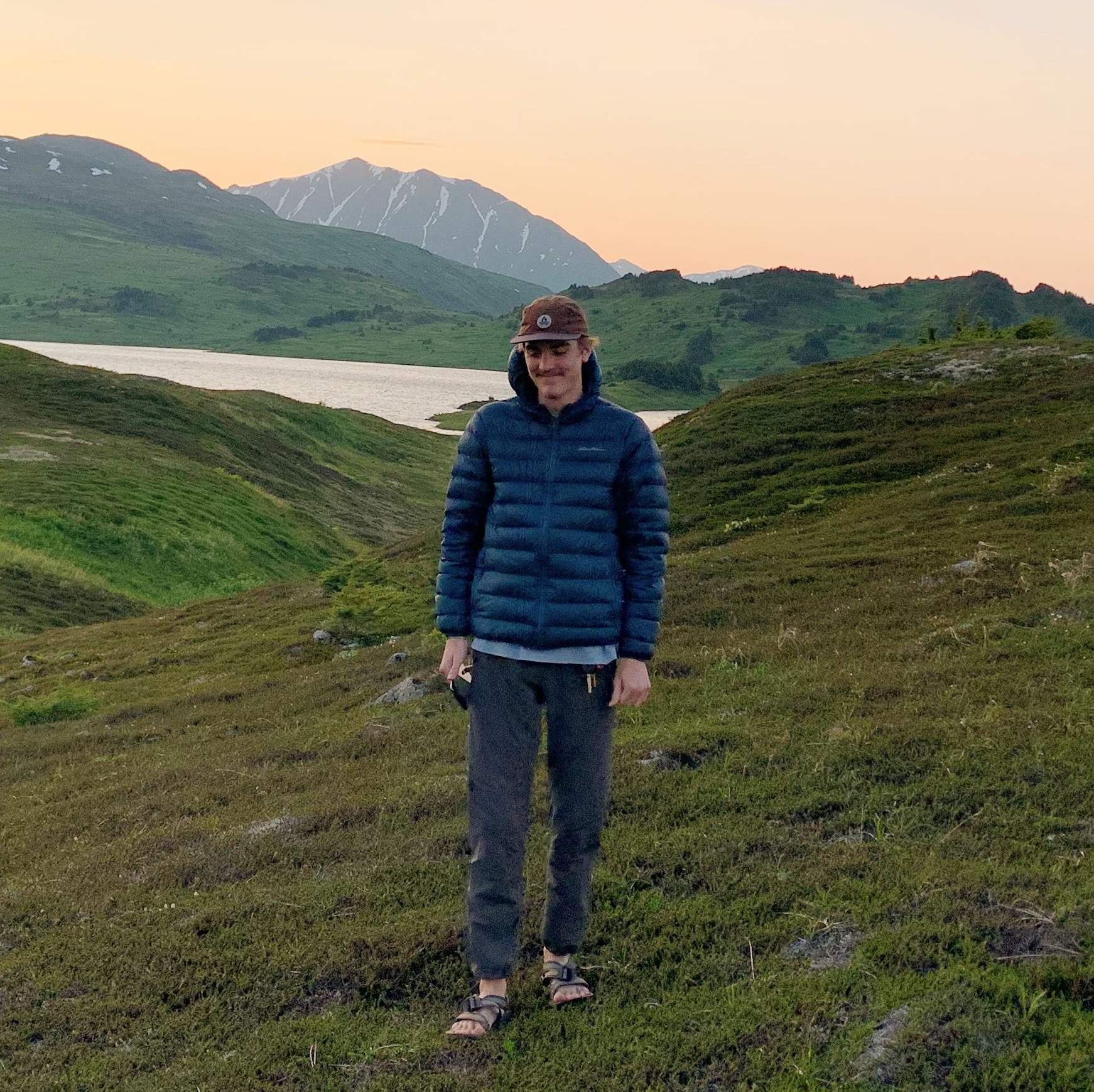 Josiah B gained invaluable experience while living on the road with his family, during which time he felt overcome with the desire to continue exploring. That search landed him in Seward, Alaska, where he currently resides. His love for the outdoors is welcome with open arms in the Last Frontier, and with an endless amount of hiking and backpacking to be done, he's eager to share the best that Alaska has to offer.