RV Propane Safety: What to Know, What to Buy

The day you pick up your first RV, new or used, is a day you will never forget. It's also a day you begin to realize how much you still don't understand about how to take care of it and stay safe while adventuring.
And one of the best ways to keep you safe on the road is for you to understand RV propane safety.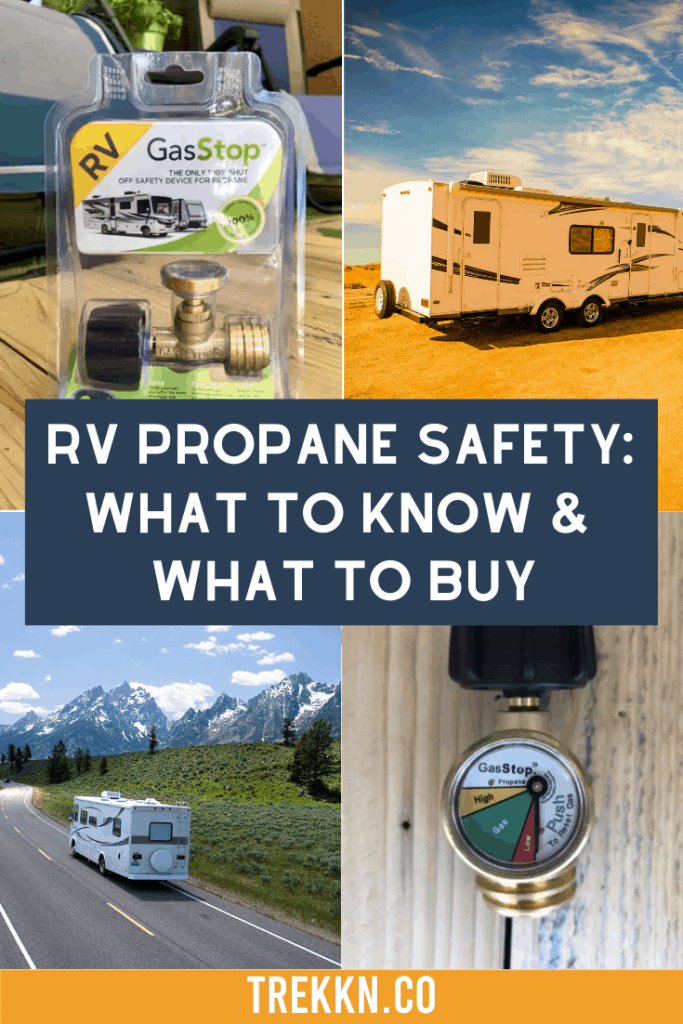 I will openly admit to you that during our full-time RV travels, I did not take the time to fully comprehend the necessary safety guidelines associated with the propane (LP) tanks on my travel trailer. In fact, I would say I was a bit naive.
Looking back on it now, more than anything I feel thankful that we did not end up having any major issues with our propane delivery system through my lack of understanding.
But you don't need to leave that to chance. The best thing you can do is understand how to best keep you and your family safe with propane on board. And decreasing the likelihood of a propane safety incident will require better information, better practices and better products.
RV Propane Safety: What to Know, What to Buy
Before we jump straight in, I want to share a quick tip that I had to learn the hard way about the propane system in my RV.
TIP: When you open the valves on your DOT propane tanks (normally found on travel trailers and fifth wheels) by turning the triangular knobs on top, you MUST open the valves slowly. By opening the valves too quickly, it will cause the built-in safety mechanism (excess flow valve) to engage and restrict flow by 80-90%. This will not allow your appliances to operate properly.
If this happens to you, disconnect the hose/tubing from the tank after turning the valve off. Then reattach and follow the tip above to open slowly. Problem solved!
Important Terms to Know
When you're dealing with something as technical as pressurized gas, it's important to first define some terms. We need to be sure we are on the same page so you don't misunderstand some of this important information.
Propane, liquid propane and propane gas all normally refer to the same substance, which you will find in your RV.
Propane is one type of liquefied petroleum gas (LP or LPG), but these terms are sometimes used interchangeably.
Overfill Protection Device (OPD) is a safety feature required on all LPG tanks which will not allow the tank to be filled to more than 80% capacity. This leaves room for propane vapor to safely expand as temperatures fluctuate. When it reaches that 80% mark during filling, the propane will begin venting out signaling that the tank is at capacity.
Excess Flow Valve is a standard mechanical safety feature of propane connectors (inside green or black attachment knob). The valve cuts off only 80-90% of gas flow if there is a sudden surge in flow.
Propane Leak Detection can happen in a number of ways: Smelling a gas odor (rotten eggs), hearing a hissing sound, propane detector alarms (if installed), or spotting a sudden drop in pressure noted on an attached pressure gauge.
Department of Transportation (DOT) tanks are the small, transportable tanks normally found on travel trailers and fifth wheels. They typically come in three sizes: 20 lb (4.7 gallons capacity), 30 lb (7 gallon capacity) and 40 lb (9.4 gallon capacity). 40 lb tanks will usually be found only on larger fifth wheels. These types of tanks also typically used to fuel gas grills, propane heaters, etc. These tanks must be stored upright, not horizontally.
American Society of Mechanical Engineers (ASME) tanks are the larger tanks normally found on driveable RVs (Class A, B, C). These are larger tanks, available in various shapes, sizes and volumes, which are permanently mounted to the RV and cannot be removed to refill.
ACME Nut is the green or black circular attachment device attached to propane hose/tubing which is used to connect the hose/tubing to a propane tank.
What Is Powered by Propane on Your RV?
Depending on the type of RV you own, several different appliances may be powered by propane:
Stove top (range)
Oven
Hot water heater
Heating system
Refrigerator (likely either a 2-way or 3-way appliance, capable of running on multiple power sources)
In the case of 2- or 3-way refrigerators, they will normally default to running on electricity if it is available (via AC shore power or a generator). If electricity is disconnected or shut off, these appliances will normally switch automatically to a secondary source such (propane or DC) unless you choose to deactivate this automatic switching.
As you can see, your RV is highly dependent on propane in most cases in order for you to accomplish simple, daily tasks.
Where are Propane Tanks Located?
On most travel trailers, removable DOT propane tanks are normally located at the front of the trailer on a plate attached to the trailer's tongue. Infrequently, they may be located at the rear bumper. In most cases, the tanks will be protected from damage and degradation by a plastic, removable cover.
On fifth wheels, the removable DOT propane tanks are located in storage compartments on the trailer. You will normally find two tanks (typically 40 lb tanks) on fifth wheel trailers and they may be located in a single storage compartment or possibly one tank on each side of the RV in separate storage compartments.
For driveable RVs, the ASME tank can be located in a variety of different places within a storage compartment. But it will not be located on the exterior of the vehicle.
Should You Travel with Your Propane Valves Open?
To be honest with you, I was hesitant whether I should even include this topic in this post. Believe it or not, it is one of the most hotly debated points among RVers for a variety of reasons.
I'm not going to try and tell you what to do here. You're a grown-up capable of managing your own risks and making your own decisions.
However, I will make a couple of general points:
If you decide to travel with the propane on (to run refrigerator and keep food cold, etc.), it is still strongly advised that you stop and shut off the propane before entering a fueling station for safety reasons. (Most refrigerators will only lose about 4 degrees per 8-hr period without power also. Consider a small rechargeable fan to circulate air and increase cooling on longer trips.)
Bumping down the road in your RV makes it more likely that a propane connection could come loose. One spark is all it takes to turn that leak into a disaster.
Some RVers have conveyed their own experiences with severe tire blowouts severing propane lines. If those lines are pressurized during such an incident, you can imagine what the outcome would look like.
Essentially, you must consider your own level of risk tolerance and make the decision that is right for you.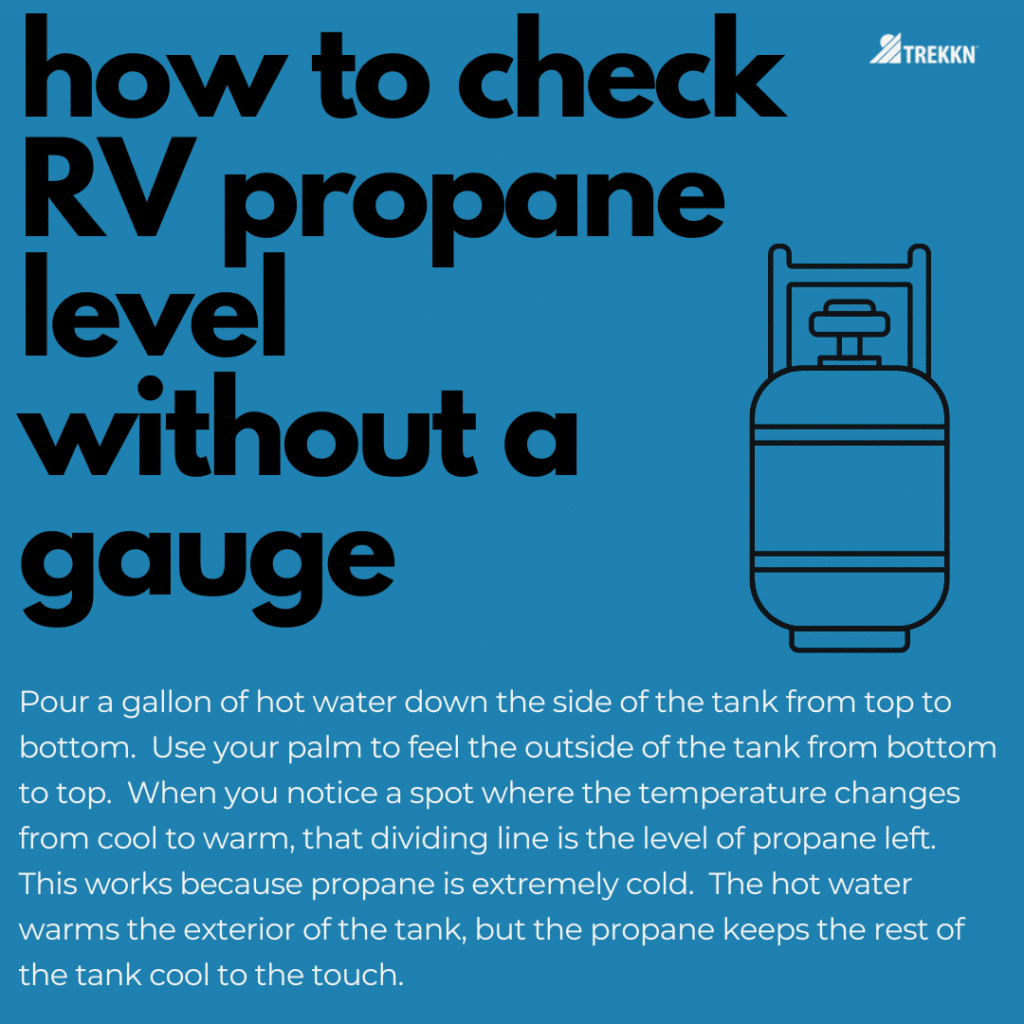 What Safety Features are Built Into Your RV Propane System?
Let me put a caveat into the mix here: I am not an expert on RV propane systems. What I am offering here is my best understanding to date about standard safety features. I encourage you to check directly with RV manufacturers to better understand and implement RV propane safety measures.
Having said that, the only "safety feature" that I am aware of related to the propane system is the excess flow valve (EFV) mentioned above. This mechanical safety feature will cut approximate 80-90% of propane flow in the event of a major leak (line severed, fitting has come loose, etc.).
Are There Other Propane Safety Devices On the Market?
I was recently introduced to a unique propane safety device for use on RVs. It is called GasStop. It is an emergency shut-off valve for propane gas cylinders.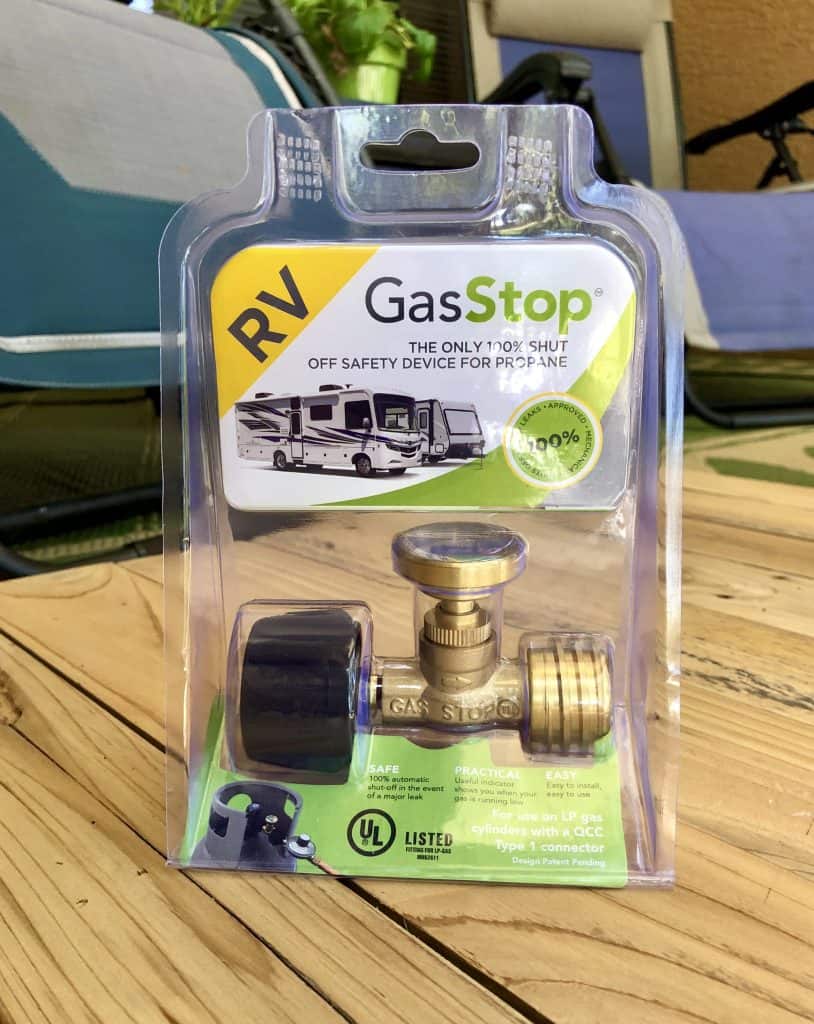 We received this product free of charge from the company in order to evaluate it and share it with you. The opinions are 100% our own.
GasStop claims to be "the only shutoff safety device for propane" on the market today. They offer the safety device pictured above for use on LP gas cylinders with a QCC Type 1 connector as well as a second model for use on POL LP gas cylinders.
Here are some additional details about this RV propane safety device that will probably interest you:
Safe – 100% automatic shut-off in the even of a major leak
Practical – Useful indicator shows you when your gas is running low
Easy – Easy to install, easy to use
Useful – Having a

GasStop

installed enables you to quickly check your propane system (with included gauge) to insure that you DO NOT have a MINOR leak at any connection or hose/pipe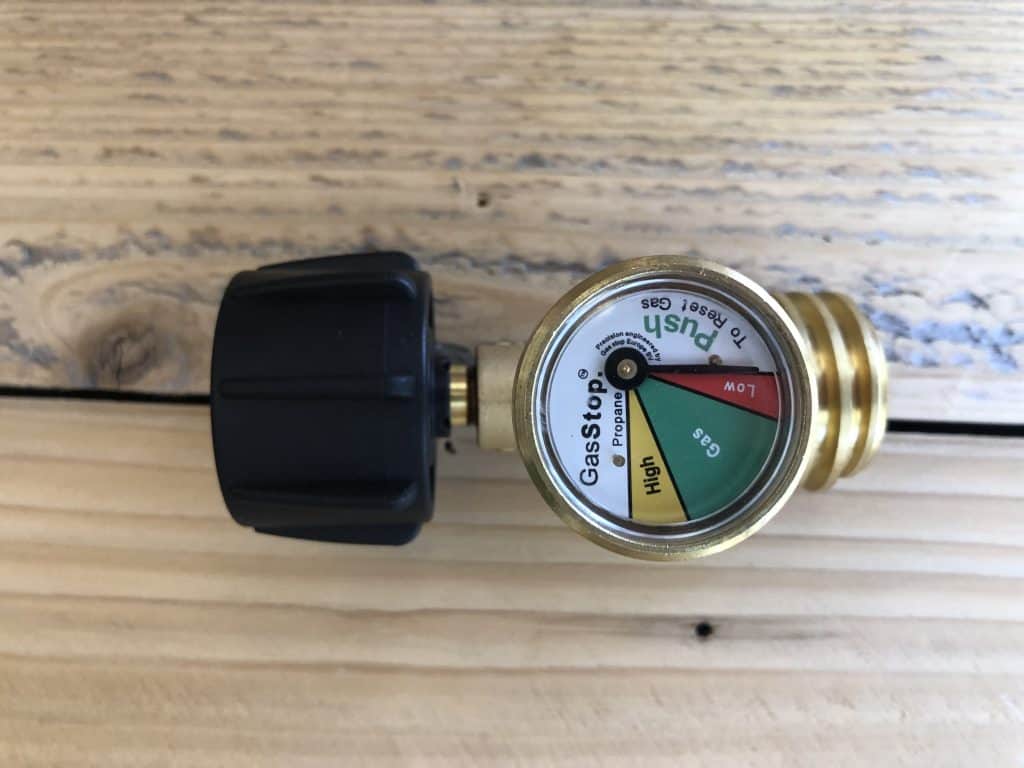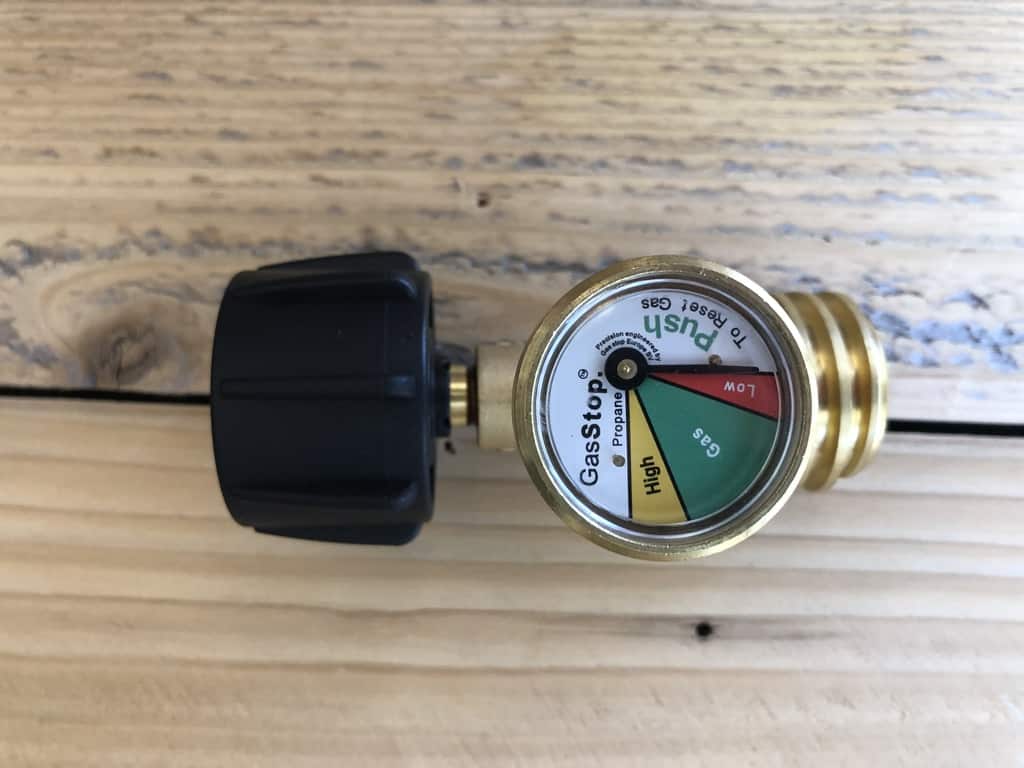 Instructions for Use
How easy is this device to use? Well, the directions below sum it up.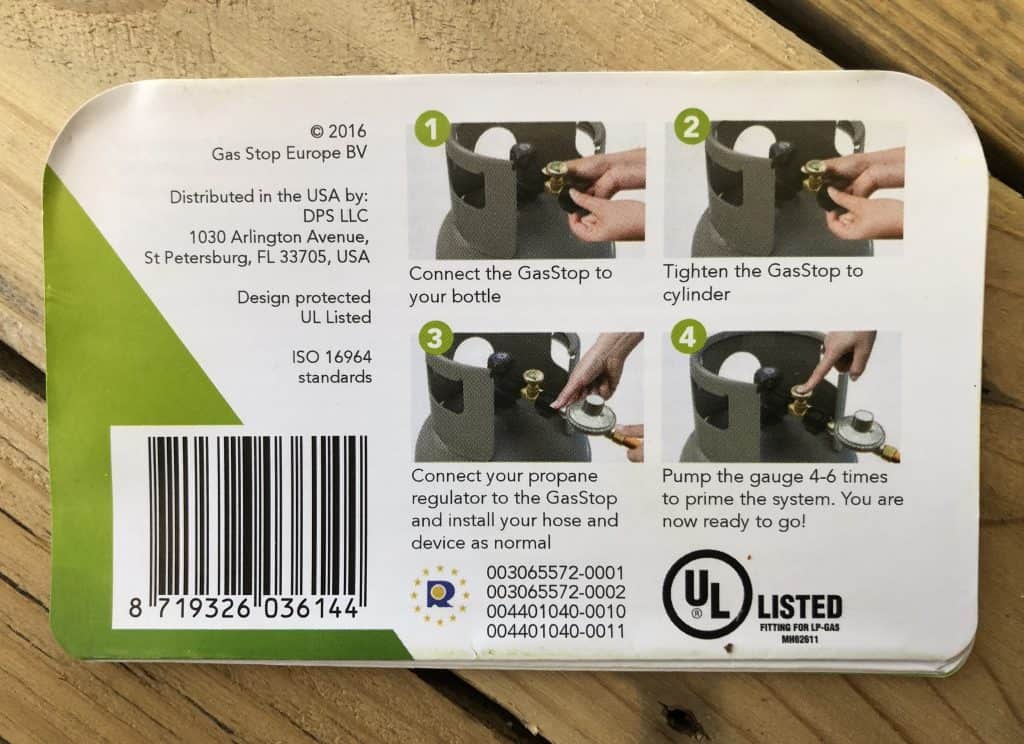 For RVers, it looks like this:
Connect GasStop to propane tank
Tighten connection
Connect RV propane line to GasStop safety device
Pump pressure gauge 4-6 times to prime the system
Is there a Warranty on GasStop products?
GasStop proudly backs their RV propane safety products with a 5-Year Warranty.
*Note: According to GasStop's documentation, "During normal gas usage, GasStop will not shut off the system in the event of a minor leak. During normal gas usage GasStop will only shut off in the event of a major leak."
CAN GASSTOP BE USED ON A BULKHEAD OR AUTOMATIC/MANUAL CHANGEOVER GAS PRESSURE REGULATOR?
Yes. If you have two propane tanks, you would need to have a GasStop device for each tank. Simply attach the device to each tank as instructed and this will work in line with any changeover device.
Propane is NOT a DIY Issue!
Always consult a certified LP technician for any issues with your system. Stay safe and don't attempt a DIY fix on such an important and potentially hazardous system in your RV. The potential consequences do not justify the risks.
Do You Feel Better Prepared to Navigate RV Propane Safety?
As always, I hope this information has given you a greater level of confidence related to your RV propane system. I further hope that you understand the importance of always staying on top of issues related to RV propane safety and making informed decisions related to your own well-being.
If you have any questions, or anything to add to this discussion, feel free to chime in below with your input. We always love to hear from you!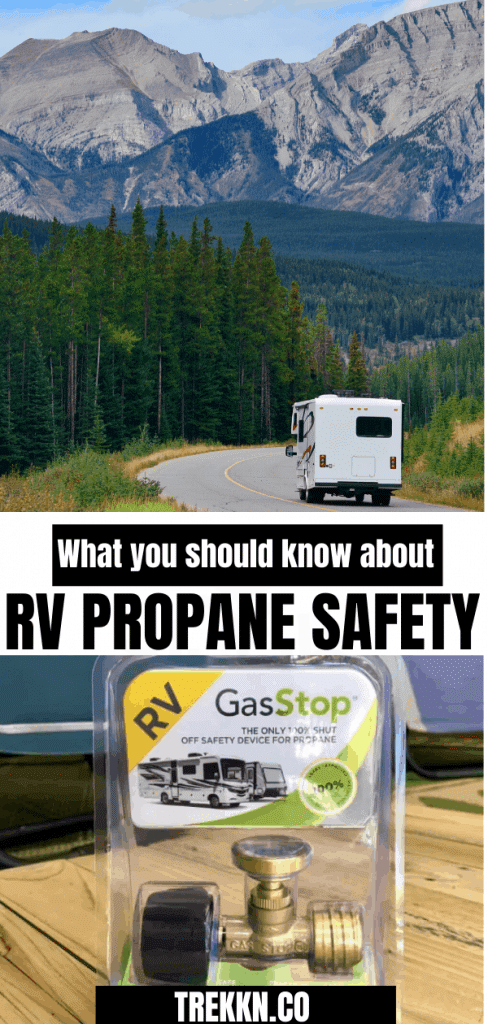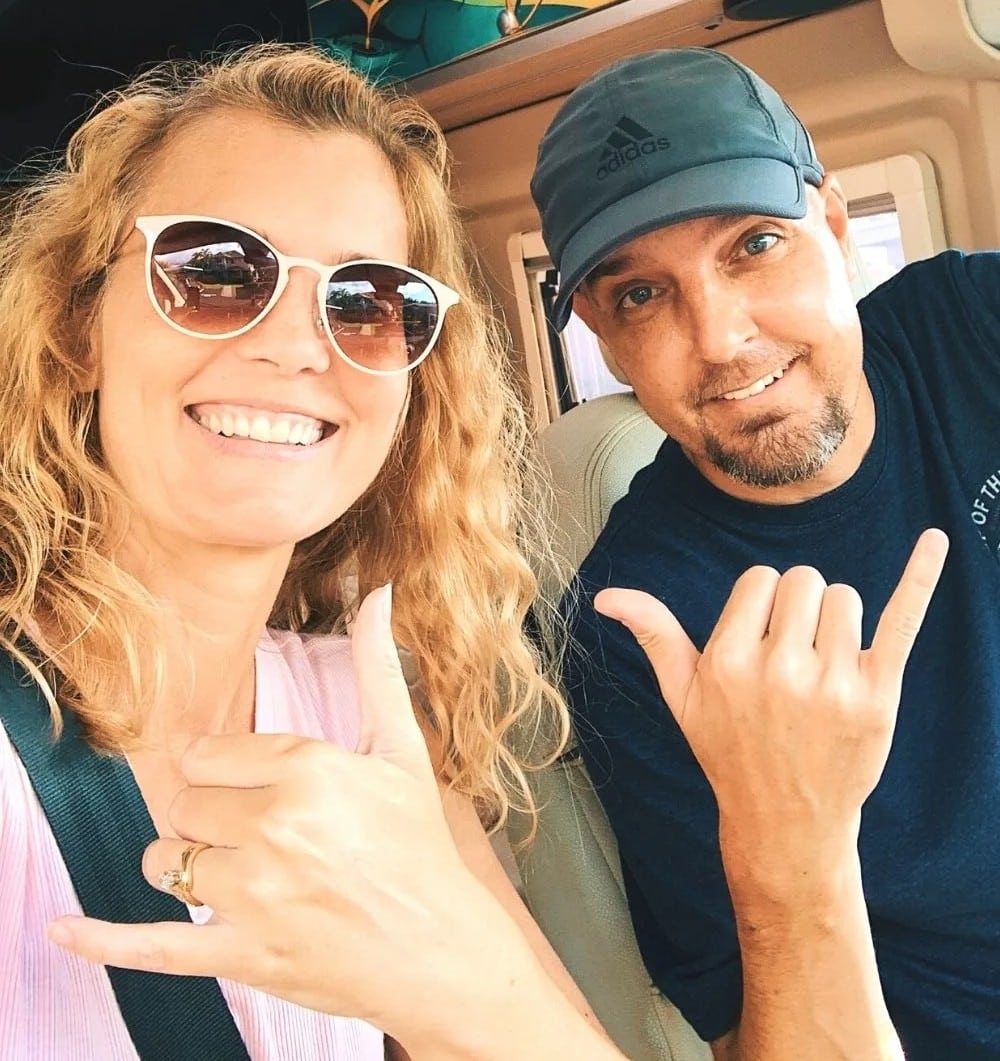 Todd loves a competitive game of table tennis, a breathtaking hike, and exploring new places. He lived and traveled in an RV with his family as they traveled throughout much of the US and parts of Canada. Todd has extensive knowledge about RV travel, safety, and accessories and has shared many of his stories here on TREKKN. When he's not busy launching and building small businesses, you may find him staring at pictures of Glacier National Park (probably his favorite spot on earth).