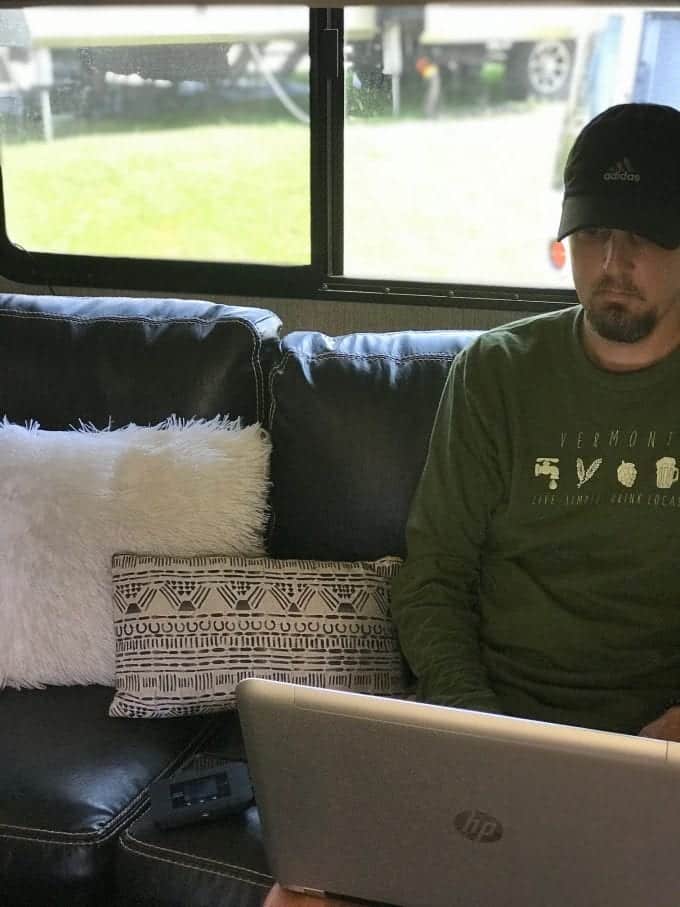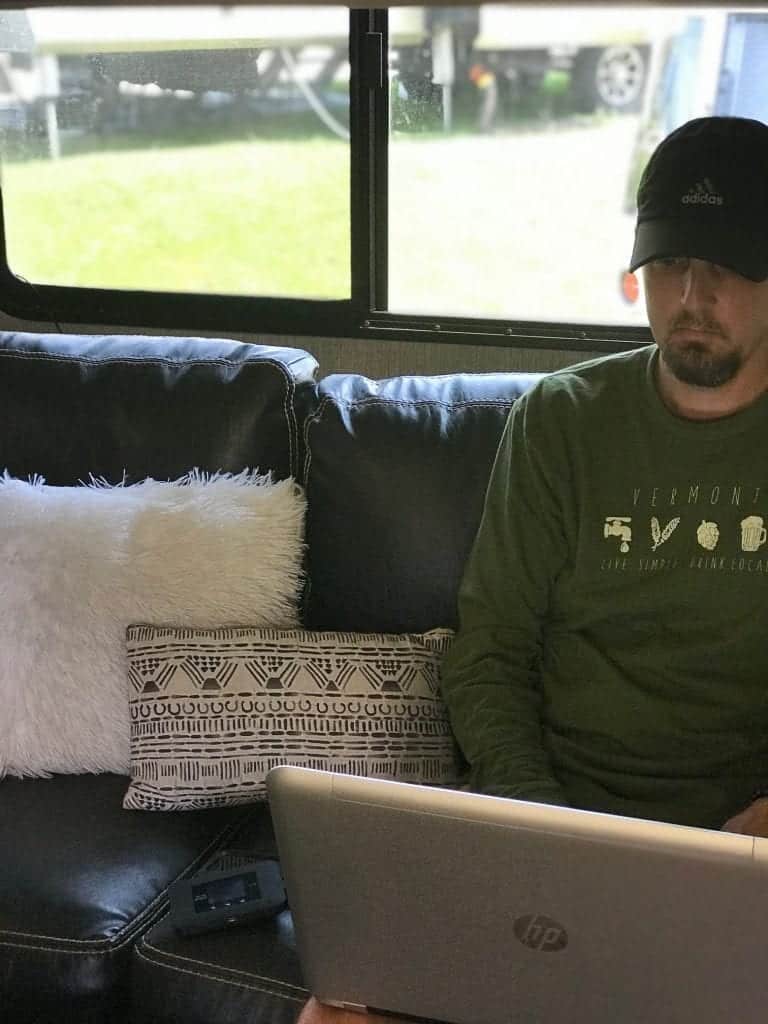 Do you want to stay connected while on the road? Here are our top five RV internet solutions that kept us connected, productive and entertained while traveling full-time via RV.
Sometimes I kind of resent the power it has over me.
It's strange to resent something and be thankful for it at the same time, but that's how I feel about our RV internet solutions as we travel full time.
Our internet connection is absolutely necessary, making great things possible. And yet the pursuit of that connection seems to occupy far too much of my mind space on some days at least.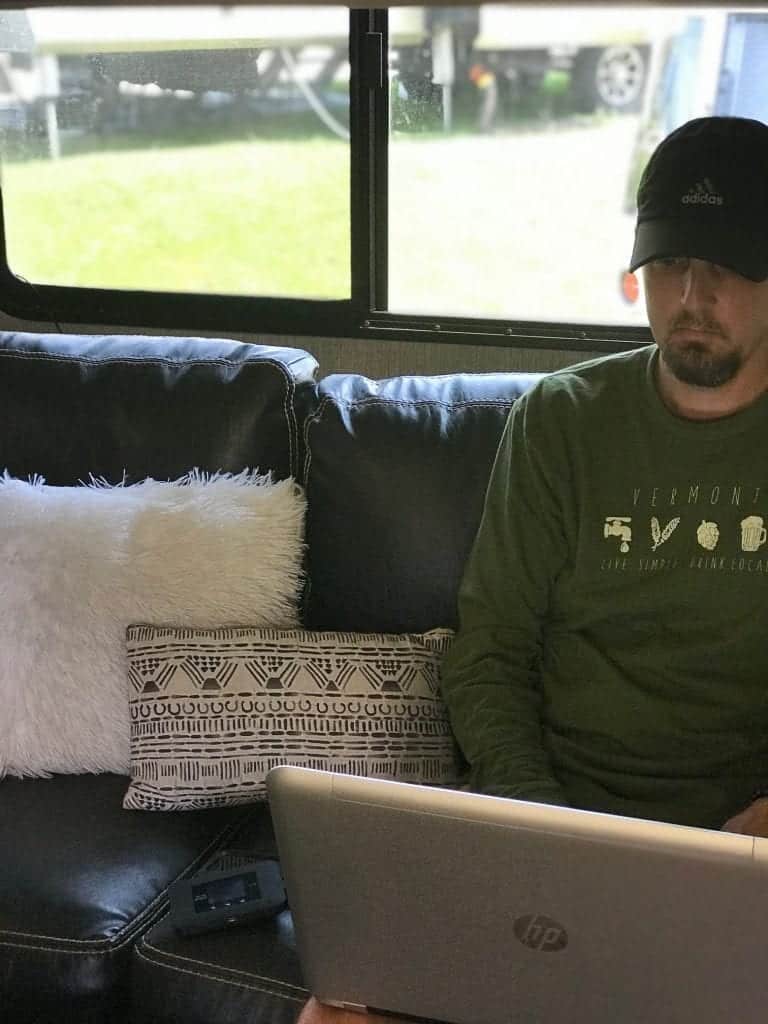 Internet connection while traveling full-time can make you feel conflicted like this. It is easy to love it and loathe it simultaneously.
No matter how you might feel about staying connected on the road, the fact remains that it is a necessity for "digital nomads" like ourselves.
I Am NOT the RV Internet Solutions Expert
Look, I don't want you to get the wrong idea here before we get started. I do not claim to know everything there is to know about this whole "mobile connectivity" issue. Not by a long shot.
Even after 17 months of finding ways to stay connected and get work done on the road, I still consider myself a relative novice when it comes to how to stay connected to the internet in an RV.
What I want to do here is simply give you a look at how we have made things work for our situation. I won't try and cover all of the possible best internet for RV options that are out there for you to explore. That would require a whole new website on its own to explore all of that!
Speaking of other websites, this post will also point you toward valuable resources that DO cover this RV internet topic extensively.
So let's jump right in and take a look at our best recommendations and internet for RV options based on our experience as full-time RVers.
How We Stay Connected and Get Work Done While Traveling Fulltime: Internet for RV Living
I can't really start this section off without thanking Verizon Wireless. We would be pretty much up a creek (or out a whole bunch more money) without their services.
You see, it just so happened that in the month before we left on our big RV adventure, I stumbled into an Unlimited Data plan with Verizon Wireless that apparently is no longer offered.
And it is pure gold. At least that's what I am told by the jealous full-time RVers we discuss it with.
Now, I have been with Verizon Wireless since 2007 and we have had several different plans during that time. But this Unlimited Data plan that we have now has been a real life-saver for us I think.
Solution #1 – Mobile Hotspot Connections through our Verizon Wireless Cellular Phones
Our Verizon Unlimited Data plan is actually called "The New Verizon Plan Unlimited". The cost is $110 per month for this plan (based on my info).
On this plan, we have 15 GB of 4G LTE hotspot data per device, per month included. For us, this is a total of 60 GB on our four iPhones alone (when four of us are in the RV most of the year) and is what made RV internet service possible for us.
Everything else below is pretty much built on top of this solid foundation that Verizon has provided. So let's keep it rolling.
Solution #2 – Additional Mobile Hotspot Connection through Verizon Wireless (Jetpack)
A Verizon Jetpack Review
In addition to our phones, I purchased a mobile hotspot, the Verizon Jetpack 4G LTE Mobile Hotspot – AC791L, for about $200 through Verizon Wireless shortly after we hit the road. This provides another 15 GB of high speed hotspot data per month for our RV internet service.
We are able to connect up to 15 wireless devices to this hotspot, so it more than meets our needs.
In total, this gives us up to 75 GB of high speed 4G LTE hotspot data per month through our Verizon plan. This is normally how the majority of our work gets done.
When we have used up the 4G LTE data on a device (this happens fairly often), the 3G speeds it drops to are sometimes still adequate to continue working at a fast pace. It just depends completely on our location at the time and on the "heftiness" of the work being done.
What About the Non-Hotspot Data?
Of course, we have plenty more 4G LTE data to use beyond that hotspot data I've been talking about, because this is an unlimited data plan. Officially, Verizon is free to slow down our data on a device after 22 GB of high speed data usage.
Have we experienced that slow down? No.
I don't want to throw around the figures for total data that we have used monthly over this past year, but let's just say that we have gone well into the triple digits (GB of data) on multiple occasions without any noticeable data slowdown. I know…we have been pretty shocked as well!
Total Verizon Wireless Cost?
As I mentioned, the Unlimited Data plan through Verizon has a sticker price of $11o per month. When you tack on the line access fees ($20 per device), we hit a grand total of $210 per month to cover the vast majority of our data needs. (Note: This monthly total does not include device payments.)
So is this everything we need? Well, sort of.
Before we hit the road, I still felt pretty clueless about the internet for RVers game.
With everything else I had on my plate (as a complete newbie to RVing and towing, with selling the house, etc.), I simply had to set this on the back burner in order to not blow a gasket. I figured we would just have to get it figured out as we hit the road and encountered connection problems. I couldn't find the optimal solution without any experience on the road.
Essentially, I did not want to be throwing away good money on technology we might not even need! That's reasonable, right?
But I knew I needed to have something in place for the "rough spots" we would inevitably hit.
Enter the weBoost Drive 3G-S Cell Phone Signal Booster to give us a little bit of peace of mind. This device is designed to boost a cell tower signal up to 32x when you find yourself in a spot with a weak (but existing) signal.
You should be aware of two things about this device before considering a purchase:
If you have ZERO signal from your cell service provider in a location, this will not be useful. It boosts an existing, weak signal. So it will not solve all of your RV internet connection problems.
This product is a cradle for boosting only one device at a time. You can place a cell phone or a mobile hotspot in the cradle in order to boost the cell signal to only that device.
This device got us through the first six months on the road. It was not ideal for our situation obviously, since we had 5-6 cellular devices in the RV at any time. But we made it work even through the rough spots.
I never did gather "empirical" data (testing connection speeds with and without the signal booster) on this device, but it did seem to get us to functional and allowed us to get work done when the connection was worse than we would have preferred.
But eventually, we needed something a bit "beefier" that was capable of boosting the cell signal for multiple devices simultaneously.
For us, the next logical signal boosting option that would work in our 26-ft travel trailer was the weBoost Drive 4G-M.
I'll be honest: What really got me to spend the extra money and make this purchase was because we got wind of a great sale on this device.
We were able to pick up a new device for far below the going rate. Sorry…I don't have any intel on upcoming sales. 🙁
(Note: They do have a newer model of this device, released since we purchased, which appears to have the same basic specs and is the same price. New model number.)
With this new cell phone signal booster, everyone in the family is able to benefit from the boosted signal simultaneously. This is a huge step forward for us in staying productive.
Other Similar Cell Signal Boosting Solutions That Might Work for You
weBoost makes other cell signal booster products that might be a better fit for you and your RV.
We were not able to consider something like the more powerful and more expensive weBoost 4G-X RV 470410 because of the size of our travel trailer (26 feet long). Essentially, if you are not able to place the external antenna (pulling in the weaker cell signal) and the internal antenna (broadcasting the boosted cell signal inside the RV) far enough apart, it will result in frequency modulation.
Frequency modulation means that these two signals are interfering with each other because of their strength and proximity to each other. In essence, you will lose any "boosting" benefit that the device is trying to provide.
If you have a 5th wheel or Class A motorhome that is closer to 35 or 40 feet in length, the 4G-X RV model may be the right choice and provide you with maximum boost. But please do your own research before making a purchase.
All of the solutions and devices I've covered so far would definitely fall under the "necessities" category. They all get us up and running and able to get our work done with a reasonable amount of predictability.
But Solution #5, (which we mentioned in our previous RV Tour post) although it has been very nice to have, definitely falls under the "conveniences" category. It is not absolutely necessary, but it is a great addition for family entertainment purposes.
The Apple iPhone to HDMI Adapter can be purchased on Amazon or at an Apple store. It simply allows you to connect your iPhone or iPad to an external screen via HDMI cable in order to display video on the external screen without using Hotspot data; it only uses regular data via your iPhone or iPad.
And as an added bonus, you are also able to charge your device through the adapter while streaming your favorite movie or show. How cool and convenient is that?
So, family movie night is back on in this RV! And it can be in yours also…woohoo!
You Can Go Much Further and Spend Much More Than We Have
Here's the truth: We probably have done less to prepare ourselves for a reliable internet connection than most full-time families out there. I am basing this conclusion on conversations we have had with many of them over the past year.
Many families have data plans with at least two different cellular carriers. The top two carriers for overall coverage and for popularity are definitely Verizon and AT&T. Sprint and T-Mobile still trail behind by quite a bit from what I understand.
Having more than one carrier allows you to explore an alternative when you hit an area that has poor coverage for your primary carrier. And this makes sense for many families.
If you are considering hitting the road, I encourage you to go take a peek at the Coverage? app, created by the same folks who run Technomadia and the Mobile Internet Resource Center . Chris Dunphy and Cherie Ve Ard are hardcore techies that cover everything you could ever want to know about staying connected on the road and more. They offer some free information and some paid information for those looking to go "down the rabbit hole" of all things connectivity and create an arsenal of equipment to stay connected.
In addition to your cellular connection options, you could also explore options on the WiFi connectivity side of things if you are hoping to stay connected without multiple cellular carriers. There are many WiFi signal boosting devices available which can help you to take full advantage of free internet WiFi connections provided at campgrounds, libraries, etc.
These Five RV Internet Solutions Will Keep You Productive and Entertained
On the road full-time with work that has to be done, the first priority always has to be staying connected and productive. There is no doubt about that.
But don't worry, we don't work all the time! Probably less than we should, honestly. (But that's a different post.)
So hopefully I've been able to shed a little bit of light on the best way for you to stay connected, productive AND entertained during your time on the open road. I know you've still got a lot of work ahead of you to decide which RV Internet Solutions are best for you and your situation, so I will wrap this up and let you dive in.
But after that research phase, remember to get out there in the sunshine and keep on TREKKN!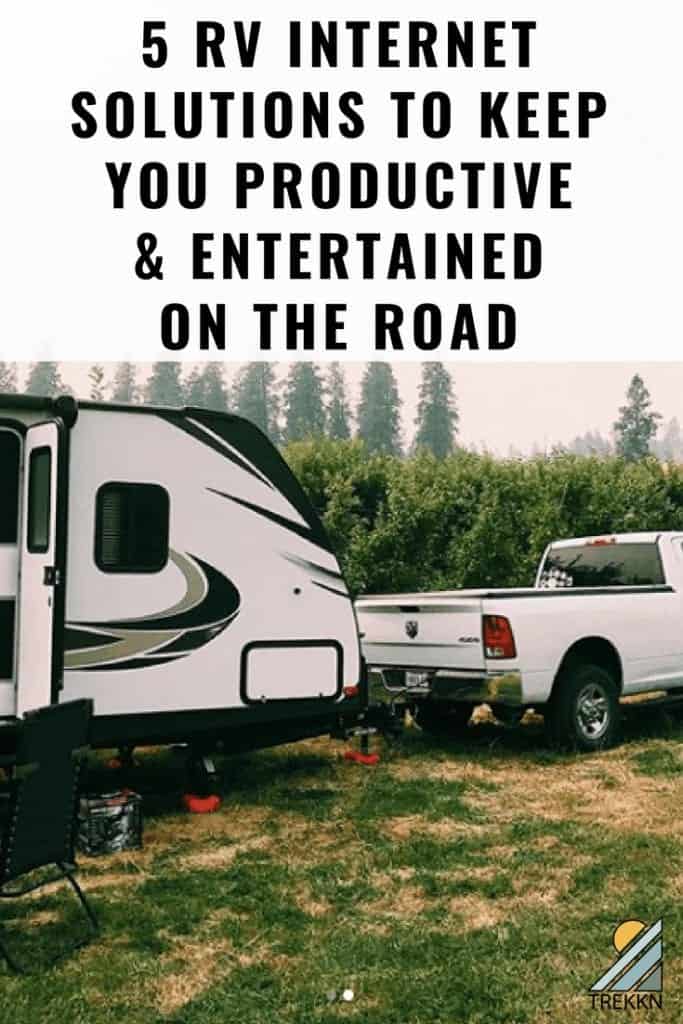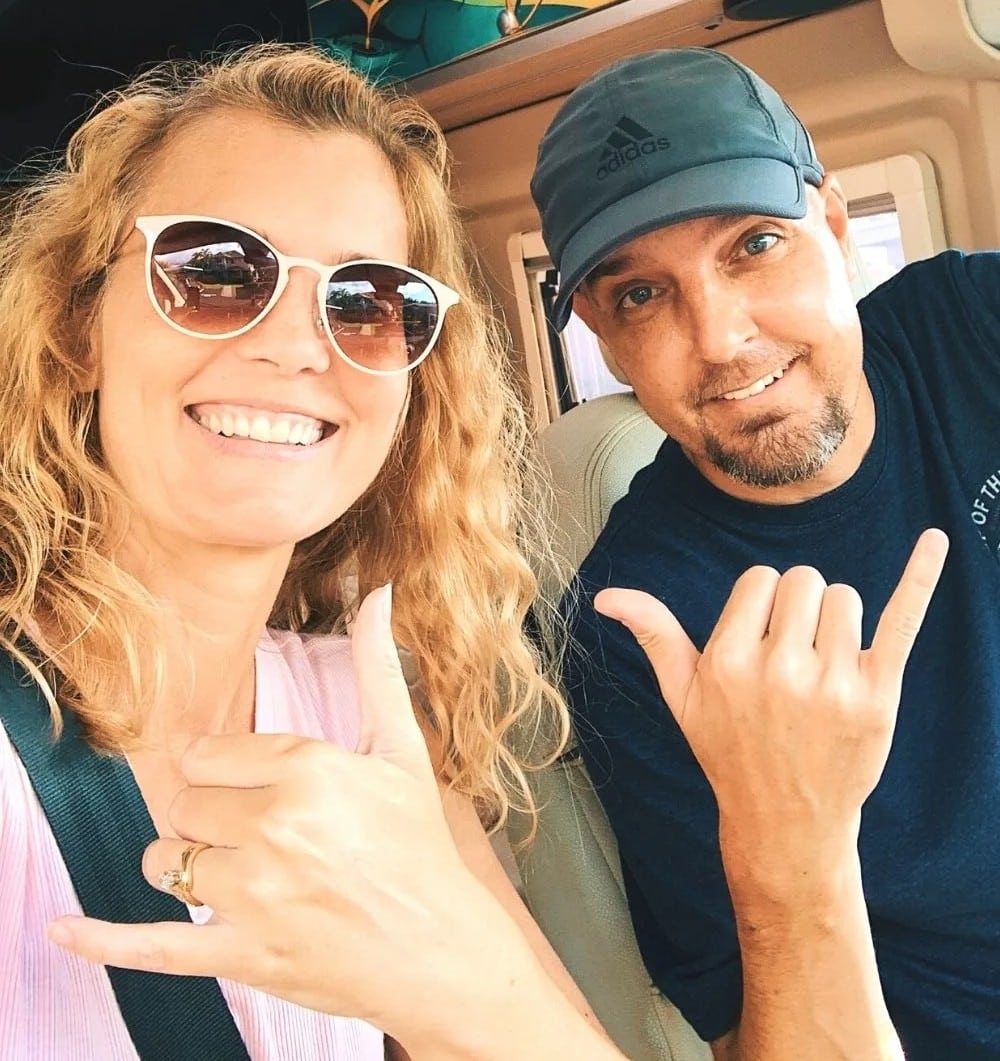 Todd Bonner loves a competitive game of table tennis, a breathtaking hike and simply exploring new places. He spends most of his time sharing information about RV travel and safety, RV accessories and tips, and the National Parks he has visited and still desperately craves. When he's not busy working on TREKKN, you will often find him staring at pictures of Glacier National Park (probably his favorite spot on earth) or creating new products for Clever Camper Company.