Do you have dreams of getting away for some solitude? Here are our recommendations for 7 of the best RV upgrades for boondocking.
Ah, the great wide open. You claim your own piece of public land for the week or the weekend. Birds chirp outside your RV window. The kids or dogs run free in nature.
This is the stuff boondocking dreams are made of.

We've been boondocking for many years now, and it keeps getting easier, thanks to the upgrades we've made along the way that make things go more smoothly.
Today we're sharing our top seven best boondocking upgrades, in hopes, that it will help you get out to some remote areas for camping in nature without hookups.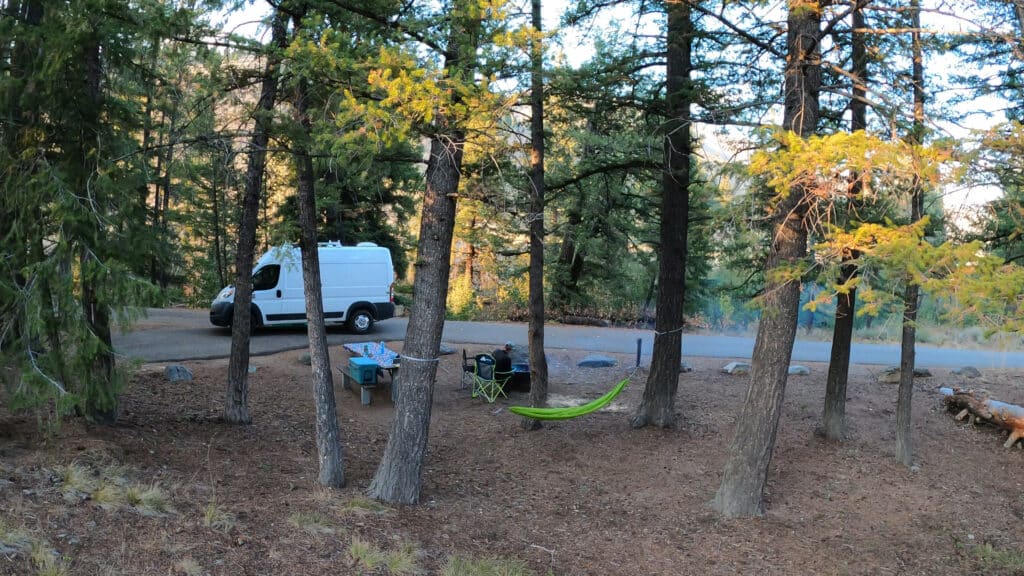 Are You Ready to Go Boondocking?
After two years of using our RV primarily at RV parks, we rolled up for our first boondocking weekend with big dreams and no plan. We used all of the RV systems like we normally would, as sort of a test to see what would happen.
Well, on our first night we drained the batteries to zero and woke up to alarms in the middle of the night. So, power is where we recommend most people start when getting ready to boondock in their RV.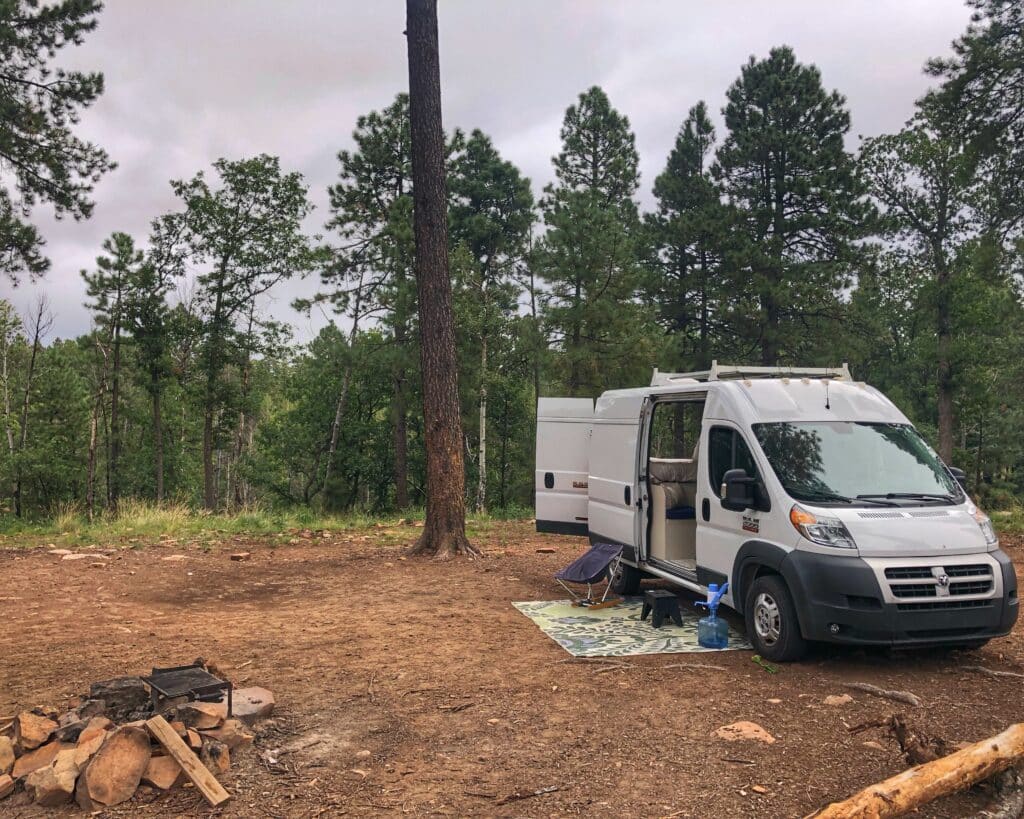 Lithium Batteries
Like many RVs, our motorhome came with two golf cart batteries. On a big motorhome like ours, that was barely enough to keep the lights on.
Of course, it depends on your RV and your power needs, but we think batteries are the boondocking upgrade you should consider first above everything else.

We have Battle Born Lithium Batteries and they've been great for us.
We have never had any issues ourselves, but friends of ours who did have issues with their Battle Borns said the warranty process was quick and easy, and Battle Born got them back on the road as soon as possible.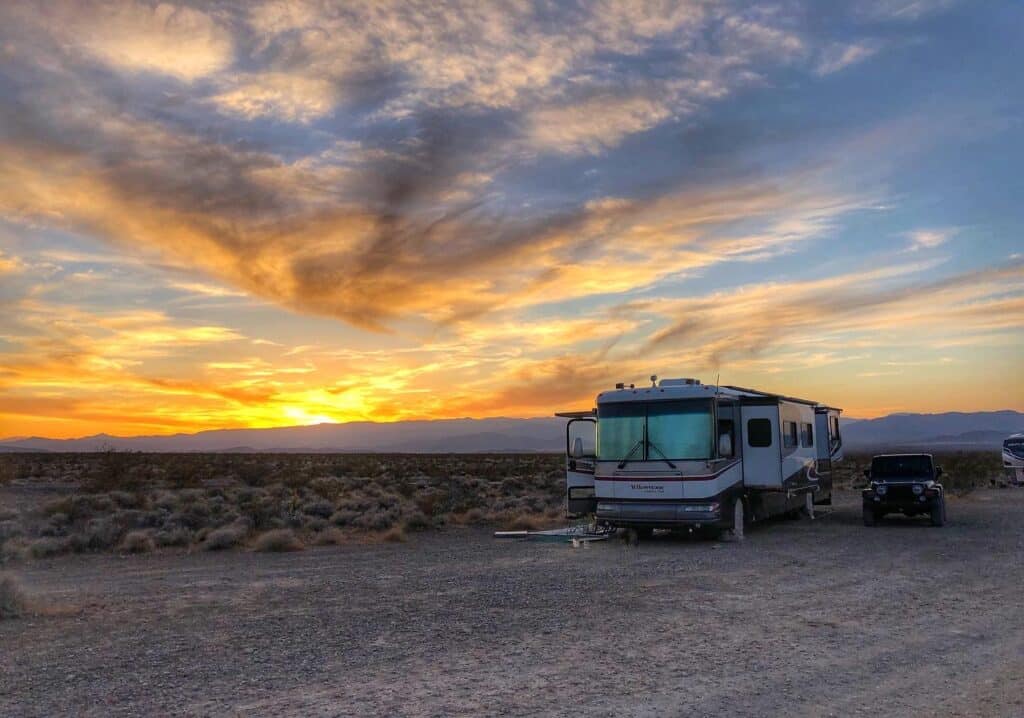 Lithium batteries can seem expensive, but we think they're absolutely worth the cost. AGM or lead-acid batteries only allow up to 50% use of the battery capacity whereas lithium can use 100% of its capacity.
On top of that, lithium batteries are expected to last 6-10 times longer than AGM or lead-acid.

If it seems financially overwhelming to build a bank of lithium batteries, just start small.
We bought one Battle Born battery at a time, over the course of several months. And it honestly depends on how you plan to use your RV–if you're just camping for the weekend, small be all you ever need.
There's no reason to overdo it if you have no intention of ever truly needing more!

But batteries will only take you so far if you want to stay out boondocking longer, or if you want to live in your RV full-time. Then, you also need a way to reliably recharge those batteries!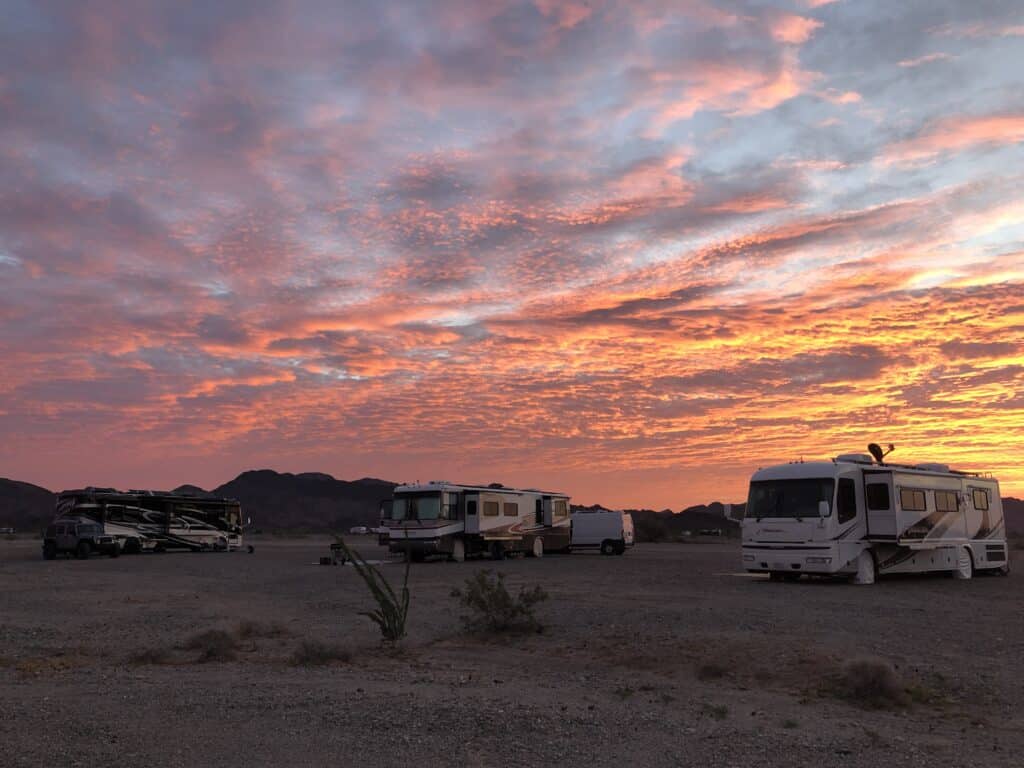 Power Creation – Generator or Solar
Before you make any decisions about setting things up for generating power in your RV, you have to take a minute to consider the reality of what type of RVing you actually like.
As we mentioned above, there's no need to overdo it if you won't ever need it.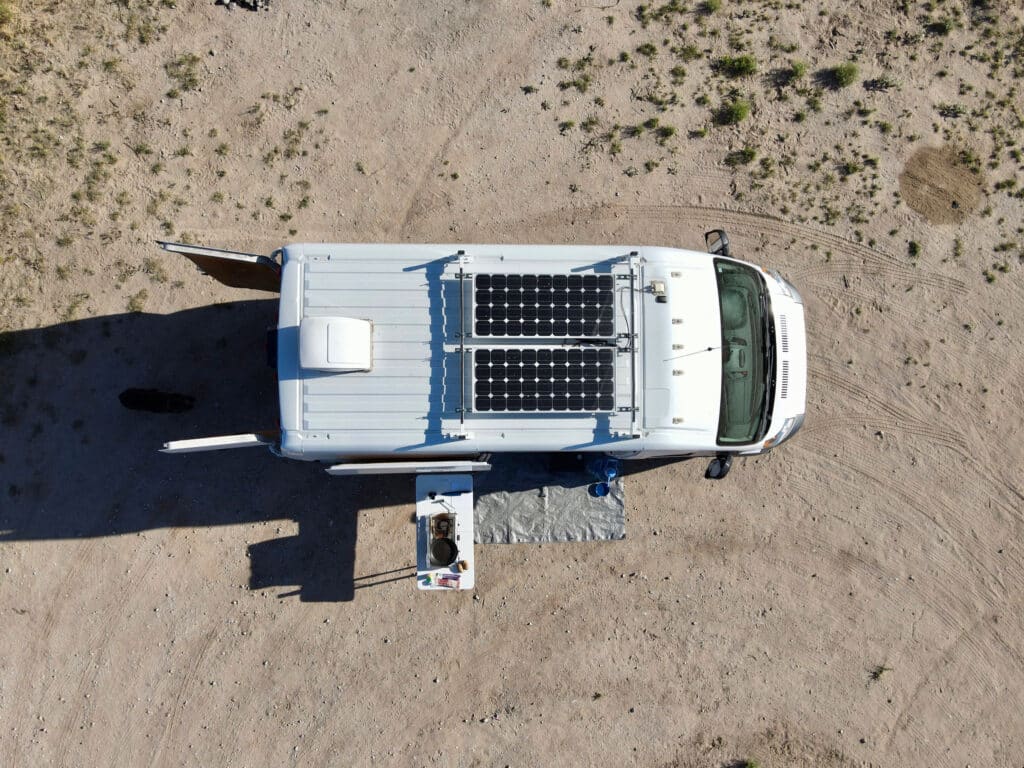 GENERATORS
If you use your RV recreationally a few times a year for weekend trips, a generator may be the most straightforward way to generate power.
Generators are relatively cheap and are also easy to connect and operate. We love anything that gets you out there boondocking faster!
There are many different types and sizes of generators for you to consider.
If you are looking for strong performance, versatility, and ease of use, starting your search with a dual fuel, electric start generator is your best bet.
Since this type of generator runs on either gasoline or propane and is also fairly compact (aka "RV-friendly"), it will be the most likely candidate to get you out there "into the wild" quickly and easily.
Just pay close attention to the comparison between the wattage output of the generator and the power consumption of your RVs appliances…and especially of your AC unit.
Starting up most AC units takes a LOT of power, so be sure you do your homework and get enough "juice" from the beginning.
In the end, you will avoid a great deal of headaches and hassle by getting enough generator from the start.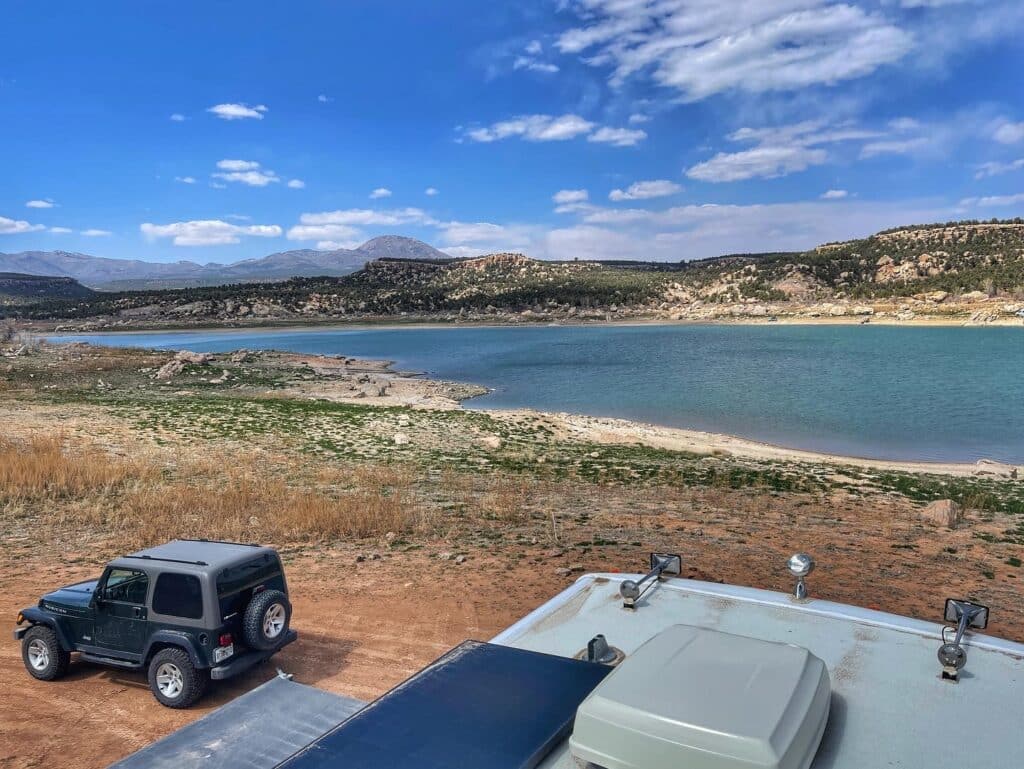 SIMPLE SOLAR SETUP
If you'd like to stay out camping off-grid longer, however, making the investment in a solar setup may make sense.
The easiest entry point for solar is a portable "suitcase" type system like this one from Renogy.
It simply connects right to your batteries (no wiring hassles to deal with) and will recharge them with minimal equipment and headache.
If you're just looking to stretch your boondocking legs a little bit and try out this approach to RVing, the simple solar suitcase is the way to go for step one.
FULLY INTEGRATED SOLAR SETUP
For those who want their RV to function as if it's plugged in while camping off-grid, or for anyone thinking about living in their RV full-time, a full solar system with permanently attached panels may be needed.
Some RVs nowadays come "solar-ready" with the wiring run from the factory.
Whatever your starting point though, you'll probably want an expert to at least help you design the system.

We hired the experts at Power Up RV Solar to do the panels, wiring, and brains of our system.
They worked with the batteries we had been slowly acquiring, and we kept the original inverter that our motorhome came with.
With 1500 watts of solar panels on the roof, we're able to fully re-charge our five Battle Born batteries almost every day of the year.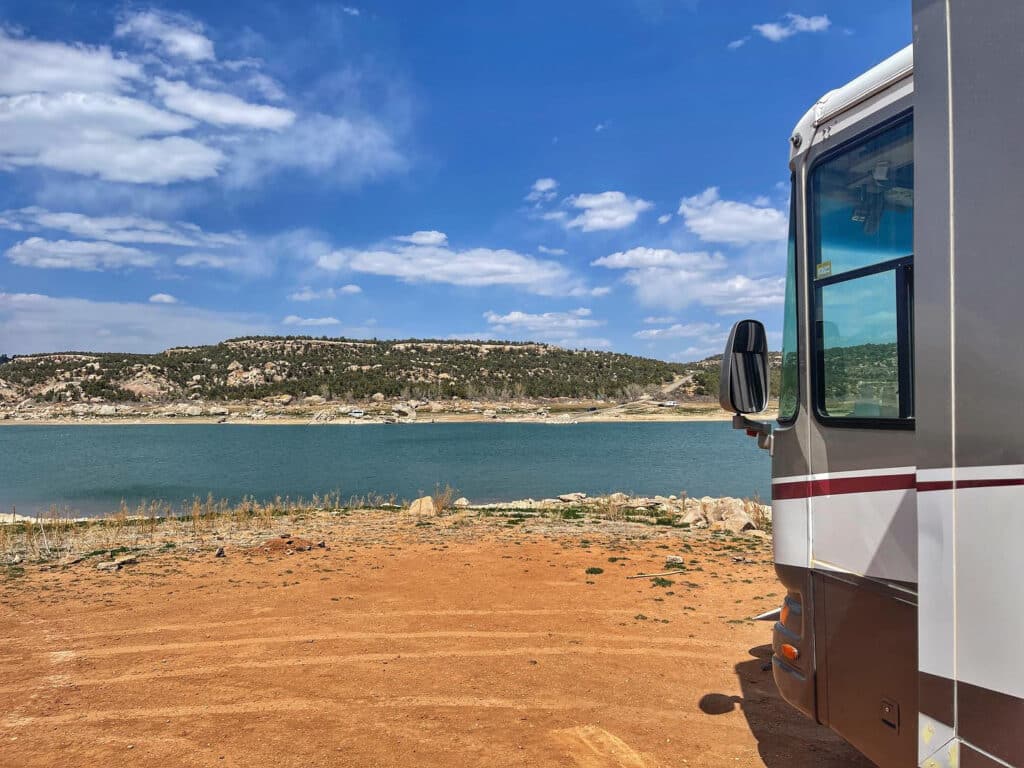 Our system feels right-sized for a big motorhome like ours, and we never really have to worry about power.

Eventually, though, we did decide to upgrade our inverter to the new Victron Multiplus II Inverter so that we could produce pure sine wave energy, identical to that of a regular household outlet.
This helps prolong the life of our appliances, increases our surge capacity, and also allows us to power our entire coach through one inverter (not previously available prior to this new inverter design).

Depending on how high-demand your power needs are, you may not need a fancy inverter like this.
But no matter what, the solar energy captured by the panels on the roof gets stored in the batteries as DC electricity and must be converted to usable AC electricity inside your RV.
This is the overall function of an inverter.
Internet Connectivity
Most of the RVers we meet on the road are what we like to call modern-day nomads, meaning they like to be connected to friends, family, work, etc.
Even the "retired" nomads we meet are doing something from the road, such as consulting, freelancing, or even just face timing with grandkids.

We all need connectivity. For some, it's essential for work and has to be very reliable, for others maybe they don't mind climbing to the top of the mountain to get a signal.
If you're the latter, a basic cell phone plan with data could be enough to keep you connected on the road.

We started our boondocking life with the Netgear Nighthawk MR1100 Mobile Router and had pretty good success with it.
We used a cell-based unlimited data plan, so as long as we had a cell signal, we were good. This did occasionally mean climbing on the roof to get the antenna as high up as possible.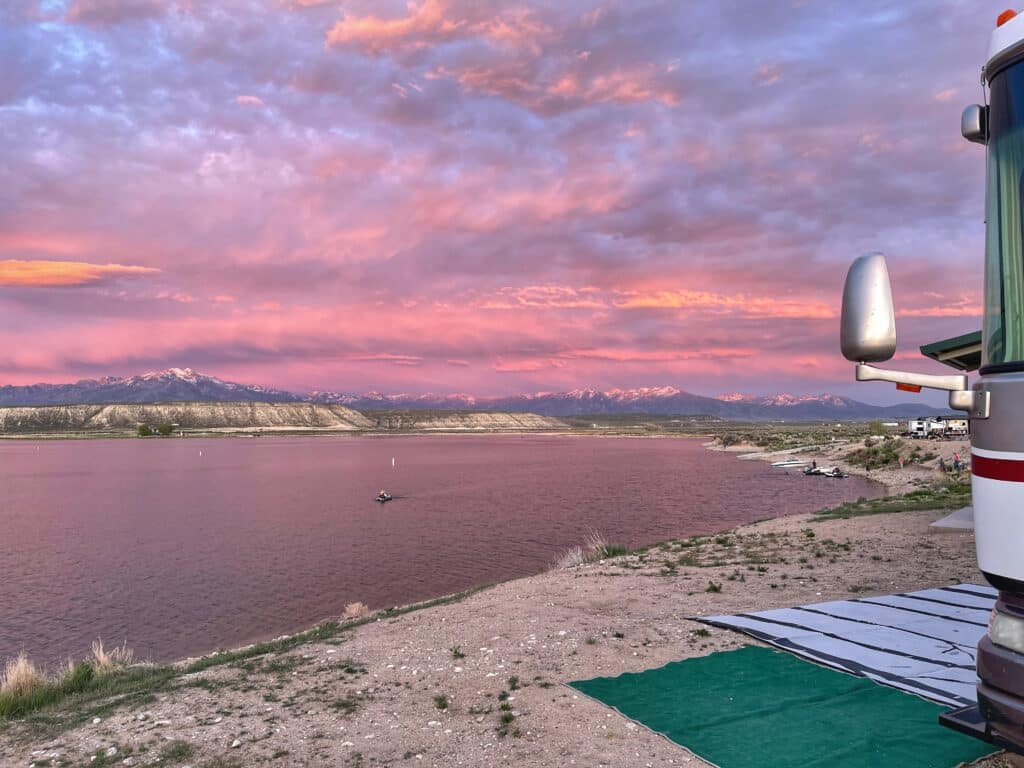 STARLINK SATELLITE INTERNET
The real boondocking upgrade though is the availability of Starlink Satellite Internet.
With our cell-based data plan, if a campsite didn't have a cell signal we couldn't stay. Now, with our Starlink Dishy, we can camp in new places that were previously unavailable to us due to cell coverage.

So even if there's no cell signal, now we can use Starlink to create a high-speed internet connection, switch our cell phones over to "wifi calling," and we're effectively back in business.
Especially in the summer when it feels like competition is high for the best boondocking spots, we love that Starlink gives us access to more places.

Since we work from the road, internet connectivity used to be something that held us back. We consistently have to conduct Zoom calls and can't do that with an unreliable or slow connection.
Dishy is a game-changer for us and we can't wait to go see all the places we had previously avoided due to bad cell coverage.
Aquatank Water Bladder
Water is one of those things you take for granted until you live in an RV. We've always tried to be environmentally aware and conscious of our consumption, but RVing takes it to a whole new level.
When every drop counts, you learn the art of the faucet "trickle."

To help us extend our boondocking stays without having to move our RV, we upgraded to the Aquatank II Water Bladder. It comes in a few sizes, and we recommend a size that's smaller than your RV fresh water tank, but not too small.

After upgrading our old batteries to lithium and getting the solar installed on our bus (these seemed like the bare necessities for full-time boondocking), our next upgrade was the water bladder.
It continues to be one of our most-used items.
Our fresh water tank is 100 gallons and we have a 60-gallon water storage bladder.
We find this to be a perfect ratio because when we've used about two-thirds of our fresh water tank, we know it's time to start thinking about getting some more water.
We can then go fill our bladder and it will refill our tank. This way, all of the water you cart home in the bladder gets put back into the RV.

It's a bit annoying to have extra water left in the bladder if it doesn't all fit in your RV freshwater tank.
But you also don't want to completely run out of water before you go to get more. That's why we like our bladder-to-tank-size ratio.
Also, if the bladder is too small, you'll find yourself running out to fill up too often, at least for full-time RV living.
Overall, having the ability to refill our water tank without moving the RV just makes RV life more comfortable.
We certainly never waste water but with the bladder, we can take more showers, do more dishes, and not feel like our water consumption is a daily stressor.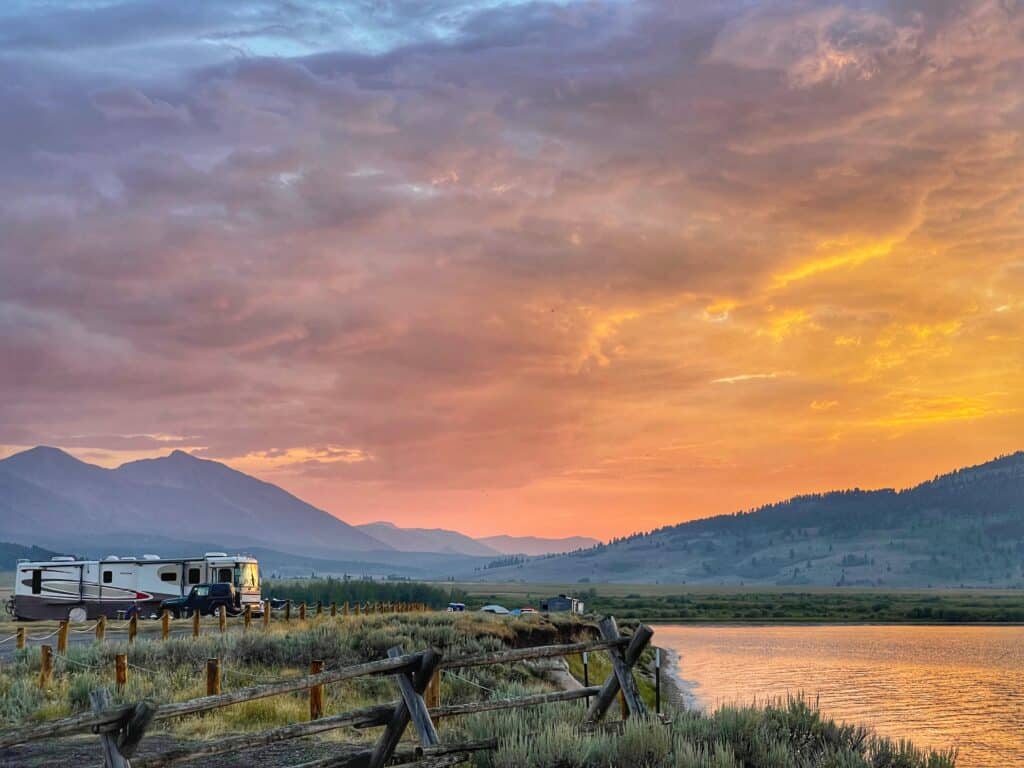 Extended Stay Propane Adapter
This next upgrade really only applies for cold weather camping, and for RVs that have internal propane tanks.
We have the Stay Longer Propane Adapter so that we can connect an external propane tank to run through our internal tank lines.

With this upgrade, we're able to run our furnace and stay warm inside the RV when it's cold out, without having to worry about running out of propane in our onboard tank.
During the colder months, we can run through 5 gallons of propane in a few days.

Our internal tank is forty gallons and most places will only fill it 75-80% of the way (30 gallons).
So rather than have to deal with finding somewhere to fill our motorhome internal tank every other week, we can simply refill a standard 5-gallon "grill" tank while we're out running other regular errands.

If your RV already runs off of the removable five or seven-gallon tanks, you won't need this upgrade.
Security Cameras
The last upgrade on our list is actually our most recent upgrade. Since we primarily boondock in remote areas, and we're camping alone more than half the time, we decided to invest in the Wyze Cam v3 security cameras.
These little cameras have been great. They run off AC power on USB outlets so they don't draw too much from your power reserves.
The picture is amazing for how cheap the cameras are (about $35 each), even at night.
We chose Wyze because they don't require a monthly subscription to keep your cameras connected and online.

So far we've seen our dog sleeping on the couch, our chairs blow off our patio, and other such non-threatening things.
But we do have a friend who got bit by a dog while boondocking, and he was able to show the security camera footage to the police to prove what had happened.
You just never know, so it's always best to prepared!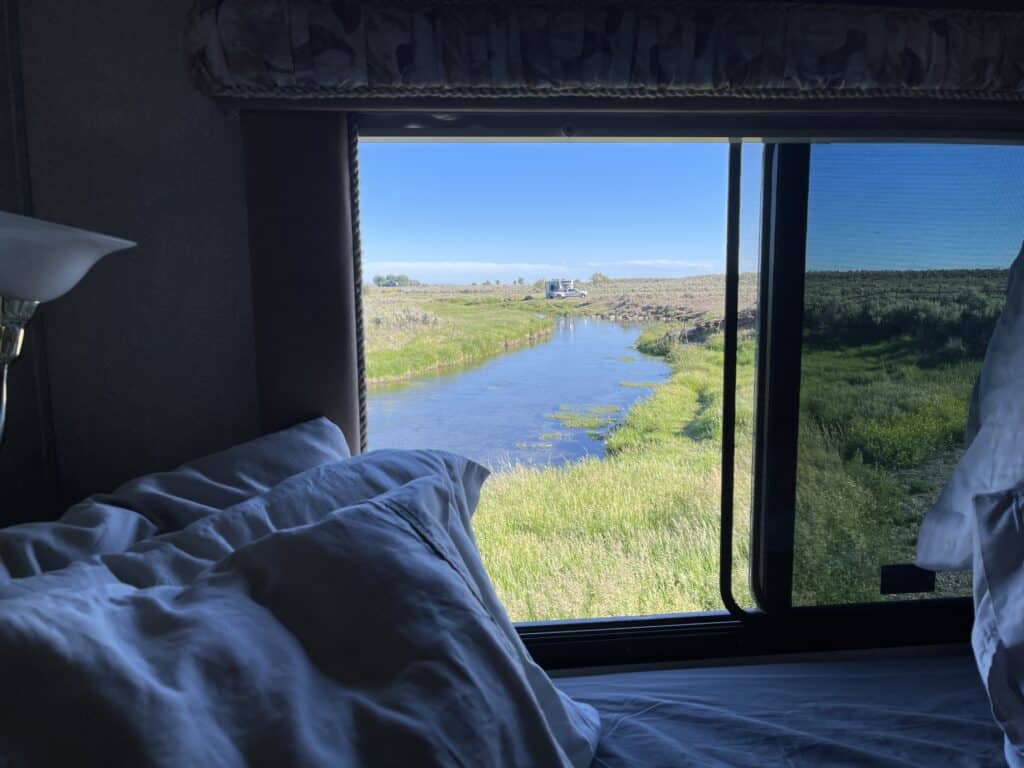 Which RV Boondocking Upgrade Will You Start With?
So which boondocking upgrade for your RV do you think you'll start with? We hope this list helped give you an idea of some upgrades you could make to help reach your boondocking dreams.
But don't let the list overwhelm you. Dream big, start small and just get out there and start camping in wild places. You'll figure the rest out along the way and you'll enjoy the adventure! Guaranteed.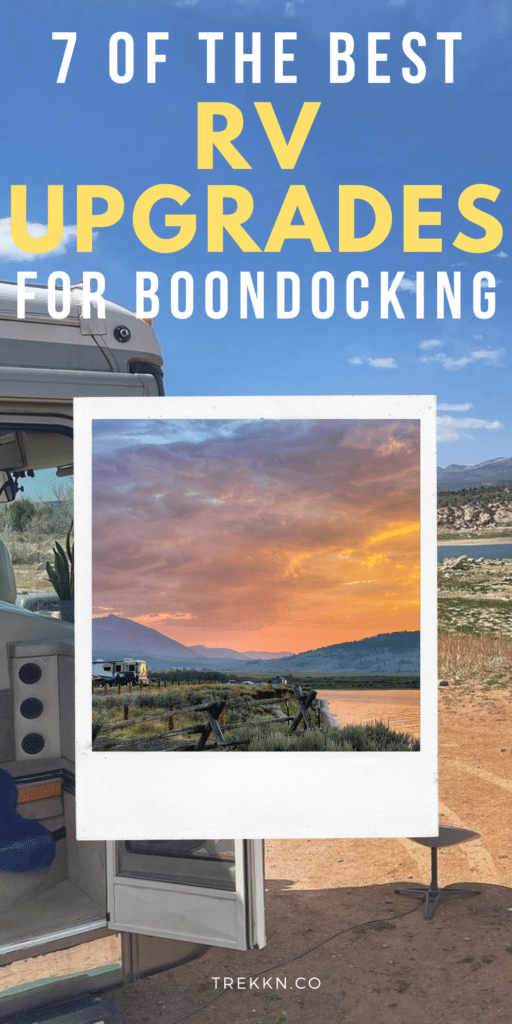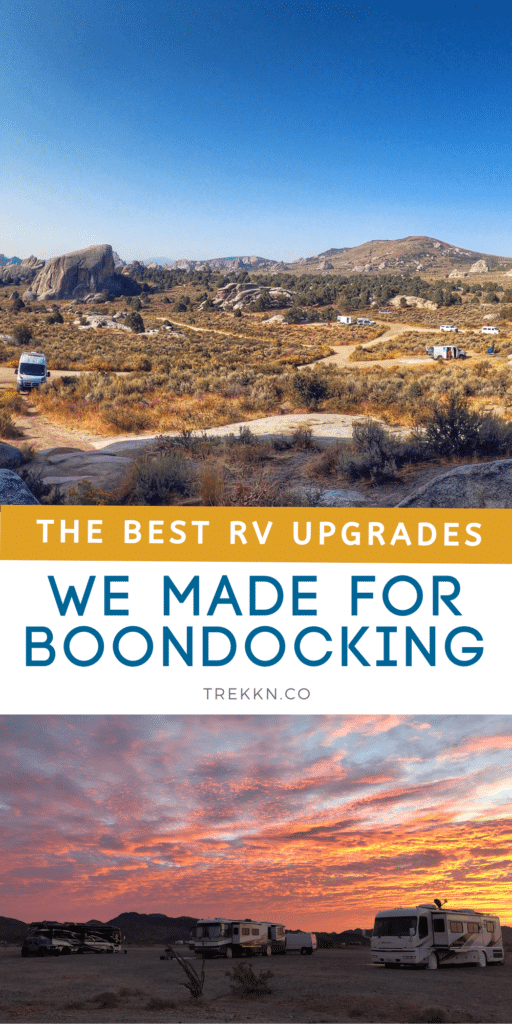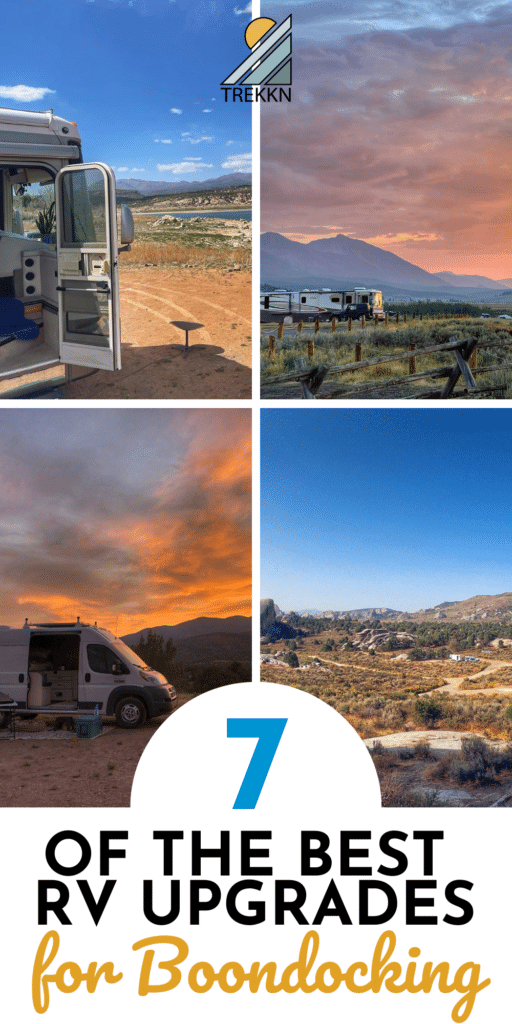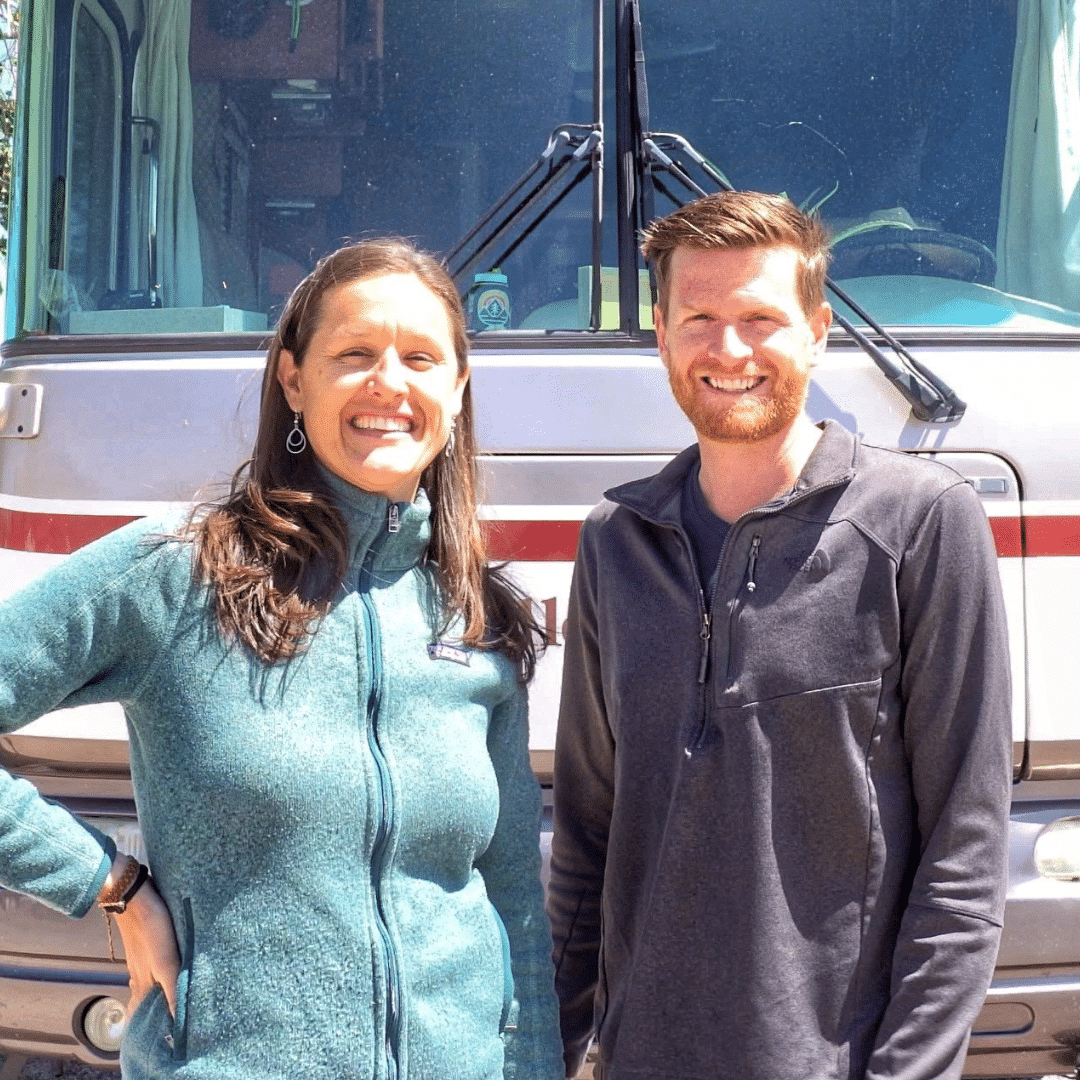 Kristen Sargent lives & works from her RV, primarily boondocking off-grid. She owns and operates a women-led travel company, Legit Trips. Kristen loves to explore new places and inspire others to do the same. If she's not typing away on her laptop, she's off on an adventure- hiking, biking, or SUP boarding. You can follow her RV adventures @PerpetualMoves and learn more about her travel company at LegitTrips.com.