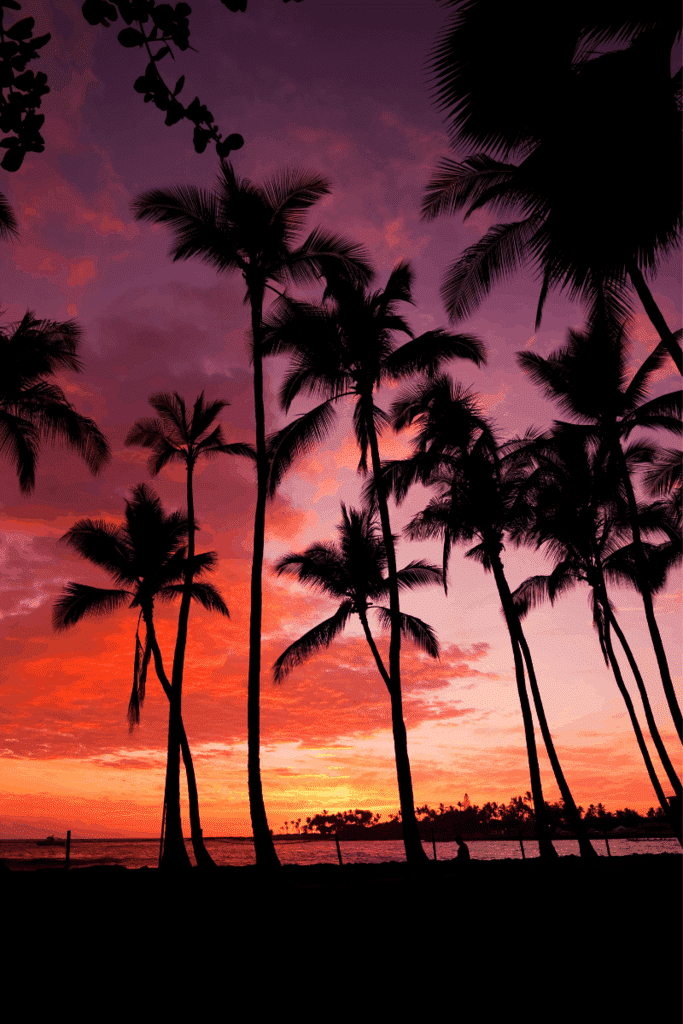 Yep, you read that headline right. We're moving to the Big Island of Hawai'i on November 1, 2020. We've signed a year lease on a furnished condo in Kailua-Kona and are gearing up for our next big adventure!
Um, Why Hawaii?
Long story short…we're restless and are ready for a change.
Let me give those of you who are new around here, the Cliff's notes version of our backstory:
-In May of 2017, we sold our house, most of our belongings, bought a travel trailer and a truck, and hit the road full-time. We did this all in 100 days. You can read about that madness here.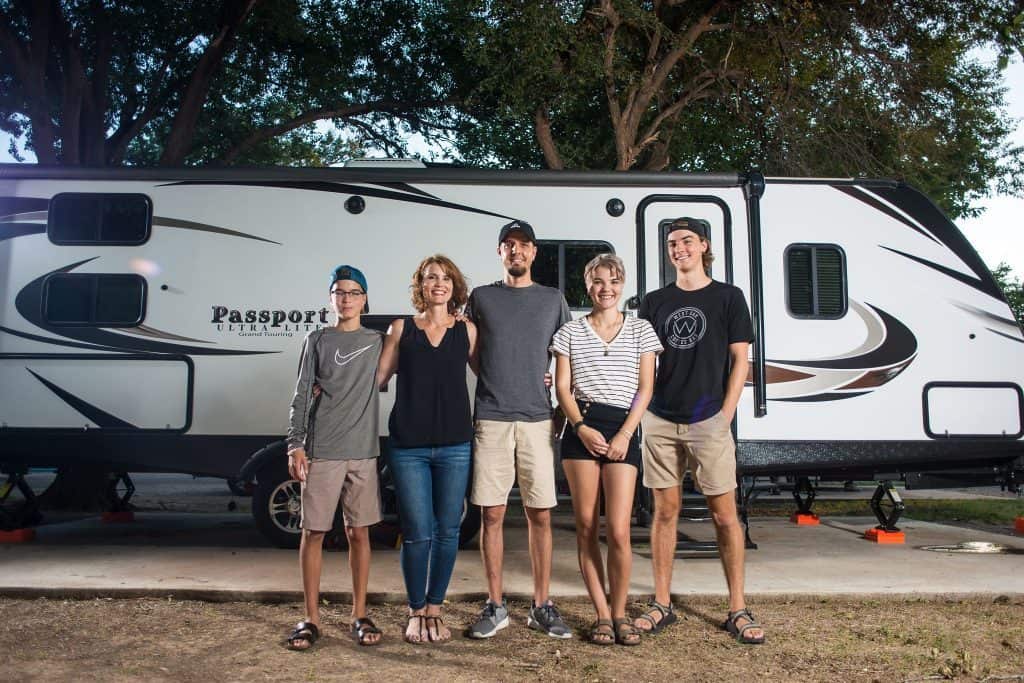 -After 17 months, 36 states, 15 National Parks and 5 Canadian provinces, we moved back to Texas to settle down for a bit. You can read why we made that decision here.
-We've been stationary for two years and in that time, two of our kids have flown the nest. That's right! They have jobs, places to lay their heads, and are adulting and all that good stuff.
One is in Alaska and one is in Illinois and they are so incredibly happy. Which makes Todd and I quite happy. They are proof we can raise two humans who eventually become functioning adults. Yay us!
-Since we've become stationary, our youngest enrolled in high school, got his driver's license, got a job, decided public school wasn't his thing and is now finishing up high school through an online private school program…which brings us to our why.
Todd and I get restless a lot. We're not sure if we're just naturally wired that way or if the Air Force turned us into nomads or what. We just know we like to move and experience new locations and cultures as often as we can.
But, we were willing to hang up our nomadic hats until our youngest son graduated. We wanted to give him the same stability his older brother and sister had.
But guess what? He doesn't want it and is just as nomadic as we are.
So we've been talking for the last 6 months about what our next adventure looks like. We knew full-time RVing with him wasn't in the cards for a number of reasons, so we started throwing out some other possibilities.
And then one day he said, "I'll move anywhere it's warm and there's a beach."
So through some research and honestly a total complete leap of faith, we chose Hawaii.
Our Love of the Outdoors
We landed on the decision to move to Hawaii mainly because of the outdoor lifestyle that is lived there. We are so excited to live a life outdoors, connected to nature, the ocean, and hiking as many trails as we can find.
Our son is excited to surf and skimboard as much as he can.
When we were full-time RVing, being outdoors was just a part of everyday life. You didn't have to think about it or plan it, it just was. And since we've moved back to stationary life, our time spent outside has drastically diminished.
Campervan Travel in Hawaii
We're also extremely excited about renting campervans (hopefully on all four of the major islands – Maui, Kauai, Oahu, and the Big Island) and becoming immersed in the camping lifestyle there.
We've already done some research on campervan rentals and I have a few on my wish list.
Have We Visited Hawaii Before? No
Well, I (Julie) have never been to Hawaii.
Todd spent a two-week deployment with the military in Oahu many years ago. Although he was working while there and living in a tent, he was able to rent a jeep with a friend for the day and do a little bit of sightseeing. He also had the best steak of his life cooked up in the military kitchen.
Are We Crazy?
Are we crazy to move to a place we've never been to before? Yes, yes we are.
But we've moved to a lot of places we've never been to before (Alaska) and have done a lot of crazy things we've never done before. You know, like selling our house, most of our belongings and moving into an RV to travel full-time. (Fun fact: we had never RV'd before. Do you see a theme here?)
Needless to say, we like taking chances and seeing where those "leaps of faith" take us.
Our full-time RVing leap of faith took us to some of the most incredible destinations in the U.S. and Canada, gave us the opportunity to meet some amazing people we still keep in touch with, and gifted us memories with our kids we will hold on to forever.
Come Along on Our Adventure
Just like our experience with full-time RVing, we want to share our experience of moving to Hawaii with you all.
We know we'll have a mix of amazing and frustrating times, as well as some inconveniences mixed in. (For example, we're without couches right now since we sold them and our living room currently consists of an IKEA chair and a zero gravity chair. But at least Todd has the foot cushion he invented to help him stay comfy. 😉 )
Over the next month or so, we'll be writing up some articles about our move to Hawaii. Here's a peek at what you can expect:
How we're making this happen (aka remote income which allows us to live anywhere)
The steps it took to make this happen (finding a place to live, what we're doing with our stuff, shipping our car, etc)
What making the move was like
And anything else you'd like to know…
Why We Are Sharing This
Our reason behind starting TREKKN in the first place was to help others who wanted to full-time RV make it a reality. We want to be as open and transparent, as well as helpful as possible with basic information as we can.
Making full-time RV life a reality and then living it wasn't easy! It was a rollercoaster, but one we are so thankful for.
So we're sharing this next journey of ours with you for two reasons: 1) in case you want to move to Hawaii and need info on how to make it happen and 2) to encourage you to go for it and live life differently in order to make your dreams a reality; whatever those dreams may be.
Todd and I both want to say THANK YOU to those of you who have sent us emails or commented on the blog about how TREKKN has helped you in your journey to full-time RVing. They put a smile on our faces every time.
We know full-time RVing is in our future again, so hopefully, we'll see you out on the open road!
Mahalo!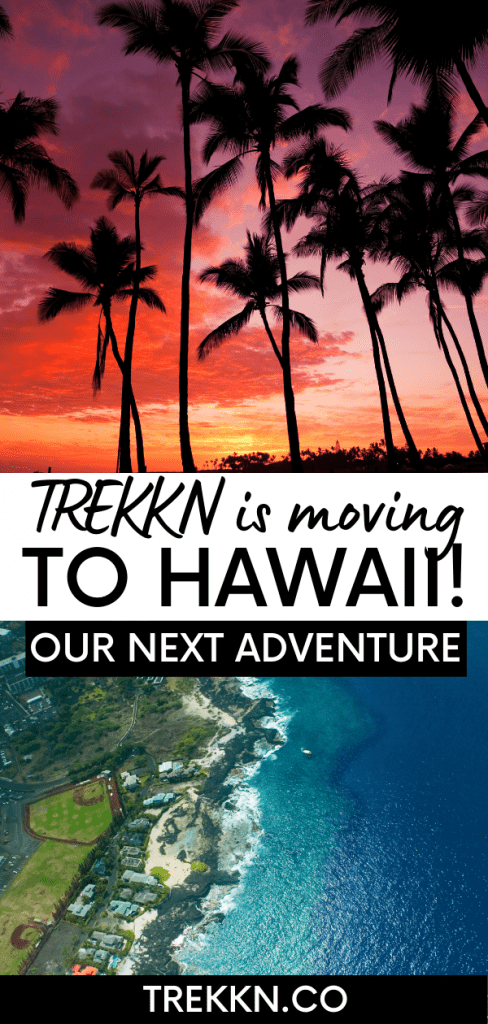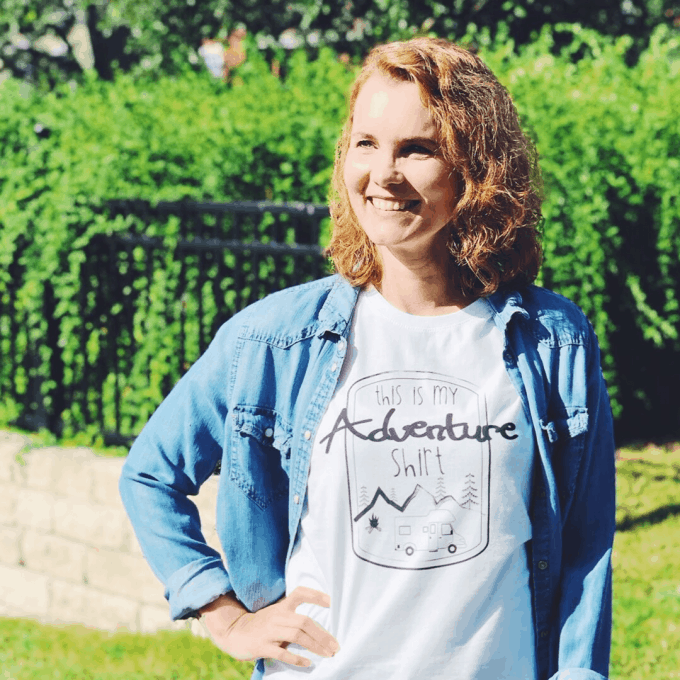 Julie Bonner is one-half of the TREKKN team. She specializes in helping you whip up delicious meals in your tiny RV kitchen, as well as RV organization tips and helping fellow RVers make their RV feel like home. Her favorite RVing spot is in Banff National Park in Canada where yes, the water really is that blue and the people really are that nice.