Best Day Hike in Banff for Panoramic Views

Banff National Park's breathtaking landscapes attract more than 4.5 million visitors each year. It's beauty is so vast you will be in awe before even getting out of the car. To get a true sense of the park's grandeur, nothing compares to hiking to one of Banff's mountain peaks. This guide will help you plan the absolute best day hike in Banff National Park for capturing those incredible panoramic views.
You will get in a solid workout while enjoying the natural splendor of this hike.
A number of the Banff hikes require mountaineering equipment or multi-day excursions. There are, however, some peaks you can reach on a day hike, provided you pack a hearty sense of determination.
In this article, I will guide you through a beautiful hike up Mount Bourgeau. This route is extremely rewarding, filled with the natural beauty you expect to encounter in Banff National Park.
Should You Hike Mount Bourgeau?
If you have only a few days in Banff, you may be asking yourself, why should I hike to Mount Bourgeau? In my opinion, it's because the trail is absolutely stunning. Some may say this is the best hike in all of Banff.
So, whether you have only a short 48 hour window, or you live in Canada full-time, put this one on the list. It's a must-do for for those of you who love photography. Because this trek to Mount Bourgeau is definitely one of the best day hikes for panoramic views.
Why do I specifically call out the panoramic views? Because when you're standing on that summit, you can turn in any direction for an incredible sight. You will be surrounded by towering peaks, deep valleys, overhead views of lakes, and serene glaciers.
Of course, rating a hike as the best or the most stunning is subjective. It's dependent on so many various factors. Someone who is stepping on a 15+ mile hike for the first time may have a very different experience than a seasoned hiker in peak physical condition.
Likewise, weather, wildlife spotting, and knowledge of the flora and fauna may boost the rating of one trail over another.
A Personal Review of the Hike
That said, despite the subjective nature of giving feedback about a specific hiking trail, I stand by my comment. This route to Mount Bourgeau is breathtaking.
You will encounter the beauty of gentle streams, lakes and ponds, and wildflowers. Some adorable wildlife may also entertain you along the way.
When you reach the summit, you will be rewarded (weather permitted) with incredible 360 degree views of distant glaciers, incredible peaks – including Mt. Assiniboine – and an aerial view of Bourgeau Lake.
I am confident you will love exploring this rewarding route up Mount Bourgeau.
Let's go!
The Hike to Mount Bourgeau
A Quick Overview
Standing at the top of Mount Bourgeau is stunning. It's absolutely breathtaking to recognize that something so magical exists in nature. Take note of your physical accomplishments.
Then appreciate the panoramic views of countless peaks and valleys, including a birds' eye view of the town of Banff. The vista comes at a fair price (tired legs), but the effort is 100% worth it.
If you don't want to make the full journey, there are two lovely milestones along the way that offer delights of their own: Bourgeau Lake and Harvey Pass.
If you're a beginner on the trail, mark one of these natural landmarks as your turning point. They are both worth the effort of getting on the trail. You won't be disappointed.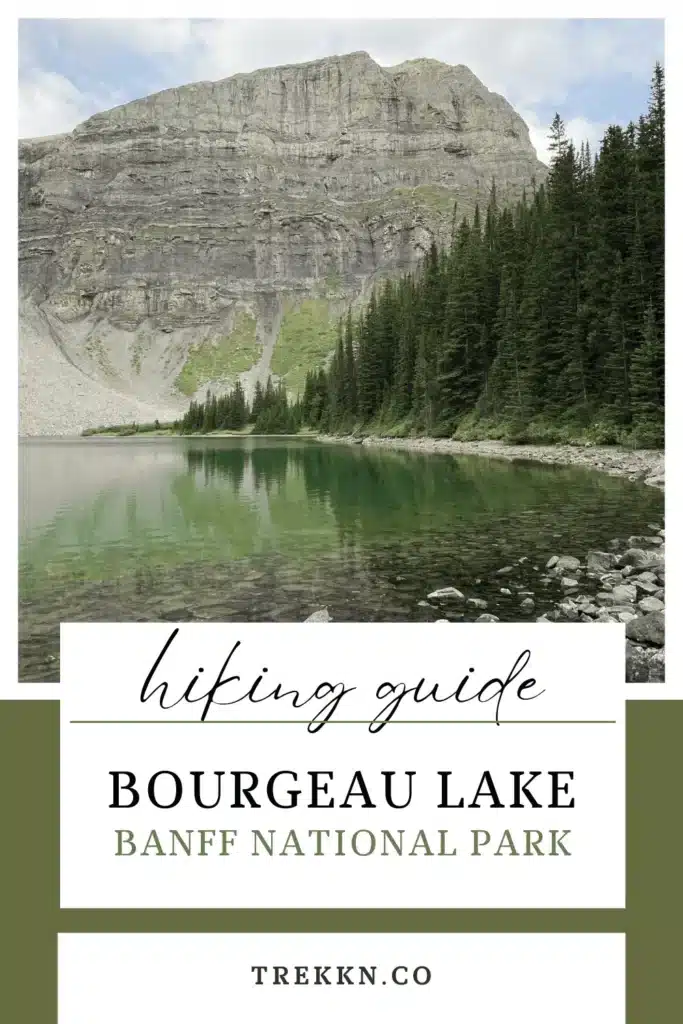 Park Entrance
Entrance to the park requires either an annual Discovery Pass or a Day Pass for each day that you're in the park.
Read below for more detail on how to purchase the entrance pass into the parks.
On Canada Day (July 1st), you can hike Banff free of charge.
How to Get a Park Pass for Banff
First, you may ask yourself, why do I need a pass for a public park? The simple answer of course is that a National Park Pass is required. The reason a pass is required is because that's one way the parks generate needed income.
The fees are used to maintain the facilities, information center, and other services provided to visitors.
Park passes can be purchased online. Visit the Banff Lake Louise website to purchase either the annual Discover Pass or a Day Pass.
You can also purchase a pass at the park gates as you drive into Banff National Park. Alternatively, stop by one of the Visitor Centers. For additional questions, contact [email protected].
Getting to the Trailhead
The trailhead is a short drive from town. There are limited parking spots in the lot so arrive on the earlier side. There are actually two benefits to arriving early.
For one, you should be able to secure a parking spot. Also, an early arrival affords you enough time to trek to the summit and back with plenty of light.
Unfortunately, the trailhead is not on a bus route. If you don't have your own car, your best bet is to hitch a ride with fellow hikers. Be prepared to request a spot in the car for the return trip.
Along the Trail to Mount Bourgeau
The journey begins with a pleasant uphill walk along a wooded trail for 3.7 miles (6 km). The sound of a stream can be heard below. It's quite lovely.
You may see some fellow travelers, but it is not an overly trafficked trail. In Banff, that is a windfall in and of itself. Please take a moment to enjoy the solitude.
Wooden Bridge and Elevation
At points along the trail, the trees give way to scenes of nearby peaks. You'll make two passes over a stream—one via a wooden bridge and the other via stone packets.
Just before you arrive at the valley housing Lake Bourgeau, there's a fairly steep section still in the woods. Fear not, it will soon flatten out (for a time).
Meadow and Lake
The wildflower-dotted meadow appears and after a short meander, you'll catch sight of the lake. Follow the trail sign down to take a break by its waters. Looking across the lake, you'll see the rocks forming Mt. Bourgeau's peak—your ultimate destination.
Where the world opens up to a crowd of mountains.
Path Toward Harvey Pass
The path continues towards Harvey Pass through a bit of a wooded, muddy section, followed by an exposed scree field. At this point, watching one's footing is paramount.
You'll come across a few more small alpine tarns, or mountain lakes, before pushing up a dirt trail to the pass. Rising to the lip, the world opens up to reveal a crowd of mountains upon mountains upon mountains.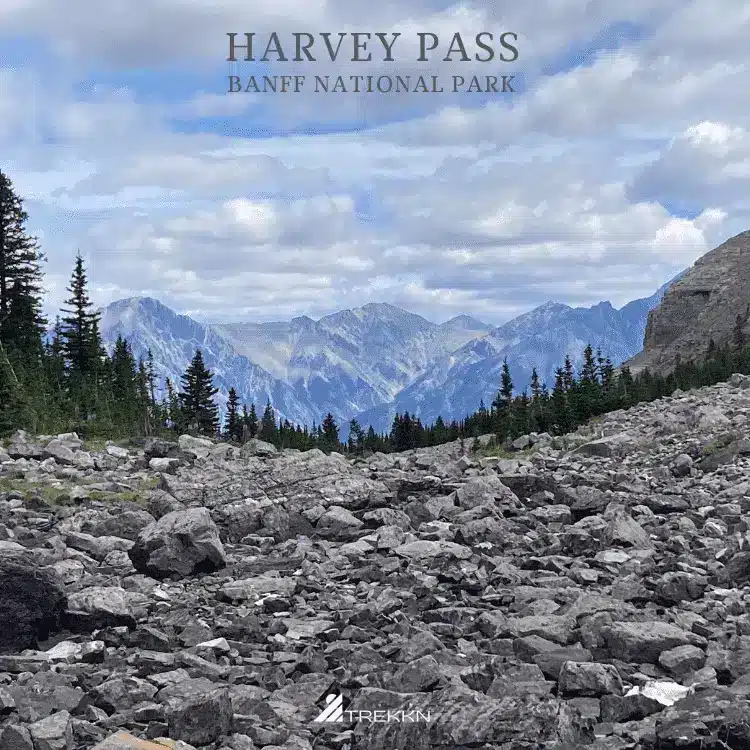 Continue Toward the Summit
You now have a decision to make. Are you satisfied with this view or do you want to see even more natural glory?
If you decide to continue, the trek really begins . Scurry—or plod—up a scree field with the views increasing in magnificence with every step.
I found trekking poles to be very helpful in this endeavor, especially on the way down. This section of the trail is not maintained by Parks Canada. That said, footfalls of many previous hikers have left the route clear enough to follow easily.
There are some false summits along the path. You'll know you're almost there when you spot the repeater station that is housed on the peak.
Arriving at the Summit
When you arrive at the true summit, you'll be treated with 360 degree views of the incredible landscape. Soak in views of distant glaciers, Mt. Cory, Mt. Assiniboine, the winding Bow River, and so much more.
Of course the views are dependent on the weather. The vastness of the area almost guarantees that even on a moderately cloudy day, you will enjoy an incredible moment at the peak.
There are some spots sheltered from the wind. I recommend stopping there to enjoy a trail lunch before beginning your journey down along the same route.
The Descent
Even for true nature lovers, the path down can feel a little tedious by the end. But, hopefully you gained a sense of pride by reaching new heights on this hike. That alone will help you enjoy the remaining time it takes to make it down that trail safe and happy.
As I mentioned earlier, trekking poles will help a lot as you make your way down the trail on tired legs.
Maybe, like we did, you'll spot one of Banff's resident alpine creatures along the descent.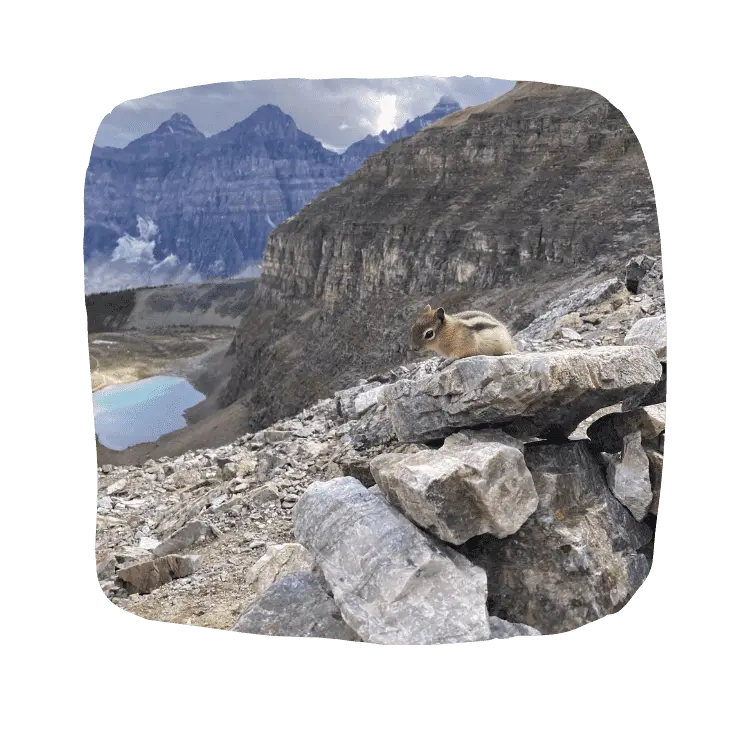 Ready for more top day hikes in Banff?
Try the Wenkchemna Pass and Sentinel Pass Combo from Moraine Lake. Or, check out the Plain of Six Glaciers Highline Circuit from Lake Louise to discover more opportunities to be awestruck.
Moraine Lake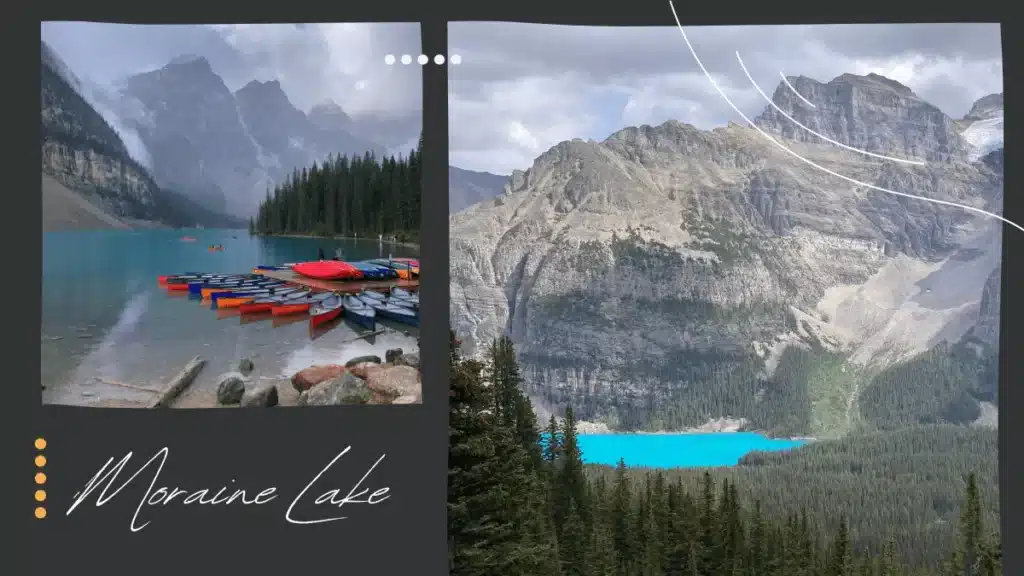 Best Time of Year for a Trip to Banff
Located in a subarctic zone, Banff offers fantastic summer hiking and epic skiing in the winter. July, August, and September offer the best conditions for hiking, as snow is most likely to have melted.
That said, because it's the season offering the best climate, the park tends to get especially crowded.
Plan for a Late Summer Hike to Avoid Crowds
It's advantageous to book your trip in advance if you're traveling during the summer months. If possible, try to arrive at the tail end of the summer. That will allow you to enjoy the mild temperatures without (hopefully) a peak number of hikers.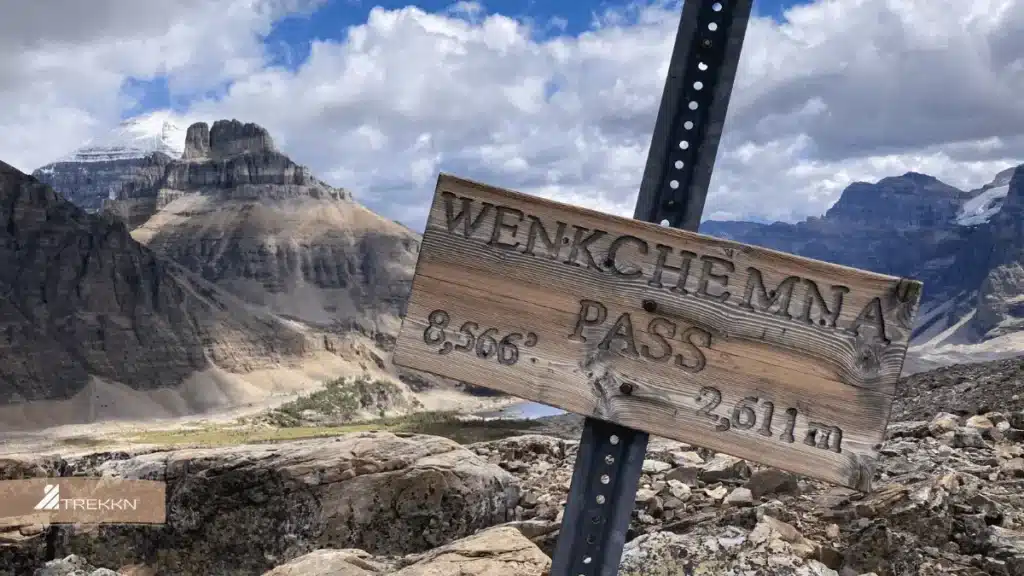 Recommended Gear for Hike to Mount Bourgeau
I debated wearing my heavier boots to ensure I had secure footing along the final section for the trail. Instead, I wore my lightweight Altras since most of the walking was on dirt and heavy boots can make 16 miles feel more like 20.
This was the right call for me. The rocks to the summit were small and it was easy to remain stable even in my lighter shoes.
I hope you enjoyed my overview of Mount Bourgeau. This hike is one of my favorite destinations in Banff. For good reason, too.
Did you know Banff National Park is the most-visited national park in Canada? I recommend that you save a spot on your travel bucket for a trip to Alberta.
If (when?!) you make it to the top of Mount Bourgeau, please come back to TREKKN and let me know if you agree. It's the best hike in Banff for those of you seeking stunning panoramic views.