The Best Day Hiking Backpacks (2023)

Every outdoor enthusiast understands the value of having a specialized day hiking backpack. While it is certainly possible to hike 8 miles with your old high school book bag, I would never recommend it.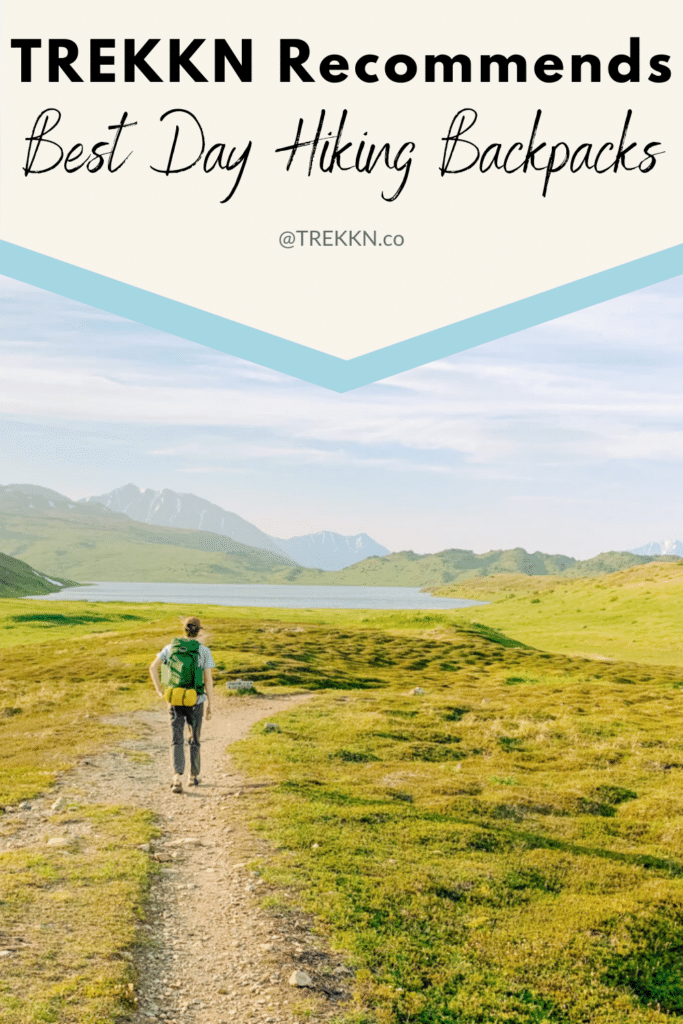 When you're on the trail, the last thing you want to be focused on is an uncomfortable and poorly designed backpack. Despite appearances, not every daypack is made equal.
There are clear winners and clear losers when it comes to functional and purposeful backpack design.
As hikers, we need a daypack that meets all of our needs while also holding up to a variety of weather conditions and climates.
If you're in the market for a day hiking backpack that will serve you well for years to come, our list of the best day hiking backpacks provides detailed research on some of the best packs on the market for 2023.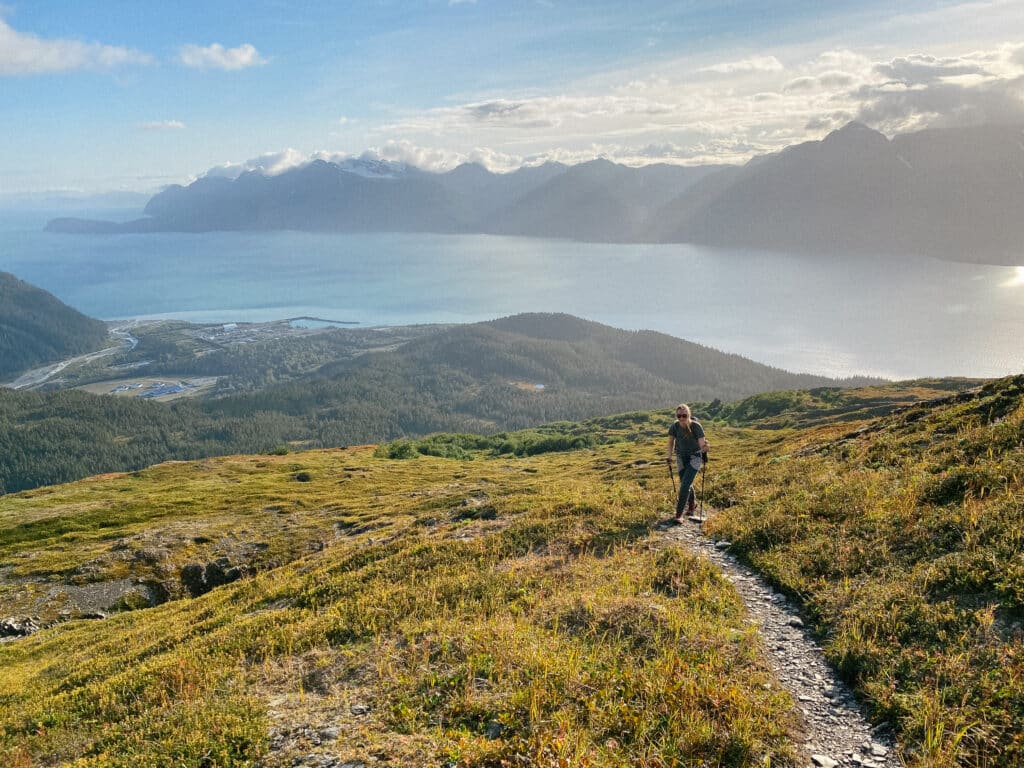 The Best Day Hiking Backpacks of 2023
A Quick Look at TREKKN's Daypack Picks: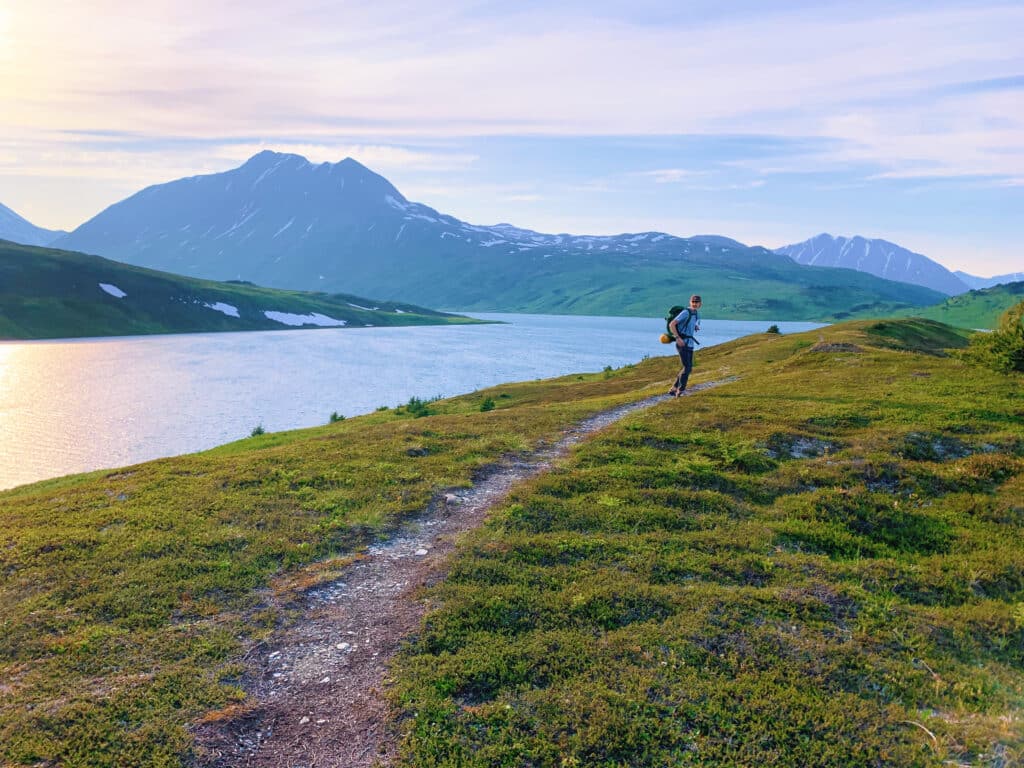 Best Overall Day Hiking Backpack:
Weight: ~ 2 lbs./ 1 lb. 14.6 oz.
Capacity: 22L/20L
Major Features: AirScape backpanel, gear attachment points, padded hip belt
The Osprey Talon (men's) and Tempest (women's) series of backpacks are constantly being recommended as one of the best day hiking backpacks for many different use cases.
First off, these series of backpacks come in a wide variety of sizes to fit every individual's needs.
Ranging all the way from a 6-liter fanny pack to a 44-liter overnight pack, the Talon/Tempest packs have no shortage of options.
For general day hiking use, the 22 and 20-liter packs provide a great amount of versatility and storage space without giving up some of the best luxuries that Osprey has to offer.
PROS:
Perhaps the most positive aspect of the Osprey Talon/Tempest is the comfort.
The entire bag was designed in a way that puts comfort and stability first and foremost.
The backpanel employs the use of Osprey's 'AirScape' technology, allowing for excellent breathability while also sticking close to your body.
Combined with the hard-to-beat padded hip belt, this daypack feels like a hug from behind. Once you get your settings dialed in, you can be confident that your bag will move with you.
Gone are the days of dealing with a loose, swinging pack.
The pocket selection is simple and effective, giving you everything you need and nothing you don't.
The main compartment is accessed through one zipper, with an extra zipper compartment located on the top, and a mesh front pocket.
The large hip belts serve a secondary purpose with some extra zipper pockets for easy access to the things you use most. Top it off with two mesh pockets on either side, and you have a well-rounded pack.
What makes this bag a true multi-use beast are the gear attachment points.
The helmet clip and bike light attachment are very convenient for cyclists looking to commute with this daypack, and the trekking pole storage loops are a welcome addition for avid hikers.
It even allows you to carry an ice axe for those weekend mountaineering expeditions.
CONS:
For a bag as well-rounded as this, the cons can sometimes seem inconsequential. With all of these great features, however, the weight of this bag is not as light as some people may desire.
If you're an ounce counter, the Osprey Talon/Tempest may be a little on the heavy side. For most people though, this bag is by no means heavy.
This pack is also a little on the pricier side. In my opinion, you definitely get what you pay for.
Check prices:
Best Hybrid Daypack:
Weight: 1 lb. 4 oz.
Capacity: 20 liters
Major Features: Frameless, many gear attachment points, each bag is completely unique
In recent years, Cotopaxi has become one of the most easily recognizable outdoor gear brands due to its ambitious and eye-catching use of color and shape.
Bright colors coincide with a patchwork design to create pieces of gear that are unlike anything on the market.
For products such as the Tarak 20L Del Dia, this design can be attributed to their use of leftover fabrics from other companies' larger production runs that Cotopaxi then recycles to create one-of-a-kind backpacks.
When you place an order for a product in their (Re)Purpose Collection, be prepared for a complete and total surprise.
The Cotopaxi Tarak 20L Del Dia is not only eye-catching but completely streamlined, thus creating a hybrid daypack that excels at many different activities.
PROS:
Compared to the Osprey daypack above, the Cotopaxi Tarak 20L Del Dia is a vastly different bag in both design philosophy and execution.
On Cotopaxi's website, they write that the Tarak Del Dia was primarily designed for multi-pitch lead climbing and backcountry skiing. However, even if you won't be climbing or skiing with this bag, it will surely serve you well.
This is considered a 'frameless' pack, which means there is no rigid structure that makes this backpack keep its shape.
Although there is a removable foam 'frame' panel that makes the bag stay somewhat upright. By getting rid of a traditional metal frame for the backpack, Cotopaxi has cut down on the weight of this bag considerably.
This shed weight is invaluable when each gram can be felt on trips such as climbing and skiing, but the benefit extends to day hiking as well.
The pockets on the Tarak are pretty basic, with two zippered pockets and one main compartment. All along the outside of the pack, there are many different lash points.
If something you want to bring doesn't fit inside the 20L compartment, you can always try clipping it to the outside. Further features include a hydration sleeve and a removable webbing waist belt.
CONS:
Some people may find this bag a little too "bare-bones". The padding for the back of a shoulder strap isn't exactly uncomfortable, but it won't outshine competitors such as the Osprey Talon.
If you're looking for a bag that you can comfortably position on your hips for long days, the Cotopaxi Tarak's thin webbing hip belt might not be enough.
All-in-all, the Tarak is one of the best day hiking backpacks for fast and light trips. Those who are looking to carry some heavier loads will probably be able to find a bag that fits them better.
Check prices:
Best Budget Day Hiking Backpack:
Weight: 10.6 oz.
Capacity: 18 or 24 liters
Major Features: Frameless, simple design, low price-point
Next on our list of the best day hiking backpacks: the little sister to the Cotopaxi Tarak 20L.
The Luzon 18L Del Dia is a very similar daypack. The design of this pack is a stripped-down version of the Tarak. It caters to a customer that isn't looking for anything fancy and someone who wants to take short hikes in style.
Cotopaxi describes this bag as "your easy-going and spontaneous adventure buddy", so let's take a look at what it has to offer.
PROS:
The Cotopaxi Luzon 18L, first and foremost, is budget-friendly.
When browsing the backpack market, it's easy to believe you need to spend at least a $100 to get a bag that is worth it and that will last. But the Luzon 18L comes in at half that.
If you have the desire to rep this brand and support its sustainability mission, grabbing this bag is a great way to do that.
With the Luzon being a stripped-down version of the aforementioned Tarak, you would expect the weight to reflect that too. And it certainly does.
This lightweight bag weighs only 10.6 ounces, compared to the Tarak's weight of 1.24 pounds.
They saved weight with the Luzon by getting rid of the top closure on the Tarak, instead opting to just have the main compartment be a cinch closure.
They also stripped away most of the gear attachment points, as well as used a frameless design, thus shedding even more weight. The lightweight nature of this bag makes it ideal for minimalists and ounce-counters alike.
The shape of the Luzon 18L allows it to securely hug your back, limiting bag movement on the trail.
The hip belt is a simple webbing, and the shoulder straps are made from ultralight mesh. With lighter loads, you may barely notice this bag on your body. With heavier loads, however, this bag doesn't shine as brightly.
CONS:
A common complaint with the Cotopaxi Luzon 18L Del Dia is that it isn't a fully closed system.
The main compartment is closed only by the cinch at the top, meaning that there is always a small area where your gear is exposed.
This problem is solved with the Tarak by adding that top lid closure. This may or may not be an issue for some people. If you enjoy having a backpack that feels like an impenetrable container, the Luzon definitely isn't it.
Furthermore, on the topic of compartments, this daypack doesn't have many.
One front zipper pocket, one main compartment, and one hydration sleeve are all you get. If all you're looking for from a bag is to stuff it with some extra layers before heading out on a short walk, the Luzon does this beautifully.
But anything more than that, it suffers a bit.
Check price:
Best Ultralight Daypack:
Weight: 2.7 oz.
Capacity: 20 liters
Major Features: Featherlight, packs down incredibly small, one-zippered pocket
Looking for a glorified sack to jam things into?
Well, it doesn't get much simpler than the Sea To Summit Ultra-Sil. This makes our list of the best day hiking backpacks for their incredibly low weight and extreme packability.
PROS:
The Sea To Summit Ultra-Sil is a bag that knows what it is: a sack with shoulder straps. Well, that may be a slight oversimplification.
But for most people, that is the function that this bag serves. Only one zippered pocket is found on the pack. Coming in at less than 3 ounces, this is one of the lightest bags on the market.
Perhaps the area that this bag best shines in is the "just in case" category.
The Ultra-Sil has an included stuff sack attached to a carabiner that lets you turn this 20-liter backpack into something smaller than your wallet.
You can then leave this bag in its compressed form in your car, clipped onto another backpack, or anywhere you can think of where you may need an extra container to carry things in.
Did your friend accidentally forget to bring a bag for a day hike? With the Ultra-Sil as a backup, you have just the thing.
Devoid of most other features, this bag does employ the use of a short daisy chain at the bottom of the pack. It's always nice to have the option for external gear storage.
While this daypack did make our list as one of the best day hiking backpacks in the ultralight category, this is not a pack that you want to be your daily carry…
CONS:
The biggest issue that this bag faces is the comfort factor. There is no padding on this pack, at all.
The only materials you will find are the 30-Denier ripstop nylon and the small amount of webbing for the daisy chain. Nothing else.
As you can imagine, this makes comfort a bit questionable. particularly for longer trips and heavier loads.
Unlike other bags, you have to pay very close attention to how you are packing this bag before heading out on a hike.
The lack of frame, padding and any separation between your body and the main compartment means that you will be feeling every corner and edge of the gear that's in your pack. Strategic packing is a necessity.
Durability is another factor that is called into question. the 30D ripstop nylon is definitely strong, but not impenetrable.
If you're rough with your gear, this bag could need repairs and maybe even a replacement much earlier than desired.
Check price:
Best Fully Featured, High Capacity Daypack:
Weight: 3.09 lbs
Capacity: 24 or 34 liters
Major Features: Included hydration bladder, AirSpeed suspension, eight different pockets
Moving in the opposite direction from the ultralight world, the Osprey Manta 34 is a high-capacity daypack that has most of the features that make a bag great for all-day comfort.
I've decided to include a pack with this high of a capacity for those hikers who may be carrying gear for more than one person.
For a family hike, you need to fit water for everyone, layers for everyone, and snacks galore. The extra equipment requires extra space (and comfort), which is where the Manta 34 comes in.
PROS:
The Osprey Manta 34 comes with an included 2.5-liter hydration bladder with its own dedicated pocket.
If you don't own a hydration bladder, or want to upgrade from your old Camelbak bladder, the included Osprey bladder is fantastic.
The bite valve is practically leak-proof, and the magnetic attachment included on the sternum strap makes sure that water is always readily available and easy to reach.
Similar to the other Osprey pack above, the Manta 34 uses its AirSpeed backpanel for excellent comfort and ventilation.
A very user-friendly adjustable torso feature lets you dial in the fit to your precise needs, and the padded hip belt allows you to transfer nearly all of the weight to your hips, without being uncomfortable.
If organization is important to you, the Manta is right up your alley.
There are eight different pockets on this daypack, all with their own distinct uses. "Black hole" bags, the ones where everything is thrown into one compartment and subsequently lost to the void, can be infuriating.
The Manta aims to tackle this problem with its plethora of zippered, mesh, and small organizational pockets.
Top all of these features off with an included rainfly and trekking pole storage, and you have yourself a worthy daypack.
CONS:
Since the Manta 34 offers so many features for us day hikers, it does suffer in its weight. At over 3 pounds, this bag is not light by any means.
For the kind of people this bag is made for, this extra weight shouldn't be much of a problem. It is definitely a factor to keep in mind, though.
With certain body types, the sternum straps on this bag may prove troublesome. The straps were designed with ease of adjustability in mind, but they turned out to be a little too adjustable in some cases.
Many people complain about the straps sliding upwards towards their neck, requiring hikers to constantly pull the straps downward.
Check price:
Best Technical Daypack:
Weight: 2 lbs. 1 oz.
Capacity: 24 liters
Major Features: Trekking pole/ice axe attachment loops, OpenAir backpanel, side-zip access
Black Diamond is a very well-known brand in the outdoor adventure world. Most of their gear is particularly designed for use in the mountains.
They have a lengthy history of building hardened mountain gear that lasts, and the Black Diamond Bolt 24 is no different.
When it comes to a technical daypack that carries everything you need and doesn't skimp on useful features and comfort, the Bolt 24 excels.
Even though it is designed with extreme activities in mind (climbing, ski touring), using this pack as an everyday hiking pack is still a great choice.
If you are someone who currently loves spending time in the mountains hiking, but eventually wants to work your way into other more technical activities, the Bolt 24 is a great crossover daypack.
PROS:
One of the features that stands out for the Bolt 24 is its SwingArm suspension.
With this suspension system, the shoulder straps slide in and out of the bottom of the pack, allowing the weight to stay centered over your hips.
This is especially helpful in climbing situations where you are reaching upwards. Instead of the whole bag moving with your arm as you reach, the bag will stay in place while the shoulder strap slides out of the bag.
This is a great design that greatly adds to the comfort of the bag in all sorts of scenarios.
The backpanel is not suspended like the above Osprey packs are, but Black Diamonds OpenAir tech stills provide ample airflow.
The same design is found on the straps and hip belt as well, which is longer and more form-fitting than many other hip belt designs out there.
For a technical day in the mountains, the Bolt 24 has ample daisy chain attachments, trekking pole/ice axe loops, and a dedicated crampon pocket, all of which allow you to organize your gear in an effective way.
A day in the mountains, or on the trail for that matter, requires a bag that is built to handle tough conditions.
The Bolt 24 is constructed out of 210d ripstop for its main compartment and 210d dobby abrasion for its base. These are materials that will withstand the test of time.
As for pockets, the Bolt 24 keeps things simple with a main top-loading compartment, zippered top pocket and hip belt pocket, front crampon pocket, and stretch side pockets.
An uncommon side-zip access is also found on the Bolt 24, allowing users to fetch out a piece of gear from the bag without having to unpack the entire top-loading bag. A welcome feature indeed.
Black Diamond has given us everything we need and nothing we don't. In a world where excess is celebrated, it's nice to see a carefully thought-out, slimmed-down design.
CONS:
At just about 2 lbs, this bag isn't exactly heavy, but it also isn't light. With all of the features offered, however, the weight can be seen as justified.
The side zipper has also been known to let in an unwanted amount of water in rainy conditions. If you have precious cargo and a wet forecast, be ahead of the curve by adding a rain fly or interior pack liner.
Check price: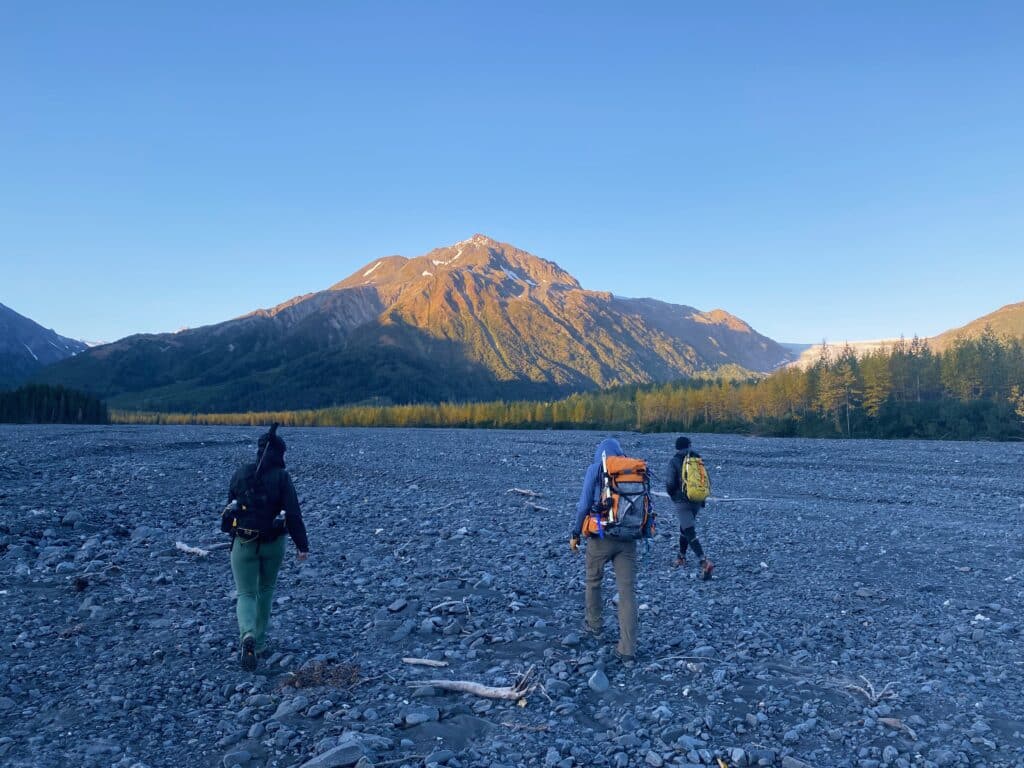 Conclusion:
It's not easy to narrow down the vast world of backpacks to find one that works for you, specifically.
But hopefully, these suggestions for the best day hiking backpacks help you understand the pros and cons of each feature that can be included in a daypack.
In general, I highly recommend trying on and testing out a backpack in-person before you commit to the purchase. Retail stores such as REI will be happy to help you try on a daypack.
Their experts even help you out with adjusting the daypack to fit your body comfortably.
If you aren't able to find your ideal bag in person to try on, pay close attention to the length of the bag and the width of the bag.
This will help you get an idea of how the backpack may fit on your body. Buying a backpack is a very personal experience, and there is not always a one-size-fits-all product.
Once you find the best day hiking backpacks for you, get out there and put them to use! Happy trails.
For other tips on day hiking, check out the 10 Day Hiking Essentials.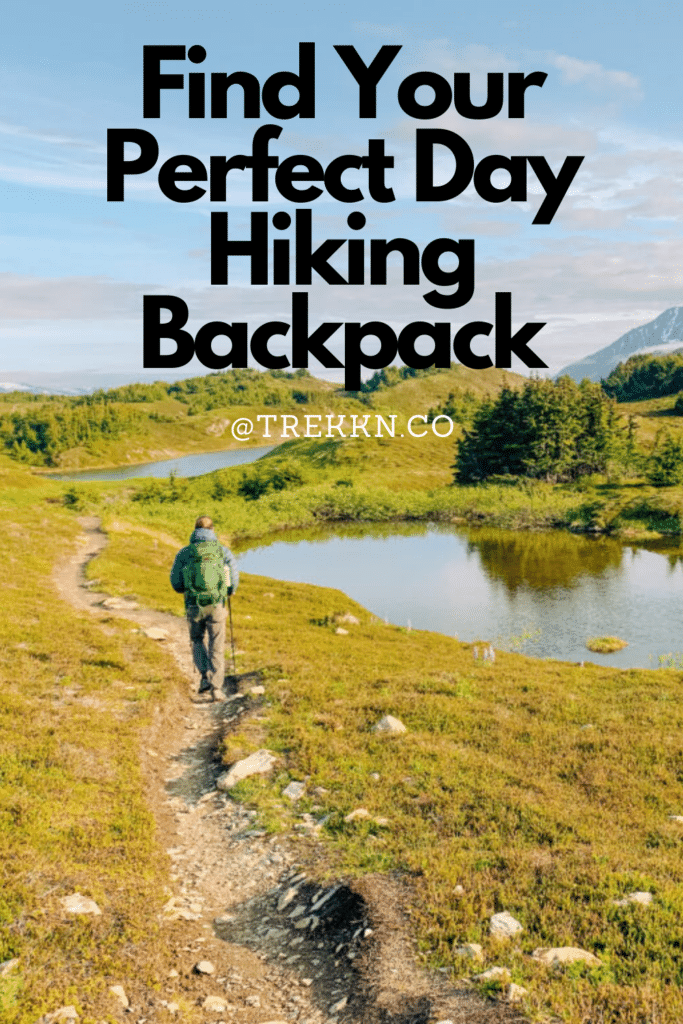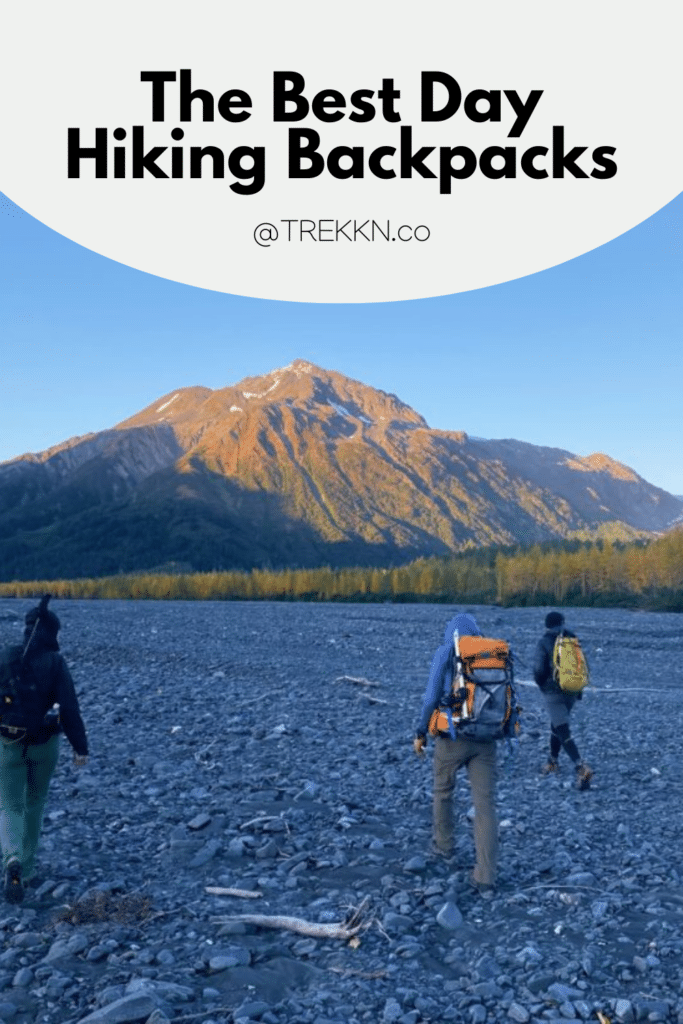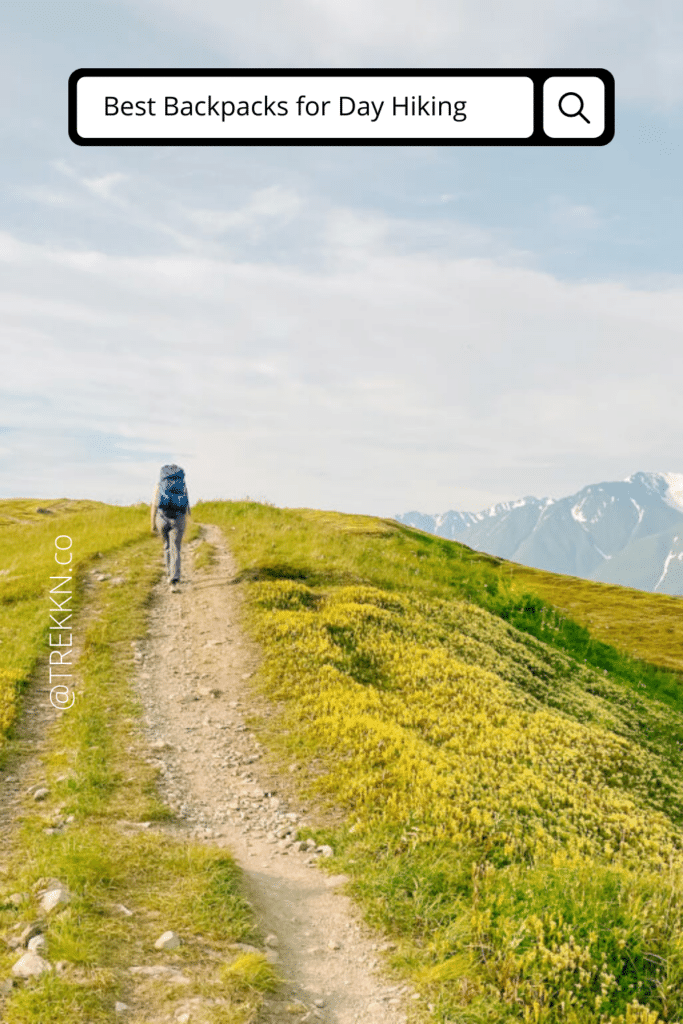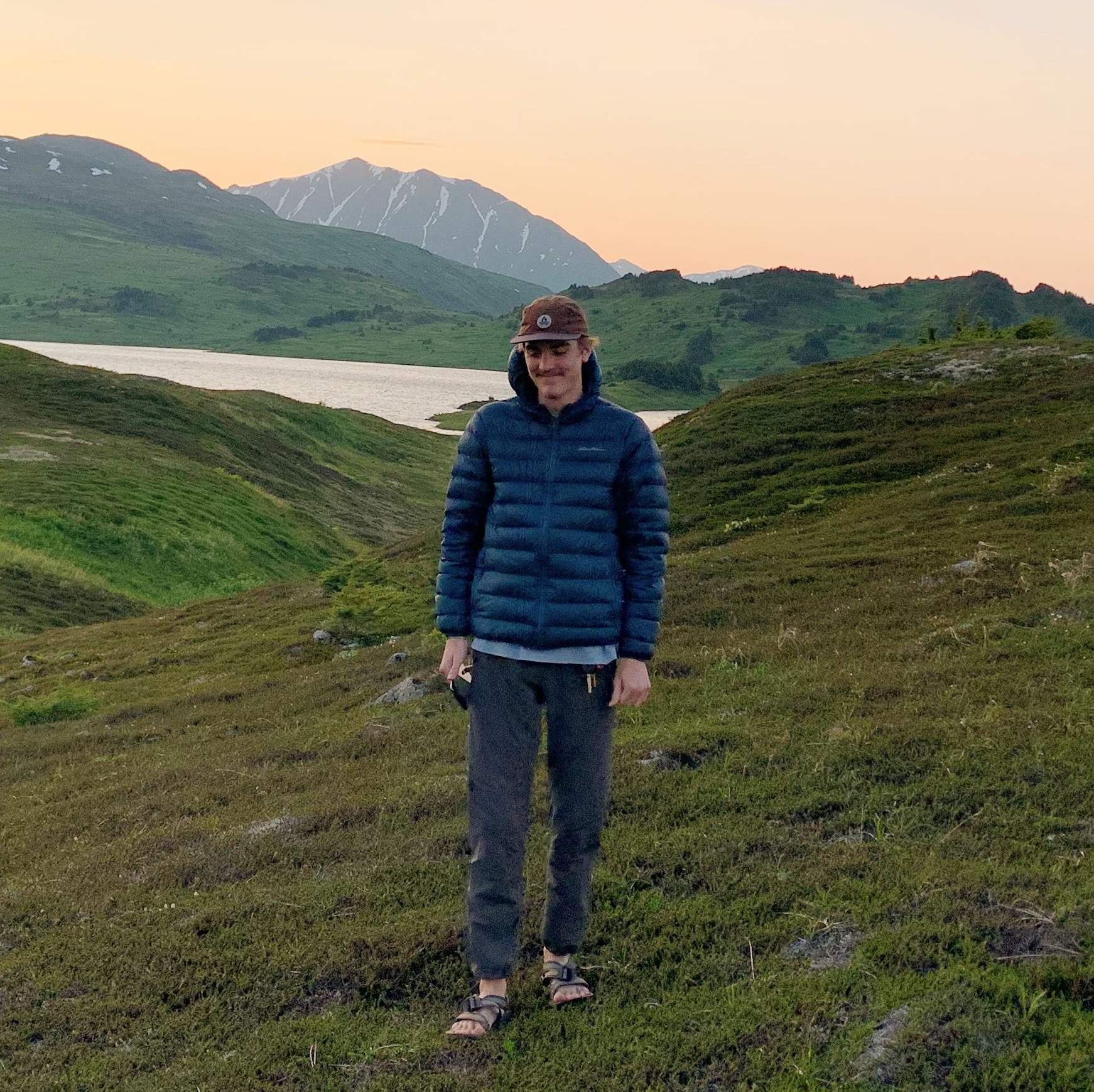 Josiah B gained invaluable experience while living on the road with his family, during which time he felt overcome with the desire to continue exploring. That search landed him in Seward, Alaska, where he currently resides. His love for the outdoors is welcome with open arms in the Last Frontier, and with an endless amount of hiking and backpacking to be done, he's eager to share the best that Alaska has to offer.