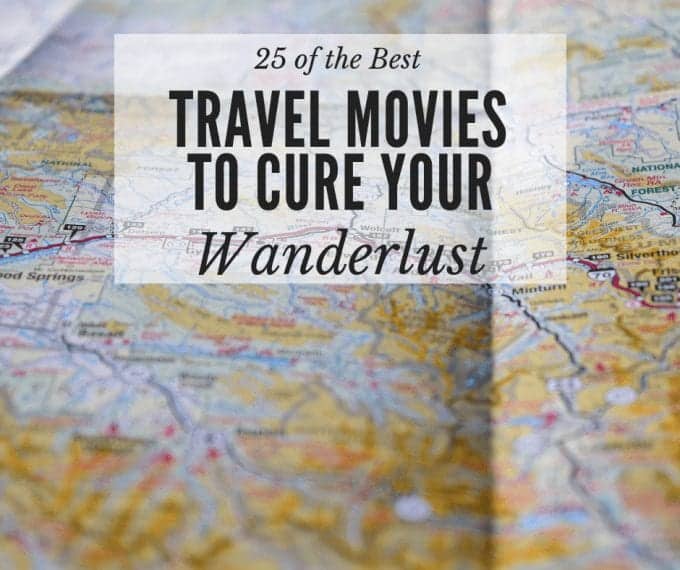 Okay, so this list of the best travel movies won't necessarily cure your wanderlust, but they'll at least tide you over…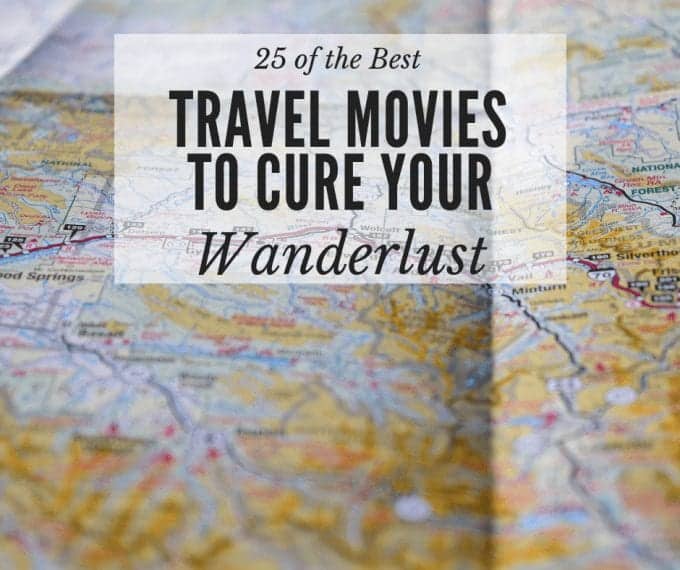 It's winter. It's cold. You've got a serious case of wanderlust but you can't go anywhere.
It's summer. It's hot. You've got a serious case of wanderlust but you can't go anywhere.
It's spring…
Okay, I'll stop.
No matter the season, if you can't travel for whatever reason curling up on the couch and watching a great travel flick can definitely help cure your wanderlust. For a little bit anyway.
We've rounded up some of our favorite travel movies and have included the location they take place in. So if you want to watch a film about France, we've got you covered. India? Done. Are you dreaming of an intense hiking trip? You got it!
Not all these movies are about travel. Some take place in bucket list destinations and share with the viewer the scenery, the culture, the stories of an amazing location.
After you scour this list of best travel movies, if your favorite one isn't listed, be sure to share what it is and why we should see it in the comments below!
25 of the Best Travel Movies to Cure Your Wanderlust
AFRICA
*Winner of the Best Picture Academy Award
"Out of Africa is the true story of a woman who runs a Kenyan plantation (Meryl Streep) and falls in love with a mysterious hunter (Robert Redford)."
This is a breathtakingly beautiful movie that shows the true beauty of Africa.
Rent or purchase here.
Watch a clip of Out of Africa.
"Based on the true story of anthropologist Dian Fossey, whose travels to the African wilderness began as a study of the rare mountain gorillas."
With this movie, you get wildlife, beautiful scenery and a story that shares the amazing bond between man and animals.
Rent or purchase here.
Watch a clip of Gorillas in the Midst.
"Directed by Hugh Hudson and based on a true story, I Dreamed of Africa stars Kim Basinger as Kuki Gallmann, a socialite who gambles on love and a risky move to a most unyielding spot on Earth: the wilds of Africa. Kuki soon discovers that life in rural Africa is no fairy-tale. Life in a strange land explodes into a powerful saga of joy and pain, promise and purpose, death and resurrection."
This movie shares what it's like to move to Africa and stick it out when things get tough.
Rent or purchase here.
ALASKA
"This is the true story of Christopher McCandless (Emile Hirsch). Freshly graduated from college with a promising future ahead, McCandless instead walked out of his privileged life and into the wild in search of adventure."
Our youngest son has read this book half a dozen times and we finally watched the movie. You get to see both the beauty and brutality of Alaska and its weather, plus share in the journey of a young man's self-discovery.
Rent or purchase here.
CANADA
"A young man (Joshua Jackson) decides to embrace life and embark on an epic cross-country road trip full of adventure and romance."
If you're wanting some Canadian scenery, then this movie is for you. Although a sad flick, the character takes us from Toronto to Vancouver Island and we watch his journey through the battles life tends to throw at us.
Rent or purchase here.
CHINA
"Heinrich Harrer is an Austrian mountaineer in search of fame and glory. His 1939 adventure takes him to Tibet where the Dalai Lama teaches him selflessness."
It's been many, many years since I've seen this movie, so I added it to our watchlist because it's definitely time to watch it again. If you're into history, you'll enjoy a look into China's takeover of Tibet. Plus, there's Brad Pitt. 😉
Rent or purchase here.
Watch a clip of Seven Years in Tibet.
FRANCE
"While on a trip to Paris with his fiancée's family, a nostalgic screenwriter finds himself mysteriously going back to the 1920s every day at midnight."
This is one of my favorite films that features France because we see it both in modern times and in the 1920s. The film does a great job at making you feel as if you're walking the city with the characters.
Rent or purchase here.
"A success-driven investment banker's life begins to change when he travels to Provence to look after a wine estate he inherited from his late uncle, and meets a woman there who also lays claim to the property."
This is a light, beautiful romantic comedy that goes well with a glass of your favorite wine. You'll be whisked away to the beautiful French countryside complete with chateaus and vineyards.
Rent or purchase here.
Watch a clip of A Good Year.
"A culinary legend provides a frustrated office worker with a new recipe for life in Julie & Julia, the true stories of how Julia Child's (Meryl Streep) life and cookbook inspired fledgling writer Julie Powell (Amy Adams) to whip up 524 recipes in 365 days."
I was drawn to this movie (and continue to be so…don't ask how many times I've seen it) because it involves blogging (what I do for a living), cooking and France. Put those three together, add the adorable Amy Adams, the fantastic Meryl Streep and the story of Julia Child and you have one really, really great movie.
Rent or purchase here.
Watch a clip of Julie & Julia.
"The Kadam family leaves India for France where they open a restaurant directly across the road from Madame Mallory's Michelin-starred eatery."
With this movie, you get both India and France: their cultures, their food, their people. Plus it leaves you feeling oh so good.
Purchase here.
INDIA
"British retirees travel to India to take up residence in what they believe is a newly restored hotel. Less luxurious than advertised, the Marigold Hotel nevertheless slowly begins to charm in unexpected ways."
This is a feel-good movie based in Jaipur, India. The movie gives you some fantastic street scenes and views of what Jaipur is like. And if you've ever booked a place on the internet only to arrive and it's not exactly as pictured or described, then you'll most definitely relate to this film.
Rent or purchase here.
"When a penniless, eighteen-year-old orphan from the slums of Mumbai comes within one question of winning a staggering 20 million rupees on India's Who Wants To Be A Millionaire?, a police investigation reveals his amazing story."
Get ready to be immersed in the culture of India. You'll see both sides, from the slums of Mumbai to the sounds and sights of Bollywood. This movie is both heartbreaking and inspiring.
Purchase here.
Watch a clip of Slumdog Millionaire.
ITALY
"A writer impulsively buys a villa in Tuscany in order to change her life."
If you're looking for a little bit of romance, self-discovery and most of all…views of beautiful Tuscany, then this film is for you. It is different from the book, so if you're a 'read the book before seeing the movie' kind of person, you might be a tad bit disappointed in the changes.
Rent or purchase here.
"Marisa Tomei and Robert Downey Jr. star as lovers destined to meet and fall in love… no matter what. Irresistible romantic comedy."
If you're wanting to see the highlights of Italy, which include Rome, Venice, and Tuscany, you'll enjoy this romantic comedy. The movie includes a ride along the stunning Amalfi coast. This is definitely a 'curl up with a glass of wine' kind of movie.
Rent or purchase here.
NEPAL
15) Everest – 2015, PG-13
"Everest documents the deadly journey of two mountain climbing expeditions challenged beyond their limits by one of the fiercest snowstorms ever encountered by mankind."
We saw this film in IMAX, which helped do the beauty and harshness of Everest justice. The film does an outstanding job of taking you along the journey of what climbing a mountain of this magnitude is all about.
Rent or purchase here.
Watch a clip of Everest.
NEW ZEALAND
"In the first part, The Lord of the Rings, a shy young hobbit named Frodo Baggins inherits a simple gold ring that holds the secret to the survival–or enslavement–of the entire world."
If you're ready to be immersed in the beauty that is New Zealand, start with the Lord of the Rings trilogy and then move on to The Hobbit films. Not only do they have fantastic storylines and cinematography, but they make you want to book that plane ticket asap.
Rent or purchase below:
THAILAND
"Not quite ready to surrender himself to responsibility or mainstream society, a young American travels to Asia and discovers he is not alone in his feelings."
Get ready to see the stunning beaches of Thailand in this film, but be aware you won't be able to visit the actual beach from the movie, at least for a while. Leonardo DiCaprio and 'The Beach' made Maya Bay so popular with tourists they had to shut it down for restoration due to over tourism. It will be closed "from Oct. 1, 2018, onwards until the marine natural resources return to their normal condition." – Source
Rent or purchase here.
Watch a clip of The Beach.
USA
These films take place in several USA locations.
18) Wild – 2014, R
"A chronicle of one woman's one thousand one hundred mile solo hike undertaken as a way to recover from a recent personal tragedy."
If you love to hike and the idea of lacing up your hiking shoes and hitting the trail for days, weeks or months sounds like the thrill of a lifetime, you'll most likely enjoy this film. It's a movie about self-healing, self-discovery and the challenges of hiking the Pacific Crest Trail both alone and at all.
Rent or purchase here.
"In one of the greatest road movies of all time, Geena Davis and Susan Sarandon ride to everlasting fame as two women who embark on a crime spree across the American southwest."
While you might not want to go on a road trip that involves a crime spree, this classic film shows the beauty of the American southwest. It also highlights a strong friendship between two women and the kind of shenanigans you can get into together.
Rent or purchase here.
EVERYWHERE
From the life of a vagabond to marking off your bucket list, these films cover several different places.
"Ben Stiller directs and stars in this inspiring story about an ordinary man who finds the courage to discover his destiny and leap into the extraordinary adventure that is life."
This movie easily slipped into my top five favorite films. Ben Stiller is spectacular, the story is inspiring and encourages you to take chances. And above all, it'll make you want to travel to places like Greenland and Iceland…or anywhere you've been saying you'll get to…someday.
Rent or purchase here.
Watch a clip of The Secret Life of Walter Mitty.
"From Jason Reitman, the Oscar-nominated director of "Juno," comes the new acclaimed film "Up in the Air" starring Oscar winner George Clooney as Ryan Bingham, a corporate downsizing expert whose cherished life on the road is threatened just as he is on the cusp of reaching ten million frequent flyer miles and after he's met the frequent-traveler woman of his dreams."
Whether you travel a lot for business or lifestyle, this movie speaks to the loneliness a vagabond lifestyle creates. While watching, you'll get to see a lot of airports, cities and some aerial shots of different landscapes.
Rent or purchase here.
Watch a clip of Up in the Air.
"A married woman realizes how unhappy her marriage really is, and that her life needs to go in a different direction. After a painful divorce, she takes off on a round-the-world journey to "find herself"."
Not everyone liked the relationship aspect of this movie and even found it a little cheesy, but if you want to see the sights of Italy, India, and Bali, this movie is for you. I personally liked it all, from the story to the cheesy romance and of course, it made me want to book a plane ticket to all of these places asap.
Rent or purchase here.
"On a trip around the world, every day feels like Saturday. "A Map for Saturday" reveals a world of long-term, solo travel through the stories of trekkers on four continents; teenagers and senior citizens who wondered, "What would it be like to travel the world?" Then did it."
As former full-time travelers ourselves, we can attest to the fact that every day feels like Saturday. If you've ever wondered what traveling full-time and doing it solo is like, this film is a great place to start.
Rent or purchase here.
"Based on a true story, this inspiring adventure traces the youthful road trip of two revolutionary friends: "Che" Guevara (Gael García Bernal) and Alberto Granado (Rodrigo De la Serna)."
The film based on a true story takes you through South America by motorcycle. The friends wanted to see the things about their continent that they'd only read about. Their journey starts in Buenos Aires and their goal is to get to Guajira Peninsula in Venezuela by one of the character's 30th birthday. As you might expect, not everything goes according to plan.
Rent or purchase here.
"Two terminally ill men escape from a cancer ward and head off on a road trip with a wish list of to-dos before they die."
From things like an African safari, Everest Base Camp and the North Pole…those were just a few things on their bucket list. Morgan Freeman and Jack Nicholson are pretty outstanding in this movie. Be sure to have some tissues handy.
Rent or purchase here.
Watch a clip of The Bucket List.
Which of these travel movies will you watch first?
PIN THIS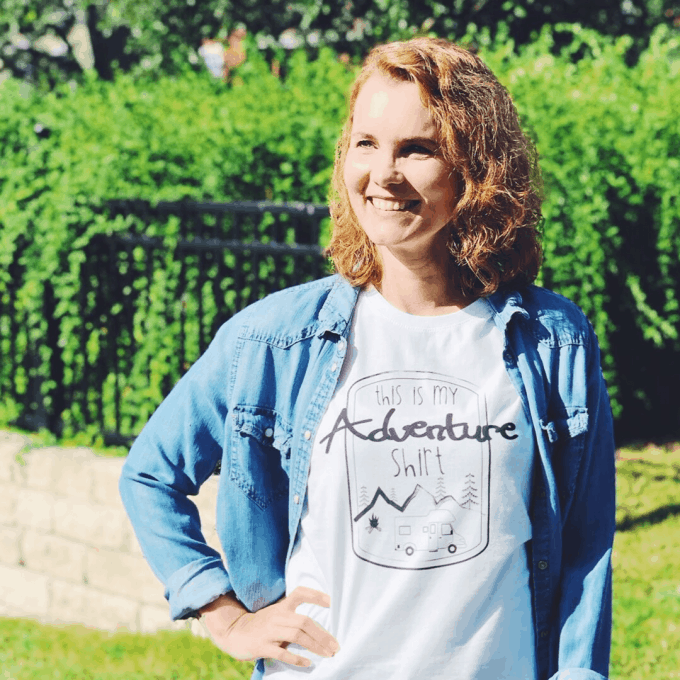 Julie Bonner is one-half of the TREKKN team. She specializes in helping you whip up delicious meals in your tiny RV kitchen, as well as RV organization tips and helping fellow RVers make their RV feel like home. Her favorite RVing spot is in Banff National Park in Canada where yes, the water really is that blue and the people really are that nice.