Unplug and Relax at Getaway House Dallas | Your Tiny Home Escape
For city dwellers in the Dallas and Austin, Texas areas, let us introduce you to a new way to unplug, relax and escape the city for a night or two. Welcome to a tiny home escape, tucked in the trees of East Texas called Getaway Piney Woods.
Getaway House Dallas – Piney Woods | A Texas Cabin Rental
After attending an event with Getaway in Austin, Todd and I were gifted a one-night stay at one of the company's Outposts. It's located in La Rue, Texas and it took us about 3 hours to get there from our home in Cedar Park. For Dallas residents, it's about an hour and a half drive.
Check-in was at 3 p.m., so after getting our youngest to school and packing a few things, we said see ya to the suburbs and headed out around noon. The drive was nice and easy and we had no problems finding the location.
As we started getting closer to our Getaway, those beautiful East Texas tall trees started to appear.
One thing we always get asked about stopping full-time travel is what we miss the most. Our answer? Nature. It's been just over a year since we came back to stationary life and you don't realize how much you miss being in nature until you meet it again.
As we drove the small road leading to our cabin, we both took a deep breath and were ready to soak in some quiet and experience tiny home living for a night.
Getaway House Dallas Location
As you drive in, you'll see that everything is clearly marked. To the left is where the staff stays in case you need anything. (Which if you go alone, it's nice to know there's someone there in case of an emergency.)
The cabins are all named after a grandparent – of a staff member, guest or friend. We followed the directions emailed to us to our cabin, Elena.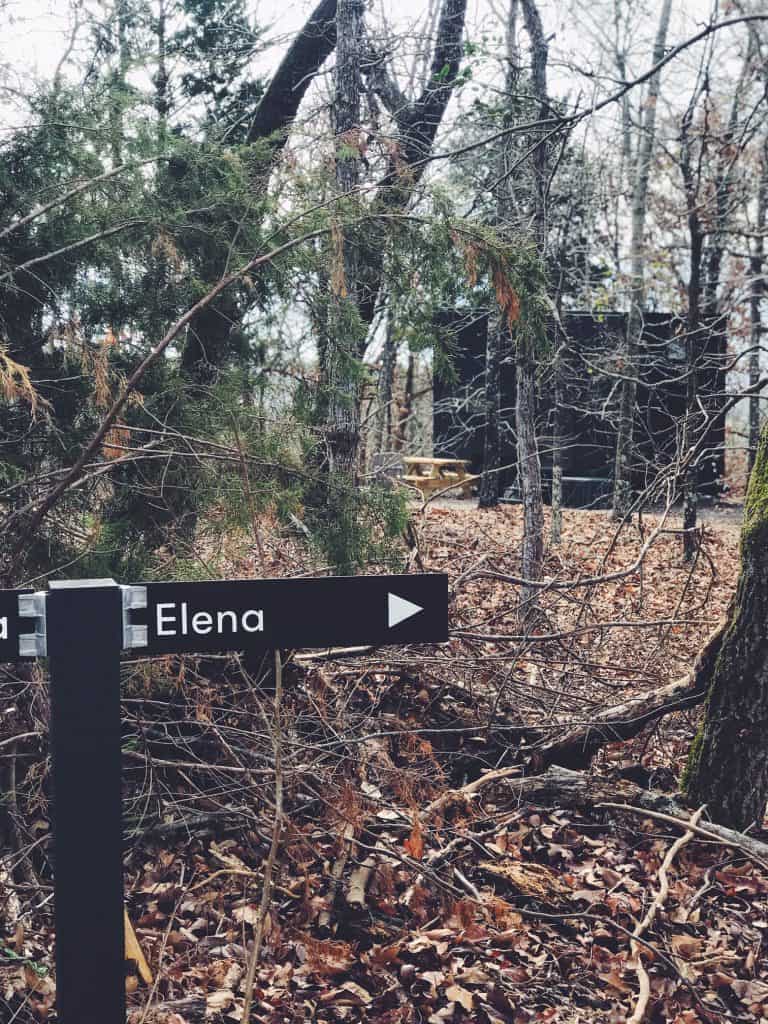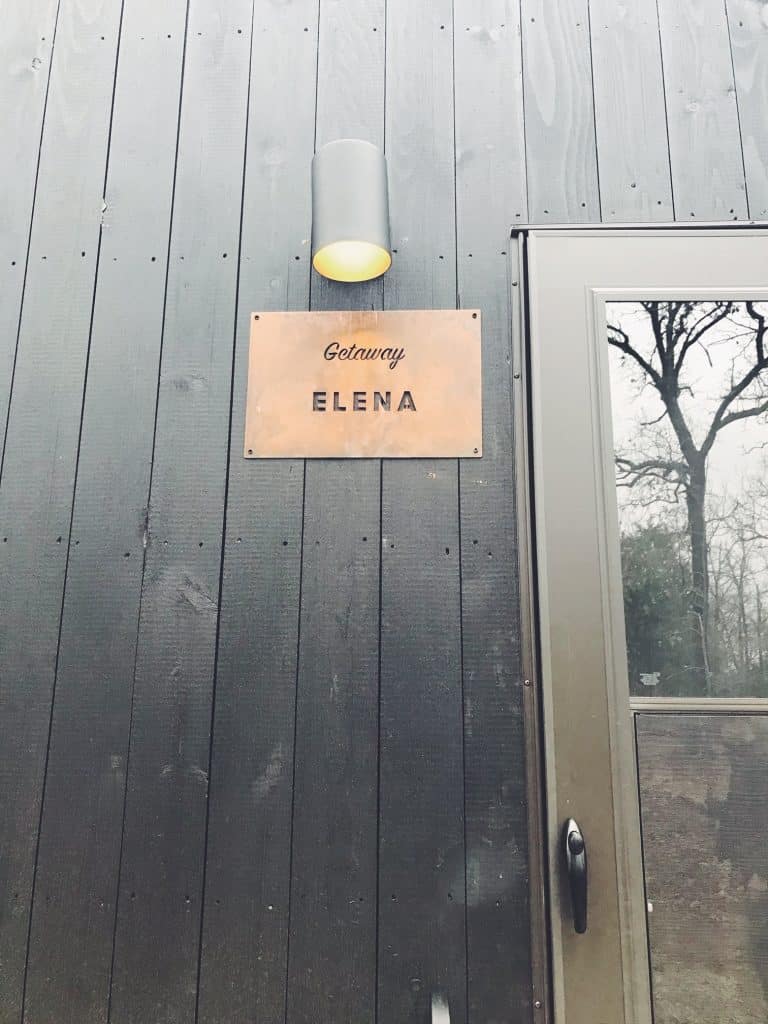 Getaway Piney Woods has around 40 cabins, scattered across 99 acres. Although the cabins are spread out pretty well, you will possibly have a neighbor or two within shouting distance, so be aware of that.
We had a neighbor on one side that we could easily see, but once we were inside, and even outside chilling by the fire, we didn't hear a peep from anyone. We still felt like we were totally alone.
Other Getaway House Locations
As of this writing, Getaway has 9 Outposts located across the United States. The Dallas location is their first one in Texas.
Selfishly, we're hoping they open one a little closer to Austin. While we didn't mind the three-hour drive, we'd take advantage of this tiny home escape more often if it was an hour and a half away.
Here's a list of all of the locations:
Atlanta
Boston
DC
Dallas
Los Angeles
New York, Catskills East
New York, Catskills West
Pittsburgh-Cleveland
Portland
Todd and I have a dream of experiencing every single one of these Getaway locations.
Booking Your Getaway
To book a stay just choose your location, number of guests, number of beds and a date.
There are a handful of cabin rentals for up to four people, but most are equipped for two. The cabins for four people have bunk beds in front of the large window, instead of just the one bed.
Getaway Rental Costs
For the Dallas Outpost, rentals are anywhere from $119 to $209.
I checked a few of the other locations and for Portland, some of the rates were as low as $99, but for New York, it was a bit more expensive, from $199 to $239.
Check-In and Check-Out
Getaway has made the check-in and check-out process as easy as possible. A few hours before your stay, they email you a key code. Use the code to get in and then when you leave, lock it. It's that simple.
We didn't talk to a soul the entire time we were there. And when you're wanting a total escape from city life, that's a huge plus.
What's Included in the Cabin
The cabins are around 200-square feet and according to Getaway, they are outfitted with "everything guests need and nothing they don't."
They've done an incredible job at setting up a minimalist getaway, while also making sure you have some of the comforts most people want.
Here's a room by room tour.
The Kitchen
As you walk in the door, the first thing you'll see is the kitchen. It has a sink, stovetop with two burners, refrigerator (there's no freezer, so be aware of that when packing food), and plenty of counter space for a tiny home.
They also provide basic amenities for meal prep like pots and pans, cutlery, plates, cups, mugs, a kettle and more.
Right by the refrigerator is the AC/Heat. I love how they used the space so wisely and allocated the top of the unit as counter space. Brilliant.
There are also provisions provided for purchase like soup, coffee, cookies, marinara sauce, pasta, olive oil, oatmeal, and crackers.
We enjoyed a bowl of soup and crackers for dinner and coffee and muffins (that we brought with us) for breakfast.
The Table
There's a small table with one chair and bench seating. It's the perfect little set up to sit and enjoy a meal.
The Bed
Let's talk about this amazing bed, shall we?
Not only is it the best feature of the cabin and perfectly sets the stage for pictures, relaxing and sleeping, but it is so incredibly comfortable. From the mattress and pillows to the comforter and blanket, they've provided everything you need to 100% relax.
We both spent a lot of time reading, looking out the window and soaking in the quiet. When we woke up in the morning, the first thing we did was open the shade and just lay there looking at the view.
The Bathroom
If you're worried that you'll be roughing it when it comes to the bathroom situation, don't be. You have a flushing toilet, a nice shower with super hot water, plush white towels, plus shampoo, conditioner and body wash.
It was quite cold when we visited and the entire cabin, including the bathroom, stayed incredibly warm.
The Outside Area
The outside area is set up just as nice as the inside. They give you a complimentary s'mores kit with delicious high-quality chocolate. I ate four. Four! I usually don't even like s'mores but there was just something about these that I could not get enough of.
There's a fire pit, two chairs, a picnic table and wood you can purchase.
What You Should Bring
Here are a few things we think you should bring to up the level of comfort on your getaway:
Slippers
A book to read
Bottle of wine and glasses
Blankets to wrap up in by the fire
Appropriate footwear for hiking
Food if you want to make your own meal and not use what they have for purchase
We packed extremely light, which makes getting away that much more relaxing. Sometimes when you decide to go for a night or two away, you're utterly exhausted when you get there from all the prep just to walk out the door.
You should also bring with you a mindset of truly unplugging. In the picture of the table, you'll see a small wooden box. What's that box for? It's to put your phone in it. Out of sight out of mind.
It's pretty amazing how foreign disconnecting from your cell phone feels. I imagine like us, you reach for it without thinking. We've forgotten how to just be. How to just sit and soak in the silence around us. How to not worry about what our social media friends are up to. Or how to enjoy a moment and not feel the need to share it with the world.
The founders of Getaway wrote a book titled "How to Get Away: Finding Balance in Our Overworked, Overcrowded, Always-On World." But when I last checked on Amazon, it seems to be out of publication (hopefully, that's temporary). Jon Staff also wrote a new book in 2020 titled Getting Away: 75 Everyday Practices for Finding Balance in Our Always-On World, which is available in Hardcover, Kindle or Audiobook (free with an Audible trial).
Things to Do in the Area
The folks at Getaway also created a guide to provide inspiration for your escape. It shares a list of things to do like go stargazing, swapping stories by the campfire, disconnecting from technology, as well as local spots for dining, grocery shopping, etc.
At the Dallas location, there's a brewery, winery, and restaurants within 25 to 45 minutes of the cabin.
On the Getaway property, they were in the process of clearing a hiking trail. It's a nice, enjoyable walk through the woods.
Are You Ready To Getaway?
So, are you ready to Getaway and experience an escape from city life, technology and busyness?
* A special thank you to the Getaway team for our complimentary stay and re-introducing us to what truly unplugging feels like.
PIN THIS