Must-Have RV Apps for 2023

What are the must-have RV apps out there for trip planning, hunting down the best gas prices, and finding a community on the road? We've rounded up the best of the best.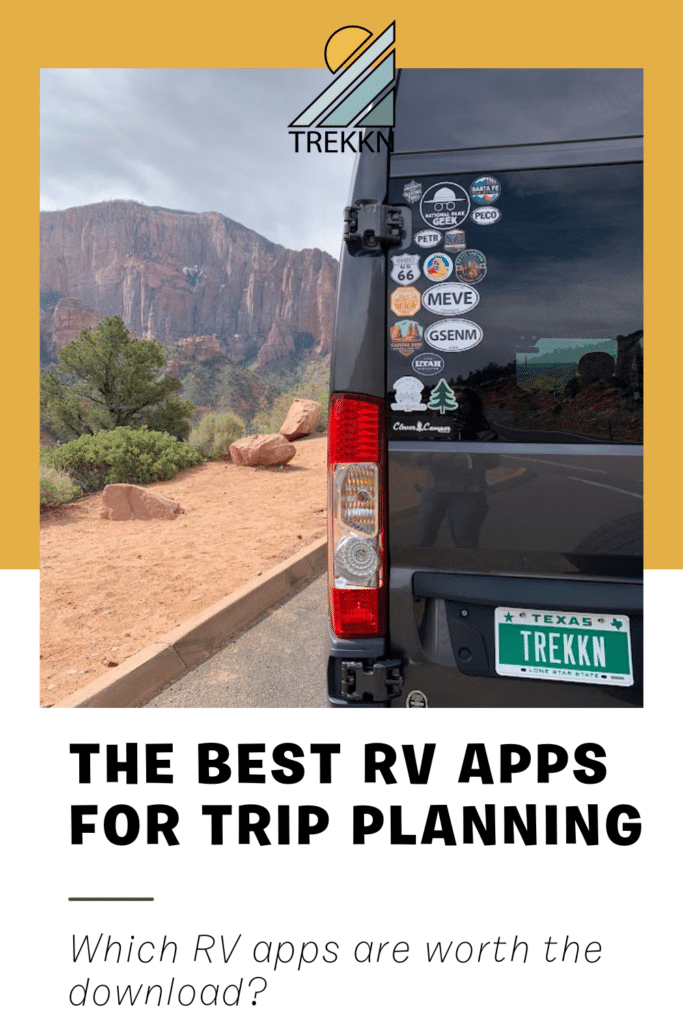 It's a good time to be an RVer. We confidently roll down the road, knowing what lies ahead and what to expect when we get where we're going.
When we have a bump in the road on a travel day, I often wonder about how much harder RV life must have been before smartphones and GPS.
"Back in the day" you quite literally had to be retired to tackle RV life. Someone had to drive, while the co-pilot closely followed along on maps, and called ahead to campsites to see about availability.
Nowadays that copilot is probably working their remote job from the passenger seat. All thanks to our smart devices and all the apps they contain!
Have you had trouble finding the best RV apps?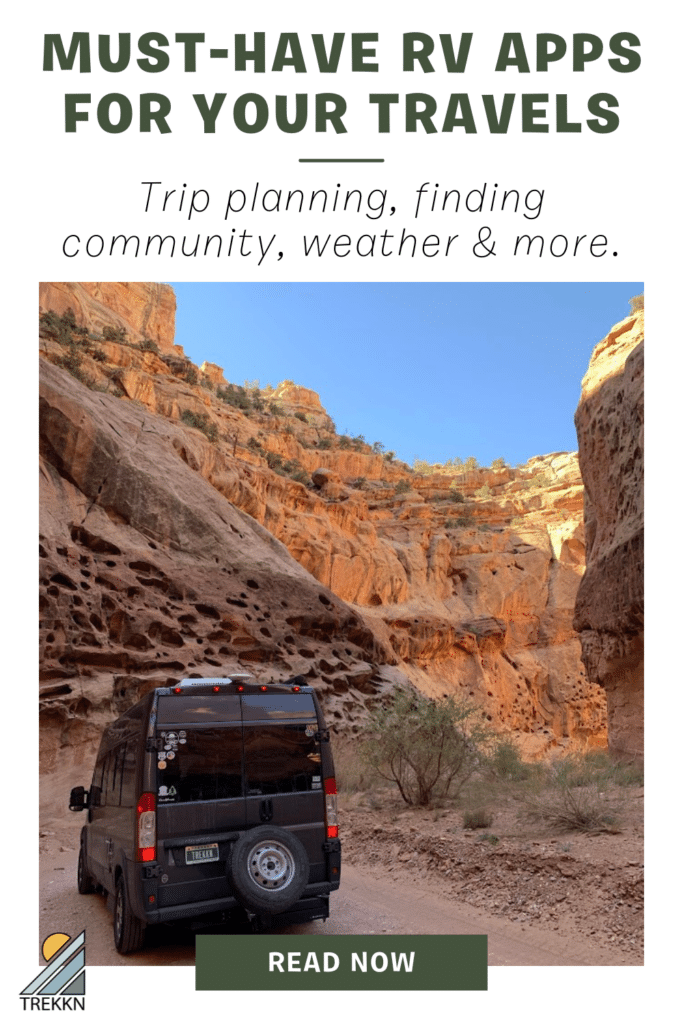 There are so many RV apps today, it can be hard to know which ones are worth the download.
Well, you've definitely come to the right place. We've collected the best apps for RVers all in one place, and sorted them by category. Based on our own years of experience, we know these are the apps that will absolutely make RV life easier for you.
Finding Camping & RV Services
These apps will help you find places to stay and other essential RV services.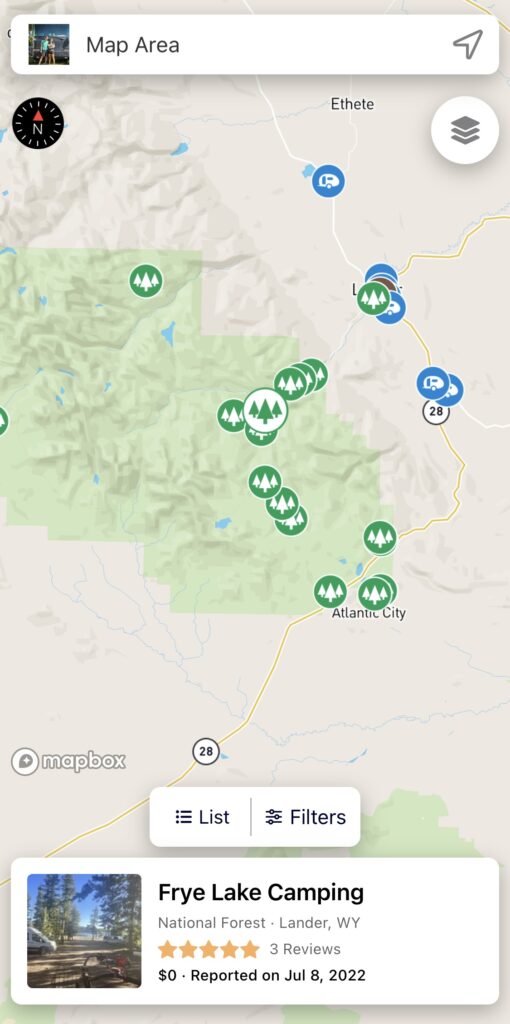 "Created by campers for campers" as their tagline states. Campendium collects user-generated places to park your RV, and find other RV services. There are tens of thousands of places to camp on the app, from National Parks to RV resorts.
What we love most about the app is the camper reviews of the locations. After reading a handful of reviews, we can usually tell if a location will work for us.
We also love the filter for public land, so we can quickly see boondocking and other sites that are more in nature than most RV parks. And since we boondock most of the time, we also like the dump station filter for our travel day stops.
Cost: Free with the option to upgrade to Roadpass Pro for additional features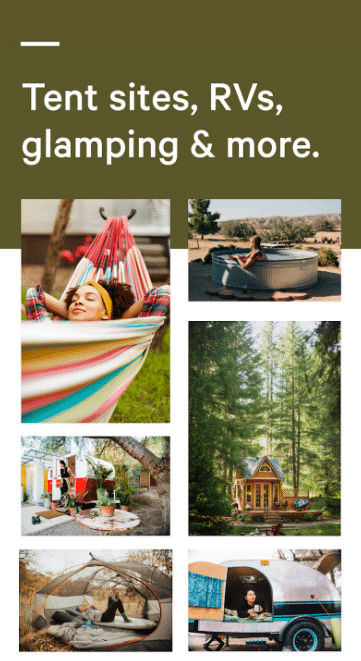 Hipcamp is often overlooked as an RV app because it offers tent stays and glamping options. But we've found so many great RV camping options on Hipcamp that it's one of our top must-have apps for RVing.
We love that Hipcamp is like Airbnb for camping. You get to meet your host and get some local insight and advice. It's just a nice way to be welcomed to a new destination.
Hipcamp can be used by all types of RVers.
Many Hipcamp hosts offer some hookups, sometimes for an additional fee. Most sites are considerably cheaper than an RV park in the same area (great for keeping your RVing budget under control), because you're usually camping in someone's backyard or driveway.
It's a must-have for us because we often find Hipcamps in locations where we can't find any other camping that suits our taste.
Cost: Free app, fees for camping vary by site
HARVEST HOSTS / BOONDOCKERS WELCOME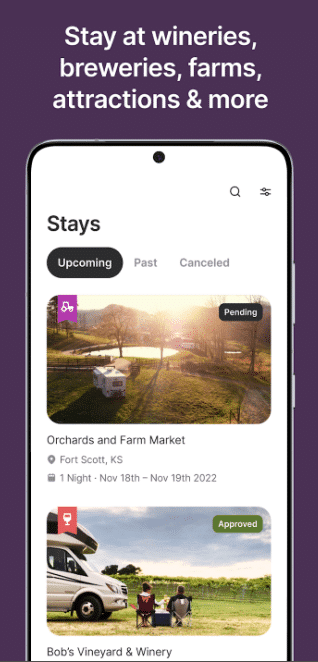 These two apps used to be separate until Harvest Hosts bought Boondockers Welcome in 2021 and the apps have now been combined into one (on the Harvest Hosts app). While the two apps have some similar roots, the experiences are different.
With Harvest Hosts, you're usually staying at a business for only one night (often a winery or brewery). There is no nightly fee (after you pay the annual membership) but there is an expectation for you to purchase something the business.
It originally began with wineries and breweries and has since expanded to farms, churches, and museums.
Todd and Julie wrote about their experiences with Harvest Hosts a while back, so take a look if you want some more in-depth info.
With Boondockers Welcome you're usually staying at someone's house and can stay multiple nights for free (after paid membership). Boondockers Welcome has more of a Hipcamp-type feel to me.
I like the people-to-people feel of it like you're making a new friend.
Both memberships can be quite useful for last-minute trips or overnight stays. Both communities were originally intended for boondocking but now have some hosts that offer hookups for additional fees.
You may also find they have spots available where you can't find any other options for camping.
Cost: Harvest Hosts alone is $99/year, Boondockers Welcome alone is $79/year. For a combination membership, the annual cost is $169/year. (Check the site, there is currently an offer for 15% off.)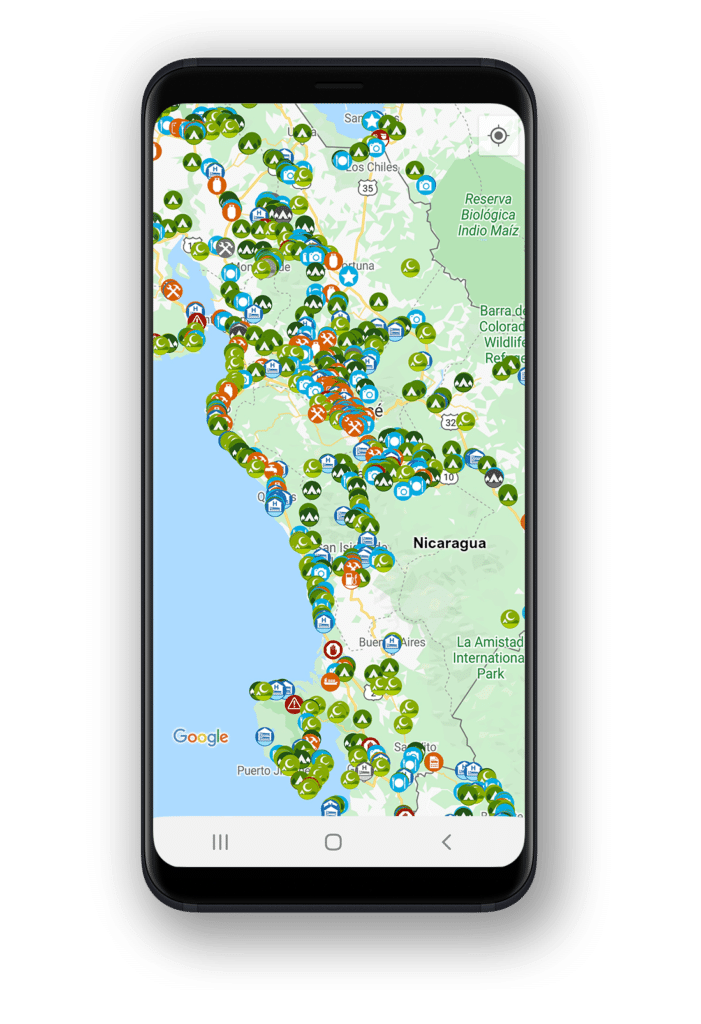 iOverlander is a non-profit project that is almost completely volunteer-run. The interface is simple and the crowd-sourced directory is often a bit of a mess with duplicate entries or unverified entries.
If you can see past the basic visuals and learn to overlook some imperfections, it's still a great resource.
For finding RV camping spots, iOverlander is better for smaller RVs that are more nimble. If you drive a big motorhome for example, there's no easy way to sort the results to see only places you'll be able to access easily (like the "big rig friendly" notation on Campendium).
Other than lacking the filter for big rigs, iOverlander has better filters than any other RV app out there. You can sort by all different types of camping, you can search just for field, water, propane, dump stations, laundromats, showers, wifi, and more essentials for RVers.
We use iOverlander primarily to search for water spigots and propane fills. No other app that we know of offers these.
Cost: Free, though they do ask for donations.
Trip Planning & Navigation
These apps will help you get where you're going.
You're more likely to use an app you already have, know, and like to use. We like to use Google Maps for our RV GPS because we're already in the ecosystem all the time anyway.
We save our favorite camping spots in there, we can see where our friends are located on the map, and more.
Cost: Free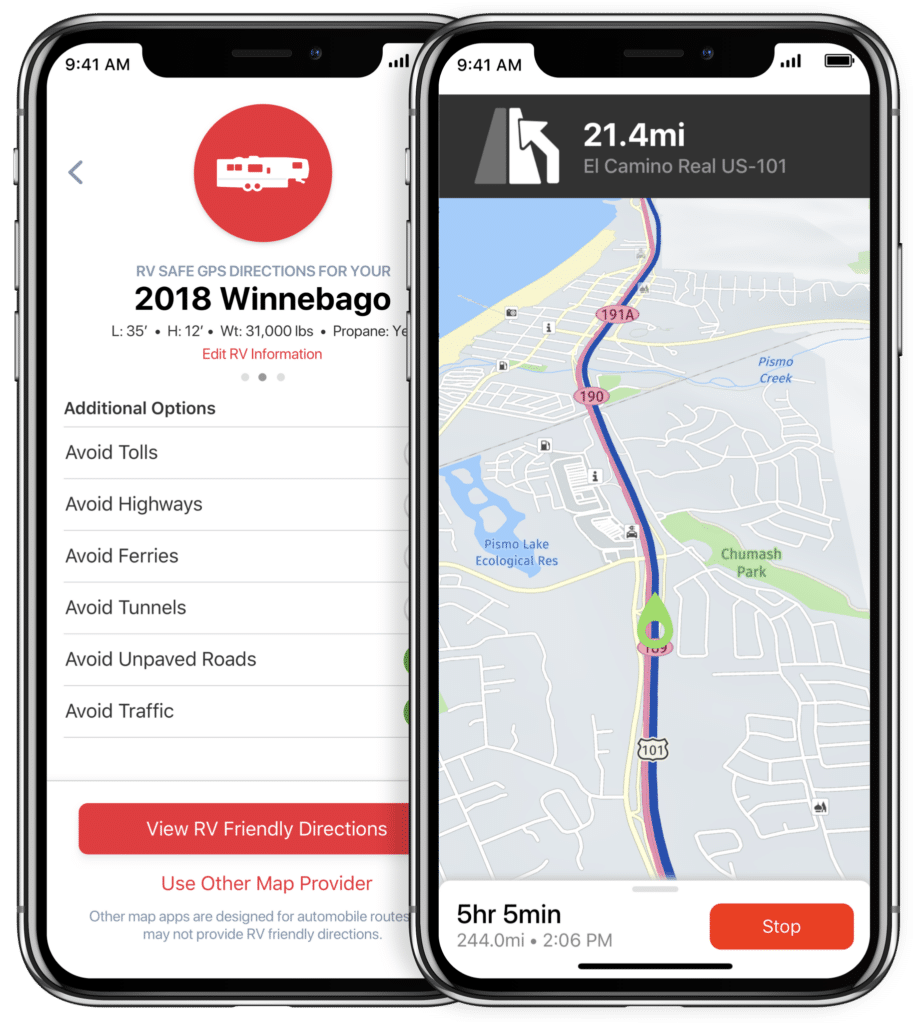 In 2022 RV Trip Wizard became RV Life Trip Wizard. According to RV Life, they changed the name and moved it to a new domain in order to improve the platform and make it easier to use.
We don't personally use this trip-planning tool, but we know lots of people who do and love it.
RV Life Trip Wizard provides RV safe routes specific to your RV's dimensions and weight. It includes navigation that works offline in case you lose signal. Plus it includes their campground locator, so you can have navigation and a campsite directory in one.
Sounds pretty good to me!
Cost: $59/year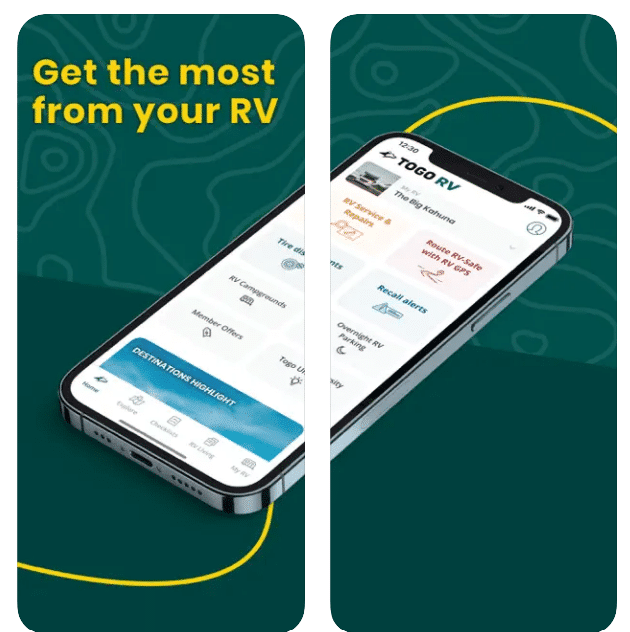 Toward the end of 2021, Roadpass consolidated many RV apps into their "Pro" membership, including ToGo RV, Campendium, Road Trippers, and RV Village.
The idea (we think) was to provide you with every app you need for RVing under one roof. We like the idea, but some of the execution has been clunky.
We used ToGo RV GPS for most of our RV travel in the past few years. We find that the app will freeze or glitch out or lose signal and drop the destination.
Plus, the auto-fill on entering a destination is the absolute worst. Sometimes we have to enter GPS coordinates because it can't find a Shell station.
All that being said, when it works, it works well.
The RV safe navigation saved our butts on the East Coast with low bridges and weight restrictions. It will even route you around a turn that they deem too tight for your RV.
Unfortunately, we find that we have to run Google Maps and ToGo in order to not get left in the lurch if ToGo decides to fail us.
Still, we often run our proposed route through both navigation apps to compare options and see what ToGo thinks our RV can or cannot handle.
Cost: $49.99/year (7-day free trial offered)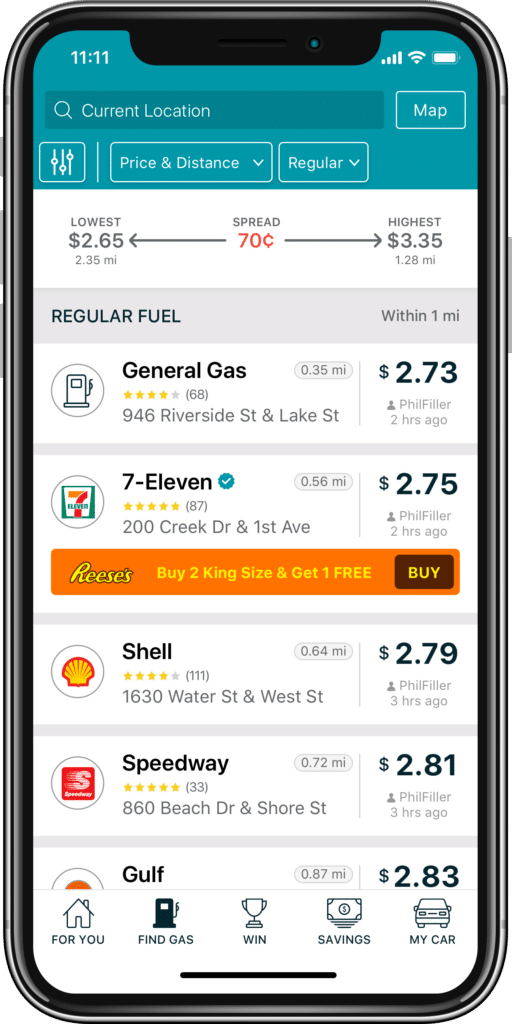 The Gas Buddy app literally fuels our travels. While you're traveling you can search on the map for nearby gas stations and see the price of each one right on the map.
We love that you can filter by gas or diesel, and even better by "truck stop" for ease of access for big rigs like ours.
Cost: Free
WEATHER
These apps will keep you informed of the weather where you're camping. It's important to know if you're expecting a storm or high winds before you plan your RV trip.
Traveling to unfamiliar destinations, you may be unfamiliar with their weather patterns. It's always good to be informed. We suggest keeping these apps on your phone and checking them regularly.
COMMUNITY
Last, but certainly not least, the road can be lonely. These apps have become must-haves for us to find community on the road.
For friends you've already met and hope to see down the road, you can exchange Gmail addresses and turn on location sharing for each other.
This way, you'll see their location on your Google Maps, and never miss an opportunity to meet up when you're in the same area.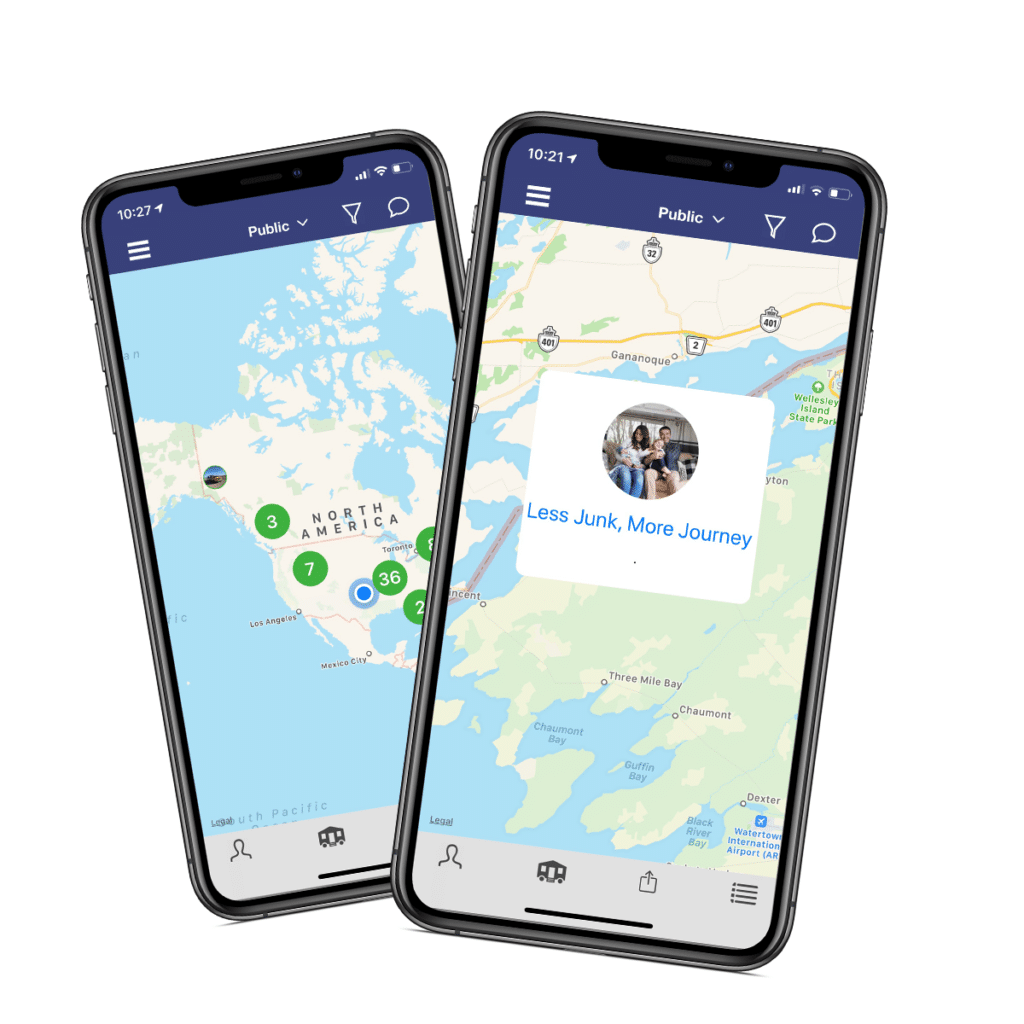 They haven't updated this app in over a year, but it still does the job. It's easy enough to have the app turned on, and it does the rest automatically.
It will alert you if there are other people on the platform nearby to you. Worth having for the very little effort it requires.
Do You Have the RV Apps you need to Hit the Road Now?
Arming yourself with all the right "digital tools" certainly makes RV life and RV travel easier. We hope you feel more prepared for the road ahead with these apps.
While we still haven't found one app to manage every aspect of our RV life, each of these apps has something valuable to offer. So, we think these are the RV apps every camper should download and benefit from.
Until next time, happy camping!!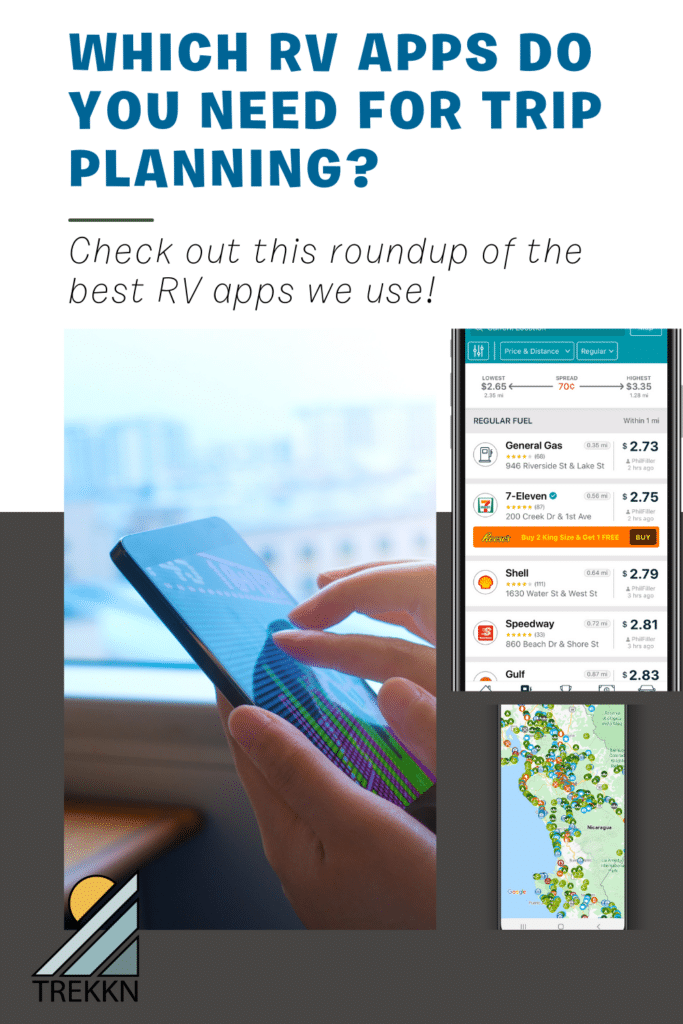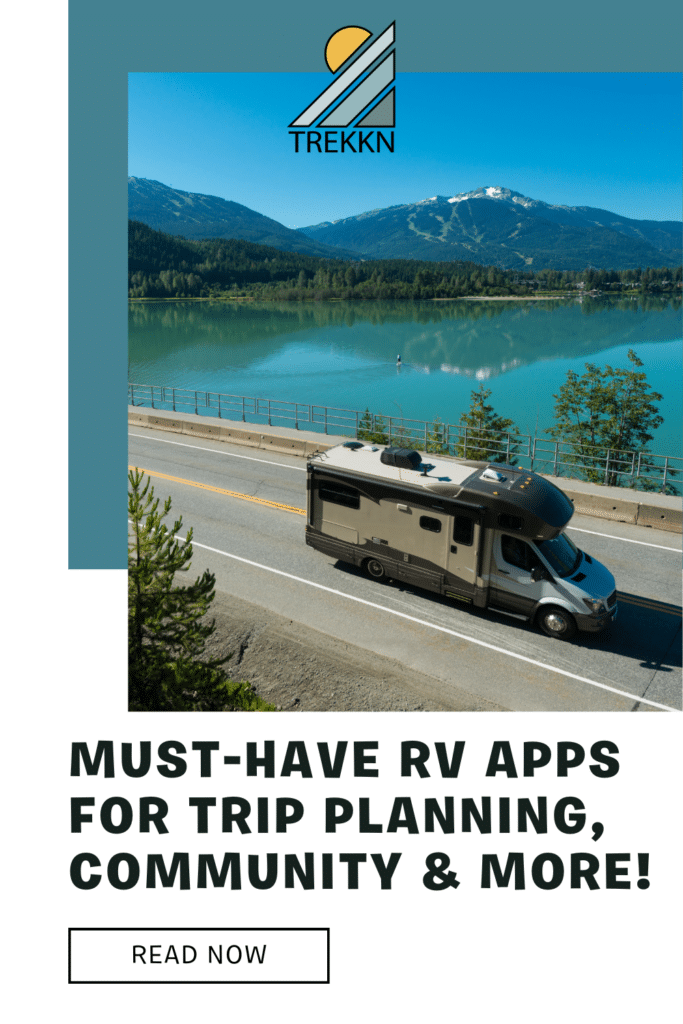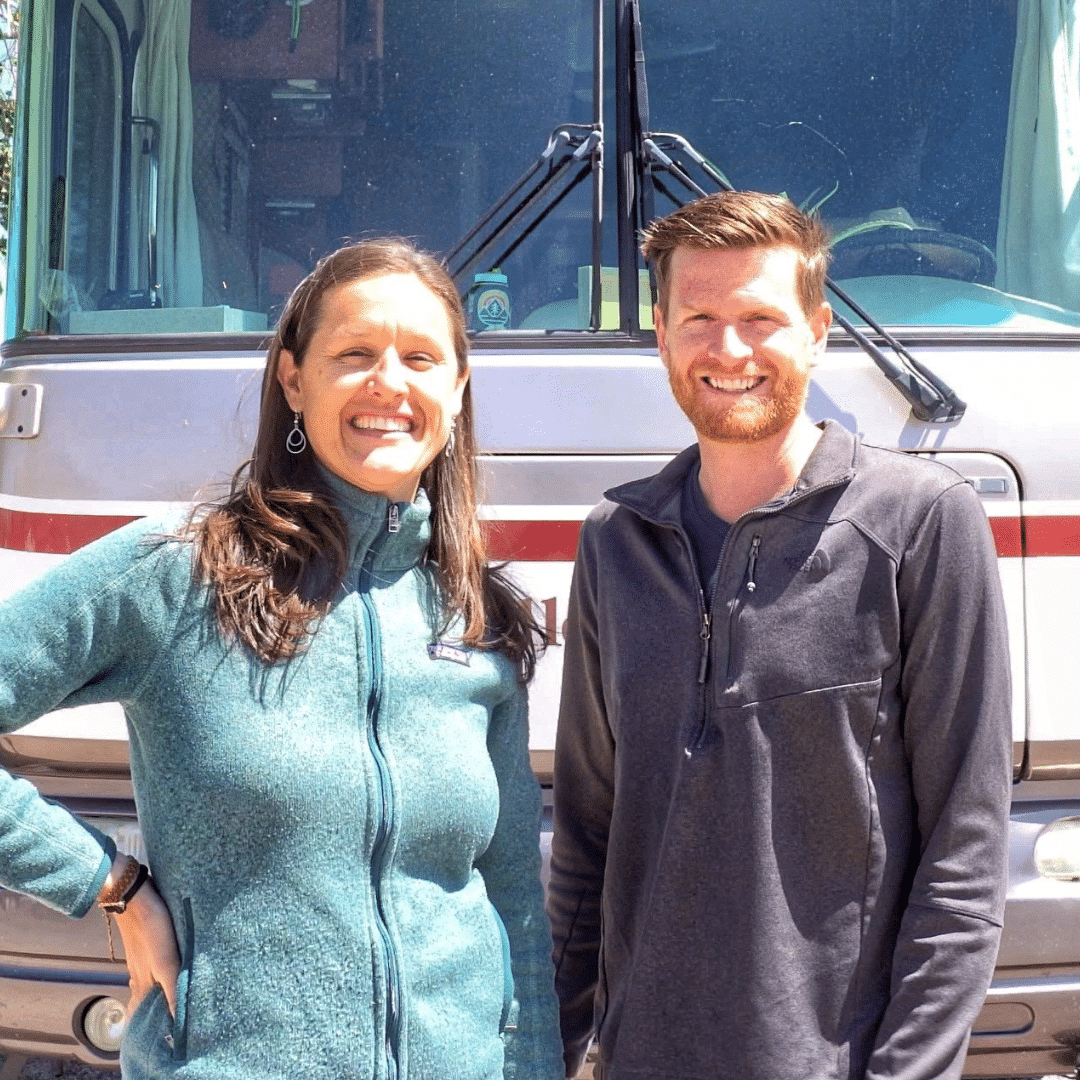 Kristen Bates lives & works from her RV, primarily boondocking off-grid. She owns and operates a women-led travel company, Legit Trips. Kristen loves to explore new places and inspire others to do the same. If she's not typing away on her laptop, she's off on an adventure- hiking, biking, or SUP boarding. You can follow her RV adventures @PerpetualMoves and learn more about her travel company at LegitTrips.com.