10 Delicious Crockpot Camping Meals Perfect for Your RV

Inside: Looking for simple and delicious crockpot camping meals that are perfect for your RV? Look no further! From easy comfort foods to the best lunch and dinner dishes, we've got you covered with these 10 amazing crockpot camping meals.
What's in your RV kitchen? When you start packing for your next RV camping trip, do you pack any appliances?
RV kitchens are usually small with limited storage space. Therefore, many people leave the crockpot behind when they head out RVing.
Don't make this mistake! Crockpots are great for RVing, even if you are camping off-grid. And your crockpot needs an adventure as well, after all.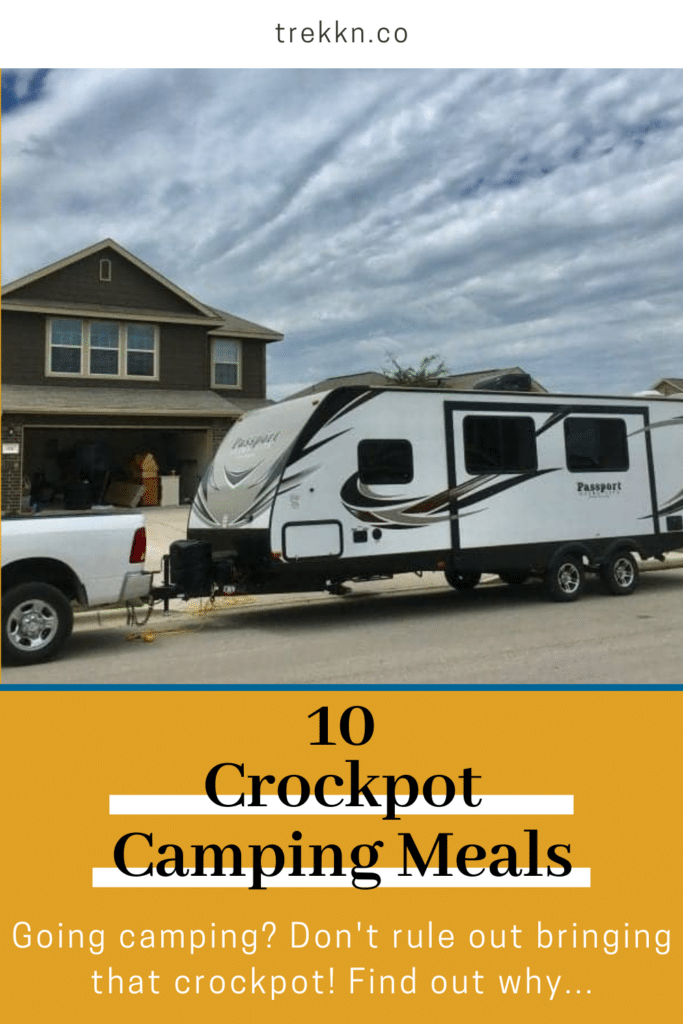 Can You Use a Slow Cooker While Camping?
Your primary limitation while camping might be space, either storage space or counter space. So you may want to choose your crockpot based on the size that works with your RV.
How many people do you typically need to feed? How much counter space do you have available?
I've heard of some RVers who put their crockpot in the sink to save on counter space and ensure it doesn't tip over. Just make sure the sink is dry before you put it in there, please.

But even if you won't have electrical hookups available at a campground or RV park, you can still use a slow cooker while camping.
There are a few options for a 12-volt slow cooker readily available. I think these were originally made for truckers, but they're a great solution for off-grid camp cooking too.
Check out this one from Amazon.
So yes, you can absolutely use a crockpot while camping. In fact, it's one of my favorite solutions for easy camping meals with minimal dishes and quick cleanup!
You might also want to check out our "mega post" with 50+ RV kitchen essentials you will not want to be without on your next outing.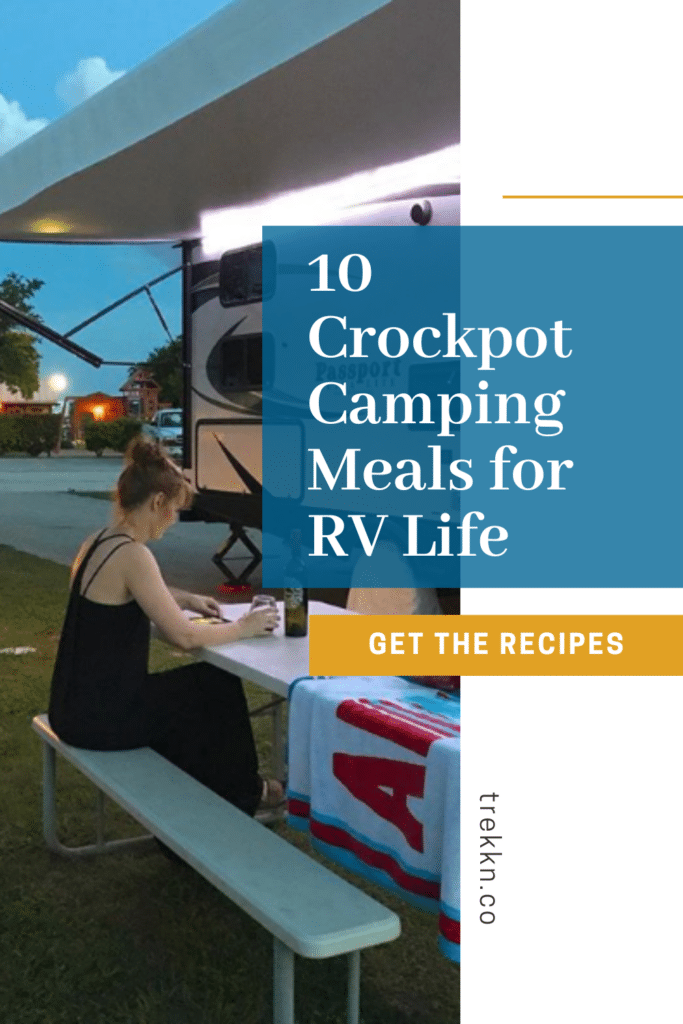 10 Crockpot Camping Meals To Easily Prepare In Your RV Camper
I'm always amazed at what you can make in a crockpot. It's like the swiss army knife of cooking.
Let's explore ten easy slow cooker recipes that are sure to please your camping crowd when mealtime comes around.
1. SLOW COOKER GARLIC PARMESAN CHICKEN
This slow cooker garlic parmesan chicken and potatoes recipe from Damn Delicious is a whole meal in one. I love a good one-pot meal while RVing.
This one is extra great because it only requires a handful of ingredients: chicken thighs, potatoes, garlic, butter, and parmesan cheese.
The rest is all pantry spices, which you hopefully have on hand in your RV, but also can be left out if you're missing something.
2. CROCKPOT CHICKEN WILD RICE SOUP
Thanks to Pinch of Yum for introducing me to this wild rice soup recipe. It's warm and creamy, and perfect for a chilly night at the campsite.
Like many crockpot recipes, this one is incredibly easy. But it does include a roux you'll have to make on the stovetop to make the soup extra thick and delicious.
So technically this one is not a one-pot meal. You could make the recipe without the roux, but I think it's worth it for the decadence and added enjoyment!
3. PULLED PORK SANDWICHES
Technically if you're really trying to save time, you could make this easy crock pot pulled pork before you leave on your next camping trip. Then just have it ready to go for sandwiches whenever you're hungry.
This recipe does take eight hours, so plan accordingly based on your travel plans.
Thanks to Cooks with Cocktails for sharing this recipe, which they made for their own first camping trip of the season. I always love to get recipes from fellow campers. So cheers to them!
4. SLOW COOKER SHREDDED BEEF
This shredded beef recipe from Neighbor Food isn't really a whole meal, but it is a tasty base to have on hand for your next camping trip.
You can make sandwiches, tacos, or pasta meals with this shredded beef. I like the versatility and you can also cook once and get a couple of good meals out of it.
Best of all, it only takes ten minutes to prepare, so you can get back to relaxing by the campfire.
5. BEEF VEGETABLE NOODLE SOUP
This is another warm, hearty meal for those colder camping nights. Thanks to Mel's Kitchen Cafe for sharing her slow cooker beef vegetable noodle soup recipe.
This is another true one-pot meal, and I love that everything cooks inside the crockpot (including the noodles). There's an option to thicken, or not, so it's customizable to your taste.
It also reheats well, so again you can cook once and eat twice, allowing you more time for the fun stuff.
6. SLOW COOKER HOBO DINNER
Hobo dinner typically refers to a meal in a tin foil pouch that you can cook over a campfire. When you're camping in your RV and have your crockpot on board, why not level up your hobo dinner?
This meatloaf and potatoes slow cooker dinner from The Magical Slow Cooker cooks on low for five hours.
She cooks the meatloaf and the potatoes in the pot together, and giving homage to the original hobo dinner, creates a little tin foil bowl to separate the potatoes from the beef. Um, yummmm.
7. SLOW COOKER COCONUT LENTIL CURRY
Curry is typically served with rice, so this is not a one-pot recipe, but it's still relatively easy to make with all shelf-stable pantry ingredients. (And you could prepare the rice ahead of time if you're heading out for a weekend getaway.)
This coconut lentil curry recipe from Kitchn is full of flavor. When we're RV camping, we like to take a shortcut on rice and buy the pre-cooked or boil-in-bag style of rice. Shortcut rice saves on power usage and on dishes.
Take something simple and make it extraordinary with slow-cooked curry. (Anyone else getting hungry?)
8. GUINNESS BAKED BEANS
This slow cooker Guinness baked beans recipe comes from Dinner with Julie. It does require a skillet to cook the bacon and saute the onion. (If you're got a problem with a little extra effort for bacon and onion, I got nothing for you.)
After that, it's all into the crockpot for a low and slow cook of about seven hours. These baked beans make a good side dish to serve with another main dish.
Julie says you can substitute the Guinness for apple juice if there's no beer in the fridge.
9. EASY CROCKPOT BANANA BREAD
I couldn't complete this list of recipes without including something dessert-like and somewhat surprising. So here it is.
You can make banana bread in a crockpot! I know, my mind was also blown.
Thanks to the Spruce Eats for this crockpot banana bread recipe. Any recipe that makes something sweet and delicious out of a rotten banana gets extra points in my book.
I can't wait to try this one in my slow cooker next time we're camping and craving some sweet bready stuff.
10. APPLE COBBLER CROCKPOT DESSERT
One more crockpot dessert before we wrap things up. This apple cobbler recipe from Amanda's Cookin is super simple and perfect for your next camping trip.
This recipe is made with a boxed cake mix, and just pie filling, butter, and cinnamon. Some call it "dump cake" but I say the easier the better when it comes to RV cooking.
The boxed cake mix is easy to store in your RV pantry. Then, just grab your favorite filling before you hit the road.
10 Crockpot Camping Meals
Photo Credit: damndelicious.net
Crisp-tender chicken cooked low and slow with baby red potatoes for a full meal! So easy and effortless!
Photo Credit: pinchofyum.com
This Crockpot Chicken Wild Rice Soup is so darn simple to make. Chicken, carrots, celery, onion, wild rice, seasonings, and cream. Pair with a piece of crusty bread on a cold night for the perfect meal!
Photo Credit: www.cookswithcocktails.com
These pulled pork sandwiches are easy to make and have awesome flavor! Great for serving a hungry crowd, for camping or anytime you need a big meaty sandwich!
Photo Credit: neighborfoodblog.com
This Slow Cooker Shredded Beef makes the juiciest fall-apart-tender pulled beef. We use this versatile recipe to make dozens of different meals, including shredded beef sandwiches, tacos, pasta, and more!
Photo Credit: www.melskitchencafe.com
This delicious slow-cooker beef vegetable noodle soup couldn't be easier! Everything (including the pasta!) cooks right in the slow cooker.
Photo Credit: www.themagicalslowcooker.com
Have you ever heard of a Hobo Dinner before? It's usually an individual complete meal for one in a foil pack cooked in a campfire, oven or barbecue grill.
Since I am all about bringing my slow cooker camping, I thought I would try making a Slow Cooker Hobo Dinner.
Photo Credit: www.thekitchn.com
This slow cooker coconut lentil curry is seasoned with garam masala & turmeric, laced with tomatoes, & finished with coconut milk for a touch of richness.
Photo Credit: www.dinnerwithjulie.com
There are so many possibilities when it comes to slow cookers. So many cool things to make, but I couldn't see past a bowl of baked beans. These are thick and sweet and tangy and everything baked beans should be, plus the beer.
Photo Credit: www.thespruceeats.com
Did you know you can make banana bread in a slow cooker? Even though this banana bread cooks for up to several hours, it's all hands-off. Once you mix up the ingredients, you just add them to the crock pot and let it do all the work.
Photo Credit: amandascookin.com
Make cake mix apple cobbler in the crock pot - nobody will guess it started with a boxed mix! A delicious and simple dessert you can make any time of year.
Helpful Tips For Using A Crockpot In An RV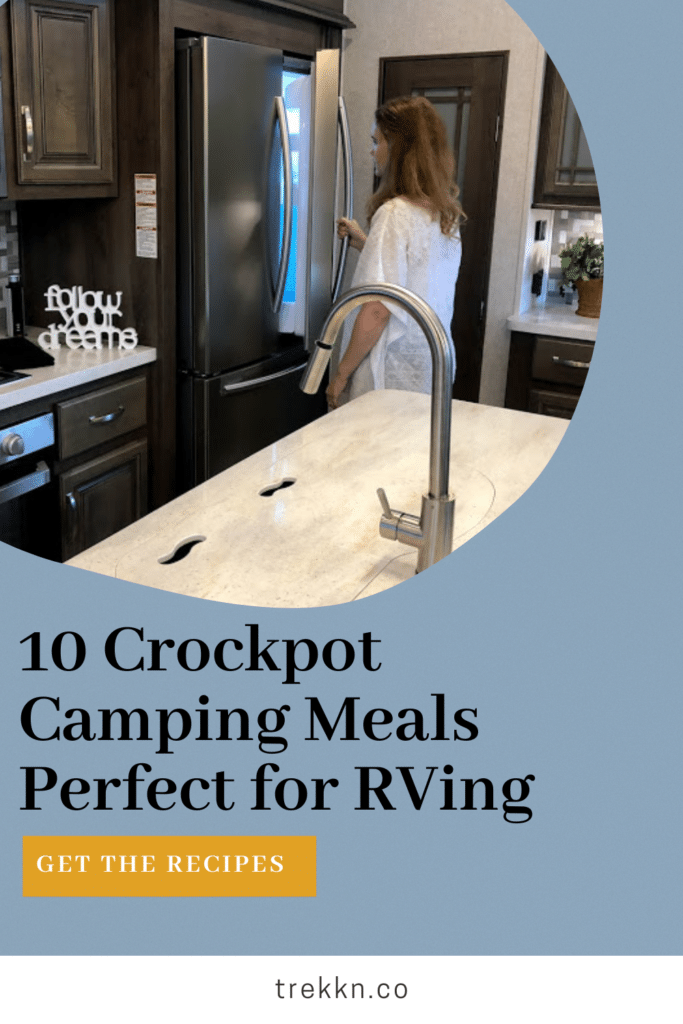 Crockpots are great for RV living because of the set-it-and-forget-it nature of slow cooking. You'll have plenty of time to enjoy the great outdoors and the cool people you're camping with.
There's no need to spend really much time at all in the kitchen with these easy crockpot camping meals.
The longer you RV camp, the more ingenious solutions you'll hear about. I was pleasantly surprised to hear about slow cooker liners from an RV park neighbor.
Slow cooker liners mean there is even less cleanup when the cooking is done, therefore saving you water by not having to do any dishes. Buy these slow cooker liners by Reynolds in advance of your next camping trip.
Crockpots are considered to be extremely safe, meaning it's generally understood that you can leave them plugged in and cooking while you're away from home all day. But some RVers feel a bit uncertain about doing so.
The workaround I've heard of is leaving it plugged in outside your RV if you're going to be away. Depending on your personal situation, whether you have pets, and where you are parked, you'll have to decide what makes sense for you.
We boondock, so we need to run the slow cooker while the sun is out and the solar is soaking in the rays, but I know some people do run it overnight.
Should Every RV Kitchen Have a Crockpot?
A slow cooker or crockpot is easy, fast, and efficient, so what's not to love about the crockpot?
Really the only argument I can think of against carrying a crockpot in your RV is that they do take a considerable amount of power over a long amount of time.
If you're RVing off-grid and don't have unlimited power, you may want to choose your crockpot recipes carefully. Many recipes don't take all day to cook, and many only need to go on the low setting, which will use much less power.
But I do think every RV kitchen should have a crockpot, but now it's up to you to decide.
Happy Camper Cooking!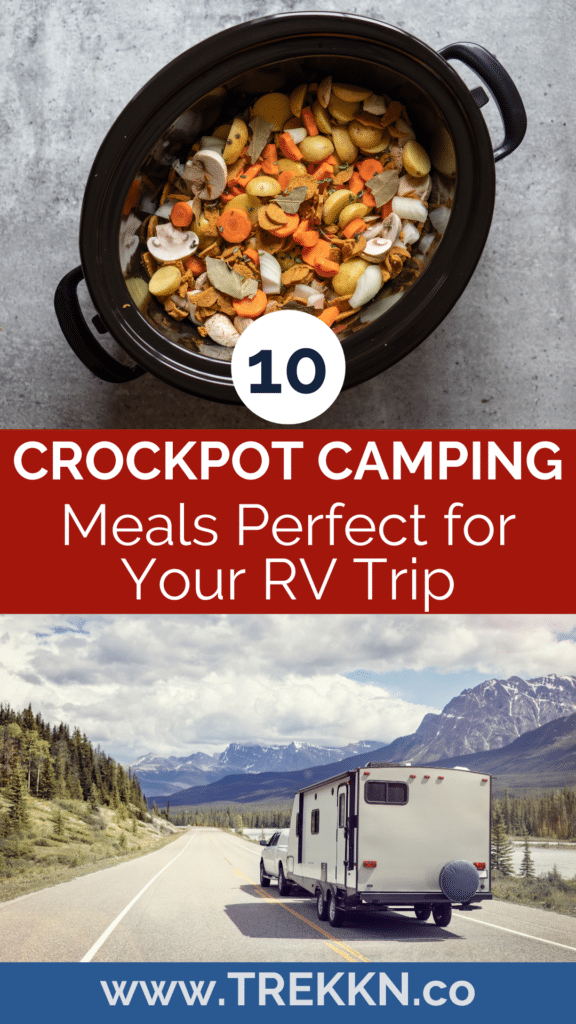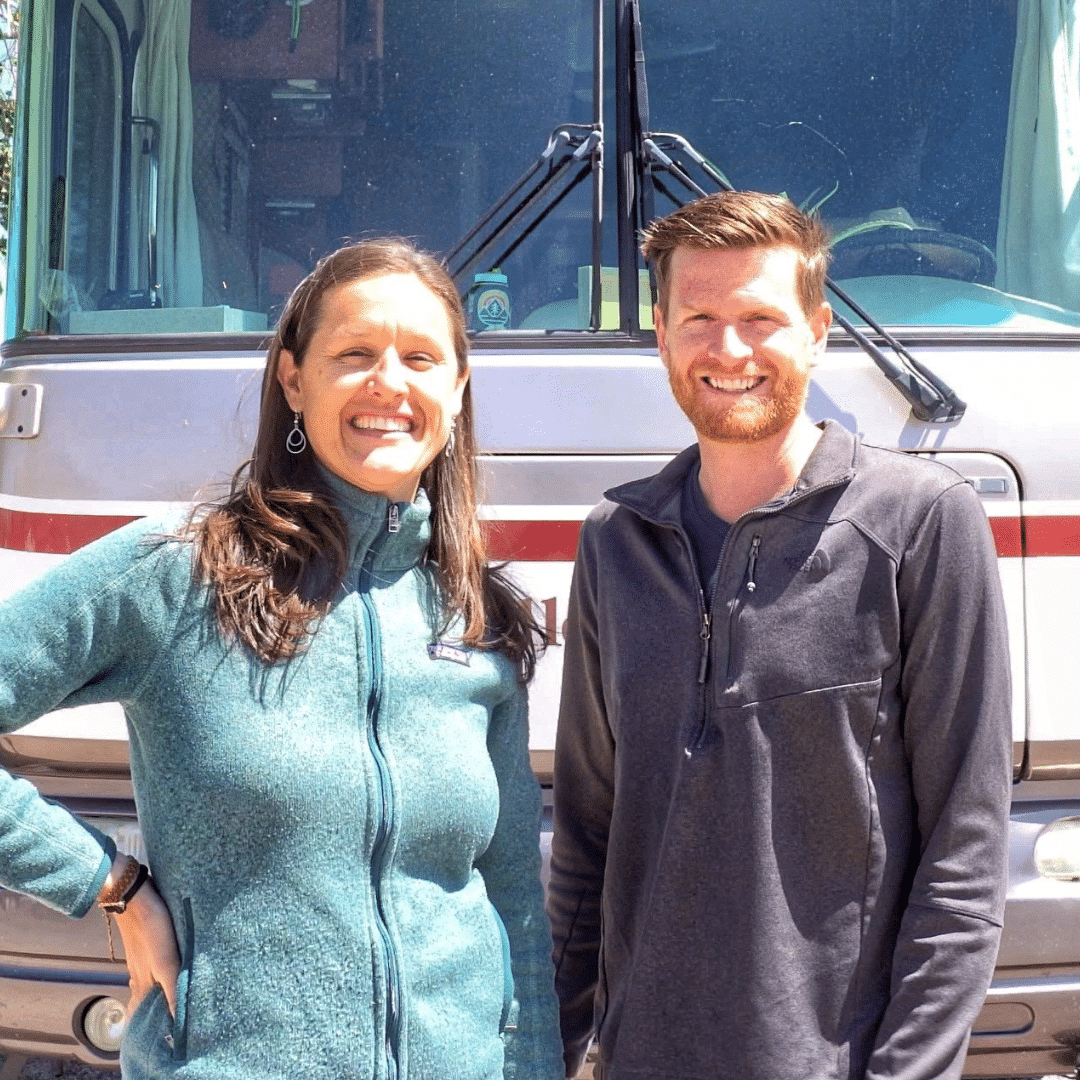 Kristen Bates lives & works from her RV, primarily boondocking off-grid. She owns and operates a women-led travel company, Legit Trips. Kristen loves to explore new places and inspire others to do the same. If she's not typing away on her laptop, she's off on an adventure- hiking, biking, or SUP boarding. You can follow her RV adventures @PerpetualMoves and learn more about her travel company at LegitTrips.com.