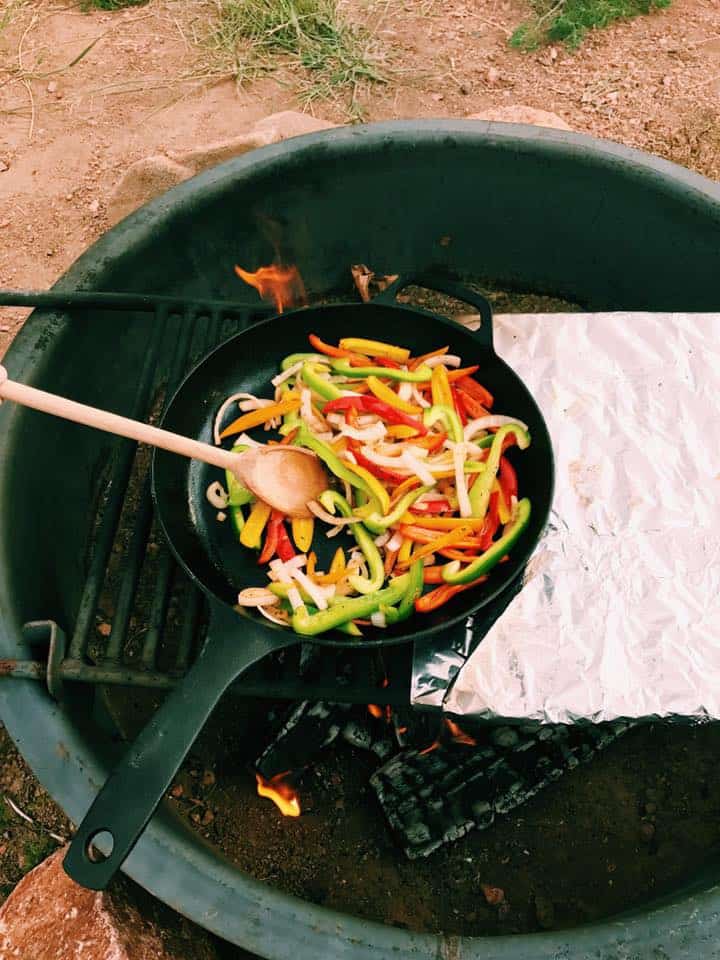 If you're wondering if you can use a cast-iron skillet over the campfire, the answer is a resounding yes. Not only can you use it, but after you try one or two of these camping recipes, you'll want to use one all the time.
From the way it cooks your food to perfection and the ease of cleanup, you'll quickly discover using cast-iron over the campfire or grill is the way to go.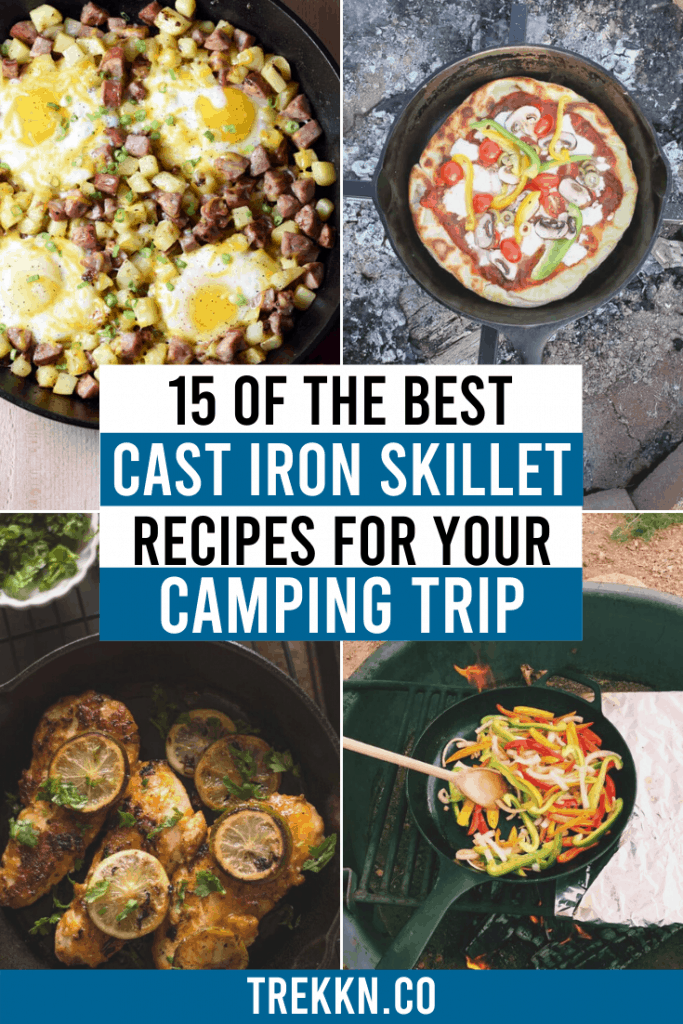 Early on during our full-time RVing trip, we started making fajitas over the campfire. I distinctly remember the first time we did this.
We were in Colorado, it was spring so the nights were still a little cool. I hadn't planned anything for dinner, but I had some veggies and tortillas. So I chopped all the veggies, sprinkled on some seasonings and warmed the tortillas in foil over the campfire.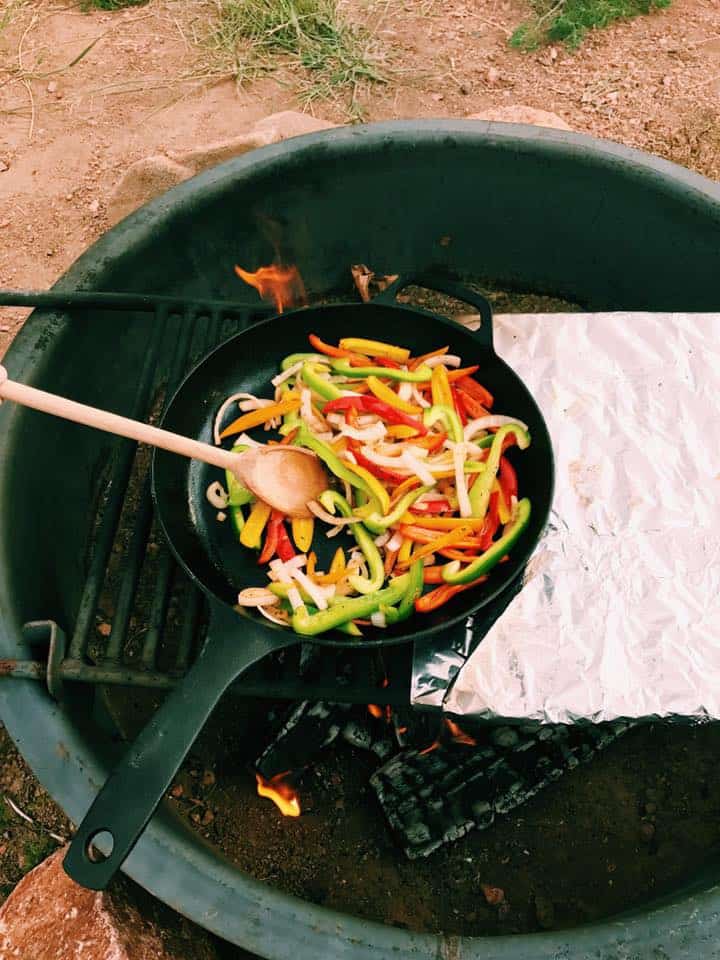 Let me tell you, those were some of the best darn vegetarian fajitas I had ever had.
It was at that moment that not only was our love of RVing and the fact that we made the right decision to hit the road full-time evident but so was our love of cooking over the campfire.
I hope one or two of these cast iron skillet recipes hit the spot and help you have a delicious and enjoyable camping trip.
15 Cast Iron Skillet Recipes for Your Camping Trip
Breakfast Cast Iron Skillet Recipes
Skillet Breakfast Hash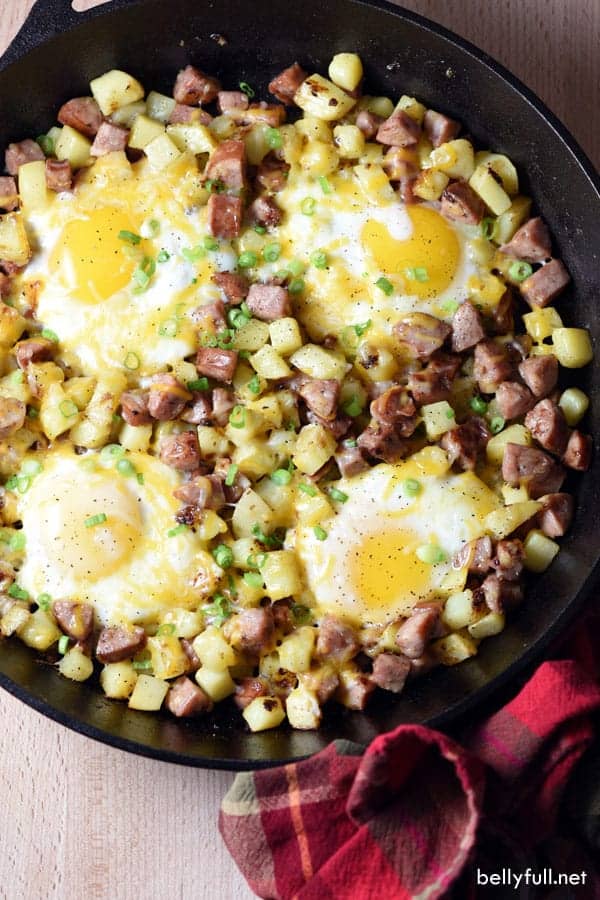 Whether you're whipping up a hearty and delicious breakfast for your camping crew or you're doing the always crowd-pleasing breakfast for dinner menu, this skillet hash will become a go-to for camping trips.
All the ingredients go right into the skillet making this not only easy to make but easy to clean-up as well. Be sure to top it off with some fresh scallions before everyone digs in.
Get the recipe here.
Camping Doughnuts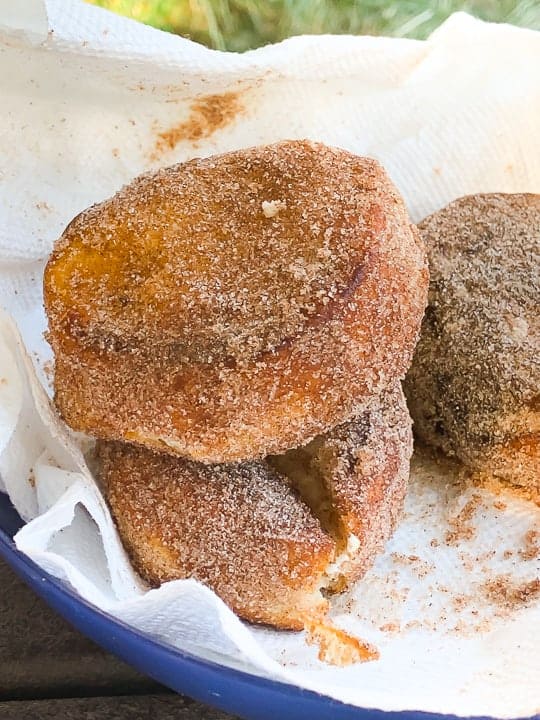 Doughnuts are good anytime but making and eating them while camping in the great outdoors kicks up the enjoyment factor a few notches.
These campfire doughnuts are made in a cast-iron skillet using pre-made biscuit dough. They are crisp on the outside and soft on the inside and tossed in a cinnamon-sugar combo.
Get the recipe here.
Red Potato, Bell Pepper, and Spinach Breakfast Hash
This easy, filling potato and veggie breakfast hash topped with a dippy egg are perfect for breakfast in the great outdoors.
Use red skin potatoes so you don't have to mess with peeling potatoes while camping. The easier the recipe is, the better in my book!
Although this recipe says to bake in the oven, this can easily be done over the fire or grill. Start the potatoes first, then add the peppers and onions and finish it off with spinach and an egg.
Get the recipe here.
Dinner Cast Iron Skillet Recipes
Cilantro Lime Chicken Tenders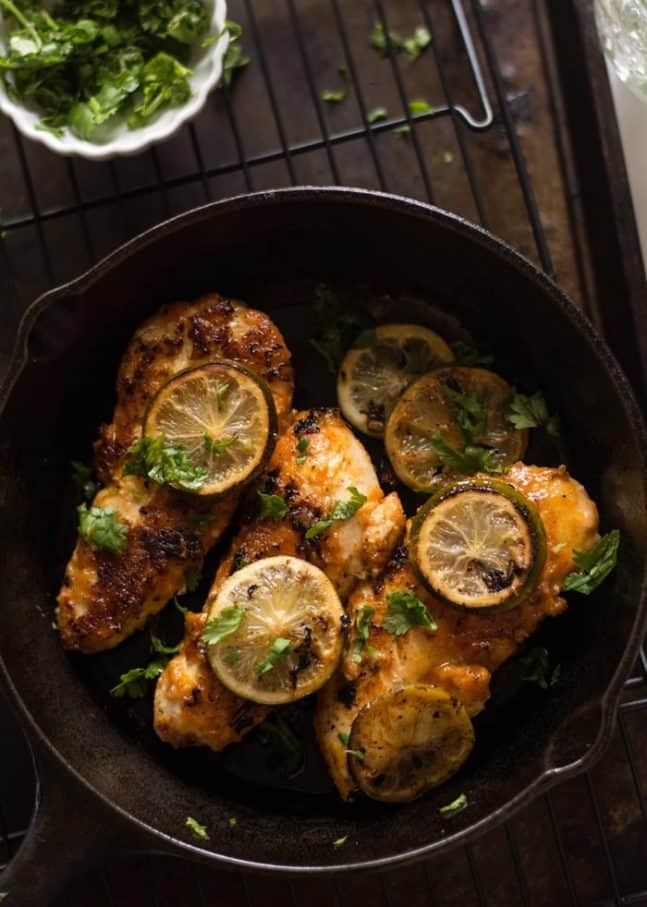 When it comes to getting dinner on the table while RV camping, we usually have one person working in the camper preparing something in the Instant Pot or on the stove and another person outside preparing something over the fire, grill or on our outdoor kitchen.
For this chicken recipe, I'd recommend whipping up some rice in the Instant Pot and cooking these delicious chicken tenders over the fire or outdoor stove. And using tenders instead of chicken breasts is key to a quicker meal.
Get the recipe here.
Are you new to using an Instant Pot in your RV? Be sure to read our Instant Pot + RVing tips and tricks article here.
Campfire Pizza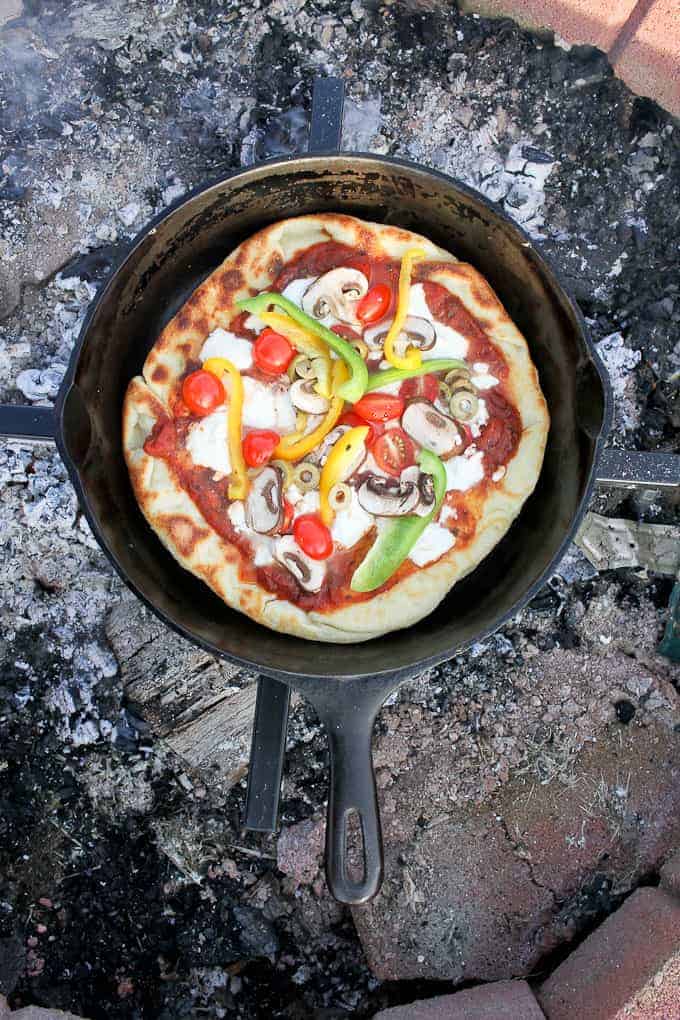 There's definitely something magical about pizza cooked over the campfire. It tastes amazing, it smells amazing and you can add your favorite toppings making it a very versatile dinner option.
This recipe uses pre-made pizza dough, which helps you whip up a campfire meal quickly and easily.
Get the recipe here.
Pork Chops with Apples
These pork chops are cooked in apple butter (amazeballs), as well as a bit of brown sugar and chili powder for a kick.
This sounds like the perfect castiron skillet recipe for one of those cool camping nights.
Get the recipe here.
Campfire Whiskey BBQ Chicken
Any whiskey fans here? How about BBQ? Combine the two to create this mouth-watering Whiskey BBQ chicken recipe cooked over the campfire.
Make the BBQ sauce at home and store it in a mason jar to make whipping this meal up easy. Or, you can always use store-bought BBQ sauce as well.
Get the recipe here.
Pan-Fried Dover Sole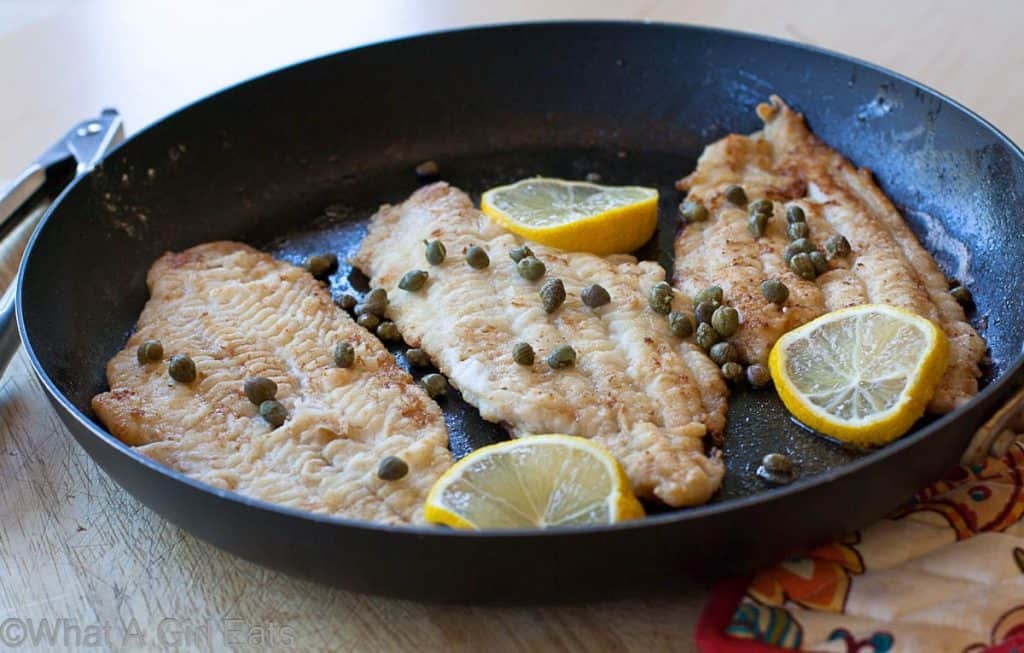 This cast-iron skillet fish recipe cooks up quickly for an easy campfire meal. Add the capers and lemon for some delicious flavor. And if you don't like Dover Sole, swap in another fish like tilapia.
Get the recipe here.
Grilled Chicken Fajitas
Grilled fajitas, sometimes with just veggies and sometimes with chicken, was always a go-to for us.
This recipe uses a fajita simmer sauce for ease and loads of flavor.
Get the recipe here.
Chicken Thighs with Creamy Garlic Wine Sauce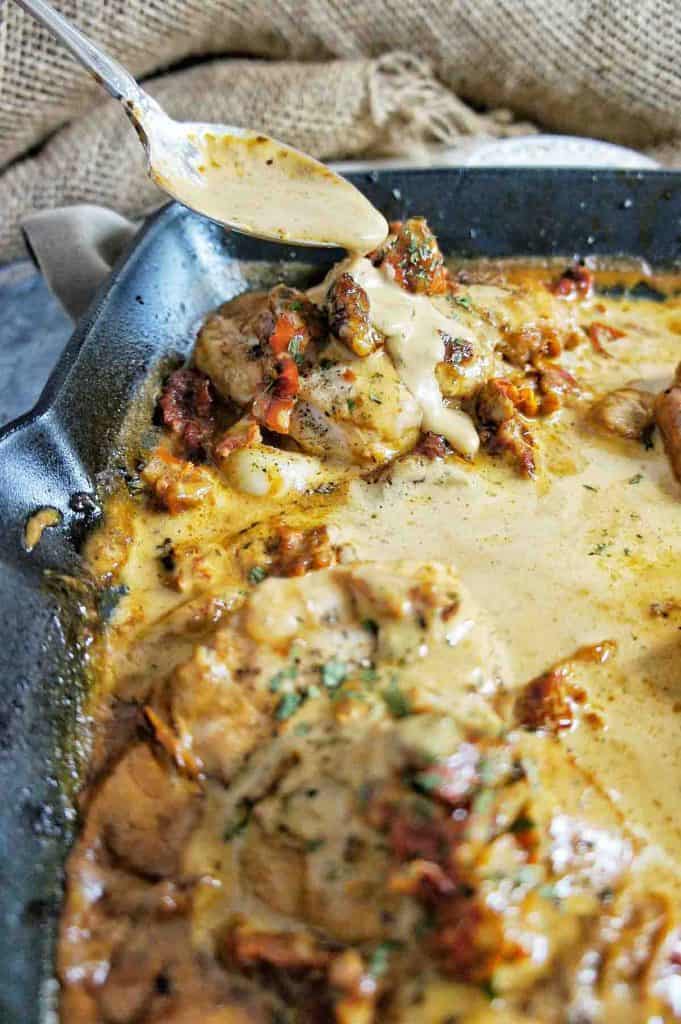 Who says you can't get a little fancy with your campfire meals?
These chicken thighs cook up quickly in under 15 minutes and are braised in delicious creamy wine and garlic sauce topped with sun-dried tomatoes. Use a little wine for the sauce and enjoy the rest of the bottle with your meal. Yum!
Get the recipe here.
Campfire Nachos
Burgers and hot dogs aren't the only easy thing to serve while camping. These campfire nachos are super simple to make. And who doesn't like nachos?!
To make these, just layer everything up in the cast iron skillet, cover with foil and cook over the grill or campfire for about 15 minutes, or until the cheese is nice and melted.
Get the recipe here.
Seafood Campfire Paella
What's on the menu for a camping trip to the Oregon coast? A meal using fresh mussels, clams, and shrimp. And if paella seems a bit intimidating to make while camping, don't let it. It's actually a relatively easy meal to make.
First, you cook the rice in a wine/broth mixture. It only takes about 15 minutes to cook rice over a campfire. The steam from the rice cooks the seafood very quickly and you're left with a beautiful dish you can eat right out of the pan. Plus you can enjoy a glass of the rest of the wine. Win-win.
Get the recipe here.
Fiery Campfire Veggies
Veggies with a kick cooked over the campfire or grill? Yes, please!
These veggies are drizzled with olive oil and sriracha and then sprinkled with red pepper flakes for even more heat. After about 15 minutes cooked in the cast iron skillet, you have delicious veggies with a bit of crunch and spice.
Serve them alone or alongside a steak cooked up on the grill.
To make whipping this up at your campsite easy-peasy, chop all of the veggies at home before you leave.
Get the recipe here.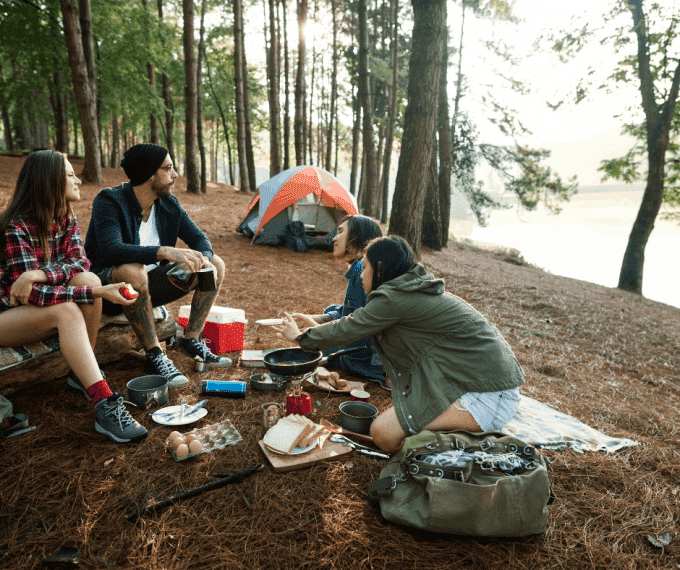 Dessert Cast Iron Skillet Recipes
Campfire Triple Berry Cobbler
They had me at triple berry. *Drool*
Just imagine for a minute how great this berry cobbler tastes while enjoying the great outdoors. It's the perfect after-dinner treat on a cool night by the campfire.
Make sure you whip up the crumb mixture before you leave for your camping trip and store it in a reusable container. It's just flour, sugar, cinnamon and salt, so nothing complicated.
And since most likely you won't have ice cream on your camping trip, try topping it with whipped cream from the can or yogurt.
Get the recipe here.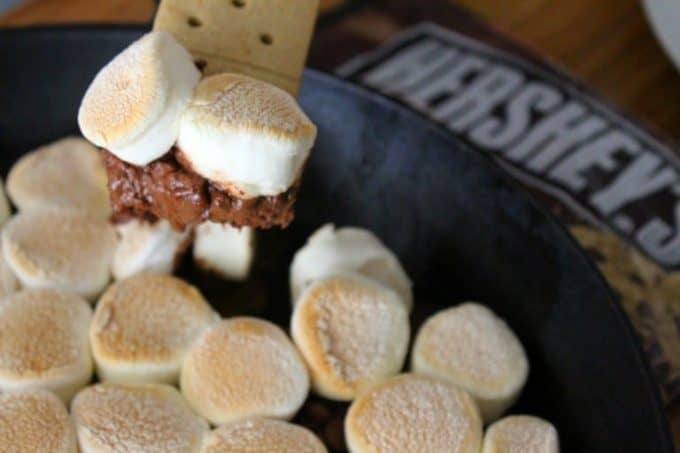 Easy Skillet S'mores Dip
What's camping without a classic s' mores, am I right? Here's an easy way to have the s'mores all in the same pan.
To make these, layer everything in the skillet as directed in the recipe. Place your skillet over the fire or grill for 3 to 5 minutes, careful not to burn the bottom.
When they're done, dig in with a fork or graham cracker.
Be sure to check out our RV & Camping Recipes page where we have all the recipes on the site nice and organized. You'll find a little bit of everything, from more campfire recipes to Instant Pot recipes.
PIN THIS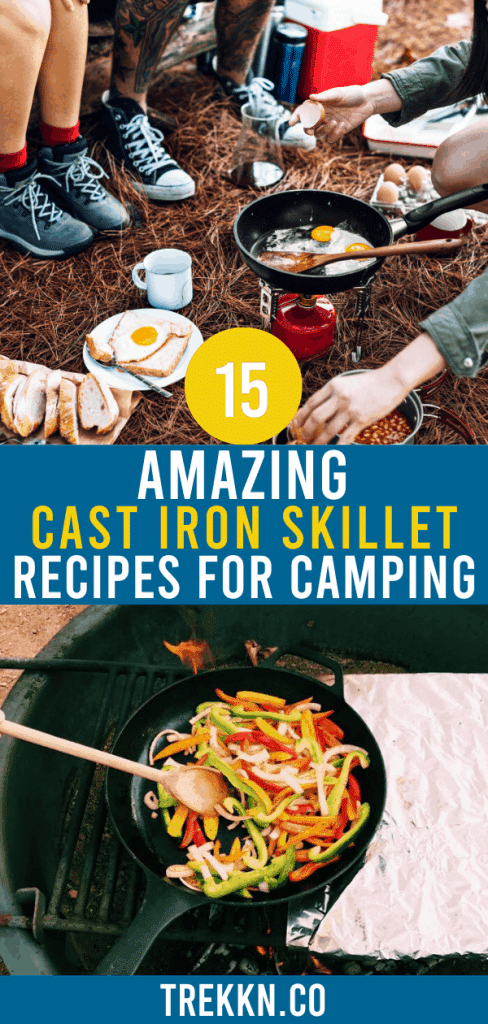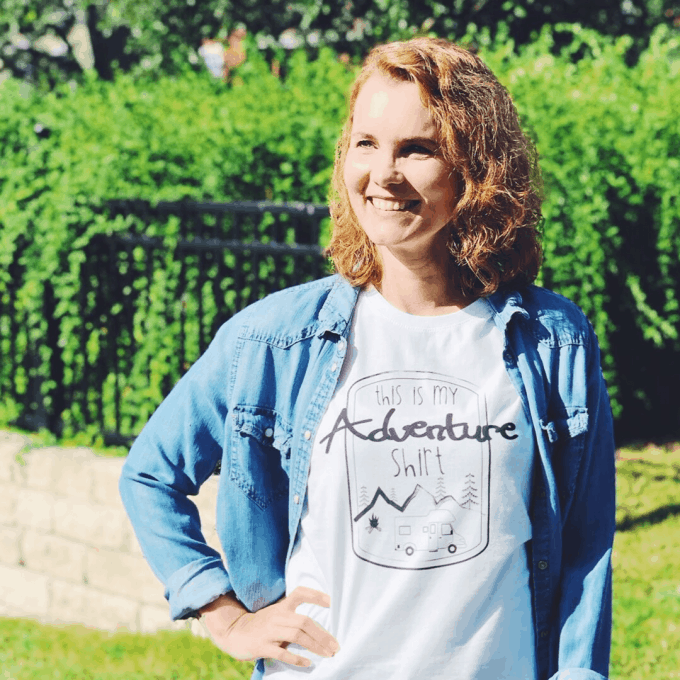 Julie Bonner is one-half of the TREKKN team. She specializes in helping you whip up delicious meals in your tiny RV kitchen, as well as RV organization tips and helping fellow RVers make their RV feel like home. Her favorite RVing spot is in Banff National Park in Canada where yes, the water really is that blue and the people really are that nice.