Our Life After RV Life: Transitioning Back to Bricks and Sticks

I don't feel like I can start a post about transitioning out of our RV life without making sure you know what I mean when I say RV life, and how we got into it in the first place.
Of course, if you have been with us here at TREKKN for any length of time, you know most of this already. But if you're new…
In Feb 2017, Julie (my wife) had an "epiphany" about a possible life in an RV (while in the shower, of course).
In Mar 2017, we purchased our first RV: a brand new 26-foot travel trailer affectionately name Haully. (We had never RVd before. Period.)
By May 2017, we had sold our 2,300 sq ft home in the Austin, TX area and most of the stuff that filled it. We bought a 3/4 ton truck (we had never owned a truck either) and hit the road full-time in our new adventure capsule. You can read all about this transition to full-time RV life right here and also about the 5 fears that almost kept it from happening at all.
For 17 months, our family explored the US and Canada, experiencing every single national park we could find along the way. We saw some absolutely mind-blowing stuff and met some wonderful folks along the way that will be friends for life.
In Oct 2018, we quite abruptly (because that's how we roll) made the decision to leave the full-time RV life behind for now. It was a tough decision made for the well-being of the entire family. You can read about our reasons for this sudden return to a stationary life right here.
So in a nutshell, we transitioned to this radical new idea of RV life in about 100 days and transitioned out of it even faster. It was actually something like 45 days from initial discussion in Montana to moving out of our RV and into our new apartment right back in Austin, TX where we started from.
All caught up with our crazy life? Good, so let's move forward and talk about the factors involved in this whole process and what life looks like nearly five months (can it possibly be that long?) after our transition back to a "normal" life.
Our Life After RV Life: Transitioning Back to Bricks and Sticks
As you can imagine, this was not an easy decision to make. Despite the fact that we made the decision fairly quickly, it was a struggle in many ways.
We really only knew this for sure: Our RV life could no longer provide what all members of the family needed. This meant that we had to be open to whatever came our way with this new direction.
Let's just touch on the big issues related to this transition one at a time.
Issue #1: Housing – Rent or buy? House or apartment?
Honestly, the rent or buy question was not a question at all. Like, at all.
We have purchased homes twice in the past and overall we had positive experiences. In fact, the equity from the sale of our latest home played a large role in getting our crazy RVing dreams off the ground. (Thank you Austin housing market.)
But after life on the road for nearly 1.5 years, we couldn't even fathom the idea of purchasing again and being semi-permanently locked into a location. We felt very deeply that our life moving forward still had plenty of transition and adventure in store for us. Most likely, that adventure is a few years down the road after our youngest (15 years old) leaves the nest. But purchasing still made no sense with that timeline in mind.
Our truck parked in front of the apartment serves as a reminder of our 17 months of adventure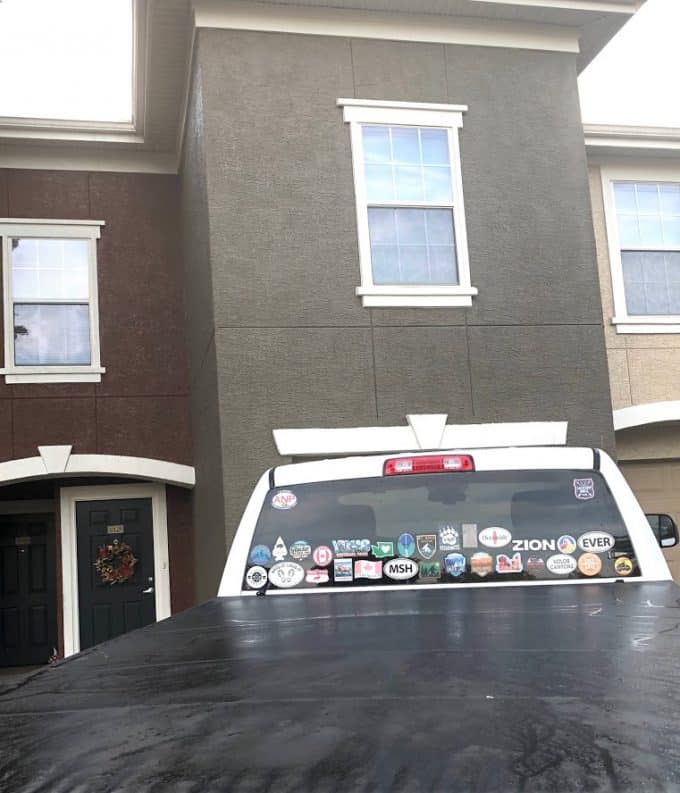 I'll take one family dwelling, hold the yard work
And I've got to say, I have NO desire to have the heavy yoke of yard work hanging around my neck again. And that would have been a thing whether we purchased or rented a single family home. Not to mention home repairs, etc.
On top of all of that, our youngest was extremely excited at the idea of living in an apartment. He had never had that experience and thought it would be the best thing EVER. (He's not so gung ho about it now…but whatever.)
All of this added up to one inevitable outcome: a 14-month lease on a 2 bedroom, 2 bath, 1,200 square foot apartment in an ultra-convenient location.
I've got to tell you that it still feels like SO much space even after acclimating to it. It's a great fit for our family, creature comforts and all, and we are grateful we made a good decision that works well. For now.
Aaron checking out the apartment before we moved in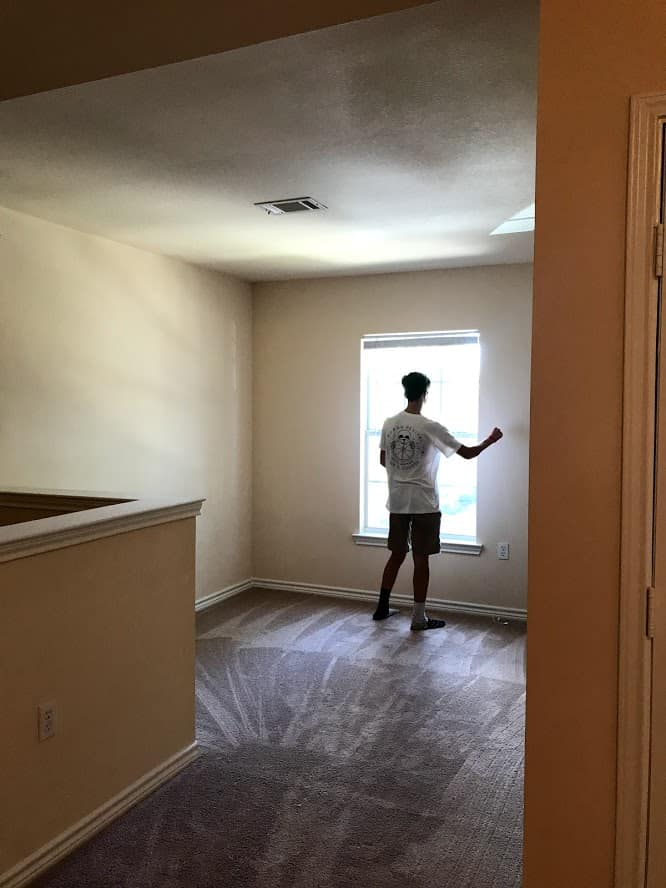 Issue #2: School for the youngest (the only one still in school)
Before we headed out on this epic adventure, Aaron (yes, the youngest) had been homeschooled for just a few months. And obviously, he was homeschooled while on the road (we like to call it "road schooled").
But when we returned, that option was 100% off the table. He needed friends. He needed crowds. He needed space and freedom. He needed some independence.
This left him with two options: Go back to the very small charter school across town he had attended before homeschooling began, or jump straight into a high school of 2,000+ students right around the corner from our new apartment.
We honestly expected him to opt for the big, scary high school even though we knew it would be a huge adjustment. But he chose to spend the rest of his freshman year back at the small charter school with friends that he already knew and an environment he was already comfortable with. And I think it worked out rather well.
Schooling Phase 2 – More humans, more independence
Now, after five months, he is more than ready for the big school for his sophomore year. He is even toying with the idea of trying out for the basketball team next year, which I sincerely hope he does.
With drivers permit in hand and a world of activity and energy and more friends than he can imagine on the horizon, the future is looking bright for this extremely outgoing young man. We are extremely excited to watch him become more of himself with the increased independence and expanding social circle that a stationary life is offering him.
Issue #3: Income creation
For me, the numbers guy with the analytical brain, the income questions related to this transition were the toughest to navigate. Very similar to our transition into this RV life in the first place.
Everything else seemed to fall into place with this transition but I wasn't sure what the future held for our income. That's never a lot of fun, but we had been there before and survived.
Prior to entertaining this transition, our plan was to continue building up this website into a full-time income as we fueled it with tales of our ongoing adventures, lessons and insights from the road. It was a good plan with a great start in the first five months of the website. Our start with this website was better, more promising, than any of the other (many) sites we have built over the years.
So when we decided to leave the road behind, it truly made us wonder what a plan for the website would look like while stationary. Could we sustain the growth that had happened so naturally while we were traveling? Would the site even survive the reality of a stationary life?
For the first month in the apartment, as we handled all of the inevitable transition tasks, we were both laser-focused on giving everything we had left to the site. We felt like we had a solid vision in place for continuing its early success by "unpacking" everything we had experienced and learned while on the road. And yet, something else was brewing under the surface.
The J-O-B discussion looms
At that 1-month mark, after we had reduced our savings considerably to make this transition a reality, I sat Julie down and told her that I truly felt like it was time for me to look for a job. I told her it seemed like the only reasonable path forward that would provide us with some financial stability and peace of mind.
This was not an easy decision either, by any means. I had been working from home for over three years at that point, not punching anyone's clock. That type of freedom is great and it allowed so many beautiful things to enter our lives in that period. It allowed me to be more available and more involved than many dads can dream of.
Trying to find the perfect couch for our new home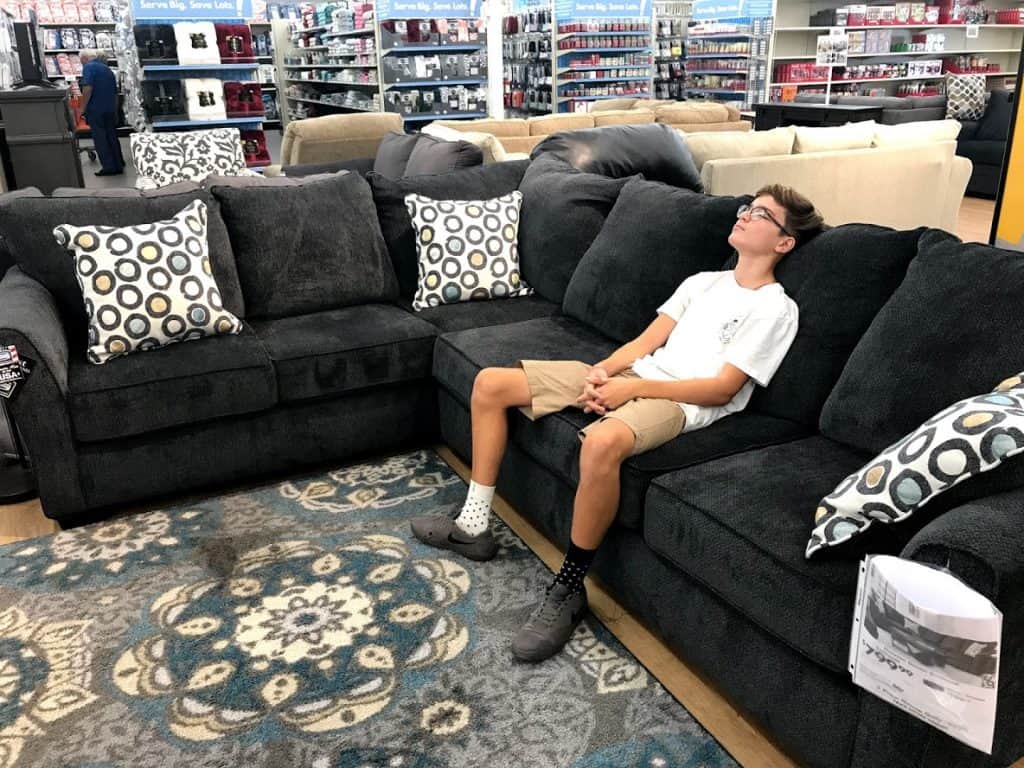 The sound of relief
But life is about seasons, and I felt strongly that this season was about rebuilding some stability and doing whatever it took to make that a reality. I wasn't sure how Julie would respond to my perspective.
She let out a sigh of relief because the anxiety of the income question had also been weighing on her.
Within a few weeks, I landed a job that allowed me to still be "on the road" and experiencing some adventure: I became a delivery driver for Amazon.
For a few months now, it has paid the bills. It has taken a toll on my body, I've shed any of the body fat I had accumulated in our travels, and I'm not sure how much longer I can keep it up. (I have days where I wonder if it's the end.)
But for this period, it has been good for my soul to do some very physically demanding work that gets me out of my head. I have enjoyed the work despite my body not always being 100% cooperative.
Essentially, it is exactly what we needed on all fronts for this season of life. I am extremely grateful for this season, however long it lasts, despite the difficulties and questions that have come along with it.
Our 19-year old's new to him car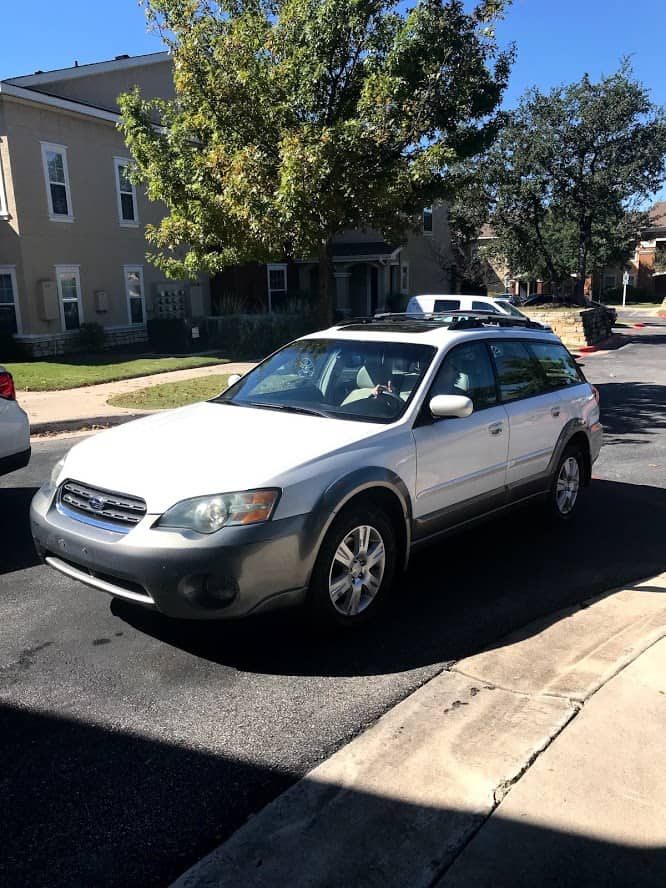 But what do you do when the "honeymoon" ends?
Just in the past couple of weeks, Julie and I had a conversation where we both realized that the honeymoon of returning to the stationary life was coming to an end.
We were talking about how we both had felt a bit down the past week or two for no good reason. The doldrums were also accompanied by an increase in anxiety for no particular reason, without any particular source.
Of course, we went through this same process, more or less, when we moved into the RV. That first summer was adventure and laughter and excitement, with everything brand new, all the colors brighter. And then as fall came around, the overall atmosphere shifted in that travel trailer. We were into the more mundane reality of life on the road, if you can call it that.
So here we are, two years after the beginning of our family adventure, navigating the more mundane reality of the stationary life again.
We realized, as we sat out on our balcony and chatted for the first time in a while the other evening, that we had also fallen into some of the same bad habits that our adventure had helped us escape. And we were grateful to escape them.
Time spent outdoors is medicine for the weary soul
The view from our living room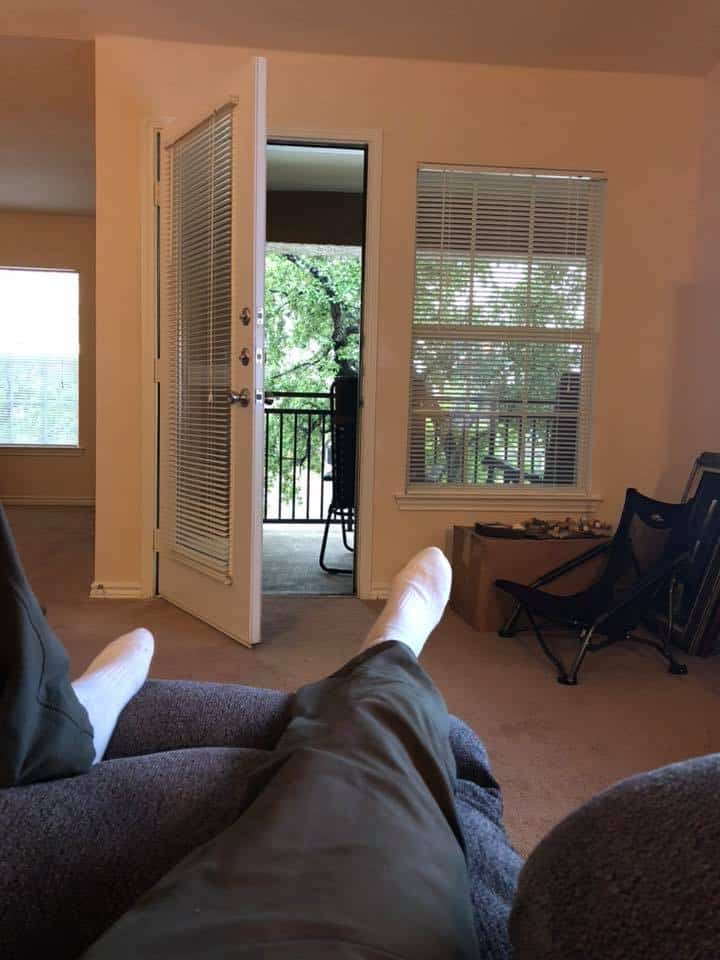 For instance, we don't spend much time out on the balcony as we were certain we would when we moved in. We have some great trees hovering right in front of the balcony, and a great view of the sunset, which makes it very easy to enjoy.
Instead, we have allowed our evenings to devolve into TV sessions that last a bit too long. (Of course, I blame that on my physically demanding job. But still.)
The bottom line is that we are, after all, creatures of habit.
Routine and mundane is the substance of being human, and the only way to effectively deal with it is to stay as present in each moment as you possibly can.
In each moment, there is joy and fulfillment and excitement available regardless of the particular lifestyle we are living. But you have to be present enough to look for it and to make any changes that seem appropriate along the way in order to access the treasure in those moments.
This is one of our tasks for this season of life. And we are up for the task and thankful for the opportunity to once again navigate new things and learn more about ourselves through the struggle and frustrations.
The world is a wonderful and mesmerizing place, no matter what part of it you find yourself in at this moment. Take the time to experience that for yourself as we will be doing also from our current stationary location.
What's next for us? Absolutely no idea. But I would be surprised if the next (empty nest) season does not involve more time on the road enjoying the RV lifestyle again.
Only time will tell.
PIN THIS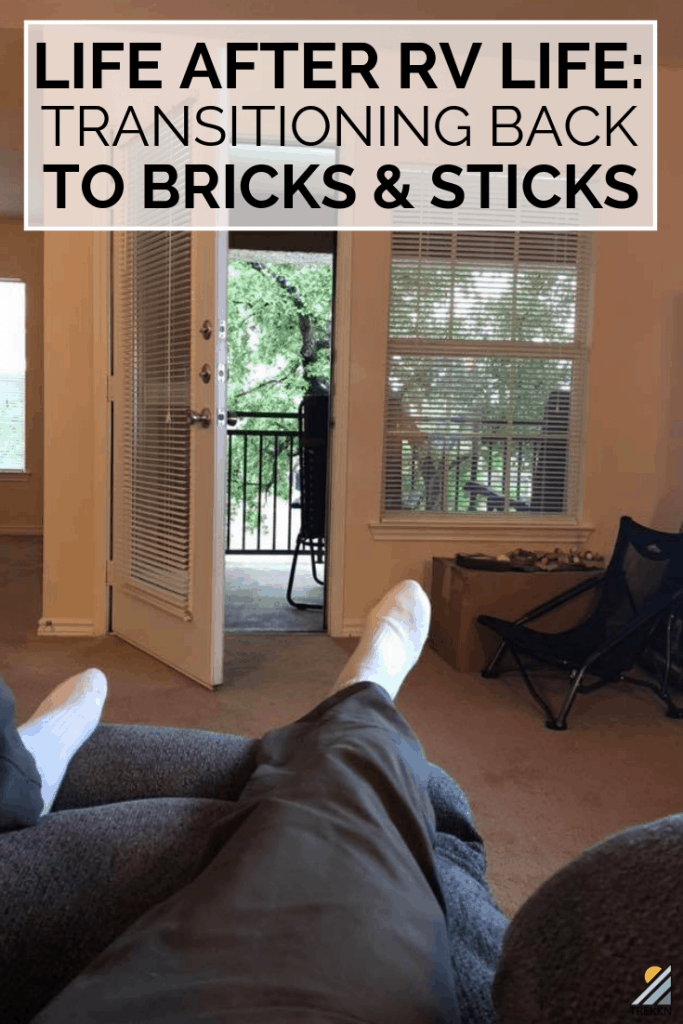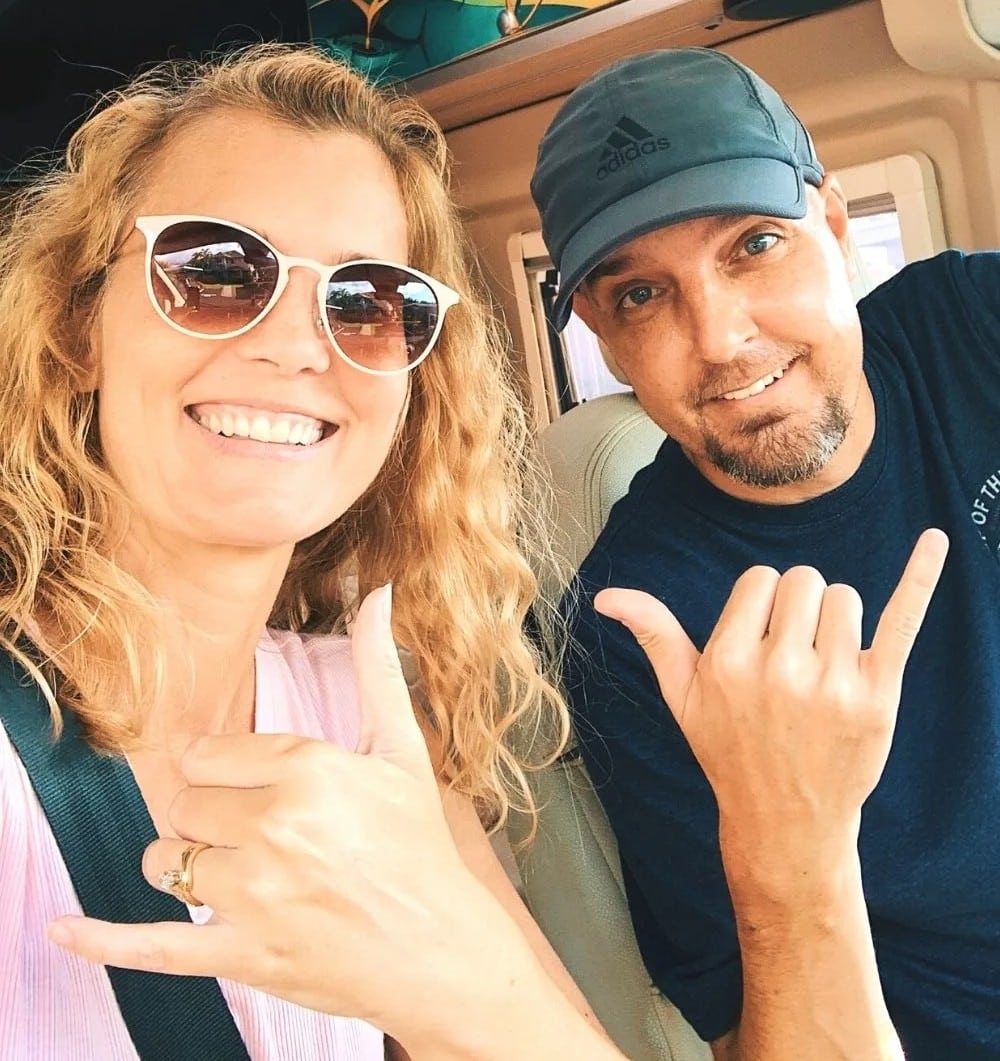 Todd loves a competitive game of table tennis, a breathtaking hike, and exploring new places. He lived and traveled in an RV with his family as they traveled throughout much of the US and parts of Canada. Todd has extensive knowledge about RV travel, safety, and accessories and has shared many of his stories here on TREKKN. When he's not busy launching and building small businesses, you may find him staring at pictures of Glacier National Park (probably his favorite spot on earth).