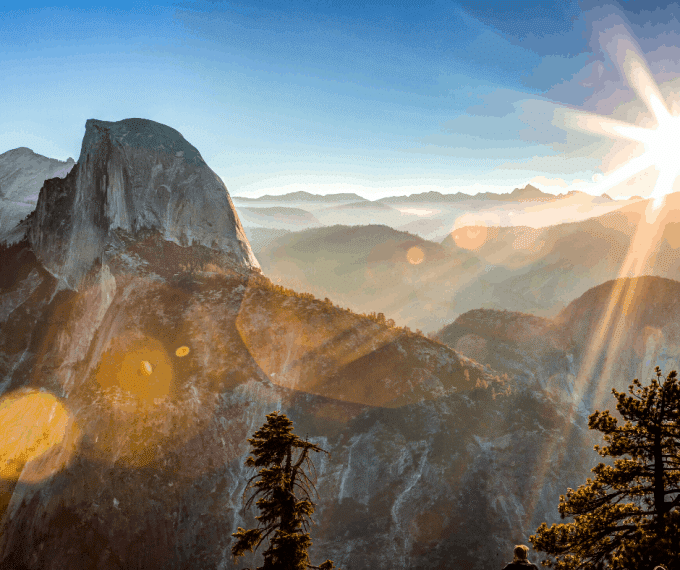 If you're planning a trip to Yosemite National Park, we want to make sure you don't miss some of the top spots in this amazing location. We've rounded up some of the best hikes, must-see waterfalls and must-do points of location in this handy dandy printable.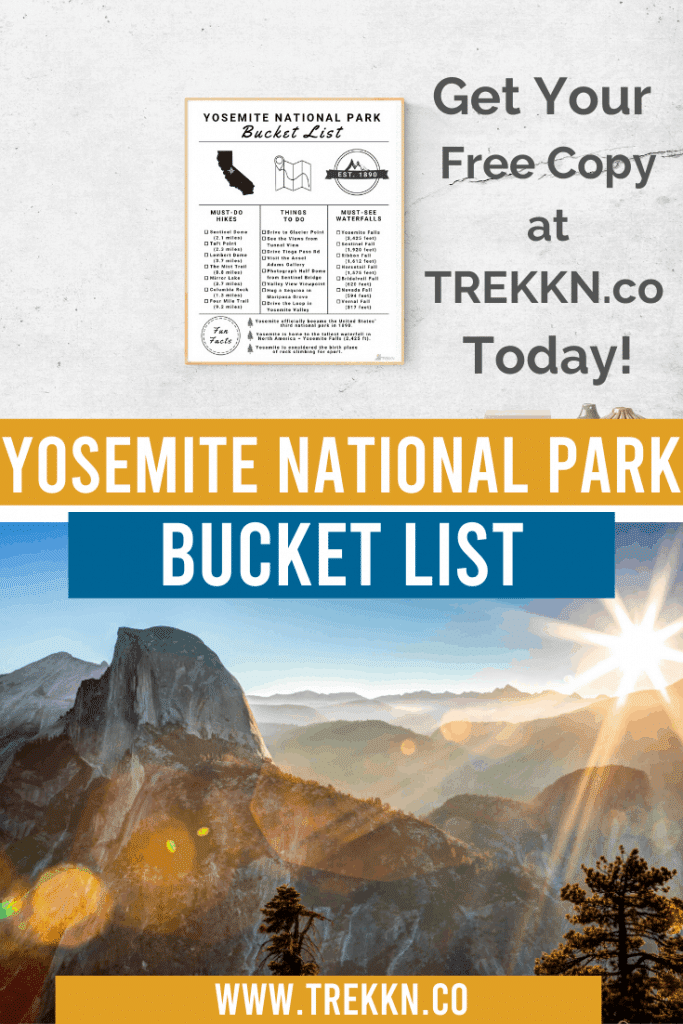 How to Use Your Yosemite National Park Bucket List Printable
To snag your copy of this printable checklist, click on this link or the picture below.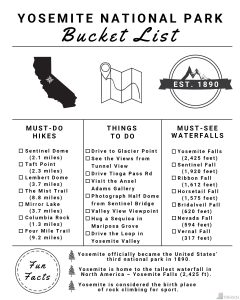 Here are a few ways to use it:
Print it out and have it in front of you while you're planning your trip. Flip it over and write out what days you'll do what. Don't forget to take the paper with you on your trip!
Print it out and put it in your RV Travel Planner, which you can get here.
Use It for Roadschooling
Print it out and use it as a roadschooling assignment. Have your kids' research one hike, one waterfall and one destination from the checklist. They can find out things like points of interest along the hike, wildlife they might see, facts about the waterfall and what makes the must-see destination so exciting.
Print out a copy for you and your kids. Have them mark off the hikes as they do them, the waterfalls as they see them and the destinations in the park as they visit them.
No Paper? No Problem
Pin a copy on your Pinterest Travel or National Parks board to save for later.
Save a copy to your phone if paper isn't your thing (or if you're out of ink like we usually are) and have it with you on your trip.
Why We Love Yosemite So Much
Our Family Vacation
Yosemite National Park is definitely one of our families most favorite parks and memories. If you ask our kids what one of their most memorable family vacations is (ya know, besides the 17 months we spent full-time traveling) they'd all tell you about that time we went to San Francisco and Yosemite.
A San Francisco/Yosemite trip is perfect for families who have both city lovers and outdoor lovers. There are tons of activities in San Francisco to keep your city-loving person happy for days as well as short jaunts just outside of the city like Muir Woods and Muir Beach for those who love the outdoors.
Be sure to read our article about what to do in San Francisco with your family here.
After we spent a few days in the city, we made the 3 1/2ish hour drive to Yosemite National Park and stayed in a cabin for a few days. As soon as we arrived at the cabin, we noticed cell service was almost non-existent. And when you have teens, plus two parents who work online, a lack of cell signal can sometimes be a stressor.
But you know what? Those few days ended up being some of the best we've had together as a family. We played cards, we read books, we talked to each other and we 100% relaxed. Disconnecting is definitely good for the soul.
It was this first trip that made us fall in love with this park.
Our Visit On Our 17-Month RV Trip
Although we had already visited Yosemite on a family trip, we knew another stop there was a no-brainer. But this time by RV, which gave us a completely different experience. I can't really say which I liked best – staying in a cabin or staying at an RV park – because they both equally have their positives.
I think a couple of things that made our trip there by RV so incredible was one, the RV park we stayed at and two, we were staying there longer this time, which gave us more opportunities to explore.
Yosemite National Park Campground – Yosemite Lakes
If you're RVing to Yosemite, we highly recommend checking out the Yosemite Lakes campground. We loved our stay there so much that it made it on our top 6 favorite Thousand Trails campgrounds.
What you will find at Yosemite Lakes RV Resort is full hookups for your RV, level sites with gravel and a bit of grass right next to a river, tall pines to sit under, on-site propane service, and a lodge with some activities for the family (ping pong, pool table, TV).
Our visit by RV was in the fall, so the campground was fairly empty and so was the park compared to our visit there in the spring. Here are five reasons to visit during spring and five reasons to visit during fall.
Spring:
The weather is almost perfect
You won't have to fight overwhelming summer crowds
You will pay less on accommodations
You'll see breathtaking waterfalls at their peak rush
The views will blow your mind (Ok, this is true for any time of the year)
Read more of Todd's post about visiting Yosemite in the spring here.
Fall:
The fall foliage is gorgeous
You might get to experience their first snowfall
The campgrounds are fairly empty
The hiking trails aren't crowded
It's cold in the mornings/evenings and perfect during the day (which we prefer for hiking)
If you enjoy cold mornings and evenings, fall is the perfect time for a visit. On the morning of our hike to Sentinel Dome, the temps started out in the teens and we even had a little bit of snow. But by the time we hiked to the top and the sun was out, it was perfection.
Yosemite National Park Bucket List
Alright, you've downloaded your bucket list, you've read a little about our personal experience with the park both in the spring and fall. Now it's time to expand on each item we included in the Yosemite bucket list.
Yosemite National Park Hikes
Sentinel Dome
Length: 2.1 miles
Elevation gain: 456 feet
Route Type: Out and Back
Skill level: Easy
How to get there: Sentinel Dome starts from Glacier Point Road
About this hike: If you're looking for one of the most stunning 360-degree views in the park with minimal effort, the Sentinel Dome hike is it. It's basically a reverse Tunnel View of Yosemite Valley. There is a steep climb to the top at the very end, but it's short and well worth it.
Taft Point via Glacier Point
Length: 7.5 miles
Elevation gain: 1,954 feet
Route type: Out and Back
Skill level: Moderate
How to get there: Taft Points starts from Glacier Point Road
About this hike: You can do both this one and Sentinel Dome on the same day since they're both located off the same road. We recommend getting to Glacier Point Road before 9 am because the parking area fills up quickly.
Lembert Dome Loop
Length: 3.7 miles
Elevation gain: 846 miles
Route type: Loop
Skill level: Moderate
How to get there: This loop is located in Tuolumne Meadows, starting from the parking lot near Tuolomne Meadows Lodge.
About this hike: This is a heavily trafficked trail ending in beautiful views of the Tuolumne Meadows in three different directions.
Nevada Falls via The Mist Trail
Length: 5.4 miles
Elevation gain: 2,129 feet
Route type: Out and back
Skill level: Hard
How to get there: The trailhead parking lot is roughly half a mile past Curry Village, but this lot fills up early with people who are doing the Half Dome hike. An easier option is to catch one of the free shuttles. Park anywhere in the eastern half of Yosemite Valley and stop at the trailhead near Happy Isles.
About this hike: This is Yosemite's signature hike with amazing views scattered throughout the hike. You can do both Vernal and Nevada Falls via the Mist Trail, which ends up being just under 9 miles. This is your chance to get up close and personal with two incredible waterfalls.
Mirror Lake
Length: 4.7 miles
Elevation gain: 646 feet
Route type: Loop
Skill level: Moderate
How to get there: Parking is not available at the trailhead. The nearest parking is at Curry Village or park anywhere in eastern Yosemite Valley and take the free shuttle to stop #17.
About this hike: This trail is open year-round and offers views of Half Dome, Tenaya Canyon, Mount Watkins, Washington Column, and more.
Columbia Rock
Length: 1.3 miles
Elevation gain: 948 feet
Route type: Out and back
Skill level: Moderate
How to get there: You can either make the short walk from the Yosemite Village day-use parking lot to the trailhead or park in Curry Village and catch a free shuttle to the trailhead.
About this hike: This hike is basically a small sample of the larger Yosemite Falls hike. It's about a third of the way up the Upper Yosemite Falls. You won't see any falls views, but you do get views of Yosemite Valley, Half Dome, and Sentinel Rock. Hike another 0.5 miles to get a stunning view of Upper Yosemite Fall.
Four Mile Trail
Length: 9.2 miles
Elevation gain: 3,612 feet
Route type: Out and back
Skill level: Hard
How to get there: Parking is available along Southside Drive in Yosemite Valley (signed as "Four Mile Trail"). Parking is also available at Glacier Point, near the trail's end. The El Capitan Shuttle (9 am to 6 pm) serves this trailhead (stop E5) from late May through early October. You can also ride the Valley Visitor Shuttle (7 am to 10 pm year-round) to shuttle stop #7 and follow the bicycle path to Swinging Bridge, then walk west a few minutes to the trailhead. (This adds about 0.5 mile (0.8 km) to the total distance.)(Source)
About this hike: This is the hike where you get spectacular views of Yosemite Falls and Yosemite Valley. For information on hiking this one way, go here.
Yosemite Waterfalls
Yosemite Falls
2,425 ft
Flows November through July, with peak flow in May
This is the tallest waterfall in North America
The best views of this waterfall are from Yosemite Village and Yosemite Valley Lodge
Sentinel Fall
About 2,000 feet
Flows March through June, with peak flow in May
Best views: areas along Southside Drive near the Sentinel Beach Picnic Area, near the Four Mile Trailhead, while hiking the Upper Yosemite Fall Trail
Ribbon Fall
1,612 feet
Flows March through June, with peak flow in May.
Best views: from the road as you drive into Yosemite Valley, just beyond the turn for Bridalveil Fall
Horsetail Fall
1,000 feet
Flows: December through April
This is the fall that appears to be on fire when it reflects the orange glow of sunset in mid- to late-February
Best views: Park at the El Capitan picnic area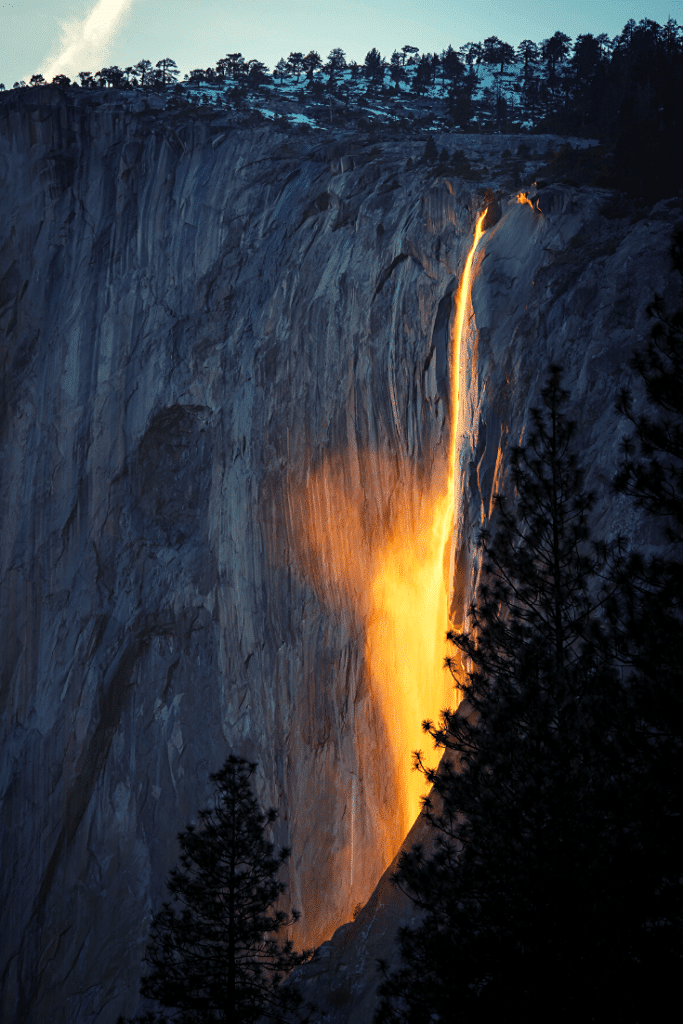 Bridalveil Fall
620 feet
Flows: all year, with peak flow in May
Best views: near the tunnels on the Wawona Road (Highway 41) or Big Oak Flat Road (Highway 120) and from a signed parking lot on your way into Yosemite Valley
Nevada Fall
594 feet
Flows: all year, with peak flow in late May
Best views: see this fall from a distance at Glacier Point or via The Mist Trail
Vernal Fall
317 feet
Flows: all year, but peaks in late May
Best views: see this fall from a distance at Glacier Point or via The Mist Trail
Things to Do in Yosemite National Park
Drive to Glacier Point – One of the best viewpoints in the park where you'll see Yosemite Valley and Half Dome. Try going at sunrise or sunset.
See the views from Tunnel View – Although this gets very crowded, it's worth it for the views of Yosemite Valley, Bridalveil Fall, Half Dome, and El-Capitan.
Drive Tioga Pass Rd. – This is one of the most scenic drives in the Sierras. There are tons of amazing stops on this road but three can't miss ones are Olmsted Point, Tenaya Lake, and Lembert Dome
Visit the Ansel Adams Gallery in Yosemite Valley – We make a stop here every time and usually end up buying a piece of artwork. This gallery is in a prime location with views of Yosemite Falls, Half Dome, and Glacier Point. Also, it's staffed with climbers, photographers, hikers and people who love and know Yosemite, so don't be shy asking any questions you have!
Photograph Half Dome from Sentinel Bridge – Grab an iconic shot of Half Dome from this location. The bridge crosses over the Merced River and is located right next to Cook's Meadow.
Valley View Viewpoint – Make a stop here on your way out of the park since it's the last stop. It's located along the one-way Northside Drive with a very small parking area to your left just before Pohono Bridge. This is one of the most popular viewpoints because you have the Merced River in the forefront with views of El Capitan, Cathedral Rock, and Bridalveil Falls.
Hug a Sequoia in Mariposa Grove – This is Yosemite's largest giant sequoia grove and well worth a visit. You can park at the south entrance and take the free shuttle which runs every 10 – 20 minutes.
Drive the Loop in Yosemite Valley – This is the famous drive that gets you up-close-and-personal with landmarks such as El Capitan, Half Dome and Bridalveil Fall. Because this loop is so popular, it gets very crowded during the high tourist season. (More info here.)
15 Photos That Will Inspire You to Visit Yosemite ASAP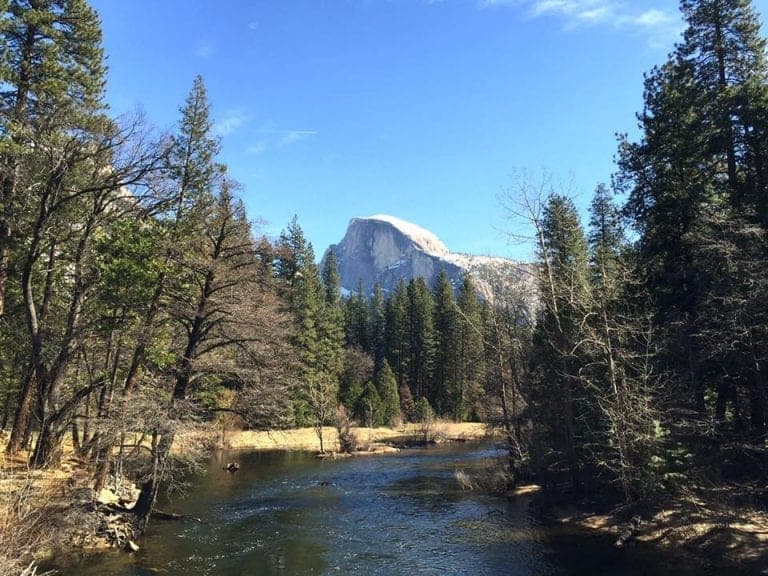 A perfect view of Half Dome.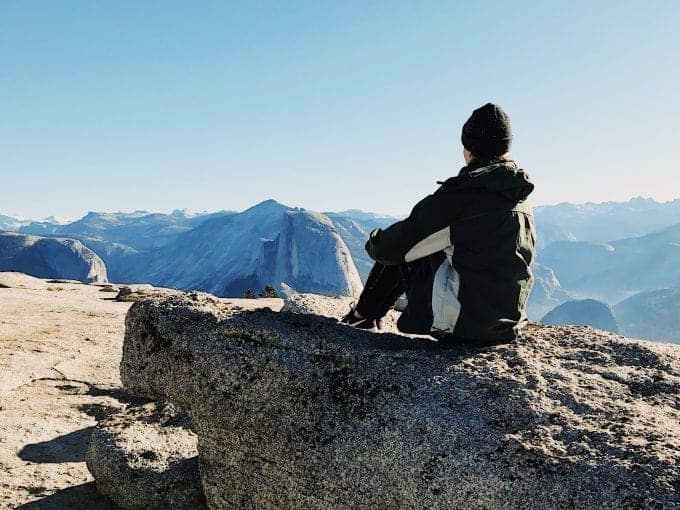 The view from the Sentinel Dome hike.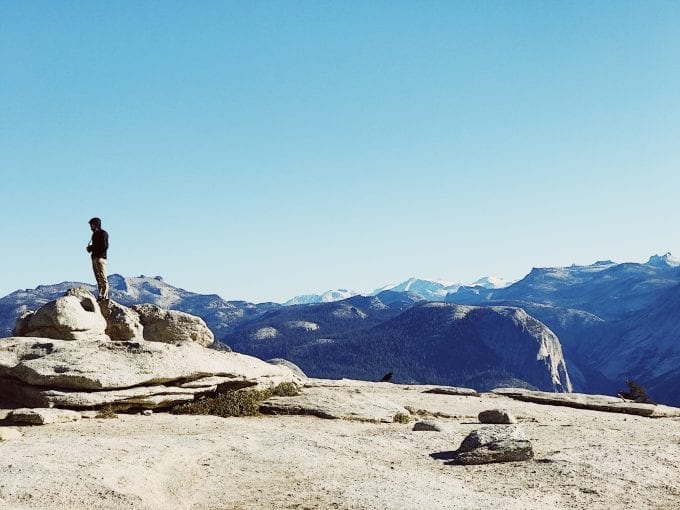 Another view from Sentinel Dome.
Several gorgeous Yosemite National Park waterfalls.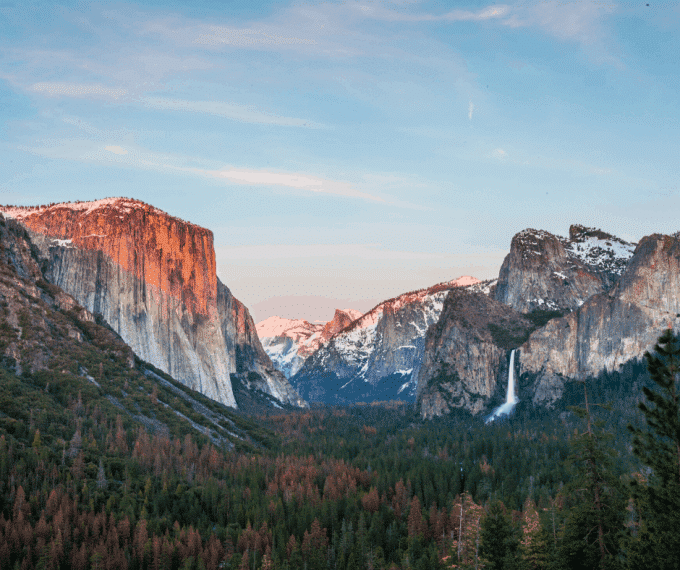 A shot from Tunnel View at sunset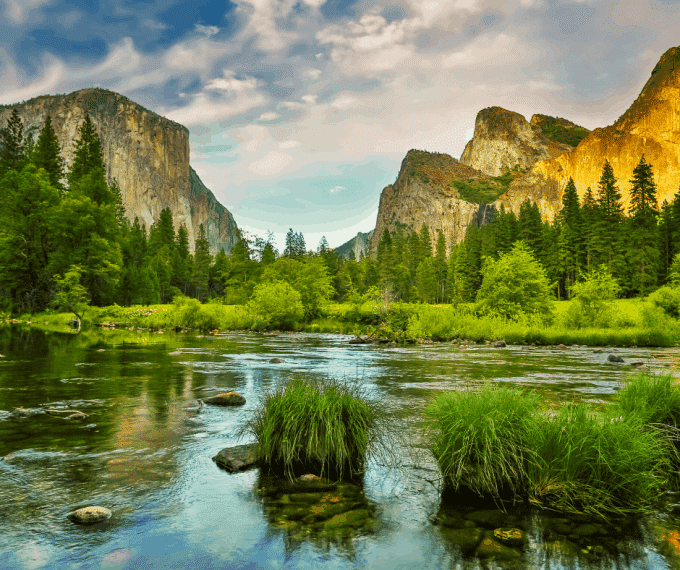 Sunset over Yosemite Valley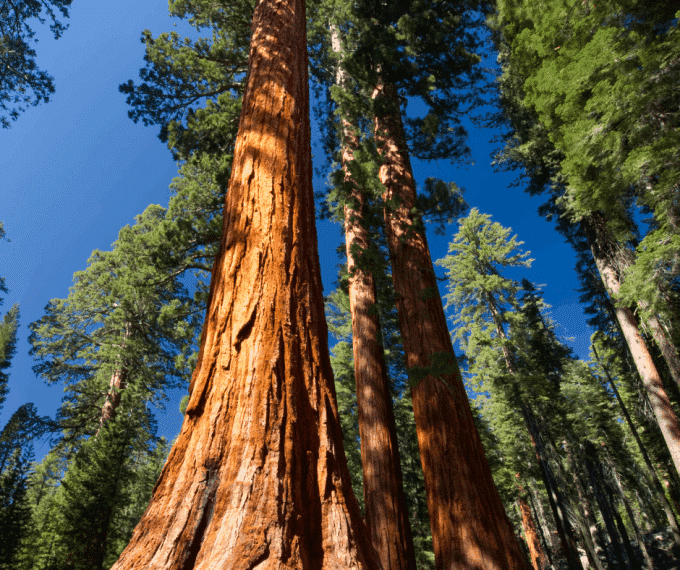 Sequoias in Mariposa Grove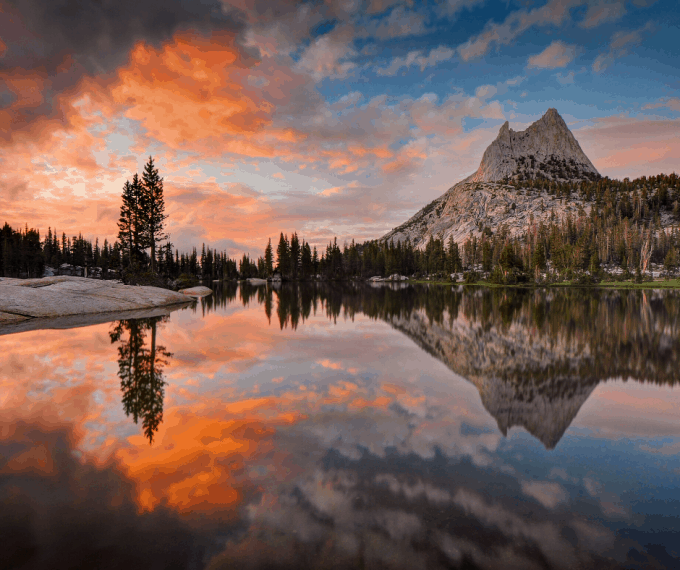 Last light at Cathedral Lake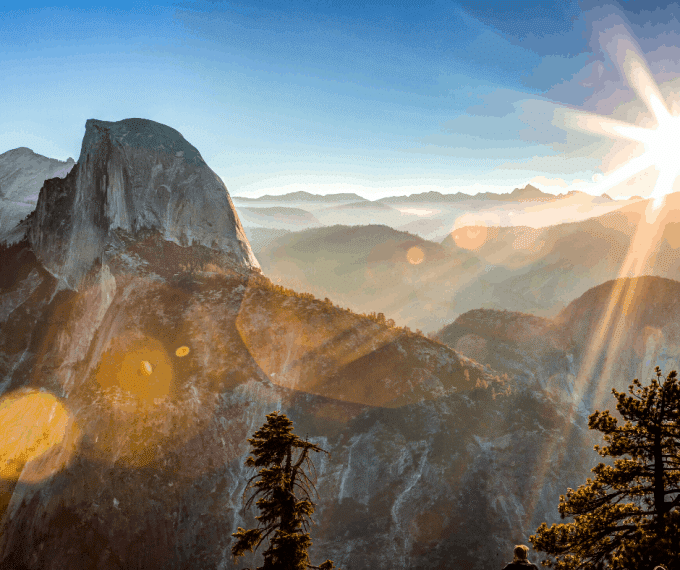 Sun rising on Half Dome in Yosemite National Park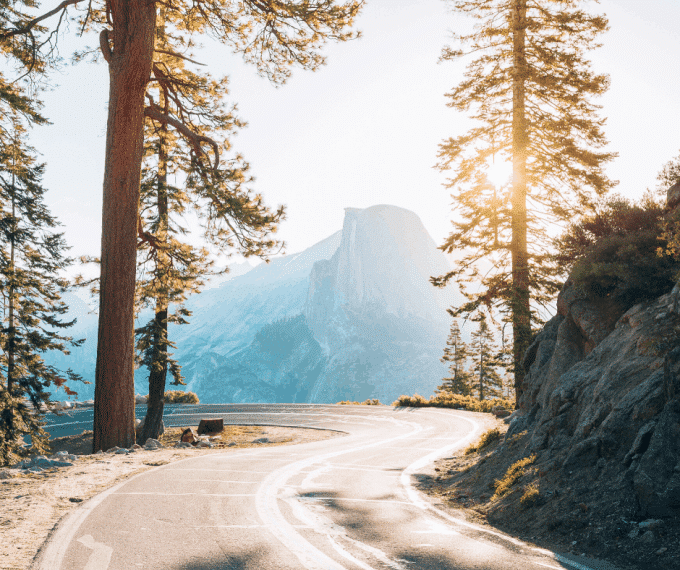 View of Half Dome from Glacier Point Road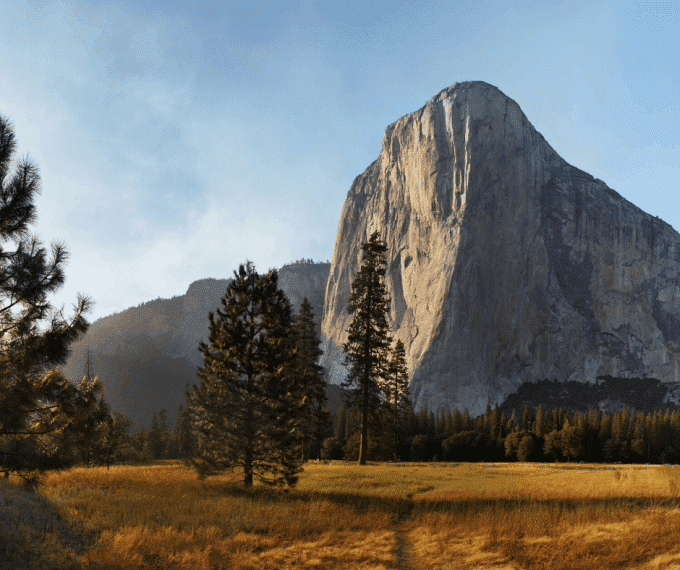 El Capitan in Yosemite National Park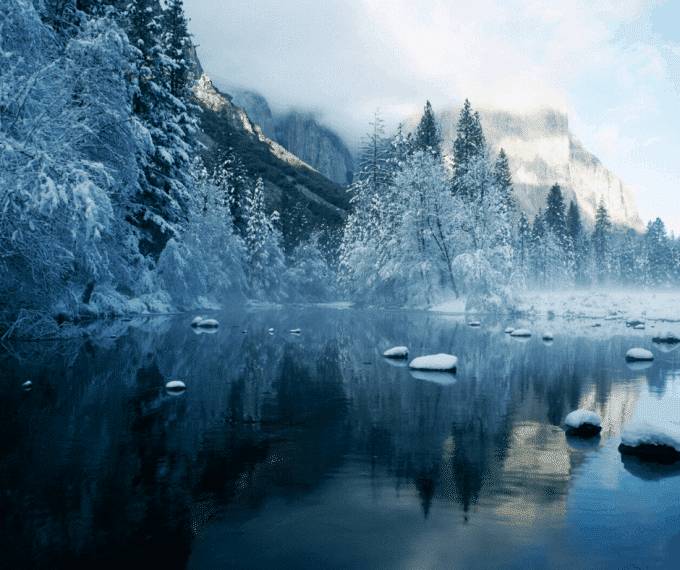 Yosemite National Park in winter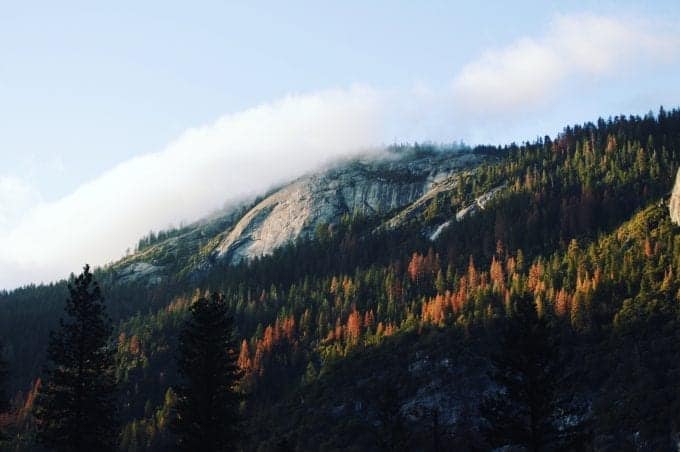 Yosemite in the fall
Are you ready to take your Yosemite National Park trip? We hope this bucket list, the information we gave and the stunning pictures have helped inspire you, as well as get you incredibly excited about visiting this treasure in California.
PIN THIS TO SAVE FOR LATER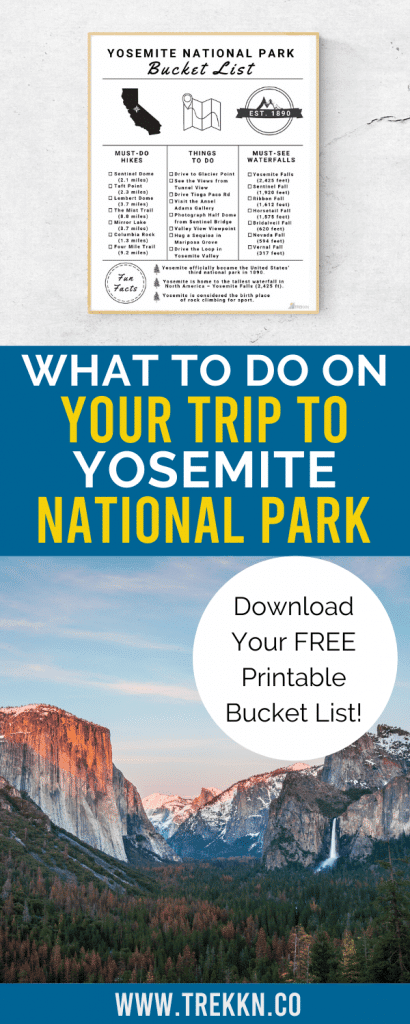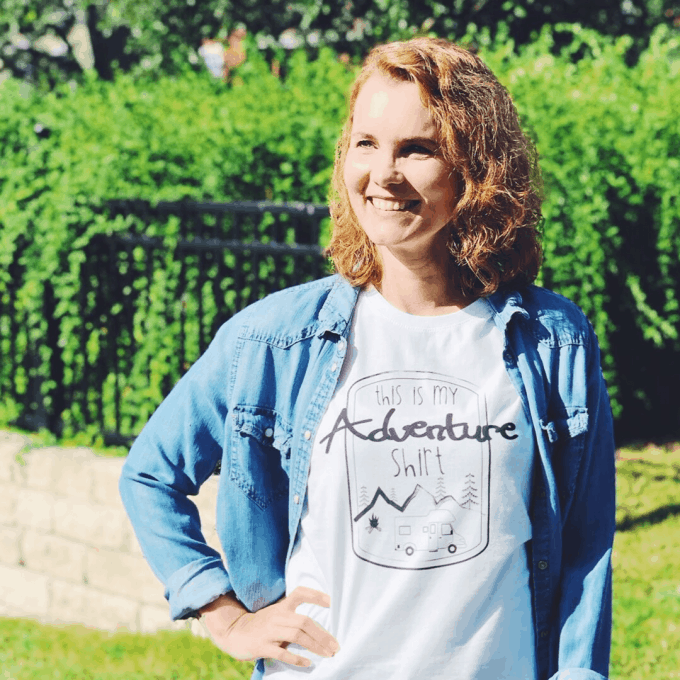 Julie Bonner is one-half of the TREKKN team. She specializes in helping you whip up delicious meals in your tiny RV kitchen, as well as RV organization tips and helping fellow RVers make their RV feel like home. Her favorite RVing spot is in Banff National Park in Canada where yes, the water really is that blue and the people really are that nice.