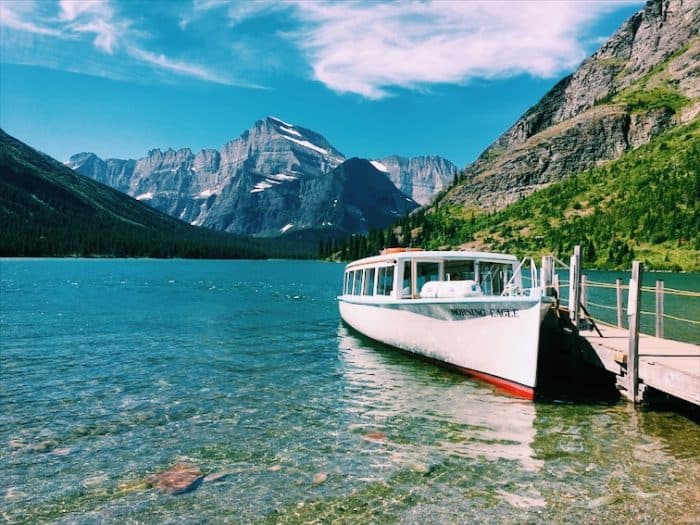 Ah Glacier, sweet Glacier…you should know ahead of time that this is probably my favorite place on earth. No joke. Which means you should get comfortable because I could be going for a while as we discuss Glacier National Park RV camping spots.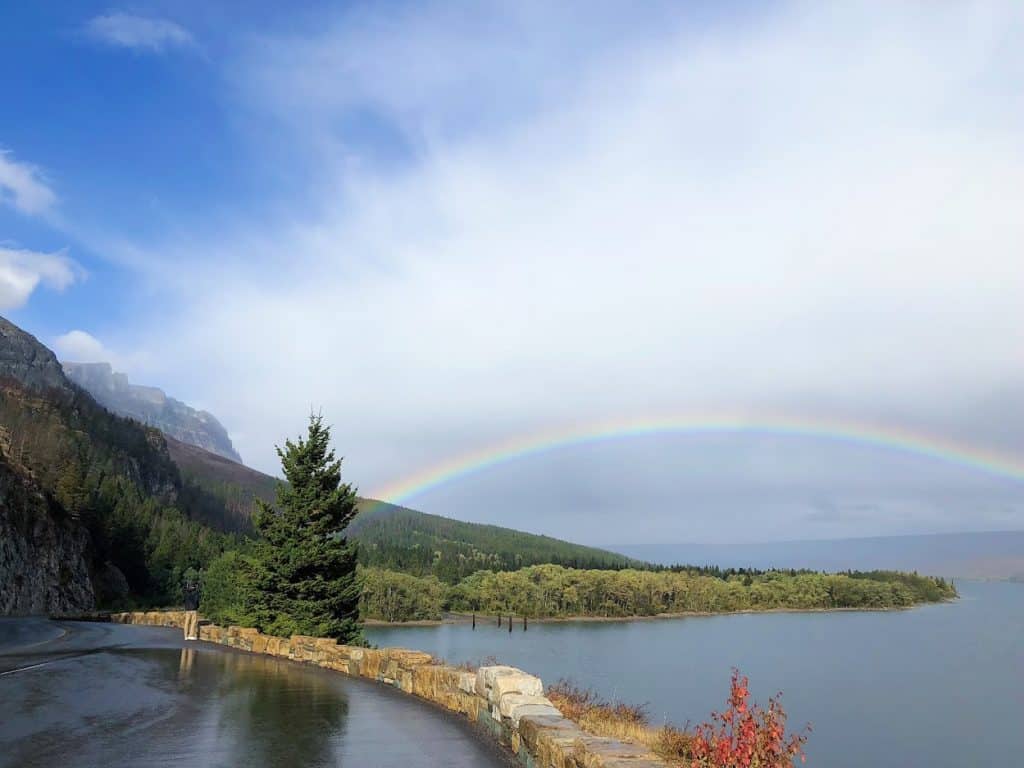 A few of these Glacier RV parks hold some of my most treasured memories, time with family in one of the most unique and pristine locations our country can offer — with a side of grizzlies.
7 Glacier National Park RV Camping Spots For A Great Experience
You should also know that I am a pretty big fan of Thousand Trails campground memberships, which I discussed in more detail in this recent post. But one of my biggest disappointments with Thousand Trails is they do not have a single RV park or campground in this Glacier National Park area — or in the Rocky Mountains in general. They do have some outstanding locations in other areas of the country, and you can see our top Thousand Trails RV Park picks right here. For the sake of your budget, I highly suggest checking out those posts for your travels in other areas of the country.
So yes, you might be spending a bit more money to visit Glacier National Park RV camping locations without any Thousand Trails options. But you must trust me on this: It is SO worth it. Because it's Glacier, my friend! I mean, come on.
Let's take a look at some campgrounds near Glacier National Park that we have some first-hand experience with so you can know ahead of time what you are getting yourself into.
#1 Glacier National Park RV Camping Spot: North American RV Park in Coram, MT
I guess this RV camping spot is the one that holds some of my most treasured Glacier memories. This is where we stayed for our introduction to Glacier National Park back in August of 2017. All of my initial impressions of this stunning national park are tied to North American RV Park.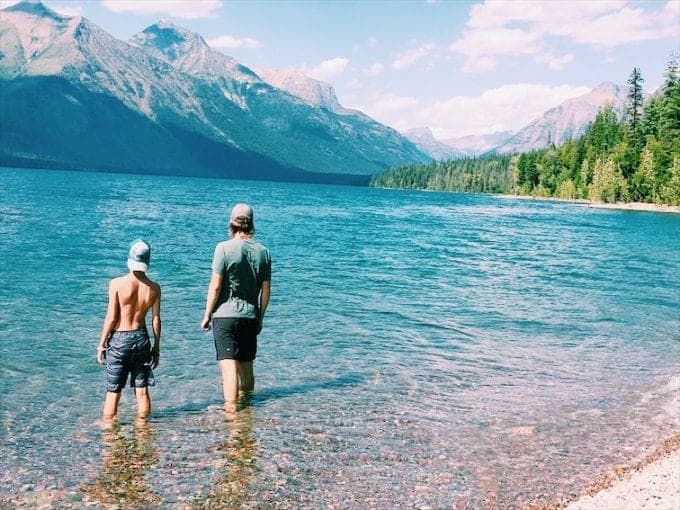 But on top of the sentimental value, the RV park is also located just 8-10 minutes or so from the West entrance of the national park, so it gets top ratings as far as convenience goes as well. There's no doubt that they were hit pretty hard in the summer/fall of 2018 with the extensive fires raging in the west part of the national park, closing down the west entrance to the park and shutting off access to the entire western portion of the park for all visitors. Personally, I'm really hoping for a great tourist season this year for this RV park and all others in the area hit so hard by the fires.
Comfort and convenience in paradise
Here's what you need to know about North American RV Park: It offers everything you need to be safe, comfortable and feel at home in this beautiful part of the country. You will have decent sized RV spots with grass and gravel surface and full hook-ups. They have a good-sized store at the entrance as well, for those items you completely forgot or ran out of on your excursion. Or for those snacks you just can't do without.
I actually had to buy a new fresh water hose at their store because ours was leaking horribly. Sure, it was a bit more expensive, but it was a convenient option and that hose lasted for the remainder of our travels and was a great purchase.
In addition to the store, they have a guest lounge with all kinds of amenities you can enjoy, including free coffee. Anyplace that offers free coffee gets an extra star in my book.
Essentially, there is nothing not to love here. Given its location, I found their rates extremely reasonable at $55 per night. (Note: 2020 rates increased to $60 per night.) Want to stay for a whole week? You get the 7th night free, so you will pay $330 (now $360 in 2020) for a full week of outdoor living just outside the gate of paradise (AKA Glacier National Park). Now that's what I call a bargain!
Boy oh boy, here's where we are talking about a family legacy. The Johnson family has run businesses in St Mary since the 1950s and have been a cornerstone of the community.
Their presence in St Mary started when they purchased the land and log cabin that is now the Johnson's of St Mary restaurant, a seasonal restaurant that is still run and staffed by the Johnson family from May through September. They do have some help outside of the family, but they are still the backbone of the restaurant…and you can feel it.
My family has eaten at the Johnson's of St Mary restaurant at least three times during our two visits to the area over the past couple of years. Suffice it to say we have never been disappointed by our dining experience! Unique, incredible food in a casual environment with a strong family feel. DO NOT miss out on this tasty landmark during your visit, seriously.
Cinnamon Roll Sundae from Johnson's of St Mary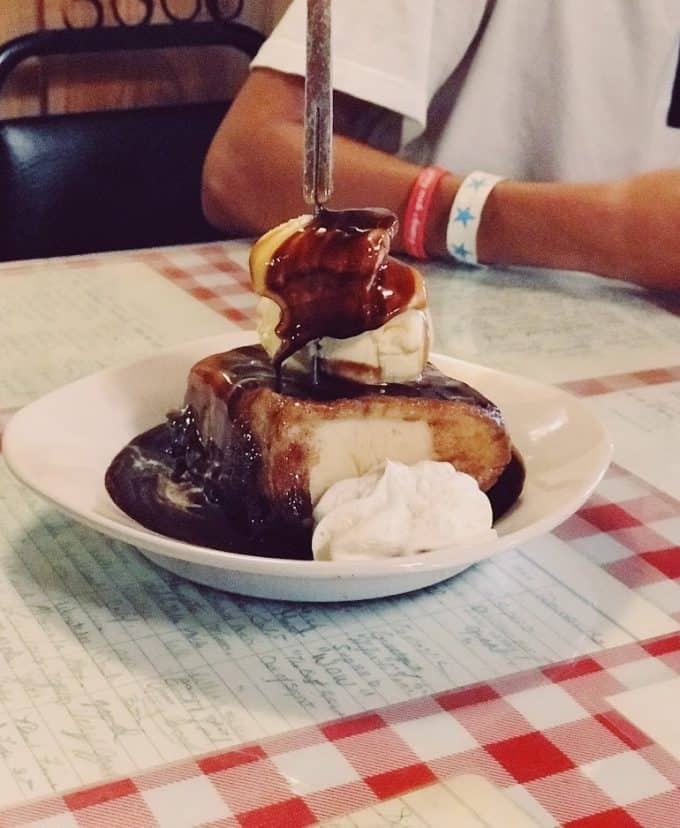 But enough about the food, for crying out loud
Wait, were we talking about restaurants? Oh no, right. Back to the RV park.
Sometime long after they started the restaurant, the family opened and started running the RV park which is located just a couple of hundred yards away from the restaurant. There is a hotel, the Red Eagle Motel, that actually sits between the restaurant and the RV park, but that hotel is not owned by the family as far as I understand (based on conversations with the hotel during our visit).
The RV park offers mostly full hook-up RV spots, but down on the lower level they do have some spots without sewer connections for a lower cost. This is actually where we ended up staying in 2017 because I procrastinated on booking a spot (in the summer, duh). But it was still a great Glacier RV camping experience all around.
They have laundry facilities available onsite, which was a very nice feature. And location?? Oh man, you are only a 2-3 minute drive to the east entrance of Glacier National Park. We literally spotted grizzly bear (mom and cubs) just a 10-minute drive from this location inside the park. It just doesn't get much more convenient to adventure than this.
Oh, and I can't end this part without mentioning the view from this location: From just about any RV spot you land in, you will enjoy a view of St Mary Lake and into the mouth of the Glacier Gorge, mountains begging you to visit from what seems like just feet away. One of my favorite views, honestly.
Do yourself a favor and sit a spell in this prime location.
Ok, so their website isn't anything to write home about. But please, don't let that deter you from taking a look at this prime spot for Glacier National Park camping.
Here's what you need to know about this RV park where we spent two weeks in September 2018: It is new and was still "under construction" during our visit, but it has full hook-ups, a very peaceful location, and an attractive nightly rate (currently $45 per night according to website). They also have several cabins on the property if you are interested in a little "luxury" during your stay.
If you are looking for all of the RV amenities and polished exterior, this probably isn't the place for you. At least not yet. But who knows what they will have accomplished before the 2019 camping season. At the very least, you should check into it and maybe have a chat with them to get an update on the condition of the park. Their website states that they are adding an onsite office (you had to go across the road to the hotel last year) and restrooms/showers for the 2019 season.
Fewer amenities, perfect for us
For us, it was ideal. Lower price for our extended stay, less crowd, same fantastic location just 2-3 minutes from the east gate of the national park. It felt a bit more like "real camping" than so many of the parks we stayed in, and it was absolutely the perfect complement to our time spent wandering in Glacier.
Interestingly, this RV park is actually owned by the same folks that run the Red Eagle Motel just across the road (as you could see from the website) that sits between the Johnson's restaurant and RV park. Good folks, straight shooters, and I just don't think you can go wrong with this one.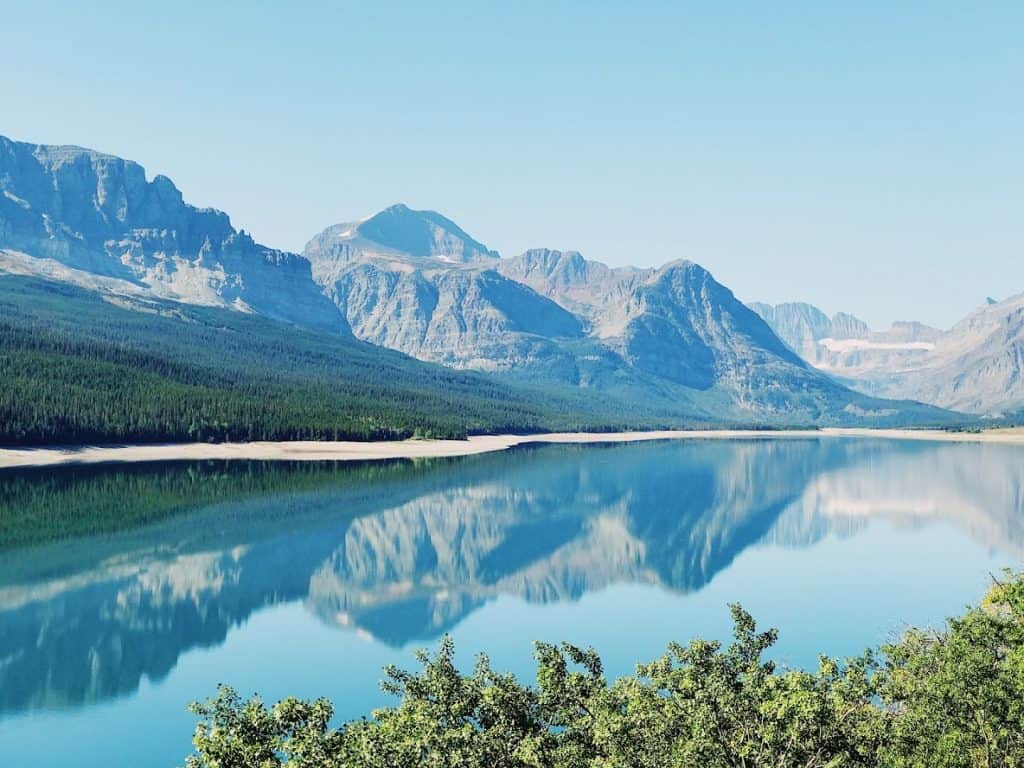 You should know: I'm not a fan of KOA campgrounds and RV parks. In our 17 months of traveling around the continent, we stayed in a total of ONE — and that was our first few nights in our hometown after moving out of our house. Because it was uber convenient as the kids finished up school for the year.
For me, it really just comes down to the financials. I think they charge far too much money for a bunch of "amenities" that I am not in need of nor interested in. (If you have small kids and are looking for things close by to keep them entertained, this might make more sense. I just can't say from my own perspective in life.)
Having said that, when you put a KOA just outside the entrance to Glacier National Park, it puts it back in the running as a back-up option if other locations are already filled.
Reviews and location are important
This one is ranked at #4 based on its convenient location and its strong reviews (4.5 stars). The truth is, aside from the online images of the place, that's all I really know about it. Well, that and their far higher rates than their competitors ($70-75 per night for two people) just a mile or so away. In fact, they are actually a little further away from the park entrance than the three we have already discussed above.
Look, I don't want to knock them too hard. They're just not really my cup of tea based on how I like to RV. But it may be the perfect option for your situation, so be sure and check them out. With the solid reviews, I don't think you could be disappointed even if you pay a bit more.
Honorable Mentions for Glacier National Park RV Camping Spots
Now, back to West Glacier (which I pray will be accessible in 2019), we find the Moose Creek RV Park which was formerly known as SanSuzEd RV Park. A wise name change in my humble opinion.
Here you find more outstanding reviews, a location that is hard to beat just 5 minutes down the road from the west entrance to Glacier National Park, and lots of outdoor activities to keep the whole family entertained and occupied (horseshoes, volleyball, etc.).
Its location is better than our #1 pick, so nothing not to love there! Definitely worth a peek if you can find an opening. My guess is that finding availability closer to the park, at least on this west side, will be more of a challenge and require booking further in advance.
Yes, another KOA. Location, location, location. Just because I'm not a fan doesn't mean you can't be! I'm an open-minded fellow.
Again, with positive reviews off the chart, you really can't go wrong when coupled with outstanding location. If you have younger kids, you will like be very happy to pay for the additional entertainment options and even some guided/supervised activities for them that allow you to relax and enjoy your getaway just a bit more. Nothing wrong with that!
Not to mention, the pictures make this RV park look more like a country club with the pristine green grass and manicured spaces.
If dry camping (boondocking) is more your thing and you would really like to be as close to the action as possible, you absolutely must consider a spot in the Apgar Campground, a National Park Service campground right on the shores of Lake McDonald. No hook-ups available here, but location to die for!
And cost? How about $20 per night compared to 3 or 4 times that much at some of the RV parks mentioned. You just can't beat that for a budget family getaway.
Lake McDonald happens to be one of the most stunning lakes I have ever seen, so I would take a chance to camp right by it in a heartbeat. Just be sure you book early for this one…my guess is that it fills before Spring has even come close to springing!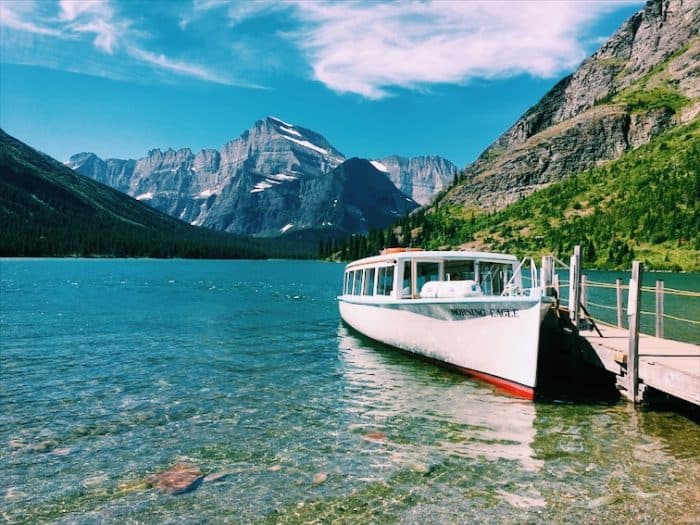 What are your favorite Glacier National Park RV Camping Spots?
We are always exploring new places to explore and stay on our next RV adventure, so please be sure and share some of your favorite Glacier camping spots that we may not know about. We will be sure to check them out the next chance we get and send you a personal thank you for the recommendation.
And with that, let the Glacier National Park RV camping adventures begin!
PIN THIS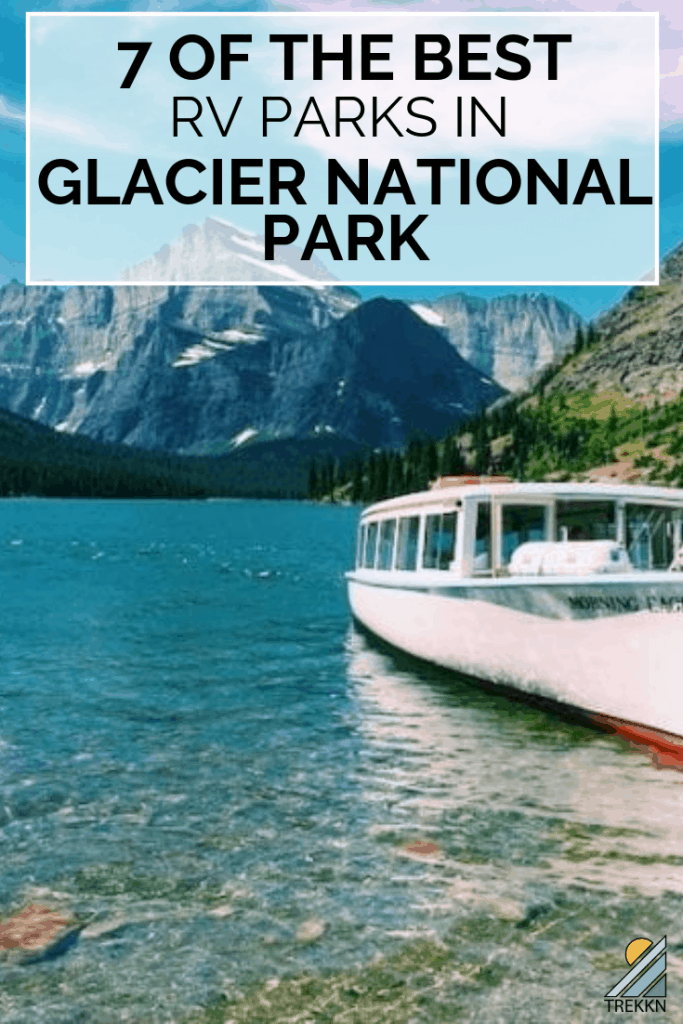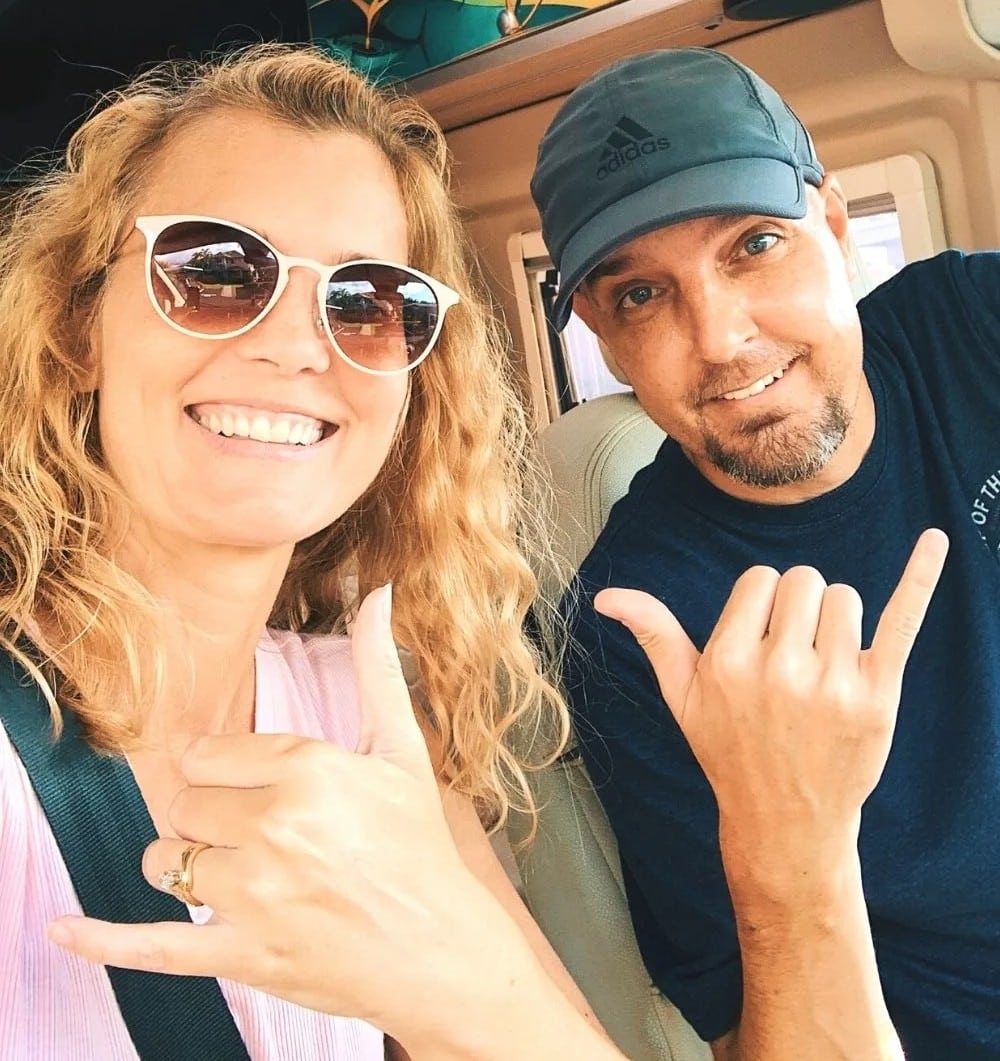 Todd Bonner loves a competitive game of table tennis, a breathtaking hike and simply exploring new places. He spends most of his time sharing information about RV travel and safety, RV accessories and tips, and the National Parks he has visited and still desperately craves. When he's not busy working on TREKKN, you will often find him staring at pictures of Glacier National Park (probably his favorite spot on earth) or creating new products for Clever Camper Company.