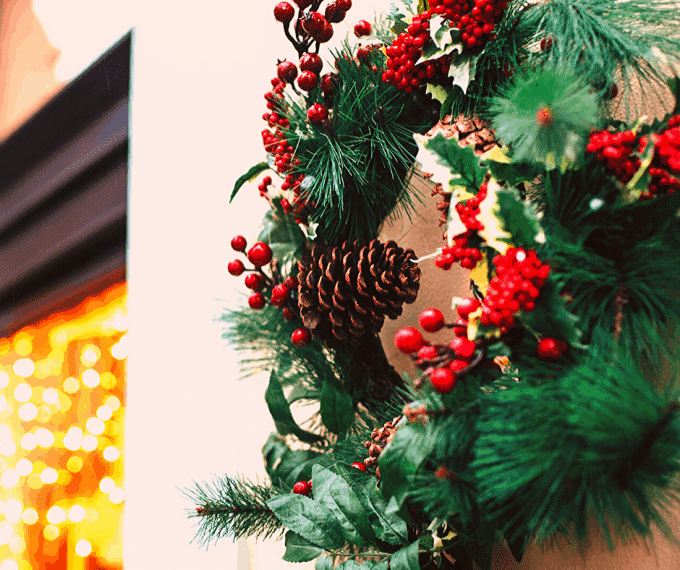 Is it beginning to look a lot like Christmas in your RV yet? If not, these 15 RV Christmas decorations will give you the ideas and inspiration you need to deck the halls of your camper, motorhome, fifth wheel and more.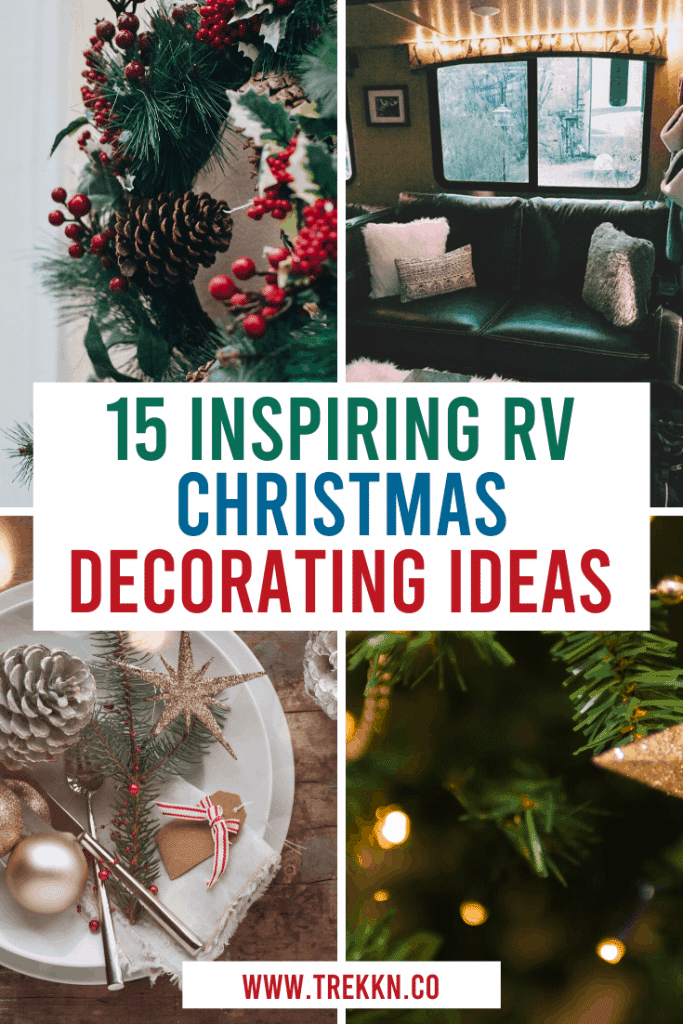 Christmas In Our Travel Trailer
Since there would be five of us in our travel trailer during our first Christmas as full-time RVers, I went extremely minimal with the decorations. We're talking a 2 ft. tree placed on the back of the dinette and stockings hung on the wall by the couch simple.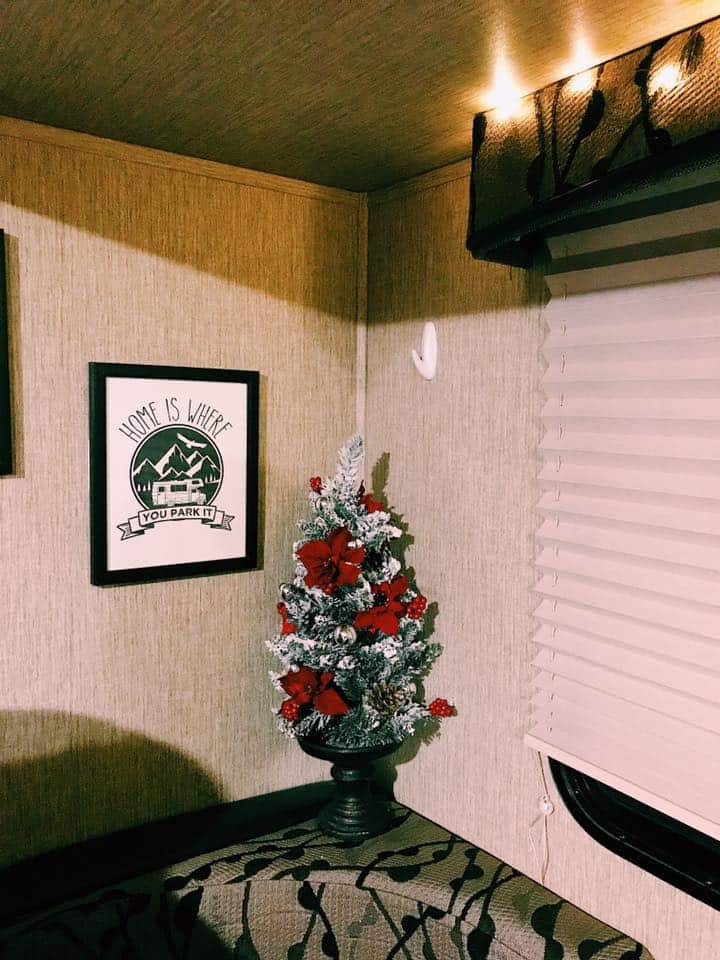 But it's amazing how just a few touches really made it feel like Christmas in our tiny home on wheels.
Not only that, but we spent it in Colorado and they received a decent snowfall the day after we got there.
Unfortunately (or fortunately, depending on how you look at it) we learned a few winter RVing lessons the hard way and had to book a last-minute Airbnb the day before Christmas. The fact that we spent Christmas Eve and part of Christmas in a bachelor pad that came complete with something like two plates and two forks (I'm not even kidding) made it one very memorable holiday.
I even brought our 2 ft. Christmas tree with us since there were zero decorations at the Airbnb.
But even throughout all the winter RVing and Airbnb craziness, we had such a great Christmas. It helped that we spent it with our Colorado friends and family. We would have gone through three frozen water pumps just to see them. 😉
15 RV Christmas Decoration Ideas
Are you ready to get festive? Here are 15 Christmas decorating ideas for your RV.
1.Hang a Wreath on the Front of Your RV
I don't know about where you live, but here in Texas putting a Christmas wreath on the front of your truck or SUV is a big deal. The bigger, the better.
During our first Christmas in our travel trailer, we noticed this was also a fun thing for RVers to do. We saw wreaths mainly on the front of motorhomes, but also on some travel trailers and fifth wheels.
2. Hang a Wreath on the RV Door
A fun way to greet visitors to your RV during the holiday season is with a wreath on your RV door. We hung ours with a large 3M command hook.
It can be a simple evergreen wreath with a few berries mixed in or one with battery operated lights or a camper themed Christmas wreath.
Another option instead of a wreath is a swag. It's a bit smaller than most wreaths and would be a really nice addition to your RV Christmas decor.

Just don't forget to remove it before you drive off!
3. Window Clings
One idea that is super easy to apply and leaves no mess behind, plus doesn't take up valuable RV space is holiday window clings.
Add a touch of Christmas with snowflakes, Santa Claus, reindeer, elves and more.
4. Hang Garland Inside
Something as simple as adding some garland can really transform your RV for the holidays. To hang, just use a few command hooks and you're good to go!
You can purchase garland with or without lights. When we decorated, I went without because there was nowhere convenient to plug in the lights.
Here's an example of how garland was hung in an RV for the holidays.
View this post on Instagram
5. Put Up Small Lights
Instead of hanging garland with lights, I chose to hang small battery operated lights separately. Another option is to purchase garland without lights and wrap it with these battery operated lights.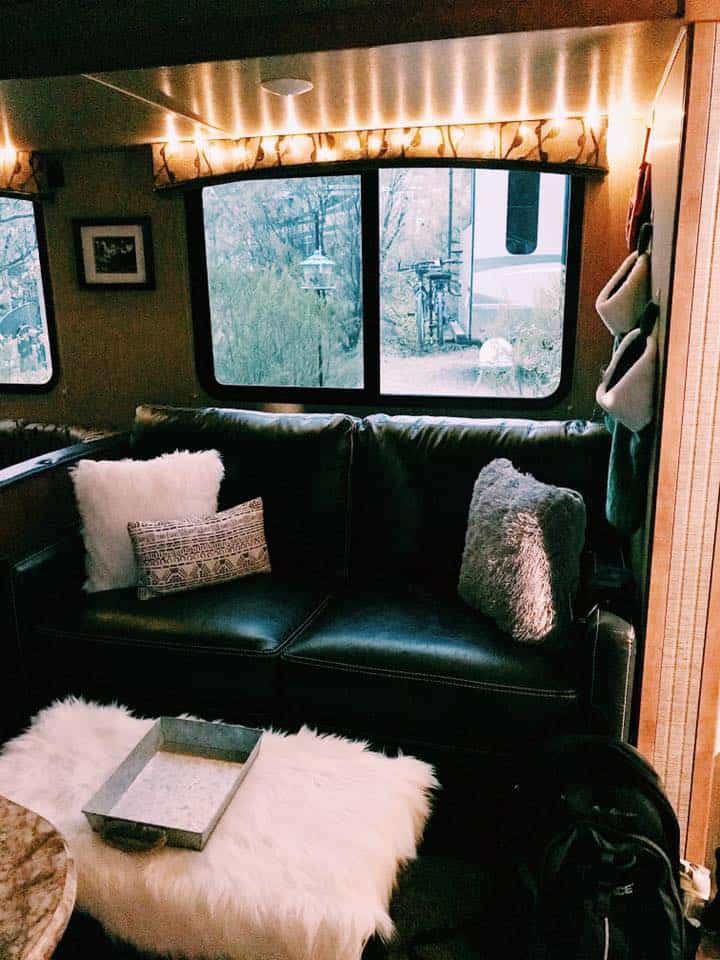 I've had a lot of people ask me what I did with the battery pack for the lights. Well, I used command strips to stick the battery packs to the RV wall in a location where it wasn't very noticeable. It worked like a charm!
The other thing I love about these battery operated lights was the timer. I was able to set them to go on and off at a certain time each night.
I also used rechargeable batteries so I wasn't constantly having to purchase new batteries. I always had a charged set ready to go when one went out.
6. Small Decorative Pillows
There are so many cute Christmas pillow options and I'm pretty sure I spent a crazy amount of time looking at them all. My favorites are anything with red and black gingham or an old truck like these below.

I also found a couple with a camper which would be a cute addition to your camper Christmas decor.
I would definitely recommend buying pillow covers as opposed to new pillows for obvious storage reasons. When the holidays are over, just switch out the pillow covers and fold them up for storing until next year.
7. Seasons Greetings with a Felt Board Sign
A fun way to show off your holiday cheer is with a felt board letter sign. You can either do a simple "Merry Christmas" Or "Happy Holidays" or choose from this list below.
Christmas Letter Board Sayings:
You Know You're Old When You Watch Home Alone and Wonder How Much Their Mortgage Is
Gonna Go Lay Under The Tree To Remind My Family What A Gift I Am
Sleigh My Name, Sleigh My Name
It's The Most Wonderful Time of The Year
Here Comes Amazon, Here Comes Amazon Right Down My Driveway!
Merry Christmas Ya Filthy Animal
The Best Way to Spread Christmas Cheer Is Singing Loud For All To Hear
Christmas Is Where You Park It
I'm Dreaming Of A White Christmas (But If The White Runs Out I'll Drink The Red)
Don't Get Your Tinsel In a Tangle
You Don't Smell Like Santa. You Smell Like Beef And Cheese – Buddy The Elf
I Just Want To Watch Christmas Movies and Bake Things
It's All Fun and Games 'Til Santa Checks The Naughty List
Son Of A Nutcracker
Tell Me What You Want What You Really Really Want – Santa
You Better Not Pout
It's Beginning To Cost A Lot Like Christmas
As you can see, you can have a lot of fun with a letter board sign during the holidays. 🙂
8. Christmas Tree Options
As I mentioned above, our travel trailer was tiny and there was zero floor space for a tree. Plus, we had five people in it during the Holidays. So we opted for a very small tree I could put in the corner of the dinette.
The kind of tree you get will depend a lot on the space you have.
One popular tree type for RVers is the very skinny tree. Just be sure to know the height of your ceilings before purchasing. I've seen skinny Christmas trees from 5 feet and up.
Here are some Christmas tree options that are perfect for RV living.
View this post on Instagram
9. Holiday Rug for Indoors or Out (or Both!)
Another fun and practical way to show off your Holiday spirit is with an outdoor or indoor (or both) doormat.
Here are a few options:
Outdoor
Indoor
10. Hang Stockings
For our family, it's officially Christmas season when the stockings go up on the wall or over the mantle. In our RV, they went on the wall by the couch hung with command hooks (of course).
I've seen some hung over the fireplace in RVs, on the wall, on the tree and more creative ways.
11. No Fireplace? No problem
Just the mention of a fireplace in an RV always makes me a wee bit jealous because I want one so bad! In the RVs we've toured that have fireplaces, it just really adds that cozy winter vibe I always want.
But what if you don't have a fireplace but you still want the look of one? Use the TV. 🙂
That's what we did. We connected my phone to the TV with this handy dandy Apple Lightning Adapter and voila, a fire.
Here are 10 beautiful hours of a crackling fire to play on the TV.
12. Christmas Mugs
Put the kettle on and sip your favorite warm drinks out of a Christmas mug. I guarantee it'll put you and those around you in the holiday spirit. When you're not using them, set them in a small metal tray on the counter (if you have room) which makes them also serve as decoration.
13. Go Old School with Paper Snowflakes
How long has it been since you've made a paper snowflake? A long time maybe? If you have kiddos enlist their help and start getting creative with just a pair of scissors and paper.
Here are15 ways to decorate with paper snowflakes which will give you some great ideas of how to hang them.
14. Bring the Outdoors In
If you love a rustic style Christmas, decorate with items found outdoors like pinecones, blocks of wood to set candles on top of and small pieces of pine trees.
Here's a gorgeous example of a tablescape in an RV using natural items.
View this post on Instagram
15. Holiday Kitchen Towels
When it comes to decorating an RV, it's always a good idea to use things that serve a purpose instead of items that just take up valuable space.
One way to decorate with items that also serve a purpose is to switch out your ordinary everyday kitchen towels with a Christmas themed kitchen towel or two. They're decorative and you can dry your hands with them. Win-win.
I hope these RV Christmas decorating ideas have inspired you to add some holiday spirit to your home on wheels. Feel free to share how you decorate your RV for the Holidays. We would love to gather as many ideas as possible!
Happy Holidays and Merry Christmas!
PIN THIS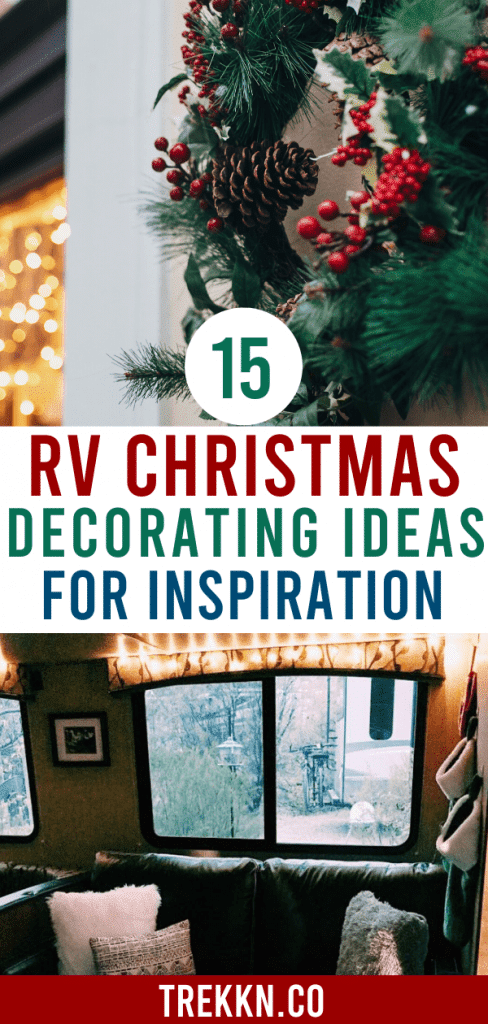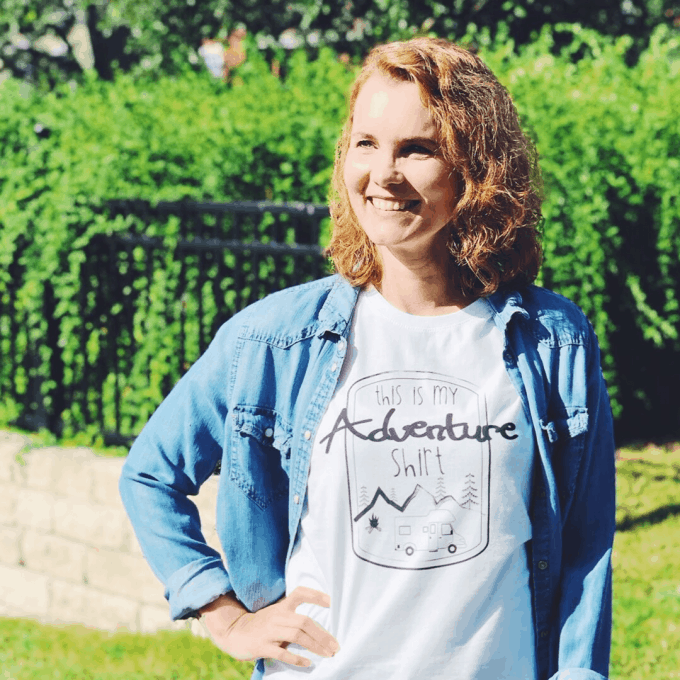 Julie Bonner is one-half of the TREKKN team. She specializes in helping you whip up delicious meals in your tiny RV kitchen, as well as RV organization tips and helping fellow RVers make their RV feel like home. Her favorite RVing spot is in Banff National Park in Canada where yes, the water really is that blue and the people really are that nice.