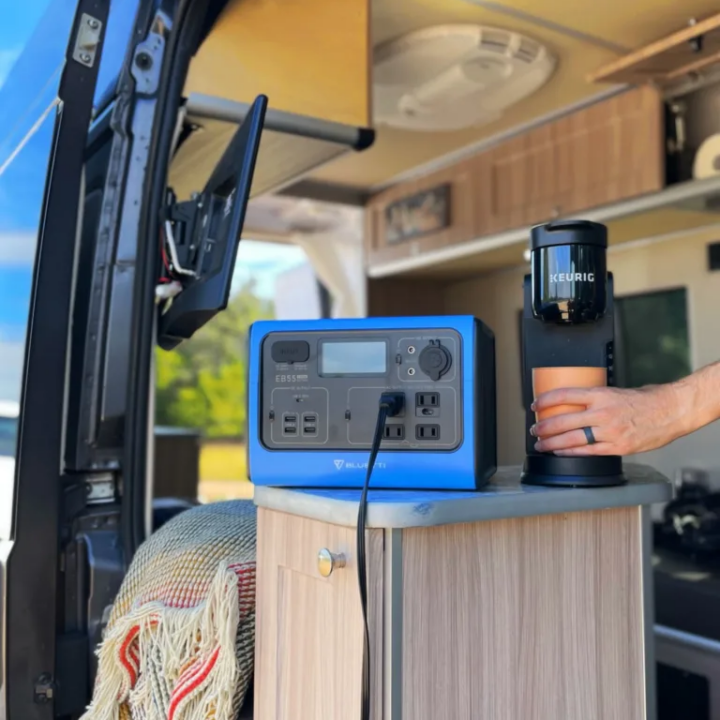 Whether you live in a sticks-and-bricks house, spend weekends in your RV, or are building out a campervan, a solar generator could be a good investment.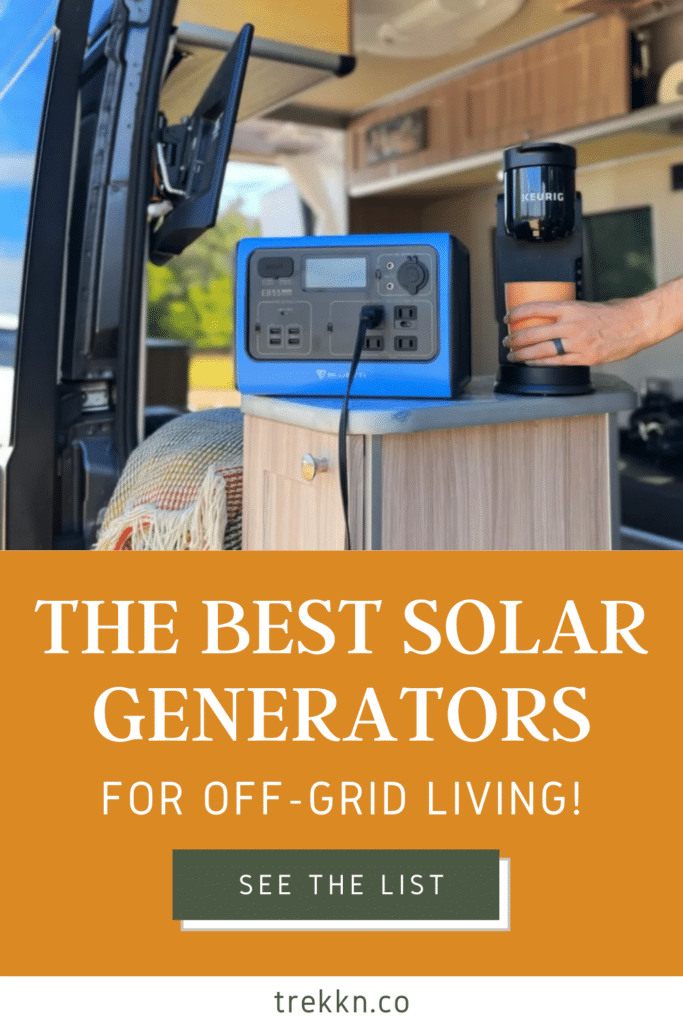 If you're a house-dweller you might want one for peace of mind when the power goes out. If you're RVing off-grid, one of these little portable power stations might be your only way to have any juice at all.
There are so many uses for these powerful packs. Whatever your need is, we hope this article helps you learn a bit more about solar generators and how to choose the right one for you and your situation.
What is a Solar Generator?
Well, it's not really a generator at all. You'll commonly see solar generators also called portable power stations. In my opinion, that's a much better name for what they do.
They're really just portable power stations that can be charged with an outlet plug until you choose to charge them with solar power. Only then do they actually become solar generators.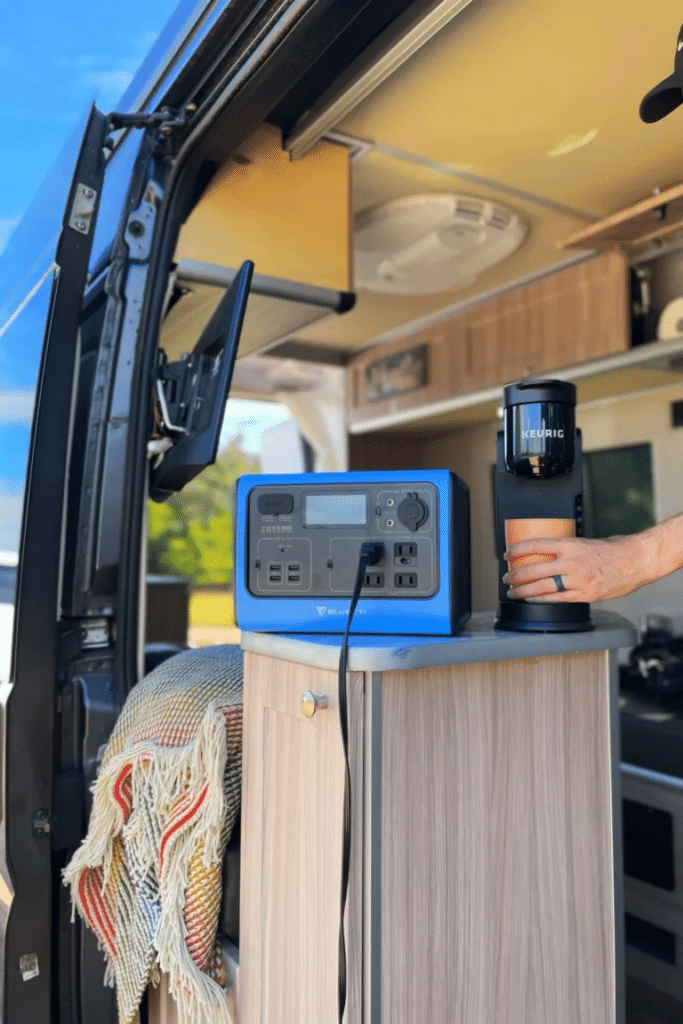 Components of a Solar Generator
First, solar panels are necessary to collect solar energy. After that, the portable power station stores the energy in its battery.
Then, the inverter inside the portable power station converts the electricity into AC power for our consumption. It's really the combination of this whole system that constitutes a solar generator.
For the purposes of this article, we'll be exploring the portable power station component options (that's what most people mean when they say solar generator anyway).
You can buy any of these power stations as a bundle with compatible solar panels, or incorporate it into your existing solar panel setup. Let's dive into the details.
What to Look For in a Solar Generator
Following are the main generator specifications (specs) you want to consider when purchasing a solar generator:
Battery capacity: This determines how much energy you can store for use when the unit is not charging.

Battery type: Not all lithium batteries are created equal. LFP (LiFePO4) technology produces a significantly better battery cycle life than NMC batteries and can last twice as long. NMC can discharge about 80-90% of full capacity, while LFP can discharge 100%. In terms of voltage delivery, lithium NMC outperforms LFP.

Power output: This determines how much power you can use at one time. If you have a high-draw appliance you're hoping to run off your solar generator, be sure to check the power draw before choosing your unit.

Max solar input: This spec is important for charging if you plan to be off-grid and not plugging your unit in to recharge. A low allowable solar input means it will take a frustratingly long time to fully charge.

Inverter type: Most inverters incorporated into portable power stations these days will be pure sine wave, which replicates the AC power you'd get from a home electrical socket. But if you're looking at generators not on the list below, it's worth double-checking.

Weight: The weight may be more of a factor if you plan to use your solar generator as a portable device. Think about picking it up and moving it around when you review the weights of each model. If you're installing it in an RV or van build, it may not be as much of a factor since it will be stationary.

Life (Charging) Cycles: This goes back to the battery type, but if you're going to buy a thousand-dollar solar generator, wouldn't you like it to last more than 500 cycles? The longest-lasting battery available on the market lasts six times longer than the shortest-lasting one.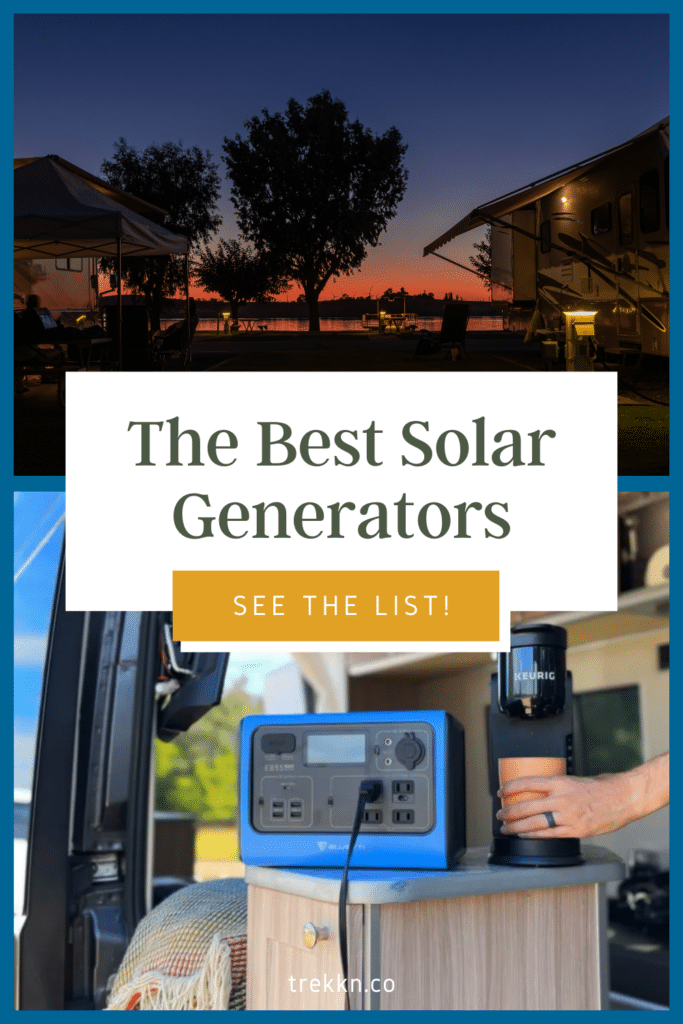 How Big of a Solar Generator Do I Need?
What size solar generator you need will depend on your power usage. Most portable solar generators range from 200Wh to 2000Wh. For the sake of comparison, we'll be looking closely at generators that are all around 1000Wh, right in the mid-range.
When we had our campervan as a weekend escape vehicle, we had a Goal Zero Yeti 500x (500Wh). This Yeti power station is perfect for camping, overlanding, and short-term campervanning.
We could run lights, fans, and charge our phones endlessly, and we could power larger devices like our laptops sparingly.
But if you have an RV fridge or some cooking appliances, you're starting to get into the 1000Wh zone.
So when considering the best solar generator for off-grid living, I think it's fair to start with the 1000Wh power stations.
Let's take a look at some of the top picks.
Best Solar Generator Options for Your Adventures
Here are several solar generators that I would seriously consider for my own outdoor living situations.
1. BLUETTI PORTABLE POWER STATION EB70S
Battery Capacity: 716Wh
Battery Type: LiFePO4
Power Output: 800w continuous, 1400w peak surge
Max Solar Input: 200w
Inverter type: Pure sine wave
Weight: 21 pounds
# of Life Cycles: 2,500
Warranty: 2 years
The Bluetti Portable Power Stations are a good, long-lasting option, especially for the price. I love that they offer 2500 life cycles and a 2-year warranty for such a reasonable price.
They are definitely lightweight and mobile. But with a limited solar input and a low power output surge, these may be what I'd choose for extended camping trips rather than full-time off-grid living.
Bluetti does also have its "AC" line with the Bluetti AC200 and AC300 which are 2,000Wh and 3,000Wh respectively. Obviously, the price is considerably higher, so be prepared for that.
These models were too far out of the 1000Wh range I tried to stick to here so that it would be an apples-to-apples comparison between the different products.
But if you're looking for more power, be sure to check out these (pricier) models.
See our review of a Bluetti Portable Power Station.
2. GOAL ZERO YETI LITHIUM 1000X PORTABLE POWER STATION
Battery Capacity: 983Wh
Battery Type: Li-ion NMC
Power Output: 1500w continuous, 3000w peak surge
Max Solar Input: 600w
Inverter type: Pure sine wave
Weight: 36 pounds
Case Material: metallic
# of Life Cycles: 500
Warranty: 2 years
The Goal Zero Yeti series were some of the first portable power stations on the market. The GZ Yeti 1000x is more expensive than any other similar-capacity device on this list, but it boasts the highest power output by far.
A 3000w surge allows you to power laptops, cameras, fridges, grills, and TVs. It can run a 30" LCD monitor and mini PC for 10-14 hours. It's a powerful solar generator, in fact the most powerful on this list.
It's considerably heavier than others on this list, but that's largely due to the metallic case, which protects against bumps and punctures. Totally worth the weight in my opinion for this better build quality.
Plus, it can fully recharge in only two hours. Who wants to wait around for a charge-up?
3. JACKERY EXPLORER 1000 PORTABLE POWER STATION
Battery Capacity: 1002Wh
Battery Type: Li-ion NMC
Power Output: 1000w continuous, 2000w peak surge
Max Solar Input: 126w
Inverter type: Pure sine wave
Weight: 22 pounds
Case Material: Plastic
# of Life Cycles: 500
Warranty: 1 year
Jackery makes portable solar panels that are easy to use with this power station, and they recommend a setup of two 100-watt panels to charge this generator.
With good solar conditions, two 100-watt panels will recharge the Jackery Explorer 1000 in eight hours. This is obviously a bit slow compared to other units.
The plastic case is good for weight but not great for durability. This unit would be best if installed in a fixed location (say, in a campervan build-out), rather than carted around for weekender camping.
You should also notice that the warranty is only 1 year instead of 2 years as we have seen with the previous options.
4. EF ECOFLOW DELTA 2 PORTABLE POWER STATION
Battery Capacity: 1024Wh
Battery Type: LFP Battery(LiFePO4)
Power Output: 1800w continuous, 2700w peak surge
Max Solar Input: 500w
Inverter type: Pure sine wave
Weight: 27 pounds
# of Life Cycles: 3,000
Warranty: 5 years
The Ecoflow Delta 2's claim to fame is its fast charging, claiming to be seven times faster than the competition. This unit can go from 0-80% charged in 50 minutes when plugged in with AC input, and to 100% charged in 80 minutes.
It can even recharge with solar in as little as three hours. Now that is impressive!
These portable solar generators are built to last longer as well, with a 5-year warranty and 3,000 life cycles. If you're planning to use a portable power station for full-time off-grid living, I think this is the one.
For weekender camping, the longevity might not matter as much, but for living off-grid you want something like this that will be with you for the long haul.
Is a Solar Generator Right For You?
If you need some portable power for your off-grid living setup or even just for short camping trips, a solar generator is a great solution.
You could opt for a generator that runs on fuel instead, but those are noisy, stinky, and non-renewable. A generator that runs on solar power is clean, quiet, and renewable.
But don't forget that in addition to the cost of the portable power station, you also need to purchase solar panels in order to have a full solar generation station.

I believe solar generators are worth the money and that off-grid solar systems are definitely the way to go.
But if you're just starting out off-grid and you're unsure if it's right for you, you could start with a fuel-powered generator to see if you like being off-grid. This is the safe bet before you commit to the more expensive full solar generator setup.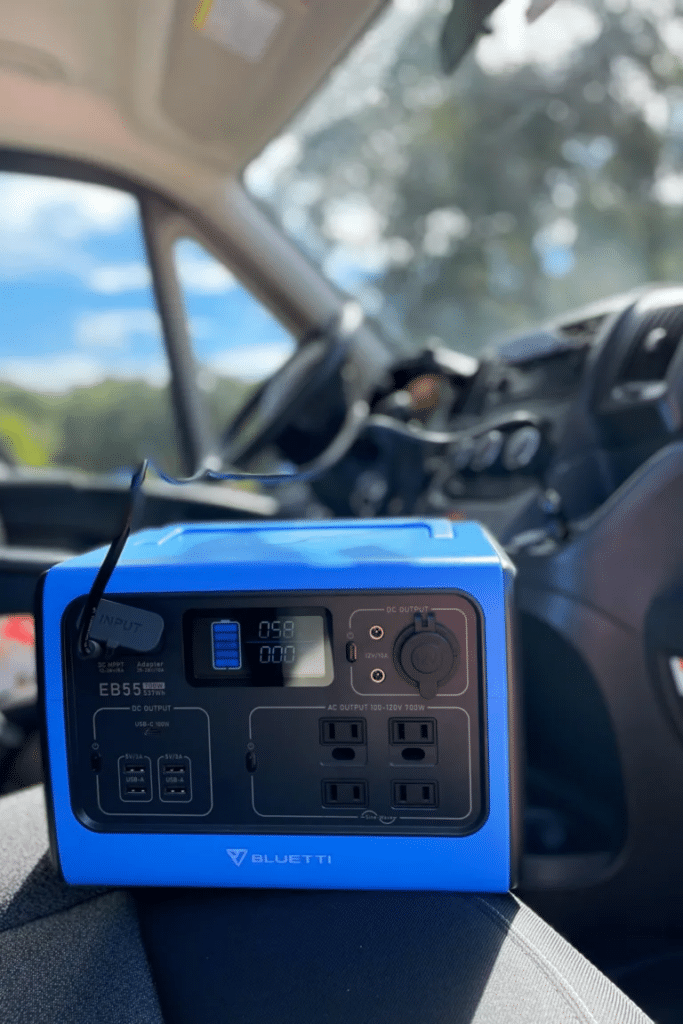 What is the Best Solar Generator for Off-grid Living?
The answer to this question may be different for every person. What is right for you certainly depends on your specific power needs and how you intend to use the generator.
But if I had to pick just one for overall off-grid living, with enough power to live a somewhat normal life, and to have a product that will last under lots of use, I'd choose the EF ECOFLOW DELTA 2 Portable Power Station.
Whatever you choose, don't forget to simply enjoy the wonders of nature as you get out and explore!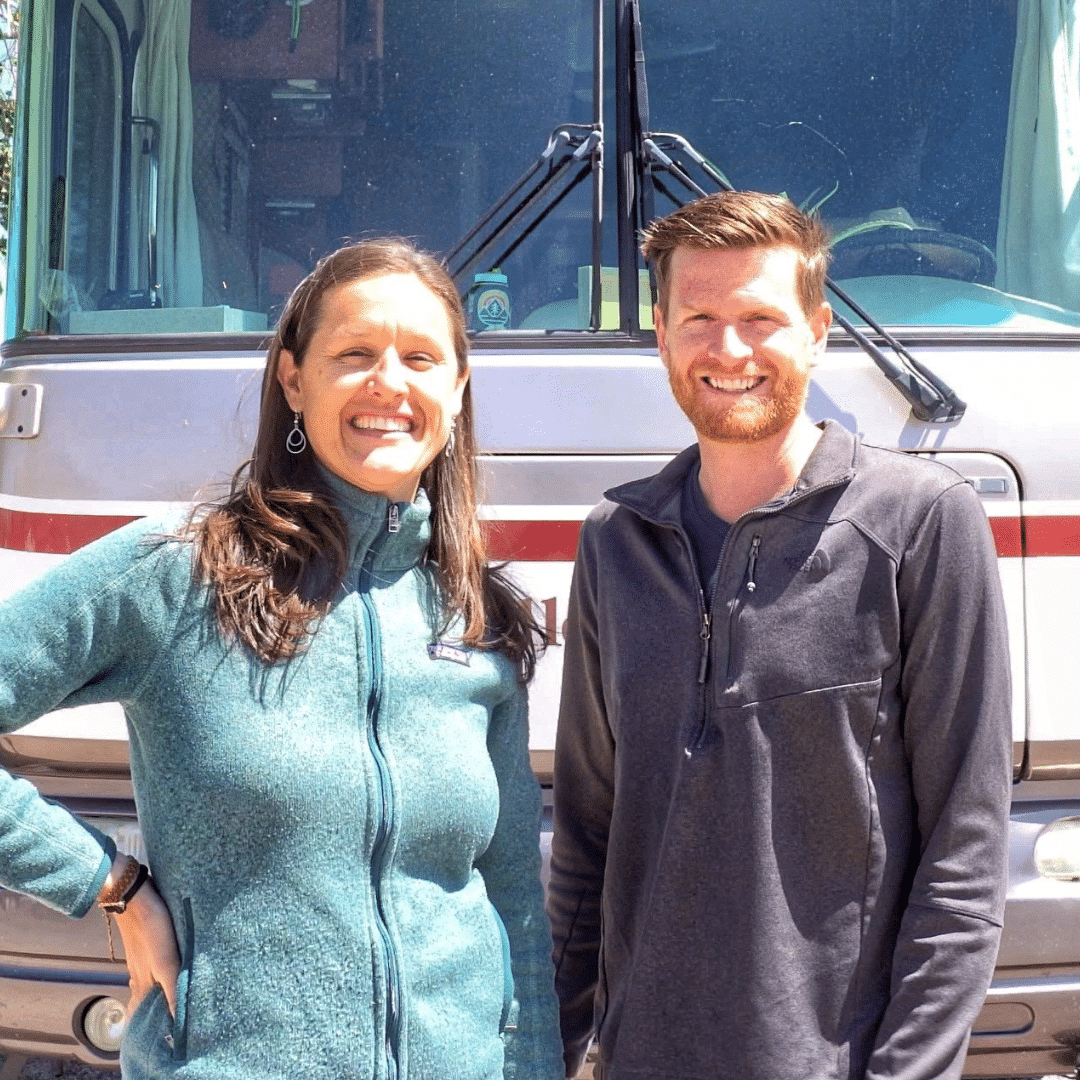 Kristen Sargent lives & works from her RV, primarily boondocking off-grid. She owns and operates a women-led travel company, Legit Trips. Kristen loves to explore new places and inspire others to do the same. If she's not typing away on her laptop, she's off on an adventure- hiking, biking, or SUP boarding. You can follow her RV adventures @PerpetualMoves and learn more about her travel company at LegitTrips.com.