Visit Durango: Your "5 Perfect Days" Itinerary

If you've never been to Durango, we've put together this perfect five-day itinerary to show off the best of what Durango has to offer.
Believe me, you could stay much longer and fully enjoy yourself, or come back to visit many times. But we think this five-day itinerary will give you an excellent introduction to the area.
Fair warning: You could easily become addicted to this place!
Why Visit Durango in the Summer?
Many visitors come to Durango for the outdoor adventure that surrounds the area. It's a popular destination for RVing, biking, hiking, fishing, rafting, paddle boarding, and many more outdoor activities.
This means you should plan ahead for your trip. Book RV parks, guided activities, and rentals well in advance.

Even though it can be busier than usual, we still think early Summer (June/July) is an ideal time to visit. Especially if you want to do water sports, earlier is better for maximum recreation opportunities.
Plus, since you're coming in your RV, the weather is very comfortable for that.
Where to Stay with Your RV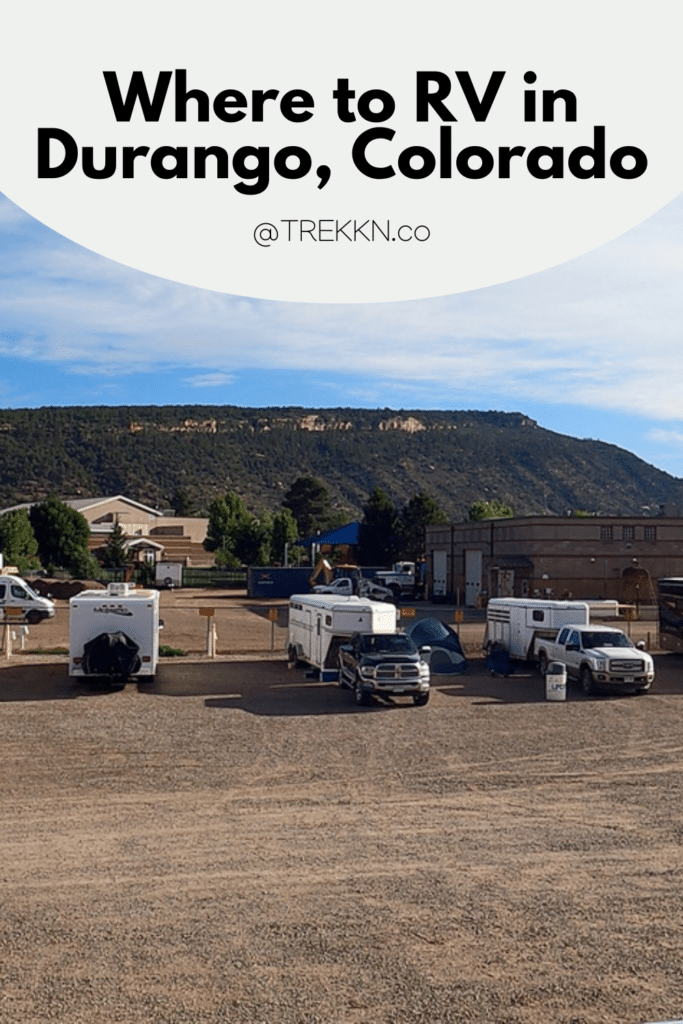 When you come to visit Durango, you'll want to experience the historic downtown and spend plenty of time in the surrounding nature. And you can have both, even if you're visiting with your RV.
LA PLATA COUNTY FAIRGROUNDS
To stay in the heart of the action, stay at the La Plata County Fairgrounds. The fairgrounds are located right on the Animas River Trail and within walking and biking distance of many Durango bars, breweries, restaurants, and shops. You'll hear the train coming into town from your RV spot.
This is the real "downtown Durango vibe" choice of places to stay.

The fairgrounds are only $25/ night for water and electric hookups. There is no sewer connection or dump station available on-site.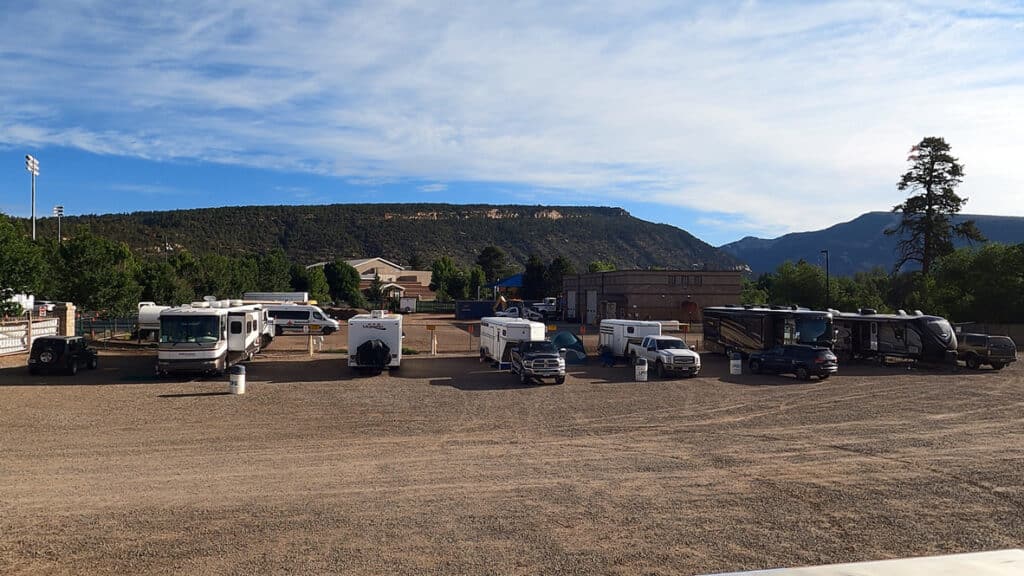 And the rodeo comes to town every Wednesday night in the summer, taking over the entire fairgrounds. So there are no Wednesday night RV spot rentals available. Plan your travel dates accordingly.
We'd suggest arriving on Thursday and departing on Monday for this very affordable fairground location.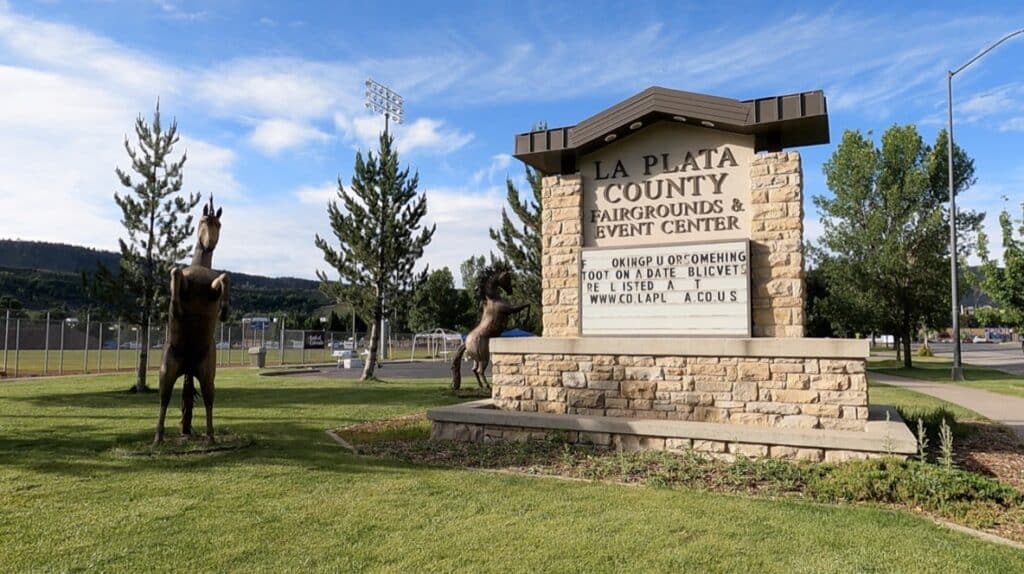 ALPEN ROSE RV PARK
As you head north out of town, you'll head up to the beautiful Animas River Valley. If you're coming to Durango primarily for the surrounding nature, you'll want to stay at the Alpen Rose RV Park.

Alpen Rose has the best of both worlds, since it's in the river valley with stunning mountain views, yet not too far from downtown.
It's only a few miles to the north end of town, and about six miles to the heart of downtown Durango.
RV sites are available with a range of sizes and amenities. Expect to pay between $57-96/night depending on your rig size and needs.
Now, let's take a look at that 5-day itinerary to give you a proper introduction to the magic and wonder of Durango.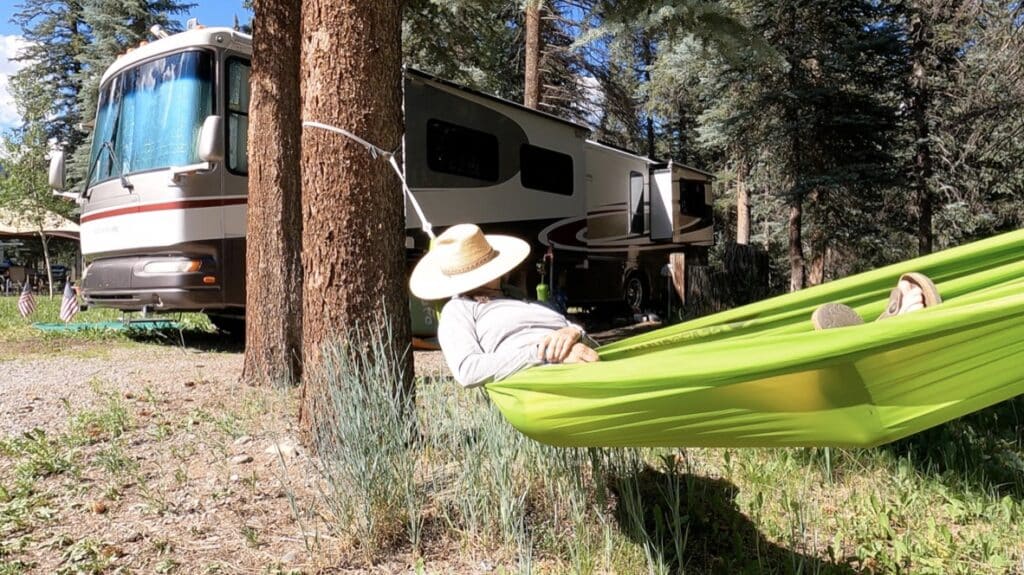 Day 1 – Bike the Animas River Trail & Enjoy Dinner Downtown
We always like to use our first day in a new place to get acclimated. Day one of your perfect Durango itinerary is about just that.
Take your time arriving at your accommodation, getting settled, and maybe relaxing on your patio to breathe in that fresh mountain air and let your body adjust.

If you brought your bicycles with you, we recommend riding the Animas River Trail to help you get an overview of the area.
This is a multi-use paved trail, running about nine miles through the city of Durango, skirting along the Animas River. And the trail offers many easy access points to the downtown area.

If you didn't bring your bikes, we think it's worth renting some in the area.
Check out Pedal the Peaks, a family-owned bike shop that offers rentals, located downtown. You can choose from townies, road bikes, mountain bikes, kids' bikes, electric bikes and more.
A half-day rental (4 hours) from Pedal the Peaks is only $26.99. A full-day rental (9 hours) is $35.99. They have rental packages for up to five days if you want a bike available for use for your entire visit.

If you bike the entire Animas River Trail end to end and back, you'll definitely have earned a dinner out in downtown Durango. Dinner and a walk around downtown is a perfect end to day one of your Durango itinerary.

For a casual post-bike dinner, we like Steamworks Brewing Company, or 11th Street Station.
If you love beer, Steamworks has a huge selection, and the food is really hard to beat. And 11th Street Station is a food truck court, of sorts. There's a huge patio where you can hang with your family or friends, and everyone can eat whatever they're in the mood for.
Day 2 – Ride the Train to Silverton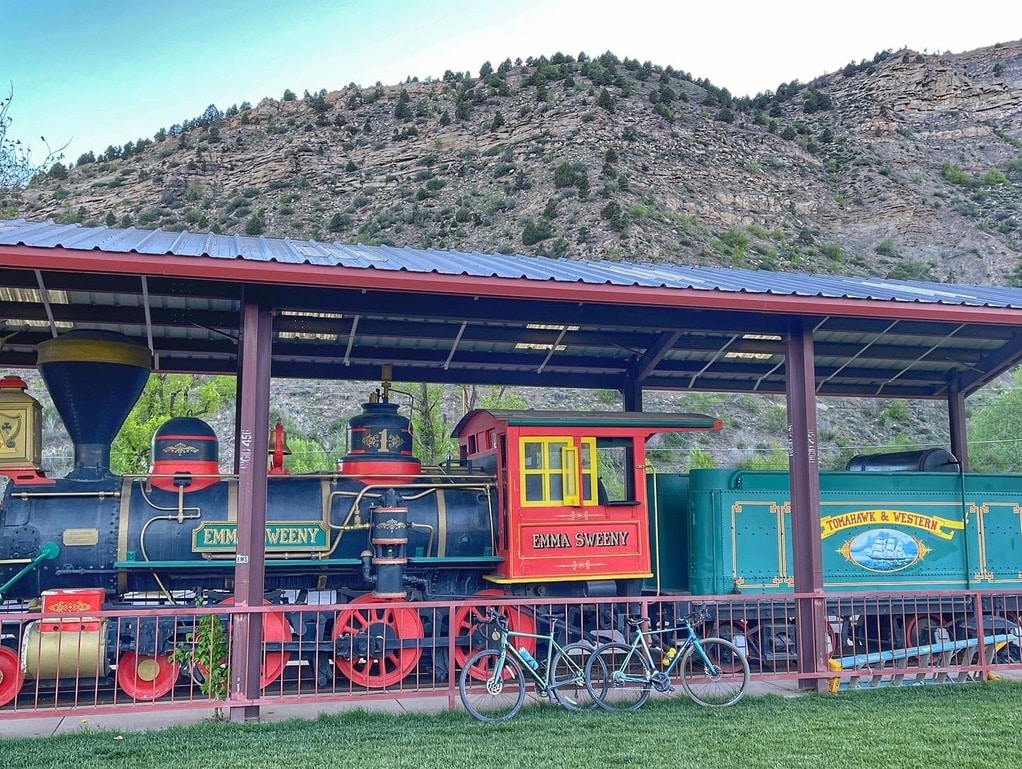 The Durango & Silverton Narrow Gauge Railroad is a must-do on any visit to Durango.
The train is operated out of the original 1882 depot located downtown. But don't worry, there's plenty of parking, so leave the driving to the conductor today and sit back to enjoy the views.

The scenic round-trip journey to the town of Silverton is three and a half hours each way, with a two-hour stop to explore the quaint historic mining town. You'll travel up into the Rocky Mountains with a great view of the San Juan National Forest.

There are two daily trips from Durango to Silverton from May through October. Tickets range from $97 per adult to over $200, depending on which class of ticket you select.
You can book online and we recommend doing so in advance, because your preferred class could easily sell out due to the train's popularity.

When in Silverton, we like to grab lunch and wander around the historic downtown. We enjoy lunch at Coal Bank Cafe or Silverton Square. And you'll love wandering around because the entire community of Silverton is on the National Register of Historic Places.

This is a long day, so we'll let you get tucked in early to prepare for an exciting Day 3!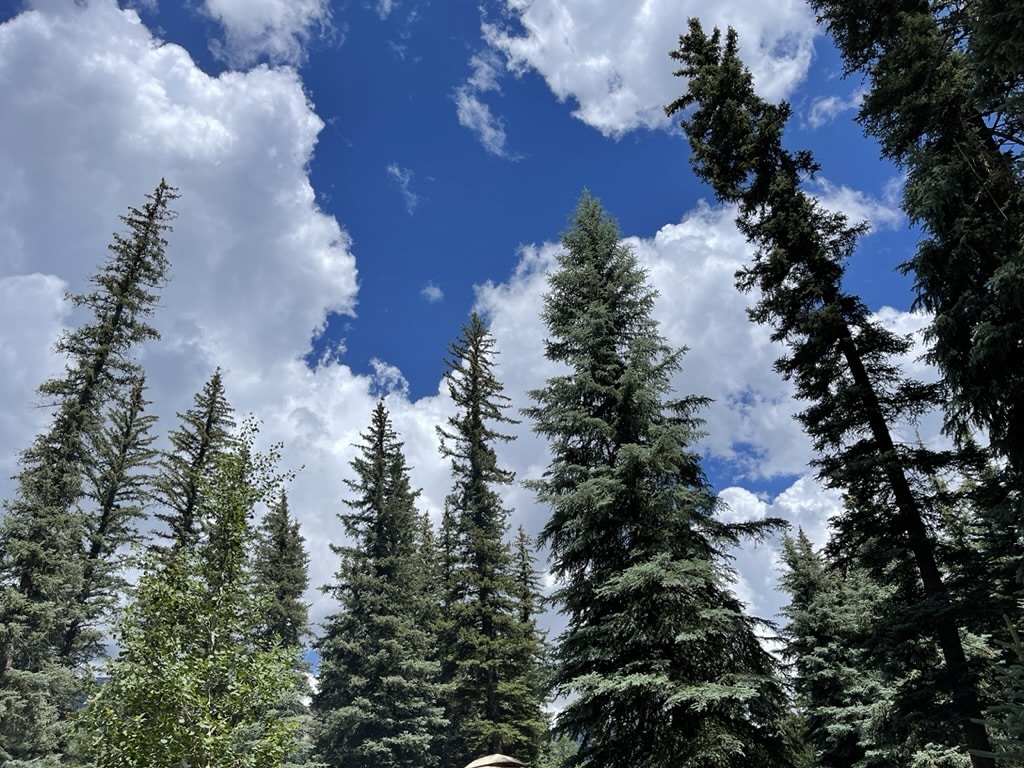 Day 3 – Whitewater Rafting on the Animas River
The Animas River runs right through downtown Durango, and seeing the town from the water is a fun and unique perspective.
During early summer, the water levels will be high (due to snow melt) and perfect for an exciting whitewater rafting adventure.

Call Mild to Wild Rafting to book your spot on a raft in advance. They offer whitewater rafting tours on the lower Animas River from April through October.
But during late summer and fall it may be more like a float due to low water. Their "3/4 Day" trips start at $114 per person.

You'll be up early for an 8:30am departure with Mild to Wild, so swing by Durango Joes Coffee on your way for a little pick-me-up. Expect to be off the river by 3pm, and you will most likely need the rest of the day to recover from that adventure.
Day 4 – Durango Hot Springs & Diamond Belle Saloon
You've been adventuring hard the past few days. Day 4 is the perfect time for some rejuvenation at Durango Hot Springs.
Enjoy 16 natural hot springs soaking pools, 8 private cedar soaking tubs, a mineral water rain town, a resort-style swimming pool, and a cold plunge pool.

These natural mineral hot springs are open daily from 9am-10pm and reservations are required. The cost is $39 per adult and $15 per child. You can stay for up to 2.5 hours on a day pass and will have an assigned entry time.

After a relaxing soak, celebrate your last night in Durango with a trip to the historic landmark Strater Hotel.
Stop into the Diamond Belle Saloon inside the hotel for dinner, drinks, and a show. What is the saloon today was once home to the Strater-Thorpe Drugstore. The saloon was restored to its greatness in 1957.

Believe me, walking into the Diamond Belle is like stepping back in time. The Belle is revered as one of the most famous original ragtime piano bars in the West.
Today you'll still find local ragtime piano entertainers, and costumed dance hall girls add to the ambiance. Stop in for live entertainment between 5:30-11pm Monday-Saturday or 7-11pm on Sundays.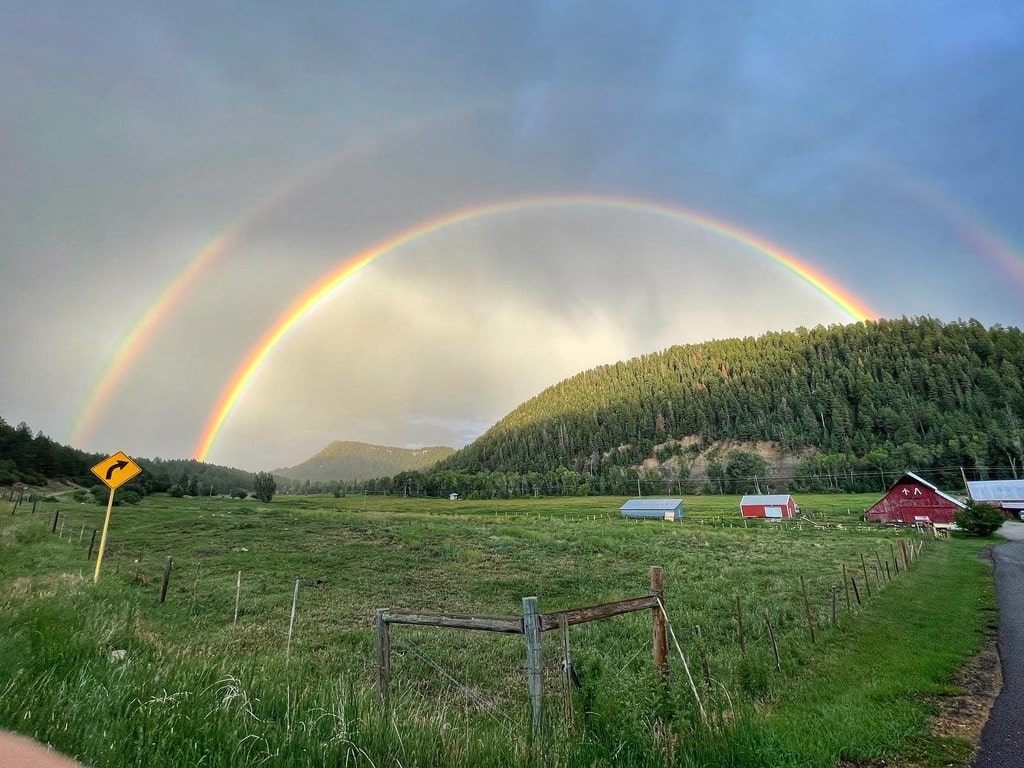 Day 5 – Brunch Before Departure
You probably have a long travel day ahead of you, so this last day of your perfect Durango itinerary is all about fueling up for the day with some excellent grub.
No matter which day of the week you're leaving town, a fabulous brunch is available. We'd like to serve you up with two options.

The Durango Diner is a landmark eatery in the heart of downtown. It's been in operation since 1965 and became famous for its green chili.
Choose the diner if you want traditional greasy spoon options. The most popular dish is "The Cure," a hash brown pressed onto the grill, topped with a layer of cheese, bacon, and eggs, smothered in green chili. Yum!

If you'd prefer something a little less greasy or heavy, try the Jean Pierre Bakery. This French restaurant and patisserie has been serving Durango since 1969.
Luckily, this place is also a wine bar, so you can have champagne with your brunch if you're into that. Dine-in for a full brunch or stop by for some fresh pastries to go.
Either way, you must have a croissant. Opens at 7am daily, closed Mondays.
Are You Ready to Visit Durango?
We hope you're inspired to plan your trip to Durango. For every outdoor adventure, there is world-class hot spring rejuvenation. And there are equal amounts of rough mining history as upscale dining options.
It really does seem like Durango has it all, which is why we keep coming back for more.
Safe travels and enjoy your trip!
Need More Ideas for a Visit to Colorado?
Check out these ideas from hikes to treetop adventures: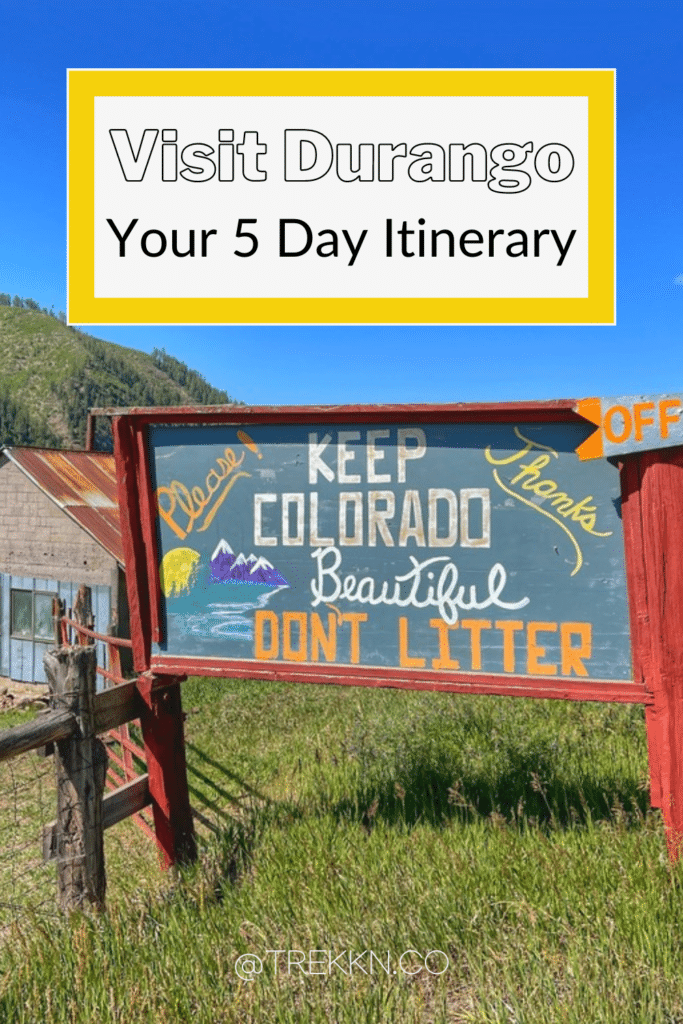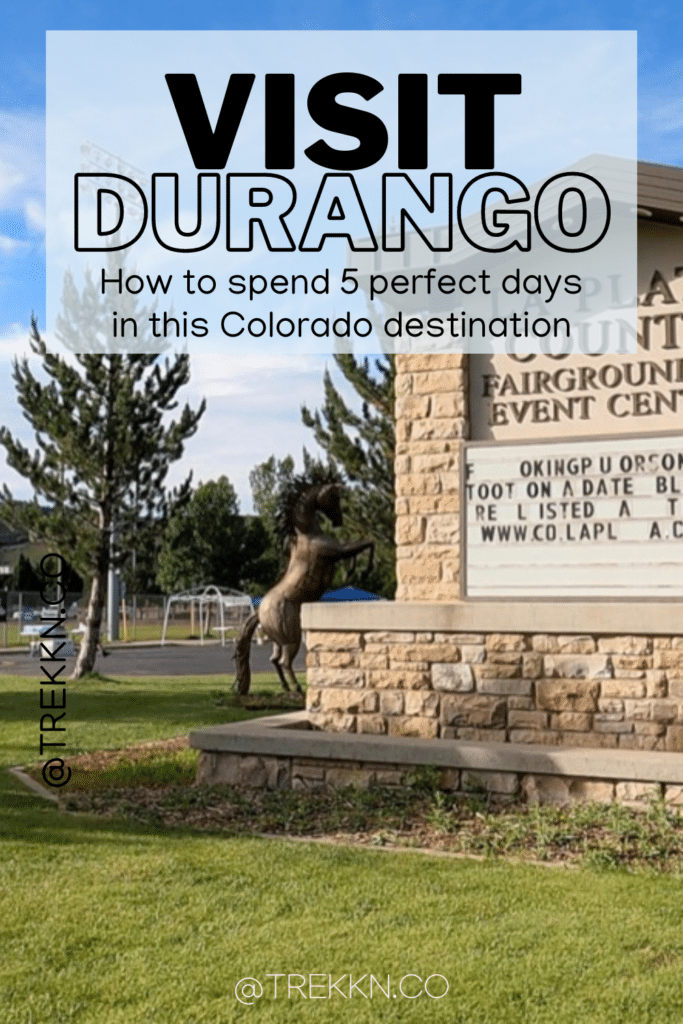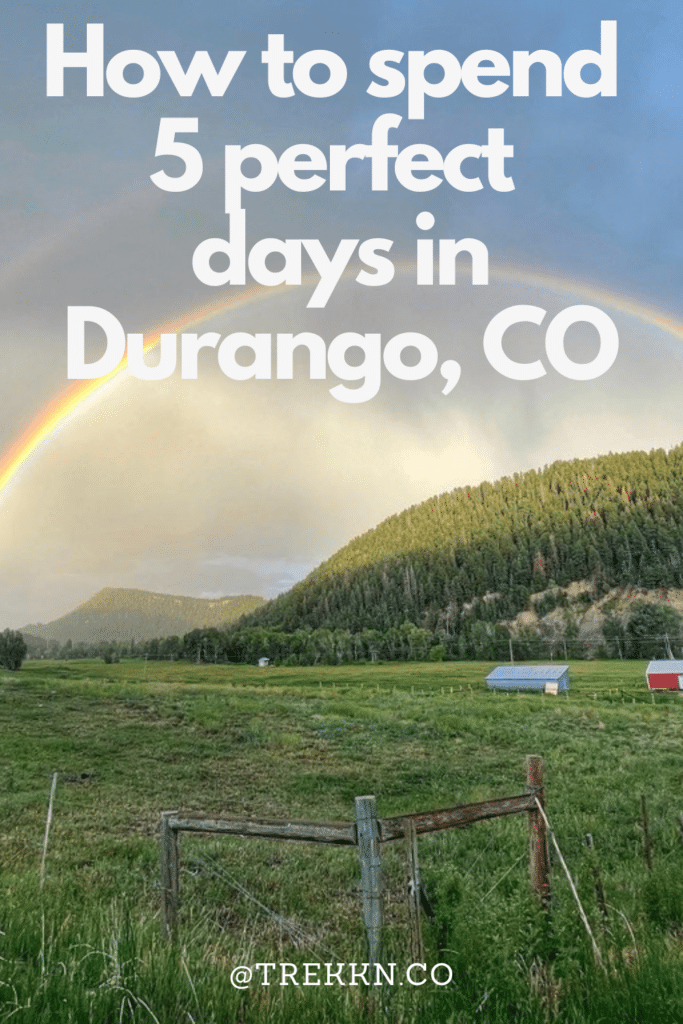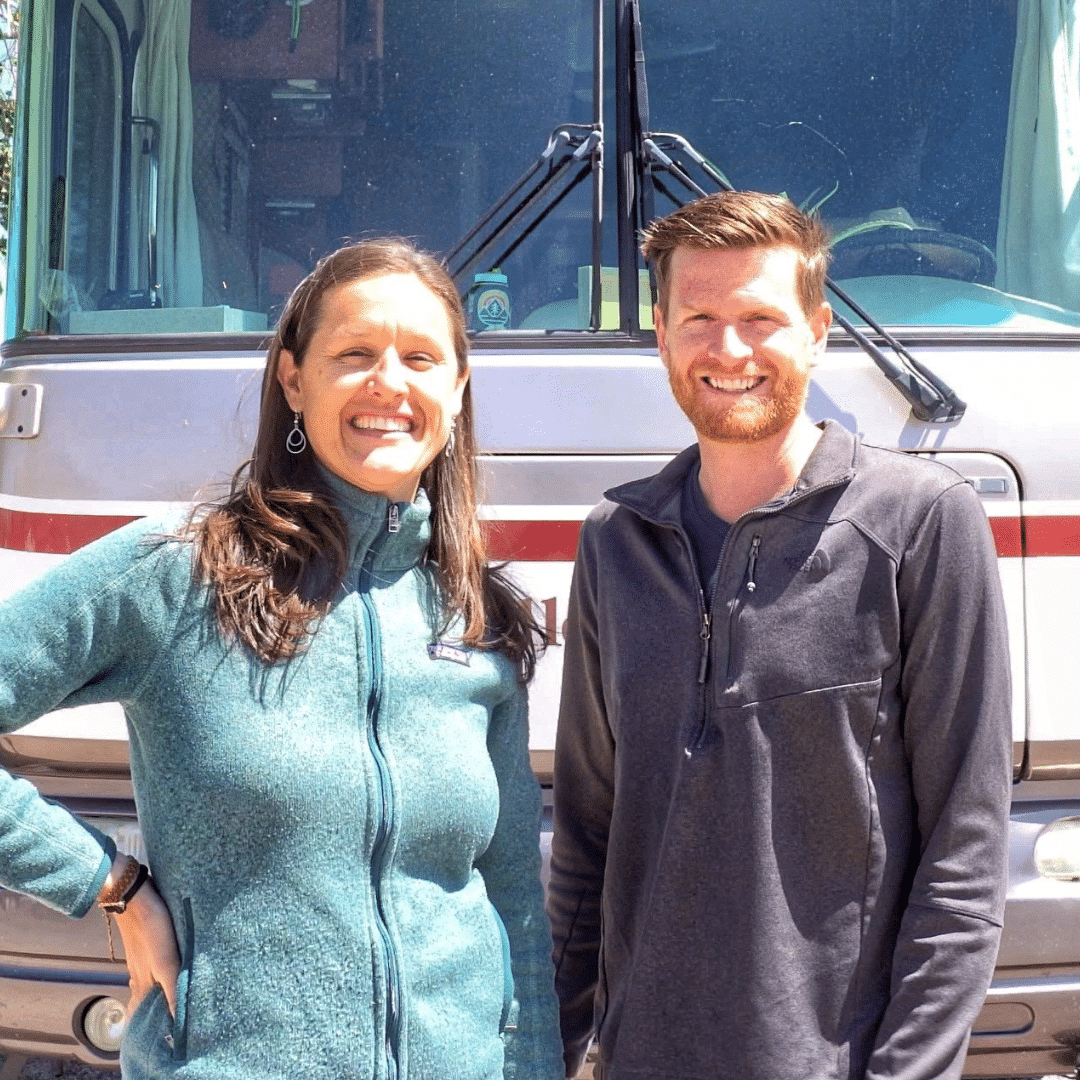 Kristen Bates lives & works from her RV, primarily boondocking off-grid. She owns and operates a women-led travel company, Legit Trips. Kristen loves to explore new places and inspire others to do the same. If she's not typing away on her laptop, she's off on an adventure- hiking, biking, or SUP boarding. You can follow her RV adventures @PerpetualMoves and learn more about her travel company at LegitTrips.com.