Scenic Seward Highway: Your Guide to an Unforgettable Drive

When it comes to roads in the United States, few compare to the highway that links Anchorage and Seward: the lovely Seward Highway.
The landscape is never boring. It starts out winding its way along the Turnagain Arm, a slim offshoot of the Cook Inlet. After making the 180 degree turn around the Arm, you find yourself surrounded on all sides by the great Chugach National Forest and Kenai Mountains.
From this point on, you are on the Kenai Peninsula, and the ancient glacier-carved valleys make this hard to mistake with any place on Earth. The highway culminates in a breathtaking reveal of Seward, with its iconic, towering mountains and the crystal clear waters of Resurrection Bay.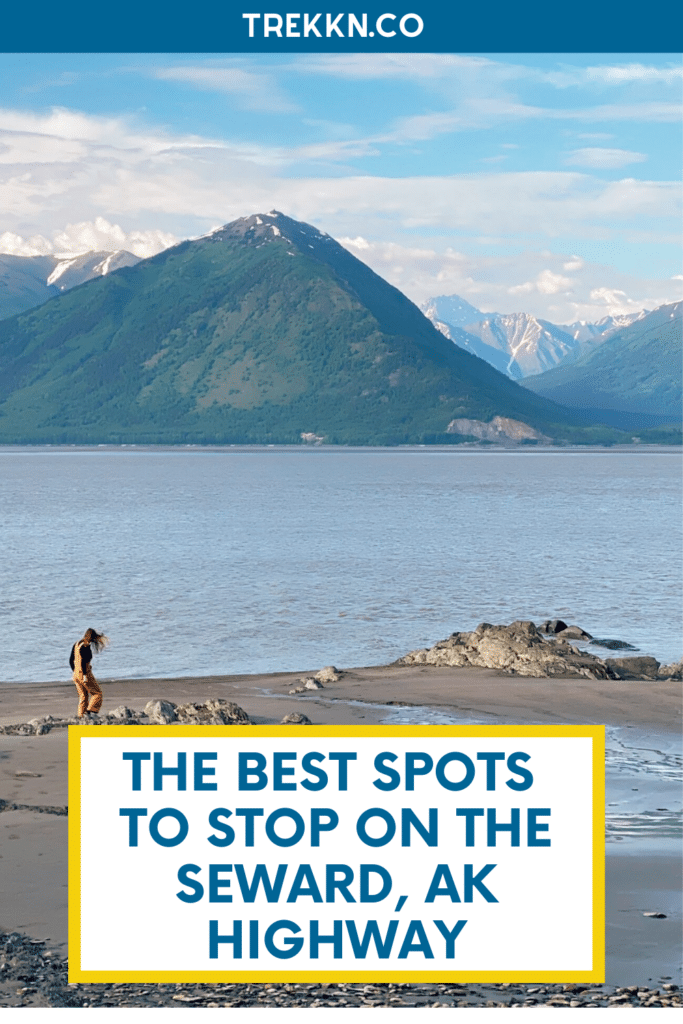 Besides the endless visual treats spotted simply through your windshield, there are stops along the way that offer many more chances to get intimate with the landscape. Hiking, mountain biking, paddleboarding, quaint communities with eclectic shops; the possibilities don't stop there.
Most of my time spent on this road has been utilitarian; I'm in Seward and need to get to Anchorage, preferably as fast as possible. But in this article, I'm ditching that attitude. Join me as I take the time to explore the exciting detours a visitor could take, and explain why it's worth it to take your time when driving this Scenic Byway.
From my many trips up and down this road, here is everything you need to know about the Seward Highway.
Everything You Need To Know About the Seward Highway
Overview of the Seward Highway
Starts: Anchorage, AK
Ends: Seward, AK
Length: Approx. 127 miles
Time Cost: Close to 3 hours (in the summer)
Open: Year-round
Road Condition: Mostly paved (besides construction zones in the summer)
Highest Point: Turnagain Pass (1015 ft. elevation)
Communities Along the Way: Anchorage, Girdwood, Whittier, Hope, Moose Pass, and Seward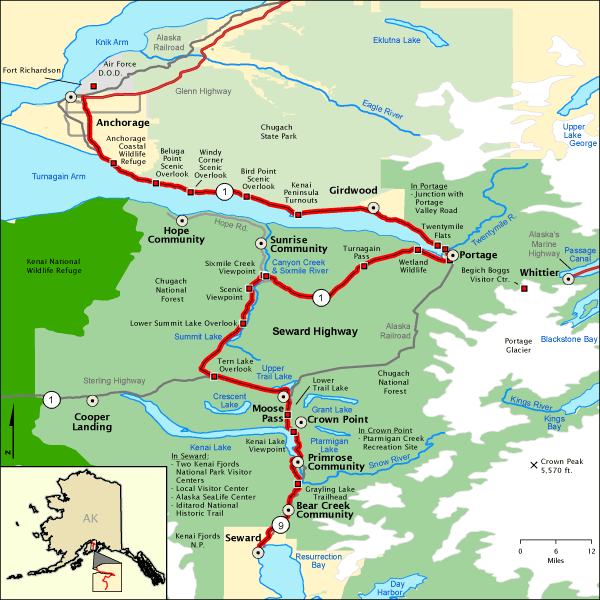 Map courtesy of www.fhwa.dot.gov
How to Prepare for the Road
Obviously contingent on the time of year you are traveling the Seward Highway, preparation beforehand can guarantee a painless experience. Nobody wants to break down on the side of this road, whether that's due to factors outside of our control, or something as hair-pulling as not filling up with gas.
Having a game plan is a great way to prevent anything from souring your trip.
Here's a quick checklist that I follow before heading out on the road:
Gas tank full (or close to full)
No issues with the car (windshield wipers work, tires are at good pressure)
Music or podcasts downloaded
Bountiful snacks
Bountiful beverages
Clothing layers easily accessible (rain jacket, sweater, beanie, etc.)
Empty bladder
Empty…bowels…
Camera charged and ready to go
This all may seem obvious, but believe me, it's always a pain to realize you've forgotten one (or all) of these things. If this list is mentally checked off, I can relax.
It's different in the winter, though. Between the months of November and March, it's generally a good idea to have studded tires at the very least. If you are planning to drive in the winter, always check the road conditions first.
My girlfriend and I share a Subaru Impreza for all of our driving needs, and that car is low. Our first winter up here in Seward we didn't leave town for six months due to our uncertainty of driving the highway.
It's never exactly a comfortable experience driving the road in the winter, which is why you have to take it seriously. The link above has all of the info you need to prepare yourself and your vehicle for a winter trek.
Sights and Attractions
The Seward Highway is chock-full of eye-catching photo opportunities and tempting detours. While driving this Scenic Byway, the sheer amount of points of interest is overwhelming. Unless you intend to spend all day on the road, you obviously can't stop at every single pull-out and lookout point.
In my humble opinion, here are the sights and attractions that you simply can't miss. Even choosing a few from this list will provide you and your group with a great time (and great photos).
1. Turnagain Arm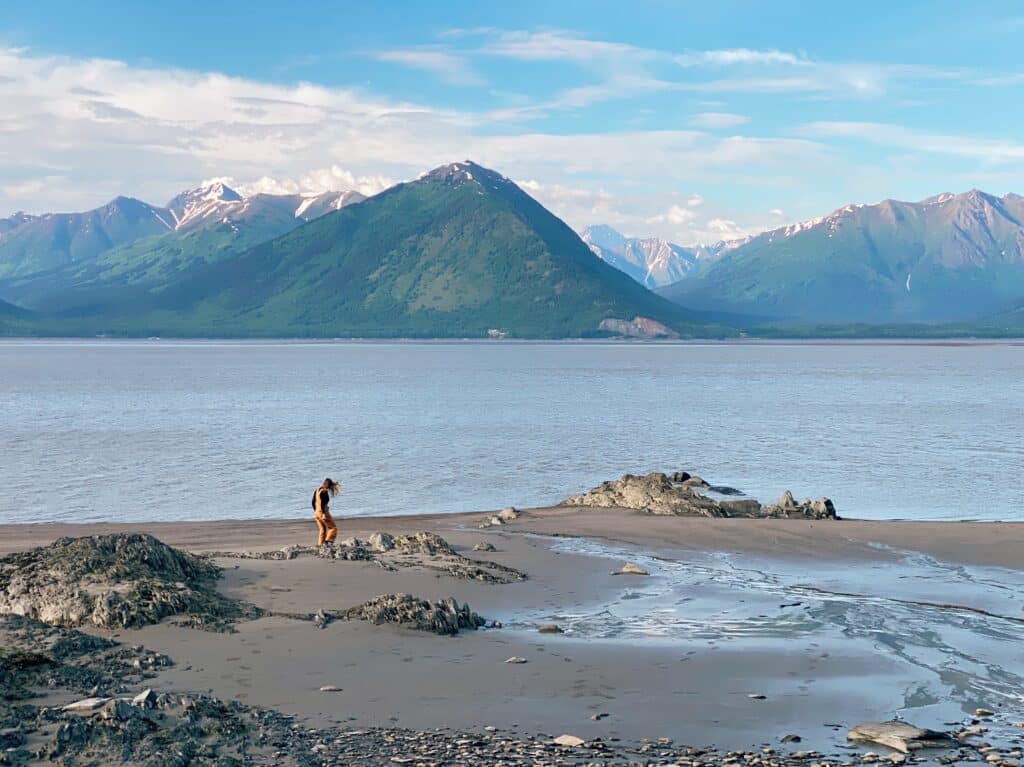 A view of Turnagain Arm from the south side.
Immediately after you take off from Anchorage, you will travel on a beautiful stretch of seaside road that hugs Turnagain Arm all the way to its end.
Turnagain Arm is a branch at the northern end of Cook Inlet, and the 40-mile section of highway boasts incredible views of the coastline. Mountains meet the sea in a dramatic fashion, creating a landscape, unlike anything you could find in the lower 48. Perhaps that's my bias talking, but I truly believe it.
Besides the views available with a quick glance out of the window, there are many different stops and pull-outs available along the Turnagain Arm.
POTTER MARSH
Located at the very beginning of the Seward Highway is Potter Marsh. The 564-acre freshwater marsh is home to many different wildlife species, including moose, beavers, and a plethora of migratory and nesting birds (over 130 species!).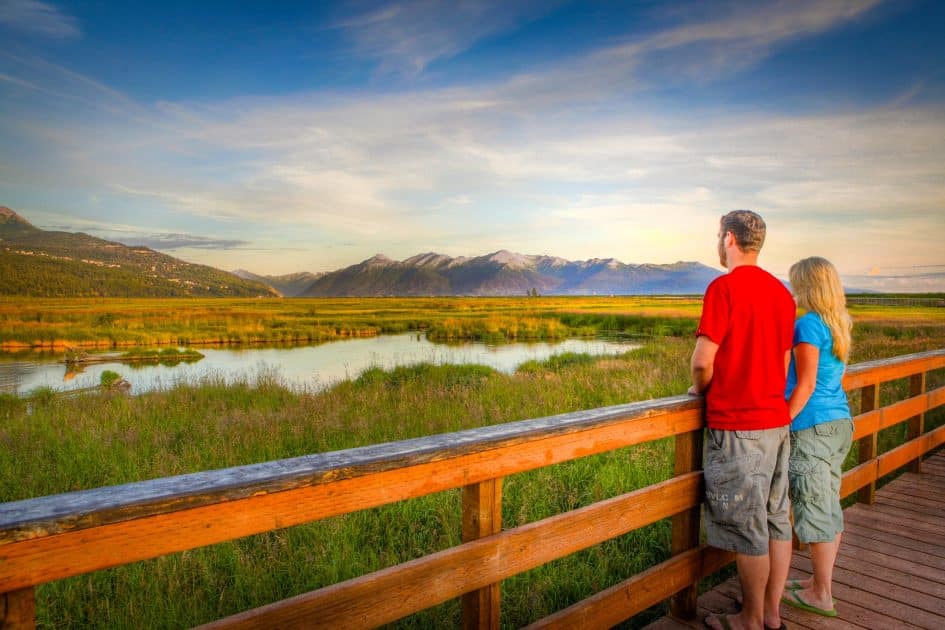 Photo courtesy of alaska.org
If you have the time, take a stroll on the wooden boardwalk that runs along the edge of the marsh. Early in the morning or late in the evening is a great time to spot wildlife, particularly moose. For an even better viewing experience, make sure to pack some binoculars.
TURNAGAIN ARM TRAIL
If you're in the mood for a bit of a hike, the Turnagain Arm Trail is a great option. The trail is relatively easy with only ~750 feet of elevation gain and amounts to a manageable 4.1 miles round-trip.
There are many opportunities to spot wildlife on this trail. Black bears are a fairly frequent sight, so carrying bear spray wouldn't be a bad choice! The Turnagain Arm Trail is an excellent way to get more personal with the land and celebrate its beauty.
BELUGA POINT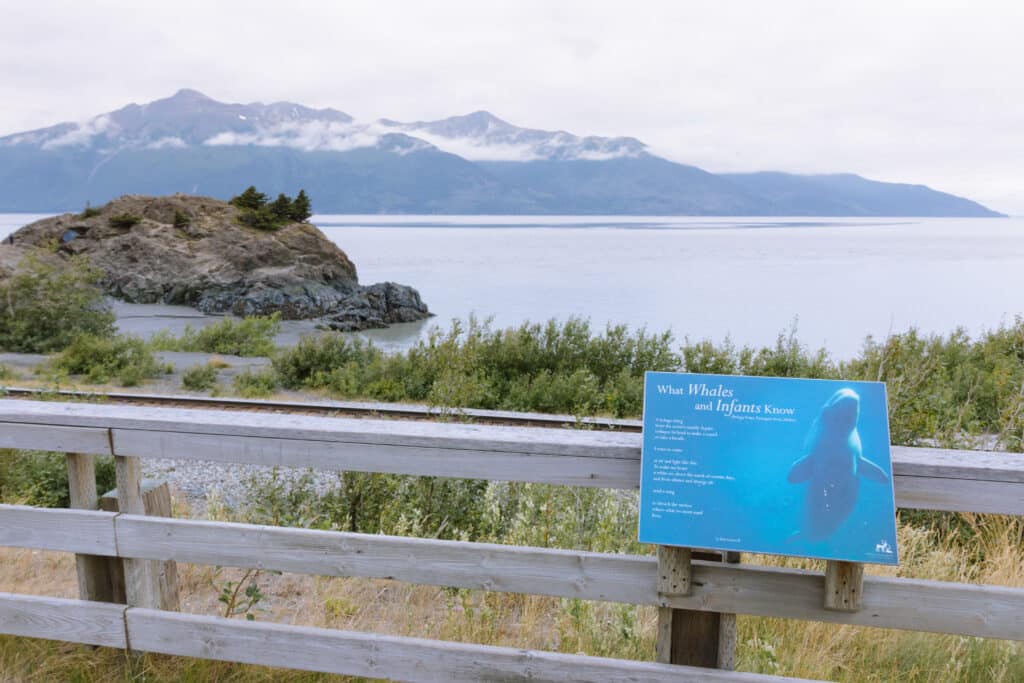 Perhaps one of the busiest spots on this stretch of the highway, Beluga Point is a popular parking area for those who want to overlook Turnagain Arm.
The area gets its name from the fact that it's possible to spot beluga whales in the summer between mid-July and August. This is a rather unique opportunity to watch the white whales as they make their way up and down Cook Inlet.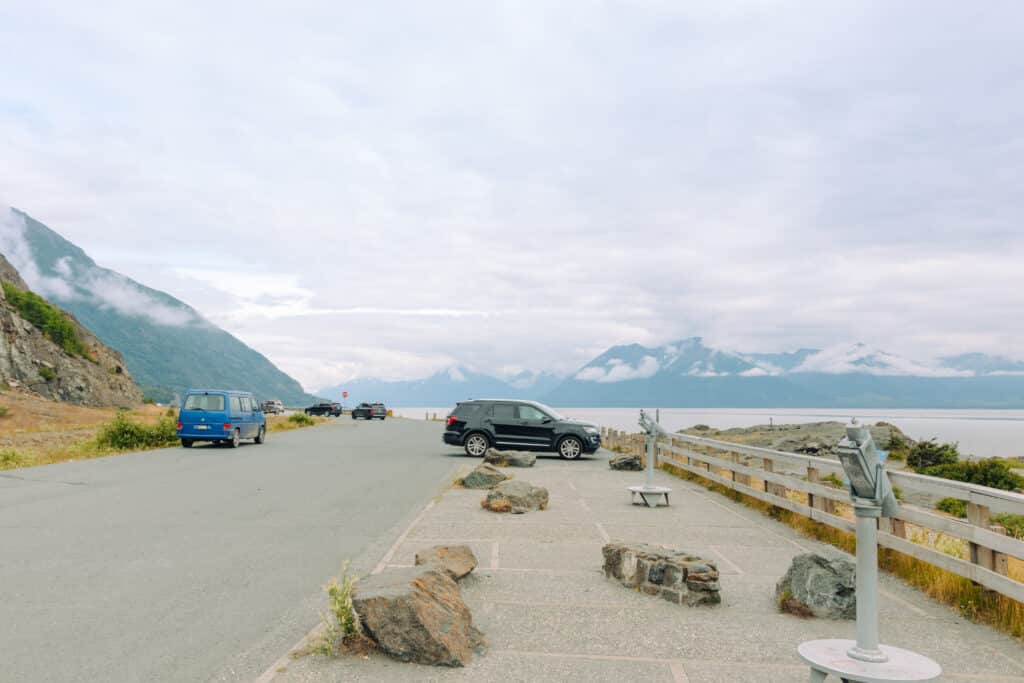 Besides beluga spotting, keep your eyes open for other whale species, as well as humans! Kayakers, surfers, and paddleboarders take advantage of the rather large bore tides that occur in the right conditions.
GIRDWOOD and ALYESKA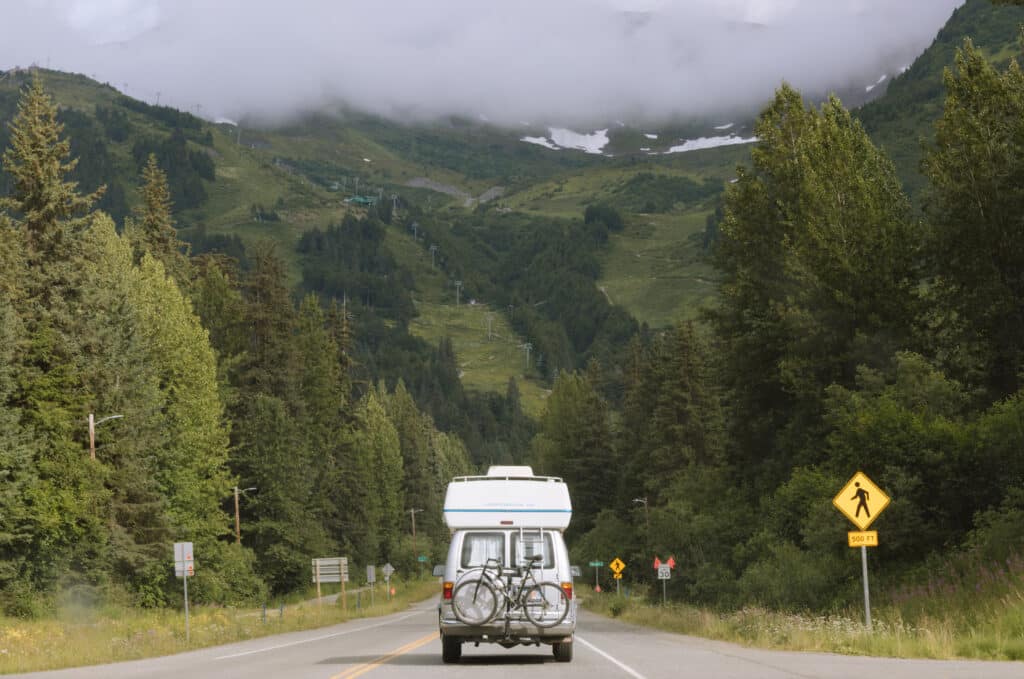 Girdwood is a small town full of things to do. Situated between the towering Chugach mountain range, the community of Girdwood takes outdoor recreation seriously. Whether you're looking for a full-day adventure, a half-day excursion, or an hour-long walk, Girdwood can provide for you.
Girdwood could be considered a resort town, and this is due to Alyeska Resort sitting nearby.
In the summer, the vast network of hiking trails will keep you occupied for as long as you'd like. Take a short walk over to Virgin Creek Falls for a fantastic waterfall viewing, or even prepare yourself for the 22-mile Crow Pass trail. If walking is not your thing, mountain biking is a very popular way to explore the area.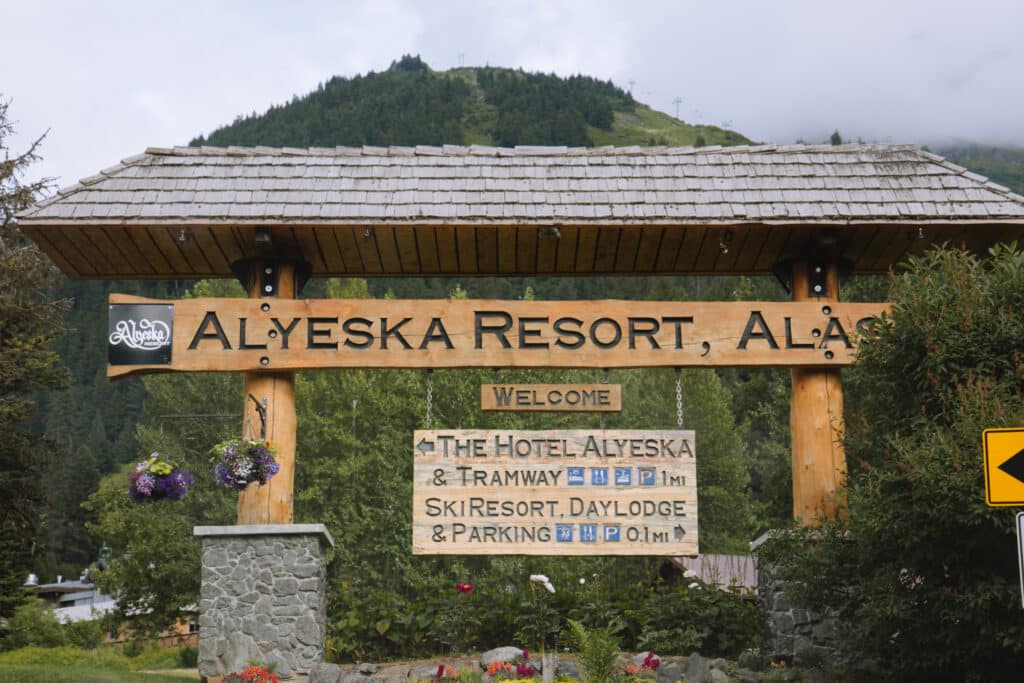 In the winter, Alyeska Resort becomes a top-notch ski area. Taking the lift up the incredible Chugach peaks, with a view of Turnagain Arm below, your mind will surely be blown. Besides downhill skiing, many Nordic skiing trails exist within the resort as well.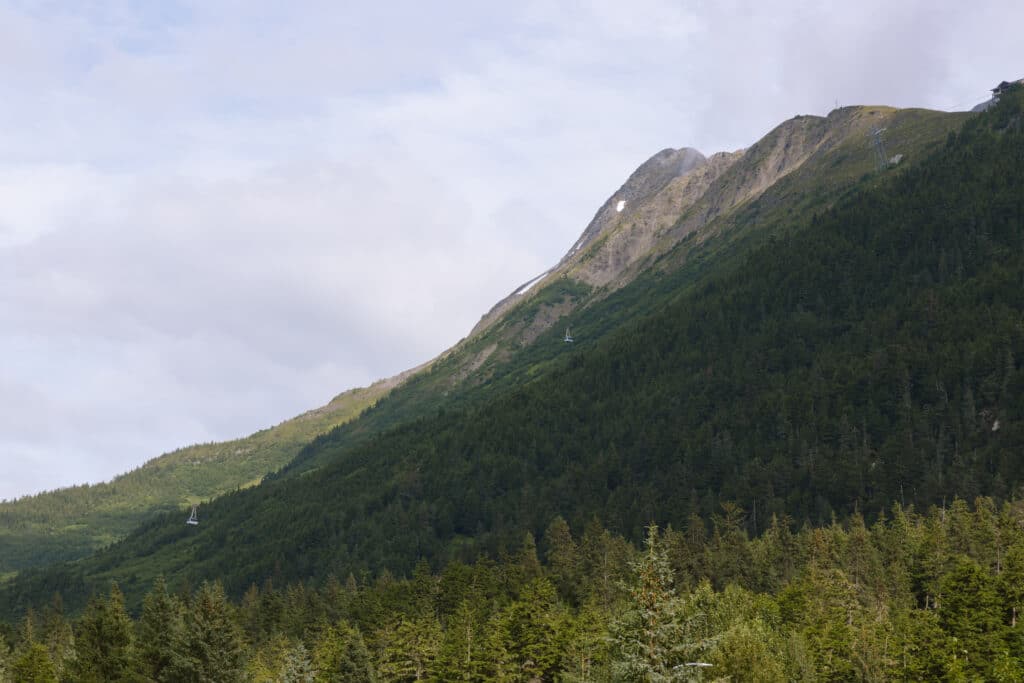 No matter your skill level or amount of time available, Girdwood and Alyeska provide adventures aplenty.
Located at the tip of the Turnagain Arm is the Alaska Wildlife Conservation Center.
On their website, they describe themselves as "a sanctuary dedicated to preserving Alaska's wildlife through conservation, education, research, and quality animal care".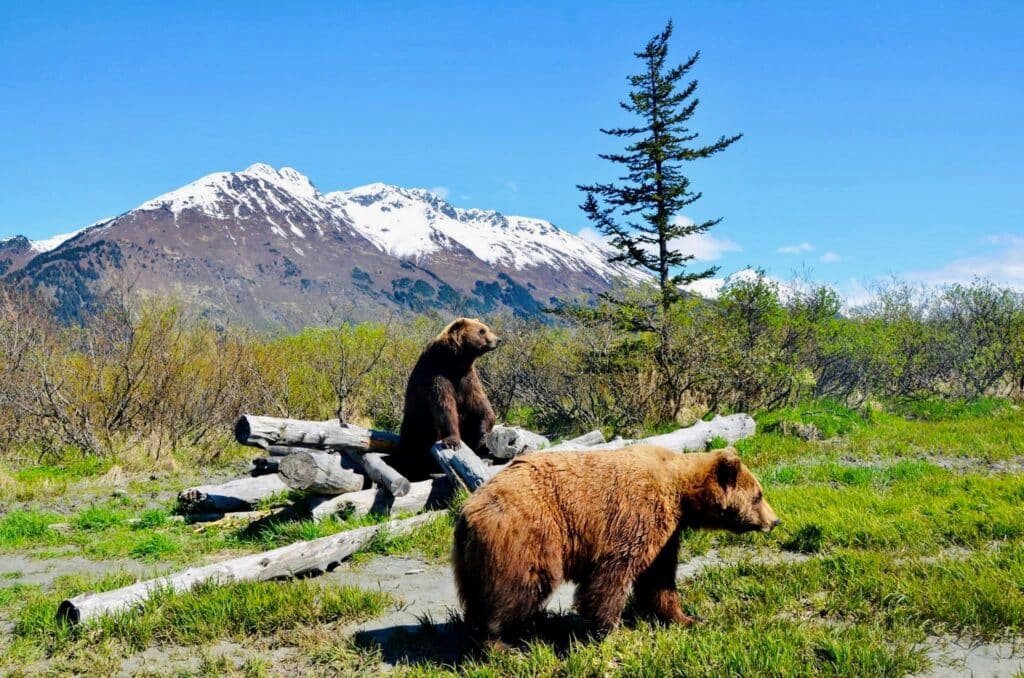 Photo courtesy of anchorage.net
For a very reasonably priced donation to the Conservation Center, you can get up close and personal with Alaska's wildlife (safely, of course).
On their 200-acre plot of land, they are facilitating the rehabilitation of brown bears, black bears, moose, elk, wolves, foxes, and more. They are open every day of the week from 10 am to 6 pm.
Paying the AWCC a quick visit on your way down the Seward Highway is an excellent decision if you've ever wanted to experience wild animals in a way that is safe for both parties.
2. Portage Valley
Portage Valley can be reached via Portage Glacier Rd, an offshoot of the Seward Highway located very soon after the Alaska Railroad staging area.
Once you reach the Valley, the possibilities are vast: hiking, biking, paddleboarding, glacier viewing, and more.
TRAIL OF BLUE ICE
Perhaps one of the highlights of Portage Valley for many visitors is the Trail of Blue Ice. This tame 10-mile round-trip path leads you through the valley, past calm ponds, stoic woods, turquoise lakes, and spectacular views of glaciers hanging from the mountains above.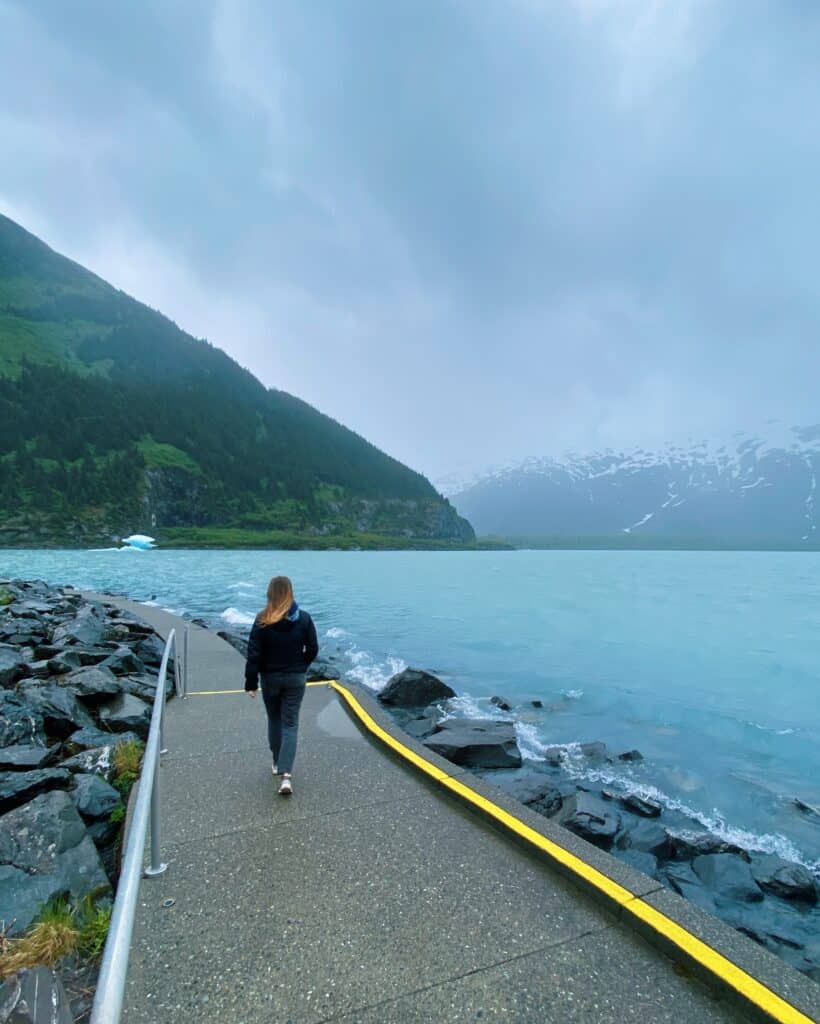 Walking along the shores of Portage Lake.
The trail is popular for both hikers and bikers and serves as an excellent alternative to simply driving through the Valley.
At the end of the path, you will find yourself standing at the edge of the beautiful blue waters of Portage Lake. Once the domain of Portage Glacier, the lake serves as a reminder of how much this land has changed over the years.
If seeing the glacier is on your list of to-dos, a boat trip across the lake is necessary.
If time is on your side, you won't regret a tour along the famed Trail of Blue Ice.
WILLIWAW CAMPGROUND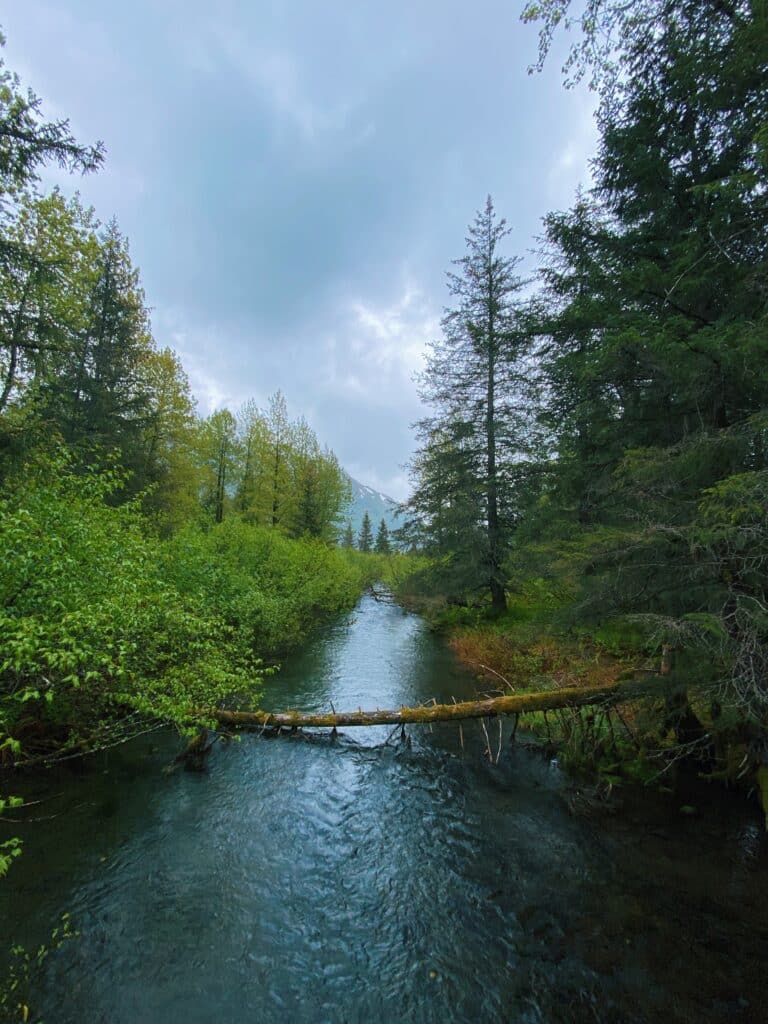 As a side-note of sorts, Williwaw Campground serves as an excellent halfway point along the Seward Highway.
If you'd like to break up your travel into two days. spending a night at this campground is a great way to continue soaking up natural Alaska.
I've stayed here a few times myself and have never been disappointed. It hosts a handful of walking trails to keep you occupied, as well as a water station, restrooms, and picnic tables.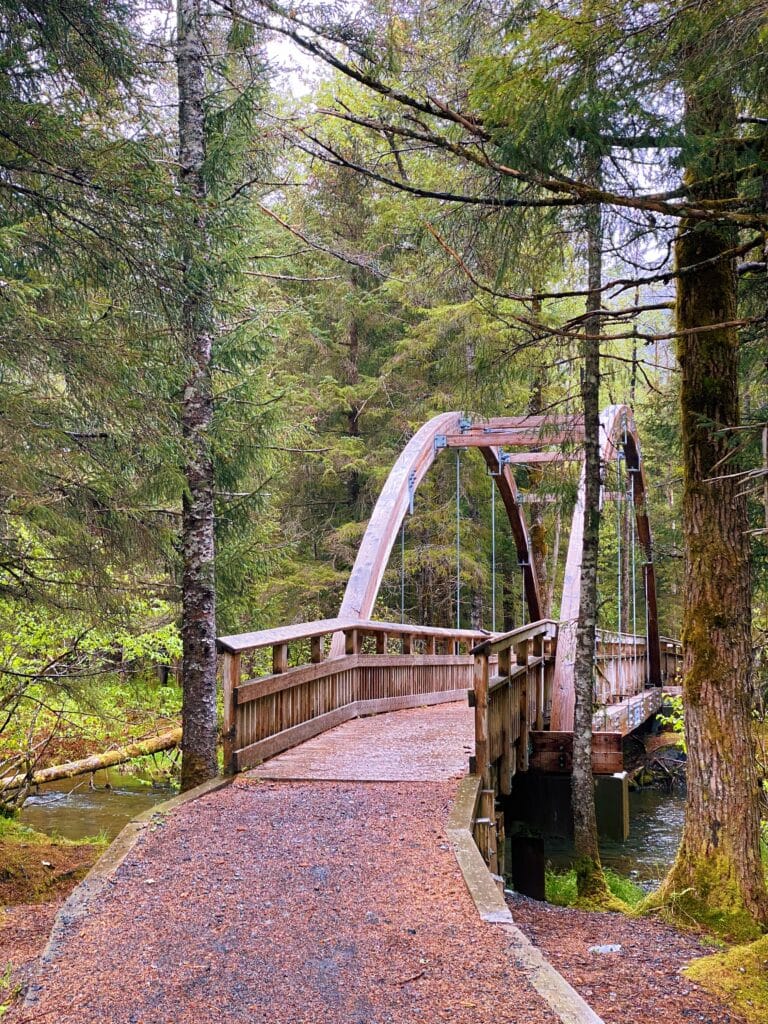 BYRON GLACIER
Besides Portage Glacier, which is only accessible by boat, there happens to be another glacier in the area accessible by foot. The trail is nothing special, coming in at a mile one-way, and mostly flat.
However, the sights you are rewarded with for this short excursion are mind-blowing.
With caution, you can walk right up to the glacier, soaking in its timeless charm. To demonstrate that caution is necessary, I have a rather ridiculous anecdote about this glacier:
Back in the summer of 2019, a few friends and I made the trip up to Byron Glacier. It was an overcast day, with rain drizzling off and on all afternoon.
The trail starts out as a gravel path but quickly transforms into small boulder scrambling. There's no true route at this point; your only guide is your destination.
After walking to the glacier, knowing full well the danger of rain combined with already slick boulders, I started heading back towards the parking lot.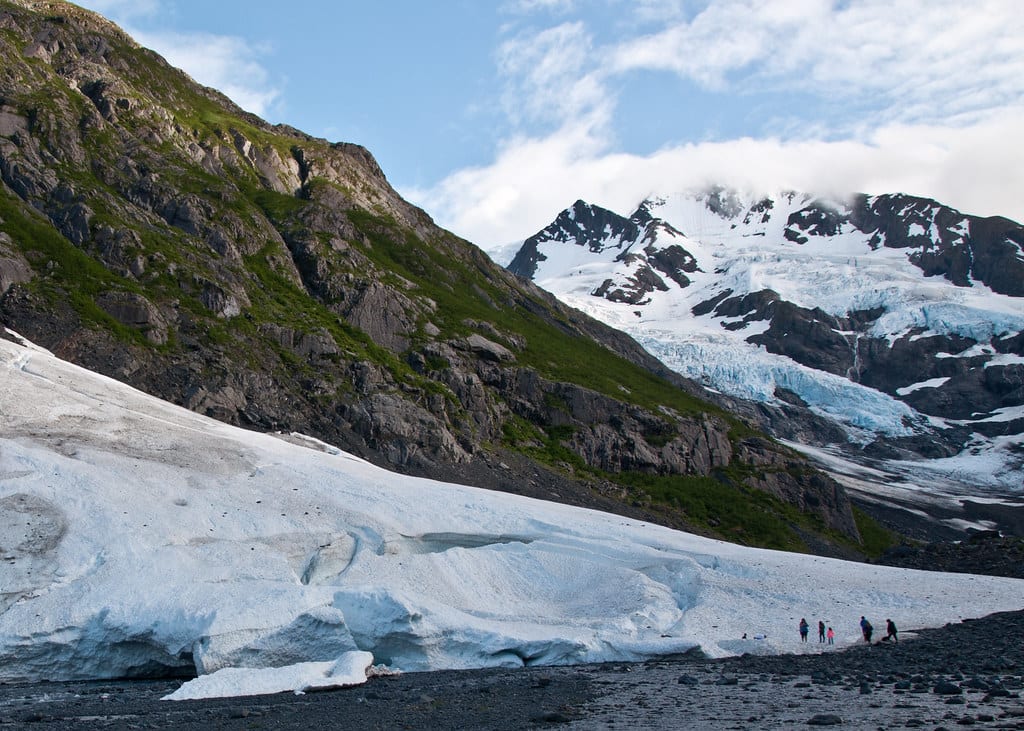 Photo courtesy of usatales.com
In the excitement of having just stood directly in front of a glacier, my mind relaxed its focus on the task at hand: don't slip. I took one wrong step, slipped backward, and fell directly onto my wrist.
The pain was immediate. This was different than a "get up and shake it off" kind of fall. I had fractured my right wrist, and it wasn't even halfway through the summer…
In short, be careful. Don't ruin your trip by breaking your wrist. Trust me, it's not fun.
WHITTIER
The town of Whittier has a rather unique reputation as one of the strangest towns in America. Don't take this to mean something negative though! Whittier is as charming as any other Alaskan mountain town, but also has quirks and features that can only be found there.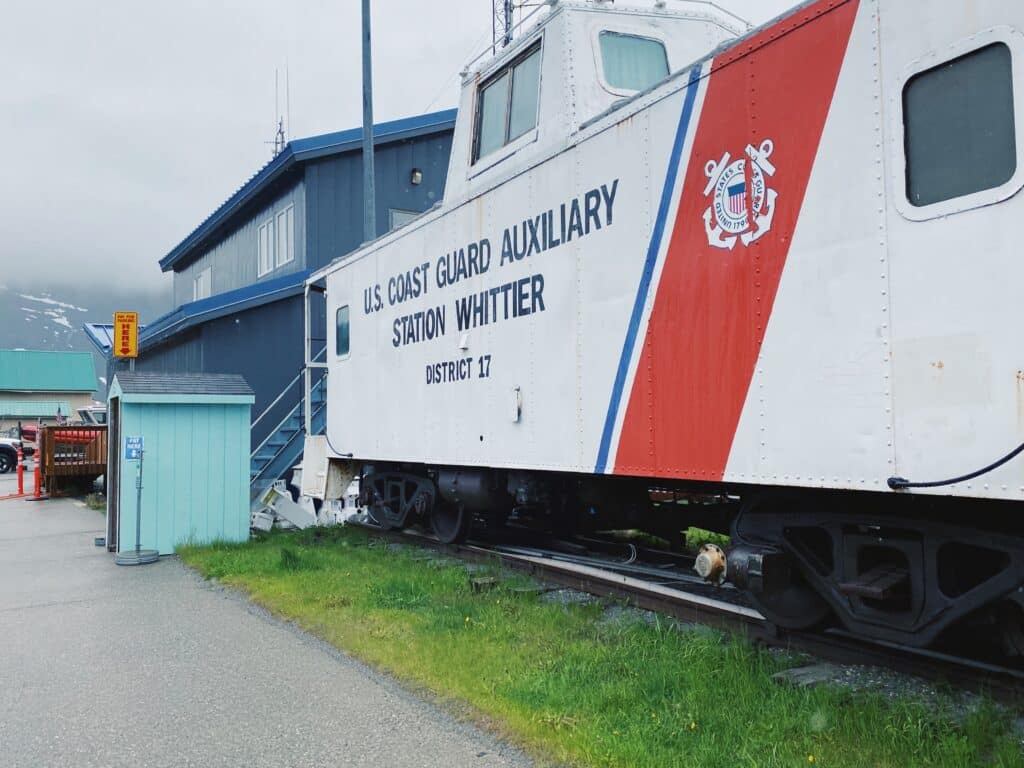 In order to drive to Whittier, it's necessary to drive through the Whittier Tunnel (Anton Anderson Memorial Tunnel). This tunnel is the longest highway tunnel in all of North America, spanning 2.5 miles!
It will cost you a fee in order to use this tunnel, starting at $13 one-way for a private 2-axle vehicle.
You can't traverse this tunnel anytime you want to, however. They only allow vehicles to pass through at very specific scheduled times, so make sure to check online resources for more information.
Driving through the Whittier Tunnel is an experience you won't be forgetting anytime soon!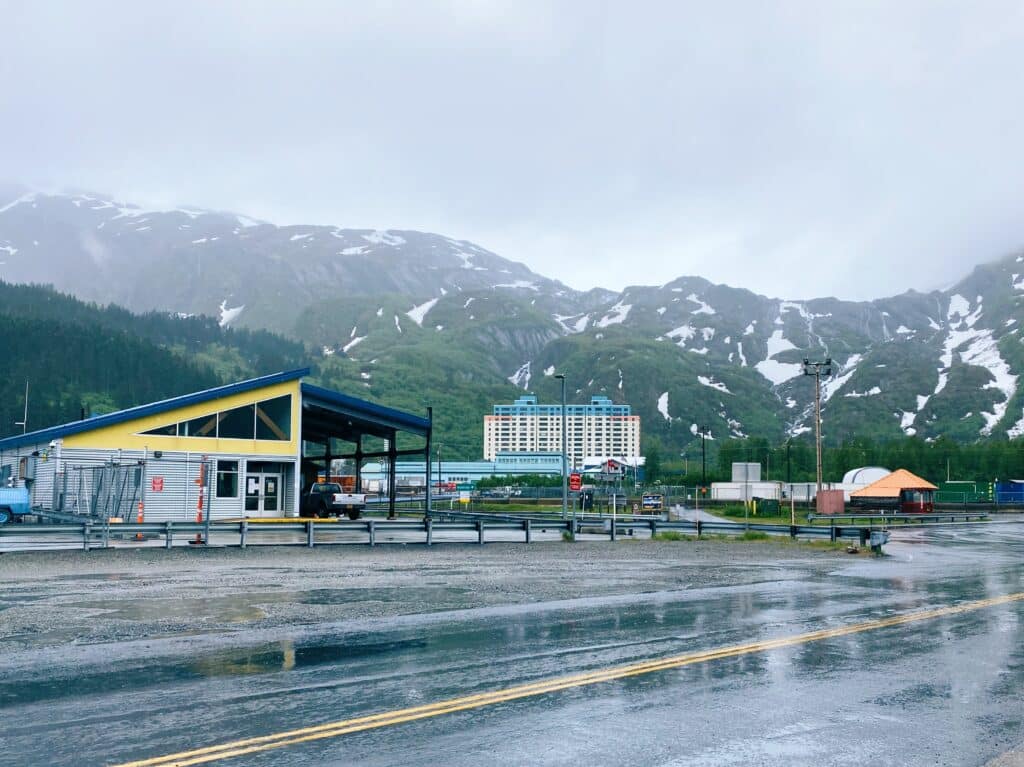 After reaching the town of Whittier, the welcoming embrace of Prince William Sound is all around you. Mountains, sea, and forest meet in the quiet harbor town. Walk the docks and find unique cafes and shops with charming souvenirs.
Possibly the most-told fact about Whittier has to do with their living situation.
Due to the limited land, most of the locals occupy one single building: a massive apartment-like complex that houses over 200 people. The building holds a grocery store, a post office, a police station, a school, and even a church.
Imagine that! Everything, and everyone, in one single building.
3. Johnson Pass & Hope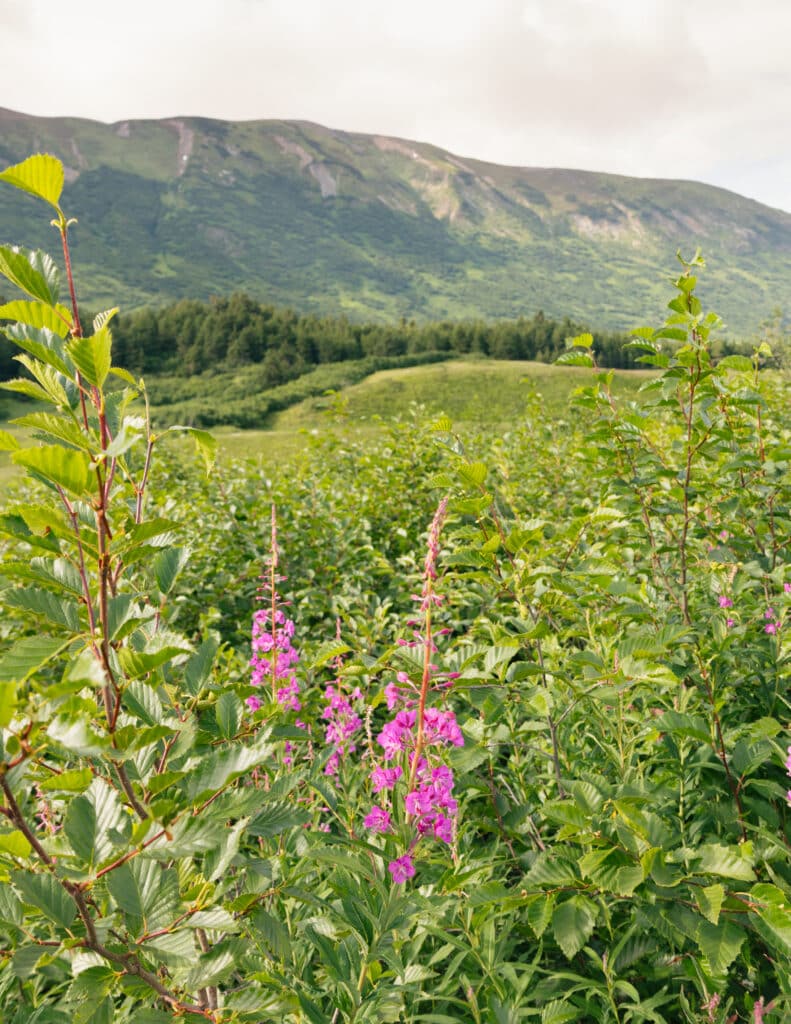 Continuing on the highway from the Portage Rd turnoff, you will drive through two mountain passes: Turnagain Pass and Johnson Pass. These passes are a great place to stretch your legs and soak up some mountain air.
TURNAGAIN PASS REST AREA
Even though they are pit toilets, it's nice to have a place you can pull over for a quick pit stop.
There are even some short walking trails you can explore if the thought of immediately hopping back in the car doesn't sound too nice.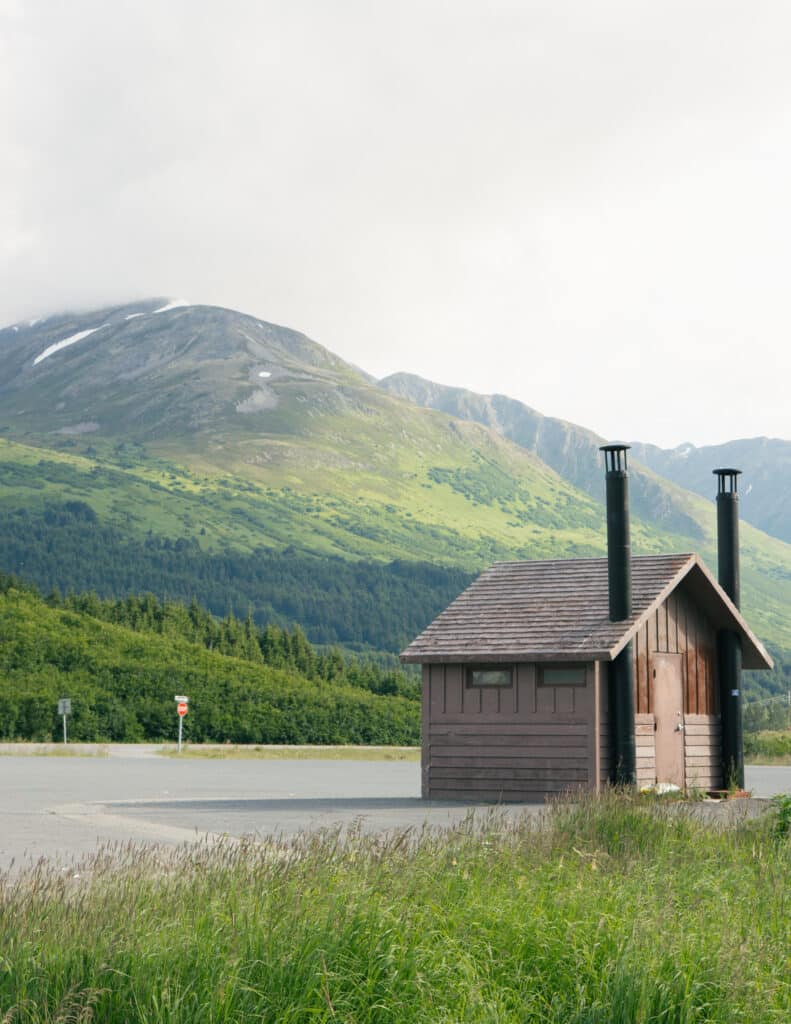 JOHNSON PASS TRAIL
From the Johnson Pass Trailhead, there are two great hiking options. The first takes you to a bridge via the Johnson Pass Trail and is 5 miles roundtrip. This is a trail good for most skill levels.
The other option is to take the Johnson Pass Trail all the way up to Bench Lake. This trip clocks in at 18.5 miles round trip and climbs over 2,500 ft.
If you're looking for an all-day trip, or perhaps an overnight backpacking trip, this trail will not disappoint. It's also right in between both Seward and Anchorage; about an hour and fifteen minutes to either city.
HOPE
Only 10 minutes up the road from the Johnson Pass trailhead, you will find Hope Junction. Turning here will take you down a scenic road that leads to a village most people ignore entirely: Hope.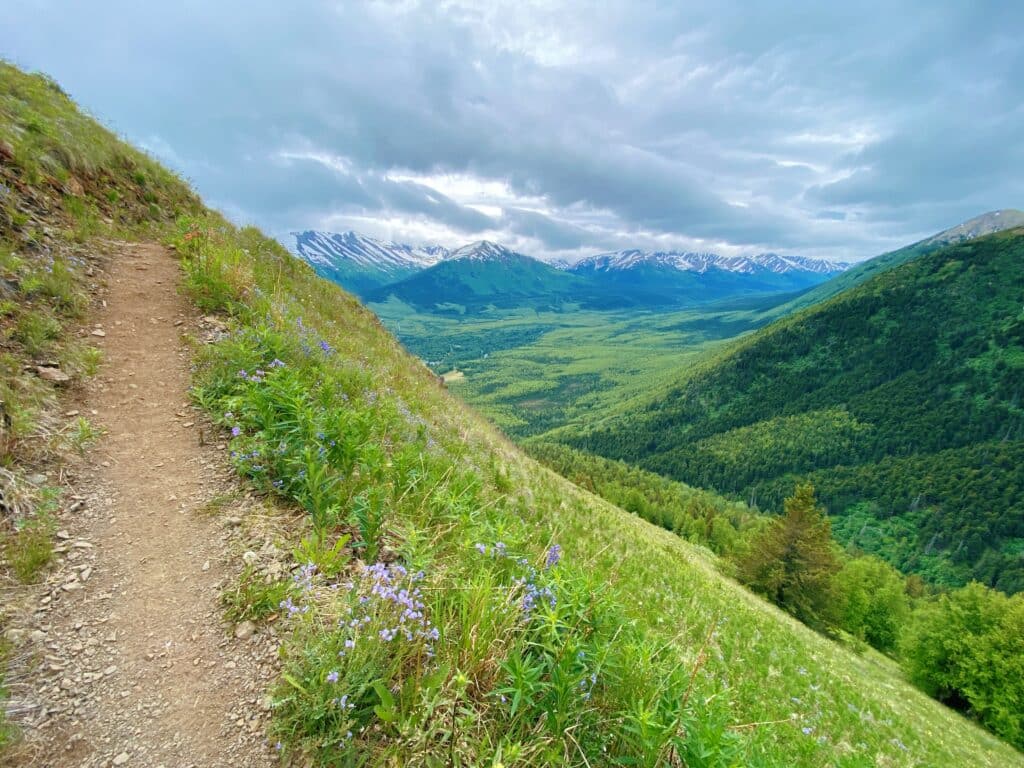 A view from the Hope Point trail.
Hope is a special, tight-knit community full of friendly people and rich history. During the late 1800's gold-rush, Hope was home to nearly 3,000 people, all there out of the desire to discover riches.
In the modern-day, without the allure of gold, Hope is home to just about 200 people.
Driving through Hope isn't a long process, but the historic log buildings and beautiful views could keep you there for hours.
Grab a bite to eat at the Seaview Cafe (they have some great fish and chips), pan for gold at Resurrection Creek, and even camp along the coast. Hope has quickly become one of my favorite places to go for a weekend escape.
4. Moose Pass & Exit Glacier
From Hope Junction, you will continue your drive southbound on the Seward Highway, passing jaw-dropping views all the way to the Sterling Highway Junction.
Staying left at this fork will take you to Seward, while staying right will take you to Cooper Landing, Kenai, and even all the way to Homer. That highway deserves a separate post, so we will focus only on the Seward Highway.
MOOSE PASS
Approximately 30 miles outside of Seward, the quaint mountain community of Moose Pass appears.
As you drive down the main road, you will probably notice how peaceful the little town seems. The locals of Moose Pass pride themselves on the calm nature of their streets.
Moose Pass makes for a wonderful base for sightseeing the surrounding areas if seclusion and serenity are something you're looking for.
They host multiple bed & breakfasts, tour companies, restaurants, and shops. The locals are warm and inviting, so don't write off stopping here just because it's not a major destination!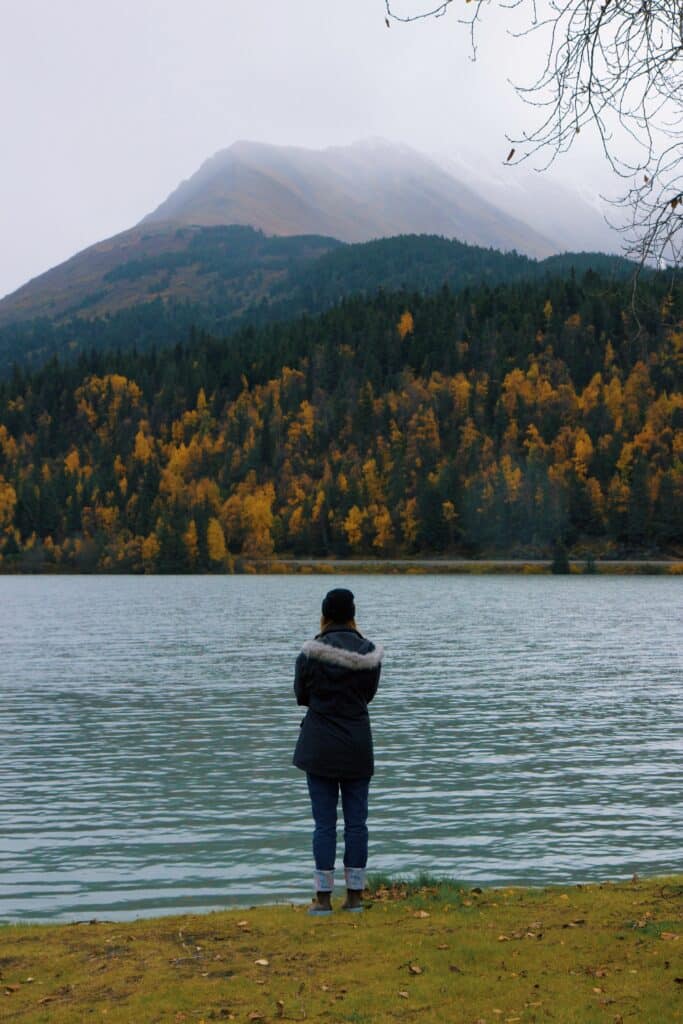 PTARMIGAN LAKE TRAIL
If you're feeling the need to get out and explore some beautiful temperate rainforest, the Ptarmigan Lake Trail is a relatively easy hike that will scratch that itch.
The distance, if heading all the way to the lake, is about 7 miles, with elevation gain amounting to a little over 1,000 feet. Depending on how fast your pace is, this trail can be accomplished in a morning or long afternoon.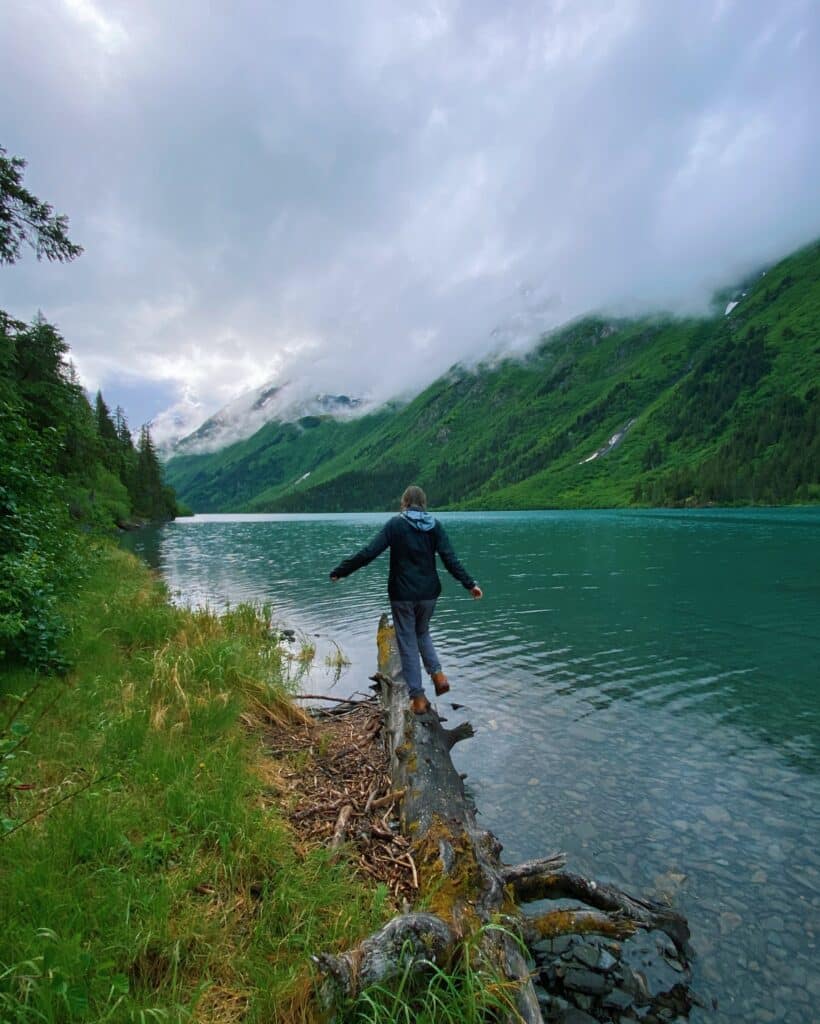 Ptarmigan Lake itself is an undisturbed wilderness, thick with plant growth, even on the narrow trail around the water. This overgrowth can make it a little annoying to traverse through, particularly when you get soaked to the bone from wet foliage.
Besides this, the trail is a refreshing communion with nature.
KENAI LAKE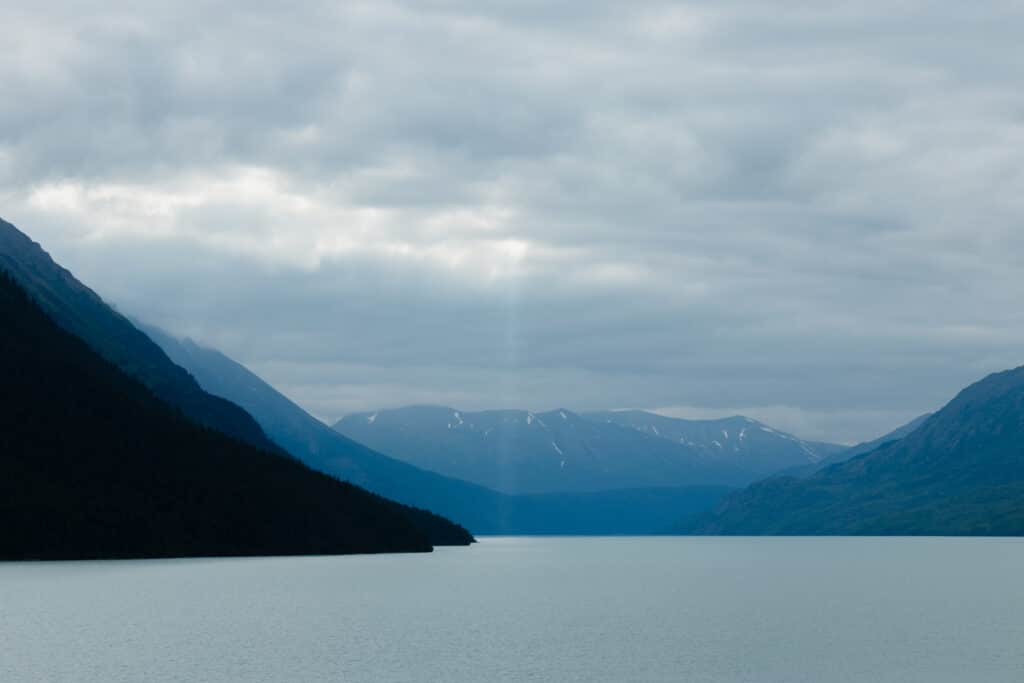 Continuing down the road, you may catch a glimpse of an emerald-blue body of water through the trees. This is Kenai Lake; a large, S-shaped lake that stretches from Primrose to Cooper Landing, renowned by visitors for its remarkable tones.
Glacial melt is responsible for the color of the lake. As the glaciers in the surrounding area melt, sediments are fed into the lake, creating a hue impossible to ignore (especially on a sunny day).
Along the length of road that hugs the lake, there are a few parking areas for you to safely stop and take some photos.
EXIT GLACIER
Soon after departing from Kenai Lake, you will be in Seward-proper. Welcome!
As you drive from outside of town, the turnoff for Exit Glacier (Herman Leirer Rd) is one of the first major roads you'll see.
On the way down to Exit Glacier, soak up the breathtaking valley that is home to the Resurrection River. The start of the road (also known as Exit Glacier Rd) hosts numerous restaurants, campgrounds, and outdoor adventure tour guides (including dog-sledding!).
At the terminus of the road, you will find the Exit Glacier Visitor Center, ripe with information about the glacier and National Park as a whole.
If you're interested in reading more about Exit Glacier and Kenai Fjords National Park, click here to check out the article I wrote all about how to enjoy the National Park.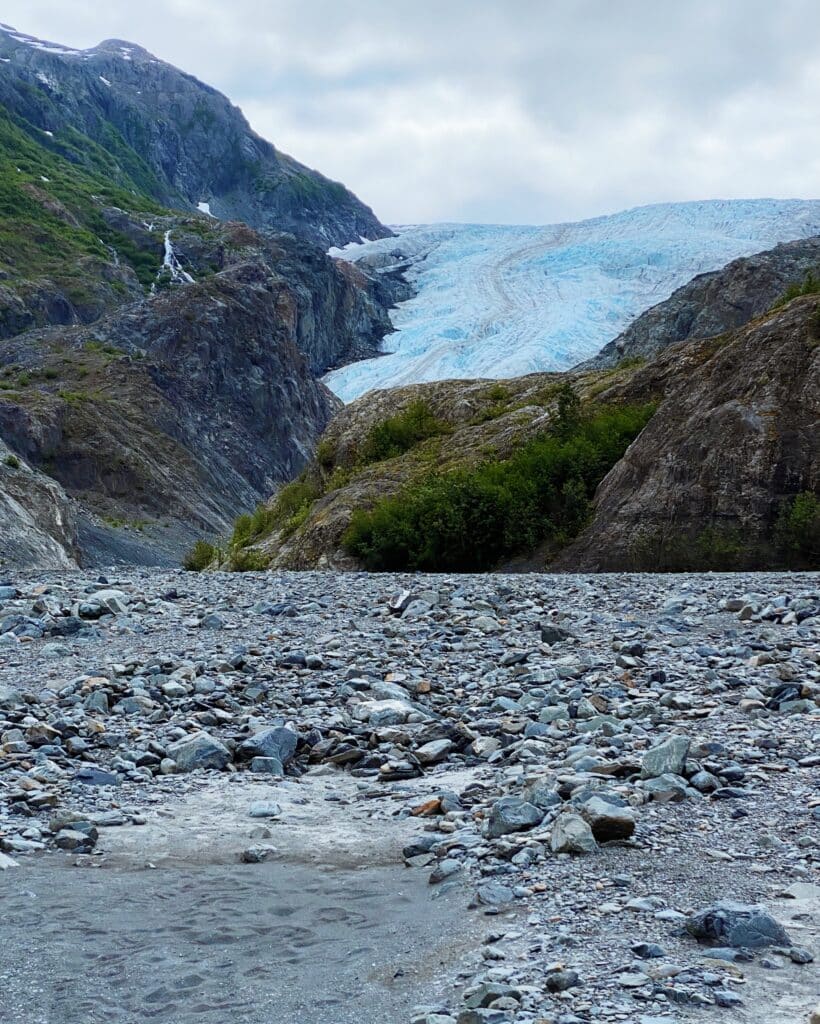 Now get out there and explore the Seward Highway!
I hope this has been helpful in planning out your trip along the Seward Highway.
My biggest tip is to take your time and to not be afraid to drive the highway over the span of a couple of days. Alaska is full of exciting things to see, and my wish is for as many people to see them as possible.
If you've driven the Seward Highway before and think I should add another destination to this list, let me know in the comments below!
Stay safe and have a blast!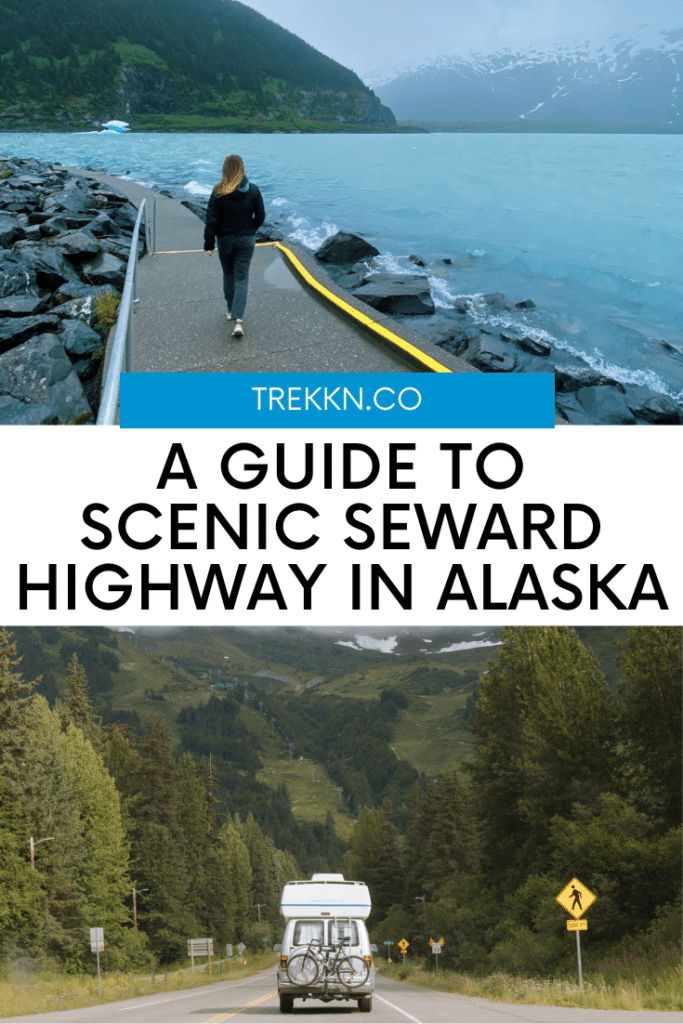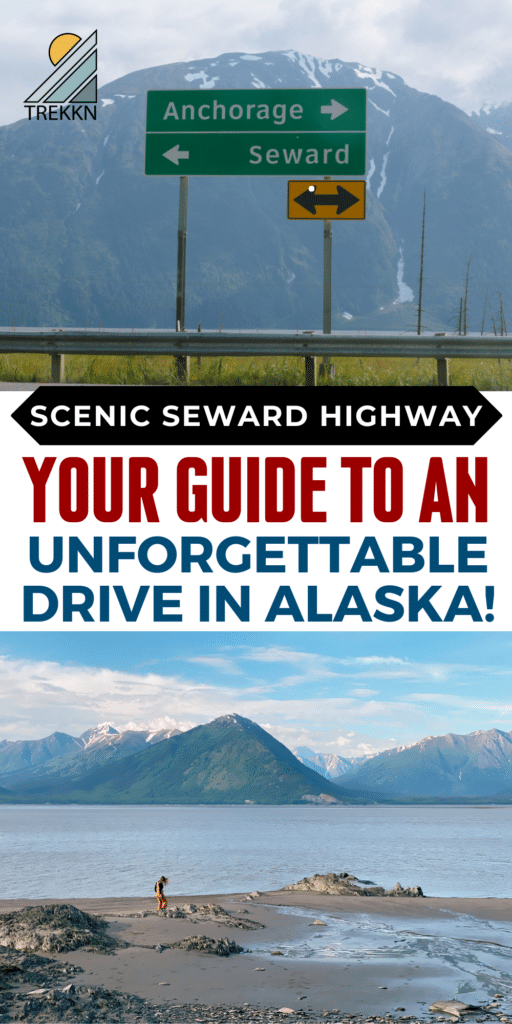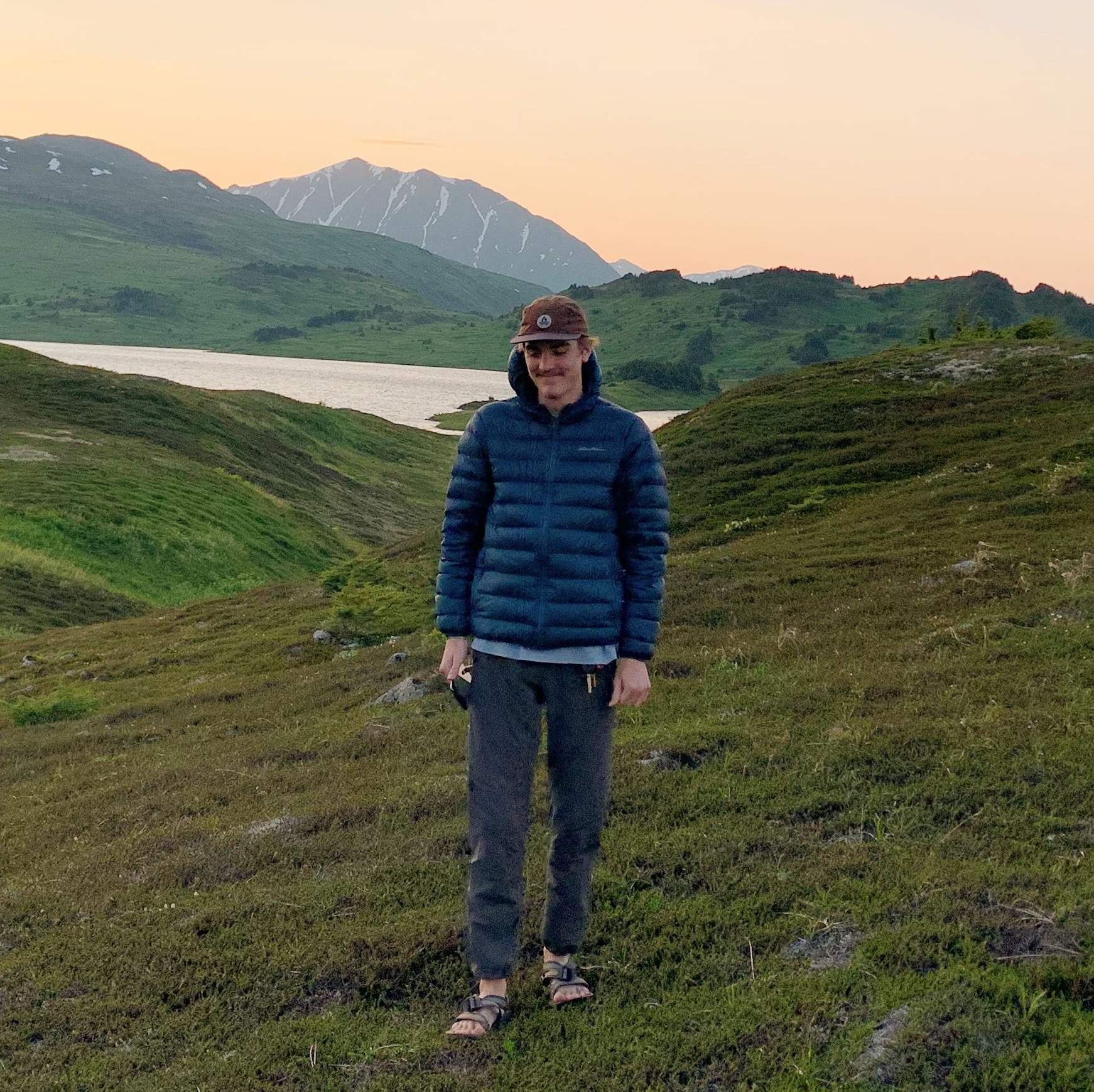 Josiah B gained invaluable experience while living on the road with his family, during which time he felt overcome with the desire to continue exploring. That search landed him in Seward, Alaska, where he currently resides. His love for the outdoors is welcome with open arms in the Last Frontier, and with an endless amount of hiking and backpacking to be done, he's eager to share the best that Alaska has to offer.