Wireless Backup Camera Kit Review: Auto Vox Solar 4 Truly Wireless

**Disclaimer: We received a promotional product from Auto Vox in exchange for an honest review of this product. All opinions expressed are the honest opinions of the author after installing and evaluating the product.**
Apparently, I am a gambler at heart.
I've owned two RVs and have never enjoyed the safety and peace of mind that a wireless backup camera provides for RV owners.
When you really stop and think about it, not having a backup camera on your rig is just that: a gamble.
You are betting that your driving skills are so top notch that you couldn't possibly back into anything…if you're just careful enough.
That's what I've thought also. But I also have to admit that I have also had some close calls over the years. One little backing accident would have introduced a world of headache into my life.
But I don't like headaches.
That's why I finally decided to install the "headache free" (think: super easy install) Auto Vox Solar 4 Truly Wireless Backup Camera Kit.
No headaches now. No headaches later. Perfect.
Let me show you just how simple it is to install this high quality wireless backup camera system on your RV, and why you will love it so much once it is installed. (Pssstt…the last time we checked there was an instant $50 discount coupon available through that link.)
Auto Vox Solar 4 Truly Wireless Backup Camera Kit
First off, let's take a quick look at everything that is included in this kit, and an additional accessory I opted for to make installation as quick and easy as possible.
Important Features
There are just a few things I want to point out about this backup camera kit before I dive into the particulars of the components included and installation procedures.
DUAL-CHANNEL SUPPORT
If you have a situation with your RV setup that warrants it, you can add a second camera to this setup and monitor them both on the monitor via its dual-channel functionality.
For instance, let's say you are towing a fifth wheel and you want to have visibility from your truck looking backward toward the fifth wheel and also from the back of the fifth wheel.
In this case, you just need to purchase and install a second Auto-Vox camera, install it on the roof of your truck (magnetic base would work nicely here…you'll see that component later), and pair that second camera to your in-cab monitor.
Then you can easily switch back and forth between views for the two cameras, or choose to have a split screen that allows you to see both camera views simultaneously.
This is a great feature that adds flexibility to your setup, allowing it to work for just about every RV setup.
DAYTIME AND NIGHTTIME IMAGES
We've all been there, right? You arrive at an RV park MUCH later than you planned and the daylight is long gone.
Nothing like adding a bit more stress to your travel day as you try to back into a pitch black site!
But with this Auto Vox Backup Camera Kit, the camera automatically switches to night mode at night or under low light conditions. This means the infrared feature turns on (black and white image), and you can easily see all features and obstacles in the campsite you are backing into.
Less stress. Less risk. Less headache.
EXCEPTIONAL HYDROPHOBICITY
Hydrophowhatchimacallit??
I know, big and impressive word. So what does it mean?
Simply put, it means that the glass on the camera lens is specially made so that water drops will quickly flow over the glass and out of view of the camera lens.
Your image on the display monitor will therefore be far less distorted or obstructed, helping you avoid that unwanted mishap. And that's what we're all interested in, right?
What's In the Box?
The wireless backup camera kit includes everything you need for a standard installation on your vehicle or RV:
7-inch display monitor
Display monitor mount for dashboard
Wireless backup camera with mounting base and bracket
Solar panel to power camera, with double-sided adhesive tape for secure placement
Car charger with camera activation button
1.5 meter charging cable for camera
Extended antenna for strong signal (ideal for longer, larger RVs)
All required hardware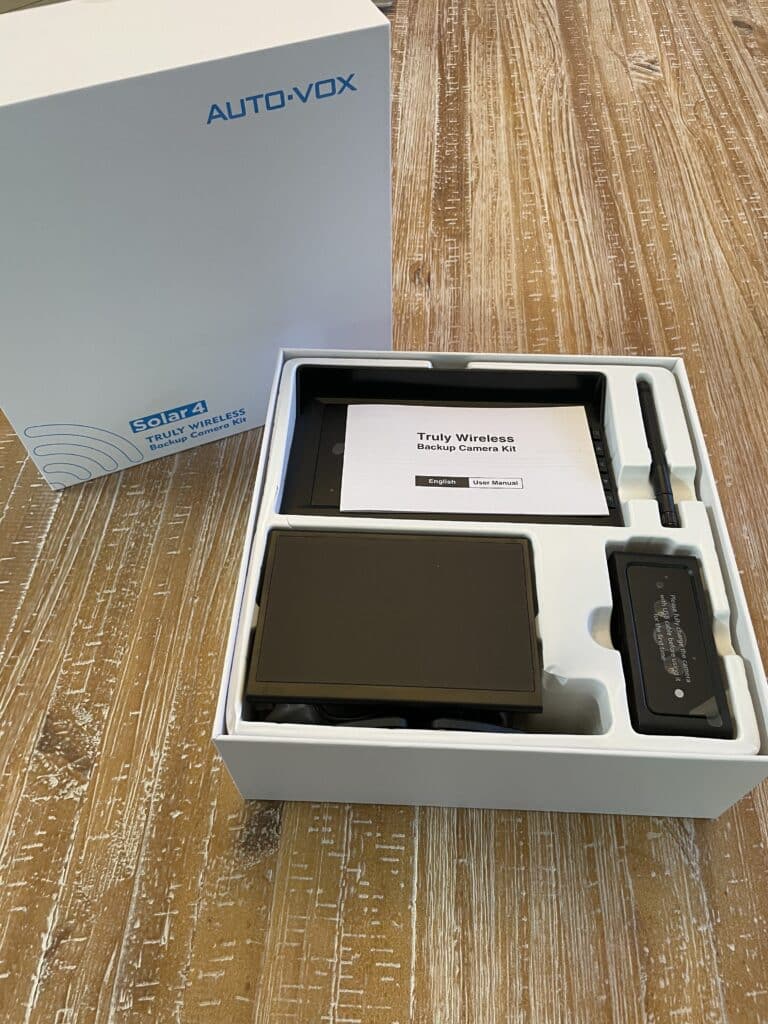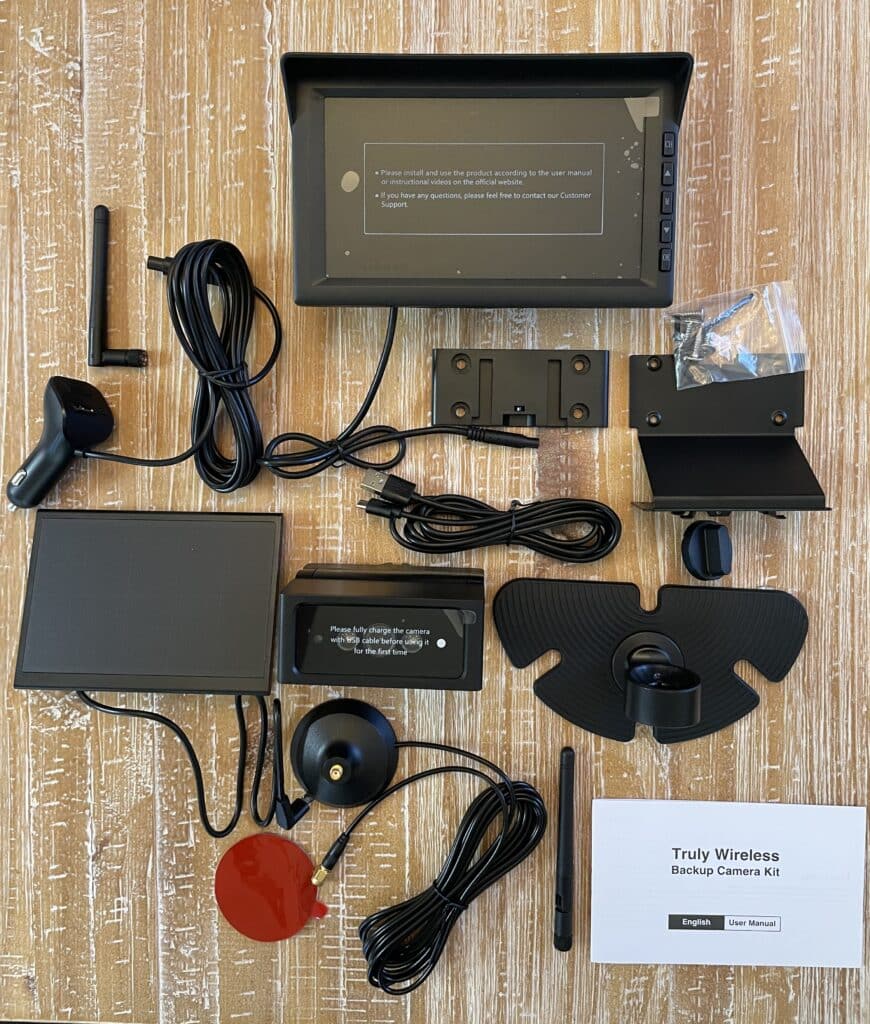 In addition to everything in the standard kit, I also opted for the magnetic base for the camera. This keeps me from having to drill any holes in the roof of my campervan.
(I don't like holes in my RV any more than I like headaches.)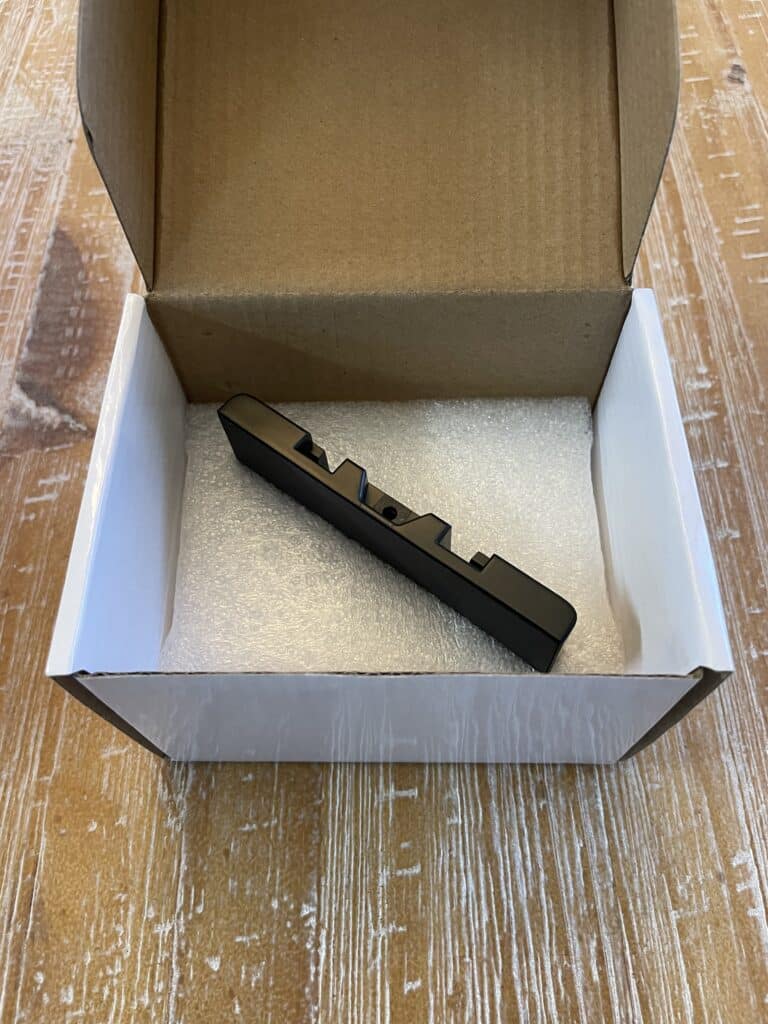 Now that we see everything we are working with here, let's jump into the simple installation process.
Wireless Backup Camera Installation
First things first: Please be sure to fully charge your camera using the USB charging cable prior to starting the camera installation process. This can take up to 6.5 hours, but more likely it will be partially charged and will take less time than that.
While that camera is charging, you can still get the display monitor mounted and ready to go!
INSTALL 1080P HD 7-INCH DISPLAY MONITOR
Now this is the simplest installation you'll probably ever do in your life, even if you're not familiar with the "clean, peel, stick" approach to installation.
Find a flat, level portion of your dash where you would like to mount the 7-inch HD monitor for easy viewing (and where you are certain it will not impair driver vision and can reach the charging port).
Quickly clean and dry that dash section, peel the cover off the adhesive pad on the bottom of the mounting base and apply base to dash, holding it in place for 15 seconds with firm pressure.
Allow the base to stand for 2 hours before attaching the monitor to the base.
After 2 hours, attach monitor to base and plug the power cord into the charging port. (*Note: If your charging port continues to supply power when the vehicle is off, you will need to unplug the monitor when not driving.)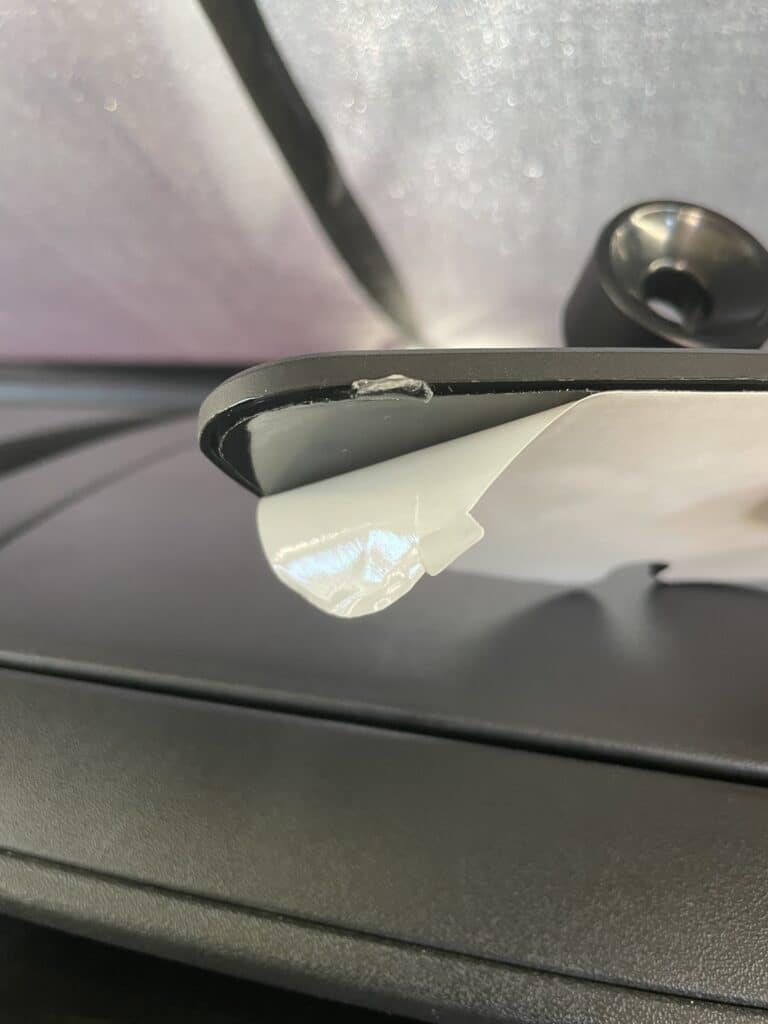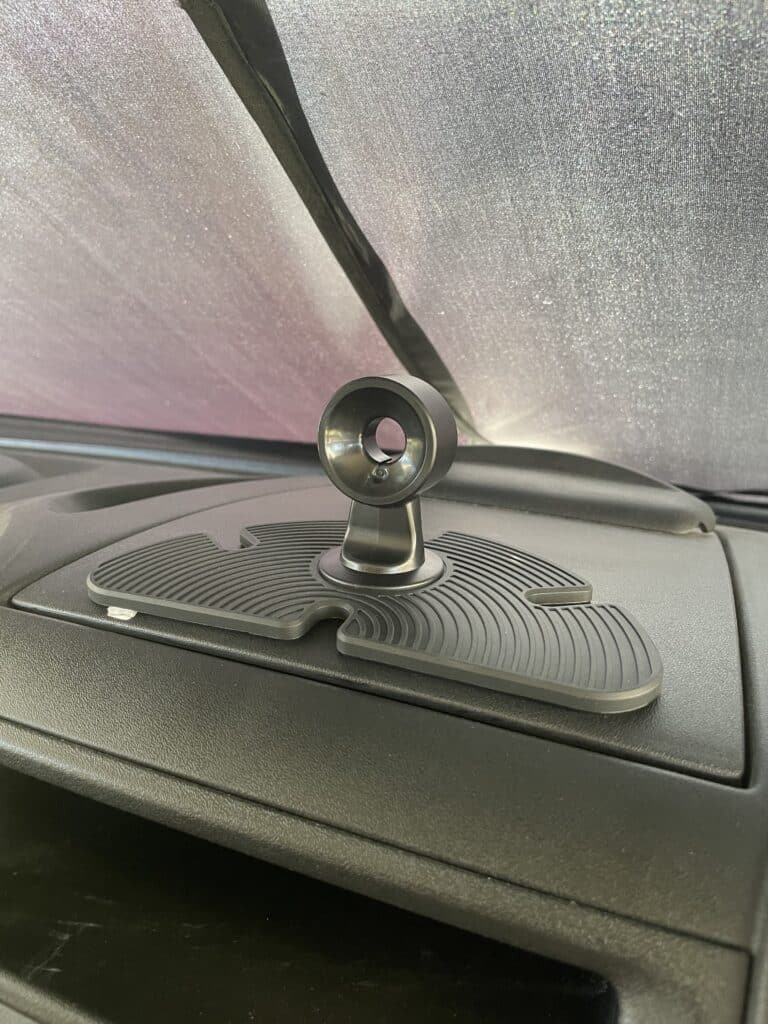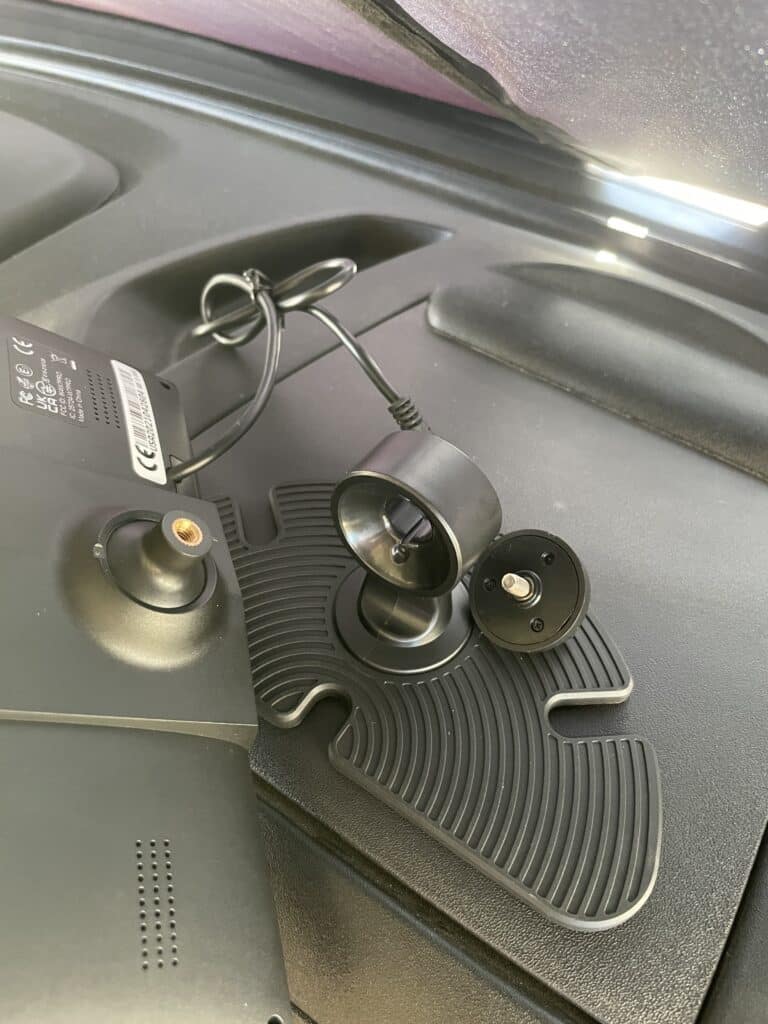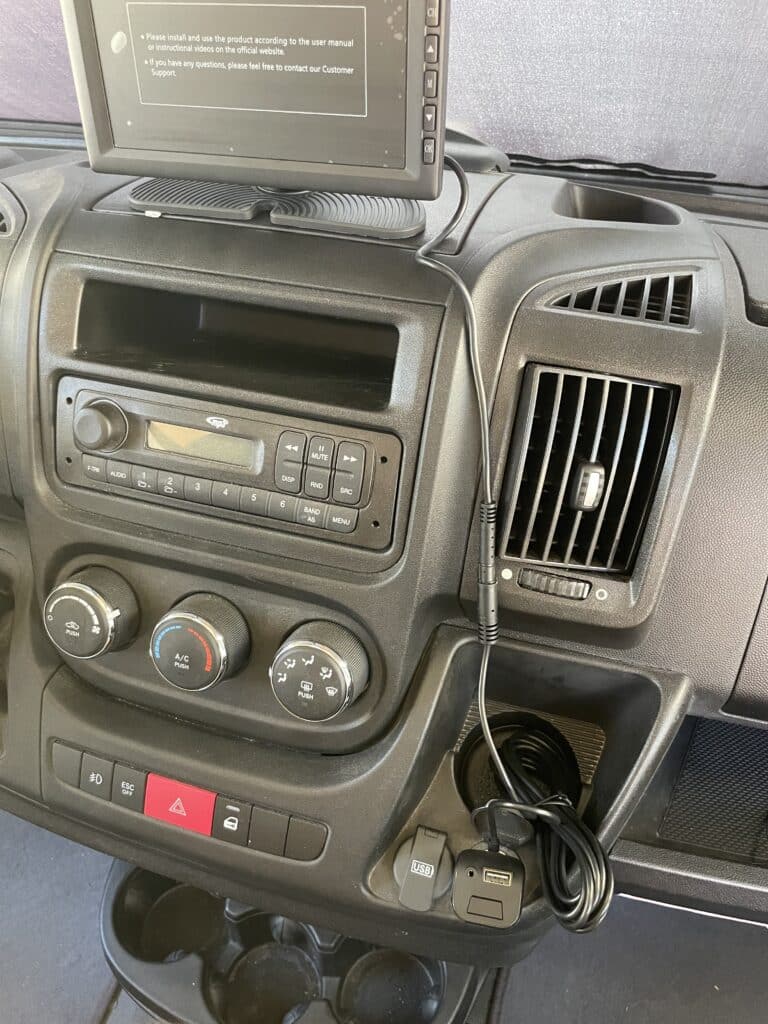 INSTALL WIRELESS BACKUP CAMERA
You have a few different options when it comes to installing the backup camera at the rear of your RV.
For Fiberglass Shell RVs
If your RV has a fiberglass shell, you will most likely have to drill holes in the shell to install the camera mounting bracket.
You can mount the camera on the back of your RV or on the roof; for reduced chance of water intrusion due to drilled holes, the back of the vehicle is probably the optimal choice. *Follow instructions provided with the backup camera kit since I am not able to show the process here.*
Whichever location you choose, be sure to apply appropriate sealant around mounting screws once installed.
For Metal Shell RVs and Vans
Since I have a campervan built on a RAM 2500 ProMaster van chassis, I will be using the optional magnetic base to install the camera on the roof of my vehicle.
Here are the steps to follow when installing on the roof of a metal shell RV using the optional magnetic base to attach to the vehicle:
After the camera is fully charged (indicated by red light no longer being lit), remove the 4 screws holding the original (flat) mounting plate to the body of the camera. This requires a small Phillips head screwdriver.
Use the same screws to then attach the Z- bracket to the back of the camera where you just removed the original mounting plate.
Slide optional magnetic mounting base onto bottom of Z-bracket and place in optimal viewing location on roof of vehicle where there is a flat, smooth metal surface to connect to. (Note: location should be as central as possible on the vehicle. Surface should be cleaned before attaching magnetic base.)
**Please refer to product's instruction manual for final guidance on installation details.**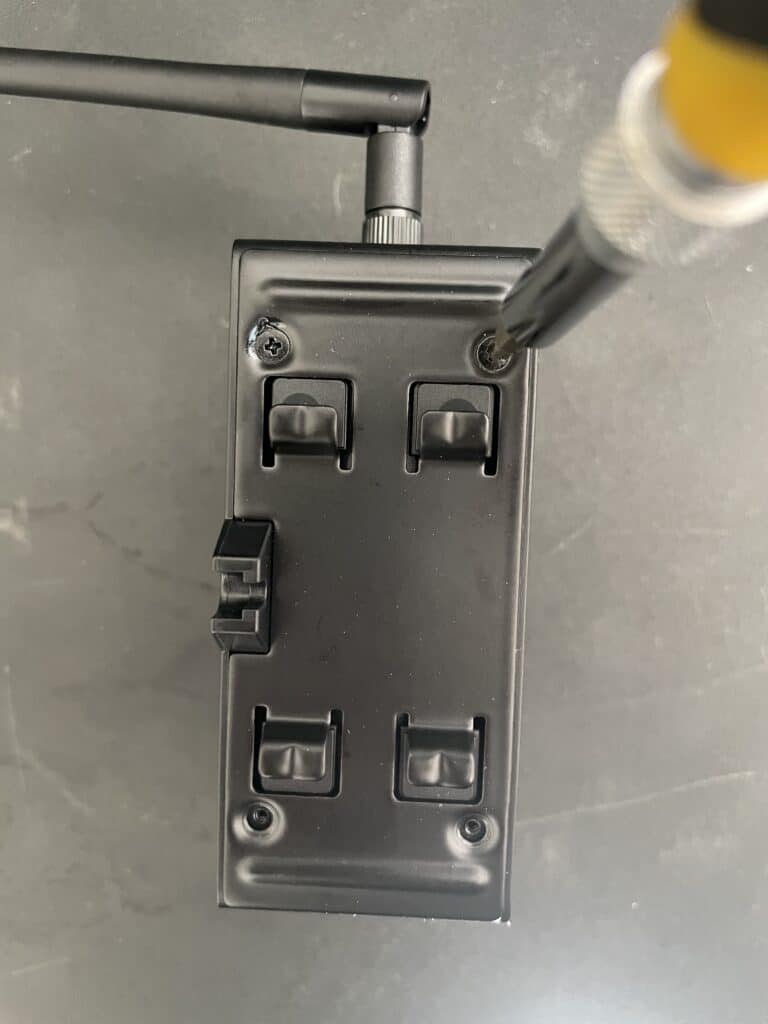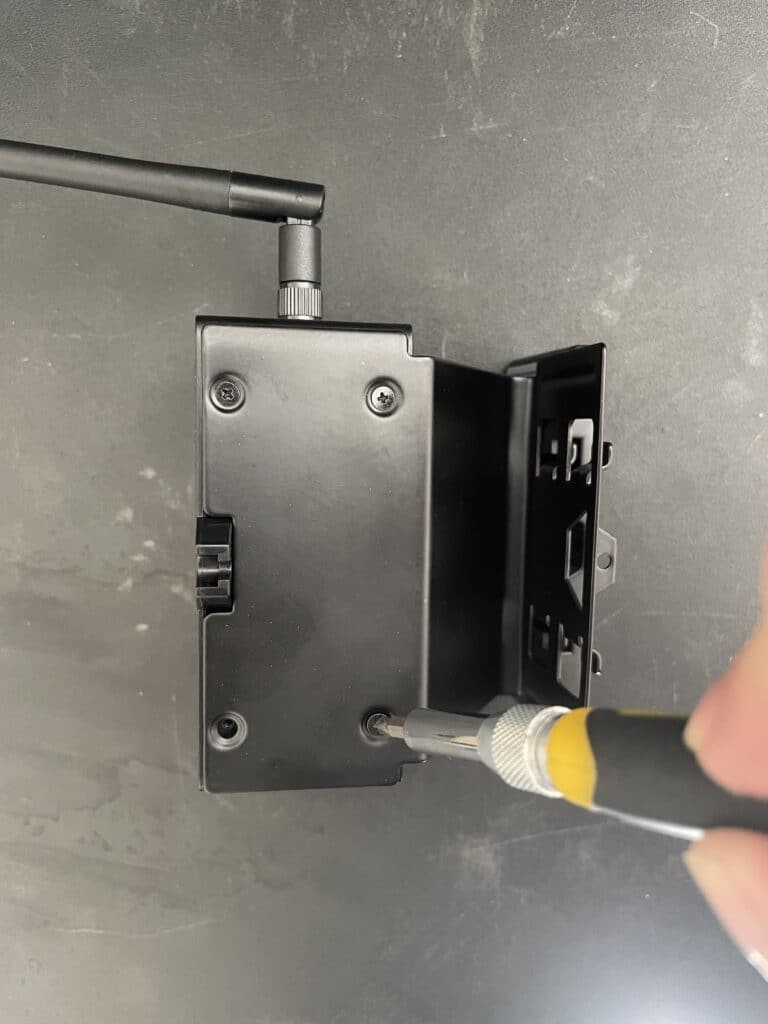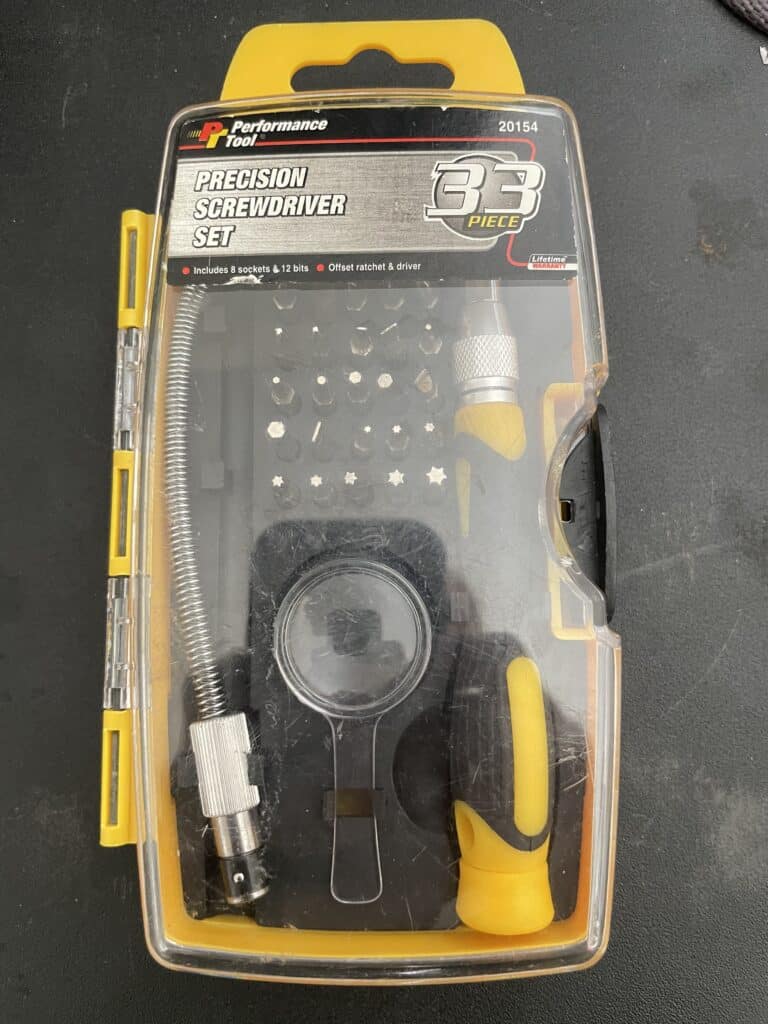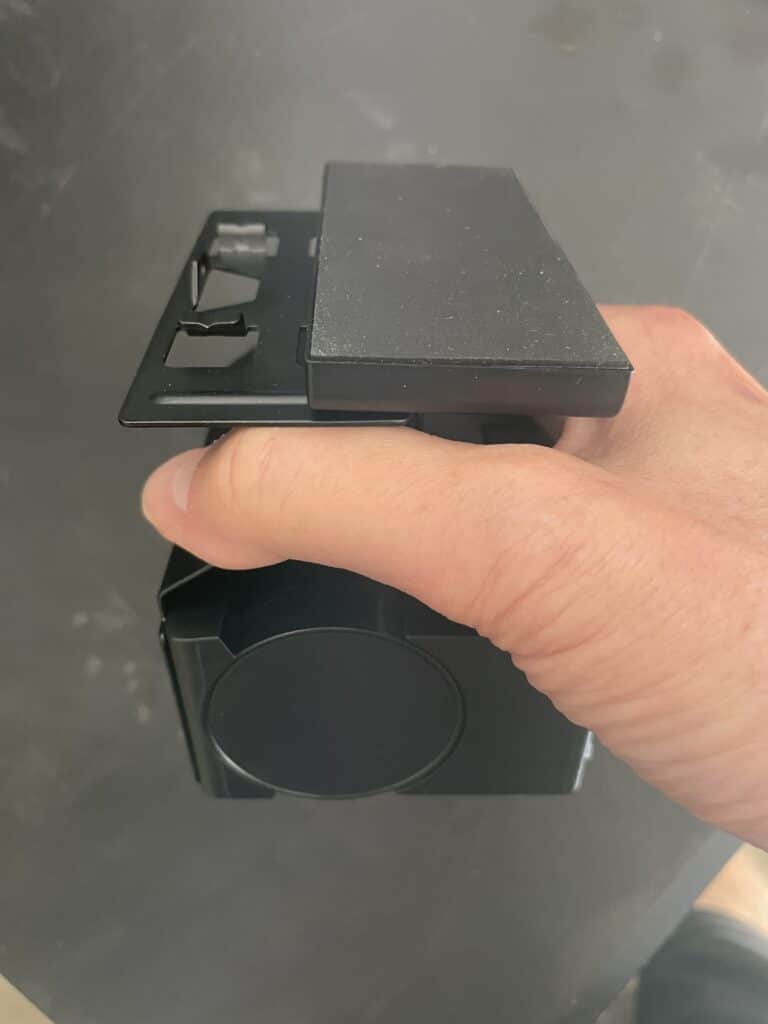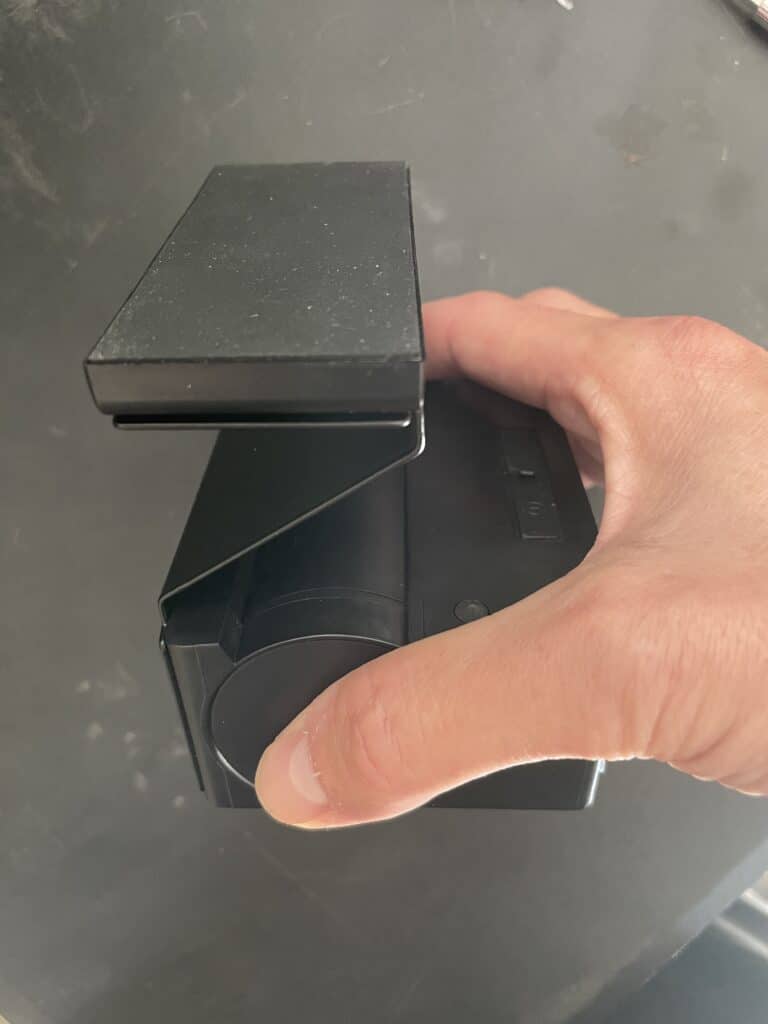 Once the magnetic base is in place, it's just a matter of placing the camera in an optimal location after cleaning the vehicle surface.
You'll also want to adjust the angle of the camera so that you are viewing the desired area behind your vehicle.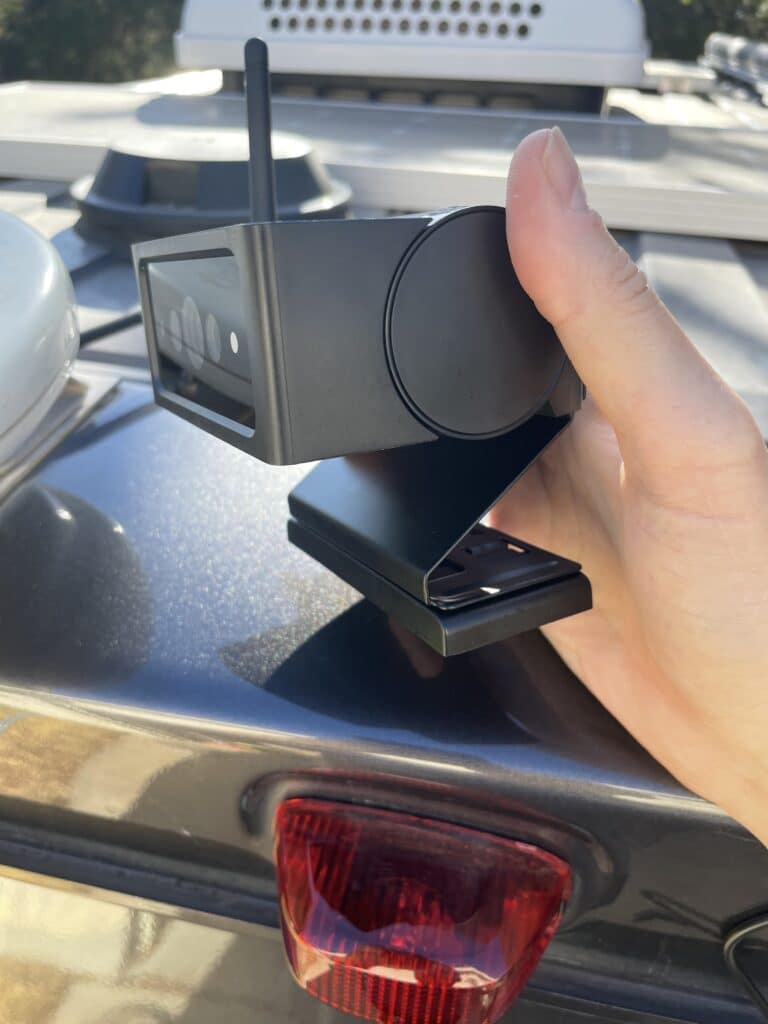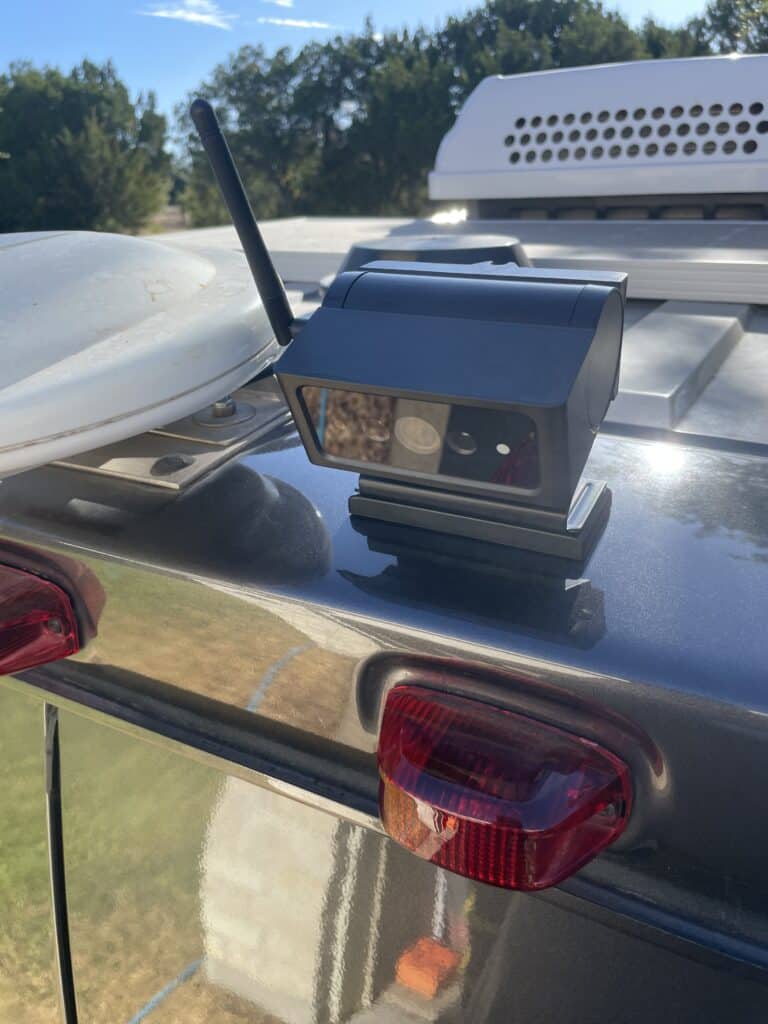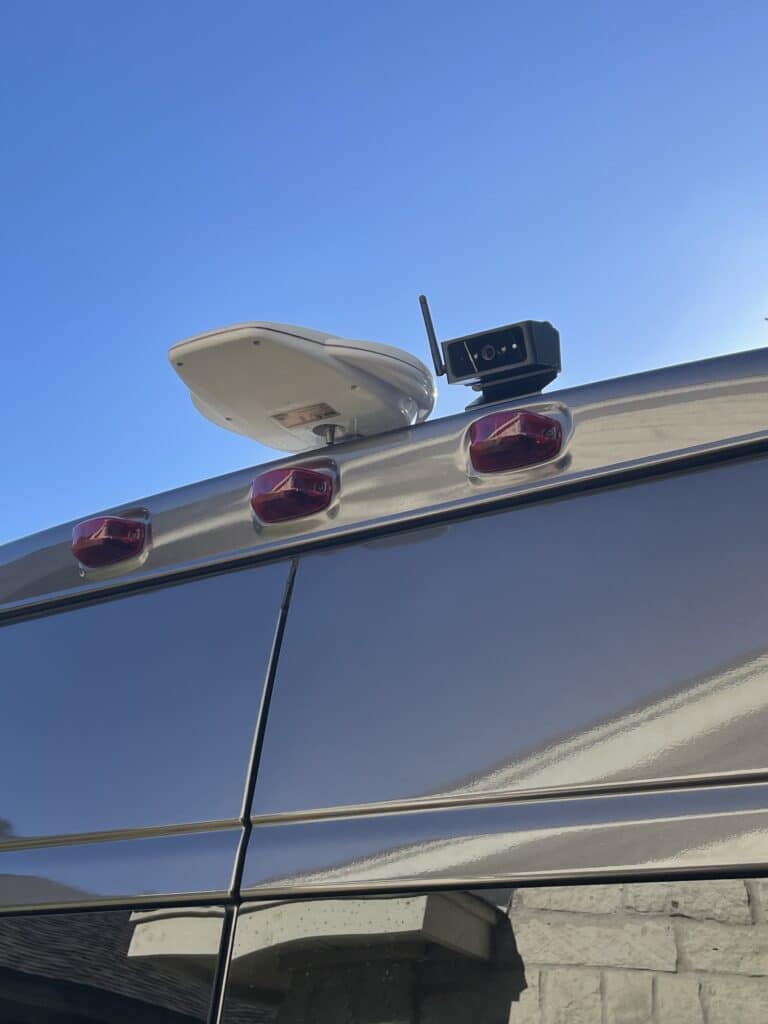 INSTALL CAMERA'S SOLAR CHARGING PANEL
Well, this part of the installation barely warrants mentioning because it's so straightforward. But I'm mentioning it.
The solar panel has an adhesive pad on the bottom, very similar to the monitor base we already installed inside the van.
Just follow these simple steps:
Choose a location for the panel that is flat and close enough to the camera to plug in the power cord.
Clean the vehicle surface and remove the paper from the solar panel's adhesive base.
Place the panel onto the vehicle surface with lowest edge facing the front of the vehicle (for aerodynamic reasons) and hold firmly in place for 15 seconds.
Don't disturb for 2 hours. (Note: You will want to ensure the panel is not in direct sunlight as the adhesive cures.)
After the waiting period, attach the solar panel's power cord to the charging port on the bottom side of the camera.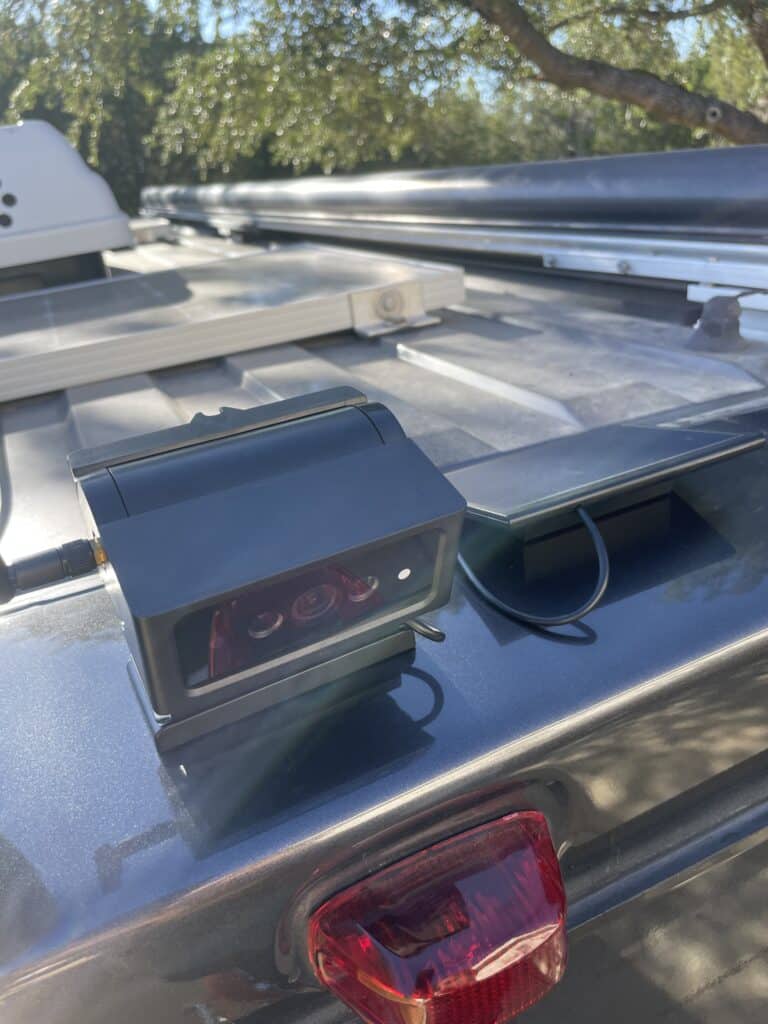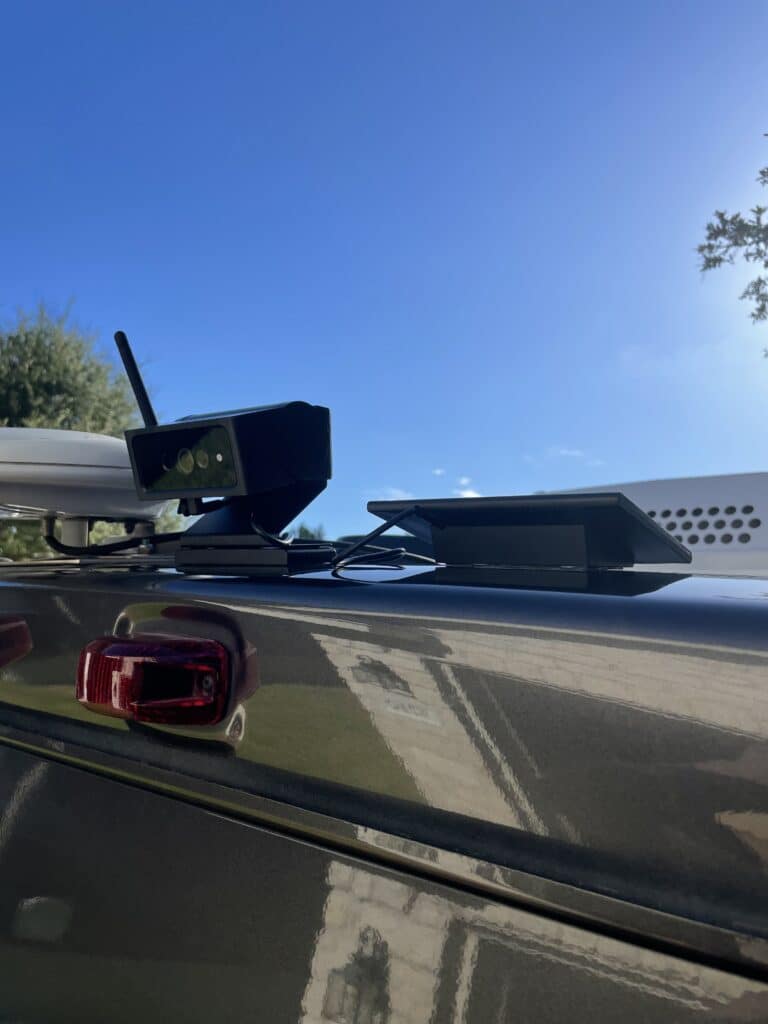 And there you have it! All components installed without drilling a single hole or running a single wire. That's beautiful in my book.
Now we get to the fun part of turning everything on and checking our settings and overall camera operations and functionality.
Operation and Settings
First things first: Be sure you have the camera turned on (power button is located the bottom of the camera near the front, next to the charging port where you plugged in the solar panel cable) and your monitor powered up (which probably requires your vehicle to be in accessory mode).
PAIRING THE CAMERA TO MONITOR
Once both units are powered on, it is possible that the camera will automatically pair with the monitor.
If it doesn't, however, just press the menu (M) button the monitor and the first option to come up will be "Pair". Simply press OK on the monitor when that option is selected and the pairing process will happen automatically if your camera is powered on.
Note: If you have a second camera, you will need to pair both cameras and then switch between them using the channel (CH) button on the monitor.
ACCESSING MENU
You can access the system's menu at any time by pressing the menu (M) button on the monitor. This will pull up six different menu options.
You can then select the different menu items by using the up and down arrow buttons on the monitor. When the option you want is selected, simply press OK (bottom button).
Here are the basic settings that you are able to make adjustments to via the Menu:
Pair – We already covered this feature above, allowing you to connect to up to two cameras that are powered on.
Brightness – Allows you to adjust the brightness of the screen's display to your preference.
M/U Control – Allows you to flip the camera image horizontally (mirror) or vertically.
Settings – Allows you to control image contrast, reset all settings to factory settings, or contact technical support.
Display Sleep – Choose between 120 second or 240 second delay for display sleep mode.
Guide Line – Allows you to turn backing guide lines on or off.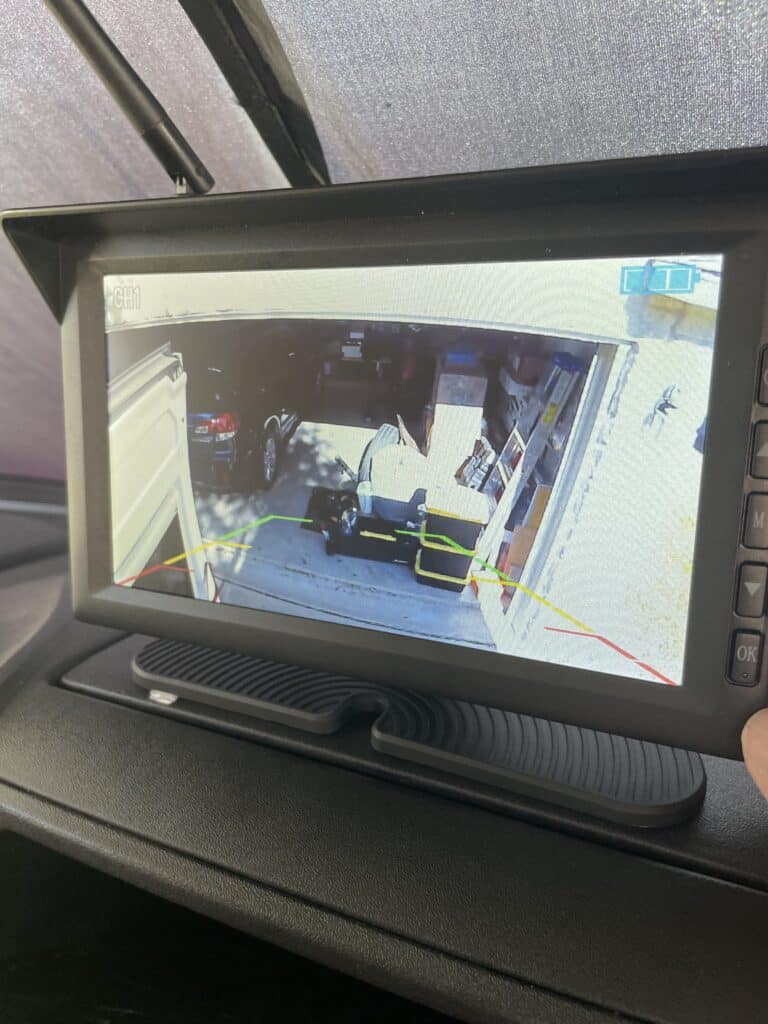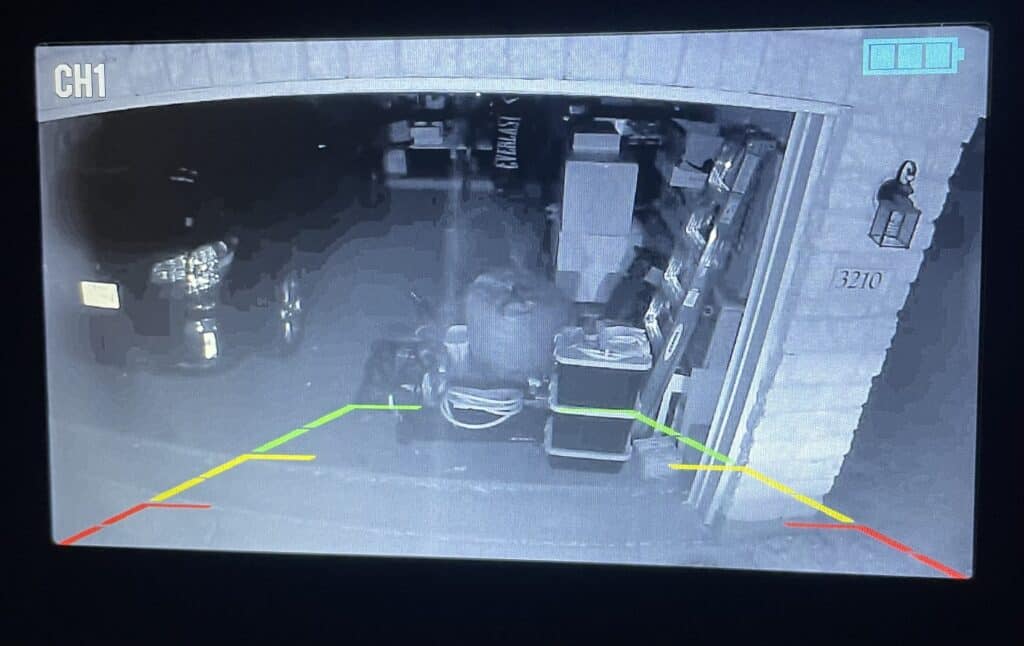 You can also change the size of the colored guide lines in the image as well. If you press and hold the Menu (M) button for about 3 seconds, the guideline will begin to flash or flicker off and on.
At that point, just use the up or down buttons to change to one of 6 different guide line size settings. And when you find the size that works best for you, just press the M or OK button to save that setting.
Is This Truly Wireless Backup Camera the One for You?
By now, you've probably got a pretty good idea whether this Auto Vox Solar 4 Truly Wireless Backup Camera Kit is going to check all the boxes for you and your situation.
For me, it turned out to be exactly what I was looking for:
Super simple installation with no hole drilling required and no wires to run
Solar powered so I don't have to constantly mess with removing and recharging the camera
Large color monitor to be sure I can see everything clearly and avoid hazards while backing
Excellent connectivity between camera and monitor
Quality components that don't leave me wondering how long they will last
If these things are important to you as well, I really don't think you can do much better than this quality wireless backup camera from Auto Vox.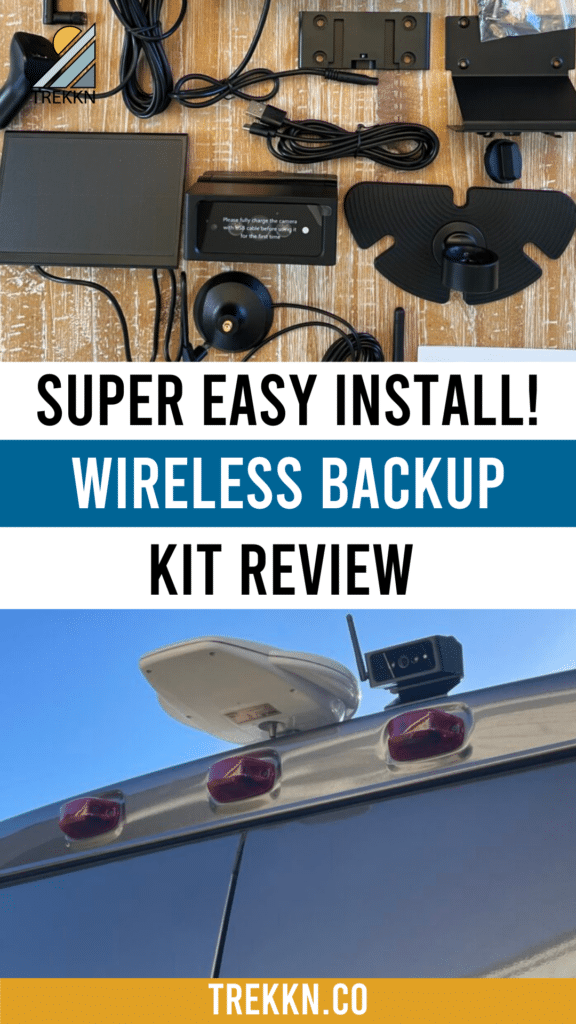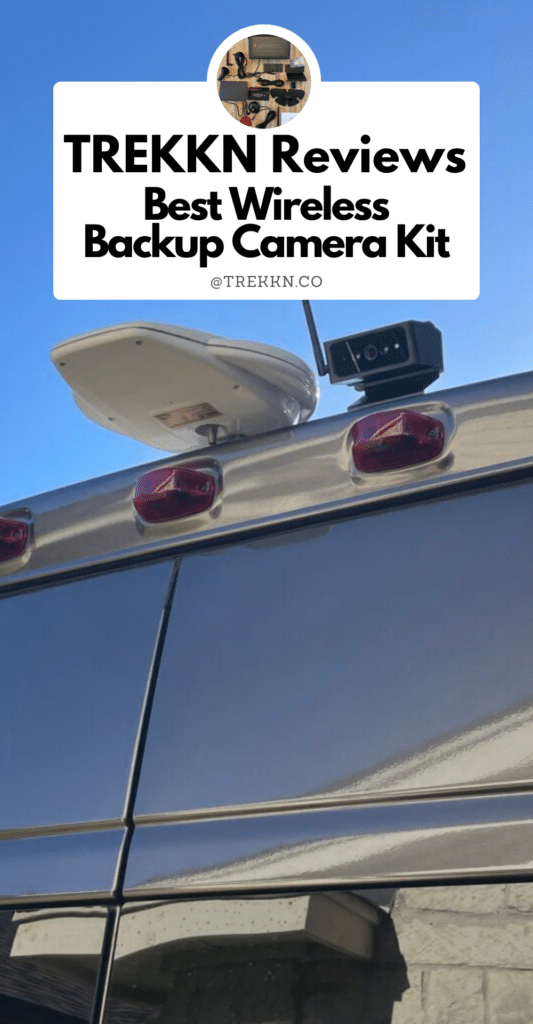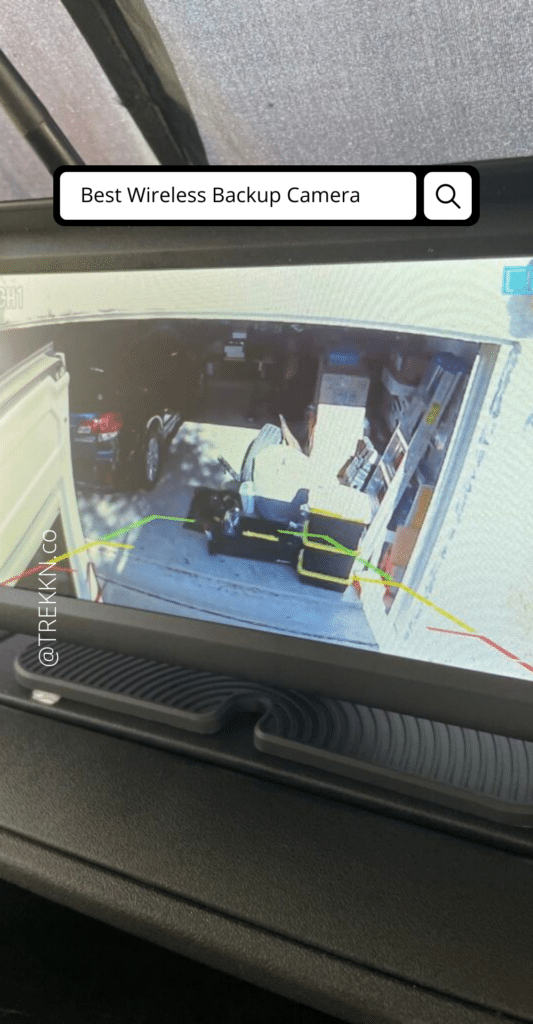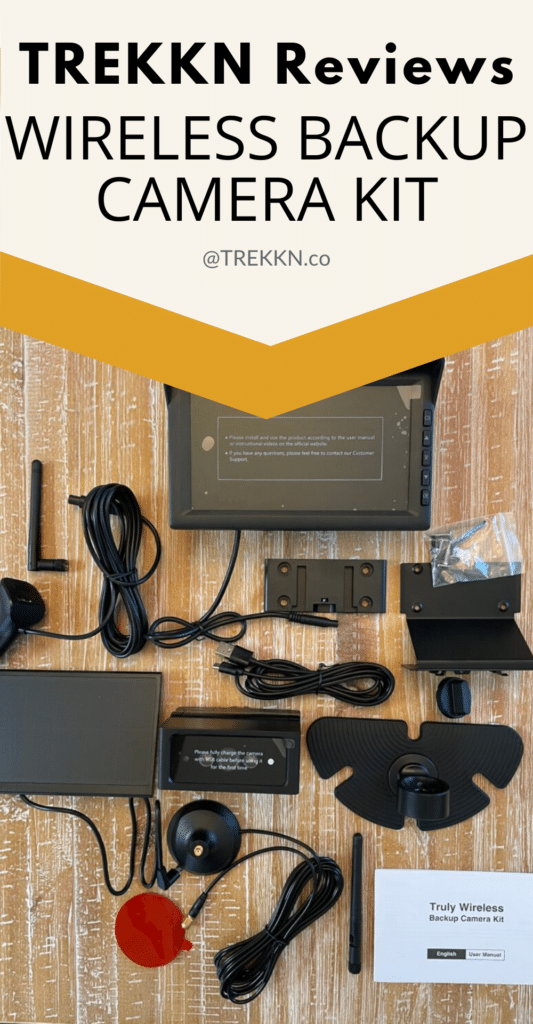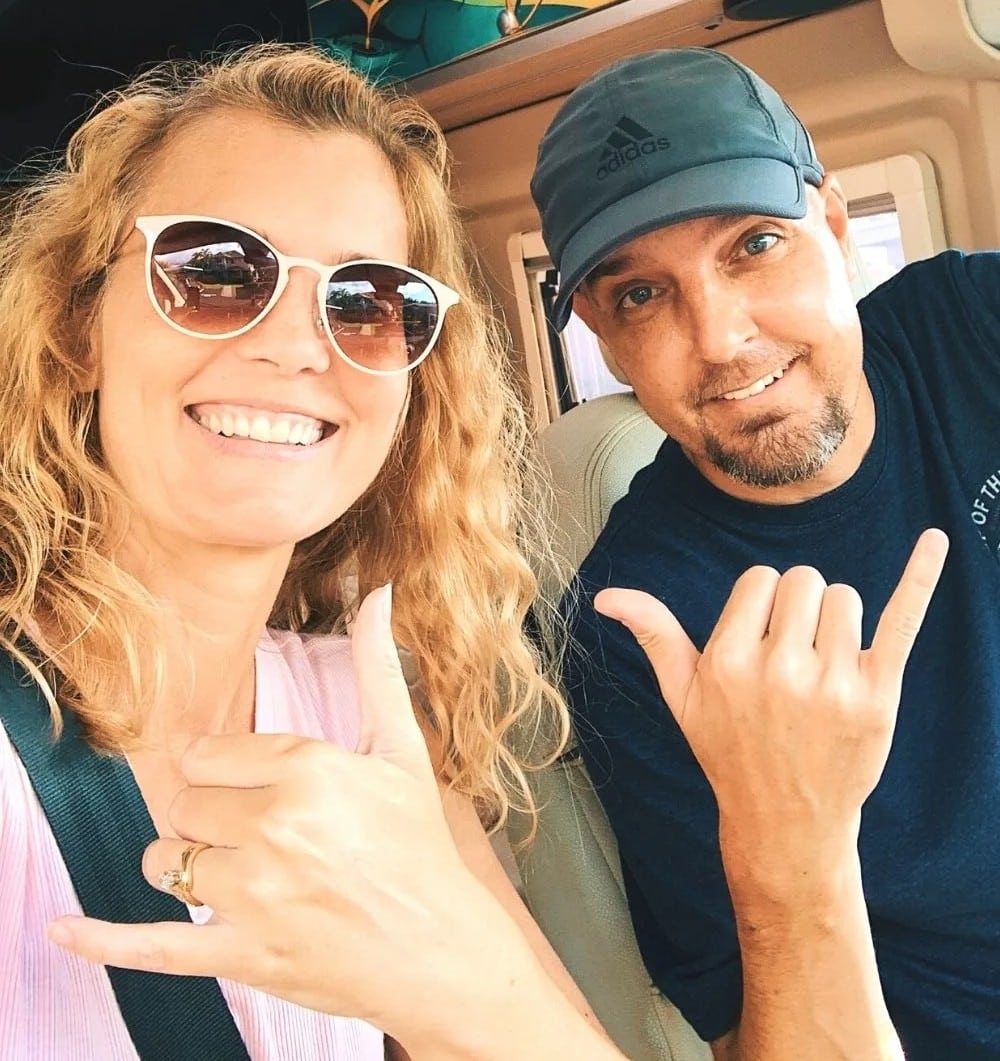 Todd loves a competitive game of table tennis, a breathtaking hike, and exploring new places. He lived and traveled in an RV with his family as they traveled throughout much of the US and parts of Canada. Todd has extensive knowledge about RV travel, safety, and accessories and has shared many of his stories here on TREKKN. When he's not busy launching and building small businesses, you may find him staring at pictures of Glacier National Park (probably his favorite spot on earth).