Badlands National Park, South Dakota: Ultimate Guide for RVers

What you need to know to explore the majestic beauty of Badlands National Park, South Dakota as an RV traveler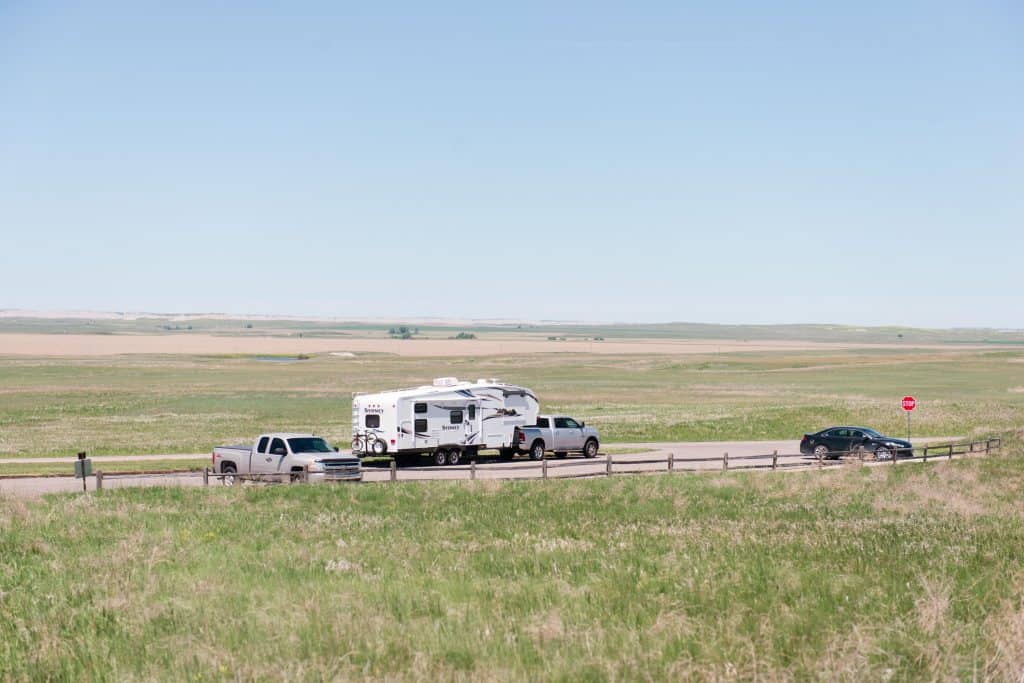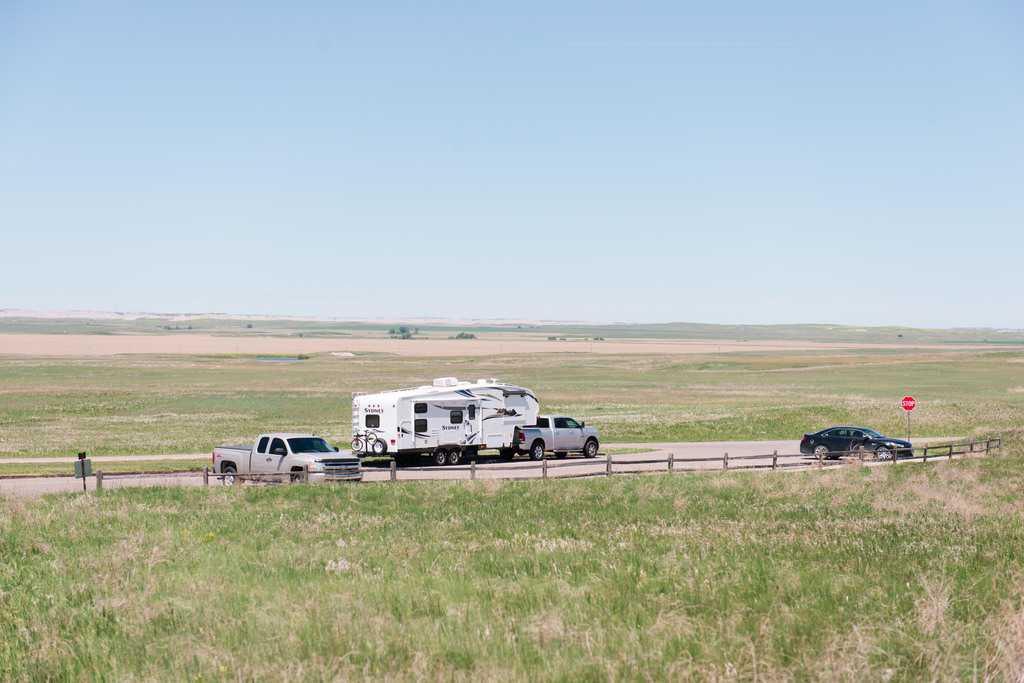 A Little About the Badlands
Located in the heart of South Dakota, Badlands National Park features over 240,000 acres of dramatic geologic formations, rolling prairie grasses, and scenic vistas. The rugged landscapes of the Badlands are home to all kinds of wildlife like bison, pronghorn, bighorn sheep and prairie dogs. The area is also rich in fossil deposits, providing a glimpse into the flora and fauna of pre-historic America.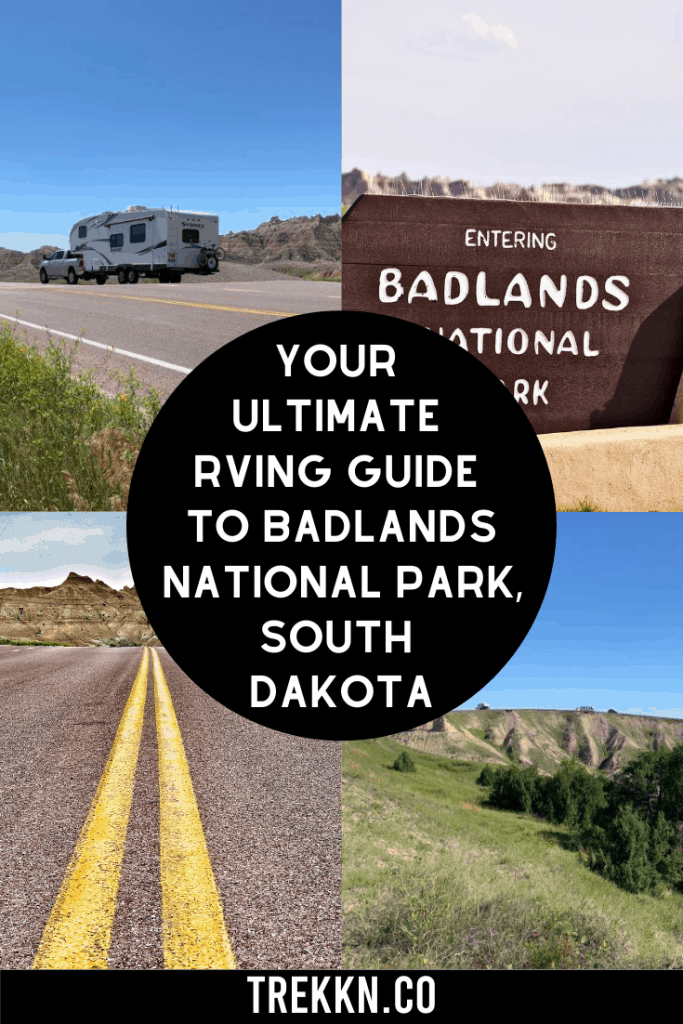 Getting to the Park
Badlands National Park sits just off Interstate 90, a little less than four hours west of Sioux Falls. For many travelers, the Badlands are one of many stops on a driving tour of the area or on the road westward to Yellowstone or the Black Hills. Smaller in size than many national parks, you can see much of what the Badlands has to offer in 1-3 days.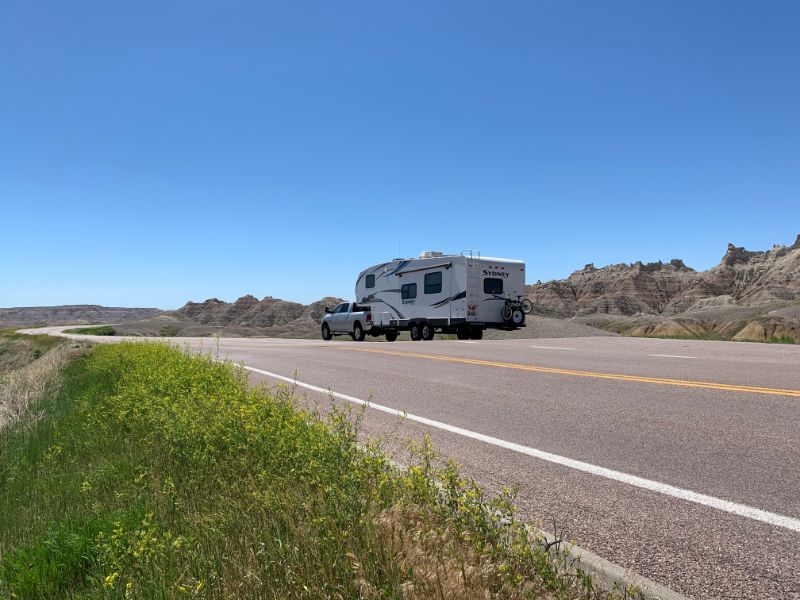 For our trip, we chose to overnight near the Badlands and spend the following day driving through the park.
If you are planning on starting your trip at the Badlands, flying into the area could be an option as well. The nearest airports are:
Rapid City Regional Airport in Rapid City, South Dakota (about an hour away)
Sioux Fall Regional Airport in Sioux Falls, South Dakota (about 4 hours away)
Denver International Airport in Denver, Colorado (about 6 hours away)
Where to Stay
Badlands National Park is rugged and somewhat remote, which means camping options here are more limited than in and around larger National Parks. If you plan to overnight near the park, you have three options: one of the National Park Service campgrounds inside the park, a private campground outside the park, or a boondocking spot near the park.
Camping Inside Badlands National Park
Inside Badlands National Park, you will find two campgrounds: Sage Creek Campground and Cedar Pass Campground.
Cedar Pass Campground
Cedar Pass Campground is located near the Ben Reifel Visitor Center in the southeast corner of the park. There are 96 level RV sites with beautiful views of the scenic Badlands formations. Cedar Pass is the most RV friendly of the in-park campgrounds. Reservations can be made ahead of time if you plan on staying there.
$38 per night
Electric hookups only
No water hookups
Flush restrooms and pay showers nearby
Access to potable water nearby
Dump station access nearby
Campfires not permitted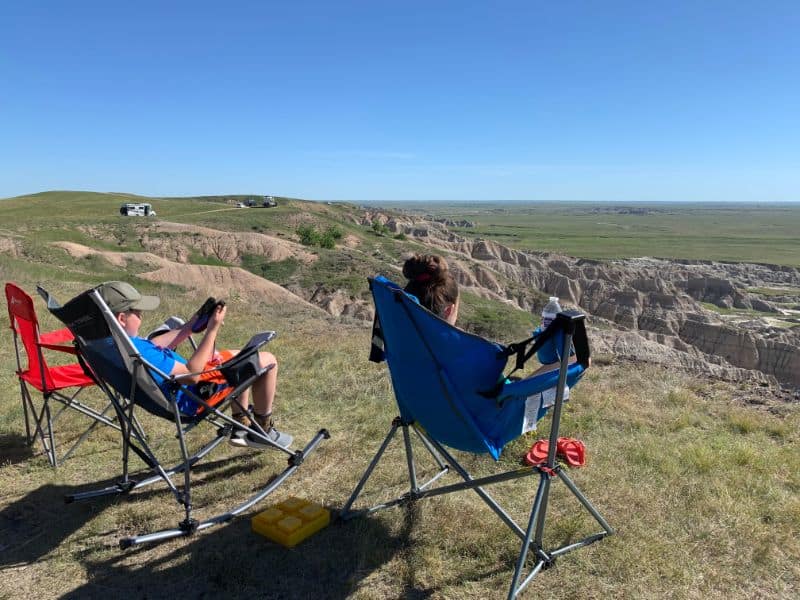 Sage Creek Campground
Sage Creek Campground is located in the far northwest corner of the park on the unpaved Sage Creek Rim Road. While the 22 sites here are free and first-come first-serve, they are also best suited to tent camping and all-terrain rigs of 18 feet or less. Motorhomes, travel trailers, and RVs longer than 18 feet are prohibited.
Free
No water or electric hookups
Pit toilet restrooms centrally located
No access to potable water
No dump station access
Campfires
Camping Outside Badlands National Park
Outside Badlands National Park, you will find several private campgrounds that offer more amenities and feel a little less remote. Some of the most popular overnight spots are the Badlands-White River KOA, Sleepy Hollow Campground and RV Park, Badlands Interior Motel and Campground.
Badlands-White River KOA
Badlands-White River KOA is less than five miles from the Interior Entrance of Badlands National Park. This family-friendly KOA offers over 100 sites and many amenities like full hookups, a swimming pool, mini-golf course, laundry, and a convenience store.
Sleepy Hollow Campground and RV Park
Sleepy Hollow Campground and RV Park is located less than 10 miles from the Pinnacles Entrance to Badlands National Park in the small town of Wall, South Dakota. Sleepy Hollow provides close proximity to shopping and dining options and attractions such as the world-famous (or infamous) Wall Drug and the Minuteman Missile National Historic Site. The pet friendly park features 59 pull-through RV sites (most with full hookups), a swimming pool, laundry area and even an on-site dog park.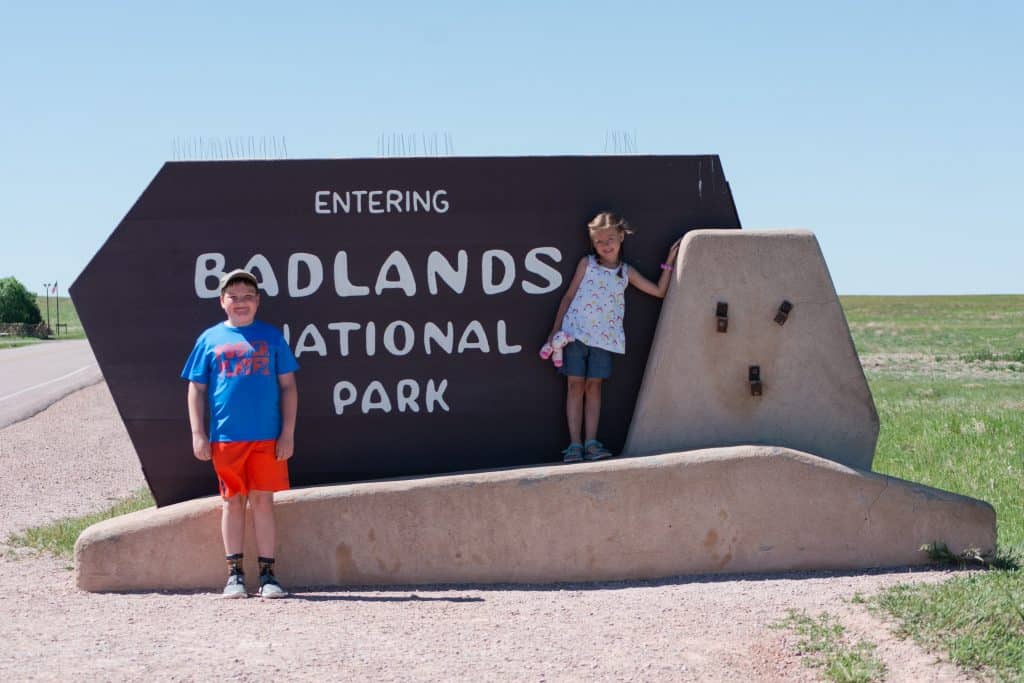 Badlands Interior Motel and Campground
Badlands Interior Motel and Campground is one mile outside the Interior Entrance to Badlands National Park. This campground features a variety of stay options including RV sites, tent sites, camping cabins, motel rooms, and even teepees. Amenities include fire pits, WiFi, a swimming pool, restaurant and camp store. Views of the jagged peaks of the Badlands can be seen from many sites.
Boondocking Near Badlands National Park
When we visited the Badlands, we decided to go with one of the more adventurous options. Approximately a mile outside the Pinnacles Entrance to the park and only 5 miles from Wall, South Dakota you will find what many say is one of the most fantastic camping spots in the country.
Sites here are free and you can stay for up to two weeks at a time. Even though we only stayed here for one night, we thoroughly enjoyed the views perched high on a ridge overlooking the Badlands and Buffalo Gap National Grassland.
The land is maintained by the Bureau of Land Management and is officially part of the Buffalo Gap National Grassland. The camping area itself goes by many names such as "Badlands Boondocking Spots", "Dispersed Camping at Badlands National Park" and "The Wall at Badlands National Park". For ease, let's just call it the Badlands Boondocking Spot.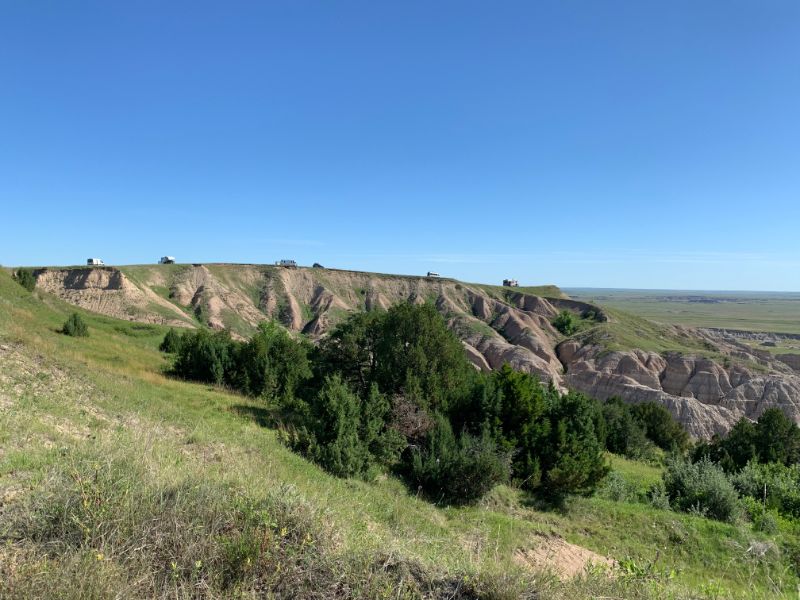 The Badlands Boondocking Spot is truly a dry-camping area. That means there are no amenities or utilities. None. Zip. You will have to bring your own water, food, and supplies, however, the trade-off is that you get 180-degree views of rugged geologic formations, rolling grasslands, bighorn sheep, pronghorn, and even the occasional bison grazing below. The star-gazing is also spectacular! All in all, camping here was one of the highlights of our family road trip in 2020.
Access to the Badlands Boondocking Spot is just off Highway 240 between Wall and the Pinnacles Entrance to Badlands National Park. A gated entrance and dirt road lead up the hill to the ridge. It's easy to spot campers and RVs already set up along grassy sides of the ridge road.
What to Do In The Park
Although Badlands National Park is smaller in size than some parks, it makes up for it in beauty and otherworldly views. Here are some ways to take in all the park has to offer.
Drive the Badlands Loop Road
Many of Badlands National Park's incredible vistas are accessible via the Badlands Loop Road. The Badlands Loop Road is a paved two-lane road that traverses the north unit of the park, winding through multi-colored rock formations, mountain passes, and narrow canyons.
The road is a great way to see the park, especially if you are short of time. The various pull-offs provide access to over a dozen overlooks and great wildlife viewing spots.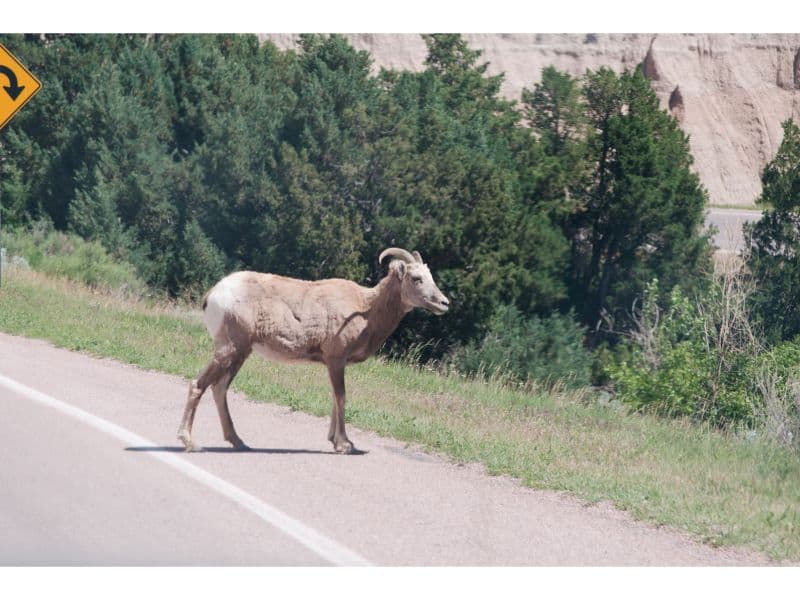 See the Wildlife
At first glance, the stark landscape of the Badlands can look lonely, desolate, and dead, however, the Badlands abound with wildlife. In the Badlands, we got our first glimpse of bison as soon as we entered the park. We joked that they were the welcoming committee. Nearby, our kids spotted a large community of prairie dogs and loved watching them chat back and forth to each from the one den door to the next. Pronghorn grazed the grassy prairie hillsides and bighorn sheep skillfully scaled the jagged rocky peaks. We have seen bighorn sheep in other parks, but nowhere else have we seen them so close and so easily as we did in the Badlands.
See Paleontologists at Work
The Badlands of South Dakota are known for their rich fossil deposits, especially those of early mammals like ancient horses, camels, and rhinoceroses. The Fossil Preparation Laboratory is located inside of the Ben Reifel Visitor Center and gives park guests a chance to see the science and history research that is currently going on in the park. Visitors can watch paleontologists prepare fossils, work on species identification, and cataloging specimens for display.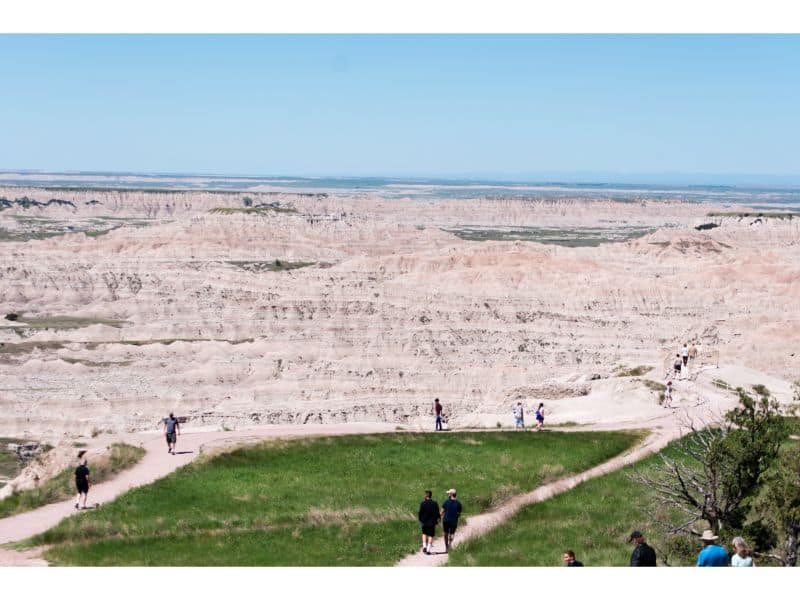 Go For a Hike
Badlands National Park has a variety of trails for many different abilities, ranging from raised boardwalk trails to strenuous latter climbs. Regardless of the trail, hiking the Badlands can be like walking another planet! The terrain is rough and shade is sparse, so bring sturdy shoes, sunscreen, and plenty of water.
Some of the most popular trails are:
Door Trail (Easy – 0.75 miles roundtrip)
Window Trail (Easy – 0.25 miles roundtrip)
Notch Trail (Monderate to Strenuous – 1.5 miles roundtrip)
Castle Trail (Moderate – 10 miles roundtrip)
Cliff Shelf (Moderate – 0.5 miles roundtrip)
Saddle Pass (Strenuous – 0.25 miles roundtrip)
Fossil Exhibit Trail (Easy – 0.25 miles roundtrip)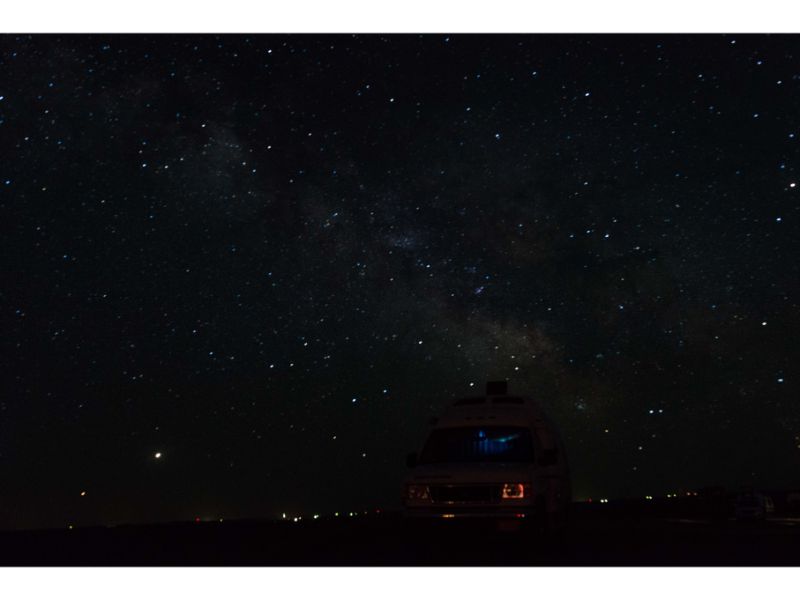 Go Star Gazing
If you are staying in or around Badlands National Park, don't miss one of our favorite activities – star gazing! In a world where dark skies are increasingly hard to come by, most people don't get the chance to see the abundance of beauty that is right above them. The incredibly dark sky of the Badlands makes it possible to see the Milky Way Galaxy and over 7500 stars on any given summer night! You can also see various satellites fly over and of course the occasional meteor.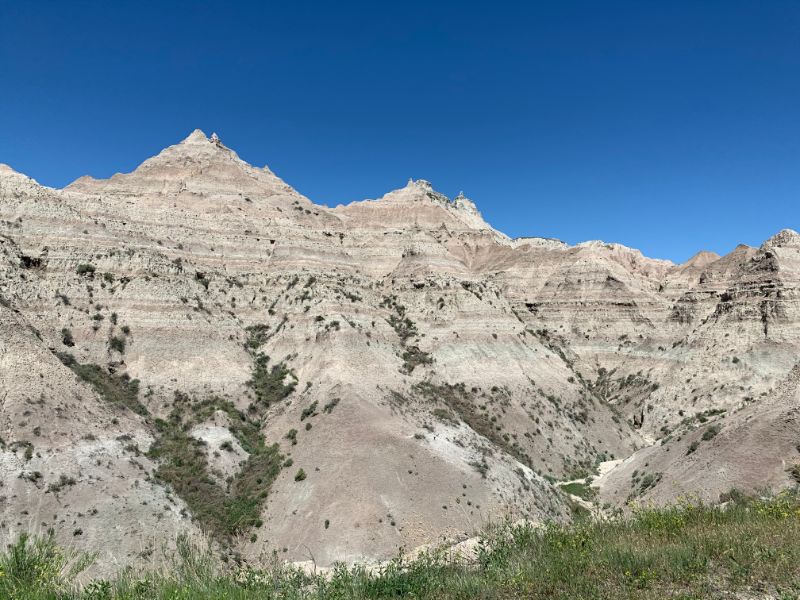 Extra Tips for Badlands National Park
Check the National Park Service website for road construction and updates as to what areas are open. The roads in the park can be narrow, so when you add heavy equipment to an already tight area, it could mean that your rig will have to squeeze through a small area while you are traveling through the park. Also, parts of the park are located on Native American tribal lands and are subject to regulations imposed by those groups. On our visit, the south unit of the park (including one of the visitor centers) was closed while the north unit was open.
Pack a lunch and get a full tank of gas if you plan on going up into the park for the day. Unlike some parks, there are no restaurants or concessions once you get into the park for things like food and gas.
Temperatures in the park can be really hot, so pack plenty of water and sunscreen. Even if you just plan on driving through the park and stopping at the overlooks, you can still get dehydrated and sunburned being in the scorching sun for those 15-minute increments.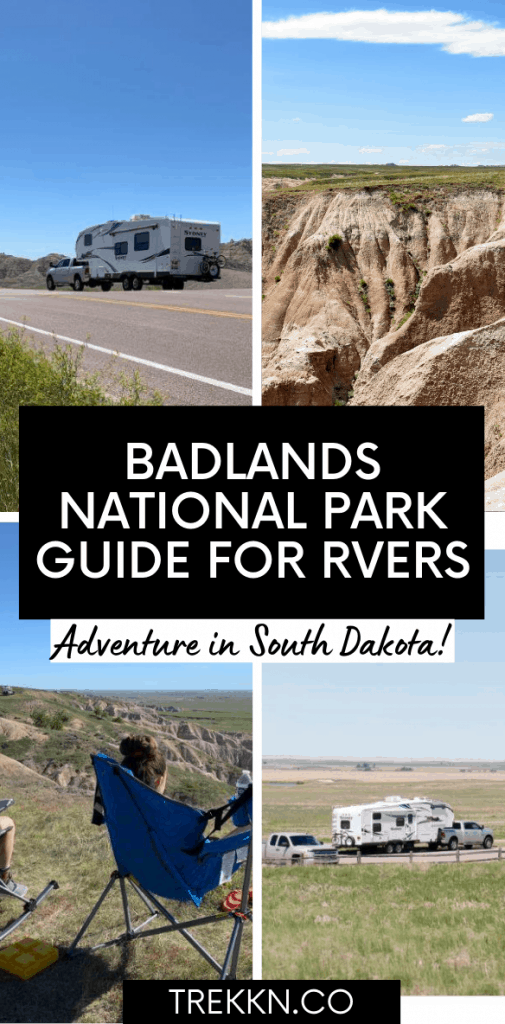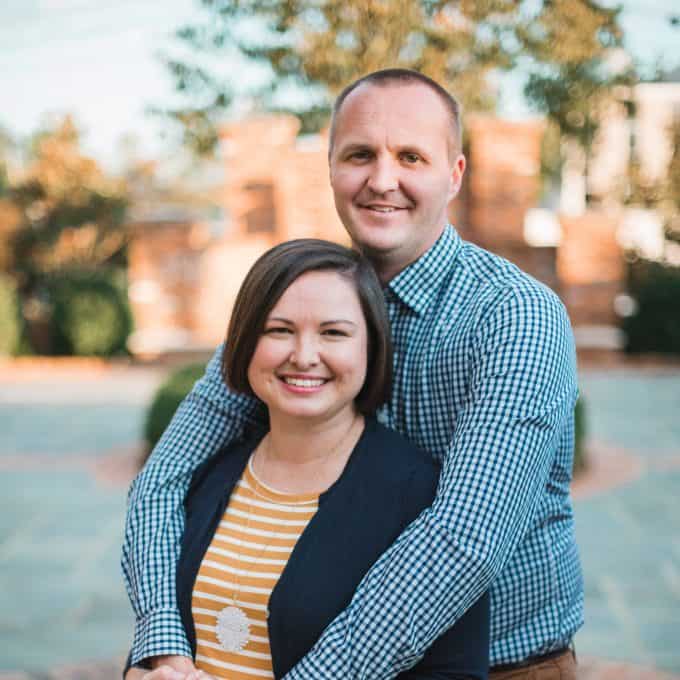 Nick and Kelsey Hensley are part-time RVers and full time adventure seekers. Nick is a Rocket Scientist by day and a Certified RV Technician by night. Kelsey works as a freelancer, photographer and digital ninja. With their two kids, the Hensleys road trip across the country every summer on their quest to see all 62 National Parks. On the weekends you can find this nerdy crew at a campground, historic site, or checking out the newest restaurant in town.