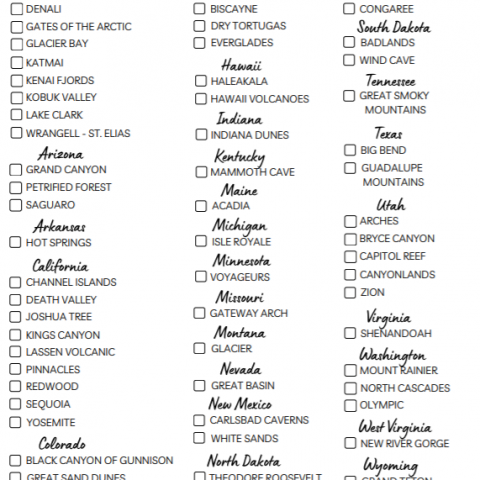 Do you have a National Parks bucket list? If so, here's your free printable list of National Parks by state so you can check them off one by one. We updated it in 2022, making sure all 63 National Parks are listed.
Let's see if 2023 brings a new National Park, shall we?!
If you've ever had the chance to step foot in one of America's beautiful National Parks, then you know just how magical they are.
Whether you're on the west coast and experiencing the beautiful mountains of Glacier National Park or you're in Florida walking past the alligators in Everglades National Park, each individual park has something special to offer.
We've visited 17 National Parks so far, with the hopes of checking off many more in the coming years.
The very first National Park we visited was Rocky Mountain National Park in Colorado and next was Yosemite, Grand Teton, Yellowstone, and Glacier. Needless to say, it didn't take long to get us hooked on these natural wonders (especially those in the Rocky Mountains).
Scroll to the bottom of this post to instantly receive your free printable list of U.S. National Parks, as well as a link to our post featuring our free printable National Parks map.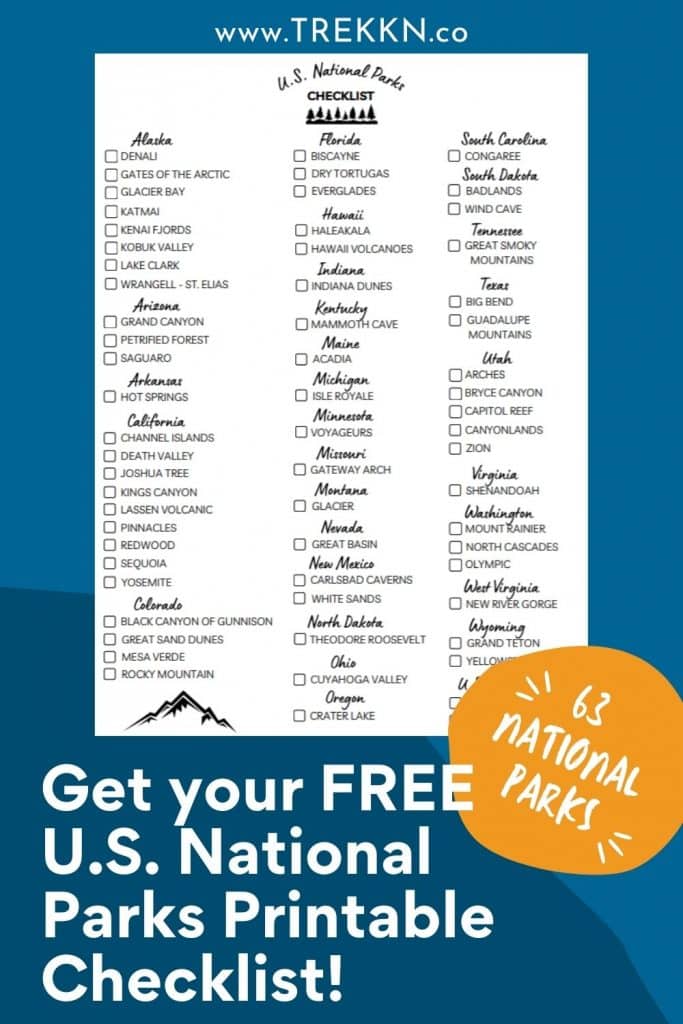 How many U.S. National Parks are there?
Update as of 1/7/2021: There are now 63 National Parks, with New River Gorge in West Virginia now designated as a National Park!
As of this writing, there are 63 National Parks according to the National Park Foundation:
The National Park System encompasses 418 national park sites in the United States. They span across more than 84 million acres in each state and extend into the territories, including parks in Puerto Rico, the Virgin Islands, American Samoa, and Guam. Within the system, there are 60 sites that include "National Park" as part of their proper name such as Acadia, Everglades, Grand Canyon, and Yellowstone.
The newest National Park to join the list in 2021 was New River Gorge National Park in West Virginia. If 2023 brings a new National Park, we'll definitely add it to this list and update the printables so you can always have the newest version possible.
63 US National Parks List by State
Here's a list of National Parks by state:
(Side note: We'll keep updating this list of U.S. National Parks with a link to the articles we write on each park.)
Alaska National Parks
Denali
Home of the highest peak in North America (Denali, elevation 20,310 feet, and formerly known as Mt. McKinley), this 6 million acre frozen frontier will take your breath away from beginning to end.
Denali simply means "the great one", and no one will argue with that. With just one road through the park (mostly dirt and gravel) and one entrance into the park, your trip will not require much navigation.
But that doesn't mean it will be boring. Wildlife and wild landscapes abound in this last frontier, so keep your eyes wide open for opportunities of a lifetime!
Gates of the Arctic
Without a single road or trail, this park gives you the opportunity to explore landscapes and ecosystems that have been changed only by the forces of nature for thousands of years.
As primitive as they come, rivers in this remote location will not be close to ice-free until mid-June; plan your travels and your wardrobe accordingly, and always be prepared for the unexpected and extreme.
This is untamed Alaska.
Glacier Bay
Not surprisingly, if glaciers are your thing then Glacier Bay should absolutely be your next national park visit.
You will find over 1,000 glaciers that cover approximately 27% of this park!
All told, it offers 3.3 million acres of not just rapidly-changing glaciers, but also temperate rainforest, rugged peaks (the highest, Mt. Fairweather, at over 15,000 feet), and the wildest coastline you could possibly fathom.
Get a taste of the land that the Huna Tlingit people have called home for countless generations. (This park is at the top of Todd's bucket list, by the way.)
Katmai
Brown bears by the hundreds (about 2,200 to be exact) and salmon large enough to pull you in! Those are just a couple of the highlights you could experience with a visit to this stunning location close to Kodiak.
But be sure to plan your visit between June 1 and September 17, because only extremely limited services are provided outside of those dates and visitor centers will be closed.
Bear watching opportunities here are second-to-none and people come from every corner of the world to experience these giants up close and in their natural, largely unaltered habitat. You won't leave the same.
Kenai Fjords
"Where mountains, ice, and oceans meet." That sums up the experience you can expect in this remote location about a 3-hour drive from Anchorage.
Did we mention that those oceans are filled with orcas, humpbacks, belugas, and countless other wildlife that you will likely get a glimpse of? Take a kayak out into the bay for a truly up-close experience with these creatures, or choose a boat tour with one of the tour companies leaving from Seward.
Whatever your choice, plan your visit for the most popular months of June through August, though the park is open year-round. (Our son just worked in this location for the summer and gave us first-hand feedback that this place is simply astounding.)
Kobuk Valley
Located in northern Alaska near Kotzebue, this unique park is only accessible by boat, plane, or foot.
If you are up for an ultimate adventure, you could bring along your packable boat and have a pilot drop you at a remote location to float through the park. (Please, prepare yourself very well for an excursion like this.)
While this park is open year-round, a visit between May and September is advisable for the best experience. You might be surprised to find out that you can explore giant sand dunes at this location as well (Great Kobuk Sand Dunes)…but leave the bikinis at home.
Lake Clark
Lying at the intersection of four distinct Alaskan bio-geographic regions, this park offers more than you bargained for.
Its 4 million acres (park and preserve combined) offer something for everyone in the family. A pristine lake, mountain tops as high as 10,000 feet, volcanoes, rivers running thick with salmon, bear and other wildlife viewings, kayaking and rafting…and so much more.
If you can't find something to thrill and entertain you here, best to just head south with the migratory animals.
Wrangell – St. Elias
America's largest national park. I know, I was surprised to hear that as well, but at over 13 million acres (roughly the size of Yellowstone, Yosemite, and Switzerland!) it is the undisputed leader.
Located east of Anchorage (4-5 hours by car), it normally sees less than 80,000 visitors per year. So if solitude and quiet is what you are after, this one might be a great choice.
Those lower visitor numbers might also give you a better chance at spotting a black bear, brown bear, Dall sheep, moose, caribou, steller sea lion, or dozens of other species that make this park their home.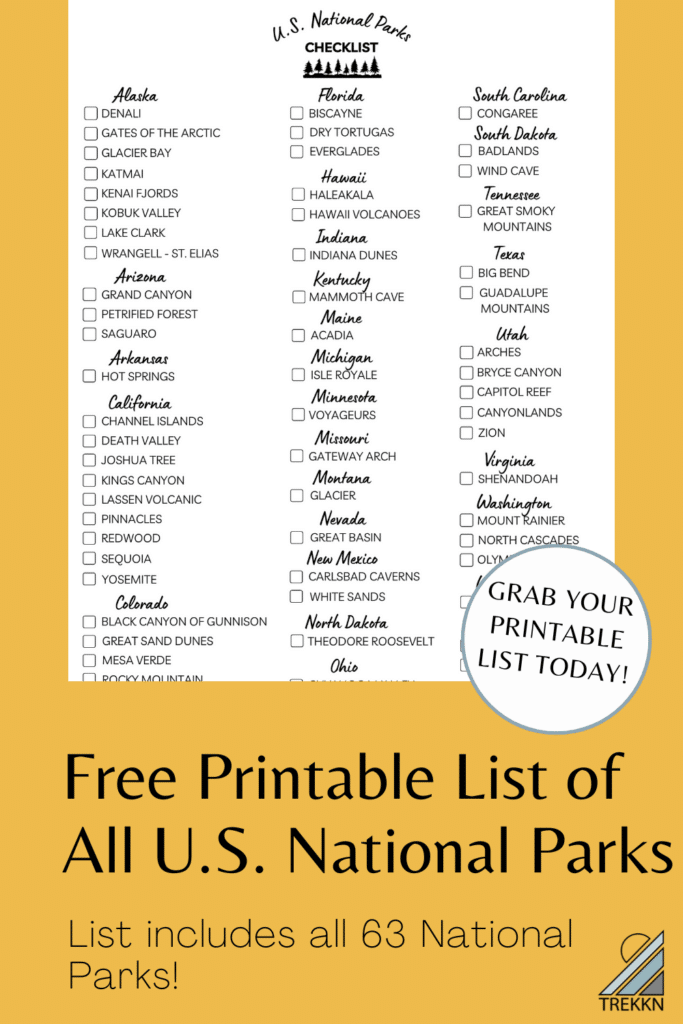 Arizona National Parks
Grand Canyon
Iconic and unforgettable. We've all seen countless pictures of this impossibly large canyon. But trust me: Until you stand on the edge of it, you haven't seen it.
Because when you see it with your own eyes, you truly experience it, you are dwarfed and it leaves a mark. With an average depth of 1 mile, widths as much as 18 miles, and 277 river miles, Grand Canyon will drop your jaw and leave you standing in stunned silence.
And if you're interested in capturing the best photographs of this wonder? Check out the Grand Canyon Photography Tips page at nps.gov.
Petrified Forest
Since this is one of the smaller parks in the lineup, you can actually drive the 28-mile road from one end of the park to the other in about an hour.
This will give you the "brief overview" of what it has to offer, but there is much more than meets the eye at first glance.
Be sure to visit Painted Desert Visitor Center and watch the park film to give you more details about all you can discover.
The park has considerably expanded its services in recent years, so if you've been here before don't assume you have all the info you need. Those visitor centers and rangers are there to help.
And if wildflowers are your thing, then a visit in May, July, or August will probably give you exactly what you crave.
Saguaro
This national park is unique in that it basically surrounds a major city: Tucson.
Split into east and west districts, Saguaro is filled with the giant cacti for which it is named, which can grow to over 40 feet! These are the iconic symbols of the American west and will probably make you feel like you're in the middle of an old Western film…minus the gunfights.
And don't be too rushed to get out of the park before dark, because a large part of its charm is the breathtaking desert sunsets that appear as a backdrop to these prickly giants. Get those cameras ready!
Arkansas National Parks
Hot Springs
At only 5,500 acres, this is one of the smaller national parks that our country has chosen to protect.
The park essentially surrounds the northern portion of the city of Hot Springs (approx. population 37,000).
Things to do include touring a historic bathhouse, taking a dip in one of the operating baths, hiking or driving through the forested mountains in the park, or simply doing some shopping along Bathhouse Row.
If you want to get up close and personal with the 143-degree water heated from beneath the earth's crust, there are three locations to dip a toe in…but not too far! Safety first.
But there is a little something for everyone in this lesser-known park hidden away in the Arkansas mountains about 55 miles west of Little Rock.
California National Parks
Channel Islands
There are five islands that together are known as the Channel Islands: Anacapa, Santa Cruz, San Miguel, Santa Barbara, and Santa Rosa.
The vast majority of each of these islands is protected as a wilderness area and is used for conducting scientific studies. The national park may be located close to the coastline of California, but it will feel worlds away.
And due to variations in weather not experienced on the mainland (high winds, fog, rough seas, sea spray), visitors should come prepared by dressing in layers, including a waterproof layer.
Activities can include diving or snorkeling to explore shipwrecks (!), hiking, tide pooling, whale watching, and kayaking, among others. Escape to another world right in your backyard.
Death Valley
Don't let the foreboding name scare you off. There are many interesting (and safe) things to see and do in the park, including viewing sudden bursts of wildflowers when a "superbloom" occurs in this desert landscape.
Pets are allowed, but not recommended by park management because of the lack of facilities and amenities available to them.
The park is home to the lowest elevation spot in North America (-282 ft): Badwater Basin. (Don't drink the water.) But it also boasts some of the most stunning sunrises and sunsets you might ever experience.
Best locations for viewing sunrises include Dantes View, Zabriskie Point, and the sand dunes. If sunsets are your thing, head to Zabriskie Point, the sand dunes, Artists Palette or Aguereberry Point.
Joshua Tree
Although we have not written about it on the site yet, we were able to visit Joshua Tree in the Fall of 2017 while staying at an RV resort in Palm Desert for a few nights.
We enjoyed our short visit and were mesmerized by the other-worldly landscape as we drove through the lonely desert waiting for Joshua Trees to appear.
If you are wanting to gain some elevation within the park and get a good view, your best bet is atop Quail Mountain (5,814 ft).
If geology interests you, don't miss out on Geology Tour Road, an 18-mile motor tour with 16 stops that bring alive the geologic record of the park.
(Note: A 4-wheel drive vehicle is highly recommended if you wish to drive the entire road, which consists of some deep ruts and soft sand.)
Kings Canyon
*Note: Since World War II, this park and adjoining Sequoia National Park have been administered jointly.*
Home to the deepest canyon in the United States, Kings Canyon is still often overlooked in favor of its better-known neighbor, Sequoia. This gives you a chance to experience the same grand landscape of the more popular park but with far fewer people to consider (or avoid).
While weather can be a bit unpredictable, a visit in the winter could yield fantastic and unforgettable experiences as the landscape is transformed by ice and snow. Crowds will be down, giving you the chance to leisurely explore pristine Alpine environments being monitored and protected within the park.
The grandeur of this park will not disappoint!
Lassen Volcanic
Not surprisingly, Lassen may be one of the most unique parks you are able to visit due to its landscape transformed by violent geothermal activity over the centuries.
Home to multiple volcanoes, steaming fumaroles, wildflower-speckled meadows, and much more, it is also one of only two habitats where you will find the Sierra Nevada red fox.
If planning a fall visit, be sure to check dates for the closure of campgrounds and other facilities in the park. Interested in getting up close with hydrothermal activity? Your best bet is Bumpass Hell which offers a 3-mile round trip trail for exploring steaming and bubbling mud pools and roaring steam vents.
Please remember, safety first!
Pinnacles
Interested in a national park "born of fire"?
We've got just the right one for you. The mesmerizing geologic structures in the park were formed millions of years ago by lava flows.
The rounded and sculpted formations tower above you, especially when you head to one of the canyon bottoms. Journey through chaparral and oak woodlands as you seek out a chance encounter with one of the 48 known mammalian species located within the park, including bobcat, grey fox, badger, bats, and wild pig.
This 26,000-acre park is on the smaller side and most of it is designated wilderness for obvious reasons. P.S. The San Andreas Fault Zone lies just east of the park.
Redwood
As a boy, Todd took several trips through the Redwoods on his way from Washington to visit relatives in Northern California. Sadly, we did not find a way to make the stop at this national park during our travels, though we passed very close by. (Poor planning. Big mistake.)
You might think we missed out on seeing unbelievably tall and majestic trees that are hundreds of years old, and you would be right. But that doesn't take into account the 40 miles of wild and rugged coastline that the park also boasts, among many other features.
You could spend a half-day in the park and walk away changed by the beauty and grandeur, or you could easily spend weeks exploring it and the many nearby attractions, including the adjacent state park.
I'm choosing that second option the next opportunity we have. Guaranteed.
Sequoia
*Note: Since World War II, this park and adjoining Kings Canyon National Park have been administered jointly.*
In this land of giants, elevations can range from approximately 1,300 ft up to nearly 15,000 ft. Curious about where to find the largest giants in the land?
Giant Forest is home to the world's largest living tree, the General Sherman Tree. This behemoth stands 275 feet tall and measures 36 feet in diameter at its base! You've never experienced anything like this before and you will undoubtedly leave with a new appreciation for our natural world and its wonders.
And if caves are your thing, be sure you don't miss Crystal Cave, a marble cavern where 45-minute guided tours are offered.
Yosemite
This mind-blowing national park holds a special place in our family's memories.
Besides Rocky Mountain National Park that we lived near for a while, Yosemite was the first national park that we visited together back in March of 2016 when we flew from Texas for a spring break adventure.
To say that it lived up to everyone's expectations would be a major understatement. Although we only had a few days, we were completely blown away and ended up returning here in the fall of 2017 after we began our full-time RVing adventure.
This land has been protected since 1864, and for good reason.
Thanks in large part to the efforts of John Muir, who spent huge chunks of time here and all across the High Sierras of California, the government chose to guard against development in this 1,200 square miles of jaw-dropping sheer granite cliffs, enchanting waterfalls, and views like you will not soon experience anywhere else.
You owe it to yourself to experience this national treasure for yourself as soon as possible!
Colorado National Parks
Black Canyon of the Gunnison
Can we both just admit that we've never heard of this park before and put it behind us?
I'm a little embarrassed to say that, especially since I lived several years in Colorado, but it's true. And yet just one quick glance at the park's official page and I can clearly see I have been missing out!
It may not be the Grand Canyon (at up to 6,000 feet deep), but it certainly offers more than its fair share of breathtaking views along 14 miles of this canyon as it plummets more than 2,700 feet to the thundering river below.
Hiking trails of all difficulties, including extremely strenuous and treacherous hikes to the river bed below, are available to suit the needs of the entire family.
Located approximately 50 miles west of the city of Gunnison along Hwy 50, it doesn't see the high volume of visitors many other more popular national parks do.
It may be the perfect "hidden treasure" for you to explore next!
Great Sand Dunes
Located in southern Colorado about 75 miles west of Walsenburg, Great Sand Dunes offers an extremely unique combination of landscapes for you to experience.
Massive sand dunes with a backdrop of snowy peaks (Sangre de Cristo mountain range with elevations over 14,000 feet) will leave you wondering where you just landed…but wanting more.
Bison, elk, bighorn sheep, black bear, and many other species can be found in the surrounding wilderness and forest, so don't forget to bring your binoculars and cameras.
Surrounded by multiple towns within an hour's drive, you won't have too many problems finding nearby accommodations for an extended stay.
And did we mention that the night sky will come alive like you might have never experienced? Very little light pollution will draw you to stay around after dark to view the Milky Way as you've never seen it before!
Mesa Verde
Another location that remains on Todd's bucket list, Mesa Verde is like no other national park.
Its establishment in 1906 was due primarily to an effort to protect more than 600 well-preserved cliff dwellings of Ancestral Pueblo peoples. These elaborate stone communities were constructed by natives approximately 1,400 years ago and used as primary dwellings for 700 years.
You will be able to view the largest dwellings at Cliff Palace, Hemenway House, Spruce Tree House, Long House, and Step House.
And your natural surroundings will not disappoint either as you explore this archaeological treasure of the Americas. And don't miss the Sun Temple either, a structure believed to be a place of important ceremonies in the native culture.
Rocky Mountain
If there is one part of Colorado that we know really well, RMNP is absolutely it!
Since we honeymooned here more than 23 years ago, our family has returned multiple times to experience everything this 1,200 square miles of protected land has to offer. (It is absolutely an essential stop on your Rocky Mountains trip bucket list!)
We've experienced flash snow and sleet storms in July at the park's summit (over 12,000 feet elevation), we've been unexpectedly enveloped by clouds as the weather constantly shifts and changes, we've had close encounters with a family of elk, and far more fantastic experiences than I could possibly convey.
Hiking opportunities in the park are second to none, with more than 300 miles of trails available to explore, and your chances of encountering a moose, elk, bighorn sheep or other stunning creature on one of your hikes are very high!
Be aware of animal safety tips before entering this park in order to keep yourself and wildlife safe.
Florida National Parks
Biscayne
Best described as a "watery wonderland", because its area is 95% water,
Biscayne is located just north of the Florida Keys and east of Homestead, FL.
The park holds evidence of 10,000 years of human history, from shipwrecks to ancient farming.
But if eco-adventures are what floats your boat, this is your place to land…by sea or air (90% enter by boat). Because there are no roads leading to this location and only one mile of roads within the park.
Guided eco-adventures leave from the Dante Fascell Visitor Center on a daily basis and can include snorkeling at shipwreck sites and exploring colorful coral reefs.
Dry Tortugas
When we visited Florida and Everglades National Park in the spring of 2018, we became aware for the first time of what exactly Dry Tortugas was… and where it was located.
Naturally, we wanted very badly to visit this remote park, but we just couldn't pull it off without prior planning.
You'll find this 100 square mile park about 70 miles west of Key West.
Much like Biscayne, this park is primarily made up of open water with seven small islands dotting the area. On one of the islands is a large military fort, Fort Jefferson, which was constructed over a 30-year period (1846-1875) and used during the Civil War primarily as a prison for Union deserters.
Its most famous prisoner? Dr. Samuel Mudd, famous for setting the broken leg of John Wilkes Booth after his assassination of President Lincoln in April 1865.
Everglades
During our visit to the park in 2018, two things struck us more than anything about this national treasure: The amazing diversity contained within its seven distinct ecosystems and the ability we had to get very up close and personal with wildlife in the park.
Specifically, we were walking along sidewalks within 10 feet of lazy alligators bathing in the sun. They didn't seem to care too much about our presence, but that didn't make it any less of a thrill being near these prehistoric creatures.
In addition to that, we found ourselves mesmerized by the manatees surfacing periodically in one of the waterways of the park. You can easily spend your time driving and walking to experience all different areas of the park, but there are ranger-guided tours regularly offered in addition to private tours.
This place will be unlike anything you have ever experienced before!
Hawaii National Parks
Haleakala
*Note: If you're interested in viewing the sunrise in the Summit district of this pristine park, be aware that you need to obtain a permit 60 days prior to your visit.*
Located on the island of Maui, the park encompasses over 33,000 acres (52 square miles) and is highlighted by three distinct districts: Kipahulu (coastal areas), Summit (mountains), and Wilderness (mountains).
The park is not highly developed and actually offers absolutely no food, water, or gasoline.
In addition, it ranges in elevation from sea level to over 10,000 ft at the summit of Haleakala, so be aware of altitude effects and take proper precautions to avoid putting a damper on your national park visit.
Hawaii Volcanoes
*Before you visit, be aware of this update on the park's official page: "Beginning in May 2018, the lava lake that existed inside Halema'uma'u crater disappeared and lava flows from Puʻu ʻŌʻō crater have ceased. There is no molten lava or lava glow to see anywhere in or out of the park."*
This national park is actually about 10 times the size of its Hawai'ian cousin, Haleakala, at over 320,000 acres (500 square miles) and is located on the big island of Hawai'i. It is named primarily for its two major active volcanoes: Kilauea and Mauna Loa.
The last major volcanic activity within the park occurred in late 2018, causing the destruction of more than 700 homes and widespread devastation to residential areas.
You are encouraged to visit the park's official page before your visit to verify that there are no major updates on volcanic activity or road closure announcements.
Update: We moved to the Big Island of Hawaii in November of 2020 and can't wait to visit this National Park.
Update: We visited this incredible park twice while we lived in Hawaii! Once we rented a campervan which you can read all about our experience renting a camper van on the Big Island and visiting this park here.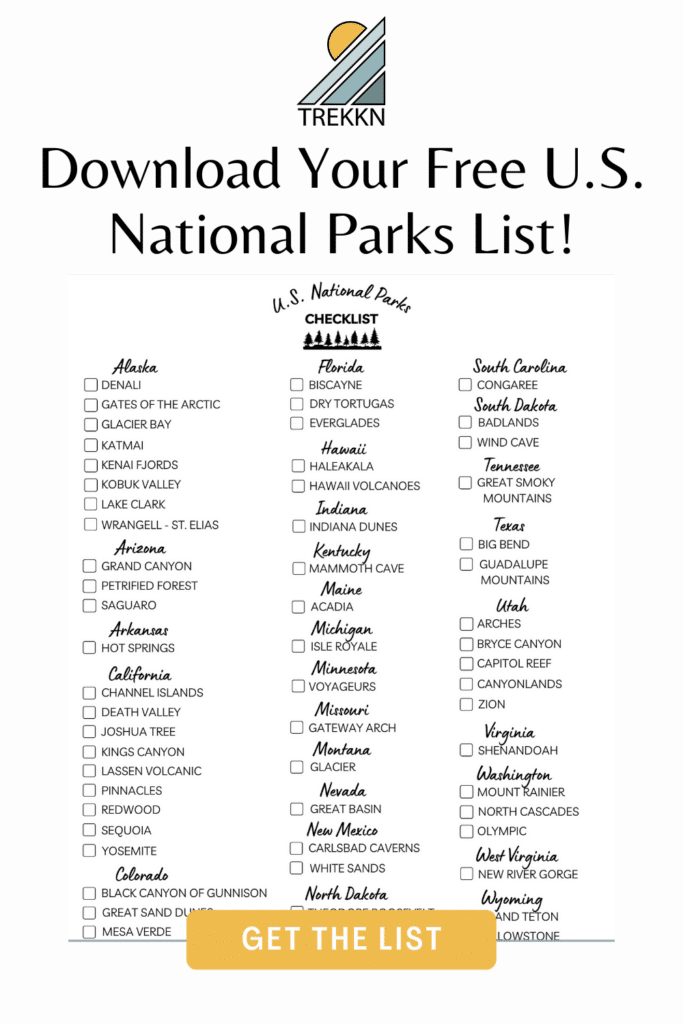 Indiana National Parks
Indiana Dunes
15,000 acres of parkland with 15 miles of Lake Michigan coastline and 50 miles of trails through dunes, prairies, wetlands, and forests?
Sounds like a good day of exploring to me! And yes, it's in Indiana, near the small town of Porter and less than an hour's drive from Chicago. Who knew!
And if you're a winter outdoor enthusiast, the park offers great cross-country skiing and snowshoeing opportunities in the winter months as well. Interested in catching a glimpse of migrating birds of all kinds?
Head out on the Great Marsh trail and bring your camera and binoculars to capture great views of heron and other wetland frequenters. This park offers a surprising array of activities in an unexpected location, so be sure you don't miss out!
Kentucky National Parks
Mammoth Cave
If you're anything like Todd, you are always up for a cave adventure!
We visited Wind Cave in South Dakota but did not make it to this mesmerizing underground wonderland. Described as a "grand, gloomy and peculiar" sort of place, Mammoth Cave boasts more than 400 miles of the explored underground network. Yup, that's mammoth…in fact, it is the world's longest known cave system.
In addition to its unique size, the cave also has a long history entangled with slavery. Many of the earliest explorers and guides at this cave were African American slaves, including Stephen Bishop, Mat Bransford, and Nick Bransford to name just a few.
Their legacy lives on with much-documented history, but also with some of the features of the cave named in their honor. You can read more about the Black history of Mammoth Cave here.
Maine National Parks
Acadia
While it can be hard to try and rank the national parks that we have been able to visit, there is little doubt that Acadia National Park sits in the top three favorites for everyone in our family.
This coastline gem is spellbinding, from the highest peak to rocky, foggy beach. We only had a few days to explore it in the summer of 2018, not nearly enough even for its relatively small size at 47,000 acres, but during that time we experienced some stunning hikes that you can't miss out on and beach time (chilly) that was absolutely awesome!
The views of the sea from excellent vantage points in the park are second-to-none and we were simply charmed by this "Crown Jewel of the North Atlantic Coast" from beginning to end.
With the idyllic town of Bar Harbor nearby, you will find plenty to keep you enthralled, and plenty of places to stay, during your visit to this national gem.
Michigan National Parks
Isle Royale
Just because this national park is among the least visited (4th least in 2018) doesn't mean that you shouldn't visit.
Let's just be clear about that from the beginning. In fact, that in itself may be a great reason to visit if crowds of people are not your first preference.
This park, surrounded by Lake Superior and located just a handful of miles from the Canadian border and the province of Ontario, offers an isolated, serene, and rugged landscape for backpackers, hikers, boaters, and even scuba divers to escape to.
Its untouched beauty and splendor are tucked away in this remote location and (obviously) only accessible by boat. Guided tours of the park are offered by a few private companies and should be booked well in advance to assure availability.
Minnesota National Parks
Voyageurs
Much like Isle Royale covered just above, this national park is also located in a fairly remote location along with the Canadian (Ontario) border and is largely comprised (40%+) of water.
Essentially, you have three options for effectively exploring and navigating this land: Bring your own watercraft, reserve a watercraft in the park, or join a guided boat tour led by a park ranger.
Without choosing one of these options, you will be very limited in your ability to explore the 218,000 acres that comprise this natural habitat.
While the park is obviously easier to access during the spring and summer months, it also offers multiple activities throughout the winter, including snowshoeing opportunities for the whole family to enjoy.
For a unique national park experience, you simply can't go wrong with this option.
Missouri National Parks
Gateway Arch
Reflecting the role of St. Louis in the nation's Westward Expansion efforts in the 1800s, the Gateway Arch was designated as a national park in early 2018.
This was a re-designation of the Jefferson National Expansion Memorial. Located along the banks of the Mississippi River in the heart of St. Louis, the arch stands 630 feet high at its highest point and is also 630 feet wide.
With its outer skin made of 1/4 inch stainless steel plates (weighing 886 tons) making up its 142 sections, the arch is a striking structure on the skyline and has drawn visitors from all around since its construction completion in 1965.
The Old Courthouse in St. Louis, which sits just a block away from the arch itself, was the site of the historic first two Dred Scott court cases in 1847 and 1850 which centered on the issue of slavery and "property rights".
Montana National Parks
Glacier
Alright, I'm going to try to keep this under control, but it's going to be hard. You see, Glacier National Park is probably my favorite spot on earth.
We've seen quite a bit, and I've been wowed by other locations, no doubt about it. But nothing beats Glacier in my book. Nothing. (We decided to spend a total of three weeks there for good reason.)
After all, they do call it the "Crown of the Continent". Who are we to argue? At just over 1 million acres (1,583 square miles), the park includes more than 700 lakes, 700 miles of hiking trails (110 miles along the Continental Divide), 26 glaciers, and 175 mountains (the tallest, Mt. Cleveland, at 10,448 ft). How's that for a highlight reel?!
But no number, no statistic, could possibly prepare you to experience this piece of heaven on earth. And if wildlife really floats your boat, I can tell you that we personally spotted multiple grizzly bears, black bears, moose, and many other species during our visits to the park.
Run don't walk, to experience Glacier National Park for yourself. Trust me on this!
Nevada National Parks
Great Basin
When you think of Nevada, what's the first thing that comes to your mind? Okay, other than Las Vegas. For me, I think: Hot. Dry. Barren. Desert. Which I know is not correct, and makes me wish we had been able to visit this state during our full-time RV travels.
Well, Great Basin National Park begs to differ with me and sits in Eastern Nevada near the Utah border recognized as "A Land of Surprising Diversity".
But before you even take a look at the land, you may want to turn your eyes skyward on the first night of your visit because this national park was designated in 2016 as an International Dark Sky Park!
What does that mean? According to the park's official website, it means this: "On a clear, moonless night in Great Basin National Park, thousands of stars, five of our solar system's eight planets, star clusters, meteors, man-made satellites, the Andromeda Galaxy, and the Milky Way can be seen with the naked eye."
As a matter of fact, you can even buy a ticket for the Star Train where you will have a chance to view the sky through high-powered telescopes.
Add all of this to the opportunity to also tour the Lehman Caves during your visit, and you already have a great trip in the making!
New Mexico National Parks
Carlsbad Caverns
When I was just a wee lad of about 7 years old, I got the chance to visit Carlsbad Caverns National Park in New Mexico with my family.
Nearly 40 years later, I still have very vivid memories of that experience and remember how blown away I was by what we discovered there.
Whether you want to explore the giant caves on your own, or on a guided ranger tour (book at least 48 hours in advance), you too will be mesmerized by these ancient underground spaces as well as the Chihuahuan Desert landscape above ground.
And if bats are your thing, you will be one happy camper as you partake in the Bat Flight Program offered each evening (late May-October, with the best viewing opportunities in Aug and Sep) which allows you to view thousands of Brazilian free-tailed bats leaving the cave to feed.
If those many bats are a little too much for you to handle, you could choose to attend a Night Sky Program instead (Star Walk or Moon Hike, minimum ages apply for each) which normally takes place immediately following the Bat Flight Program.
Enjoy everything above and below in this very unique location in Southern New Mexico!
White Sands
On Friday, December 20, 2019, White Sands was re-designated White Sands National Monument as White Sands National Park, making it the 62nd designated a national park in the National Park System.
*More info coming soon…
North Dakota National Parks
Theodore Roosevelt
If there is one man we can thank more than any other for the National Parks we enjoy today, it is Theodore (Teddy) Roosevelt.
This American statesman, political, conservationist, naturalist, and writer served as our 26th U.S. President and was deeply impacted by a visit to this area of North Dakota in his 20s.
In fact, he actually stated that he would never have become president if not for his time in North Dakota.
Within the park, you can visit the location of Roosevelt's "home ranch", situated in a remote and serene spot along the Little Missouri River. You will not find a visitor center or any other signs of park operations here; it's simply a place to recognize the area that shaped this remarkable man.
You also have the opportunity to visit the South Unit or North Unit of the park, both offering scenic drives and ample hiking opportunities.
Find peace, solitude, and a rare and fascinating landscape in this national park paying homage to Teddy.
Ohio National Parks
Cuyahoga Valley
Even though this national park is located just a short distance from the urban areas of Cleveland and Akron, you will quickly discover that it actually feels worlds away.
Its serene, natural setting along the Cuyahoga River offers many opportunities for outdoor activity spread across its 33,000 acres. These activities include hiking on the park's 125 miles of trails (from flat and easy to challenging), biking, canoeing and kayaking, and many others.
The range and quality of activities are remarkable given that it is located only 30 minutes south of downtown Cleveland, and the quality is attested to by the 2.2 million visitors per year that choose to visit the park.
An easy getaway that you will definitely not regret, Cuyahoga Valley is definitely worth a visit.
Oregon National Parks
Crater Lake
Did I mention that I'm from the Pacific Northwest? You'll understand then if I have a particular weakness (and bias) for the parks located in this fantastic region of the country.
Of course, I have my favorite parks in other parts of the country as well (see Glacier and Yosemite above, for instance), but the emotional connection here, based on childhood visits, is exceptional.
And getting to share a visit to this place with my own wife and kids in September 2017 was a dream come true.
Everything about our fall visit was just remarkable. After stopping at an RV park in nearby Umpqua National Forest (also highly recommended), we made the hour drive to the park and discovered a dusting of snow that had fallen overnight. The effect that this added to the views and landscape was nothing short of spectacular!
Seeing mysterious Wizard Island floating in the impossibly deep water (1,963 ft) of this sleeping volcano, all of it highlighted with the whitest snow, was literally more than we could comprehend. We just kept looking at each other with mouths wide open, as if to say, "Are you seeing this too? Can you believe this?"
So yes, the views alone are worth it along the scenic Rim Drive but don't miss the chance to get out and explore some of its 183,000 acres on foot along more than 90 miles of hiking trails.
(Visit in early September if at all possible, because…wow! But bring a warm jacket.)
South Carolina National Parks
Congaree
Does the phrase "astonishing biodiversity" get your attention? It might not be what you would expect to find in South Carolina necessarily, but that's exactly what's in store for you at Congaree National Park.
You will find an extensive community of bottomland hardwood forests, with some state and national champion trees in the mix. Enjoy a number of hiking trails that range from just 0.6 miles to nearly 12 miles in length, as well as countless opportunities to boat and kayak.
If you are interested in staying nearby, Columbia is only about 20 minutes away and offers multiple lodging and dining options.
South Dakota National Parks
Badlands
Rolling through the plains of South Dakota toward our ultimate destination of Glacier National Park, we really didn't know what to expect when we made our stop at Sleepy Hollow Campground and RV Park in Wall, South Dakota.
We honestly hadn't done much research on this national park, so we remained pretty much in the dark. What we found, to our delight, was rugged beauty and striking geologic formations like we had not yet experienced in our travels.
This park's 244,000 acres kept us mesmerized for several days as we explored the peaks and valleys, scrambled up rocky hillsides, encountered bighorn sheep, and enjoyed sweeping views of the White River Valley and all of the colorful rock formations it holds.
Be sure to look for opportunities for biking and backcountry camping as well during your visit to this desolate yet beautiful national park.
Wind Cave
After the Badlands, we continued on to the west and arrived at our next national park: Wind Cave. To say that we were pleasantly surprised by this stop would be an understatement.
Again, we didn't know a great deal about what to expect at this location…except a cave. What we found, both above ground and below, simply delighted us.
From the roaming herds of bison across the prairies that we were able to get incredibly close to (in our truck) to the underground tour of some of the most amazing geologic formations I have ever seen, we had a wonderful visit here and learned so much about cave formation.
In particular, we discovered a fantastic display of the largest collection of box work formations in the world. These delicate and intricate structures made the cave experience feel more like a fairy tale and we soaked it all in.
A stop at this "hidden world beneath the prairie" should definitely be on your radar…and don't miss nearby Mount Rushmore as well!
Tennessee National Parks
Great Smoky Mountains
**Just to be clear on this point, this large national park (which is completely free, by the way) is actually divided between Tennessee and North Carolina.**
Our visit to Great Smoky Mountains National Park was one for the record books! In terms of wildlife, of which there is a world-renowned diversity in the park, we spotted five black bears during our visit that spanned 8-9 hours total over two days.
A mother and two cubs crossing the road directly in front of us was absolutely the highlight, but everything about this park just wowed us from beginning to end.
I'm from the Pacific Northwest, so I know what green is all about…but this was different somehow. This park offered the brightest green foliage I think I have ever seen, and it never ended.
Near the summit of the park, we took a 3.5-mile hike out to Andrews Bald and remained in awe the entire time. You have over 522,000 acres to explore, and it won't cost you a dime!
Please, take the time to breathe in the wonder of this park for yourself. But beware: It is the most highly visited park in the nation, so time your visit wisely. Our visit was in April and we were definitely not overwhelmed by crowds.
Texas National Parks
Big Bend
"There is a place in Far West Texas where night skies are dark as coal and rivers carve temple-like canyons in ancient limestone."
This is the appropriate introduction on the park's official government page, and it makes me want to visit so bad!
You would think, having visited over 15 national parks, that we would not have missed the ones in our own state where we have lived for over eight years. But you would be wrong. (I hope to visit in Fall 2019!)
Just remember, Texas is big. The drive from Austin is around 7 hours, so it's no day trip type of thing. But with over 800,000 acres of wild and rugged terrain to explore, and including the most representative example of the Chihuahuan Desert ecosystem in the U.S., missing this behemoth of a park would be a travesty. (I'm speaking to myself here.)
If for no other reason, you can escape the typical extreme Texas temps with a visit here, since park temps are normally 15-20 degrees cooler than lower elevations in surrounding areas.
Elevations in the park range from 1,850 ft to 7,832 ft, and with more than 200 miles of hiking trails…I'm in!
Guadalupe Mountains
Located about four hours to the north/northwest of Big Bend is a little-known and less-visited jewel: Guadalupe Mountains National Park, located just inside the Texas border with New Mexico and nearly adjacent to Carlsbad Caverns National Park (2-for-1 deal).
This park may be small compared to its Texas cousin, Big Bend, but it still offers much to please, including 80 miles of hiking trails.
One particular trail that grabbed my attention is called Guadalupe Peak Trail, which climbs 3,000 feet over its 8.5-mile round trip route to the "Top of Texas". The trail also passes through an unexpected conifer forest in the middle of this largely desert landscape. What's not to love there?
And when you look up at night? Well, you will find a million-dollar view due to the almost complete lack of light pollution in this area. For me, that's enough reason to visit, but I'll definitely take advantage of the hiking as well.
Let's plan a trip, shall we?
Utah National Parks
Arches
Oh, Arches…we had a fantastic time in this national park! Over 76,000 acres of beautiful, and sometimes almost alien, landscape in the Utah desert.
Do you know why they call it Arches? Well of course you do…but did you know that there are actually over 2,000 arches in the park?!
You've heard of Delicate Arch (spellbinding), Landscape Arch (306-foot across the opening), Double O Arch South (112-foot vertical opening), and some other famous ones. but that barely scratches the surface.
Our two favorite experiences in the park were hiking to Delicate Arch at sunset and taking Primitive Trail to Double O Arch (which requires challenging rock climbing situations that may not be suitable for everyone).
Definitely do not miss out on those two huge opportunities! You'll thank me later. In general, with elevations between 4,000 and 7,000 feet, you'll enjoy some cooler temperatures in fall and spring.
Get out there and enjoy it all!
Bryce Canyon
Just picture this: red rocks, pink cliffs, and endless vistas. Sound good? Then it's time to think about planning a trip to Bryce Canyon.
Many years ago, two of my siblings and their families planned a camping getaway to this park and we heard nothing but great things about it. Its 35,000+ acres are filled with the highest concentration of hoodoos (irregular rock formations) found anywhere on earth.
Not sure about you, but those always fascinate me, and we saw our fair share in nearby Arches National Park.
If you've got a day to spend in Bryce Canyon, you absolutely must spend part of hitting a trail and wandering your way through a garden of hoodoos, driving the 18-mile scenic park road to get an overview of the park, and also participating in an astronomy program or moon hike after dark.
These three activities will leave you speechless and wanting more. I can pretty much guarantee you that!
Capitol Reef
This unique park, which I have not had the pleasure of visiting yet, is primarily made of three districts: the Fruita Area, the Waterpocket District, and Cathedral Valley, each with its own attitude and opportunities.
Fruita Area is definitely the most easily accessible district that allows you to enjoy a scenic drive or a hike.
The Waterpocket District offers fantastic views of the Waterpocket Fold (an "earth wrinkle" extending 100 miles) plus very nice hiking and backpacking opportunities, with dirt roads accessible by most passenger vehicles without major problems.
Now Cathedral Valley, the third district, is definitely a bit more rugged, a backcountry type of experience where it is highly encouraged to travel in a high-clearance vehicle.
There is plenty to see in each area of the park, and you just need to decide which ones are a fit for the experience you are craving. Whatever you choose, you won't be disappointed.
Canyonlands
Believe it or not, we did not make it to Canyonlands when we visited Moab and Arches National Park in 2017. I know, I'm disappointed in myself too.
I can't tell you exactly why we chose not to make the short trip over here, but I regret it now.
Its 337,000 acres offers "a lifetime of exploration" to visitors, spanning across four districts that are divided by the park's rivers: Island in the Sky (most accessible with a scenic drive and great views), The Needles (backcountry experience for the more prepared), The Maze (remote area suited for true adventurers), and the rivers themselves.
Each of these districts has its own personality and will attract a different type of visitor. You should also consider visiting Horseshoe Canyon, a fantastic day-use area most suited for families that will allow you to enjoy American Indian rock art panels.
There's so much to love throughout the park, so please make it a point to visit…and be sure to hit Arches in the same trip, or you will regret it like me.
Zion
*Be sure to check out all of the things to do with kids at this park!*
Our visit to Zion was definitely unforgettable…partly because we arrived in early December and low temps were dipping into the teens (my introduction to RVing in the winter), but mostly because the overall experience was simply awe-inspiring and breathtaking.
We were staying at an RV park located closest to the Kolob Canyons section of the park, so this was our introduction to this region of Utah. (Please don't neglect Kolob Canyons, or you will regret it.)
Now, there are probably two things that Zion National Park is best known for: The Narrows hike and Angel's Landing hike. And we didn't do either of these, primarily because of the timing of our visit.
But there are SO many other things to enjoy in the park that we don't deeply regret missing out on those. (Though we will go back later to enjoy them!)
The bottom line is that you should do your best to set aside at least a week to even begin to touch on everything there is to explore in this gem of Utah. You won't leave the same.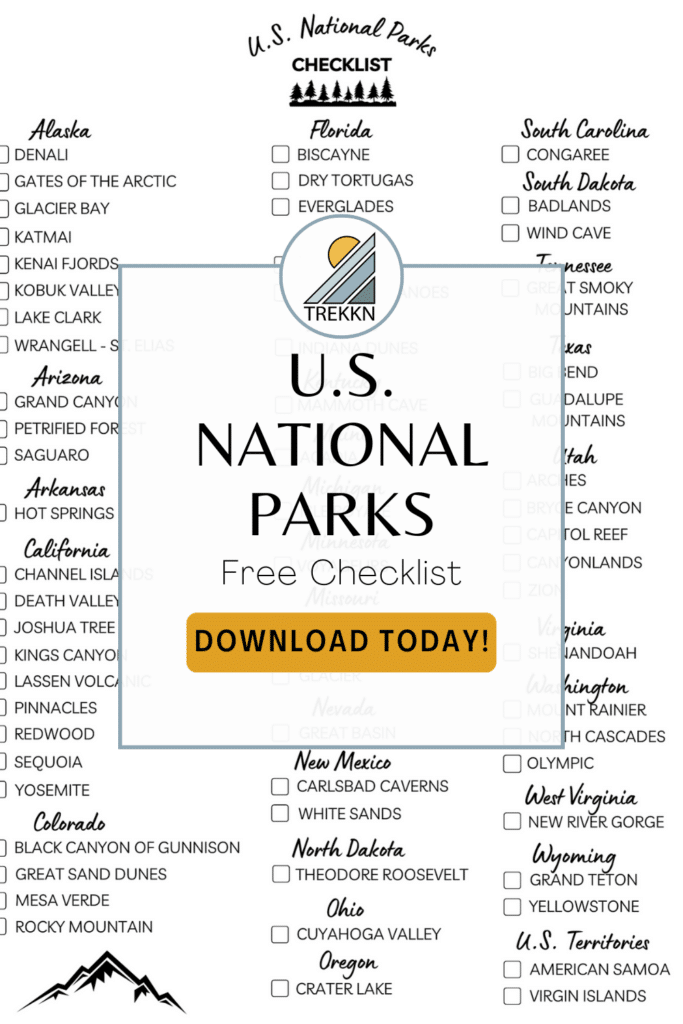 Virginia National Parks
Shenandoah
I had heard the name Shenandoah many times in my life, but I didn't know what to expect as we moved into the area and decided to route our way to this national park.
This probably explains why Shenandoah made its way onto our list of 5 U.S. National Parks That Truly Surprised Us. And for me, this park earned the "most peaceful national park" award because, wow, watching a Virginia sunset over the Shenandoah Valley without another soul in sight has left a lasting impression on me.
I remember watching that sunset and just taking deep breaths, breathing in the peace of those moments (we had just left the D.C. area also, so it felt extra peaceful in contrast).
Located just 75 miles from the hustle and bustle (and politics) of D.C., this wonderland feels many, many miles away indeed. The scenic tour along Skyline Drive through the 200,000 acres that comprise this park was an easy and meandering drive that relaxed me completely.
You can see more about our D.C. and Shenandoah experiences in this video.
But needless to say, the pristine forests, miles of hiking trails, and valley views make this a do-not-miss spot for you and the family.
Washington National Parks
*See my post about National Parks Near Seattle for more detail on these three fascinating locations.*
Mount Rainier
At over 14,000 in elevation, Mount Rainier (an active volcano) is a fantastic centerpiece for this national park located only about 65 miles to the southeast of Seattle.
(As a side note, this park actually offers the highest elevation of any of Washington's national parks).
Depending on the time of day you travel, and the related traffic that comes with it, a drive from the heart of Seattle to Mount Rainier National Park should take you about 1.5 to 2.5 hours. And yes, it's worth every minute, just in case you were wondering.
If you are pressed for time on your visit to Seattle, this national park is likely your best bet. Of course, you could spend weeks in the park and not even scratch the surface of what it has to offer, including 260 miles of maintained trails and views to die for.
And if subalpine meadows of wildflowers are your thing, then welcome to heaven on earth! I spent more than a week backpacking and camping around the base of Mt. Rainier as a child and those memories still haven't faded, for good reason.
North Cascades
I don't really feel the need to compare North Cascades with Mount Rainier, and there is no need to. They both have more than enough amazement available to you to stand alone and blow your mind.
North Cascades is home to more than 300 glaciers, believe it or not, and displays very diverse landscapes and climates due to the fact that it is divided by the Cascade Range.
The western half gets heavy rain and is unbelievably green, while the eastern half receives far less precipitation and often remains quite dry and brown year-round.
If you're up for a decent hike, don't miss out on the 7 miles of the maintained trail offered at Glacier Basin Trail, where you're sure to enjoy meadows full of wildflowers in the summer and mountain goats to boot.
The trail gives you a view of the largest glacier in the lower 48 states: Emmons Glacier. Well worth a 7-mile hike in my book!
Olympic
Think "Twilight movie" when you picture this emerald masterpiece in northern Washington. It's wet (rain forest receiving up to 170 inches per year!), it's impossibly green, and it will absolutely enthrall you.
This park includes everything from glacier-capped peaks to old-growth forests that seem to convey their own silent wisdom, to a rugged Pacific coastline that will charm (and possibly chill) you to your core.
There is literally something for everyone here (well, no sunbathing is recommended). If you're looking for easily-accessible wonder and amazement, definitely consider Hurricane Ridge which is one of the most accessible mountain locations in the park.
And if you're feeling the call of the trail, find your way to Sol Duc Valley, home to some of the most popular hiking and backpacking trails within the park (Deer Lake, Seven Lakes Basin, etc.).
You can explore to your heart's content in this land of astounding and unending beauty.
West Virginia National Parks
New River Gorge
This is the newest National Park, added in January 2021!
From NPS.org:
A rugged, whitewater river flowing northward through deep canyons, the New River is among the oldest rivers on the continent. The park encompasses over 70,000 acres of land along the New River, is rich in cultural and natural history, and offers an abundance of scenic and recreational opportunities.
Wyoming National Parks
Grand Teton
In my book, any of the parks in the Rocky Mountain range are must-dos. And the majestic Tetons are definitely no exception to that rule.
We had the chance to visit Grand Teton National Park once at the beginning of our RV travels (July 2017) and again near the end (September 2018). Each visit just left us craving more and more of these striking peaks.
An interesting fact about the Tetons: the reason they are so "striking" when you view them is that they are not accompanied by the typical foothills leading up to the peaks. Nope, these peaks just erupt skyward out of the earth, giving them a dramatic effect on the viewer.
We were able to explore only about 20 miles of the park's 200+ miles of hiking trails, but those miles were absolutely sublime. Looking back at our pictures of those visits, they are still some of the most "hard to believe" images because they are so perfect!
The Tetons feel like perfection, they look like perfection, they are perfection in my book. Our up-close and personal encounter with a moose on the trail, while a little too close for comfort, also added to that feeling of perfection.
Go get some perfection for yourself!
Yellowstone
*Smaller portions of this park stretch into Idaho and Montana.*
Bison traffic jam, anyone? If that sounds like your idea of fun, this is your park.
We found ourselves smack in the middle of this amazing event during a September visit, with bison of all sizes passing just 2-3 feet from our truck. We could hardly believe it was happening, but loved every second of it.
Since we only had a few days in America's oldest national park, we only had a chance to see a relatively small portion of the wonders of Yellowstone. Of course, you can't miss Old Faithful, Prismatic Spring, and Mammoth Hot Springs, but that's just barely scratching the surface!
Be sure to plan your trip well, and allow for traffic. We experienced more traffic jams (not just the bison variety) in this park than anywhere else in our travels.
It is very popular, it is highly trafficked, and you will feel it. Bring a good measure of patience with you because the park does not provide many pullouts for wildlife-viewing visitors, so the roads can easily get jammed up with every elk and bison that comes within the range of their cameras.
So get there quickly, but then prepare to slow down a bit. The slow pace is 100% worth it!
U.S. Territories
American Samoa
Not surprisingly, with this park nestled in the heart of the South Pacific, you will discover sights, sounds, and experiences here that no other national park will offer to you.
And with the very welcoming American Samoa people to greet you, you will immediately feel welcome and at ease as you explore the natural beauty of their home.
Located about 2,600 miles southwest of Hawai'i, you can explore stunning Indo-Pacific coral reefs with a snorkeling or diving excursion or watch large fruit bats in flight during daytime or nighttime. (Brace yourself for their size!)
Every bit of this park, and the three islands it encompasses, is a tropical rain forest filled with unique flora and fauna you will likely not have experienced anywhere else.
Come with a true desire to explore and understand the customs, beliefs, and traditions of this 3,000-year-old Samoan culture and you can leave with an expanded view of your world.
Time your visit right and you could also lay eyes on sea turtles and humpback whales! Yes, please.
Virgin Islands
Located just to the east of Puerto Rico on the edge of the Caribbean Sea lies a land of tropical forests and colorful coral reefs where this national park was established in 1956.
Despite its history deeply marked by piracy and privateering, the people have proven to be very resilient and welcoming.
You will find opportunities for snorkeling, diving, and also hiking to ancient petroglyphs and an old sugar mill from its days as a center for sugar production.
As always, there are opportunities to learn about the 3,000 years of human history on this island and how it developed over the years.
This area depends heavily on tourism so don't hesitate to check on the status of this area and provide your support with a visit!
Which National Park is the least visited?
Whether you're wanting to avoid the crowds or you're just curious, here are the top five least visited National Parks in 2018. It's no surprise that the top three are in Alaska:
Gates of the Arctic National Park and Preserve in Alaska: 9,591 visitors
Lake Clark National Park and Preserve in Alaska: 14,479 visitors
Kobuk Valley National Park in Alaska: 14,937 visitors
Isle Royale National Park in Michigan: 25,798 visitors
National Park of American Samoa: 28,626 visitors
U.S. National Parks Map
If you're curious about some of the best National Parks in the world, check out our post where we asked travel bloggers to share their favorites.
How to Get Your Printable List of National Parks in the U.S.
To instantly receive your free US National Parks List printable, simply become a part of the TREKKN Tribe and you're good to go!
(If you're already a part of it and receive our emails, you'll see the link below.)
Here are a few ways to use the printable list of National Parks:
Print it out:
On cardstock and frame it
Hang it on the refrigerator
For each of your kids and have them mark off the ones you've visited
Let us know how you used TREKKN's checklist of US National Parks, how many National Parks you've visited, and which ones are your favorites!
Grab your free printable U.S. National Parks Map while you're here
Just head over to this post on TREKKN or click the picture below. You'll see a picture of our dining room featuring a printout of the map we created.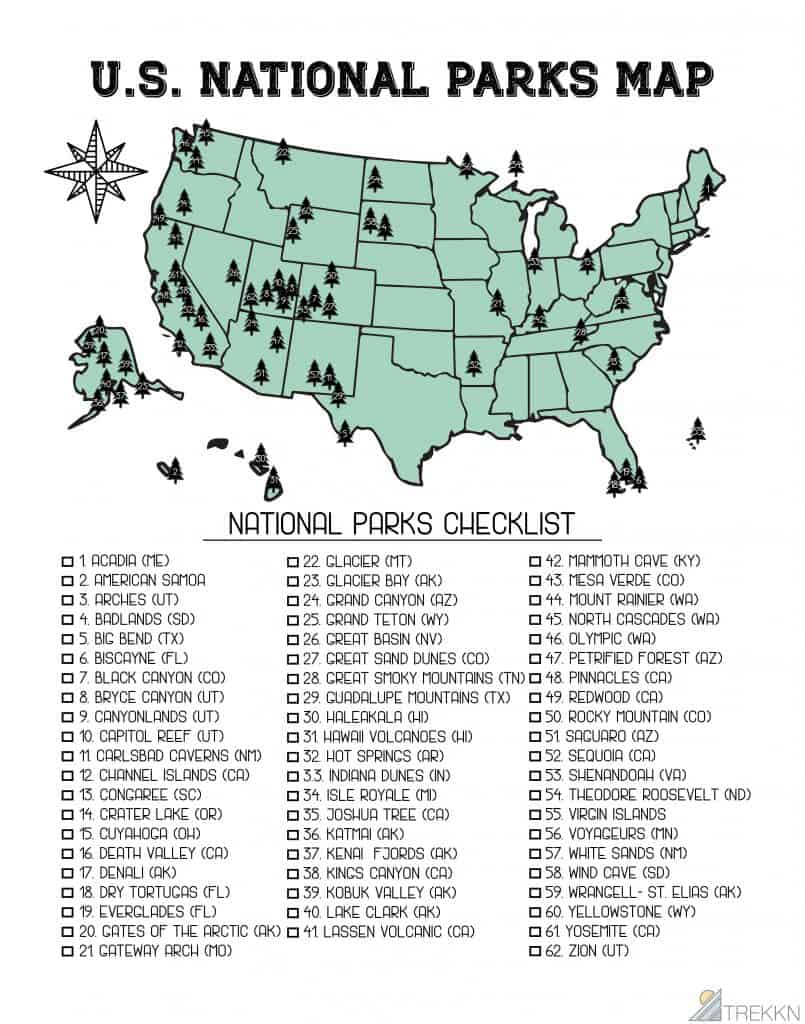 National Park Subway Art Printable
If you like this National Park Printable Checklist, check out our National Park Subway Art Printable on the TREKKN Designs Shop. This would make a fantastic gift for your National Park loving friend or for you to show your love of our National Parks in your home, cabin, or RV. It comes in two sizes – 8×10 and 11×14.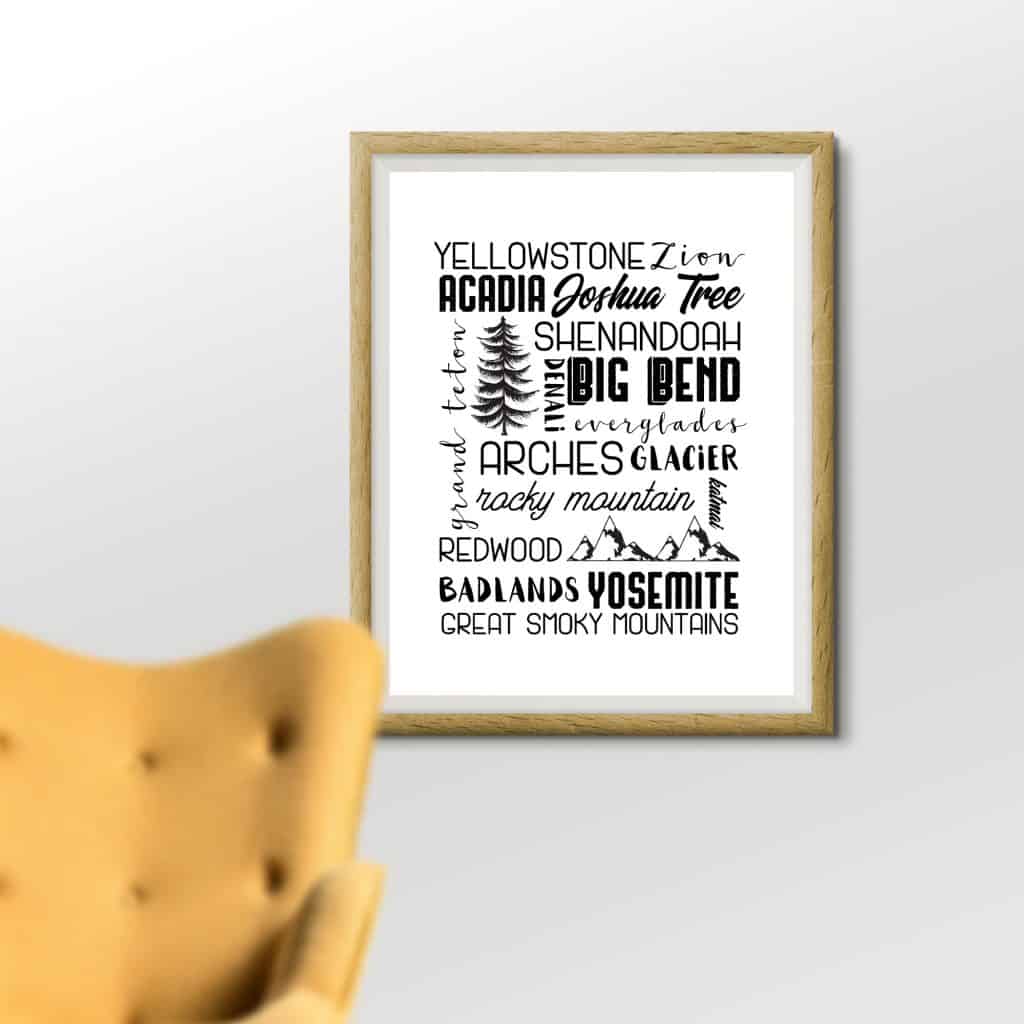 Source: https://www.usatoday.com/picture-gallery/travel/destinations/2019/03/14/national-parks-least-visited-20-ranked/3160486002/
PIN THIS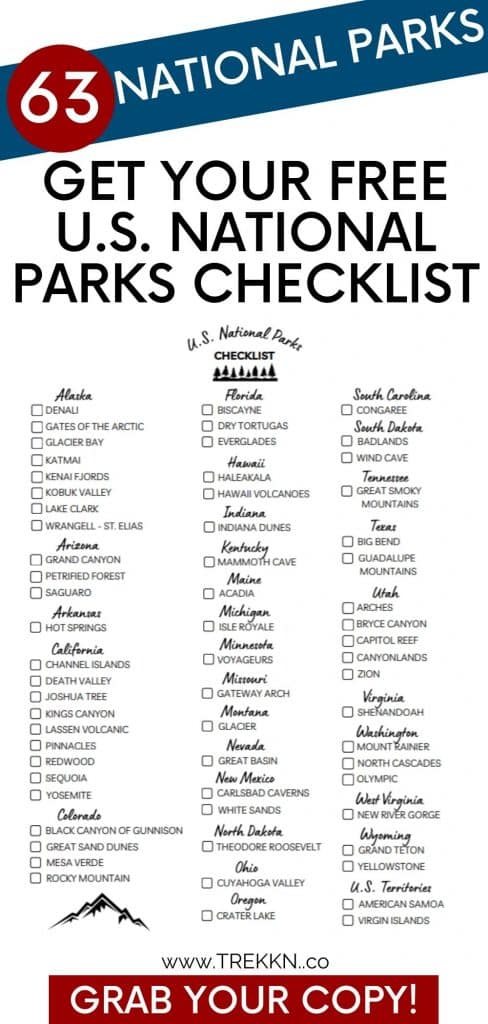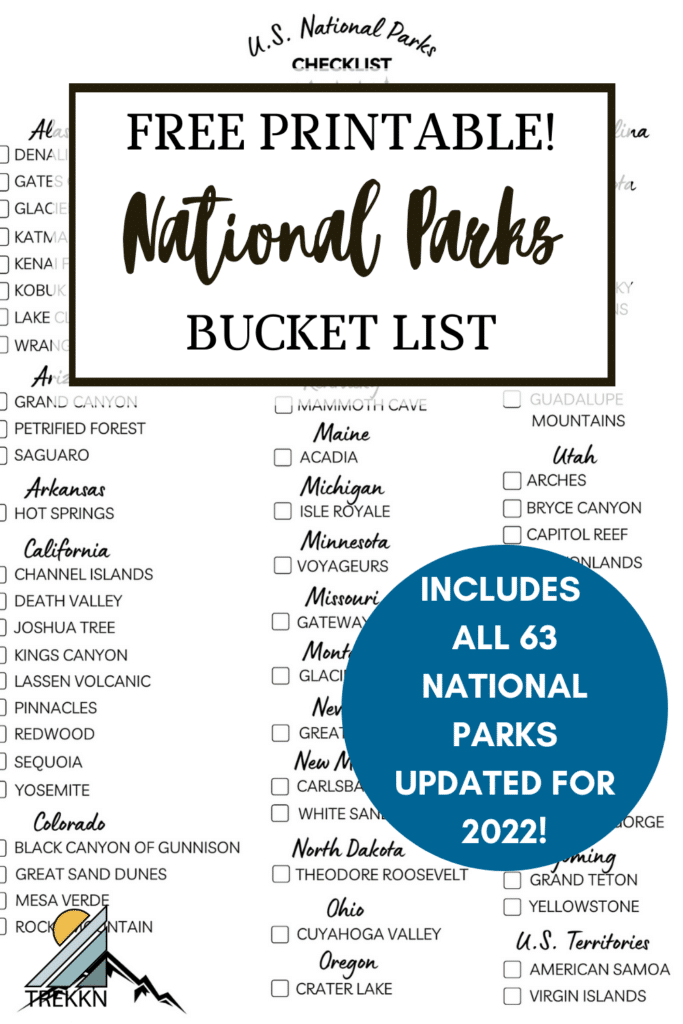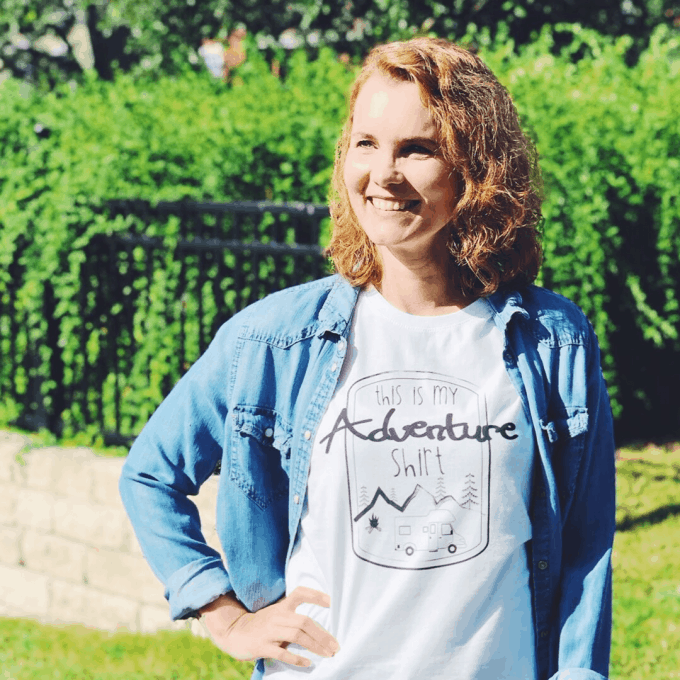 Julie Bonner is one-half of the TREKKN team. She specializes in helping you whip up delicious meals in your tiny RV kitchen, as well as RV organization tips and helping fellow RVers make their RV feel like home. Her favorite RVing spot is in Banff National Park in Canada where yes, the water really is that blue and the people really are that nice.