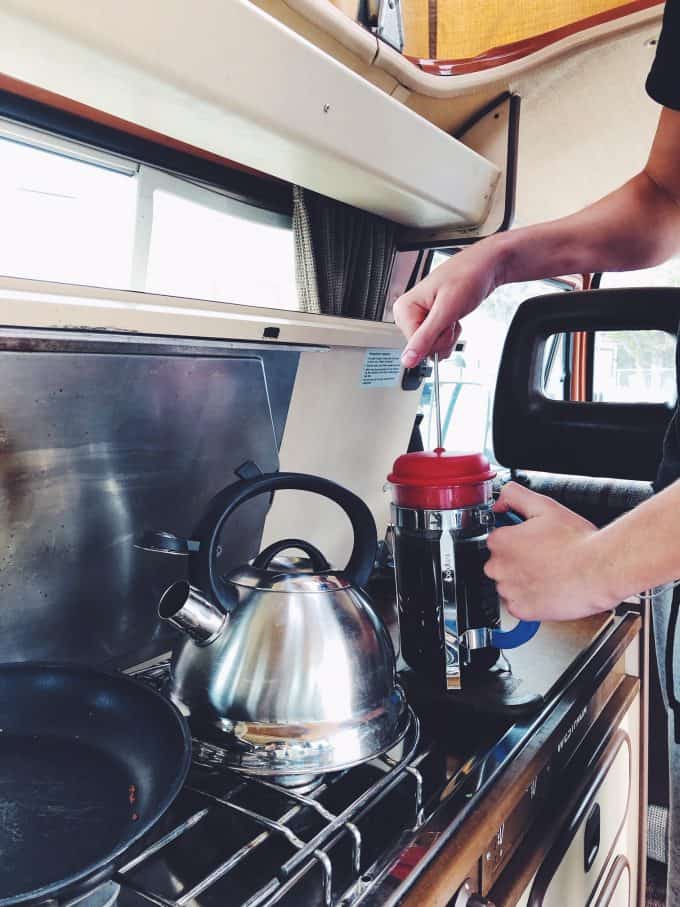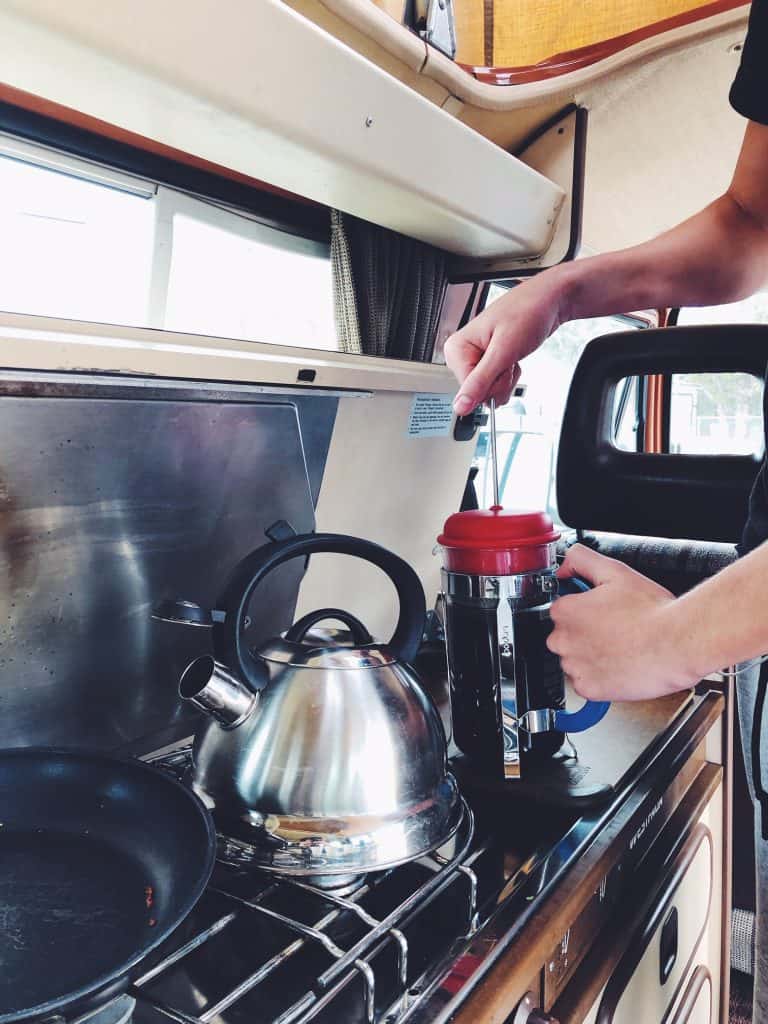 For us, RVing and coffee go hand in hand. But, as you probably know, there is not much counter space when it comes to RV kitchens.
So we did some research to figure out what the best RV coffee maker was, and you know what we found out? There are several options.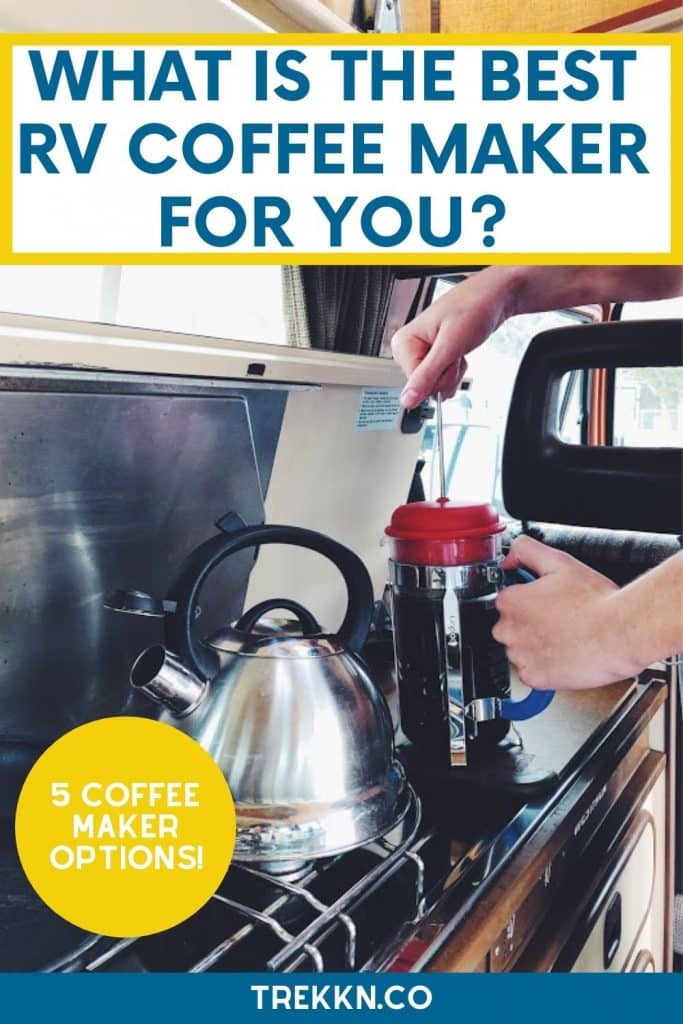 It depends on what kind of coffee you like, the amount of space you have, if you do a lot of off the grid camping and more to decide what the best option is for you.
Over the years we've toured a lot of different set ups for people who are RVing full-time, part-time or taking a weekend RV trip.
We've seen an entire counter in a large 5th wheel dedicated to a fancy espresso machine to a campervan that only has room for a small French press.
So we've rounded up a list of options we've seen so you can have a fresh brewed cup of coffee on your travels.
What is the Best RV Coffee Maker (for You)?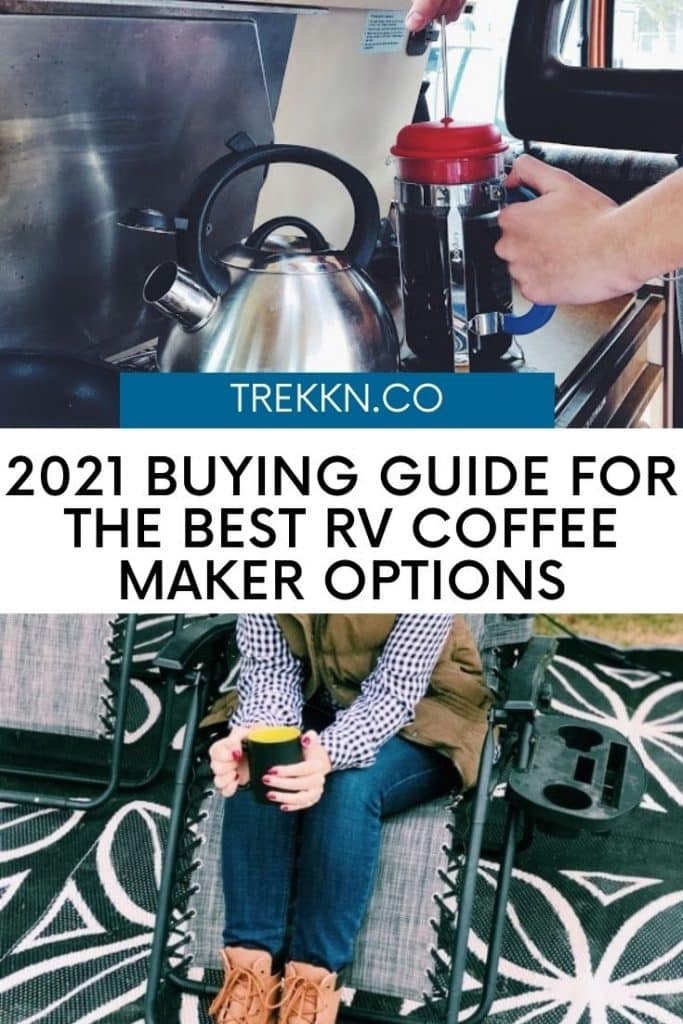 Best RV Coffee Makers Mentioned in This Article
Here are the coffee makers mentioned below that we recommend while traveling in your RV:
Black and Decker 12-cup Programmable Coffee Maker
Digital Controls with Rubberized Feel – Large, rubberized buttons give you full control of the coffeemaker, and the easy-read screen displays the clock, brew time, and programming options
Sneak-a-Cup – This feature temporarily stops the flow of coffee so you can pour your first cup before brewing ends without making a mess
Check prices here
Espressotoria Caprista Espresso Machine
The Espressotoria Caprista is a premium espresso coffee pod machine that delivers cafe quality espresso at the touch of a button
The Caprista is a compact design & affordable coffee machine with a bold black finish suitable for almost all environments
Featuring a 19 bar pump pressure, the Caprista utilizes a programmable pour function, features an energy saver mode & comes with a 1-year warranty.
Check prices here
Yitelle Stainless Steel Pour Over Coffee Cone
EXPERIENCE THE BETTER TASTE OF COFFEE – unlike paper filters, the micro mesh funnel strainer ensures the best tasting coffee. While it properly filters the grinded coffee beans, it allows for all the nutrients and flavored oils to pass through to your coffee mug.
PERFECT FIT – the base of this beautiful permanent stainless steel coffee dripper filter fits on most cups mugs and thermoses making it your best pourover coffee method.
Check prices here
Secura Stainless Steel French Press
3-LAYERED STAINLESS STEEL FILTER STRUCTURE traps the smallest coffee grounds to produce an exceptional full-bodied flavor
This French press maker comes with Cool touch handle and knob for comfortable and safe pouring
Check prices here
Wacaco Minipresso GR Portable Coffee Maker
No battery/electricity need. Manual operation only! Compact, lightweight and versatile, you may use any variety of coffee bean/roast, which will give you more flexibility in trying new flavors.
Need to add the boiling water! Minipresso GR is your best choice to enjoy up to 50 ml of authentic espresso at home, in the office and on the go.
The perfect coffee maker for camping, hiking and traveling
Check prices here
How to Decide Which Coffee Maker is Best for Your RVing Experience
Let's break down these options for different types of RV coffee makers for RV travel.
If you like waking up to the smell of coffee…
For 17 months, the smell of coffee was our alarm clock. I did not get out of bed until I:
a) heard the beeping from our coffee maker letting me know it was done brewing and
b) smelled the aromas that delicious dark liquid gives off.
So for us, a regular good 'ol basic coffee maker with a programmable timer worked perfectly.
There are a ton of programmable coffee maker options, but we decided to go with a very simple one we could find. It did the trick and we happily woke up to a freshly brewed cup every morning.
If you go this route, don't forget the coffee filters or to reduce waste, purchase a permanent filter.
If you are regularly camping off the grid and electricity is not available, then drip coffee makers wouldn't make much sense. Keep reading for some options that are perfect for off the grid RVing.
If you like Espresso…
When we were RVing with friends, one of their kiddos made me an espresso. Not only was I super impressed that their kiddo offered to make me one, but man was it good!
We were sitting in beautiful Nova Scotia, Canada with good friends, sipping an espresso. Life was good. (P.S. this made the list as one of our favorite RVing spots!)
But then I wanted an espresso machine. 🙂
Finding a compact one for an RV kitchen can be tricky, but I found one!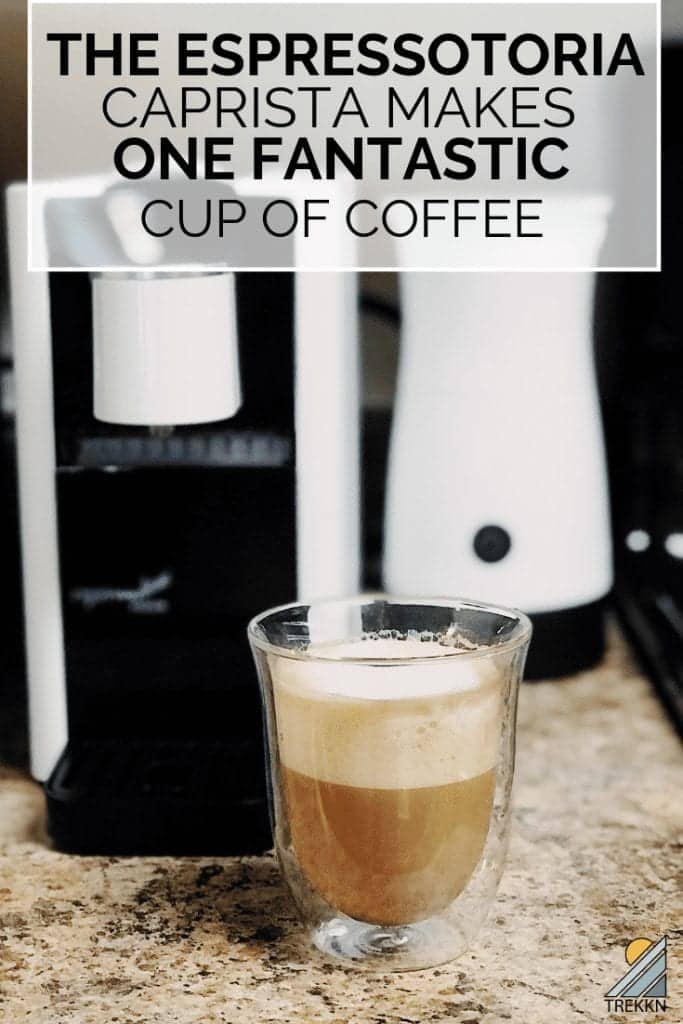 The Espressotoria Caprista Espresso Coffee Pod Machine is not only compact it's also stylish and makes one heck of a good espresso!
This is a great choice for RV owners who want espresso, but don't have a ton of space in their RV.
The Caprista 2.0 has an incredible, fresh ground and packed taste, delivering pressure-based espresso which differs from other single serve coffee machines.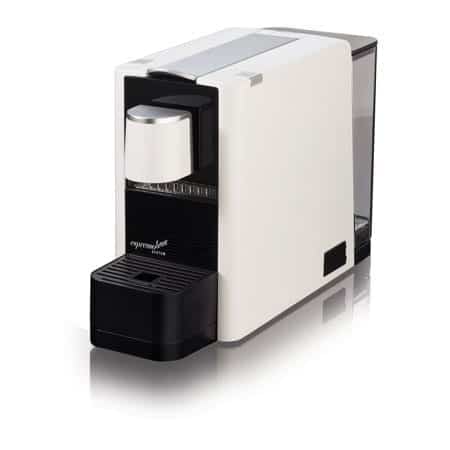 Here are the machine and milk frother in action.
If you're a purist…
I don't know if purist is the right word to use, but when I make myself a cup of pour-over coffee I just feel like I'm making a cup of coffee as they did back then. Back when? I'm not really sure.
I bought this handy little pour over gadget to use when we didn't have hookups for the RV, which meant no electricity to run the coffee maker.
I would just heat up water on the stove or over the campfire and voila!, a cup of coffee. This was the best way to make coffee in an RV when you have no electricity. And when it comes to ease of use, you can't be this option.
Also, it was small enough to store in the cabinet when not in use. So if not much space is a big issue for you, this might the best coffee maker option for you.
If you want to step it up a notch when it comes to pour over, you could always get one of the Chemex I've heard so many great things about. Just remember it's glass and sometimes RVs and glass things don't go so well together.
If you want to sip coffee in your flannel shirt by the campfire…
Every time we use our french press, I have a strong desire to change into a flannel shirt, light up a campfire and ask my husband to grow a beard. My kids call flannels and beards and french presses hipster. I just call them cool.
We've been using a french press for years and it really does make a good cup of coffee.
You just have to be patient and wait for it to do its thing. To me, French press coffee is a very satisfying brewing process.
With most of the camper vans we've rented, I've noticed a french press is one of the top picks for making coffee.
If you're not familiar with a french press, the cliff notes version of how it works is you scoop your grounds in, pour hot water over the grounds, wait for 3 to 5 minutes and then push the plunger thingy (not the right term) down, which pushes the grounds to the bottom of the container, leaving you with a yummy cup of coffee.
There are stainless steel ones, glass ones and a heavy duty stainless steel version that keeps coffee hot for up to 60 minutes.
If you do a lot of early morning hiking…
My boys and husband love to get up very early and go hiking. I enjoy it once I'm on the trail but getting from my warm bed to that trail in the early morning hours takes, well, coffee.
We've never personally used the Wacaco Minipresso, but I've seen it's rave reviews in some hiking and camping groups I'm in.
Just like how coffee tastes better when you're camping…it also tastes better on the trail.
This is also a really good option if you are tight on space and camp off the grid without access to electricity.
This option wouldn't have worked well for our coffee-loving family of five, but now that it's just the two of us, this just might work.
---
These five options are the perfect RV coffee maker choice for small spaces and frequent travel.
Now that we live in an apartment and are not full-time RVing any longer, we have both the programmable coffee maker (because I still like to wake up to coffee ready to go) and the Caprista (because I like an espresso mid-afternoon) on our counter.
What's your favorite way to fix your cup o' joe?
PIN THIS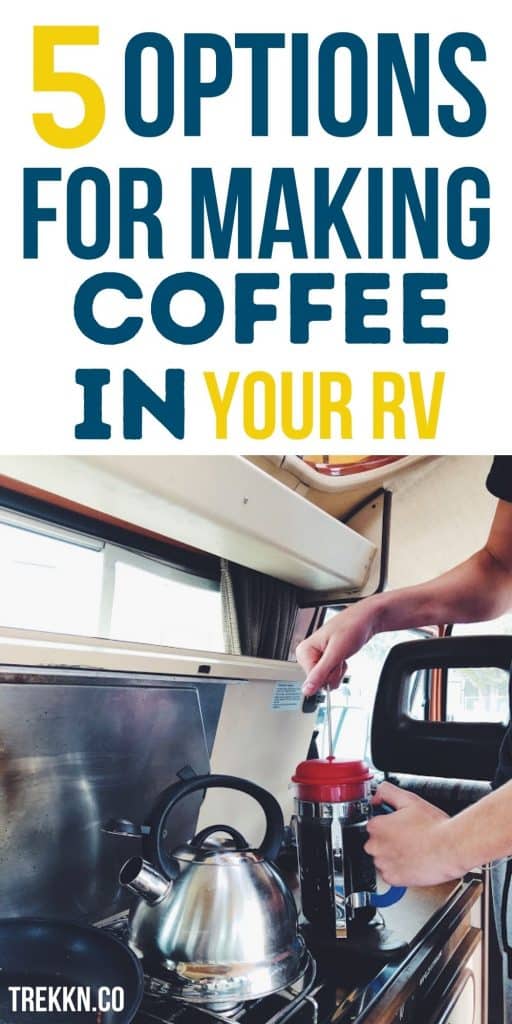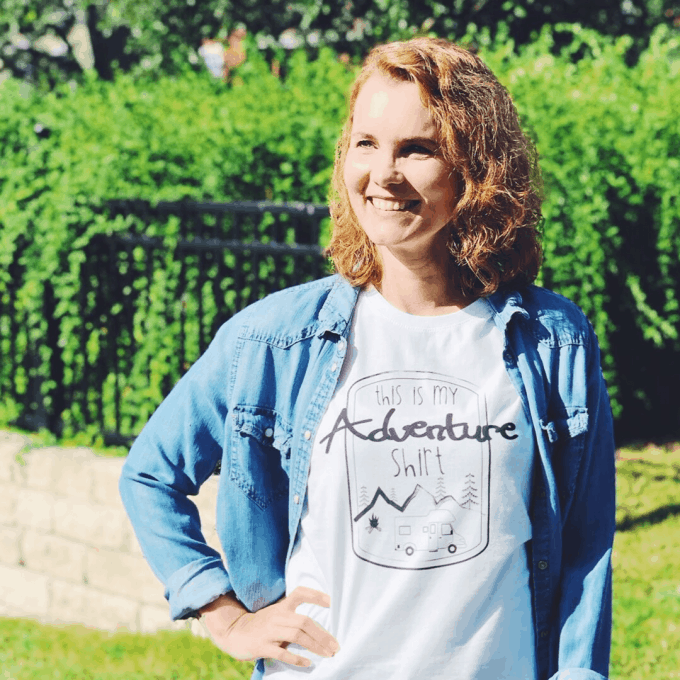 Julie Bonner is one-half of the TREKKN team. She specializes in helping you whip up delicious meals in your tiny RV kitchen, as well as RV organization tips and helping fellow RVers make their RV feel like home. Her favorite RVing spot is in Banff National Park in Canada where yes, the water really is that blue and the people really are that nice.