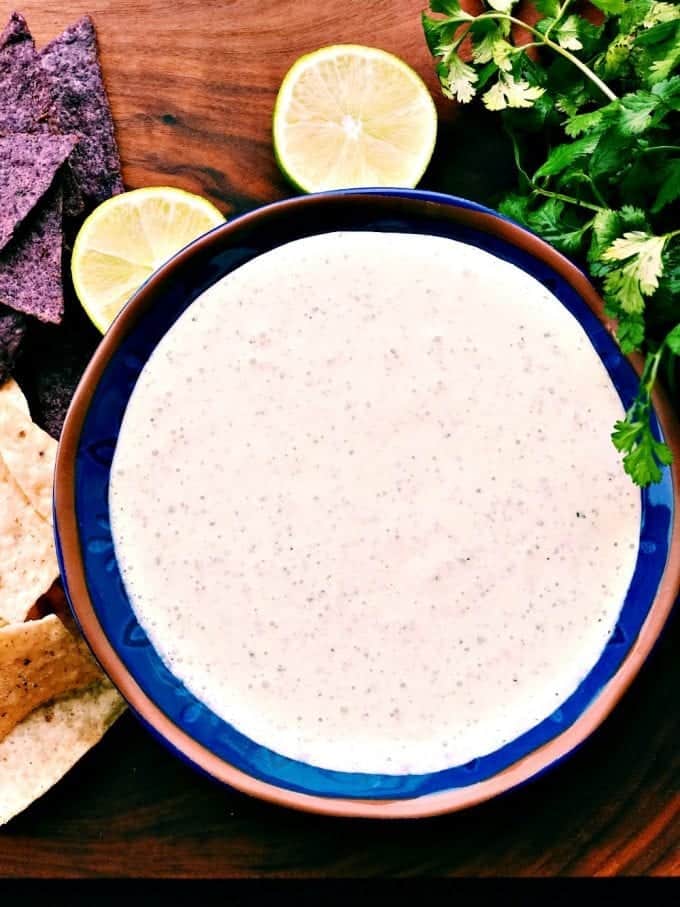 This Creamy Jalapeno Dip recipe is as close to the famous Chuy's Jalapeno dip as I've been able to get. So when you can't have the real deal, this is a close second.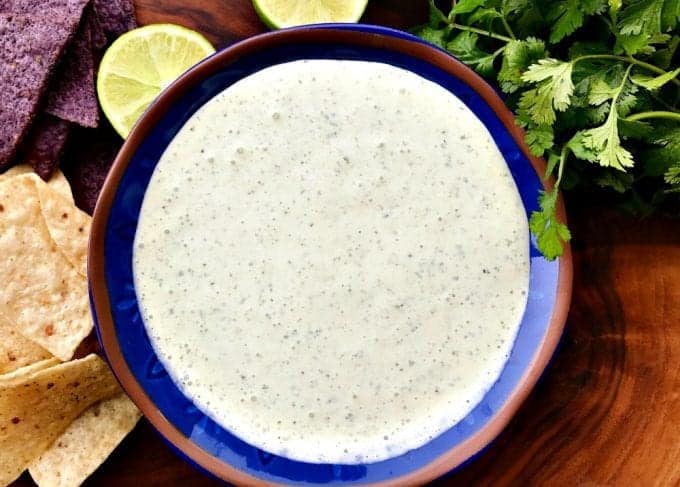 If you're ever in the Austin, TX area, a stop for a bite to eat at Chuy's is well worth it if you want some tasty Tex-Mex. Yes there are other Chuy's locations, from Colorado and heading east you'll find them scattered about all over the place, but it originated in Austin.
Right before we left my hometown to leave on our year(ish) long trip, I had to eat at Chuy's. It's loud and a little chaotic and I love it.
I knew it would be quite a while before I could have a plate of their Baja tacos, a margarita on the rocks (extra salt, please) and dip chips into their Creamy Jalapeno sauce, so I tried to savor every bite and soak in the eclectic atmosphere as much as possible.
Although we've eaten at some pretty amazing places on the west so far (the east is coming up soon!), there's no other place I can order this iconic dip. And really, why would I want to have it anywhere else?
But when you're on the road and you're missing the comforts of home, sometimes you do what you can to get a little taste of your favorites. And sometimes that means making it yourself.
I knew this dip had jalapenos and ranch. But that was about it. After doing some research, I saw that almost every recipe had mayonnaise in it. Now, while the original Chuy's jalapeno ranch may have mayo in it, I just don't do mayo when it comes to cooking. I'm a big fat baby when it comes to the stuff and the smell is, just, ugh.
So I left out the mayo, happily. And it turned out quite yummy.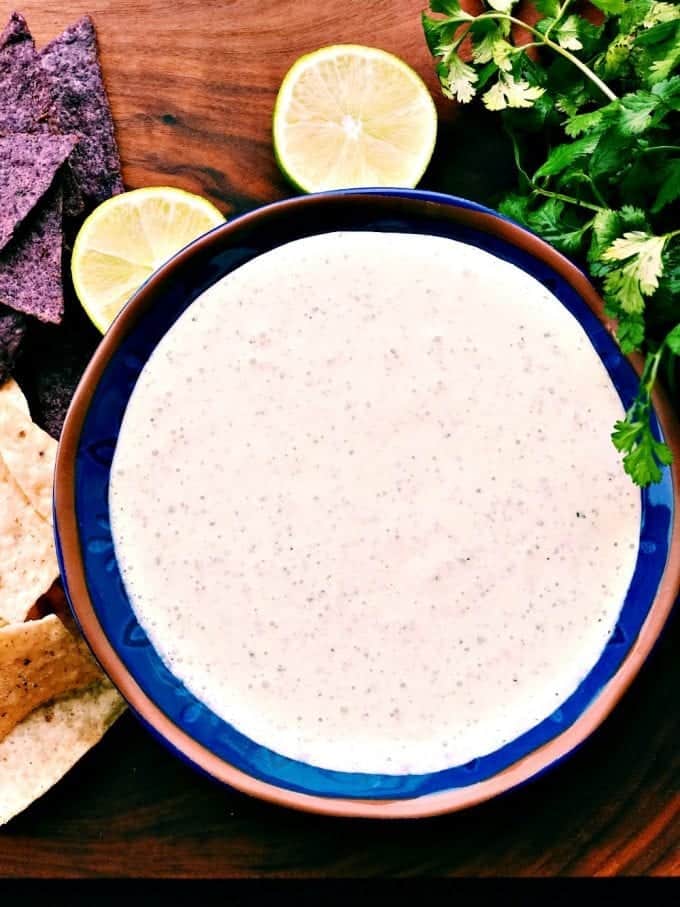 Creamy Jalapeno Dip Recipe
This Creamy Jalapeno Dip Recipe is super easy and fast to whip up. Make it and immediately dig in or make it a day ahead to let it thicken up and for the flavors to develop.
You can make this in a food processor or a blender. Since we're currently traveling by RV, I have very limited gadgets. When the time came to choose between the blender and the food processor, the blender won (by a long shot because…smoothies) and the food processor was sold at a garage sale.
I have the Ninja blender and it did such a fantastic job pureeing the cilantro and jalapenos. There were zero chunks.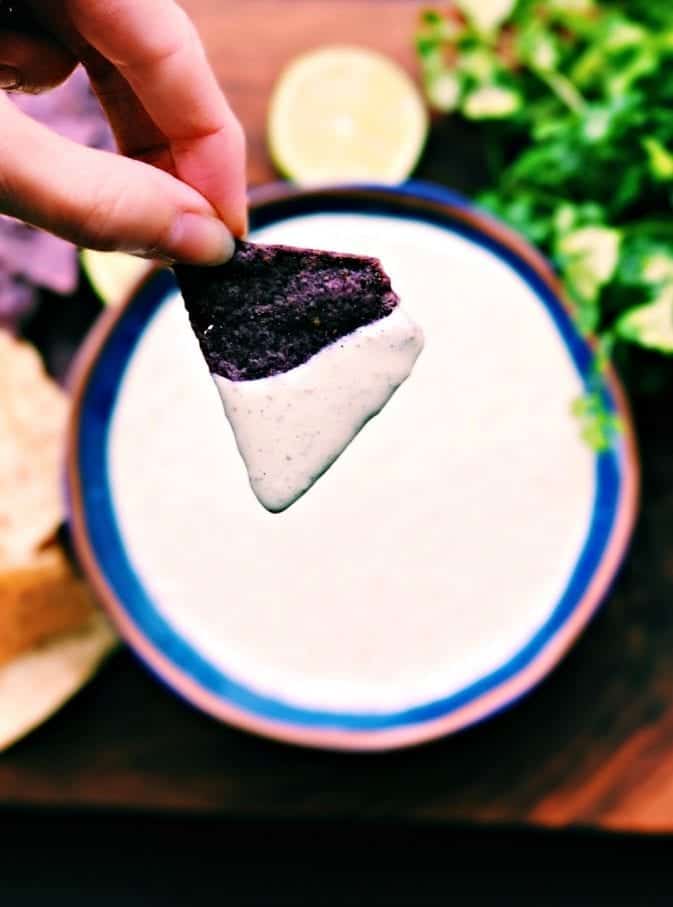 Ingredients:
16 oz. container of sour cream (I don't recommend the light sour cream)
1 packet of Ranch dressing mix
1/2 cup cilantro, chopped finely
2 jalapenos, diced
1 lime
2 – 3 Tbsp. buttermilk or milk (I used milk because I had it on hand, but buttermilk will make it a bit richer tasting and thicker)
Directions:
Add the first five ingredients and 1 Tbsp of milk into the blender. Blend, then add the rest of the milk according to how thick or how thin you'd like the dip.
Easy peasy.
Serve with chips or spoon it over, well, anything. Fajitas, enchiladas, tacos, just drink it straight from the blender…
If you're a Chuy's fan, let us know what your favorite dish is. I'm in a Baja tacos rut and need to branch out!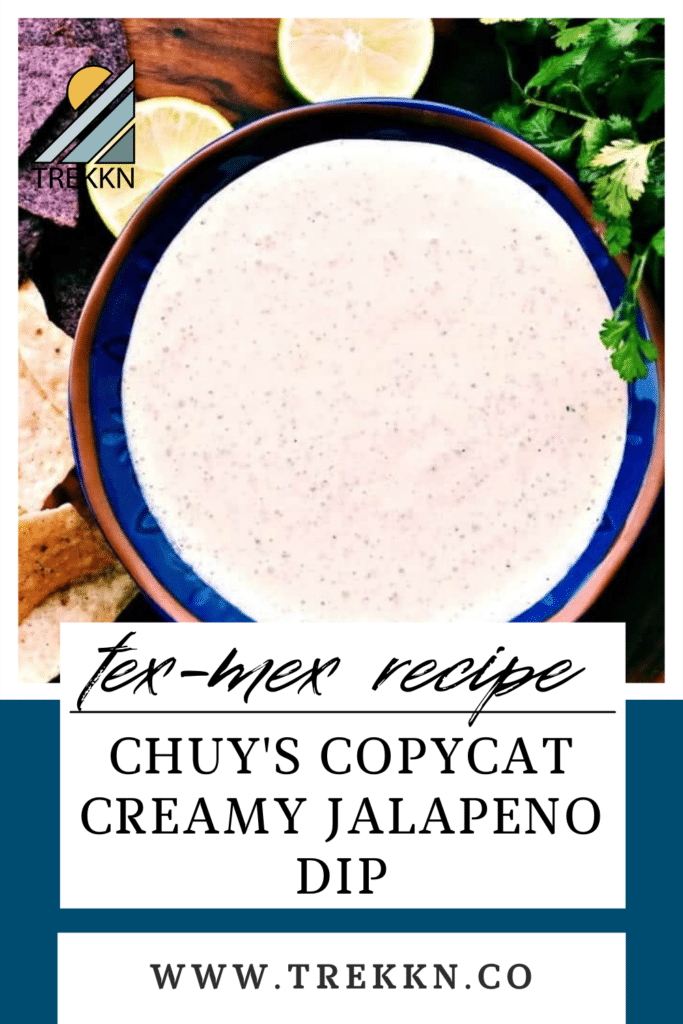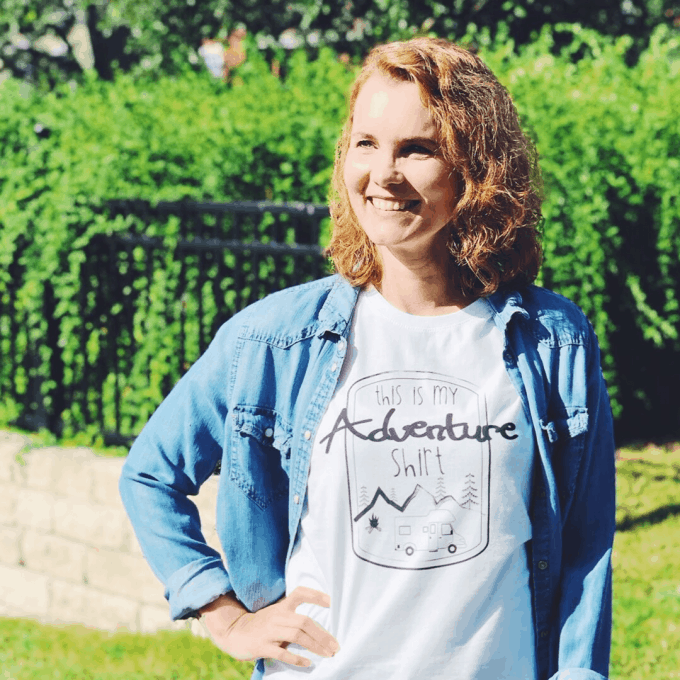 Julie Bonner is one-half of the TREKKN team. She specializes in helping you whip up delicious meals in your tiny RV kitchen, as well as RV organization tips and helping fellow RVers make their RV feel like home. Her favorite RVing spot is in Banff National Park in Canada where yes, the water really is that blue and the people really are that nice.