37 Recipes for Thanksgiving Day In Your RV

Are you spending Thanksgiving Day in your RV and wondering exactly what to fix for one of the biggest feasts of the year? We've got you covered with recipes for Instant Pot Thanksgiving sides, alternatives to cooking a turkey in the oven as well as recipes whipped up in an Air Fryer and slow cooker.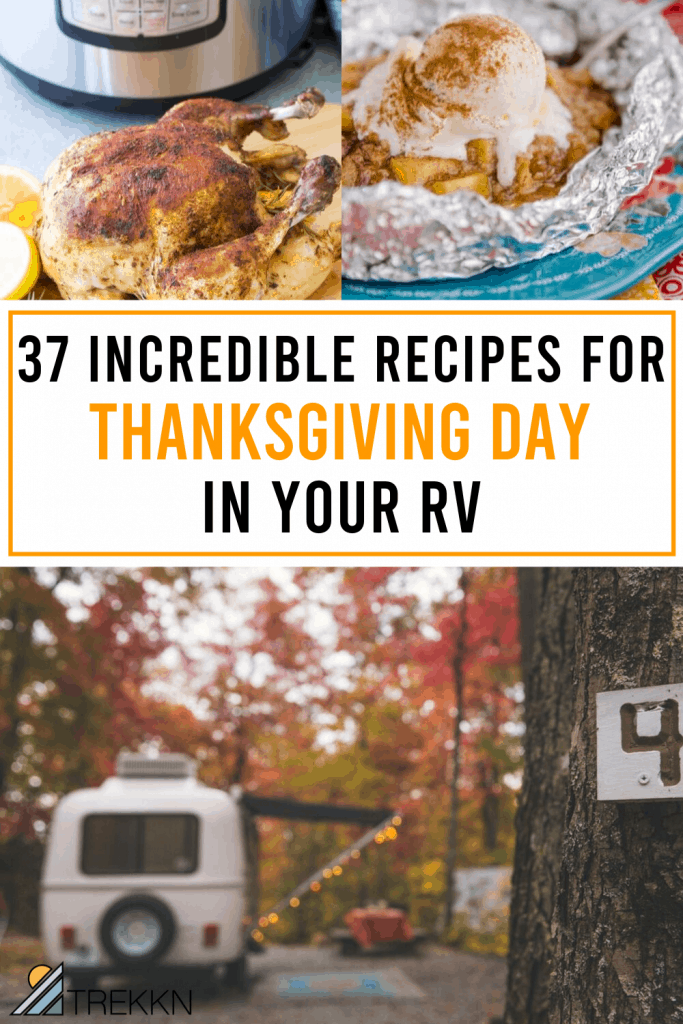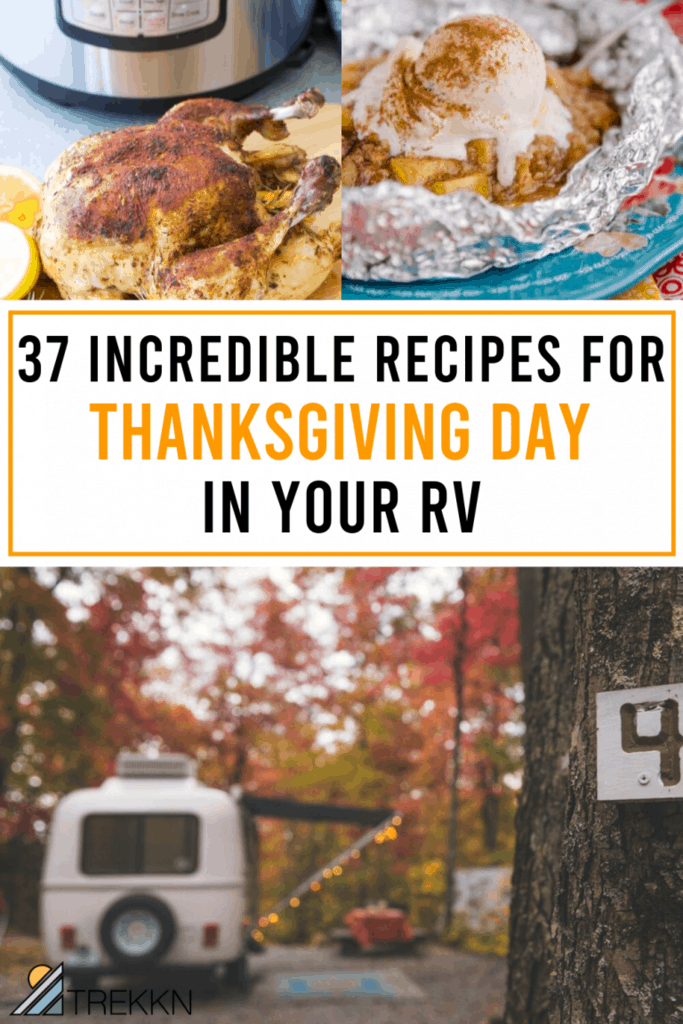 If you're spending Thanksgiving week in your RV, let me first off say that I'm a wee bit jealous. While I'm excited to be spending it in Austin, TX with our family, there's just something special about celebrating this holiday in your RV.
Our first Thanksgiving in our RV was absolutely incredible. We were in Sedona, AZ and the weather could not have been more perfect.
We were still fairly new to RV life and were wondering what everyone else in the campground was doing for the holiday. Were they going out to eat? Preparing a feast in their tiny RV kitchen? Skipping the traditional meal and grilling up burgers?
We ended up doing none of the above and instead found out the RV park was hosting a potluck. Perfect! All you had to do was sign up to contribute to the meal with sides and/or desserts. They were providing the turkey.
I ended up bringing Instant Pot mashed potatoes and peanut butter balls.
The meal was delicious, we met another full-time family for the first time, as well as so many other fellow RVers. We stuffed our faces, visited with everyone we could and went back to the RV for a Thanksgiving afternoon nap. Needless to say, it was a fantastic holiday in our RV.
37 Recipes for Thanksgiving Day in Your RV
Whether you're attending an RV park Thanksgiving Day potluck or doing the entire meal by yourself, I thought it would be fun to ask some food bloggers to submit some of their favorite Thanksgiving recipes that would be considered RV friendly. And boy did they deliver!
I'm so excited to share these recipes with you so you can enjoy a memorable Thanksgiving in your RV.
Alternatives for Cooking a Thanksgiving Turkey in the Oven
Let's start with the item that is usually the star of the main meal – the turkey. Most likely you won't be roasting a large turkey in your RV oven, so here are a few alternative ideas.
Easy Turkey Breast Recipe – Perfect for Camping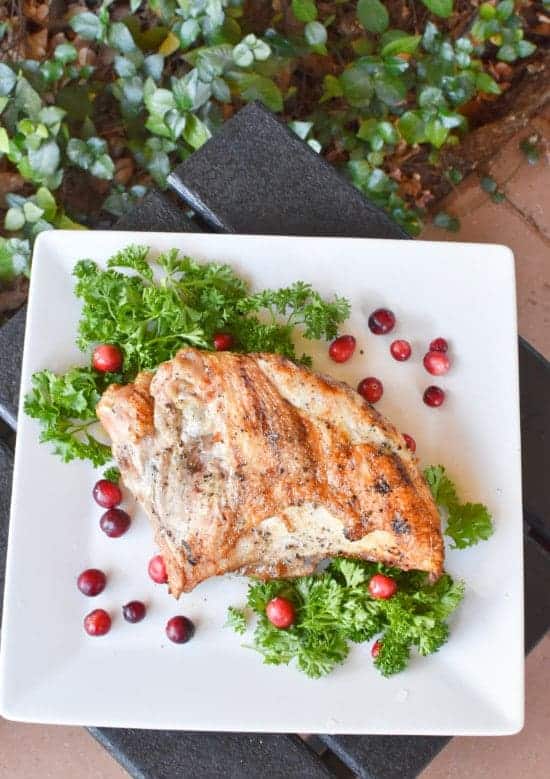 How does a tender, juicy, flavorful grilled turkey breast sound? After brining the breast for a couple of hours (that's the secret, so don't skip this step!), all you have to do is cook it up on the grill for 30-45 minutes, depending on the size. And if you've never brined meat before, don't worry – it's easy.
Indian-Spiced Turkey Breast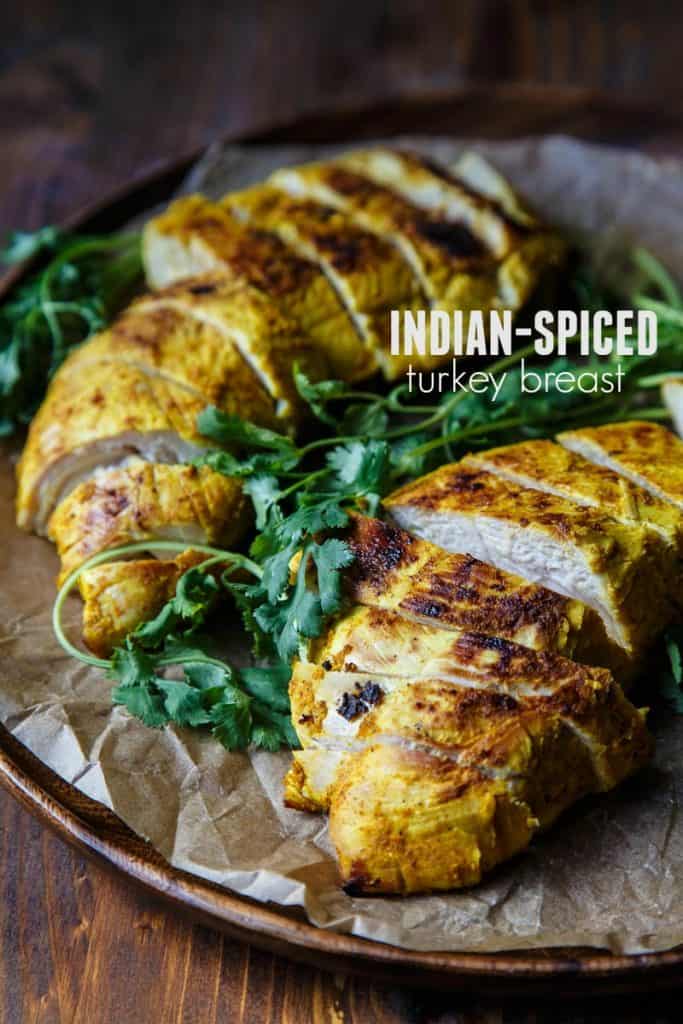 While this recipe does call for baking the turkey breast, it's only for 15-20 minutes. The key is marinating it for several hours to really infuse the Indian spices into the turkey. This recipe sounds and looks absolutely amazing and is such a great take on the traditional turkey flavors we might all be used to.
Easy Slow Cooker Turkey Breast and Gravy for Two
This recipe delivers a slow-cooked to perfection turkey breast and gravy meal perfect for just the two of you. Just note that it's cooked on low for 8 hours, so make sure you get up early enough to pop this in your Crock-Pot.
Slow Cooker Turkey Breast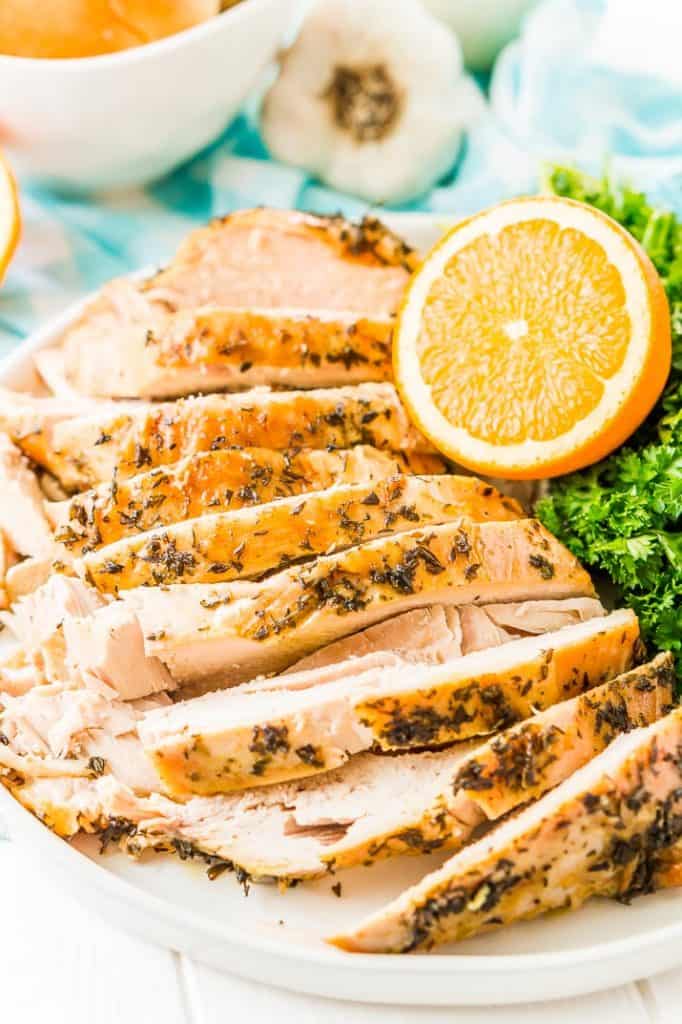 This turkey breast recipe calls for brining as well and after it's been brined, you run herb butter under and above the skin of the turkey. Oh my goodness that sounds good.
A 5 lb. boneless turkey breast should take between 4 to 5 hours cooking on low to prepare.
Electric Deep Fryer Turkey
Do you have an electric deep fryer? Well, you just might find yourself going out and purchasing one after you see how easy this recipe is. I've never deep-fried a turkey, especially after hearing all the horror stories of people burning themselves and catching things on fire. No thank you.
But this recipe uses an indoor electric deep fryer and for a 12-lb. turkey, it only takes 48 minutes.
Instant Pot Turkey Legs with Gravy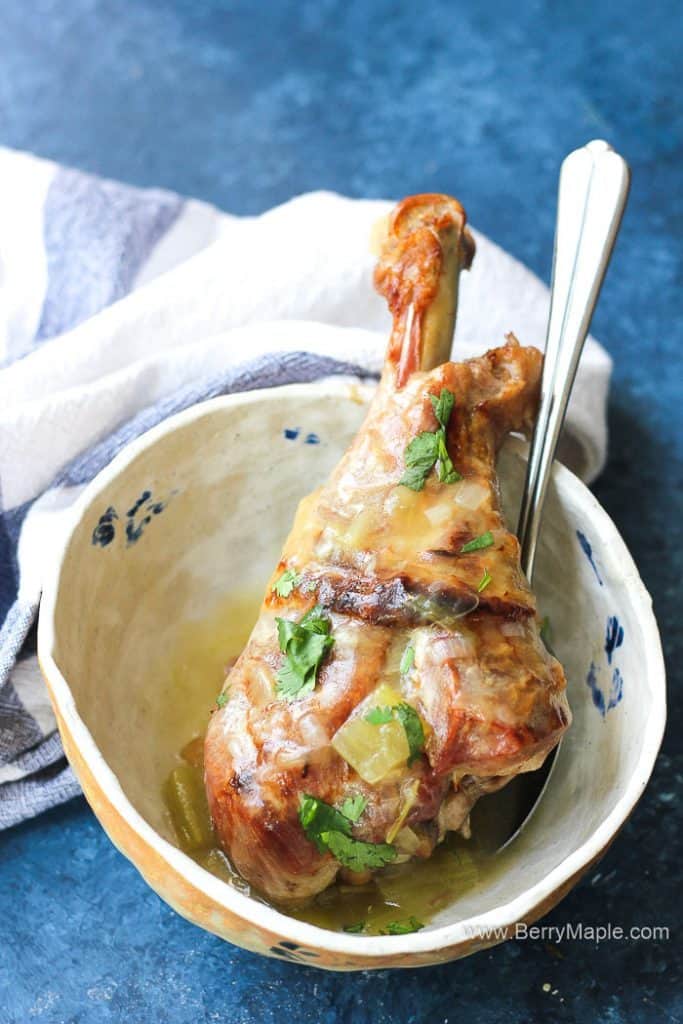 What do you get when you combine two turkey legs, your Instant Pot and 22 minutes? A delicious Thanksgiving meal for two! Just note that if you want the crispy skin shown in the picture, you'll need to broil the turkey legs for about 5 minutes after they've cooked.
Crock Pot Turkey Breasts and Stuffing
This recipe cooks both the turkey and the stuffing at the same time in your crockpot. That's a win-win for me! It also doesn't require a lot of ingredients and is cooked on low for 6-8 hours.
Instant Pot Herbed Turkey Breast with Gravy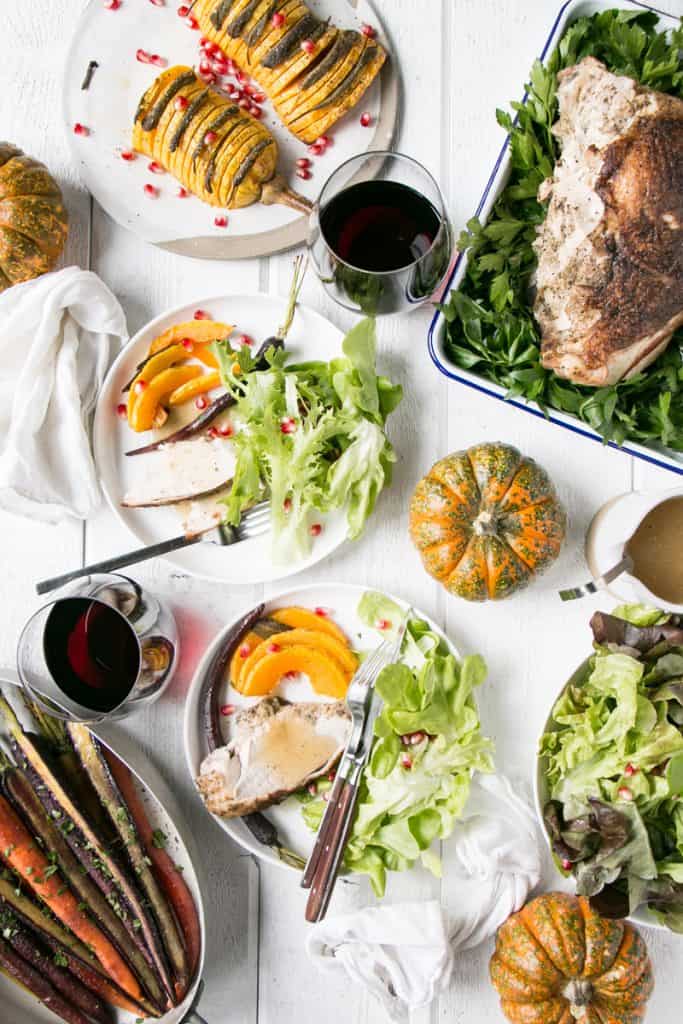 First off, isn't the table setting in the picture above with all of the delicious Thanksgiving food just beautiful?
You might be wondering how they got the skin of the turkey breast nice and crisp and the secret is to brown it. That's an important step, so try not to skip it! This turkey breast only requires 35 minutes of cooking time and a quick release.
After you take the turkey out of the IP and let it rest, then you whip up the gravy right in the Instant Pot using all of the yumminess from the turkey.
Slow Cooker Whole Turkey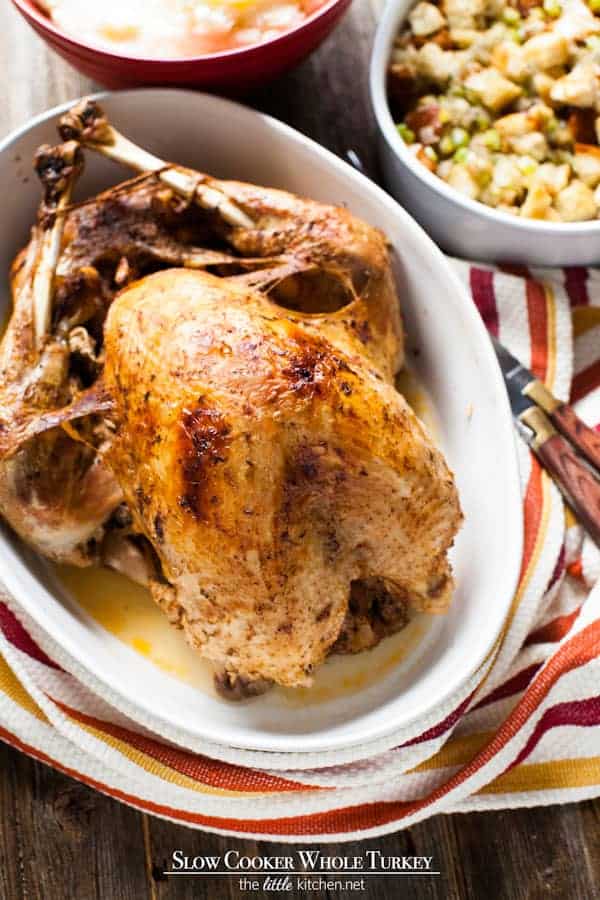 Setting and forgetting the turkey portion of your Thanksgiving meal can really help alleviate the stress of preparing everything – especially when you're in the tight space of an RV. So cooking a small turkey in the crockpot is a great alternative!
Two things to note about this recipe – you broil the turkey after it cooks to get the crisp skin and don't forget your kitchen twine to tie up the legs.
Alternatives to Turkey
Who says you have to have turkey on Thanksgiving? How about chicken or ham? I mean, why not!
How to Cook a Whole Chicken in the Instant Pot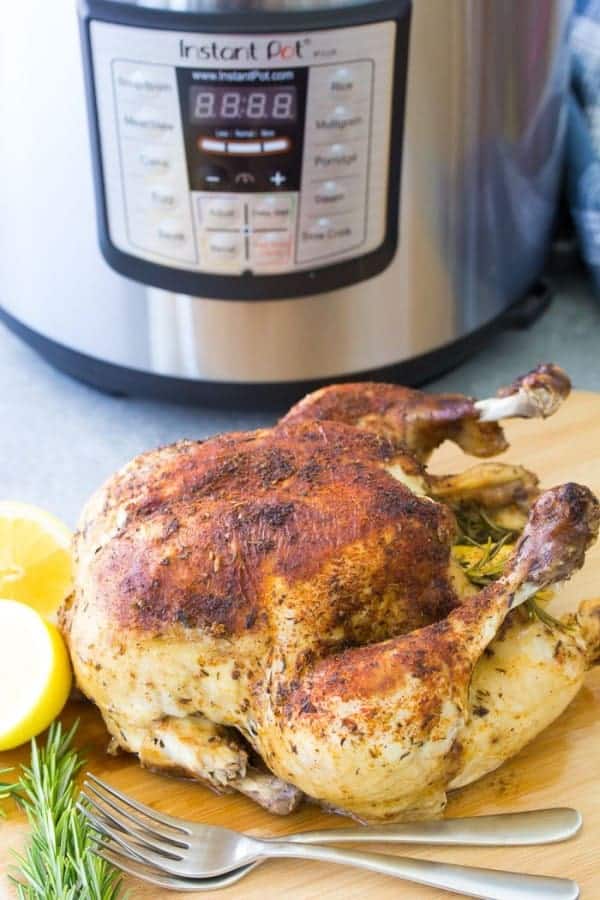 Cooking a whole chicken in the Instant Pot is one of my favorite things to make. It turns out juicy, tender and full of flavor every single time. Plus, you can even do this with a frozen chicken if you forget to thaw it.
Instant Pot Whole Tandoori Chicken
This turkey recipe uses incredible Indian spices that will make your RV smell incredible. It only takes 30 minutes to cook, with a 10-minute natural release time.
There's also a recipe for the gravy to serve with it. Yum!
Slow Cooker Brown Sugar Pineapple Ham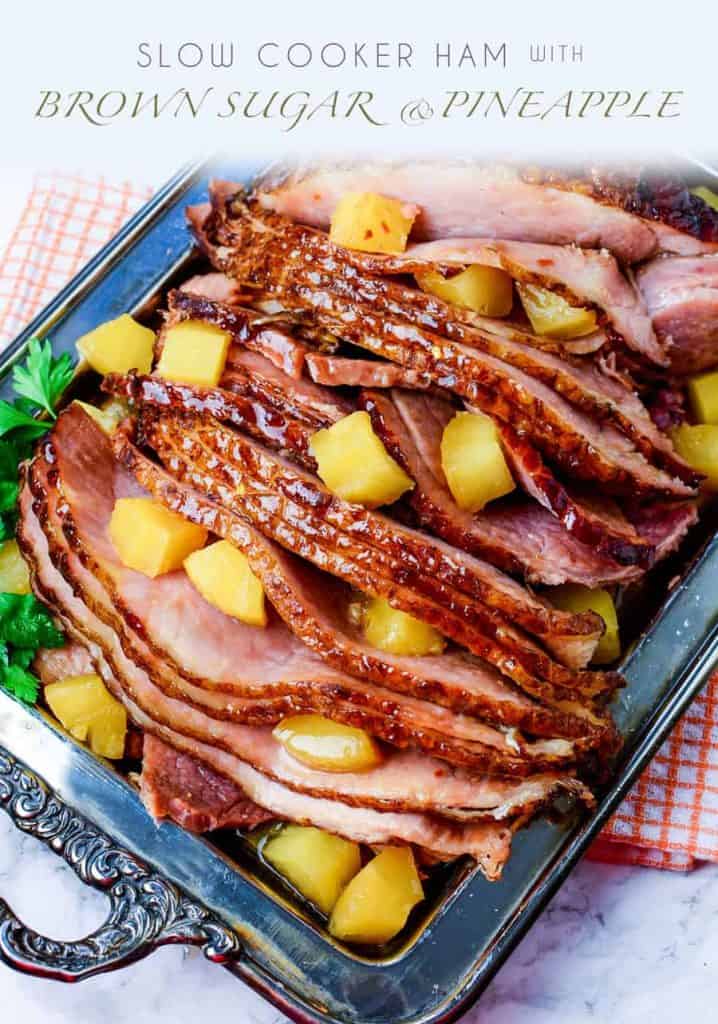 Just looking at this ham is making my mouth water.
With just 5-ingredients and either high for 2.5 hours or low for 4.5 hours, you'll have a tasty main dish for Thanksgiving. Be sure to follow the steps she suggests in the last 30 minutes of cooking. It sounds amazing!
A Crock Pot Thanksgiving
This post has recipes for bacon-wrapped Turkey, spiral ham, green bean casserole and more all cooked in the Crock-Pot!
Thanksgiving Sides for Thanksgiving in Your RV
Mashed Potatoes, sweet potatoes, green beans, and corn…just to name a few of the amazing sides perfect for Thanksgiving Day in your RV.
Potatoes
Instant Pot Roasted Potatoes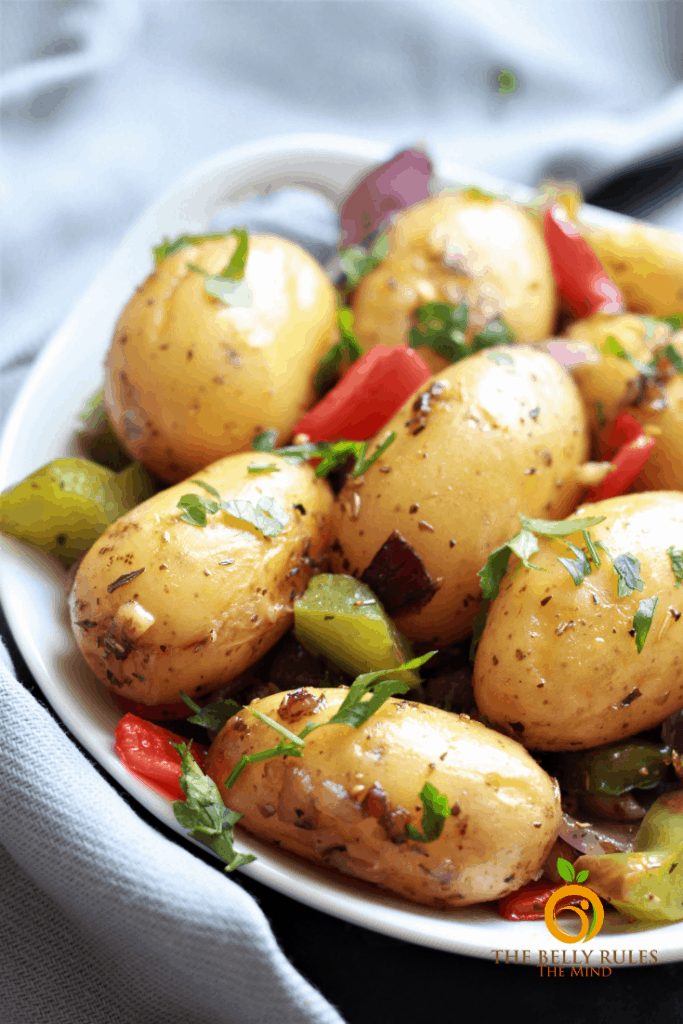 These tasty roasted potatoes with colorful veggies and rosemary are finished off with a garlic herb butter blend. Get in my belly!
How to Make Easy, Fluffy Instant Pot Mashed Potatoes
Whipping up mashed potatoes using your Instant Pot is super easy and quick! Here's how to get them nice and fluffy.
Instant Pot Mashed Potatoes for Two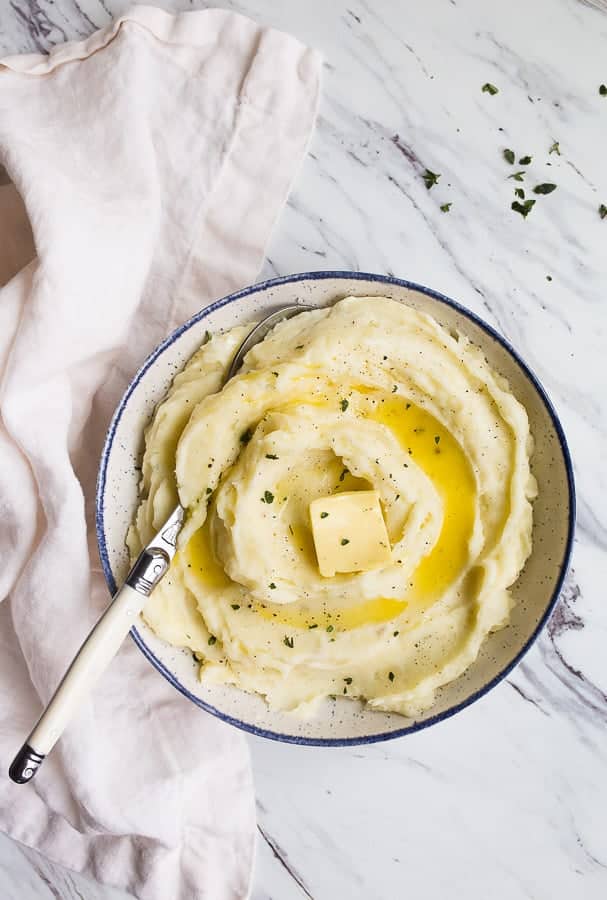 The perfect mashed potato recipe for just the two of you. This recipe only requires 5 ingredients, whips up a generous amount of potatoes for two people and is creamy and delicious. I love how she adds a touch of garlic to the recipe.
Crock Pot Mashed Potatoes (No Boil)
If you're looking for a make-ahead Thanksgiving side dish, here you go! Whip these up in your crockpot the day before Thanksgiving and free up your slow cooker for your turkey or ham the day of. Easy peasy.
Perfect Instant Pot Mashed Potatoes and Parsnips
Have you ever had mashed parsnips? Try something a little different for Thanksgiving with this mashed potatoes and parsnips recipe all done in the Instant Pot.
Sweet Potatoes
Sweet Potato Casserole with Marshmallows – Small Batch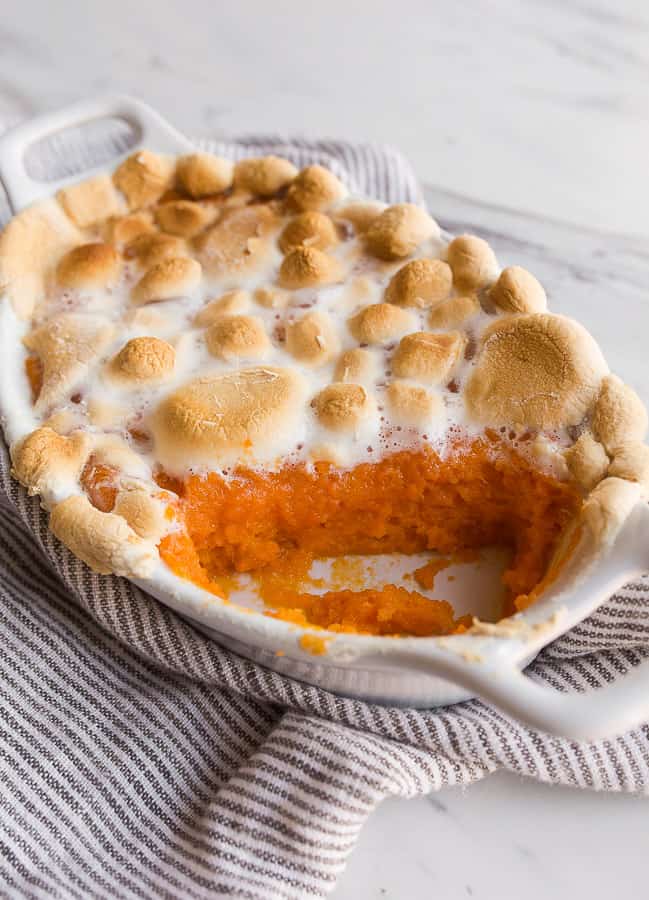 This small-batch sweet potato casserole sounds absolutely delicious. Her blend of using large and small marshmallows just blew my mind and I am definitely trying that this year.
Just note that this recipe is baked in the oven for 40-50 minutes, but I decided to include it since it's a small batch.
How to Make Instant Pot Sweet Potatoes
Use this recipe to serve up sweet potatoes just like you would baked potatoes or remove the insides after they're cooked and mash them. The recipe creator gives all kinds of ideas of what to top these with, as well as casserole ideas.
Weight Watchers Candied Sweet Potatoes Recipe
If you're watching your WW points this holiday season, these candied sweet potatoes whip up in the Instant Pot might be just what you're looking for.
Instant Pot Sweet Potato Casserole
What do you get when you mix creamy potatoes, orange juice and yummy roasted marshmallows? This half side dish/half dessert.
This recipe calls for a 7-inch cake pan to whip up the casserole in the Instant Pot and canned sweet potatoes for ease.
Instant Pot Mashed Sweet Potatoes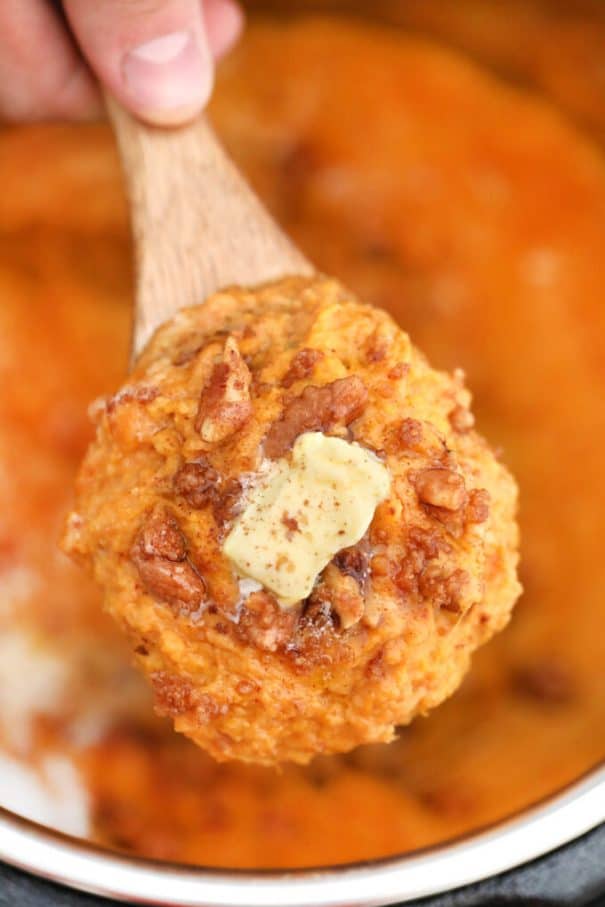 These Instant Pot Mashed Sweet Potatoes are done in under an hour and look so decadent! With butter and cream, spices and a walnut topping, what's not to love?
Stuffing
Slow Cooker Stuffing with Sausage and Kale
This recipe does require more cooking steps than the others here, but I included it in case you want to bring something like this to the RV park potluck. If you're only cooking one or two things, you might not mind the extra steps.
For this recipe, you have to bake the bread in the oven, cook the sausage and other ingredients in a skillet and then add everything to the slow cooker.
Thanksgiving Stuffing in the Crock-Pot

While this recipe is a little more involved than just dumping everything in the crock-pot, it sounds like it's worth it. But just realize you need to toast the bread in the oven, as well as mix up a few of the ingredients in a skillet before adding everything to the crock-pot.
Slow Cooker Mushroom Stuffing
Since we have a vegetarian in our family, I'm always looking for sides that could also work as a main dish and this recipe is perfect. Plus, it's baked to perfection in the crock-pot, which allows you to focus on the other Thanksgiving dishes.
Corn
Air Fryer Corn on the Cob
I have not joined the Air Fryer club just yet, but man I am tempted. Especially after seeing how easy it is to do corn on the cob.
If you travel with your Air Fryer, this recipe is for you.
CrockPot Corn Casserole Recipe
This corn casserole adds a touch of sweetness to your Thanksgiving meal and is incredibly easy to whip up. It uses packaged cornbread mix and canned corn, plus cheese for a yummy texture and flavor.
Instant Pot Spicy Creamed Corn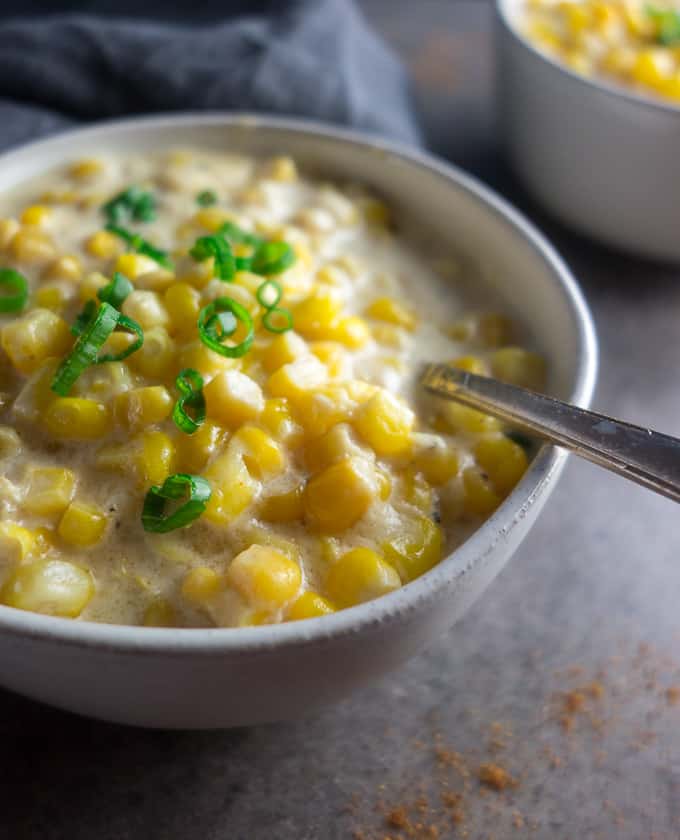 What's buttery, rich, sweet and has a kick? This yummy side dish featuring corn, bacon grease, heavy cream and cayenne pepper for spice. And it's all done in the Instant Pot in about 15 minutes.
Green Beans
Slow-Cooker Green Beans with Shallots and Almonds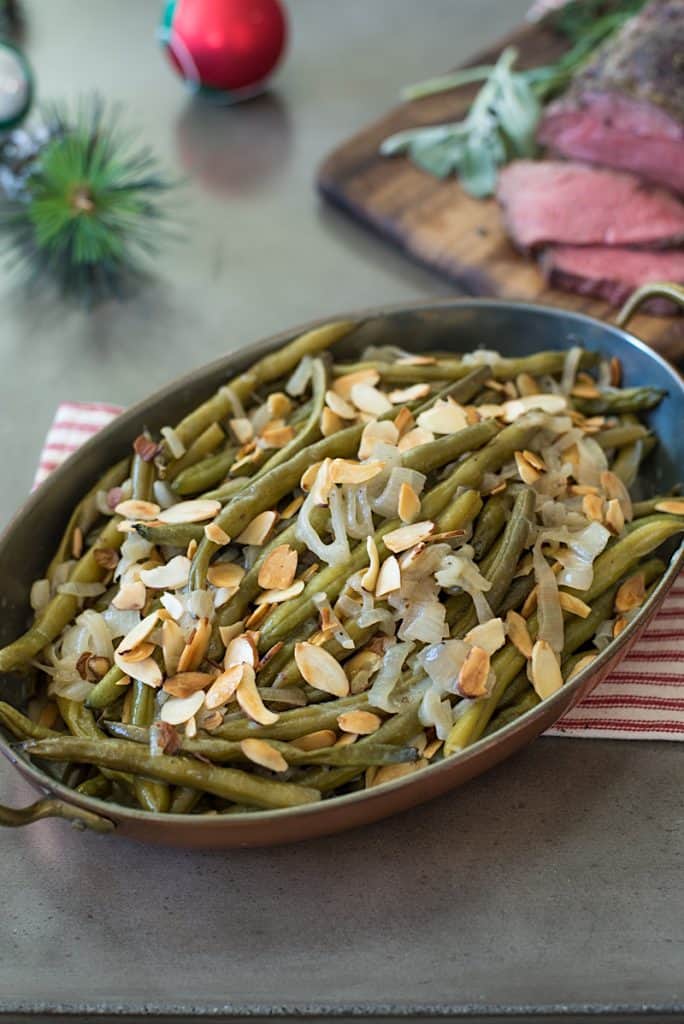 There's a tiny bit of prep work for this green bean recipe before you add it to the crockpot, but not much. As far as cook time goes, it's around 3 hours, depending on if you like a little crunch or not to your green beans.
Mac and Cheese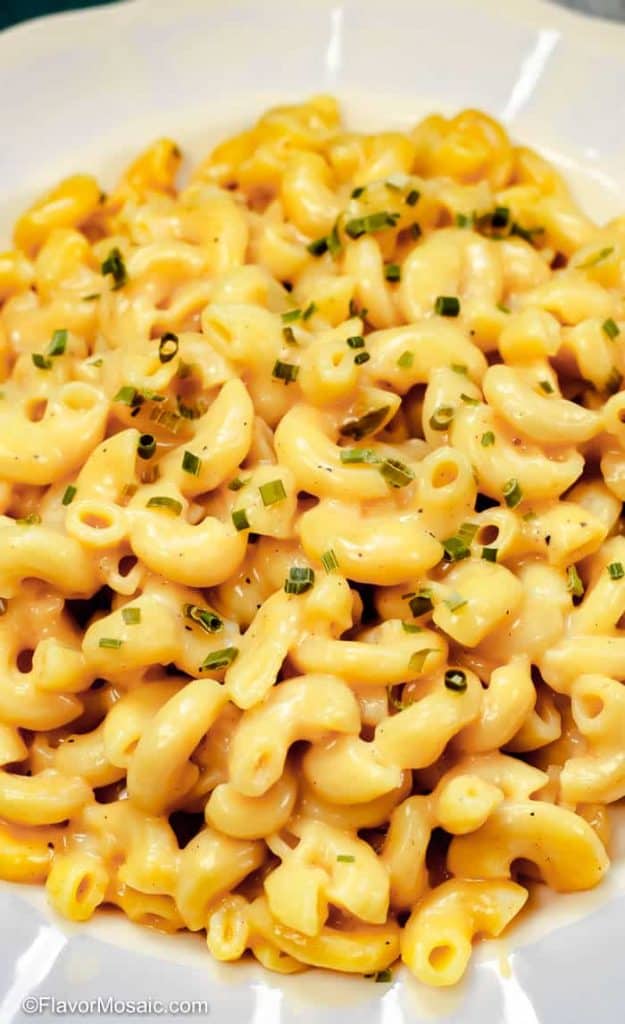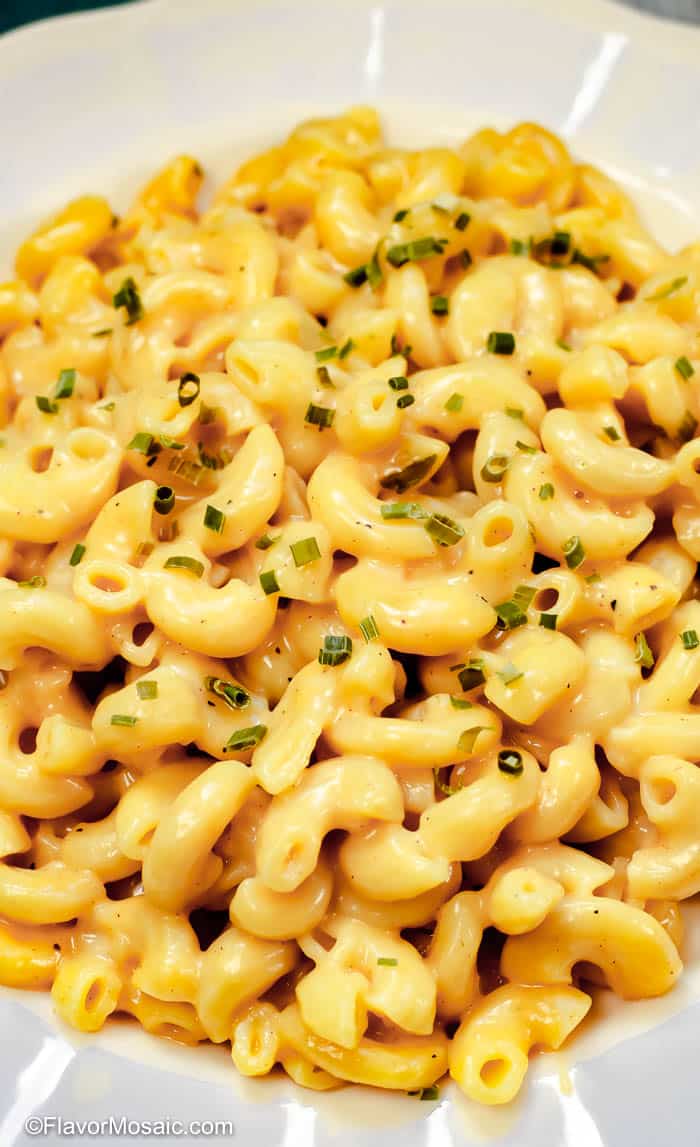 Do you or your kids enjoy some mac and cheese with the Thanksgiving meal? If so, this one is ready in 15 minutes and not only features two types of cheeses, but also heavy cream. It's the ultimate comfort food.
Cranberries
Instant Pot Cranberry Relish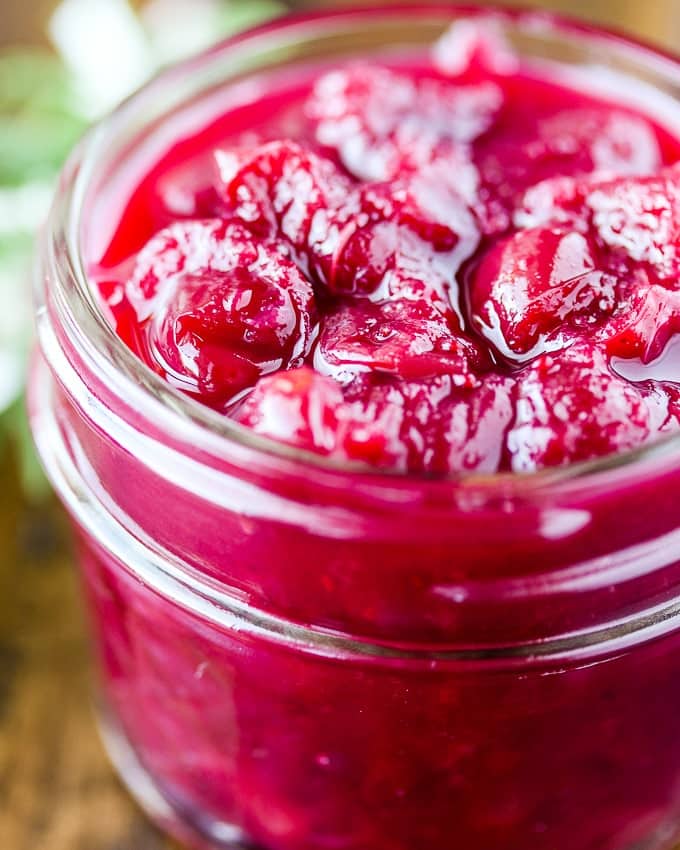 What's ready in four minutes, is delicious and the perfect topping for your Thanksgiving meal? You guessed it. This Instant Pot Cranberry Relish recipe.
Instant Pot Spiced Cranberry Sauce
This cranberry sauce is made ahead in the Instant Pot and is spiced (not spicy hot) with minced candied ginger, cardamom and star anise. It's the perfect side dish to go along with a carb-loaded meal.
Easy Thanksgiving Desserts
Cheesecakes in the Instant Pot and apples over the campfire, those are just a few of the yummy desserts that are perfect for celebrating Thanksgiving Day in your RV.
Campfire Apple Pie Packets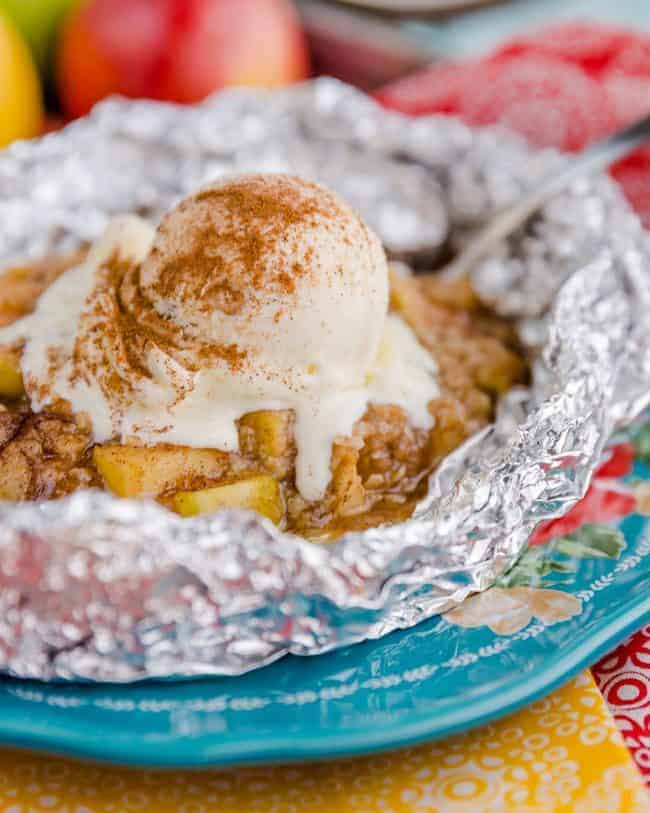 How yummy do these look? This no-fuss foil packet dessert can be made on the grill or over the campfire. I'm definitely saving this recipe for summer camping trips as well!
Instant Pot Pecan Cheesecake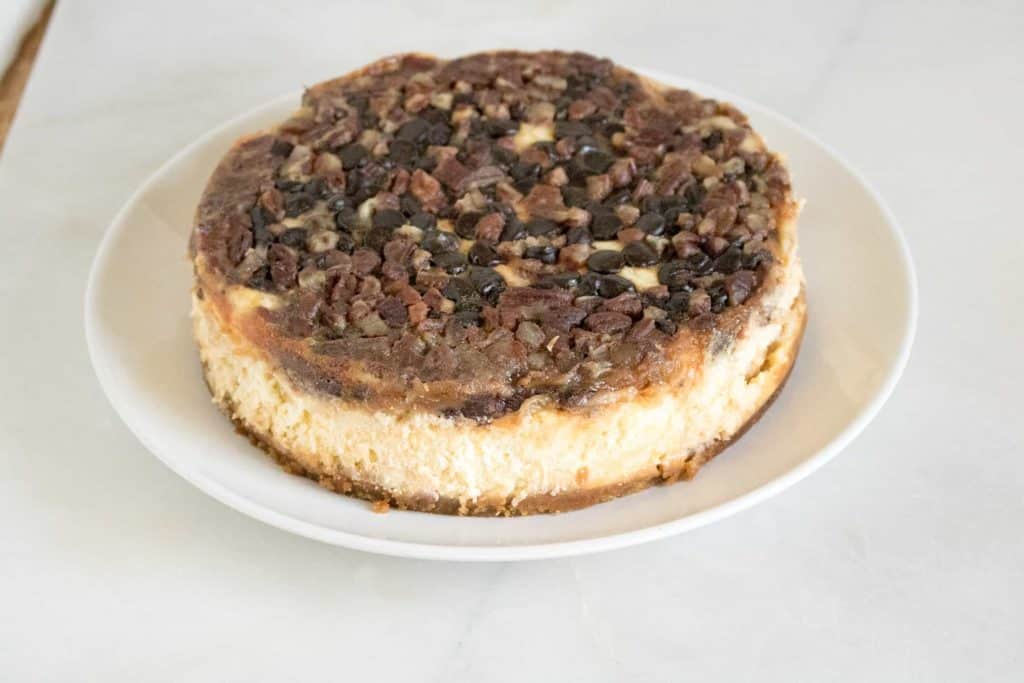 I've yet to make a cheesecake in the Instant Pot, but after looking through quite a few recipes, I am confident I need to try it. You can make this the day before so your Instant Pot is freed up for other things – like the turkey or sides.
This recipe combines two things I love – pecan pie and cheesecake. Yes, please.
Instant Pot Pumpkin Cheesecake
Here's another must-try Instant Pot cheesecake recipe. Around our house, Thanksgiving just isn't Thanksgiving without a pumpkin dessert of some sort.
Instant Pot Baked Apples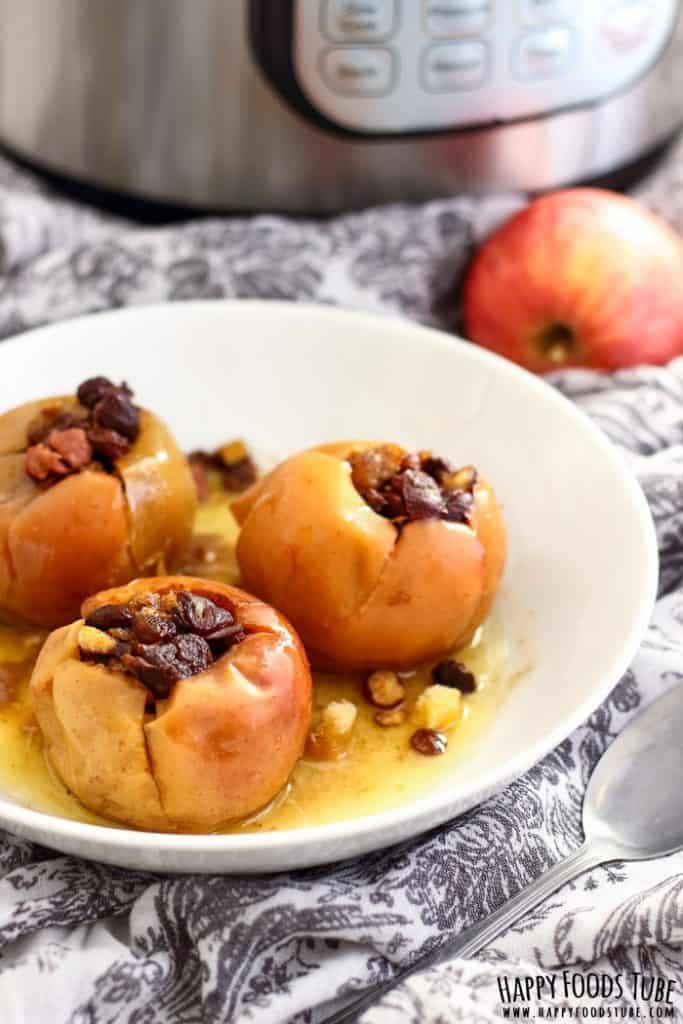 What's ready in about 3 minutes and will make your RV smell absolutely amazing? These Instant Pot Baked Apples. This recipe is unique because of one ingredient I've never thought of putting in baked apples – ladyfingers! Check out the recipe to get all of the details.
Instant Pot Cinnamon Apples
I can almost smell these cinnamon apples baking. Yum. Top them with fresh whipped cream or ice cream for an amazing fall dessert.
Instant Pot Candied Pecans
I guess these could be considered an appetizer, snack, topping for sweet potatoes or a dessert. Either way, they sound like a winner to me!
We hope these Thanksgiving RV recipes help you have an incredible holiday!
PIN THIS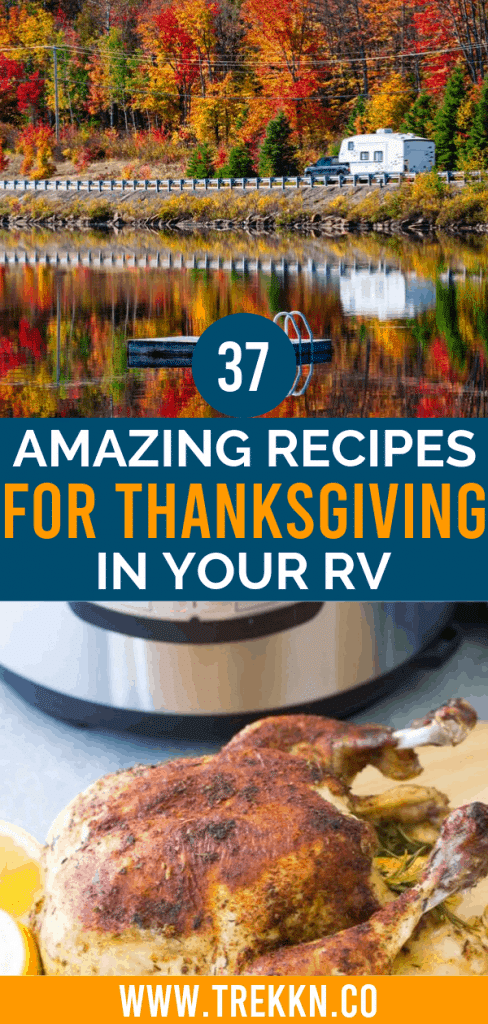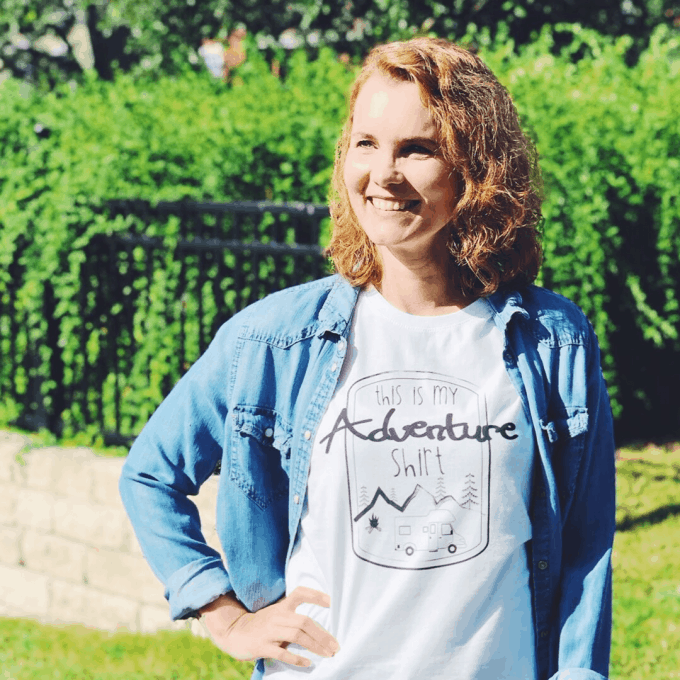 Julie specializes in helping you whip up delicious meals in your tiny RV kitchen, as well as RV organization tips and helping fellow RVers make their RV feel like home. Her favorite RVing spot is in Banff National Park in Canada where yes, the water really is that blue and the people really are that nice.