32 No-Cook Camping Meals for Your Next Trip

There's no need to spend all of your time outdoors cooking! Try out some delicious meals that don't require any cooking.
We have curated a list of our favorite 32 No-Cook Camping Meals that make Planning & Prep a breeze.
Getting ready for a camping trip with the family is no joke. It takes a lot of preparation, hard work, mental strain, and long exhausting hours on the road.
Once you get your campsite set up, the last thing you want to do is spend the rest of the afternoon cooking.
At least in my book, that doesn't sound like a vacation or very relaxing.
No-Cook Recipes: Less Time Cooking, More Time Vacationing
There are many ways to keep yourself from having to do a lot of cooking while at the campsite. One of the best options I learned while RVing is to serve no-cook camping meals.
If you like the sound of that, keep on reading…
Ideas for Easy Camping & RV Meals
Recipes are one of my favorite topics to discuss. You see, I love to eat and I love to cook, but I also love to chill out and enjoy my time outdoors.
Here are a few ways I can feed my family and not spend all day preparing meals:
No-Cook Camping Breakfast, Lunch & Dinner
No-Cook Camping Breakfast Ideas
Whether you're gearing up for an early morning hike or scavenger hunt with the kids, it's important to start your day with a hearty breakfast.
Here are a few easy camping breakfast ideas that require no cooking.
1. Cereal, Milk, and Fruit
One of the easiest and low-fuss breakfast ideas is just good 'ol cereal. Add some milk, toss in some fruit like banana slices or blueberries and you have a tasty breakfast that will keep your tummy full.
2. Peanut Butter and Jelly Sandwich
Yep, that's right. Who said a PB & J sandwich is just for school lunches? One of the reasons these are so great while camping is their versatility.
You can make them to eat at the campsite before you head out or pack the sandwiches in your backpack for eating on the trail.
We've enjoyed many tasty PB & J sandwiches for breakfast during our hiking adventures. There is something about a quiet spot on a mountain ridge that makes a light sandwich taste absolutely delicious.
3. Overnight Oats
This kind of breakfast is perfect for camping. Prep takes about 2-minutes the night before. Your easy breakfast meal will be ready and waiting for you in the morning.
Check out this overnight oats recipe featuring mango: Overnight Mango Coconut Oats
"These vegan oats, take all of 2 mins to whip up and store in the fridge overnight. They make the perfect breakfast for those busy morning as all I have to do is take them out of the fridge, mix in an endless combination of flavours, find a little spot and just dig in." – Recipes from a Pantry
4. Banana Bread Overnight Oats
These banana bread oats are easy to make ahead for even easier prep and can be made vegan or gluten-free.
All you need are bananas, oats, maple syrup, cinnamon, pecans, and whichever other topics you desire. Get the full recipe here.
5. Lox Bagel Breakfast Sandwich
A lox bagel sandwich is one of my absolute favorite meals in the morning outdoors.
The combination of cream cheese, cucumber, smoked salmon, red onion, and capers is delicious, and the sandwich is fast and easy to make for a camping lunch or dinner.
You can get the full recipe here.
6. Fruit and Nut Peanut Butter Stuffed Tortilla
This fruit and nut butter tortilla is an excellent breakfast choice for camping, or a snack before a hike. It's full of protein and sure to give you energy for the whole day.
You can get the recipe here.
No-Cook Camping Lunch Ideas
For us, lunches are eaten on the go while hiking a trail or when we're just out and about exploring.
If we're at the campsite hanging out, I prepare lunch or it's an every-man-for-himself moment.
Either way, easy no-cook options make for a perfect recipe.
7. Hummus Sandwich Wraps
Put some hummus on a tortilla with veggies and your choice of meat. Roll it up and wrap it in saran wrap for a tasty, easy-to-eat on-the-go lunch.
8. Sandwiches
We like to kick our sandwiches up a notch by adding some ingredients that really add a punch of flavor. Instead of lettuce, top it with arugula for a peppery kick.
We also like to add some olive oil, salt, and pepper to both meat and veggie sandwiches. Trust us, it's delicious!
This is the perfect packable picnic lunch.
"Packed with Italian flavours, this vegetarian stuffed sandwich is a simple picnic or potluck staple. Prepare it a day ahead for optimal flavour. This antipasto loaf is packed with cream cheese, spinach, pesto, sun-dried tomatoes and artichokes." – Living Lou
For vegetarians or for those who love vegetarian options, this tomato mozzarella salad is a complete meal with a punch of flavor.
"Drizzle your Caprese salad with extra virgin olive oil and sprinkle with salt and freshly ground black pepper. Additionally, I like to drizzle my Insalata Caprese with balsamic reduction as it highlights the sweetness of tomatoes in a nice way." – Happy Kitchen
An easy and healthy lunch on the go!
"These quick fish wraps with sardines are an easy, healthy lunch on the go! They're perfect as a packed lunch for work, and are ideal for road trips and camping." – Champagne Tastes
The water chestnuts or bamboo shoots will give your tuna a little crunch and can be found in the Asian food aisle.
"This easy Healthy Tuna Salad with Wasabi is filled ready in minutes and packed with flavor. This salad is perfect all by itself, piled into sandwiches, or scooped onto crackers." – Champagne Tastes
13. Southwest Salad
This southwest salad with corn, red onion, black beans, queso fresco, and cilantro is a perfect healthy camping meal that doesn't require any cooking. (Bonus: it's gluten-free and vegetarian!)
Get the recipe here.
14. Caprese Salad Kebabs
These kebabs feature grape tomatoes, mozzarella cheese balls, and basil leaves, and they're topped off with olive oil and balsamic vinegar.
They're super easy to make and taste great (gotta love the mozzarella cheese balls).
You can find the full recipe here.
15. Tuna Salad Sandwich
Here we have another quick and easy sandwich recipe but with tuna salad this time. They can easily be made in advance and be packed for an afternoon hike.
Get the recipe for tuna salad here.
16. Veggie Gyros
These chickpea gyros are a healthy option for a fast camping lunch. They feature hummus, lemon tzatziki, chickpeas, cucumber, tomatoes, feta cheese, onion, and avocado for a fresh and healthy meal option.
You can find the full recipe here.
17. Basil and Prosciutto Sandwich
This basil and prosciutto sandwich sounds melt-in-your-mouth delicious. It has fresh mozzarella and tomatoes along with basil and prosciutto, as well as a balsamic vinaigrette.
You can get the whole recipe here.
18. Jambon Beurre Sandwich
Speaking of prosciutto, this jambon beurre sandwich (French for ham and butter) is an irresistible and easy camping meal that may look fancy, but don't be fooled!
It's easy as can be. It features prosciutto, herbed butter, brie, and arugula. Tell me that doesn't sound incredible.
You can get the whole recipe here.
19. Ahi Tuna Avocado Toast
This ahi tuna avocado toast is packed with healthy ingredients and makes a great fresh lunch.
No cooking is needed, of course, and the tuna and avocado provide healthy fats to fuel your camping adventures.
Get the full recipe here.
20. Chicken Caesar Wraps
These chicken caesar wraps combine a fan favorite salad with chicken to create a refreshing lunch option for camping.
They can be quickly assembled and can even work for a roadside lunch on the way to the campsite.
You can get the recipe here.
21. Easy Halloumi Vegetarian Wraps
If you have any veggies on your camping trip, these easy halloumi vegetarian wraps are a great option.
Featuring pesto, walnuts, halloumi (a type of cheese), and avocado, they're flavorful and healthy with a variety of flavors and textures.
The whole recipe is available here.
No-Cook Dinner Ideas
While our goal here is focused no-cook meals, we also want to maintain healthy habits while RVing. So many of the recipes we reference are fairly light and healthy.
That said, it's easy to boost nearly any meal into something heartier. Simply add pasta or other yummy ingredients like avocados or cheese. A light meal instantly becomes incredibly filling.
22. Meat and Cheese Board
Lay out a variety of meats and cheeses along with some crackers and you have an easy, tasty dinner. You can also add grapes, hummus, chutney, olives, and pita bread for a nice variety.
23. A Mexican Feast
Making your own guacamole is super easy and it doesn't get much better than fresh! Check out these tips from The Spicy Apron for how to make guacamole while camping.
She lets you know what to prep before you leave. Serve the guac with chips, salsa, bean dip, cut-up veggies, shredded lettuce, and cheese.
The perfect recipe for a hot summer day.
"We adapted the recipe with coleslaw instead of pasta, which makes it a keto recipe…Now it is our go-to for our first night of camping. It is very easy to make ahead at home and take with you." – Let's Camp S'more
25. Spicy Tilapia Ceviche
Tilapia is one of my favorites and this spicy tilapia ceviche sounds absolutely incredible. It's with lime cilantro paste, and jalapeños just to add a little kick.
You can find the recipe here.
26. Greek Salad Skewers
Skewers in general are a great option for camping. They're easy to assemble and can be done with a variety of meats, veggies, and fruits.
These delicious no-cook skewers feature cucumber, feta cheese blocks, grape tomatoes, and olives.
You can find the full recipe here.
27. Pressed Italian Sandwich
Try these delicious Italian sandwiches with olive tapenade that are packed with protein and have a tangy zesty flavor everyone will love.
You can find the recipe here.
No-Cook Snacks for Camping
Don't forget the snacks!
28. Trail Mix and Dried Fruit
This is the perfect trail snacking food.
29. Protein Bars
If it's hot out, just make sure your protein bars don't have any chocolate bits in them. They melt and get incredibly messy. Our favorite bars for camping are Clif bars and KIND bars.
This is a light snack, easy to pack, and is a good balance of fat, proteins, and carbohydrates.
These small balls are loaded with protein, healthy fat, fiber, and great flavor.
"These No-Bake Energy Bites are a low calorie, healthy, and EASY snack! A guilt-free, energy-boosting, perfectly portioned (and PORTABLE) snack." – Salt & Baker
You can also easily turn this into a watermelon salad.
"These take-along watermelon skewers with feta and mint pesto dressing are a quick and easy appetizer or snack for your next outdoor gathering, BBQ or picnic!" – Happy Kitchen
We hope these no-cook camping meals help you relax and enjoy your time in the great outdoors. Happy camping!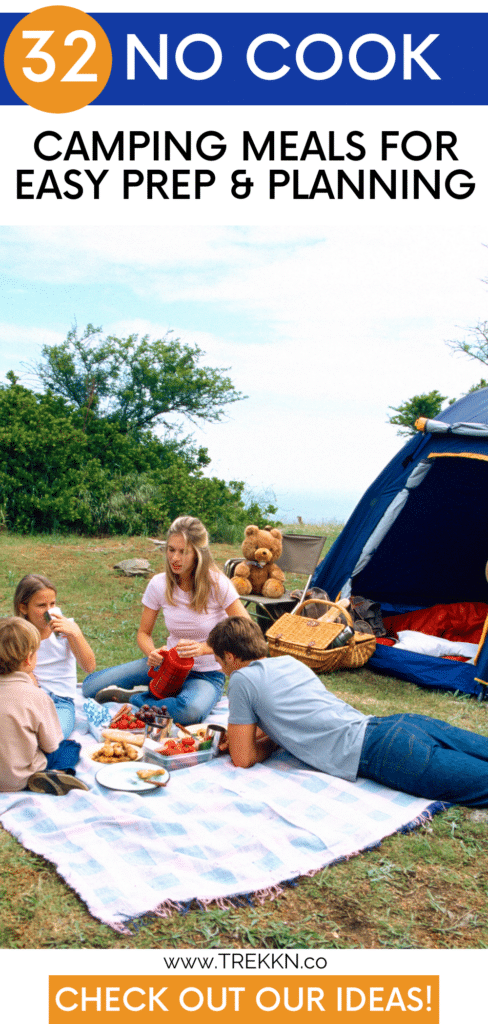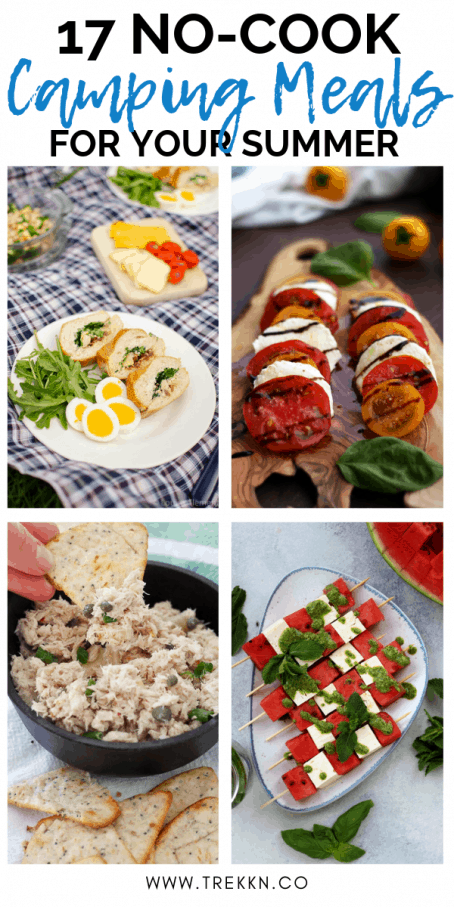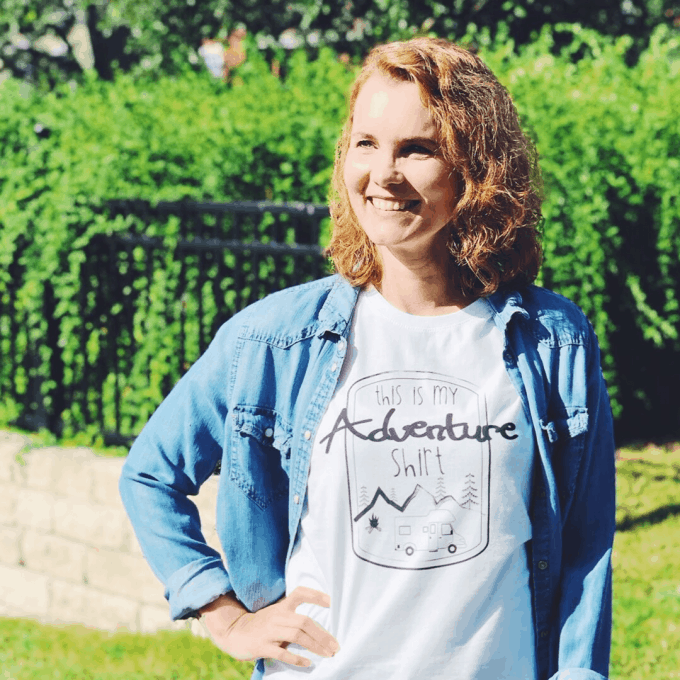 Julie specializes in helping you whip up delicious meals in your tiny RV kitchen, as well as RV organization tips and helping fellow RVers make their RV feel like home. Her favorite RVing spot is in Banff National Park in Canada where yes, the water really is that blue and the people really are that nice.