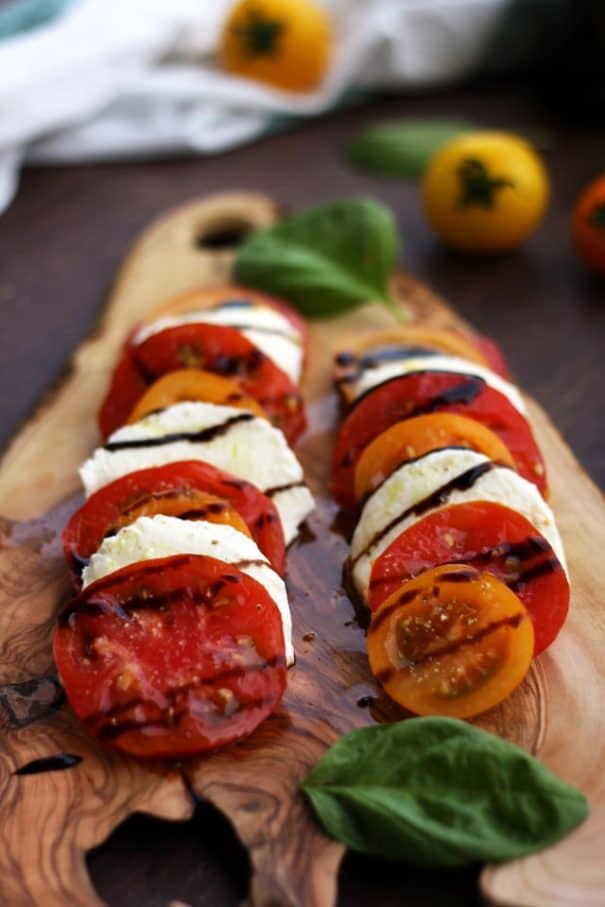 Getting ready for a camping trip with the family is no joke. It can be a lot of hard work and preparation! Which is why when you get your campsite all set up and ready, the last thing you want to do is spend your entire time cooking.
At least in my book, that doesn't sound like a vacation or very relaxing.
There are many ways to keep yourself from having to do a lot of cooking while camping and RVing, one of those is serving up no-cook camping meals.
If you like the sound of that, keep on reading…
Ideas for Easy Camping & RV Meals
Recipes are one of my favorite topics to discuss. You see, I love to eat and I love to cook, but I also love to chill out and enjoy my time outdoors.
Here are a few ways I can feed my family and not spend all day preparing meals:
No-Cook Camping Meals for Breakfast, Lunch & Dinner
No-Cook Camping Breakfast Ideas
Whether you're gearing up for an early morning hike or a day of sightseeing, starting off your day with a hearty breakfast is important. Here are a few easy camping breakfast ideas that require no cooking.
1.Cereal, milk, and fruit – One of the easiest and low-fuss breakfast ideas is just good 'ol cereal. Add some milk, toss in some fruit like banana slices or blueberries and you have a tasty breakfast that will keep your tummy full
2. Peanut Butter and Jelly Sandwich – Yep, that's right. Who said a PB&J sandwich is just for lunch? Either make one and eat before you head out or pack some sandwiches in your backpack for eating on the trail. We've had many a tasty PB sandwiches for breakfast while hiking to some amazing destinations.
3. Overnight Oats – This kind of breakfast is perfect for camping or even busy school mornings. It takes about 2-minutes to prep the night before and then it's ready and waiting for you in the morning. Check out the recipe below featuring mango.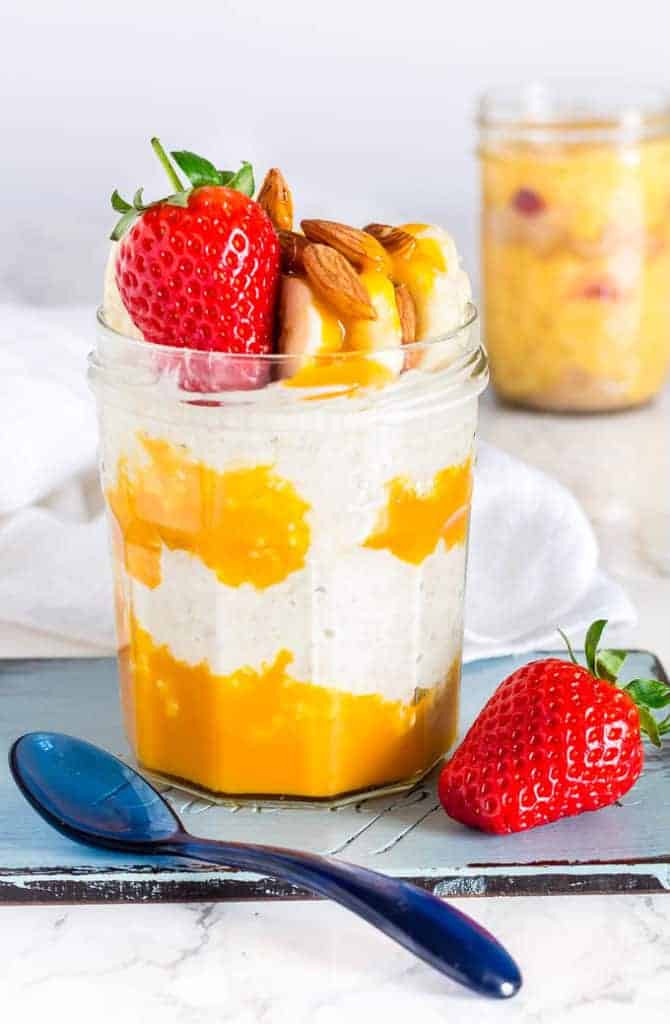 "These vegan oats, take all of 2 mins to whip up and store in the fridge overnight. They make the perfect breakfast for those busy morning as all I have to do is take them out of the fridge, mix in an endless combination of flavours, find a little spot and just dig in." – Recipes from a Pantry
No-Cook Lunch Ideas for Camping
I know for us personally, lunches are eaten on the go either while hiking a trail or out and about exploring. If we're at the campsite just hanging out, lunch is usually every man for himself. So having easy, no-cook options is the perfect way to go.
4. Hummus Sandwich Wraps – Put some hummus on a tortilla with veggies and your choice of meat. Roll it up and wrap it in saran wrap for a tasty, easy to eat on the go lunch.
5. Sandwiches – We like to kick our sandwiches up a notch by adding some ingredients that really add a punch of flavor. Instead of lettuce, top it with arugula for a peppery kick. We also like to add some basil olive oil, salt, and pepper to both meat and veggie sandwiches. Trust us, it's delicious!
6. Make-ahead antipasto loaf – This is the perfect packable picnic lunch.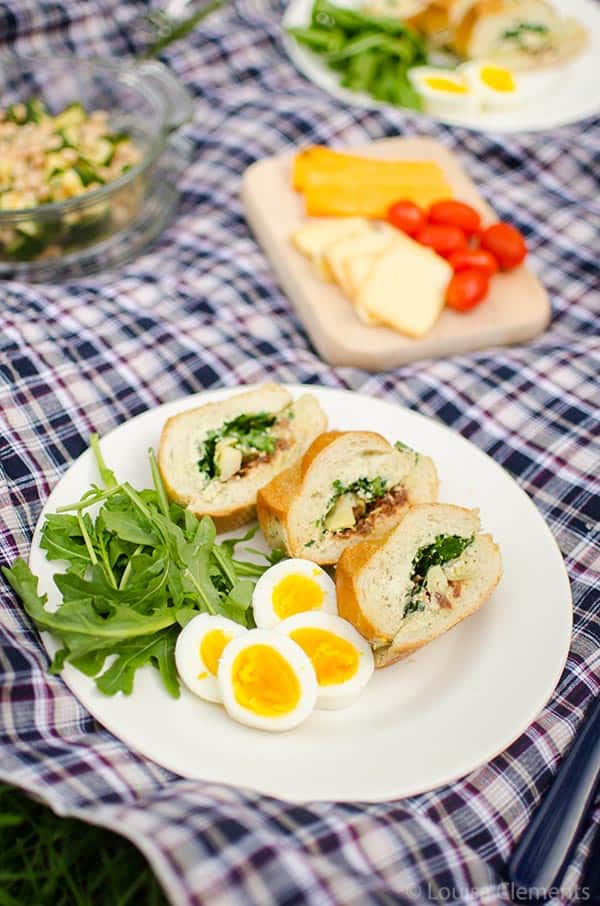 "Packed with Italian flavours, this vegetarian stuffed sandwich is a simple picnic or potluck staple. Prepare it a day ahead for optimal flavour. This antipasto loaf is packed with cream cheese, spinach, pesto, sun-dried tomatoes and artichokes." – Living Lou
7. Classic Insalata Caprese (Tomato Mozzarella Salad) – For vegetarians or for those who love vegetarian options, this tomato mozzarella salad is a complete meal with a punch of flavor.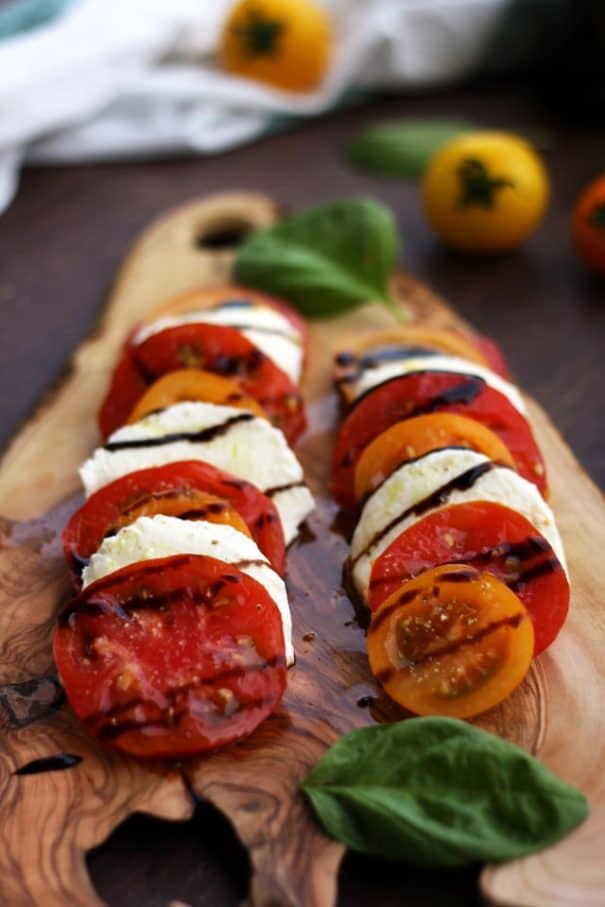 "Drizzle your Caprese salad with extra virgin olive oil and sprinkle with salt and freshly ground black pepper. Additionally, I like to drizzle my Insalata Caprese with balsamic reduction as it highlights the sweetness of tomatoes in a nice way." – Happy Kitchen
8. Fish Wraps with Sardines – An easy and healthy lunch on the go!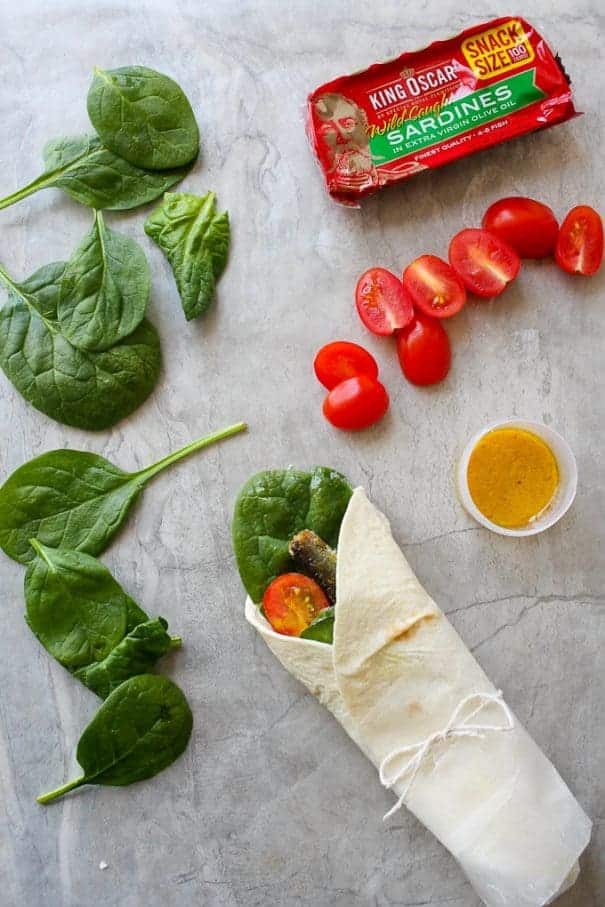 "These quick fish wraps with sardines are an easy, healthy lunch on the go! They're perfect as a packed lunch for work, and are ideal for road trips and camping." – Champagne Tastes
9. Healthy Tuna Salad with Wasabi – The water chestnuts or bamboo shoots will give your tuna a little crunch and can be found in the Asian food aisle.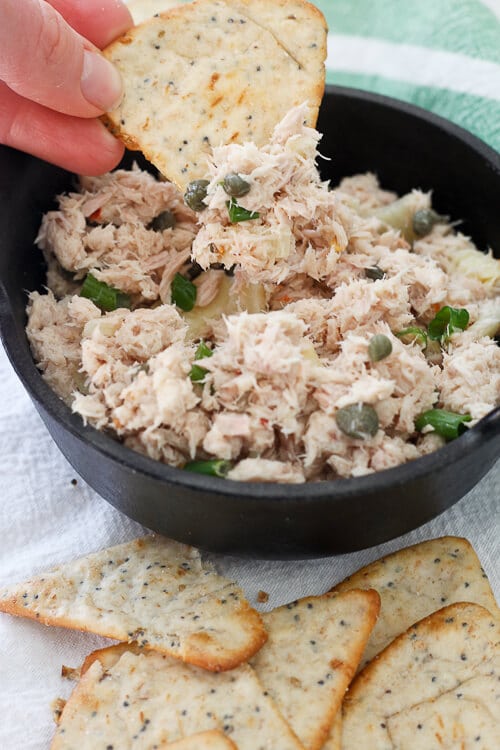 "This easy Healthy Tuna Salad with Wasabi is filled ready in minutes and packed with flavor. This salad is perfect all by itself, piled into sandwiches, or scooped onto crackers." – Champagne Tastes
No-Cook Dinner Ideas
Since our goal is no-cook meals, a lot of the following ideas are fairly light and healthy. But if you want something hearties, add pasta and yummy ingredients like avocados and a light meal can become incredibly filling.
10. Meat and Cheese Board – Lay out a variety of meats and cheeses along with some crackers and you have an easy, tasty dinner. You can also add grapes, hummus, chutney, olives and pita bread for a nice variety.
11. A Mexican Feast – Making your own guacamole is super easy and it doesn't get much better than fresh! Check out these tips from The Spicy Apron for how to make guacamole while camping. She lets you know what to prep before you leave. Serve the guac with chips, salsa, bean dip, cut up veggies, shredded lettuce, and cheese.
12. Easy Crab Salad – The perfect recipe for a hot summer day.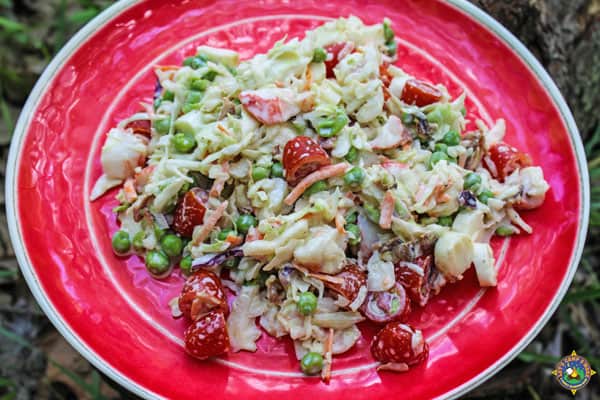 "We adapted the recipe with coleslaw instead of pasta, which makes it a keto recipe…Now it is our go-to for our first night of camping. It is very easy to make ahead at home and take with you." – Let's Camp S'more
No-Cook Snacks for Camping
Don't forget the snacks!
13. Trail Mix and Dried Fruit – This is the perfect trail snacking food.
14. Protein Bars – If it's hot out, just make sure your protein bars don't have any chocolate bits in them. They melt and get incredibly messy. Our favorite bars for camping are Clif bars and KIND bars.
15. Beef Jerky – This is a light snack, easy to pack and is a good balance of fat, proteins and carbohydrates.
16. No-Bake Energy Bites – These small balls are loaded with protein, healthy fat, fiber, and great flavor.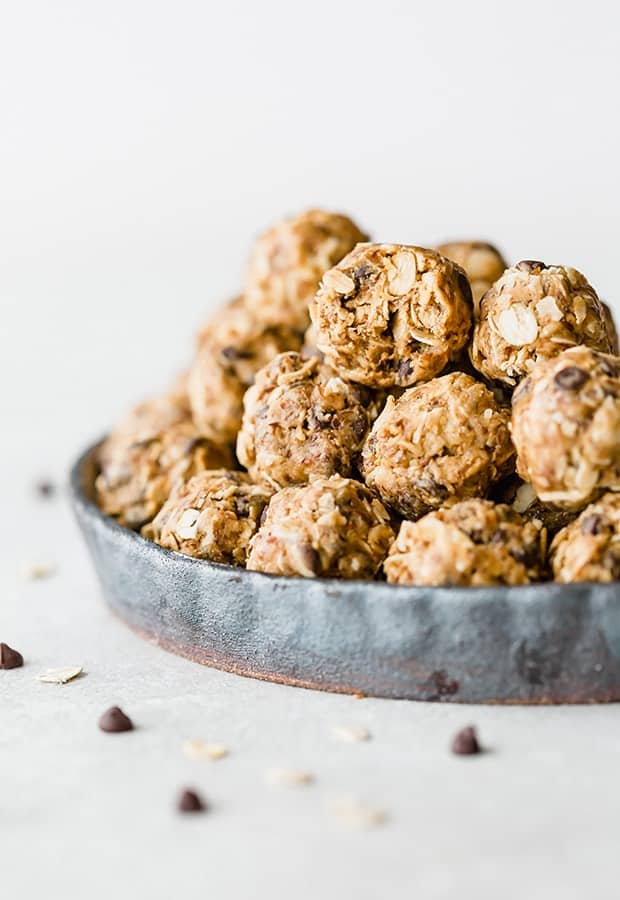 "These No-Bake Energy Bites are a low calorie, healthy, and EASY snack! A guilt free, energy boosting, perfectly portioned (and PORTABLE) snack." – Salt & Baker
17. Take-Along Watermelon Skewers – You can also easily turn this into a watermelon salad.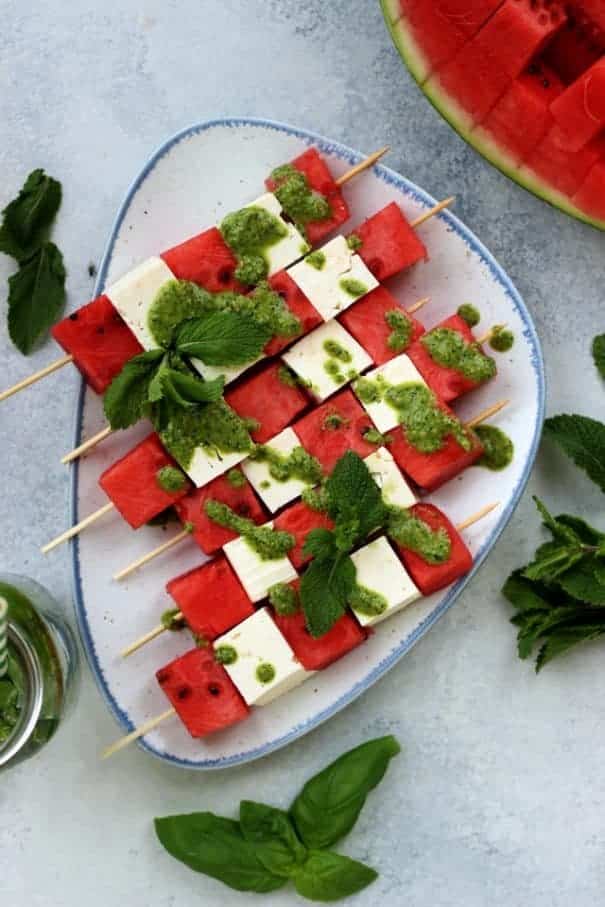 "These take-along watermelon skewers with feta and mint pesto dressing are a quick and easy appetizer or snack for your next outdoor gathering, BBQ or picnic!" – Happy Kitchen
We hope these no-cook camping meals help you relax and enjoy your time in the great outdoors. Happy camping!
PIN THIS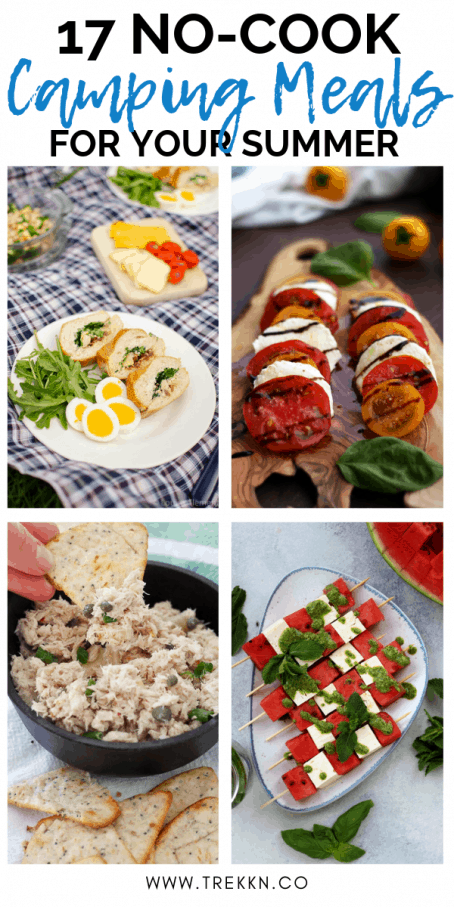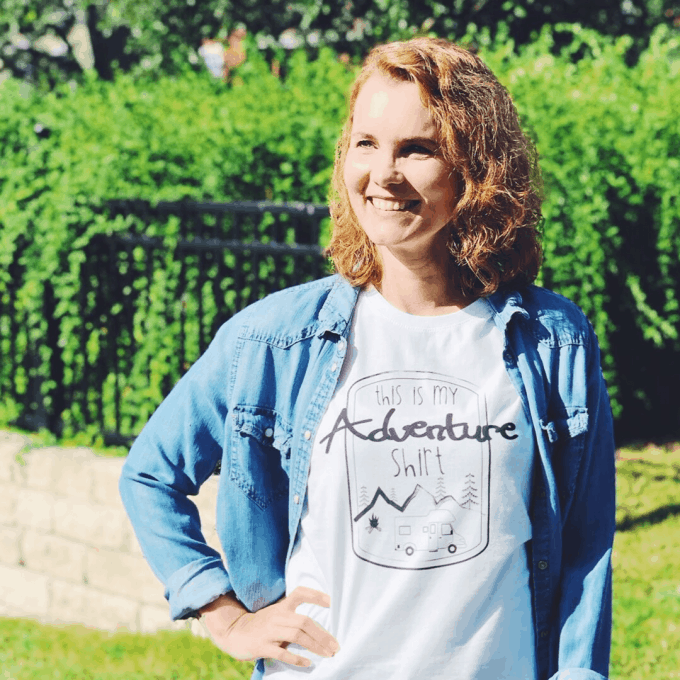 Julie Bonner is one-half of the TREKKN team. She specializes in helping you whip up delicious meals in your tiny RV kitchen, as well as RV organization tips and helping fellow RVers make their RV feel like home. Her favorite RVing spot is in Banff National Park in Canada where yes, the water really is that blue and the people really are that nice.