Explore Nevada State Parks

When I checked in at my first Nevada State Park I went to the office with a plan to pay for a two-week stay. The friendly attendant informed me that it would be cheaper to buy an All Access Permit, which would give me free camping for the remainder of the year, too. I almost didn't believe her.
As a long-time RVer, I had always heard about the New Mexico State Parks Pass being a great deal, but I had not heard about the Nevada Parks All Access Permit. I bought the pass. And then I changed my plans to extend my stay in Nevada.
And so began my love affair with the Nevada State Park system.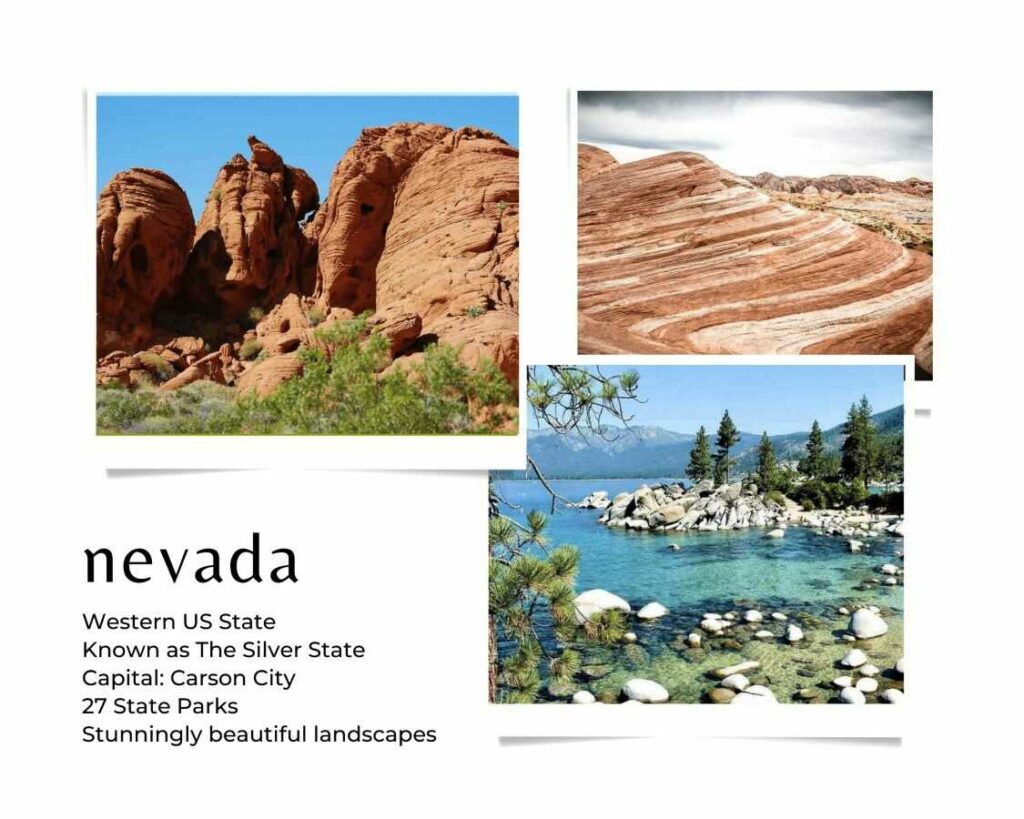 Why Visit Nevada State Parks?
Nevada State Parks encompass everything you think of when you picture the American West. A tour of NV State Parks will take you through ghost towns, dark skies, mountain passes, and stunning geological formations.
In total, there are 27 State Parks in the state of Nevada. Together they feature a vast array of beautiful outdoor scenery. You can experience everything from desert landscapes to glimmering alpine lakes.
Of the 27 parks, 18 offer camping. Only seven offer RV hook-ups.
Due to its proximity to Las Vegas, Valley of Fire is the most visited State Park in Nevada. It has stunning red sandstone and ancient petroglyphs.
The second most popular area is Lake Tahoe. Within the Lake Tahoe Nevada State Park is four separate park sites.
Let's first take a look at why I recommend you put it on your bucket list to explore Nevada State Parks, and then we'll dive into the best parks to visit.
DARK SKIES
Nevada State Parks offer some of the darkest night skies in the country. The lack of light pollution allows for an incredible stargazing experience.
If you're an astronomy enthusiast, you will surely be satisfied with the celestial viewing at the more remote NV State Parks.
Head to South Fork State Recreation Area or Fort Churchill State Historic Park if dark skies are what you're after.

DESERT LANDSCAPES
There's plenty of beautiful desert in Nevada. My two favorite desert parks are Valley of Fire and Cathedral Gorge. Though, each is very different from the other.
Valley of Fire has the iconic red rocks and is surrounded by desert (next to Lake Mead National Recreation Area).
The Cathedral Gorge landscape is almost exclusively white rock. Visitors are drawn more to the unique rock formations than the color. Both parks offer slot canyons, which are quintessential desert beauty.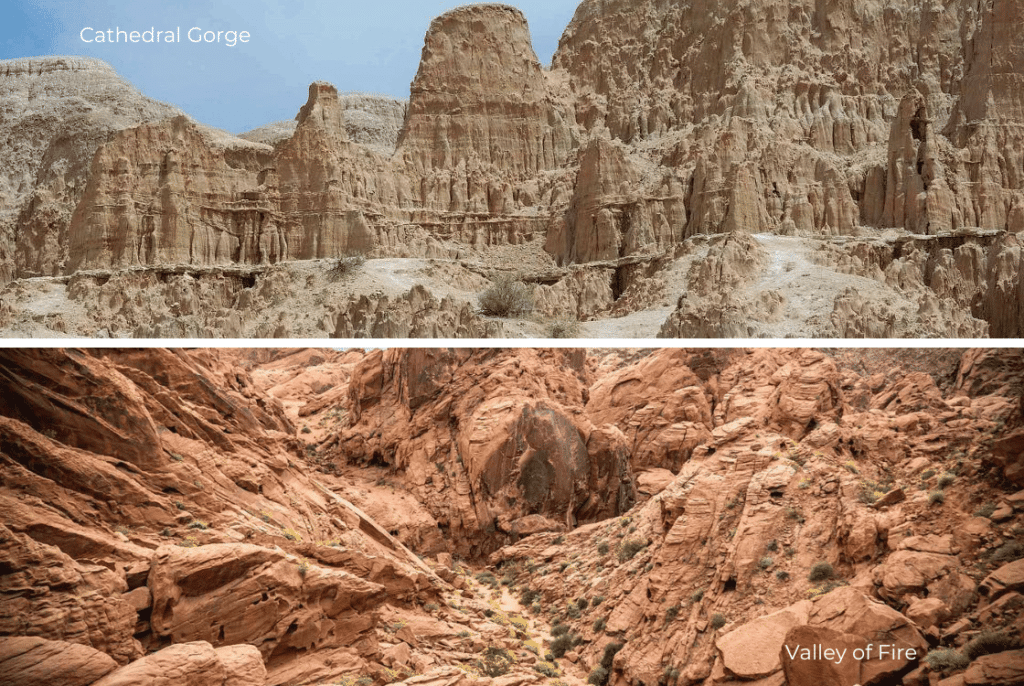 ANCIENT PETROGLYPHS
Dating back thousands of years, Native American petroglyphs tell a story about the history and culture of those who came before us. Fortunately, many petroglyphs are preserved in our public lands.
Please look, but don't touch, when you visit them. If petroglyphs are what you're after, visit Valley of Fire State Park or Berlin-Ichthyosaur State Park.

SNOW-CAPPED MOUNTAINS
In contrast to the desert landscape covering much of Nevada, there are some impressive mountain ranges in the Eastern part of the state. We were surprised by snowfall over Memorial Day weekend on our first visit to this part of the state.
From Ely to Elko, along the Ruby Mountains, you can find snow almost any time of the year. Cave Lake State Park in Ely or South Fork State Park are both great options for seeing snow-capped mountains, up close or in the distance.

The Best Nevada State Parks to Explore

VALLEY OF FIRE
Located just an hour's drive from Las Vegas, Valley of Fire is an easily accessible state park, and therefore heavily visited. Established in the 1930s, the Valley of Fire is both the oldest and the largest state park in Nevada.
It's worth an early start to beat the crowds, and have some of this magical place to yourself.
From the Fire Wave to the White Domes, there are some truly awe-inspiring walks to explore. As you drive into the park, it's a pretty barren desert landscape, and then you drop down into the "valley" and the red sandstone formations take over.
The natural beauty of these Nevada State Parks are truly breathtaking at sunrise and sunset.
The campgrounds inside the park fill up well in advance, so plan ahead if you want to camp here.
The campgrounds do offer wi-fi (for a fee), but don't count on your cell signal for connectivity. You will find minimal cell signals inside the park.
However, if you really need to make call, access a signal outside the park entrance where there are also dispersed camping on public land.

LAKE TAHOE
Lake Tahoe Nevada State Park offers sandy beaches, crystal-clear waters, and surrounding forests along the largest alpine lake in North America.
This state park includes four separate sites: Van Sickle, Sand Harbor, Spooner Lake, and Cave Rock.
Sand Habor is popular for swimming and kayaking. Spooner Lake provides fishing and hiking. Whatever you're after, Lake Tahoe has something for everyone, and is a great year-round destination.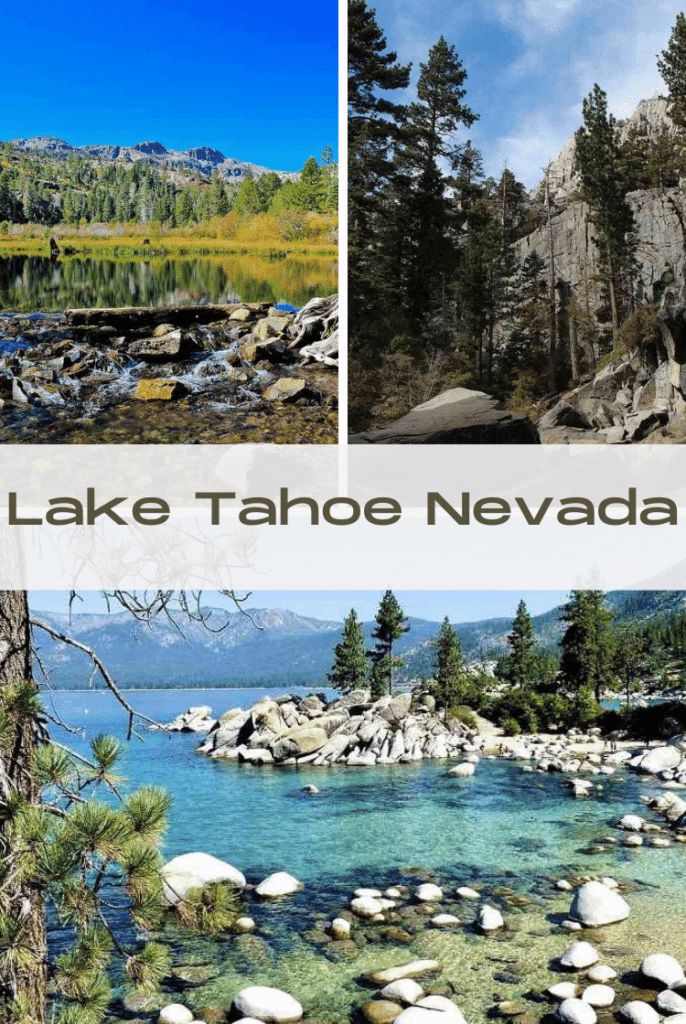 CATHEDRAL GORGE
Cathedral Gorge was my first NV State Parks experience, and will always hold a special place in my heart. It's a small park that you could explore within one or two days.
We enjoyed it so much, we spent two entire weeks camping at Cathedral Gorge.
We worked remotely, then wandered through the otherworldly landscapes in the afternoon. What a unique and wonderful experience.
As the name suggests, the spires and geological features resemble a cathedral. There are plenty of hiking trails that allow you to explore the cliffs and slot canyons.
One thing is true, we never got bored when Cathedral Gorge was our backyard.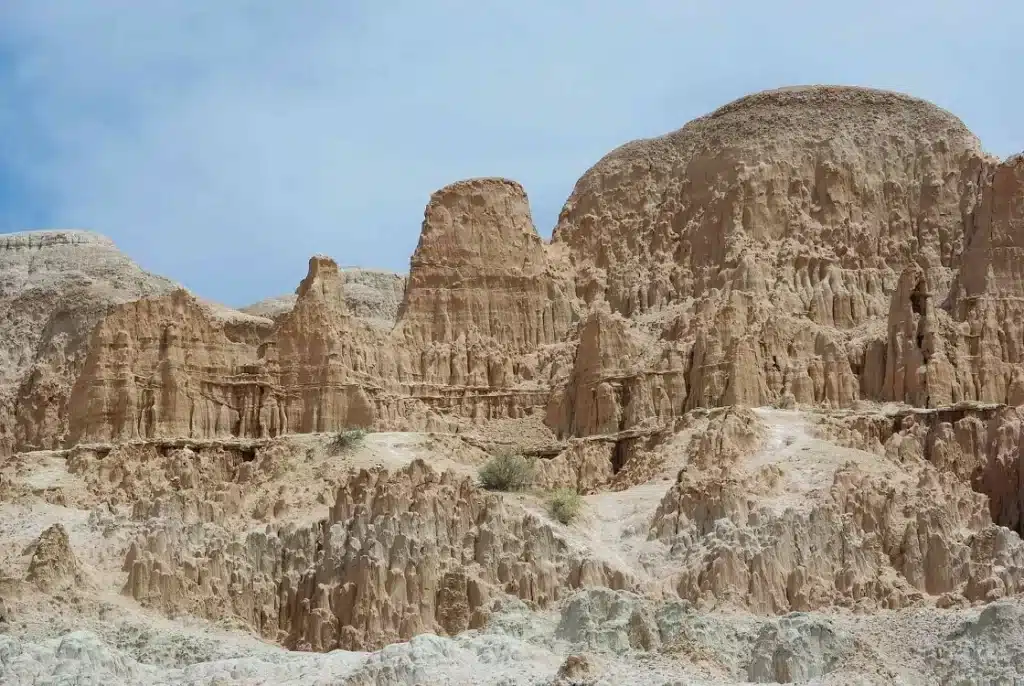 When we were there, the campground was available on a first come, first served basis. The staff also offered a generous area for the overflow visitors. It was nice to know we would have a place to sleep, even if we didn't get an official campsite.
A new reservation system is in the works and expected to launch sometime this year, so all of that may be changing. Regardless, the park is incredibly well managed. Friendly staff follow appropriate policies that are well thought out and keep things running smoothly.
We especially appreciated the designated "big rig" campsites. Equally helpful are the signs informing visitors with motor coaches smaller than 30' in length to park elsewhere.

SOUTH FORK STATE PARK/ RECREATION AREA
We chose South Fork for its proximity to the city of Elko, but it really feels worlds away. There's camping available on both sides of South Fork Reservoir, which is framed by the beautiful Ruby Mountains.
The reservoir is fun for water-based recreation, and the views will not disappoint.
The reservoir was very popular with fishing, and there was decent boating and kayaking traffic on the weekends. We were able to launch our stand-up paddle boards right from our campsite!
Each site has picnic tables, a shade structure, and a fire ring. There are options for hookups (an additional fee) or dry camping.
A scenic drive up through the Ruby Mountains is an absolute must when visiting South Fork. We were there during a wildflower bloom, which was the icing on the cake.

Nevada State Parks Annual Permits
Nevada State Parks offers two passes: (i) the All Access Permit and (ii) the Annual Entrance Permit. I should note that both permits are valid for 12 months from the date of purchase (vs a calendar year permit). So you always receive a full year value regardless of when you purchase either pass.
All Access Permit
For only $250, an All Access pass allows visitors unlimited access to all Nevada State Parks for a full year.
It provides entry for one vehicle and all its occupants, to any state park. An All Access permit can be assigned to two separate vehicles, but it can only be used by one vehicle at a time.
In addition to free park entry, camping, and boating, All Access also allows you to use the dump station for free. As any of you RVers know, that's a nice bonus!
We have enjoyed camping at many NV state parks, and getting to know them quite well. We have also enjoyed day trips and picnics. We even found the dump stations to be convenient when located on our route.
Quick Summary of All Access Pass
$250 per year
Valid for 12 months
Access all Nevada State Parks
Entrance fees waived
Camping fees waived
Boating fees waived
You will still pay for campsite hook-up fees
Annual Entrance Permit
Similar to the All Access Permit, the Annual Entrance Permit enables entrance to all parks for 12 months from the date of purchase.
The cost is only $100. It's most commonly used by frequent day visitors to the parks. That's because you will still be required to cover camping, boating, and other fees.
Quick Summary of Annual Entrance Permit
$100 per year
Valid for 12 months
Access all Nevada State Parks
Entrance fees waived
Camping fees not waived
Boating fees not waived
You will still pay for campsite hook-up fees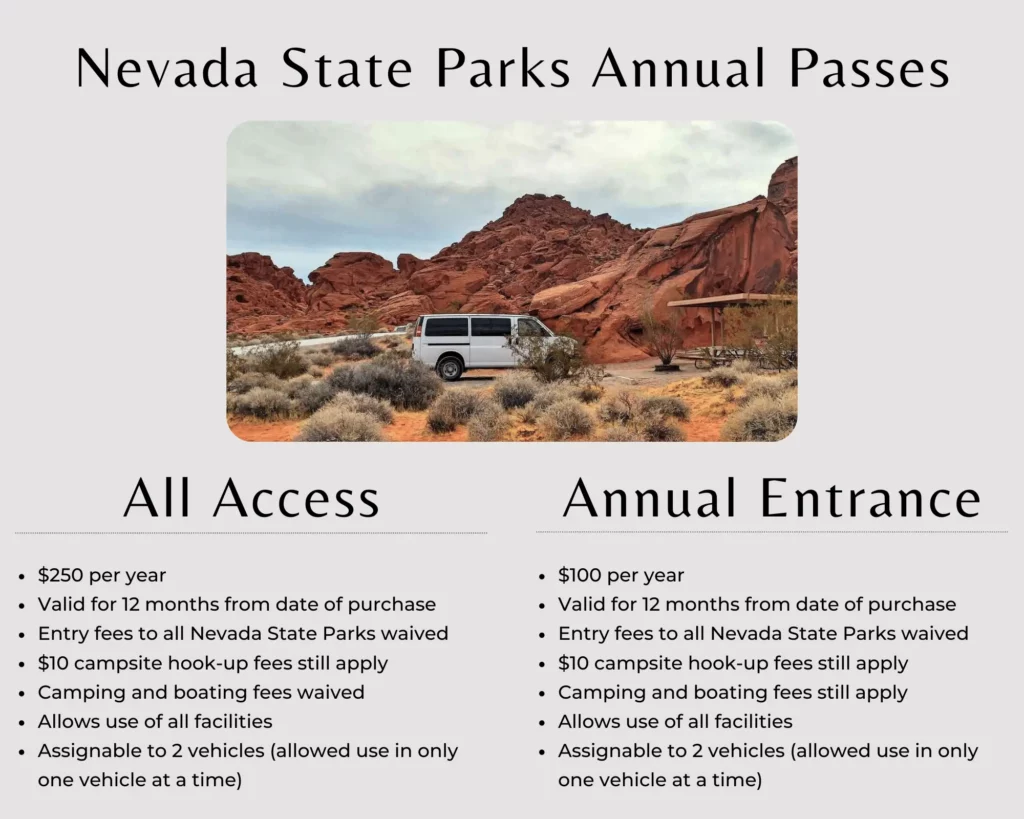 The Break Even on Buying an Annual Permit
Without an annual pass, the average nightly camping rate is $15- $20. Plus, you need to pay the daily entrance fee. So, if you're planning to camp more than 12 nights a year, either annual pass is worth the cost!
As noted above, some of the campgrounds now charge for hook-ups, even if you have an annual permit. Hook-up fees are typically $10 per night.
Discounted Annual Permits
Annual permits are available for Nevada state residents aged 65 and older, disabled veterans, Nevada veterans, and members of tribes recognized in Nevada.
Holders of these permits are entitled to unlimited free entrance to all parks as well as use of camping and boat launch facilities. An annual administrative fee may be applied.
Visit the Annual Permits section of the Nevada State Parks website to download an application.
How to Purchase Nevada Parks Annual Permits
Please note that only select parks sell the pass in person, so call ahead to confirm. If you're lucky enough to be visiting a park with a staffed visitor center, you can purchase your annual permit onsite. That allows you to use the pass and start saving right away.
Alternatively, you can purchase your permit online through the Nevada State Parks website. Or, send an email to [email protected].
Complete and submit the application, which can be returned by mail or fax. If submitting the application by mail, please plan ahead. You will need to wait for the parks department to mail the physical permits back to you.

Are You Ready to Pack the Camper and Head for Nevada?
We're fortunate enough to spend lots of our time in the SouthWest. As such, we often find ourselves pass through or staying in Nevada. It's a beautiful region for exploring the great outdoors.
We love discovering Nevada through its state park system. The surrounding towns are welcoming and friendly. Even in our big rig, we have found most places to be quite accessible.
Whether you seek solitude in the wild or a big outdoor adventure, Nevada's state parks will satisfy you. If you're planning a trip to visit Nevada, be sure to check the state park website for any updates. Keep a lookout for the upcoming change to advanced campsite reservations.
And as always, practice leave no trace principles to leave these beautiful places better than you found them.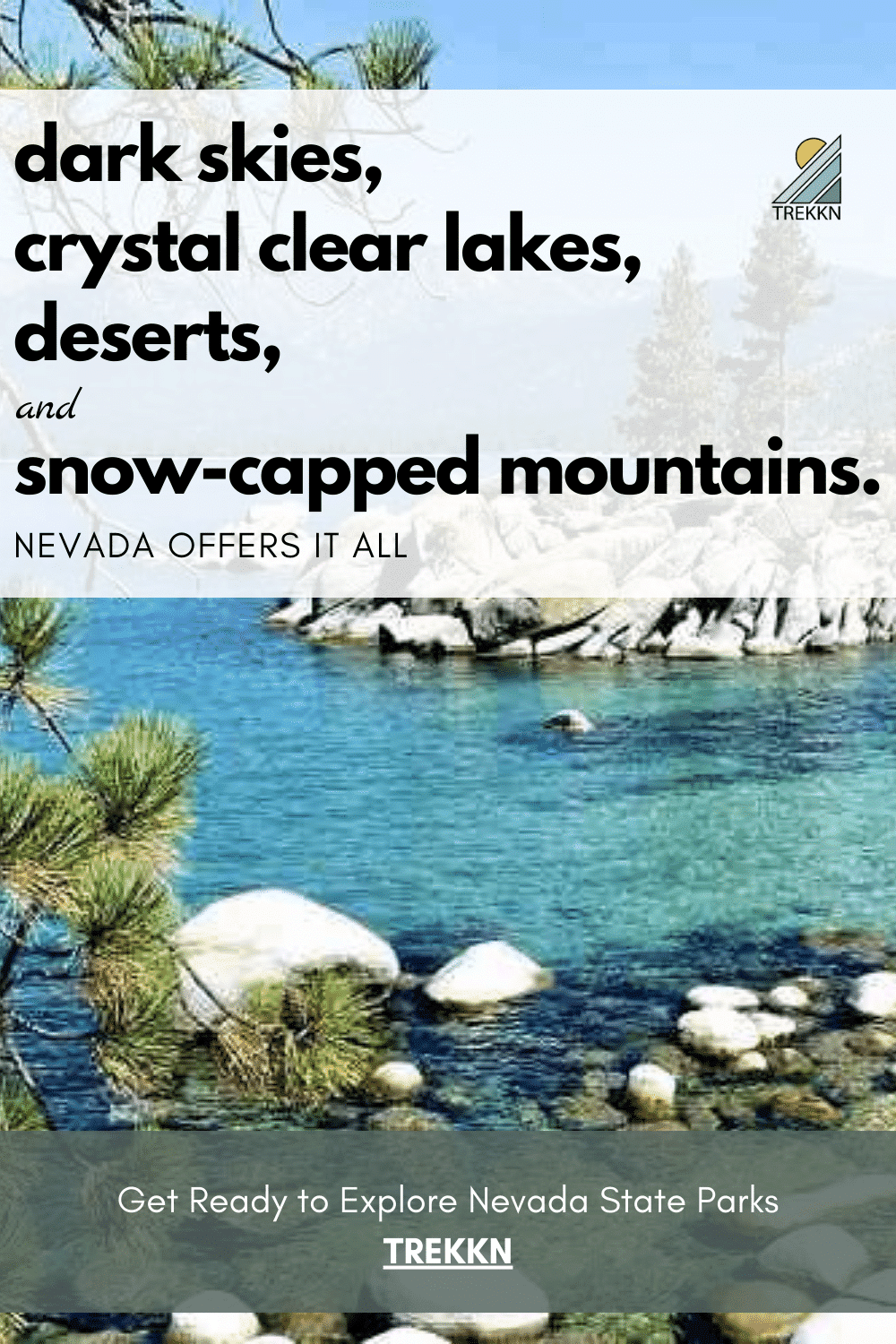 Keep on Trekkn!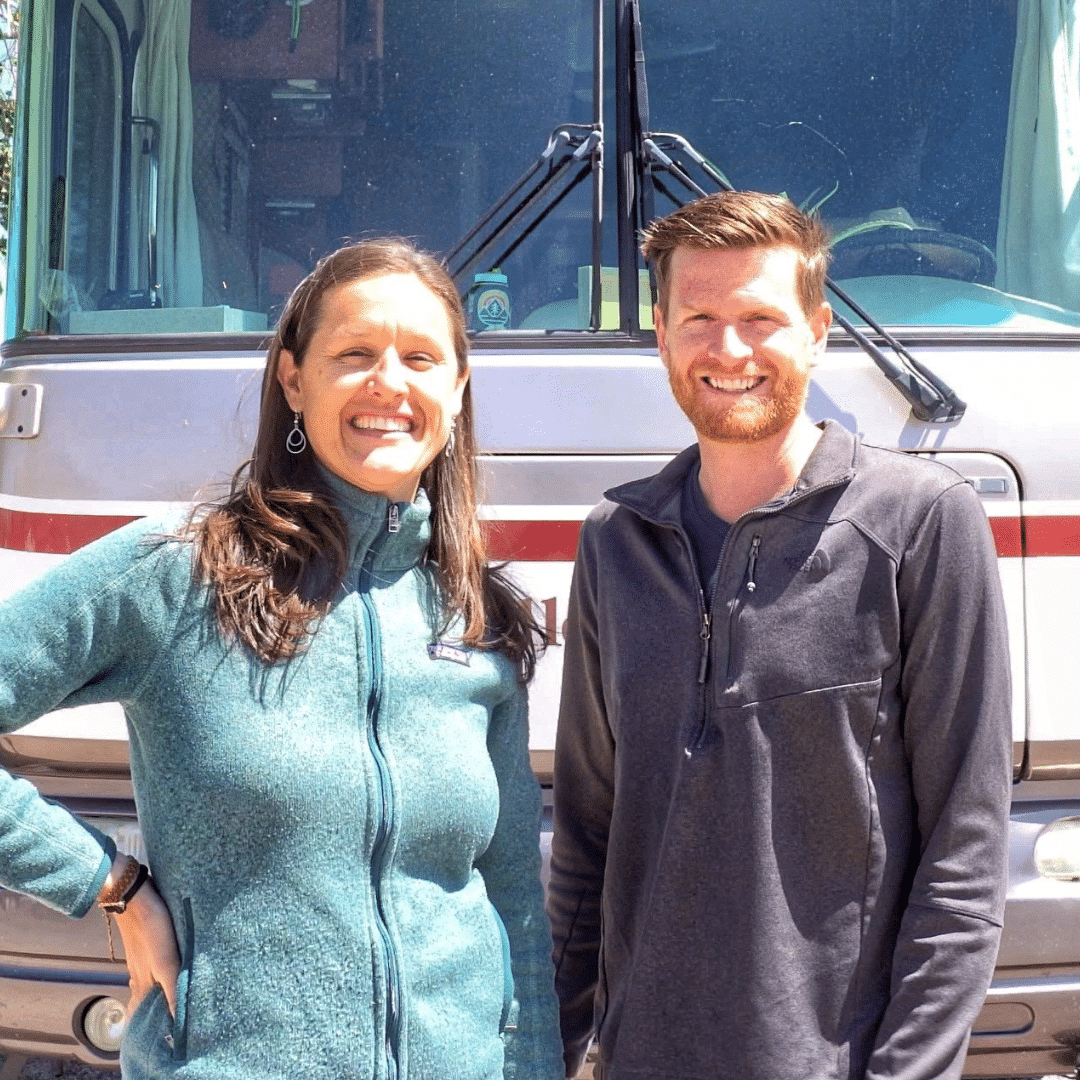 Kristen Bates lives & works from her RV, primarily boondocking off-grid. She owns and operates a women-led travel company, Legit Trips. Kristen loves to explore new places and inspire others to do the same. If she's not typing away on her laptop, she's off on an adventure- hiking, biking, or SUP boarding. You can follow her RV adventures @PerpetualMoves and learn more about her travel company at LegitTrips.com.