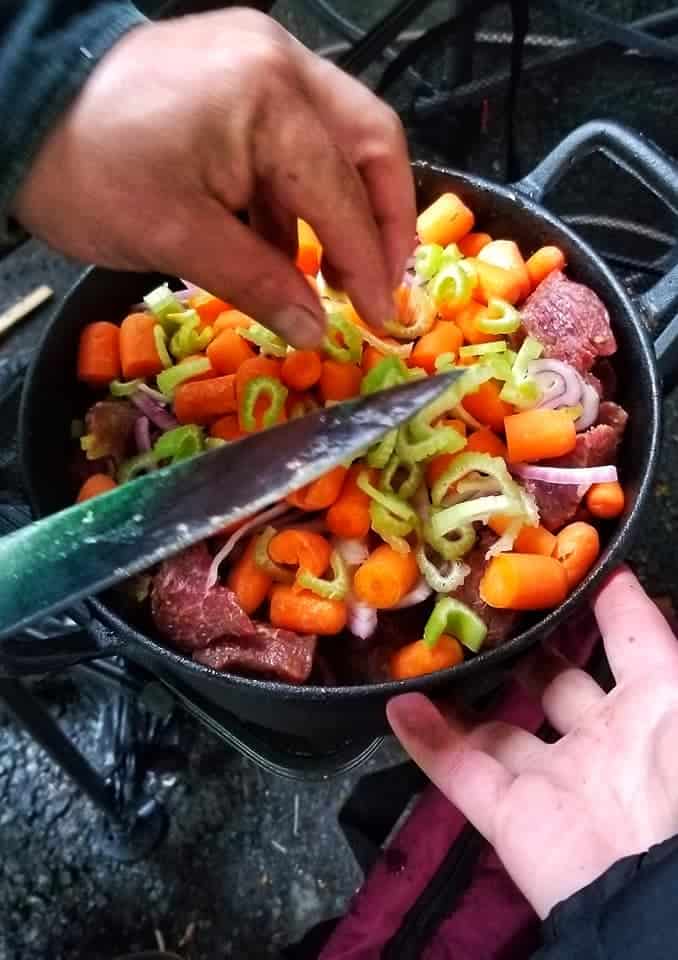 I'm guessing you don't want to spend your entire camping trip feeding your crew, am I right? With some preparation and planning, plus these yummy camping meals for a crowd in your arsenal, your family and friends will be happy and fed. And you can spend part of your trip relaxing!
One thing that can be very intimidating and overwhelming when it comes to camping is the question of how and what do I feed everyone? You're away from the comfort of your kitchen. Maybe you're cooking over a campfire or in your RV kitchen for the first time. Or maybe you've been given the task of coming up with meal ideas for a large group camping trip.
Whatever the case may be, it's all about meal planning. This will save your sanity, as well as help you enjoy your camping trip.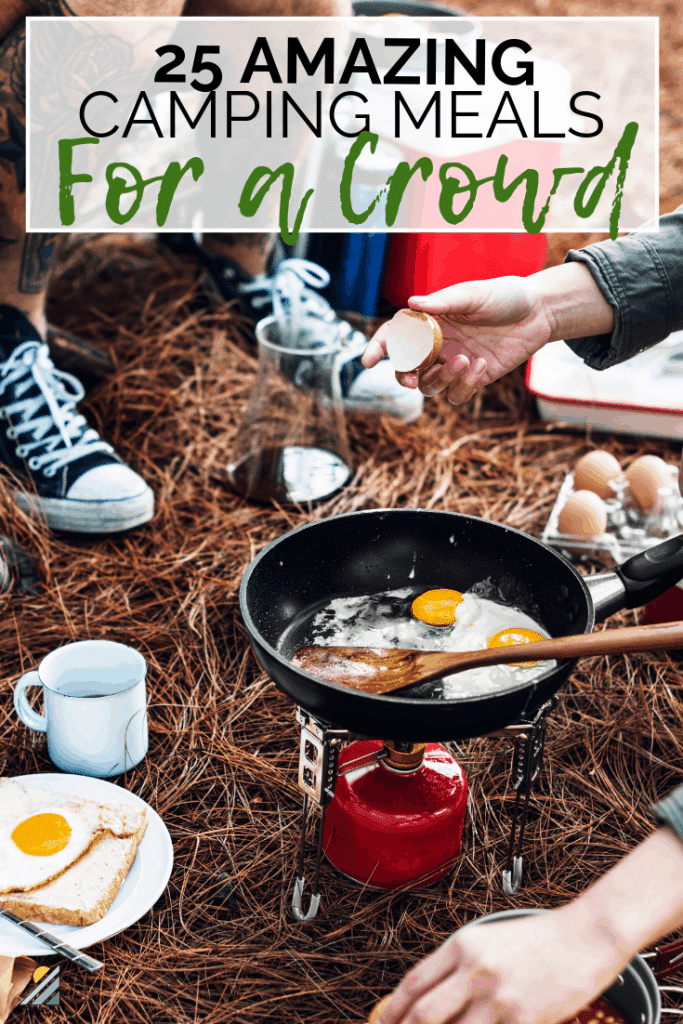 25 Camping Meals for a Crowd
Check out the following easy camping meals for a family or group. We've divided them up by Breakfast, Dinner, and Dessert as well as noted how they're cooked. (Campfire, stove, grill, etc.)
Breakfast Camping Meals for a Crowd
How to prepare: Cook these on a large griddle (electric or cast iron over a campfire) to make prep go faster
Makes: 1 dozen
Pancakes are always a crowd favorite and with some banana and oats added, these will keep tummies full longer. These are super easy to prepare and can be served with additional banana slices and/or syrup. While the pancakes are cooking, add some sausage links to the griddle.
If you have access to electricity, use an electric griddle like this one:
Presto 07061 22-inch Electric Griddle With Removable Handles
If you'd prefer to cook your breakfast over the campfire, here are two great options:
Lodge Cast Iron Reversible Grill/Griddle
Bayou Classic 500-428 18-Inch Portable Campfire Griddle
How to prepare: With coals in a dutch oven
Makes: 4 to 6 servings
Who says making french toast while camping has to be hard and messy? Just dump these ingredients together to begin cooking. Read the recipe carefully for a tip on how to make ahead. Serve with some hearty bacon for one very tasty camping breakfast.
Recommended products for dutch oven cooking:
Texsport Camp Cast Iron Dutch Oven Lid Lifter
Pre-Seasoned Cast Iron Camp Dutch Oven with Lid, 6-Quart
How to prepare: Make this breakfast casserole ahead of time in the oven, then heat over a campfire or grill
Makes: 10 – 12 servings
This breakfast casserole is loaded with veggies, which will keep tummies nice and full. You can customize it to your taste, adding veggies everyone in your group loves. You can also easily make this ahead of time at home in a foil pan. Bake it at home (it bakes for 45 minutes), bring it with you on your camping trip and heat it up over the campfire or grill.
How to prepare: Make this at home in a foil pan, then hear over a campfire or grill
Makes: One 9 x 13-inch pan or split up into two smaller foil pans
This is another great make-ahead breakfast meal for camping. This is a hearty meal with bacon, tater tots, eggs, cheese and milk. Serve it with some fruit on the side.
Want more make-ahead camping meal ideas? Check out our round-up of 17 here.
Dinner Camping Meals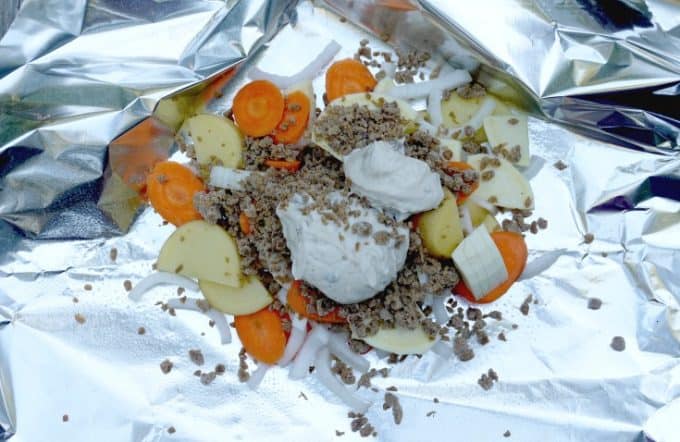 How to prepare: In heavy-duty foil over the campfire
Makes: 1 serving (do multiple packs for more people)
Stew in foil over the campfire? Yep! This is one of those meals everyone can pitch in and help with. Each person gets their own foil packet of stew. Plus, you can eat it right from the packet which means minimal clean-up. Always a plus while camping!
Recommended products:
Heavy Duty Foil – regular foil will not hold up in the fire.
Want more foil packet meal ideas? Check out our round-up here.
How to prepare: Prepare ahead of time or at the campsite
Makes: 12 servings
There is nothing wrong with serving sandwiches while camping! Especially if they are as hearty and amazing as this Cobb Salad Sub. Using a loaf of Italian bread, deli ham, hard-boiled eggs, and more delicious ingredients, your camping crew will be well-fed in a jiffy. Serve with chips and fruit.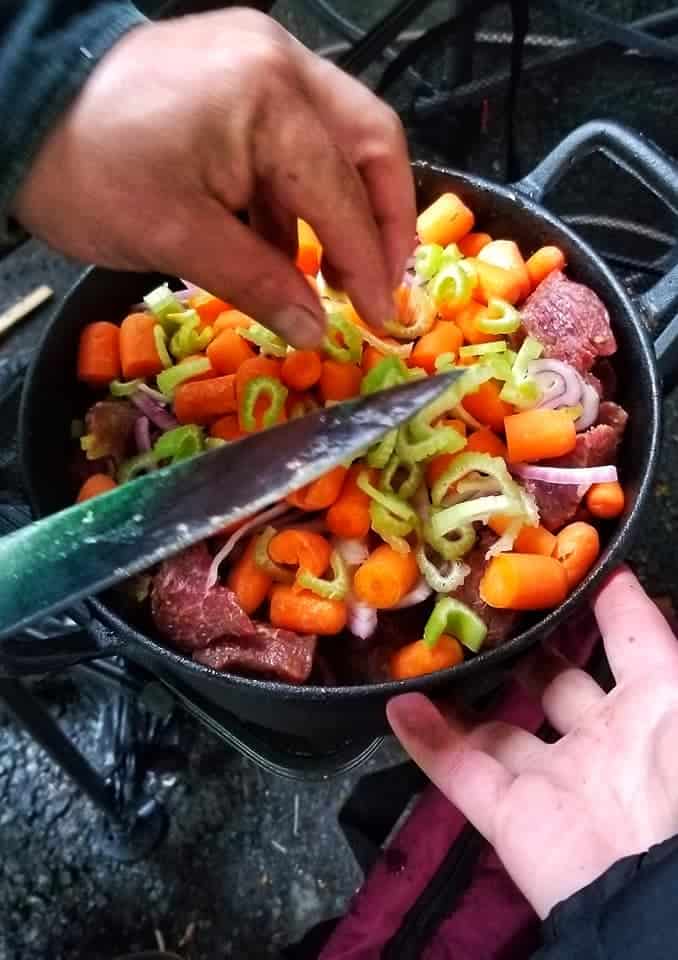 How to prepare: In a dutch oven over the campfire
Makes: 10 servings
This is comfort camping food at its best. A heart campfire stew perfect for a crowd. There are a couple of make ahead steps the recipe recommends for the meat, so be sure to read those. Serve this stew with cornbread you either made at home or whipped up over the campfire while the stew cooked.
How to prepare: Over the campfire right on the grate or your grill
Makes: 4 to 6 skewers
Not only are kebobs one of the easiest meals to cook up over the campfire, but they're also perfect for a crowd. Each person can make their kebob according to their tastes, plus they require little clean up because it's a meal on a stick!
The flavor of these kebobs is off the chart with red onion, pineapple, and a honey/cilantro-lime glaze. Who's hungry?
How to prepare: In foil over the campfire or grill
Makes: 4 servings (just double ingredients for a larger crowd)
It really doesn't get much easier than these make-ahead foil packets loaded with shrimp, sausage, corn and potatoes. It's a full meal, a crowd pleaser and requires no clean-up. Win-Win-Win.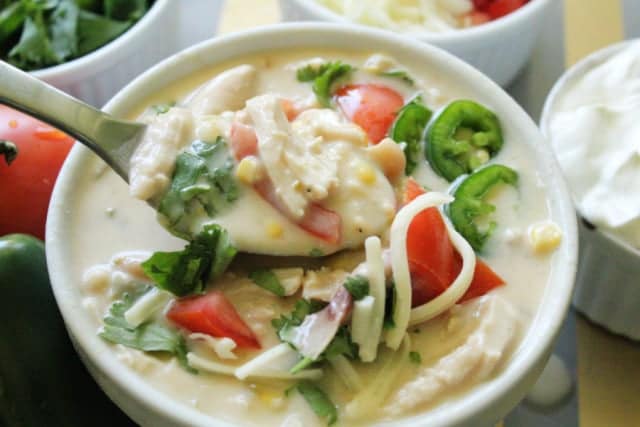 How to prepare: Make ahead at home
Makes: 8 bowls
Whip this delicious meal up at home first and either freeze or refrigerate before taking on your camping trip. This meal does require some work, but the outcome is worth it. Plus, the recipe creator knows it can be whipped up for a large crowd because she fed 400 people with this recipe. Yep, 400. Read more about that here.
How to prepare: In a cast iron skillet over the campfire
Makes: 2 to 12 servings, it all depends on how much you want to make
Nachos are one of the most versatile dishes you could make. Do one layer to feed two or multiple layers to feed 12. Everyone can add the toppings they like, which makes it perfect for a crowd. Plus, they're quick to whip up, so while some are eating the first batch you can be working on another.
How to prepare: In foil over the grill
Makes: 4 servings
What's one way to guarantee everyone gets something the like for dinner? They assemble it themselves and that's exactly the best way to make these Campfire Ruebens. Have each person assemble their own sandwich, wrap it up in foil, put the person's name on it with a permanent marker and grill it up.
How to prepare: In foil over the grill
Makes:
Here's another yummy sandwich that feeds a crowd. Make these by slicing up a baguette, loading it up with cheese, butter, and meat and then wrapping it up in foil. Throw it on the grill for 6 to 9 minutes. Yum.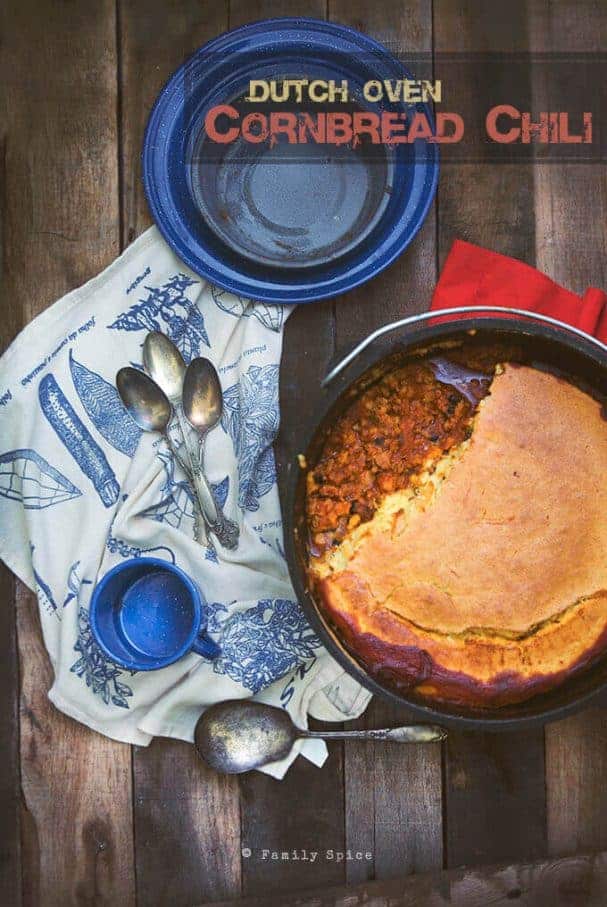 How to prepare: A Dutch oven over coals
Makes: 6 – 8 servings
This is the perfect hearty meal to serve a crowd, especially if you're camping in colder weather. Since chili and cornbread should be inseparable (in our home anyway) it doesn't get much easier when you're camping to just cook them in the same pan.
After the chili has been simmering for at least 30 minutes (or longer for a more intense flavor) whip up a box of cornbread mix, spread it on top and cook some more. Voila! A complete dinner.
How to prepare: Warm the meat on the grill, set out the toppings
Makes: 24 servings
Walking tacos were beyond exciting to eat as a kid and equally so as an adult, am I right? This recipe is perfect for a large crowd. It uses pre-cooked BBQ pork, all you have to do is warm it up. Set out the bags of chips and toppings on the picnic table and let everyone dig in and make their own meal.
A bonus to this recipe is there is very little clean-up involved!
How to prepare: In foil packets over the grill
Makes: 4 servings
Here's another easy foil packet meal that is full of flavor. The hardest part about this recipe is trimming the ends off the asparagus. Easy peasy! Load up the individual foil packets with veggies, sausage, garlic, and spices and throw on the grill for about 20 minutes.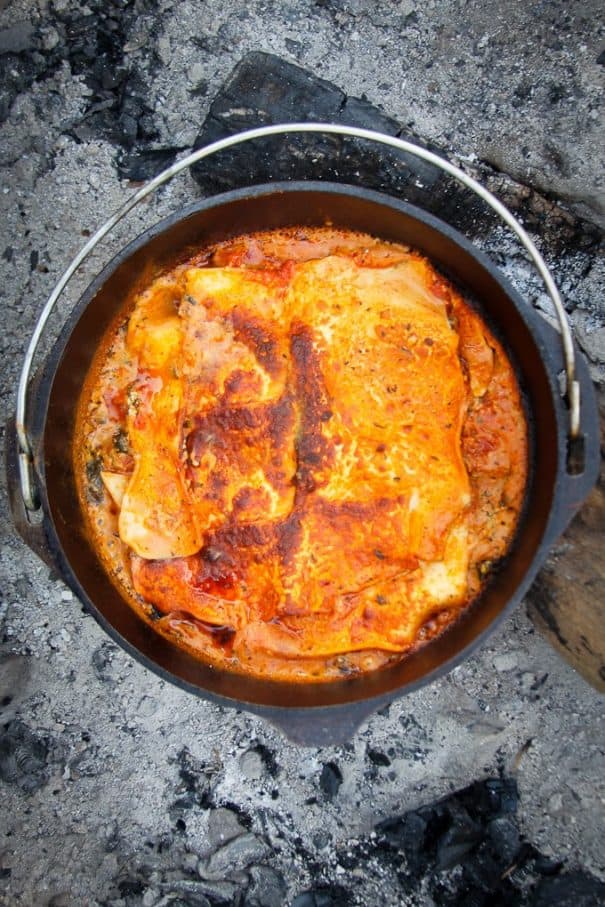 How to prepare: In a Dutch oven over coals
Makes: 6 servings
One thing that makes this Dutch oven lasagna recipe so easy is the no-boil lasagna noodles. Plus, it only takes about 30 minutes to cook which is pretty amazing for something like this in a Dutch oven.
Your hungry campers will devour this meal! Serve it up with bread and a salad if you so desire.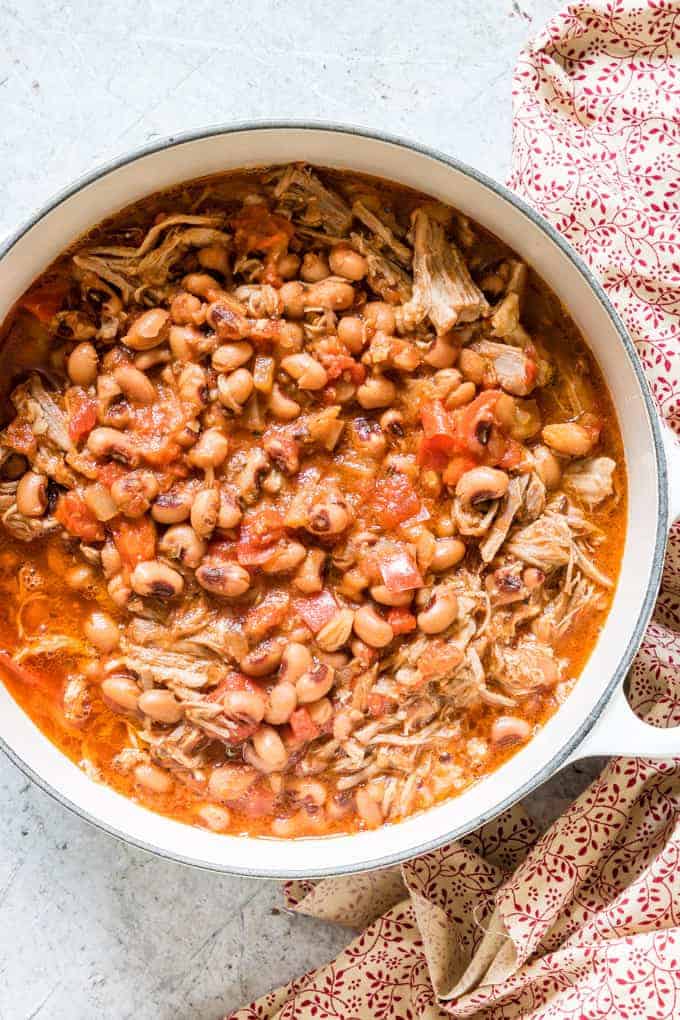 How to prepare: Can easily be made over the campfire, in an Instant Pot or slow cooker.
Makes: 6 servings
This very versatile campfire stew can be made in several different ways. Just know that if you choose to make this in a Dutch oven over the campfire, it'll take about 2 hours. But if you have the time, it'll be well worth the slow cooking time!
Be sure to get a Dutch oven with legs or one of these handy tripods.
Camping Desserts
How to prepare: In a Dutch oven with coals or over a campfire
Makes: 10 servings
I can only imagine how great this smells as it's cooking over the campfire. Serve this up to your hungry camping crew with a scoop of vanilla ice cream and you'll definitely have some happy campers.
Recommended product:
How to prepare: In a skillet over the campfire
Makes: 4 – 6 servings
What do you get when you mix pound cake, berries, and Rolo candy bars? This incredibly easy and yummy campfire dessert. You can use a prepared pound cake to make this recipe super simple. The fruit gets only slightly warm and the candy just starts to melt. A definite crowd-pleaser.
How to prepare: In a Dutch oven over the campfire
Makes: 8 servings
If you love cinnamon and apples together, this is the dessert for you. Using Rhodes Rolls makes this campfire dessert really simple and easy to prepare. Just note that if you're using their AnyTime!® cinnamon rolls, it does not have to rise for 1 to 2 hours.
The recipe says to bake at 350 degrees F for 25 to 30 minutes. If you're new to Dutch oven cooking with coals, use this temperature chart for help.
How to prepare: On the grill or over the campfire on foil
Makes: Recipe doesn't say
Here's a twist on the classic s'mores campfire treat. This recipe is allergy friendly, so if anyone in your group is allergic to gluten or is vegan, this is the perfect dessert for them. Be sure to read the notes about how this can burn easily and why you should add the chocolate chips and marshmallows after you remove it from the fire!
How to prepare: In foil over the campfire
Makes: However many you need!
Here's a dessert where everyone can customize it to their tastes. This is an easy and fun way to feed everyone dessert after a meal. Plus, the recipe gives 9 different combinations to consider. Check out how to make combos like the classic s'mores, pecan praline and strawberry hazelnut.
How to prepare: In a skillet over the grill
Makes: 8 servings
This is a recipe that's not really a recipe and it's perfect for camping bums. At least that's what the recipe creator called herself. She understands that not everyone wants to spend most of their time cooking, so when a sweet tooth arrives, this is the perfect dessert. All it takes is prepared chocolate chip cookie dough and Oreos, plus about 20 minutes to cook. Yep, that's it! You're welcome.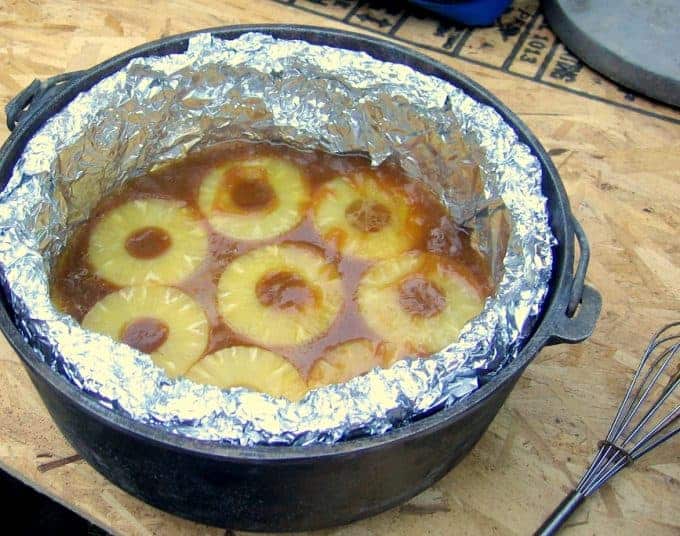 How to prepare: In a Dutch Oven with briquettes
Makes: 10 servings
A fool-proof and crowd-pleasing delicious pineapple upside down cake is perfect to whip up on your camping trip. Just follow the directions and you'll have a cake, made outside while camping, in less than an hour!
---
Are you ready to whip up some camping meals for a crowd now? We truly hope these recipes help you plan your camping meals, cook up some deliciousness all while also having time to enjoy your trip.
PIN THIS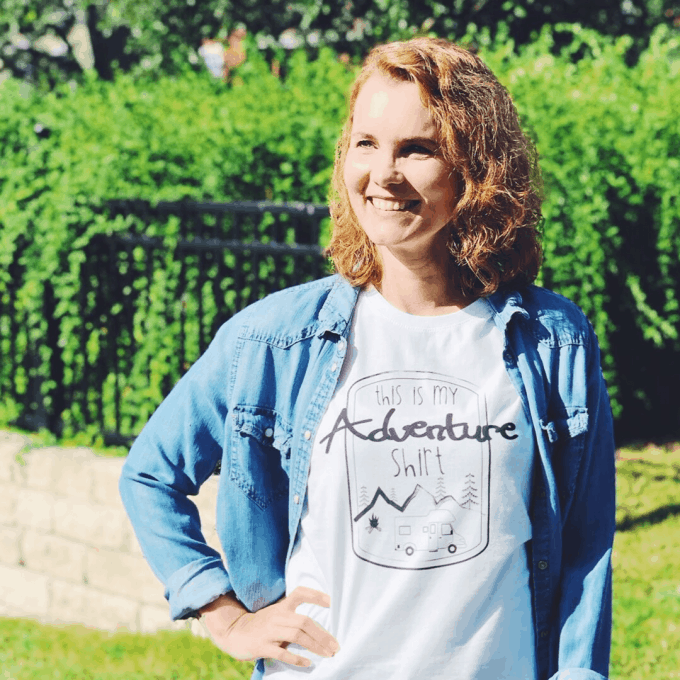 Julie Bonner is one-half of the TREKKN team. She specializes in helping you whip up delicious meals in your tiny RV kitchen, as well as RV organization tips and helping fellow RVers make their RV feel like home. Her favorite RVing spot is in Banff National Park in Canada where yes, the water really is that blue and the people really are that nice.