A Seller's Checklist: What to Do Before Selling Your Travel Trailer

As we prepare to sell our Airstream in the coming months, we have a long list of to-do's that need to be checked off before handing her over to another owner. From aesthetic items to the essentials, we have to have all of our ducks in a row before we list the trailer for sale.
Here are the ways we're prepping our trailer for sale and a quick checklist to help you do a once-over on all the important areas of your travel trailer before listing.
Our Pre-Sale To-Do List
When you get ready to sell your trailer, you probably feel like you don't have much to do. I know I did, but as we got closer to actually putting the RV on the market, we realized our to-do list was a little longer than we anticipated.
After living in our trailer for two years on and off, there were things we learned to live with that needed to be brought back up to standard for a person who wanted to buy our Airstream.
From little chips in the paint to a finicky wooden drawer, we needed to try everything out and think about it like we weren't the ones living in it anymore, but the ones considering buying it.
Our trailer isn't in bad shape by any means, but small things like a drawer getting stuck here and there is easy for me to ignore. For a prospective buyer, however, it may introduce just enough doubt into their mind that they decide to look elsewhere.
Because of this, we knew we had a few more things to finesse before we listed it for sale. As we got close to selling the trailer, these were our biggest projects to tackle.
Water Heater Tank
In one of my latest blog posts, I talked about buying a tankless water heater for my trailer since my old tank split across the bottom. This was the biggest project on our list to take care of because we knew that a trailer without a water heater wouldn't be sold at its best price.
And again, it could raise questions about overall the overall quality of the rig.
Taking the old water heater tank out was a process that took us at least an hour if not more and some additional time for cleanup as we had sprung a leak when we tested it. Eventually, with the water heater tank and its propane set up out of the trailer, we had to cover it up and wait for its replacement before finishing up the project.
Wood Trimming & Shaping
We used quite a bit of shiplap inside my trailer, not only for aesthetic purposes but also for my drawers. I love my shiplap, and I still to this day wouldn't change it, but it did add an extra project or two to our list.
The Airstream went from living in the desert to spending 9 months in the Midwest, which for wood is a difficult transition.
The humidity and temperature change caused the wood to grow in some places throughout the trailer which meant that we had to trim, sand, and replace some pieces that no longer fit on the walls or alongside my storage areas.
It was pretty easy to take care of, but we realized that this time around we would use nails to hold our pieces in places while also adding wood glue in some areas that we thought would hold up without it before.
Laminate Floor Fixes
All the bouncing of highway roads led to a few laminate floor pieces popping out of place. This was one of our easiest fixes as we popped them back into place and nail gunned them to the subfloor to prevent it from happening again.
Easy peasy!
Tile Problems
I knew when we put the tile in our bathroom that it would be a risky choice. Not many travel trailers use real tile and for good reason.
Thankfully, we didn't have any tiles break or come loose over the last two years, but I knew that I wasn't happy with how the tile had turned out using standard grout and caulk.
In some places, the grout was cracking a bit so I wanted to take the time to update the bathroom area before selling it to add a little more value.
We still went with tile, but we chose to use silicone instead of grout and traditional caulking. Silicone is more flexible than grout while still offering stability, so this made more sense for our Airstream as it bumps up and down the road.
The tile project and the water heater tank were our two biggest projects to undertake, but I know that without these upgrades our trailer wouldn't have held the original value it was appraised for after we had finished our first round of renovations.
The Travel Trailer Seller's Checklist
After we completed these small projects, it was time for us to get started on evaluating anything that we may have missed. Here's the checklist we used to review the Airstream before listing it for sale.
Exterior Check:
◘ Tail lights & Turn Signals: Make sure your exterior trailer lights work and replace any that don't!
◘ Windows: Check all of your windows for cracks or shatters that may have occurred while driving down the road.
◘ Underbelly Evaluation: Look for scratches, holes, water damage, etc.,
◘ Roof: Since this is the primary spot that water leaks can develop, be sure to check the integrity of the roof thoroughly and patch or seal any necessary areas.
◘ Axles & Hitch: Look for rust or structural instability.
◘ Wheel Bearings & Tires: Pack wheel bearings and check your tires for any holes. Fill with air if needed.
◘ Front, Back, and Sides Evaluation: Look for scratches, holes, dents, damage of any kind.
◘ Paint Damage (if applicable): Reapply primer and paint to help the paint stay on for the long haul.
◘ Rust Damage (if any): Buff out any rust and add rust prevention to keep it from rusting again.
◘ Tanks: Check your water, grey, and black tanks for leaks or buildup.
◘ Hoses: Any hoses you use to dump waste should be checked for leaks and replaced if necessary. In addition, don't forget to check propane hoses and water lines if possible.
Interior Check:
◘ Electrical: Does everything work correctly? Have you tested all the lights and appliances (fridge, plugins, fans, etc.,)?
◘ Batteries: Check your trailer battery expiration dates while also looking for any corrosion, leaks, or damage. Consider upgrading if it makes sense financially.
◘ Water Pump, Tank, and Heater: Check for leaks and corrosion.
◘ Knobs, Handles, Locks, and Latches: Ensure all knobs and handles are secure and work properly.
◘ Countertops: Blemishes or stains can easily be fixed in most cases.
◘ Flooring & Subflooring: Check for any damage to floorboards or subflooring that may cause structural issues later on.
◘ Sleeping areas: Check for structural stability in bed frames and reinforce as necessary
◘ Bathroom area: Check water hoses/pipes for leaks. Look for chips, cracks or problem areas in the shower or toilet.
◘ Storage: Make sure all drawers and storage areas open and close easily and fully.
◘ Aesthetics: Check interior paint, wallpaper, tile, and decor for damage, stains, etc.
How to Check for Leaks & Clean Your Tanks
Checking for leaks may seem like a daunting task, but it's pretty simple!
We have always run a little bit of water through our water lines to check for leaks in our plumbing after de-winterizing for the year.
Usually, you'll know immediately if something is leaking in your trailer, but it's best to have two people when you do this process so one can turn the water on and off, while the other makes their way throughout the trailer investigating the lines for leaks.
We also always check our propane lines, too, by taking a mixture of dishwashing soap, usually Dawn, and water and using a paintbrush to "paint" the line.
If the water and soap mixture begins to bubble up anywhere on the line, you have a leak and should replace the hose to prevent wasting propane, making yourself and others sick, or creating an explosion hazard in some serious cases.
You should always run some kind of cleaner through your pipes after sitting through a winter season, too, to knock out any buildup or grime in your tanks or pipes. We have a composting toilet, so we only have a grey water tank, but we still did a thorough job of cleaning our tanks with a mixture of Dawn, Calgon, and water!
Other Things You Should Do Before the Sale
Clean Her Up
After you're done evaluating and fixing any small problems you found, it's best to deep clean your travel trailer from top to bottom.
We have always traveled with my dog, Rory, so it was imperative to us that our trailer looked like Rory hadn't lived there at all by the time we had finished cleaning up.
Your potential buyers could very well be poking into nooks and crannies you didn't think of, so do your best to take care of those easily forgotten details.
This is your chance to really make your travel trailer shine in your listing. Messy travel trailers are not a good look for prospective buyers, so take the time to really clean it up a bit before sending any photos off to an appraiser or buyer.
Have Your Travel Trailer Appraised
If you haven't already gotten your travel trailer appraised, you should take the time to get an appraisal done before the sale.
This will require you to put together a list of upgrades you've completed over the years of owning your trailer and having a licensed appraiser review the condition your trailer is in.
Because our travel trailer was older than 1980, we had to have our appraisal done prior to insuring it to get the best coverage possible. By getting our trailer appraised ahead of time, we were able to set our selling price without much work as our trailer's value was approved by a professional.
Prepare the Proper Paperwork
In order to sell your travel trailer, you should have the proper paperwork ready.
Depending on the state you're selling your trailer in, you may need to have any documentation, like your title, notarized.
It's also important to have a Bill of Sale ready that discloses that you're selling your travel trailer to another individual with the date of the sale and formal signatures from both parties.
Check with your state DMV to learn more about what paperwork needs to be signed and notarized prior to the sale to avoid keeping buyers waiting.
Give It a Little Extra Effort If You're After Top Dollar
Taking the time to do a once over on your travel trailer before selling allows you to ask for the best price and avoid any liabilities down the road. Instead of selling right away, you can fix easy problems that can make or break a deal when you list your trailer for sale.
With a few more hours of work, you could save yourself several weeks or months of waiting for the right buyer to come along and you can improve your chances of maximizing your sales price.
PIN THIS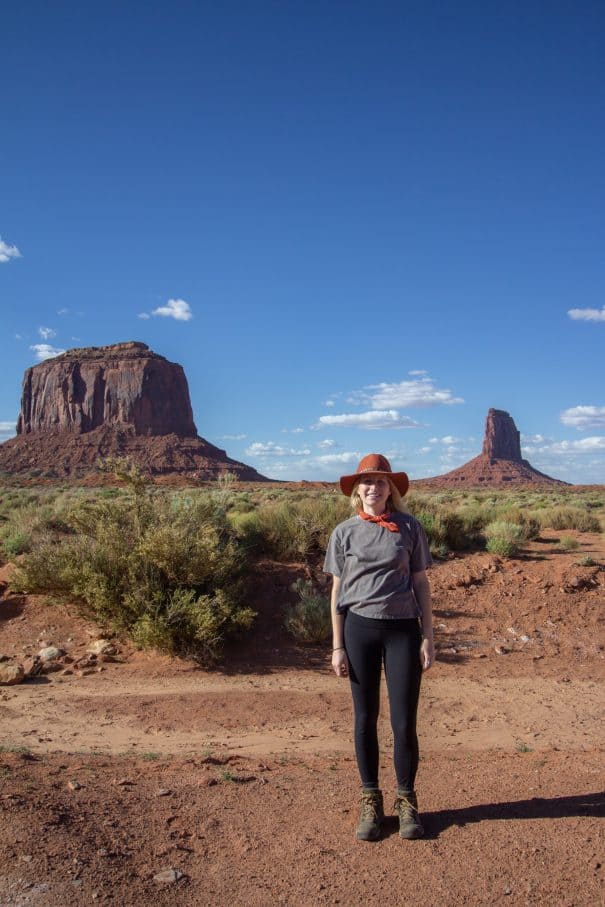 Erin is rooted in South Dakota, but wanders every chance she gets to see the beauty that nature holds. From hiking to climbing, there's not an adventure she'll turn down.
After renovating her 1976 Airstream Argosy, Erin knows the ins and outs of living life on the road and trailer maintenance.
Whether she's on the road with her dog and partner or at home curled up with a good book, Erin is always planning her next adventure because life is meant to be lived outdoors.