6 Fun Things to do in PEI to Make Your Trip One for the Record Books

We've seen a lot of beautiful places in our fifteen months on the road, but our trip to Prince Edward Island, Canada was one for the record books. If you're planning to travel there and are looking for fun things to do in PEI, do we have the list for you!
Side note: If you're planning to RV in Prince Edward Island, be sure to read our post on PEI Campgrounds. We share where we stayed, plus a few other RV parks in the area that have good reviews.
Watch TREKKN episode 11 featuring gorgeous Prince Edward Island.
6 Fun Things to do in PEI
When we rolled into PEI I knew nothing about the area. Yep, you read that right. Nothing.
The only part of Canada I've done any research on and had heard was a must-visit was Banff National Park and Vancouver, B.C. We visited both places last summer and they were definitely not a disappointment. From fantastic hikes to fantastic eats with a remarkable view, there was so much to see and do.
So when we were planning our trip to PEI, I asked on Facebook if anyone had been there and what they would recommend we do. Guess what my lovely FB friends said? PEI is THE place for Anne of Green Gables everything. Now, I've never read or watched anything Anne of Green Gables (I know, I know) so needless to say I was clueless. But thankfully we were traveling with friends who knew all about it and filled us in. (I also watched the first episode of Anne on Netflix.)
But what if you're not really interested in Anne of Green Gables, you ask? Are there things to do in PEI to keep one busy and happy? Why yes, yes there are. There are PLENTY of things to see, do and eat.
1.Visit the Cape Tryon Lighthouse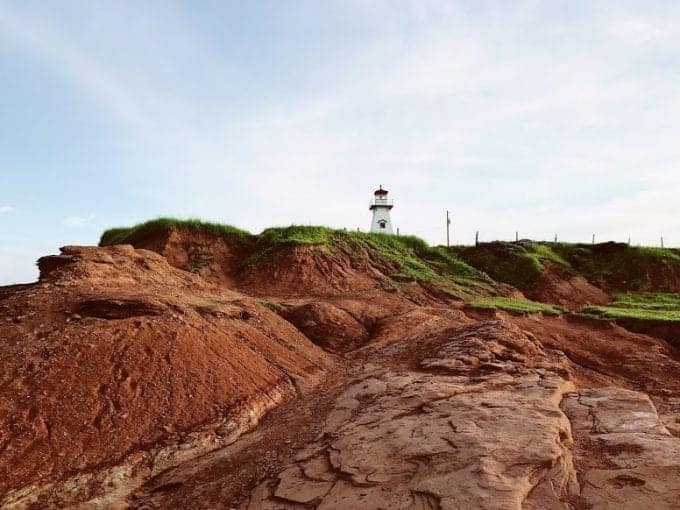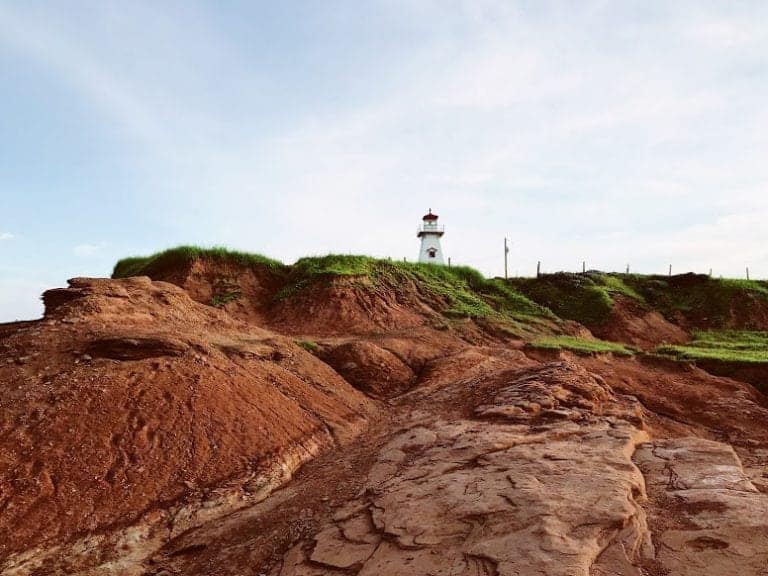 If you love lighthouses and you love beautiful views of red cliffs and green grass, this lighthouse is for you.
The Cape Tryon Lighthouse is on the western north coast of Prince Edward Island, located on Cousins Shore. Some have said this lighthouse is hard to find, but we followed the GPS directions and had no problems.
Address: Cape Tryon Rd, French River, PE C0A 2B0, Canada
The last quarter mile of the drive to the lighthouse was quite treacherous and one we wouldn't have been able to make in a small car. I'm not sure if it's because it just rained or if it's like this all the time, but there were massive potholes and uneven sections of the road. Thankfully we had a truck that made the trek quite easily. It's also one lane, so if someone is coming out while you're going in, one of you will have to back up.
Now that I've made this place sound horrible to get to, let me just say it's well worth it!
You can walk right up to the lighthouse, which is beautiful, but really what steals the show are the views of the water and red cliffs. We went twice, once during the day and once at sunset. We would highly recommend going at sunset. Bring a picnic lunch or some wine and cheese, chairs or towels to sit on and soak in the view.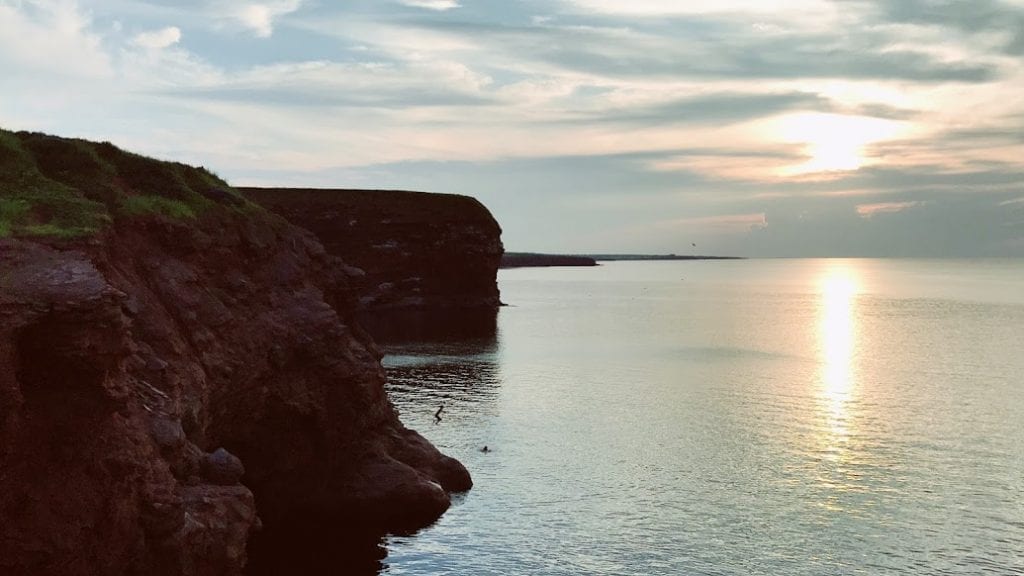 Our boys also did a little cliff jumping both times we visited. I'm not 100% sure this is allowed, so do this at your own risk. 😉
2. Teacup Rock at Thunder Cove Beach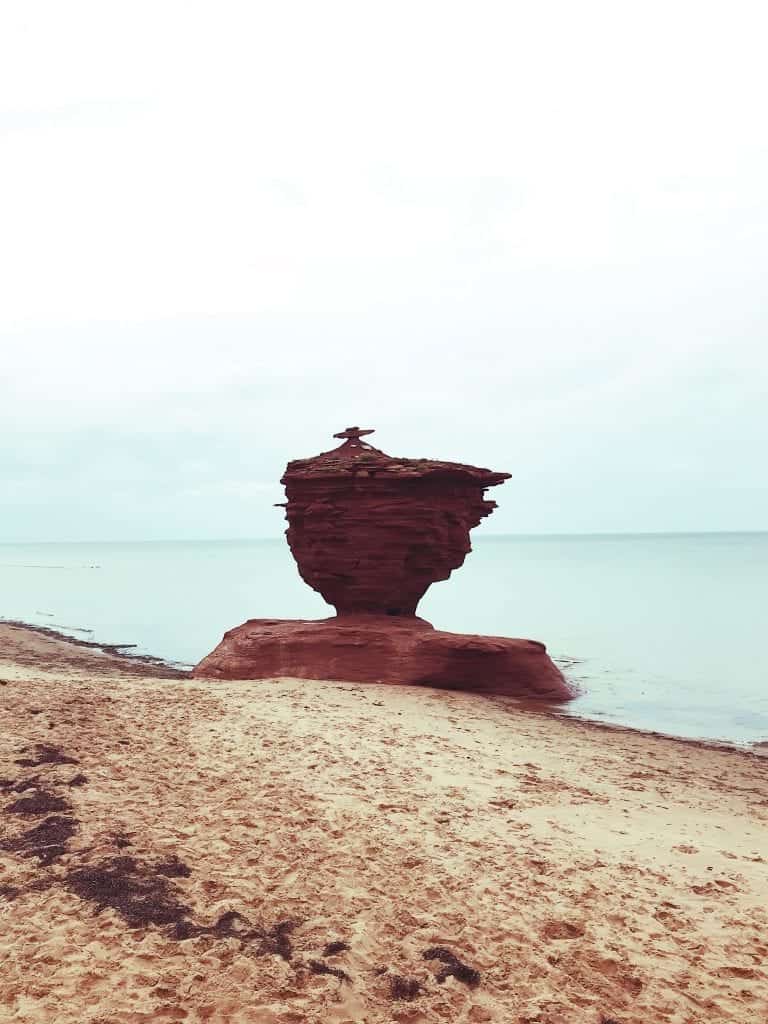 Thunder Cove Beach was so incredible with its sandstone cliffs, sea stacks, and caves. It was a completely different feel than the beach area at Cape Tryon Lighthouse.
And that's one thing I loved so much about PEI. Its landscape changes minute by minute and it's all so stunning!
When we got to the beach where Teacup Rock was supposed to be located, we walked and walked and walked and didn't see it. Thankfully we kept walking because there it was, standing in all its glory, just beyond a cliff.
We were there at low tide, so getting on the rock and seeing it up close and personal was no problem. But during high tide, you'll either need to swim, kayak or enjoy it from a short distance.
There were quite a few families there swimming, enjoying a picnic lunch and snapping pictures of the area. Oh, and if you have a dog, bring it and let that doggo run free along the beach because Thunder Cove is outside of Federal and Provincial parks, which means no leash laws.
3. Prince Edward Island National Park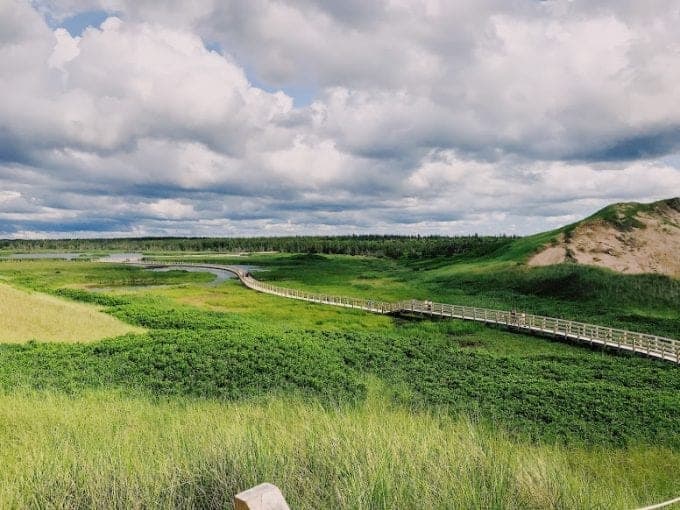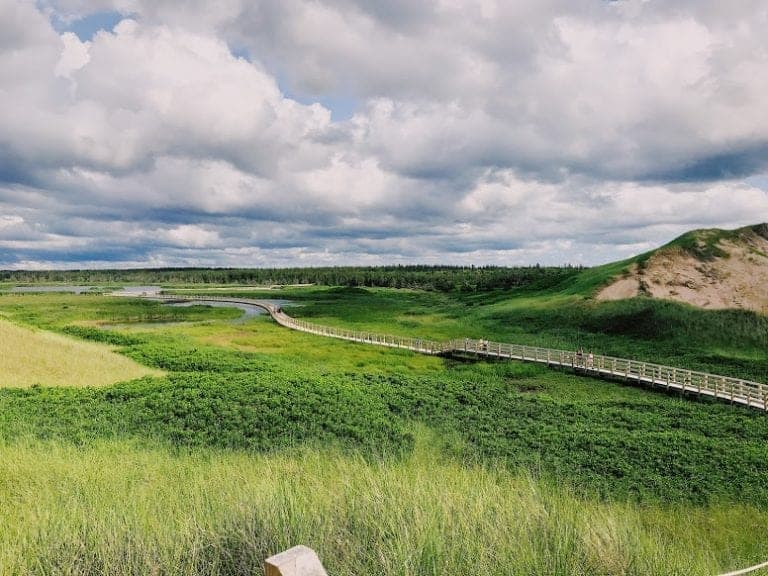 Prince Edward Island National Park runs along the coast of PEI. On the island's North Shore, there are seven supervised beaches to enjoy, plus over 50 km of hiking and biking trails. We visited several spots in the park and they were each beautiful and unique.
One area of the park which was my personal favorite was the Greenwich Peninsula. In 1998, this area was added to the National Park to protect some of the unique findings such as sand dunes, plants, animals and some archaeological findings.
When you park, you'll first walk on a guided path through trees, raspberry bushes, lavender flowers and lush green fields. A bit later the trail takes you on a floating boardwalk over water, which then takes you over those beautiful protected sand dunes to the ocean and a large sandy beach.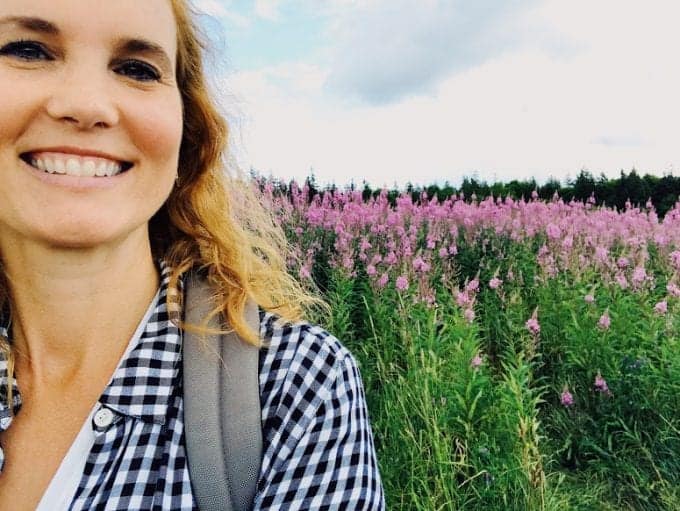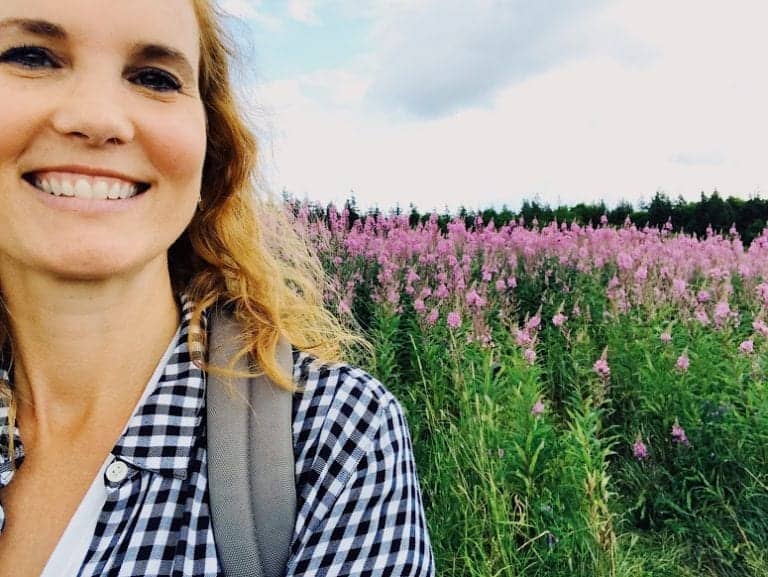 Talk about an incredible experience!
You will need a pass to get into the park and if you stay at the same PEI RV park we did, they'll let you borrow one so you can get in for free. Nice, huh? 🙂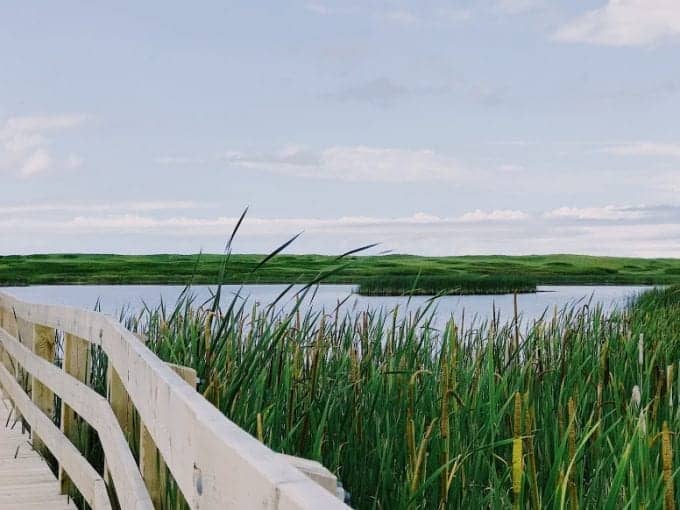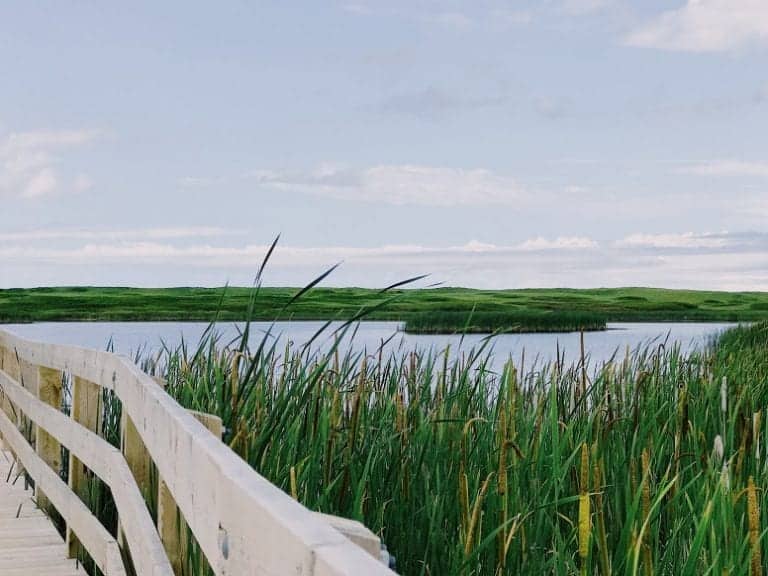 4. Anne of Green Gables Everything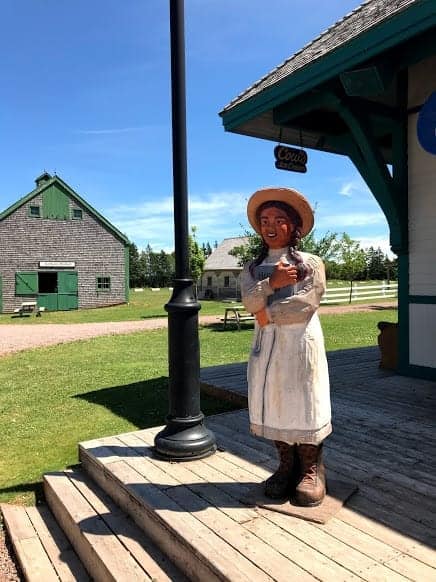 As you might expect, Prince Edward Island is an Anne of Green Gables fan's giant playground.
From visiting the author, Lucy Maud Montgomery's, Cavendish home, to the Anne of Green Gables museum there is plenty to do to get your fill. In fact, the PEI tourism website has a fun Anne of Green Gables itinerary you can follow here.
We visited Avonlea Village, which is a recreated rural community based on the village where Anne lived. You'll find shops that carry Anne of Green Gables Chocolates, a heritage building, and several restaurants. If you find yourself wanting a meal and you're a fan of Anne of Green Gables, this is the perfect place for you to eat.
5. Cows Creamery
When we asked on Facebook what to do while we were in PEI, several people said we had to go get ice cream at Cows. Okay, fine…if we have to. 😉
What's so special about Cows Ice Cream? Well, it's all handmade, using the highest quality ingredients, including 16% butterfat. YUM. They mix their ice cream very slowly, which helps give you one tasty, creamy scoop. Plus, it's served on a homemade waffle cone.
Was it good? Heck yes, it was!
You can see what flavors they offer here(so many amazing ones that it makes it REALLY hard to pick), plus all of their locations here.
6. Blue Mussel Cafe
If you know me, you know I love to eat. When we arrive in a new place, Todd usually researches the hikes we can take, the National Parks to visit, as well as any historical sites not to be missed.
I research where we should eat and drink. It's a beautiful research relationship that works out well. 🙂
A friend of mine told me that eating at the Blue Mussel Cafe was a must. I trust this friend's opinion fully, so off we went with our friends the Brewers for a double date night. (Sorry, kids. No, not really.)
How does one begin to explain and put into words one of the best meals she's ever had in her life? Maybe a couple of pictures will help?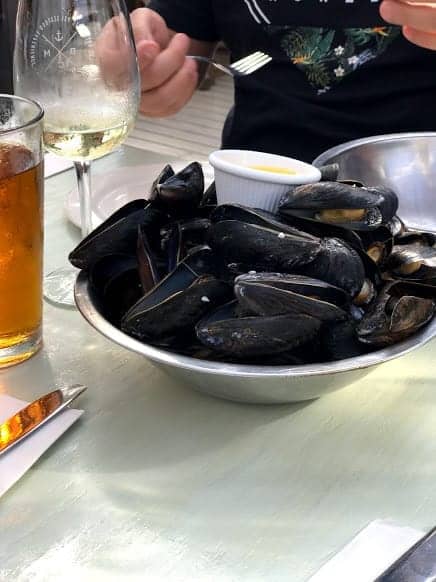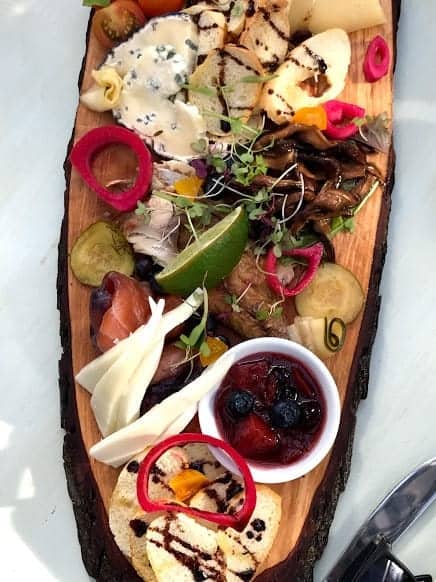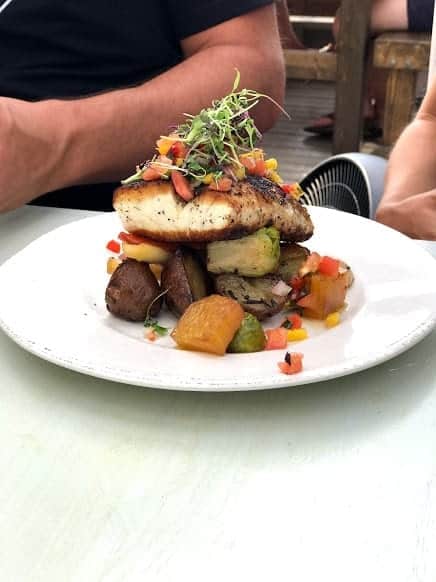 And a gif of their extraordinary Seafood Bubbly Bake? Here you go.
Our entire experience there from beginning to end was perfection. We've heard this place can be hard to get into, but we must have hit it at just the right time because we walked right in and were seated.
Our server was so friendly and fun. We also had the chance to meet the owner, who actually brought us part of our meal and chatted for quite a while. He even gave us the amazing story of how they came to own the restaurant five years earlier! I love it when an owner takes a personal interest in their diners. It makes you feel special and definitely makes you want to return.
What we ate
Here's what we all ordered:
Appetizers:
Beer & Lime Mussels
Smoked Charcuterie Board
Both of these are a must order!
Dinner:
Halibut
Seafood Bubbly Bake
Seafood Chowder
We all agreed the Seafood Bubbly Bake is a must-order.
Wine:
A cold glass of white wine went perfectly with this meal.
Are you super excited to visit this place now? I hope that at least one of these six fun things to do in PEI helps make your trip one to remember. One thing I know is that we will definitely be back for a visit (and another meal)!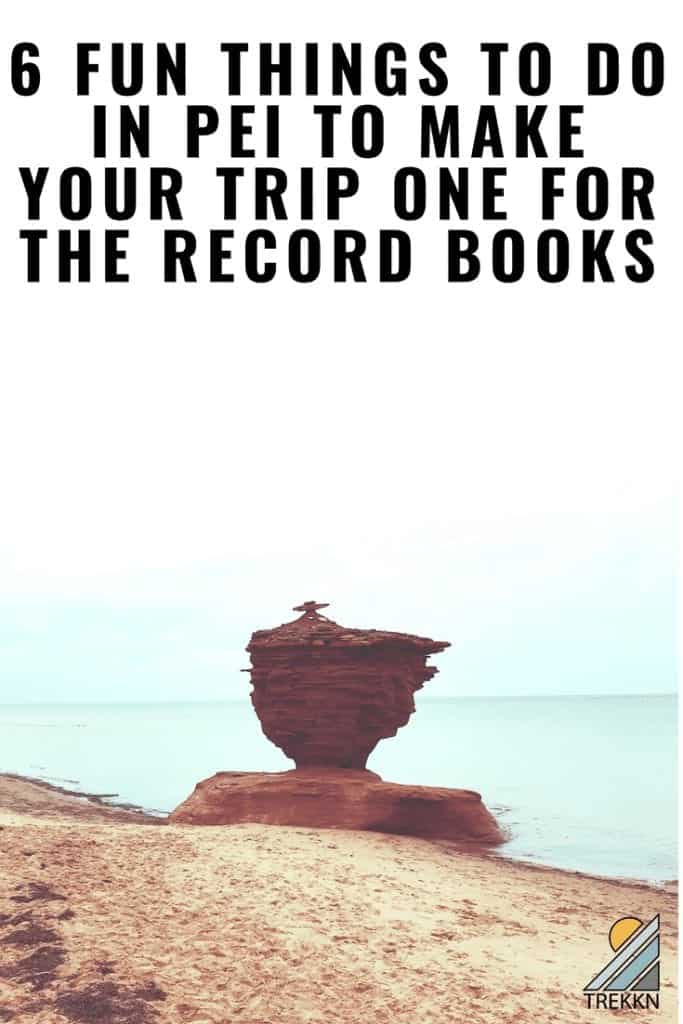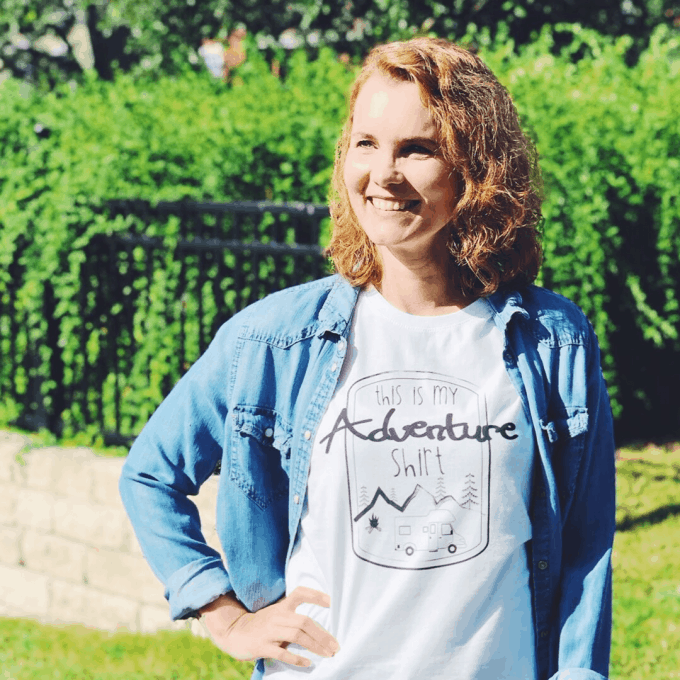 Julie specializes in helping you whip up delicious meals in your tiny RV kitchen, as well as RV organization tips and helping fellow RVers make their RV feel like home. Her favorite RVing spot is in Banff National Park in Canada where yes, the water really is that blue and the people really are that nice.