PEI Campgrounds – Your Guide to RVing in Gorgeous Prince Edward Island

When our friends Mark and Rachel from The Wanderful Way brought up the idea of traveling together to Prince Edward Island and Nova Scotia this summer, they didn't have to ask twice.
We said 'yes!' and the planning started. Thankfully they had some inside info on PEI Campgrounds and booked us a week stay that ended up being the perfect location for our families.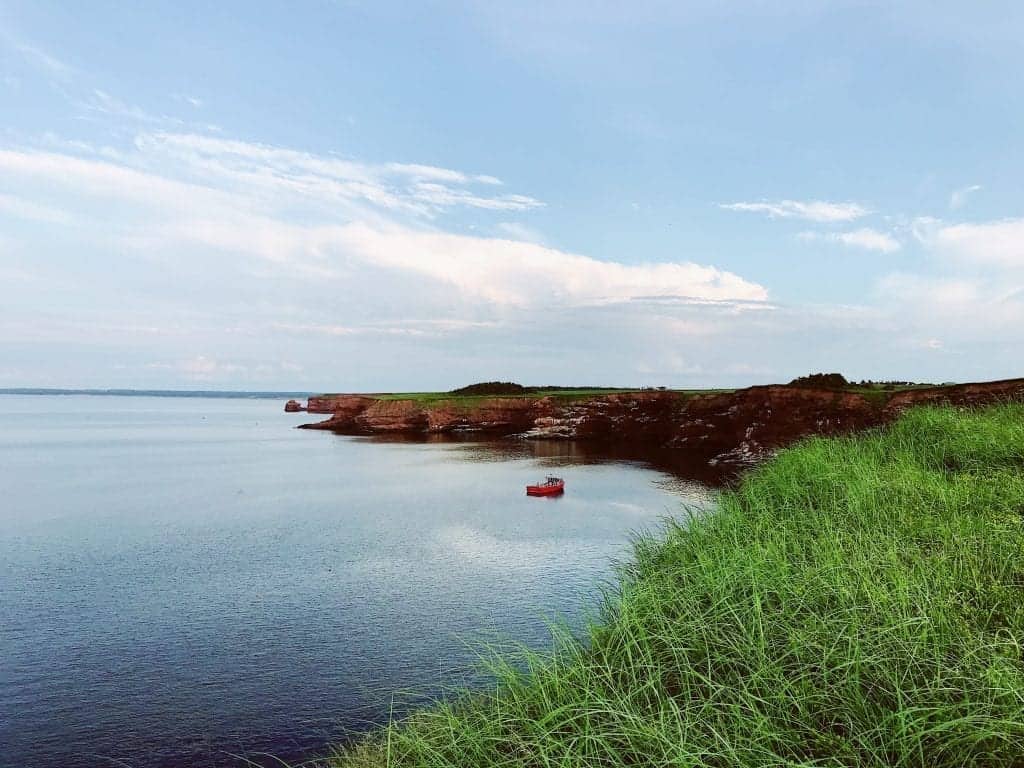 Your Guide to RVing in Gorgeous Prince Edward Island
Last summer, we found ourselves rolling into Canada after only about two months of full-time RVing. Our daughter, who's only with us during her college breaks, told us she would love to get to Canada that summer. So we raced north from Texas (with a few stops along the way) to Canada and crossed the border on July 23, 2017.
From eating at the Whitehorn Bistro with a view of Lake Louise, to hiking to a remote tea house in Banff and staying at a cidery in Kelowna through Harvest Hosts, it was one unforgettable visit. Being able to finally visit that part of Canada was a dream come true after hearing about the beauty of Banff National Park for years and years. It did not disappoint and we'll be back for a visit someday.
While I knew about that western part of Canada through my research, I knew little to nothing about Prince Edward Island. When we announced we were traveling there, my friends were all so excited for us because of their love of Anne of Green Gables. I, on the other hand, had no idea what they were talking about. Crazy, I know! 🙂
But, even with my little knowledge of the books, movie and Netflix series (I watched the first episode of Anne when we arrived and now understand why people love it so much), I fell in love with this place and I know you will too.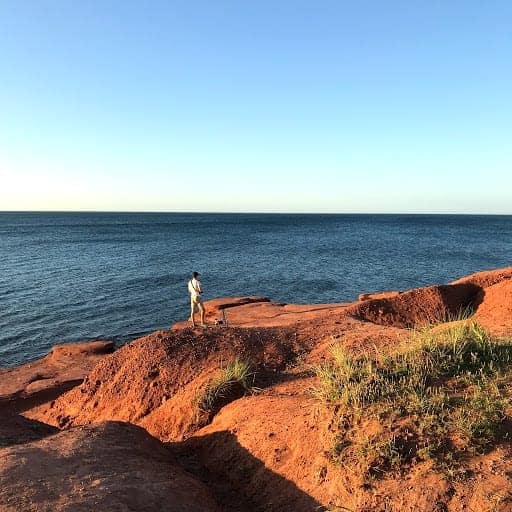 Canadian Border Crossing
Before we get into everything about Prince Edward Island campgrounds, I know some of you may have questions about crossing the border into Canada. I know we did! We've done this twice now and each time it's been no big deal.
This time, we were crossing into Canada at Calais, Maine. We knew we couldn't bring citrus, guns, plants and large amounts of alcohol into Canada. We had our passports ready to go to make it nice and easy. The border guard asked us a few questions like 'Where are you from?' 'Where are you going?' 'How long will you be here?' and of course, whether or not we had citrus, guns, plants, alcohol, pets…
Our friends own a dog, so they had to get a rabies shot and updated certificate for him in the U.S. and have that paperwork available to cross the border. They had no issues at the border crossing either and neither one of our rigs were searched. It was about a 2-minute process and we were on our way to beautiful Canada!
PEI Campgrounds
As I mentioned, our friends knew about the PEI RV Campground we ended up staying at through friends of theirs. We love choosing campgrounds by word of mouth. It's definitely helped keep us out of some not so great situations in the past.
Where did we stay? Tranquility By the Sea Campground. Sounds magical, doesn't it? 🙂
It was a nice little campground with full hookups, plus they put us and our friends right next to each other. They have a small pool and really nice and clean bathrooms. They also have a small laundry facility available for use at no charge, but you have to get permission to use them.
Location, Location, Location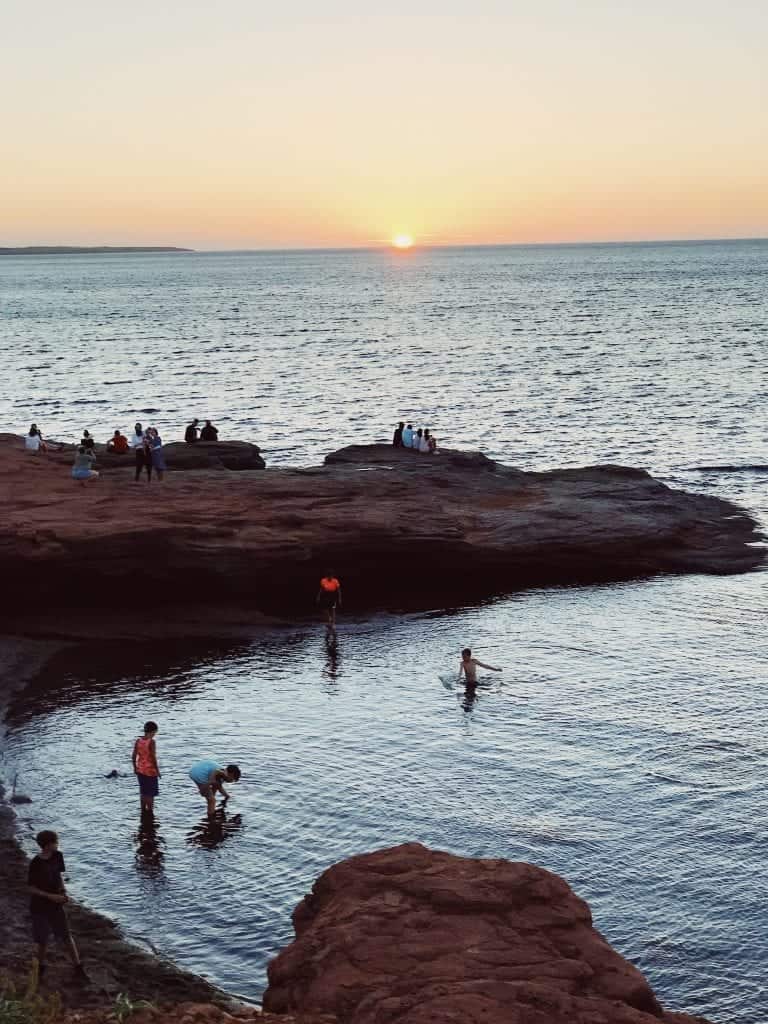 We loved the location because it was a 20-minute bike ride to the ocean and it was a few minutes outside of the hustle and bustle of touristy Cavendish.
Here's a description of the PEI campground from their website:
"Come stay with us as part of your PEI vacation. Located 3 km to the heart of Cavendish. Close to beaches and Amusement parks and Cavendish beach National Park. We offer 3 way hook ups for RV's, tenting areas, and 3 fully equipped suites with private decks and a heated pool."
They were also able to offer us a pass to PEI National Park that kept us from having to pay any fees to explore that amazing spot. That was a nice little perk!
For dates they're open, pricing and more info, be sure to visit their website here.
Other PEI Campgrounds to consider
Prince Edward Island has no shortage of RV campgrounds, so if one is full, just check the next one on your list. Here are a couple of campgrounds we saw while driving through Cavendish:
Cavendish KOA
We've only stayed at one KOA, but we do know they're known for being really nice and loaded with amenities. They can also be pricier than other options many times. It sounds like the KOA in Cavendish has everything you need and more.
"If you're looking for family fun, this is the place to be! Campground amenities/activities include a petting zoo, Jumping Pillow, heated swimming and kiddie pools, daily hayrides, outdoor movies, themed weekends, daily kids' camp, pancake breakfasts, candy bar bingo, basketball, volleyball, badminton and horseshoes. Enjoy the large pavilion with a Camping Kitchen, as well as a Kamp K9. You'll find everything from Tent Sites (w/o service) to large gravel 50-amp Pull-Thru RV Sites and Cabins (with and w/o service). Free Wi-Fi."
Find out more on their website here.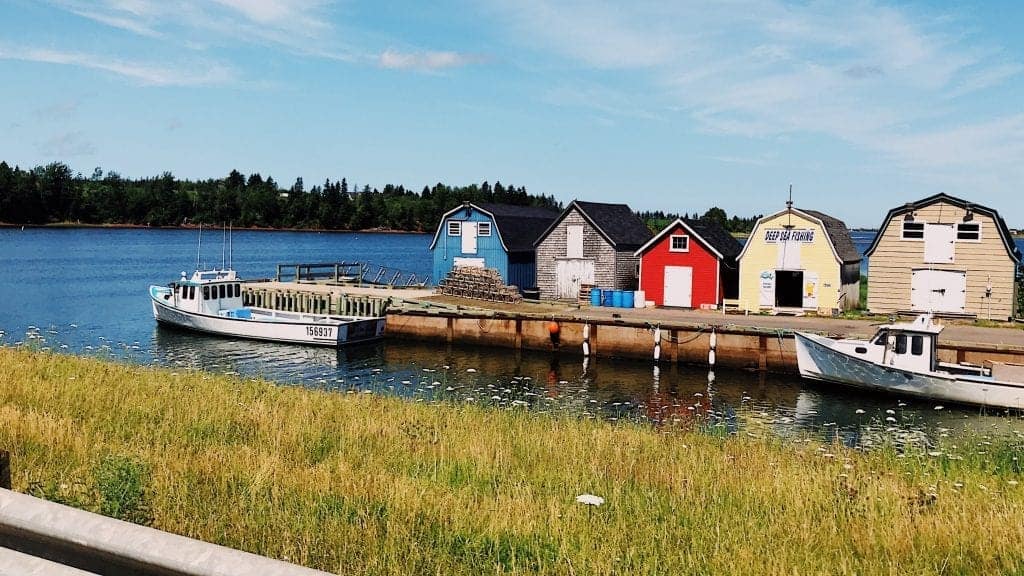 Sunset Campground PEI
This Cavendish campground is right in the heart of town. We passed it several times and stopped at their onsite shopping boardwalk for souvenirs and ice cream at Cows. (When you're in PEI, Cows is a must-stop!)
"Join us at Sunset Campground for a fun-filled PEI vacation. We're located in the heart of Cavendish, next to the Cavendish Boardwalk and just across from the entrance to the Cavendish Beach."
Find out more on their website here.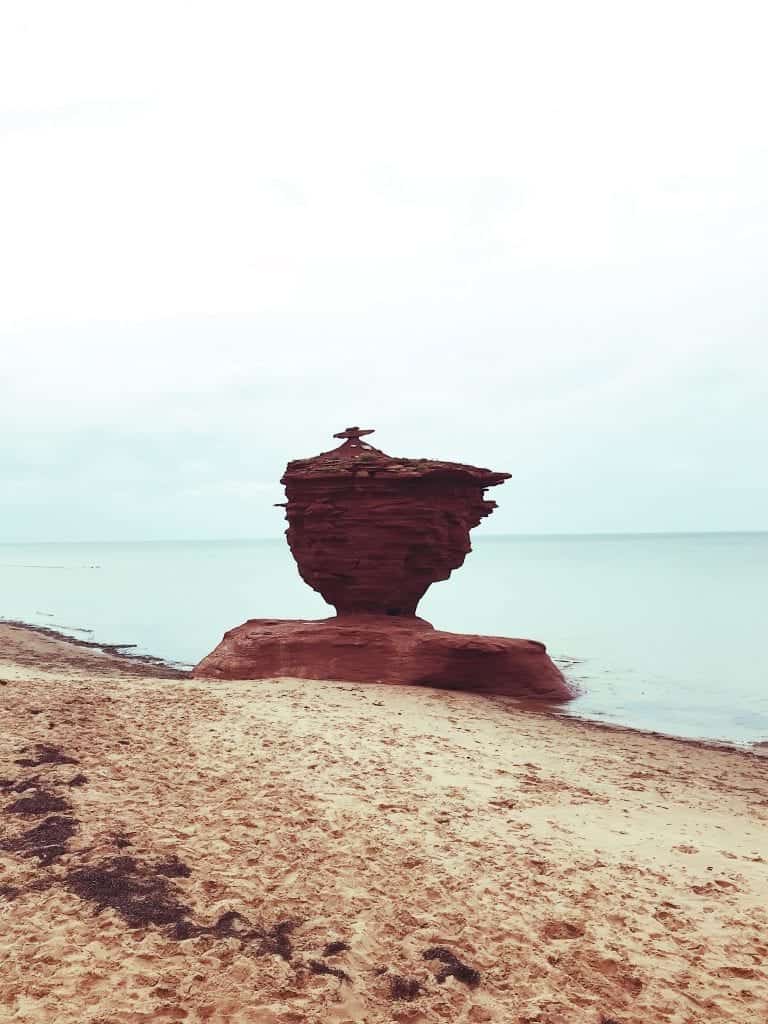 Needless to say, whether you're tent camping, RVing or staying at a cottage, hotel or lodge…there is no shortage of beautiful places to stay. This is a location we would say is a must-visit in your RV. I can't wait to go back!
Keep a lookout for our next article about things to do in PEI. Whether you like Anne of Green Gables, lighthouses or eating your way through a city, we think you'll love our recommendations!
PIN THIS TO SAVE FOR LATER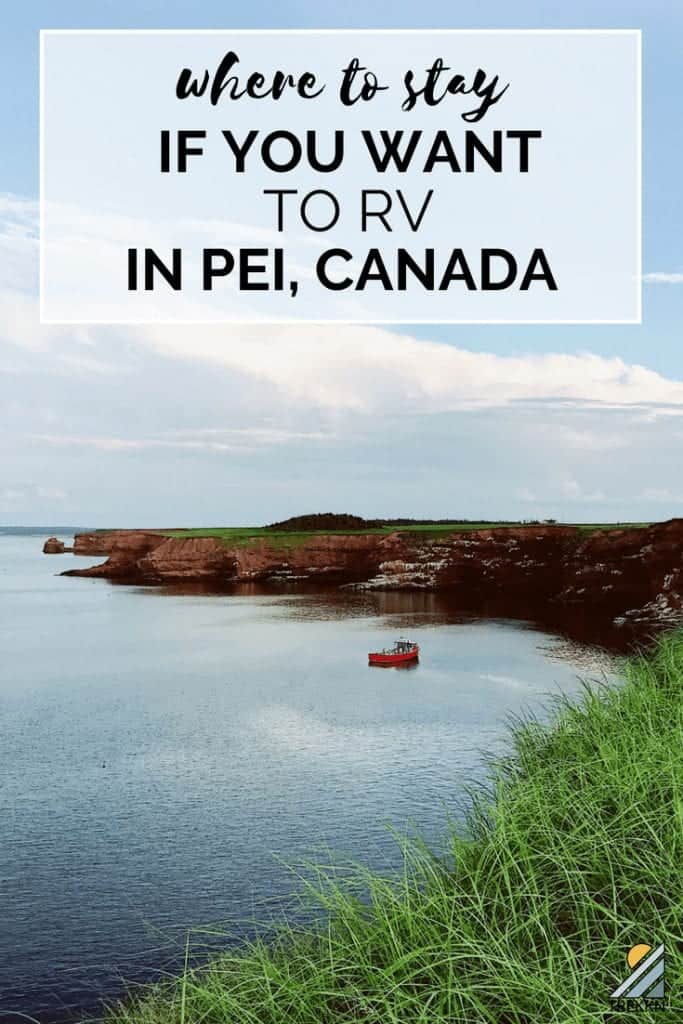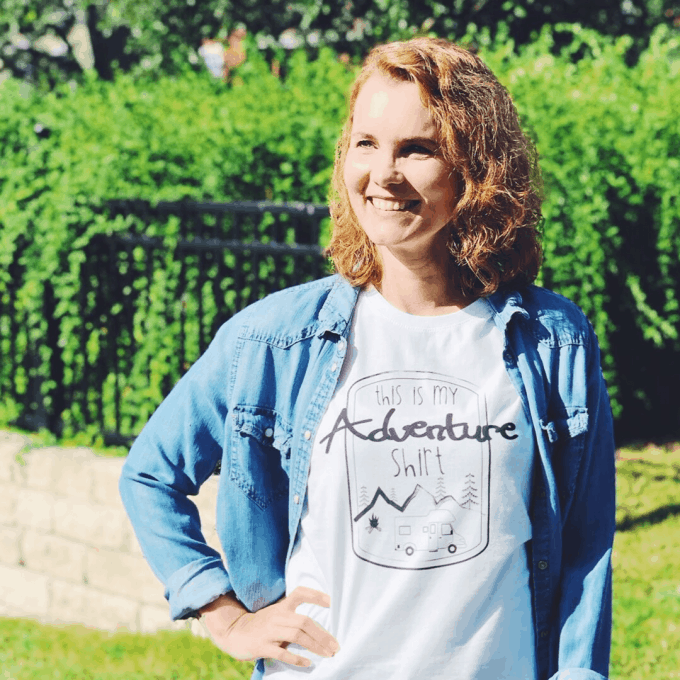 Julie specializes in helping you whip up delicious meals in your tiny RV kitchen, as well as RV organization tips and helping fellow RVers make their RV feel like home. Her favorite RVing spot is in Banff National Park in Canada where yes, the water really is that blue and the people really are that nice.