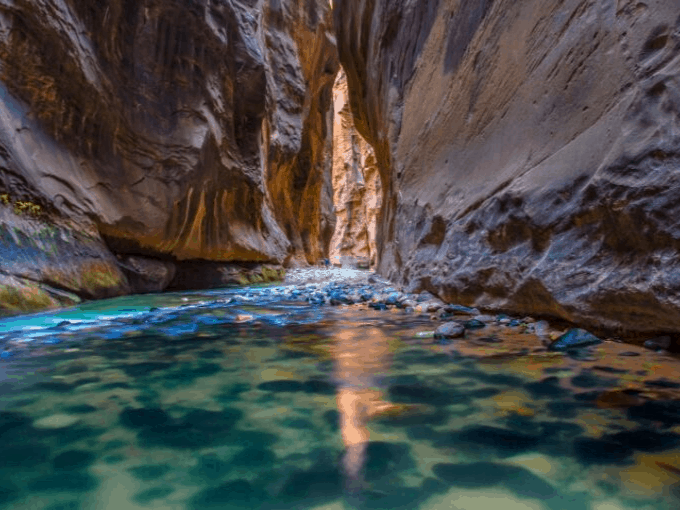 During our RV travels, we got to see more beauty and natural wonder than I ever could have dreamed possible. Unfortunately, the Narrows hike in Zion National Park was not a part of that.
Visiting in December is not the best way to increase your chances of getting to hike the Narrows (big surprise), but there are several other things you should know before planning your hike also. This will give you the best chance of having a great experience hiking the Narrows.
The Narrows Hike In Zion National Park: 6 Things You Should Know
As I said, I did not get to enjoy the Narrows hike when we visited Zion National Park in December 2017. We did make the drive right up to the mouth of the slot canyon, and believe me we were tempted to wade into the icy river water, completely unprepared. But in the end, we knew it would be a mistake. Instead, we decided to enjoy all of the beauty that we were able to enjoy in this breathtaking national park.
But I can tell you this: Just getting a small taste of what the Narrows hike might be like convinced me to make it back there and complete that hike as soon as I possibly can. In fact, I'm considering a solo excursion in October to celebrate my 45th birthday this year. If I can pull it together, there's a very good chance that Zion National Park and the Narrows will be on the itinerary. After all, it's only about an 18-hour drive for me from my home in Texas.
So this information about hiking the Narrows is just as much for me as it is for you. If I make it there soon, I'm not taking any chances and I will be as prepared as possible to make that hike a treasured memory. (And I'll be sure and come back here to update the post if I gain some first-hand knowledge that will be valuable for you.)
*Side note: I highly recommend a visit to the Kolob Canyons section of the park that sits northwest of the main park. Plenty of stunning scenery to take in and trails to trek in that section, with lighter crowds for sure. We thoroughly enjoyed exploring this less-traveled section of Zion National Park.*
Quick Movie Recommendation
By the way, I just watched a movie last night that includes an adventure into the Narrows, as well as other beautiful locations: Find Me. I highly recommend this independently-produced movie by Tom Huang, even though it made me literally ACHE for another national park experience. (Pay no attention to the lackluster IMDB rating. What do they know?) It's a good kind of hurt, so go check it out on Amazon Prime video. You'll thank me later!
1 – Check the Weather and Choose Your Time to Visit Wisely
We arrived just in time for a really cold snap when we visited Zion National Park in December. In nearby Kanarraville where we were staying, the temperatures plummeted to 11 degrees, freezing my RV water hose solid. This was actually the spot where I broke down and purchased my first heated water hose…which was destroyed shortly afterward by another unfortunate freeze incident in Moab. (You should go check out all of the hard lessons I learned about winter RV living if it's in your future.)
Needless to say, I didn't plan very well for our first visit to Zion. It was a bit of a last-minute itinerary change, and we paid the price. Literally. (Not that I regret the overall winter RVing experience at all. I would just be a bit wiser the next time around.)
But you are smarter than I am. You will absolutely do your research and determine what the average temps are like in:
March (56 high, 30 low)
or July (87 high, 57 low)
or October (66 high, 39 low…PERFECT!)
or even December (48 high, 24 low) if you like ice hiking!
Plan accordingly, because your national park experience will absolutely be impacted by the time of year you visit and how you prepare for it. And the time of year does not just impact the weather.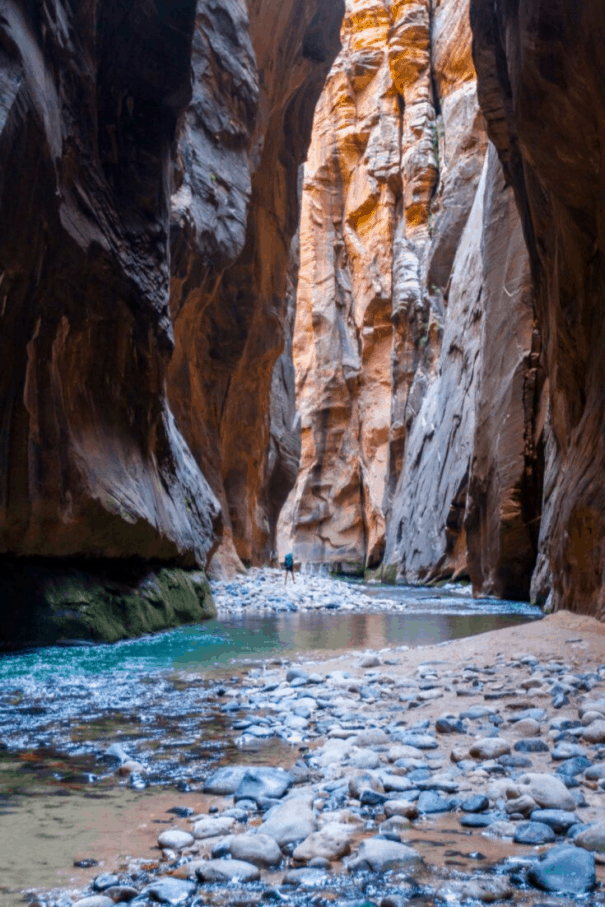 2 – Check the Average Volume of Visitors for Each Month
I believe our national parks are absolutely one of our greatest national treasures. I've written about them extensively, most frequently about Glacier National Park (because I am full-on obsessed) but also about how to fully enjoy our parks in general when you are able to visit.
And one of my tips (#1 in fact) for enjoying any national park is to choose a time to visit that will expose you to less traffic and smaller crowds overall. Now, I understand this is a pretty "self-absorbed" tip because it assumes that everyone is like me and actually wants to avoid the crowds. Reality is that some of you may want to find the largest crowd you can and body surf your way to scenic locations on a sea of outstretched arms. And this would make you very similar to my own 15-year old son. So I get it.
Different strokes for different folks
If that's your thing, I'm not here to judge you. But for me, an escape to a national park like Zion for a mind-bending hike through the Narrows is best enjoyed in as much solitude as the park can muster. I don't want to be rushed. Don't want to be surrounded. Don't want to be bumped. And I don't want my ears assaulted by throngs of screaming park-goers pulling me out of my own headspace, out of my park-induced euphoria.
Nope. Not my thing. Just being completely honest here. As you might expect then, my favorite time to visit our national parks is outside of the busy summer season if at all possible. With few exceptions, I think late fall is the perfect time for a park visit. I hope to test that theory out this fall with my solo road trip.
To you I say: Choose your time to visit wisely. Know ahead of time what kinds of "crowd conditions" you enjoy and do a little research. July 2019 saw a total of more than 631,000 visitors to Zion National Park out of the 4+ million expected visitors for the year. Now that would make a solid sea of humanity if crowd surfing really is your thing. So book for July…as long as you can handle the heat (see point #1)!
3 – An Early Hike Is An Awesome Hike
Based on our experiences visiting and hiking in more than 15 national parks, this has become a rule of thumb that we live by: An early hike is an awesome hike.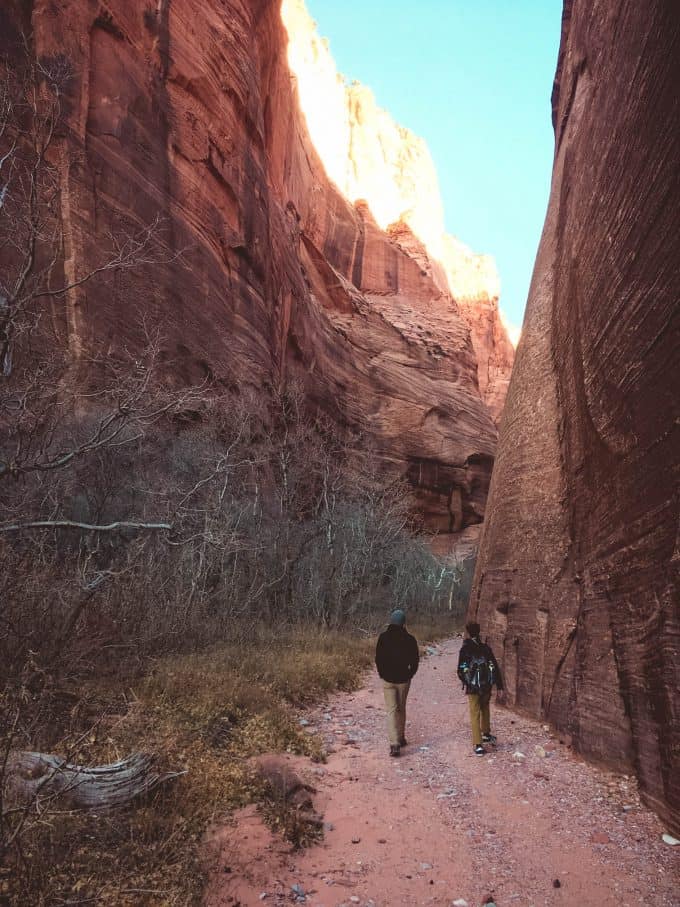 Everything is better with an early morning start for a hike, no matter where you find yourself. There's something about hiking through the world as it slowly wakes up and is warmed by the rising sun. For me, early morning hikes are some of the most sacred and treasured experiences I hold onto from our travels.
You don't have to be a morning person to take advantage of this tip hiking the Narrows, either. Nope, not at all. You just have drag yourself out of bed "at the butt crack of dawn" one time! Just once.
Even for a morning person like me, an early start isn't always the easiest thing to do. But it always, and I mean always, was 1000% worth it. Especially if you happen to be a photographer! (You really can't beat that early morning light for capturing the beauty of just about any location on earth.)
And an early morning start for the Narrows hike will be no different. I guarantee it. If you get started early enough, you can also avoid the bulk of the crowds (see point #2).
4 – $25 to Rent Canyon Hiking Equipment May Be the Best Money You Ever Spent
I have to acknowledge here that every single item I am covering is open to personal preference and interpretation. Weather, crowds, time of day…all completely up to you.
The choice about whether or not to rent equipment from a place like Zion Adventure Company is also completely up to you. Here's a little bit about the Narrows hike rentals they offer:
Footwear Package – $25 (recommended for Summer)

Neoprene socks
Canyon shoes
Walking stick

Dry Pant Package – $45 (recommended for Fall/Spring)

All of the above plus dry pants to keep you comfier

Dry Suit Package – $55 (recommended for Winter)

All items in Footwear Package plus full-body dry suit for added water protection
You will find some folks who have hiked the Narrows without this specialized equipment who will tell you that the rentals really aren't necessary. (If you arrive early for the hike, there are often free walking sticks available near the start of the hike.) Others will highly recommend spending a bit of cash to make your hike as enjoyable and successful as possible.
If I showed up here with my family of five, there is little chance I would spend the money to outfit everyone. That's quite a wad of cash. But if I showed up alone, chances are very good that I would spend the money on myself, at least for the Footwear Package. You can decide what makes the most sense for you. (Obviously, this decision will also depend somewhat on the time of year you visit. Water temps in the water would probably require that you spend the cash to avoid hypothermia, or at least a really unpleasant experience.)
If you choose not to rent…
But please, don't show up with open-toed shoes or sandals and take off on this hike. Your toes will never be the same, because the hike is primarily over the slippery rocks of a river bed. Never easy to navigate. So do yourself a favor and at the very least bring appropriate hiking shoes and socks (plus extras for after the hike)…and a walking stick if you can't find a way to get up early (see point #3) and get one of those free walking sticks.
*Note: If you are visiting at any time other than summer and think you will need the dry pant or suit package, it is highly recommended that you make reservations with Zion Adventure Company or wherever you choose to rent your gear.*
5 – Flash Floods Are a Thing Around Here
With a sudden downpour popping up in the area, your experience on the Narrows hike will change very rapidly. Water levels in these slot canyons can change dramatically throughout the day, primarily depending on nearby rainfall and whether it makes its way into this canyon.
The best thing that you can do is make a stop at the ranger station or visitor center on your way in, or the day before if you are arriving very early for the hike as I recommended. They will be able to provide you with forecast details and the likelihood of a flash flood affecting your hike.
In addition, you can keep your eye on Zion National Park's official page for details about weather and river conditions and forecast.
Be aware that the Narrows does close under certain conditions and could affect your plans:
When the flow rate of the Virgin River reaches 150 cubic feet per second (cfs)
During some periods of spring snowmelt
When the National Weather Service issues a Flash Flood Warning
Keeping your eye on all of these details will give you the best opportunity to enjoy a hike in the Narrows you will never forget.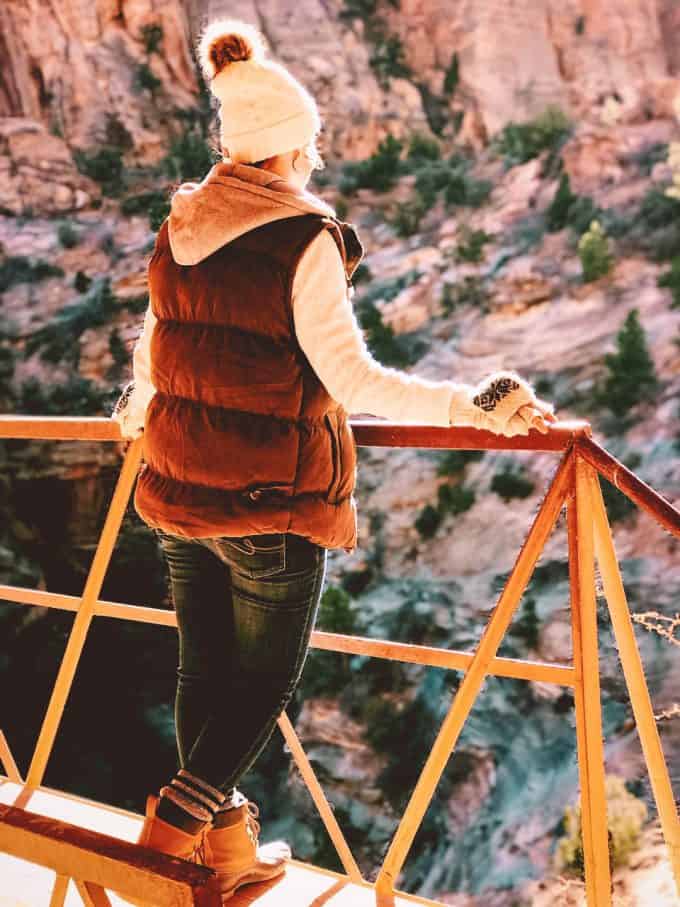 6 – Don't Miss Out on "Wall Street"
Many people suffer from FOMO (fear of missing out) on this hike, not knowing how far in they should hike so that they don't miss the really good stuff. Let me help you out with that.
If you have the physical ability, at a bare minimum you should go in as far as "Wall Street". This is the narrowest and most breathtaking part of the Narrows hike, where the canyon shrinks to a mere 20-30 ft wide, with orange-red sheer walls of sandstone glowing and towering about 2,000 ft above your tiny frame in all their glory.
You want to be dwarfed by nature, you say? Then you have to make it to "Wall Street", which depending on your speed should take you 1.5 to 2.5 hours of hiking (approximately 2.5 miles from Temple of Sinawava if you are hiking bottom-up through the canyon…which is the normal route taken). Trust me, you'll know when you get there!
This is a very common turn-around spot for hikers in the Narrows…but don't let that stop you. You will find plenty more to drop your jaw and thrill your soul if you choose to continue past this epic point of the hike up to Big Springs (another 2 miles approximately). You can also turn right and head into Orderville Canyon for continued exploration from here.
All told, if your goal is "Wall Street", you should plan on about a six-hour excursion in order not to be rushed. This will also allow for time to sit and soak it in. Let it change you a bit. (Always highly recommended.)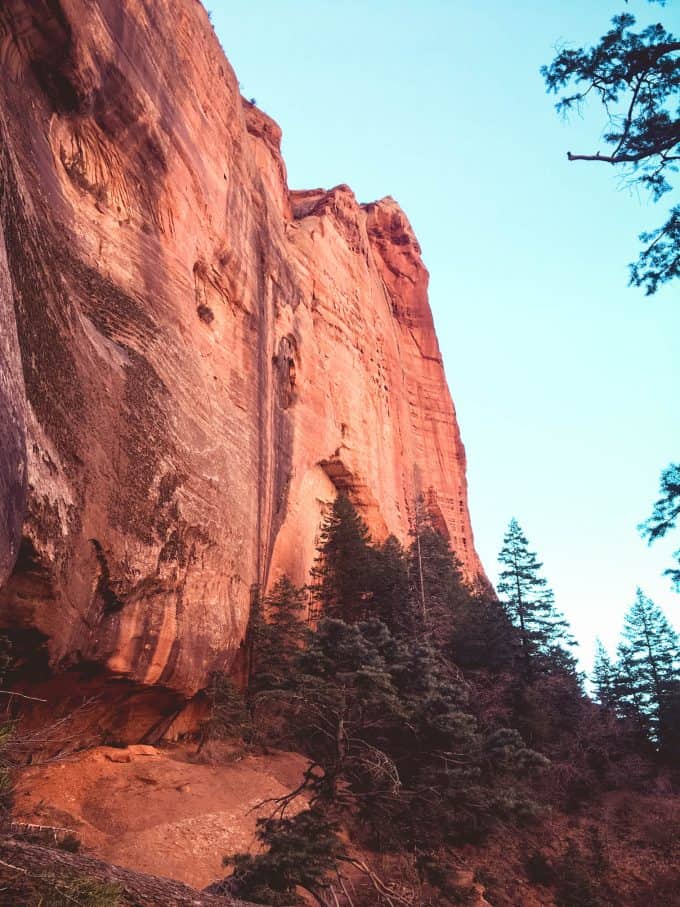 The Narrows Hike Is Calling…Will You Answer?
I can't even begin to describe to you how much I want to jump in the car right now and make that 18 hour trip to Zion National Park. Pouring over these details and picturing these grand scenes in my mind just makes me feel a little stir-crazy, ready to road trip at any cost just to get a taste of this national park, and specifically the Narrows hike, as soon as possible.
If you feel the call as well, there's a chance you and I might cross paths at this sacred spot sometime soon (I'm still thinking fall).
I'll keep an eye out for you and try to save you a walking stick.
PIN THIS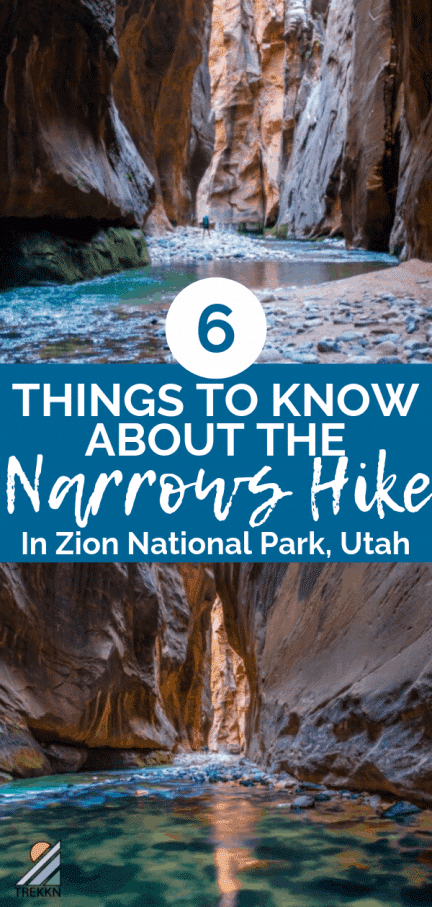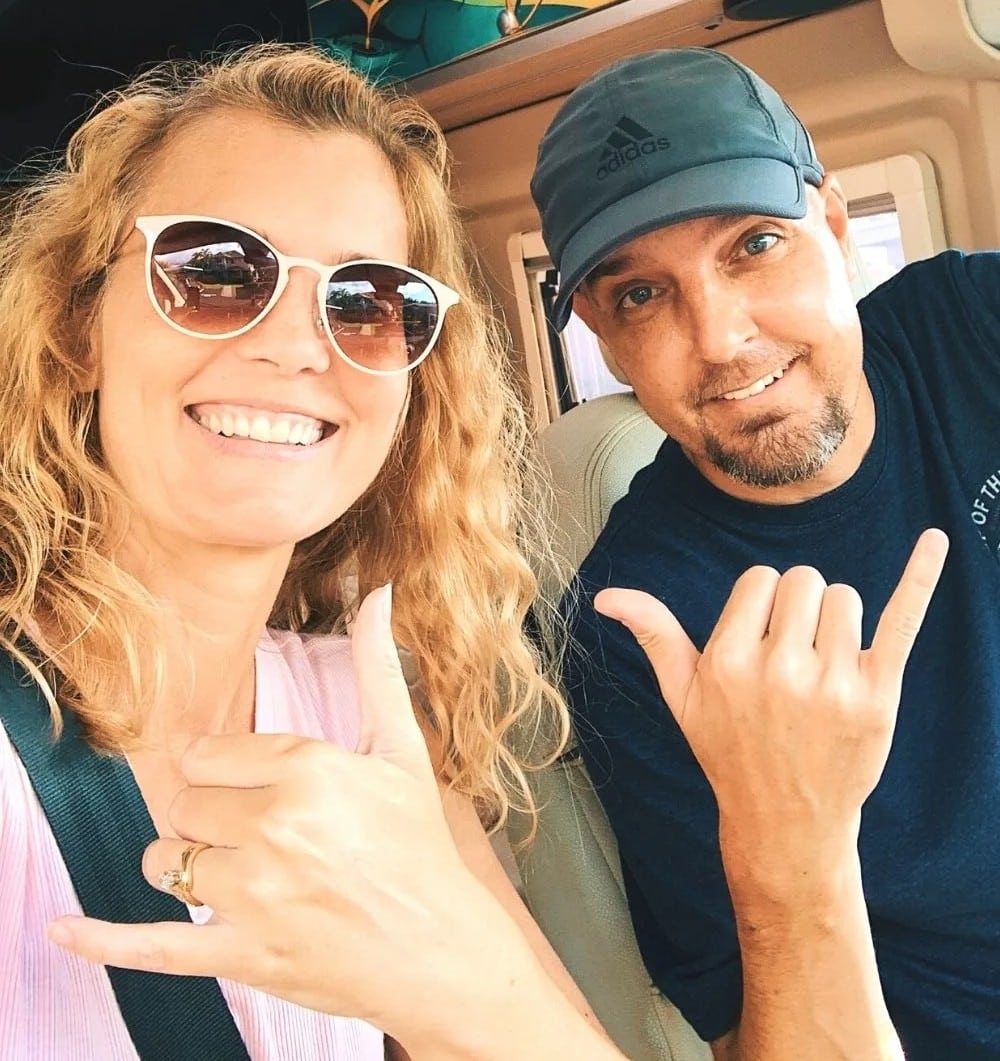 Todd Bonner loves a competitive game of table tennis, a breathtaking hike and simply exploring new places. He spends most of his time sharing information about RV travel and safety, RV accessories and tips, and the National Parks he has visited and still desperately craves. When he's not busy working on TREKKN, you will often find him staring at pictures of Glacier National Park (probably his favorite spot on earth) or creating new products for Clever Camper Company.